The Best Times to Pump to Increase Milk Supply
If you're a new mom, you may be wondering when the best time to pump is to increase your milk supply. The answer isn't always simple, as there are a few factors to consider. In this blog post, we'll give you an overview of when to pump to increase milk supply, how often to pump, what time of day to pump, and how long to pump each session.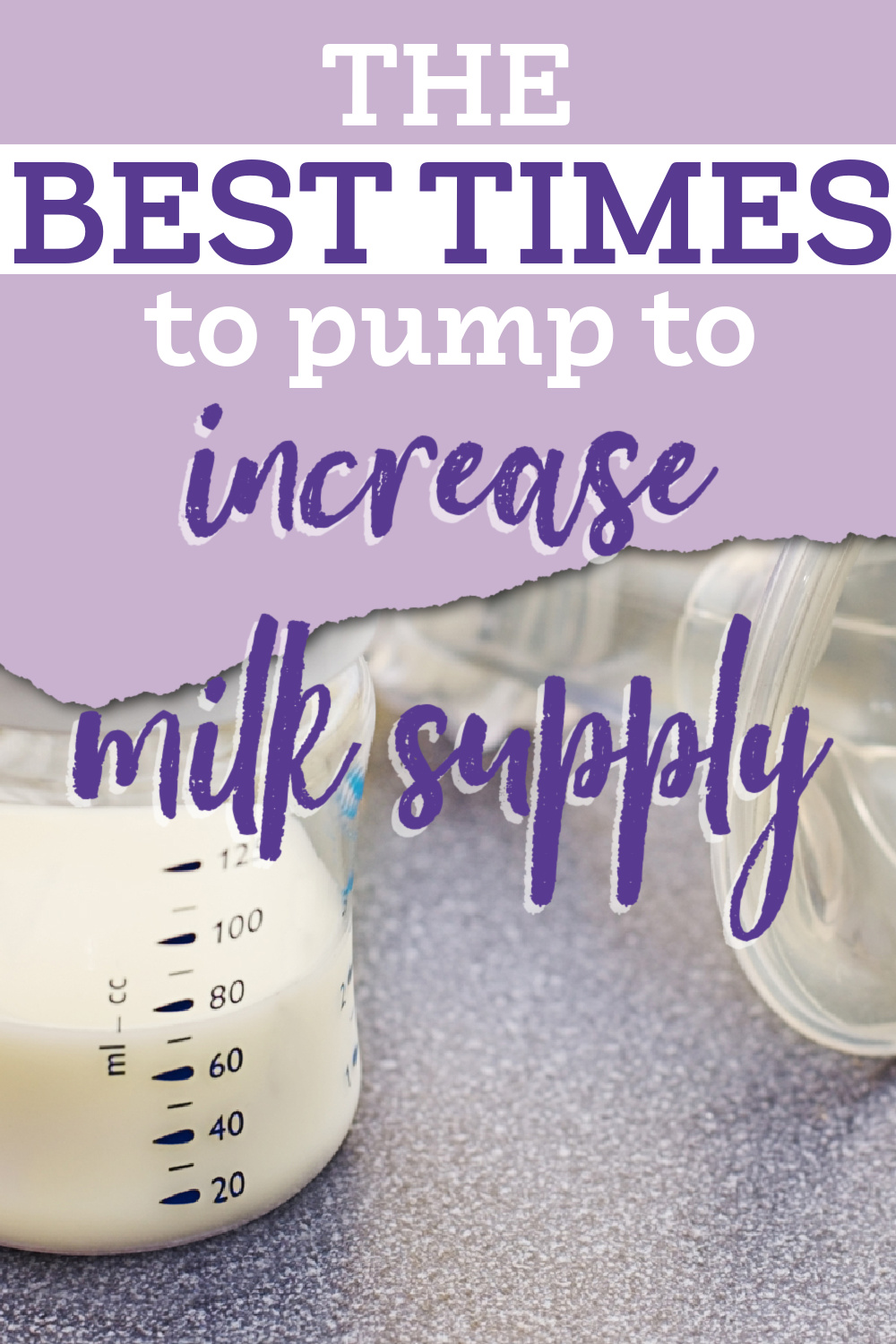 If you are working to increase your milk supply with pumping so you can make enough milk, you want to make sure you are doing it as efficiently as possible.
This includes making sure you're pumping at the right times.
Today, I will give you an overview of when to pump to increase milk supply, how often to pump, what time of day to pump, and how long to pump each session. By following these tips, you will have the resources to potentially increase your milk production and prolong your breastfeeding journey.
Pumping is challenging! There's no reason you need to go at it alone, though. I created "Pump Like a Pro", an online course designed to help you feel confident when it comes to pumping. Enroll here for instant AND lifetime access!
Work with a Lactation Professional
If you are struggling with milk supply, I strongly recommend you work with a lactation professional to determine the root cause and come up with a plan that works for your situation. Certain situations will not be improved by pumping more, so it's crucial to make sure you have a plan that might actually yield results.
I offer virtual consults worldwide, which you can book here!
My mini-course – Mastering Your Milk Supply – is also REALLY helpful!
When to Pump to Increase Milk Supply
If you're trying to increase your milk supply, the best time to pump is typically about 30 minutes after nursing or pumping. This is typically far enough away from the next feeding that your baby won't be frustrated by a slower letdown.
Of course, you need to find a time that works best for YOU! Any extra stimulation will be beneficial, regardless of when you do it.
How many times a day should you pump in a day to increase your milk supply?
This will depend on your goals, what type of pumping plan you are doing, and your schedule.
I would start with one time a day and increase from there. If you are really struggling with supply, after every feed may be appropriate for the short-term, though not forever.
The average is 2-3 times a day. If you are doing power pumping, once a day should be just fine.
What Time of Day To Pump To Increase Milk Supply
There are two times of day I usually recommend for the "best" times to pump for increasing milk supply:
The morning hours – this is typically when supply is highest, so you'll likely see the most milk at this time
After your baby goes to bed, especially if your baby is sleeping for a longer period of time. It can be great to add in a "fictitious feed" at this time where you consistently pump each day.
If your baby is sleeping through the night, this certainly can impact your milk supply. I recommend drinking 16-24 hours of water before you go to bed and pumping when you naturally wake up to go to the bathroom.
What time of day is your milk supply highest?
There is a prolactin surge sometime in the early morning hours (anywhere between 12 AM and 7 AM), so most people to send to see an increase in milk supply at this time.
How often should you pump at night to increase your milk supply?
Pumping at night can be a tricky thing to navigate, and it can depend on if you are exclusively pumping. If you are exclusively pumping, I would recommend pumping 1-2 times a night, depending on how old your baby is. You will likely see better results if you pump at night.
How Long To Pump Each Session To Increase Milk Supply
The amount of time you pump can vary depending on the person. If you have the correctly sized flanges and settings for your breast pump, it can
Why do people need to increase their supply?
There are many reasons why someone would want to increase their supply. It is important to understand what "normal" supply looks like, though, and that everyone has a maximum amount they are able to produce.
Here are some times you may see a decreased milk supply:
Illness
Introduction of solid foods
Starting birth control pills
Infant in the Neonatal Intensive Care Unit
Some moms want to try and increase their supply in order to build a freezer stash. I don't recommend the practice of having a huge freezer stash, but it's really up to you. Just remember – you can't always increase your supply!
How many times a day should you pump or nurse for a full milk supply?
Assuming there are no underlying conditions, in the early weeks of breastfeeding, you will need to be around 8-12 times in a 24-hour period. This can vary depending on your breast storage capacity.
Different methods for pumping to increase milk supply
Here are a few different methods you can consider:
Traditional Power Pumping – essentially, you take a one-hour block of time and pump on and off for 10 minutes at a time. You can learn more about power pumping here – Power Pumping 101: Tips, Techniques, and Schedules. Power pumping is a way to mimic cluster feeding and a growth spurt.
Flexible Power Pumping – with this technique, you take a three-hour block of time and commit to pumping for 10 minutes on the hour for those three hours. This can be a little less time-intensive than traditional pumping.
Pumping after Nursing – You can pump immediately after you are done nursing for extra stimulation. If you want to maximize the amount of milk, 15-30 minutes may be preferable.
Pumping for five minutes longer – Just increase your pumping for five minutes past your final letdown
Finishing with Hand Expression – Hand expression can be a great tool, and it can sometimes help you yield more milk! Just finish off your pumping or nursing session with some hand expression. Here is some information on hand expression – How to Hand Express Breast Milk – and the Amazing Reasons Why All Moms Should Know How to!
Fictitious Feed – Add in a pumping session at the same time every day, at night usually works best.
Hits when you can – This is obviously the most flexible, but it can be the least reliable. Just pump or hand express throughout the day whenever you can!
Make Sure Your Flange Size is Correct!
If you are primarily struggling with low pump output, the biggest culprit for this is having the incorrect breast flanges. In my experience, the vast majority of moms are using the wrong-sized flange (the average I have seen is usually around 15mm!). Getting the right-sized flange can really make a big difference.
Be sure to check out "Find Your Fit" or book a 1:1 virtual flange fitting consult!
When will I see the results?
Usually, you should see results within 3-7 days of increased stimulation. It may just be a small amount, but if you are seeing a positive increase at all, that's a good sign.
Is pumping or direct breastfeeding better for increasing supply?
This can depend on a lot of factors, including how well the baby is latching and drawing out milk, whether is pumping efficiently, etc.
Pumping Tips:
Use a hands-free pumping bra:
A hands-free bra will make your life so much easier, which will make the process much easier and less overwhelming. There are a lot of great options out there – here are some of our favorites – 12 Best Hands-Free Pumping Bras (For All Budgets!)
Use a double electric breast pump:
For the most part, a double pump is more efficient than a single pump, and it can help you pump more milk in less time. Of course, not all breast pumps are created equal, but a good quality double electric pump is going to be your best option.
Here are a few of your top recommendations:
Consider Galactagogues and Herbs
These are not usually my first recommendation, but they do have a purpose and can be helpful when used correctly. I would definitely work with a lactation consultant.
Here are a few articles that might be helpful:
Have a Pumping Station
Make pumping easier with a pumping station! Have a basket or two filled with everything you need to pump so you don't have to run around trying to locate everything when you need it. Here are some ideas for a breastfeeding station.
Pool milk
If you are just pumping different amounts throughout the day, you can try and pool the milk together. There are different opinions on pooling milk at different temperatures, though. You can keep the milk at room temperature for 4-6 hours.
I recommend the Ceres Chill for pooling breast milk. You can use the code TBM15 for 15% off.
Use Heat
Heat can be really beneficial to get your milk flowing and keep it flowing while you pump. You can make a homemade rice bag or use something like Lansinoh Therapearls.
Massage
Incorporate Massage into your pumping routine – before and during! Your hands are always your best tools – especially when it comes to breast compression – but I also love the LaVie massagers (especially the heated one!) You can use the code TBM10 for 10% off.
Have a Predictable Pumping Schedule
Having a predictable schedule can help your body prepare itself and also help you keep your sanity!
Try a Different Pump
Sometimes you do need a different pump! If you've exhausted all your efforts and your pump just doesn't seem to be doing the job, it might be worth trying another one.
Manual Pump on the Go
Sometimes it's more convenient to have a manual breast pump for those times when you can't get out your whole setup! I actually really love manual pumps and find them to work well.
Don't Get Discouraged
If you just get small amounts or see small improvement, that's okay! Keep doing the best you can.
I hope that this has helped answer some of your questions about the best times to pump to increase your breast milk production. Be sure to let me know if you have any questions in the comment section!
More Articles You May Enjoy:
Katie Clark is an International Board Certified Lactation Consultant (IBCLC). She has helped thousands of mothers and families around the globe navigate breastfeeding challenges and questions since 2015. She has a passion for creating research-based, helpful breastfeeding education and helping parents find a way to make breastfeeding work for them. Katie is a mom of three little boys and lives in the great state of Colorado. She also has a degree in Communications with an emphasis in print journalism.