Welcome to The Breastfeeding Mama – your one-stop shop designed exclusively for new moms and their breastfeeding journey. Step into a world where information, support, and resources converge to help you meet your breastfeeding goals with confidence and ease. Filled with engaging and helpful breastfeeding articles, affordable online courses, and a wide range of products for every stage of breastfeeding, The Breastfeeding Mama is here to empower you every step of the way.
Join our vibrant community of like-minded moms who are on a similar journey, and discover a place where you'll feel understood, encouraged, and celebrated. The Breastfeeding Mama is here to guide you, inspire you, and provide the support you deserve, as you embrace the incredible adventure of motherhood and nourish your little one with love.
The Breastfeeding Mama Story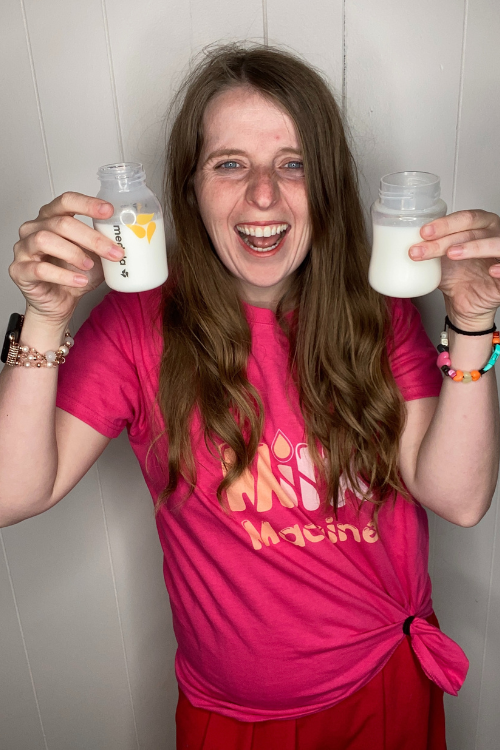 What started as a Facebook group in 2015 started by a mom who recognized that breastfeeding support was seriously lacking has turned into a massive breastfeeding community and educational website.
Katie Clark, mom of three boys, struggled big time to breastfeed her second child. Despite having a good support network, she struggled to find pediatricians and medical providers that knew anything about breastfeeding.
After experiencing this, she realized how much breastfeeding moms struggled, and she started The Breastfeeding Mama Support Group on Facebook.
This group quickly grew (and it currently has over 21,000 members) – and as it grew, Katie decided to create as many free and affordable resources to help breastfeeding families around the world meet their goals.
The Breastfeeding Mama Instagram and the website were launched in 2019 and has continued to grow, reach, and support millions of families around the world through its fun, engaging, and evidence-based breastfeeding content.
About Katie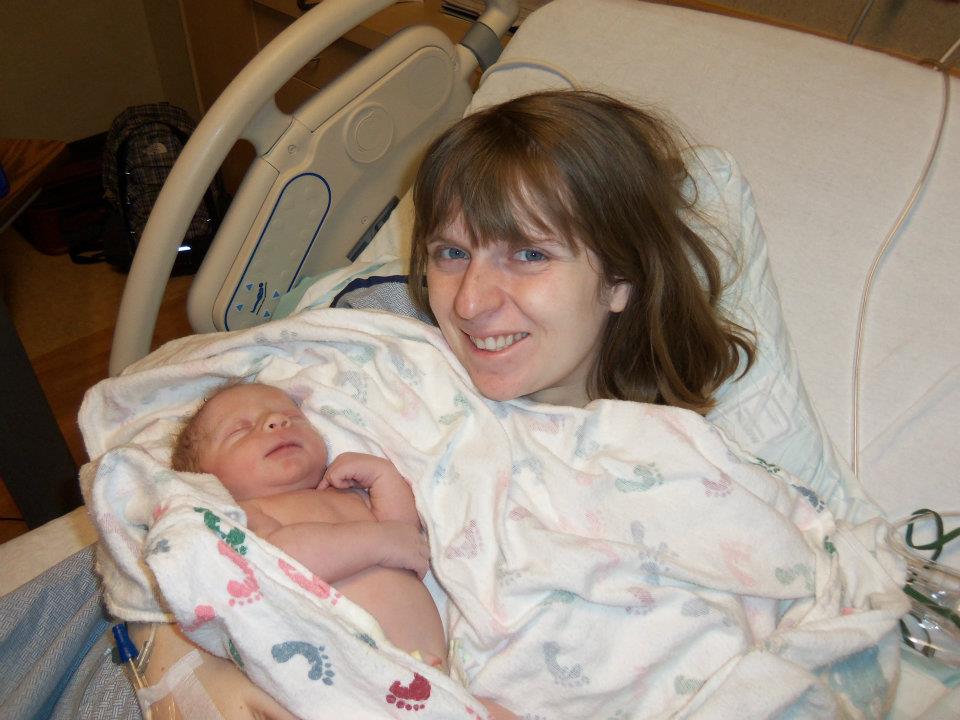 See this Mom? Yeah, that's me after the birth of my first son – practically a baby having a baby.
My breastfeeding knowledge was pretty much zilch. When I was pregnant, my sister asked if I planned to breastfeed. I just said, "uh…probably? That's what people do, right?"
I took a 30-minute breastfeeding class, and the only thing I remembered was being told that sending my baby to the nursery would basically guarantee the demise of the breastfeeding journey.
(Not true, by the way).
That sweet boy was born, and he was born ready to nurse. Despite feeling like I could only nurse in the football position for a few weeks, a few cases of mastitis, and falling prey to the myth that you can ONLY breastfeed every three hours…I breastfed him for almost two years with no issues.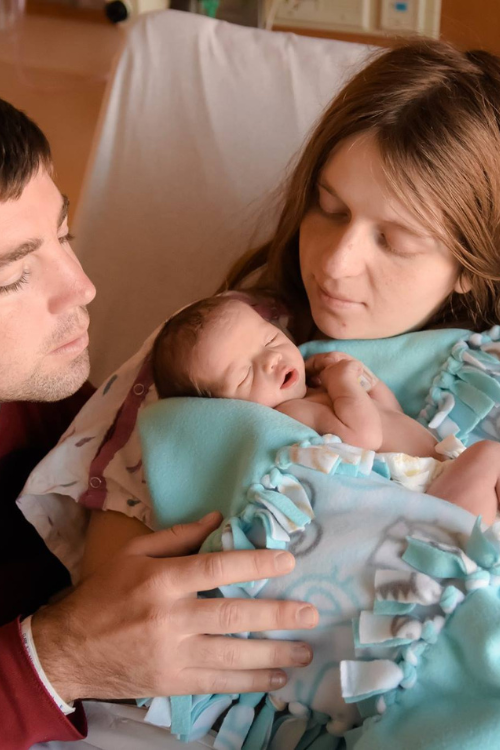 Then, came my second child. I figured everything would go awesome with breastfeeding. I mean, how could it not?
Not so much. Everything that COULD go wrong, did go wrong.
Tongue tie. Mastitis. Low milk supply. Slow weight gain. Toe curling pain. Bottle preference.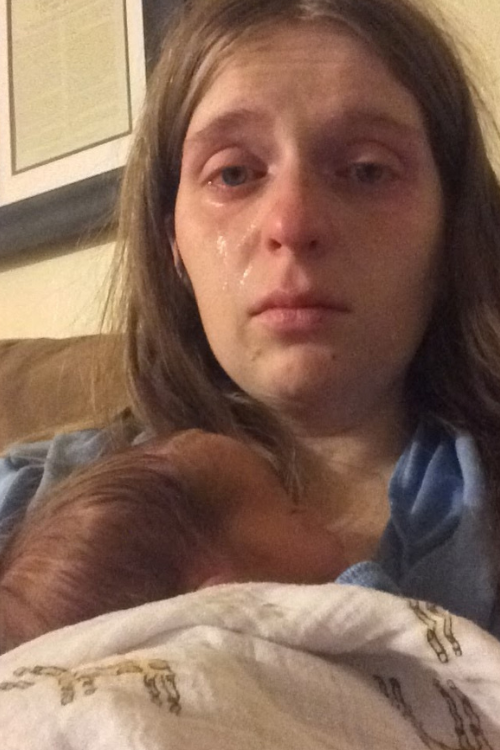 You name it, I probably experienced it. And yes, the above picture was a frequent recurrence for months.
I could have stopped and no one would have blamed me. But I'm very stubborn, and I knew I could breastfeed. So I fought through it and breastfed that child (most of the time in pain) for 2.5 years.
This is where my passion for breastfeeding began.
I was fortunate to have a good support system – but I realized how bad breastfeeding support (and knowledge – especially among medical professionals) is.
On a whim, I started The Breastfeeding Mama Support Group, which quickly grew.
I decided I needed some kind of education in breastfeeding, so I became a Certified Lactation Educator.
Then I wanted to offer even more support, so I became a Certified Breastfeeding Specialist.
I also started The Breastfeeding Mama Instagram page and website. All along, I wanted to become an IBCLC but thought it was a pipe dream.
That was, until, I really dove into the requirements, and I realized it wasn't going to be as difficult as I thought.
Over the course of two years, I went through Pathway 3 to become an IBCLC, and I sat for the exam in March of 2023 – and now, I'm just waiting for the results.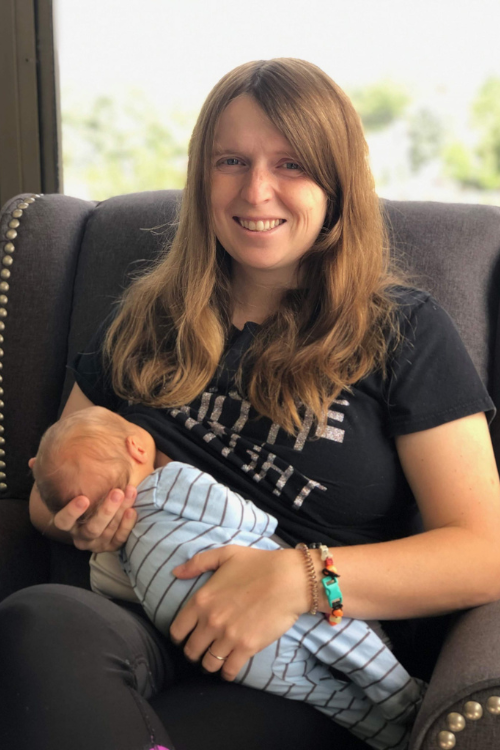 I had another child in 2019, and despite having a rough start due to low blood sugar (thank you, gestational diabetes) and a tongue tie – I had learned how to advocate for myself and my child, and after figuring out a few issues, I went on to breastfeed him for three years. The picture above was after his tongue tie release – I had forgotten that breastfeeding didn't have to hurt.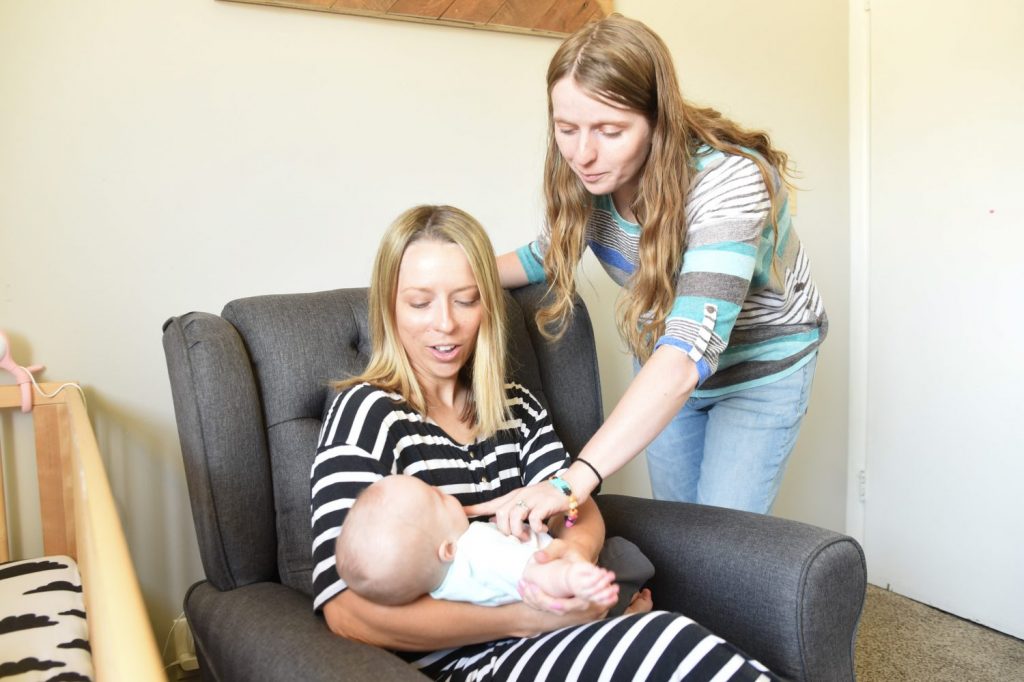 Over the years, I have helped thousands of mothers and families around the world meet their breastfeeding goals. I've seen it all – and I love helping people make breastfeeding work for them.
This is truly my passion. I know what it's like to breastfeed and feel like every minute is an eternity. I know what it's like to struggle. But I also know what it's like to succeed – and there are few things that bring me more joy than getting a message that says, "If it weren't for your help, I wouldn't be where I am today."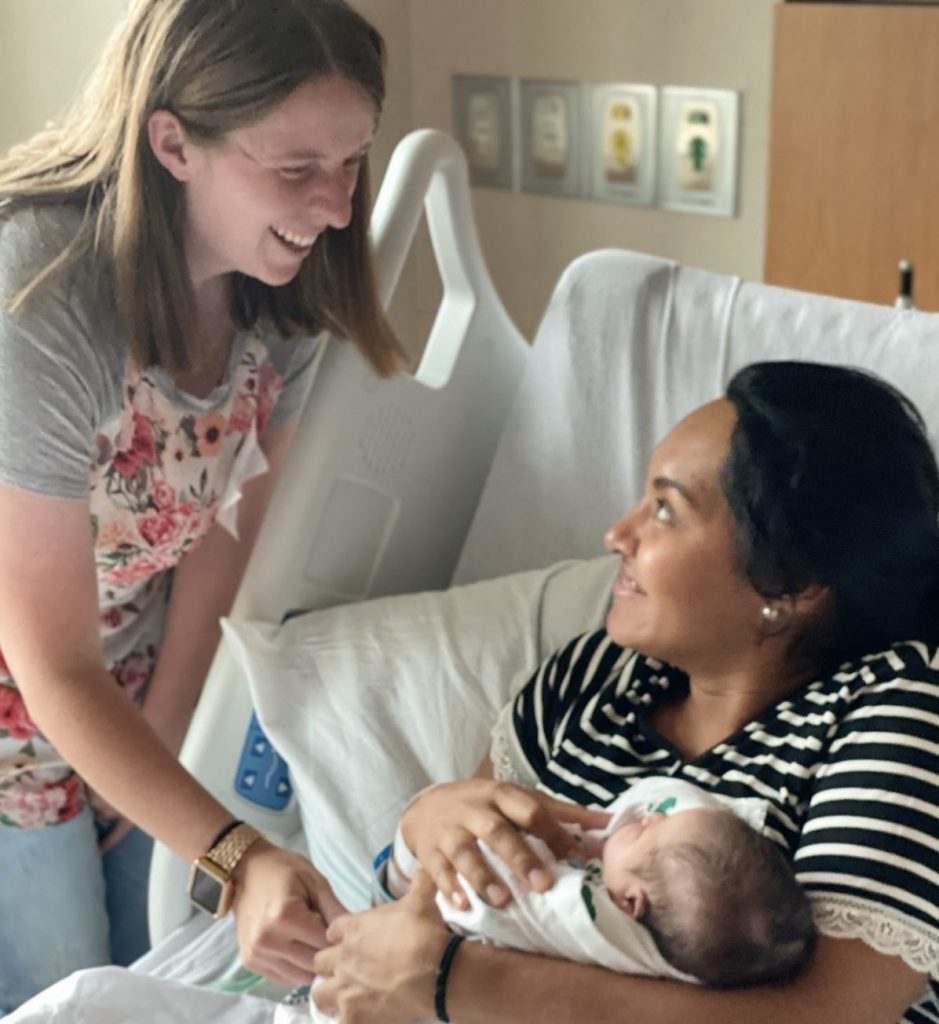 Breastfeeding can be so challenging, but it can be so rewarding. I recognize it doesn't look the same for everyone – and I am here for the person who needs someone to help them keep going – but also for the person who needs you to say, "You've done a great job. It's okay to stop."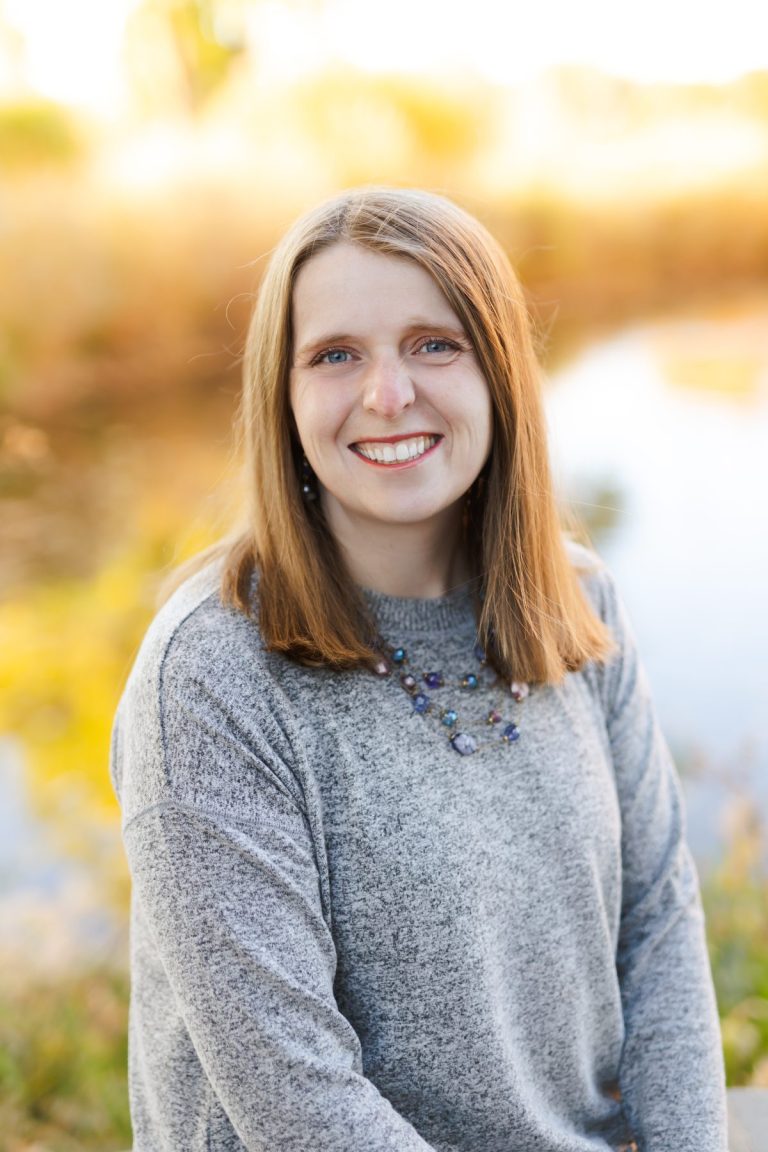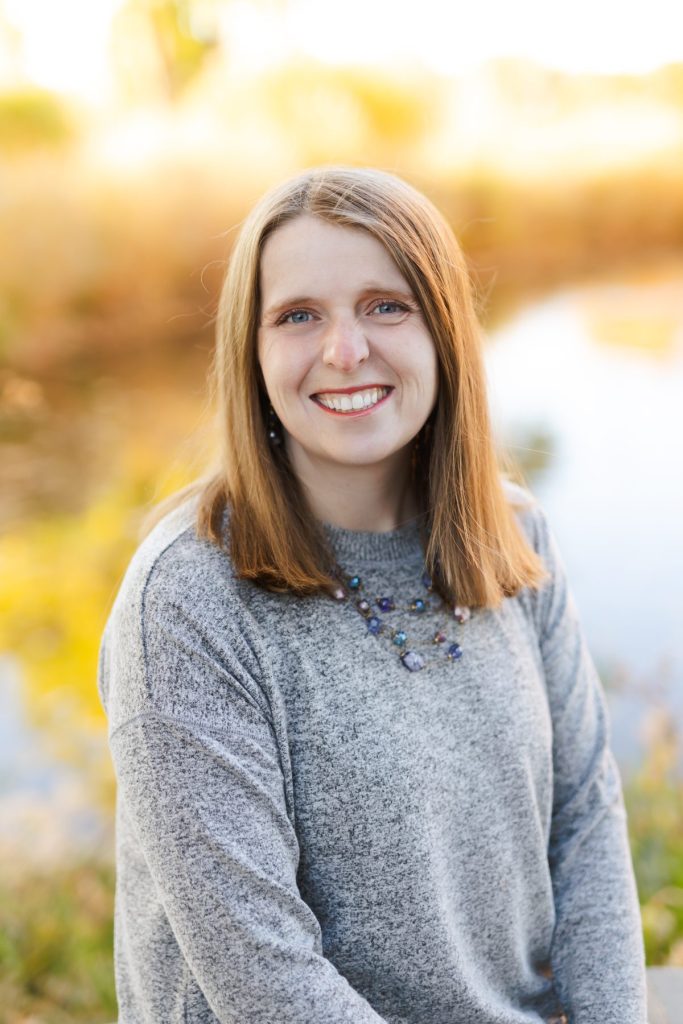 And on a more personal level – here's a little more about me: I am the proud mother of three amazing boys whom my husband and I homeschool. We live in the great state of Colorado, just minutes from my childhood home. I love spending time outside, playing games, crafting, and experimenting in the kitchen. God and family are my top priorities and guide all my decisions. I have an incredible husband who has spent hundreds of hours editing breastfeeding content and could probably qualify for a breastfeeding certification himself. I am passionate about sharing the joy of family life, mental health, and living life to its fullest. For the past 10 years, I have run several blogs and social media channels – you can view my whole portfolio here.
My Education and Experience
Please click here to view my LinkedIn profile for additional information
Brigham Young University – Communications with an emphasis in print journalism (2013)
Soon-to-be IBCLC
I sat for the IBLCE exam in March of 2023, and I am currently waiting the results. My education and experience to be eligible for the exam included:
500 clinical hours – working directly with breastfeeding moms and families
14 health education courses
95 hours of lactation-specific education
Continuing education course on relactation and induced lactation
Continuing education course on tethered oral ties
What I Offer
I offer a range of services – free and paid – to help breastfeeding families around the world.
Virtual Consults
It's amazing what you can do with technology! While there are some limitations that come through virtual consults, they are a wonderful option for most moms. I offer consults for everything from prenatal consults to weaning consults and everything in between.
All consults include two weeks of messenger support through my secure portal. While I do not currently bill insurance directly, I can provide a superbill for possible reimbursement.
Online Courses
Education can be one of the biggest indicators of meeting breastfeeding goals. I have created a variety of different courses to help guide you through your breastfeeding journey, including:
All of these – as well as many other wonderful resources – are available together in The Breastfeeding Mama Academy.
Digital Products
In addition to courses, I have created quite a few digital products about different topics:
Articles
The Breastfeeding Mama hosts hundreds of helpful breastfeeding articles. We do our best to keep them research-based and easy to read. You can see our latest articles here.
Free Printables
I, alongside others on the TBM team, have created dozens of helpful printables to guide you to breastfeeding success. We are currently working to get these better organized and will share a link to them soon.
Topics of Expertise
I am experienced in the full spectrum of breastfeeding topics, however, there are a few areas that I have sought out additional knowledge on and have added experience with, including:
Prenatal Consults
I truly believe that every mom needs a prenatal consult – whether its her first or last baby. These consults are my favorite because we can talk about any potential issues, fears, and worries and come up with a plan that works for your family!
Flange Fitting
I have taken several continuing education classes on flange fitting and have helped many women find the right flange fit. I incorporate the latest research and information to make sure your fit is the best fit!
Tongue Ties
After having two tongue-tied children and not getting the best care or information, I have dove deep into learning about tongue ties. I believe in a holistic approach that can involve any number of interventions, and I approach each case with a new set of eyes. I am able to help with oral assessments (eventually virtually), make referrals for an official diagnosis, create pre and post op care plans, and support you every step of the way.
T
Induce Lactation
I have always been fascinated by the idea of inducing lactation, and it's been my pleasure to help support those who choose this path. I specifically work with those who are awaiting adoption or surrogacy and help develop a specific plan. Due to the complex nature of these cases, I typically recommend an induced lactation package which can be modified depending on where you are at in the process!
Popular Content
Here are our top 10 posts of 2022 from The Breastfeeding Mama:
Featured
Katie has been featured on podcasts, videos, and articles across many prominent websites/organizations. She is happy to be a guest on podcasts, YouTube channels, and articles about all things breastfeeding related – click here to contact her to set something up!
Pregnancy and Postpartum TV – How to Increase Milk Supply Fast
The Preg Nurse – various articles and included in the prenatal course as a breastfeeding educator
The Bump – Lip Tie in Baby
Very Well Family – Can I Use Essential Oils While Breastfeeding?
Yahoo Finance – What to Do When You Don't Have Insurance
Tongue Tie Experts Podcast – Upcoming Episode
Mommy Labor Nurse Podcast – Talking Low Supply and Oversupply
Good Buy Gear – Transitioning to Formula from Breast Milk
The Lily – Should I keep breastfeeding for Covid-19 antibodies?
Ceres Chill – Breastfeeding Mama Loves Ceres Chill
Romper – Weaning Your Baby from Breastfeeding
Slumber Pod – Getting More Rest as a Breastfeeding Mom
Testimonials
Work With Me
I love to work with like-minded individuals and companies. Please click here to learn more about how we can collaborate together.