The Best Exercises While Breastfeeding
Discover the perfect exercises that fit seamlessly into your breastfeeding journey, because taking care of both your baby and yourself is a beautiful balancing act. Get ready to embrace a healthier, happier you as this article addresses the best exercises while breastfeeding plus a couple of workout plans to try!
So here's a huge problem you may have; finding time to exercise. Between just being plain old exhausted and trying to exercise between feedings so your boobs don't feel like they are going to pop- or leak through your sports bra, it can be feel almost impossible.
On top of that, it can be hard to find someone to watch your baby as well. Ideally, you will workout around your baby's nap and feeding schedule, though this isn't always easy to do.
In this article, we'll share some of the best exercises to do while breastfeeding, including some sample workout plans for home, gym, and outdoor working out mamas.
Exercises for Breastfeeding Moms
The truth is – most exercises are going to be just fine for breastfeeding moms. Before you start a postpartum workout plan, it's helpful to talk with your care provider first. Here are a few other things to keep in mind:
Many mothers have a condition called diastasis recti, which is the separation of abdominal muscles during and after pregnancy. This condition can be really tricky to manage, and it requires certain types of exercises. I'll talk about this more below.
Repetitive arm movements have been linked to clogged ducts, so you may want to be careful with too many repetitive upper-body weight-lifting exercises.
Make sure to drink plenty of electrolytes to help with any liquid loss. Skip the Gatorade though and pick something like Redmond Relyte.
With that said, here are a couple of great workouts to get you back into the swing of things:
Walking
Walking is one of the best exercises around! It's free, it's easy to do, and it's a great way to ease back into physical activity after giving birth. Walking on a treadmill, around the neighborhood, or even the mall is great exercise.
Water Aerobics
Once you've been cleared for swimming after giving birth, water aerobics can be very therapeutic. There are a lot of great classes out there, and they are very gentle and low impact – many even incorporate water weights.
This floor elliptical is fantastic for breastfeeding moms because it's hands-free and use it while you are sitting down. You could easily put this in your baby's nursery at the foot of a rocking chair and get some nice movement in during those endless nursing sessions.
Yoga and Pilates
Yoga and pilates are not only relaxing but great for your nervous system, anxiety and depression, and your lymphatic system (which impacts breastfeeding a lot). There are tons of great yoga and pilates videos to get you started online!
Light Weight Lifting
Weight training is a great way to condition your body. Of course, you want to be careful with how much you are doing and limit repetitive arm movements. However it can be an excellent strategy to help regain any muscle mass that may have been lost during pregnancy.
Babywearing
This may not seem like a workout, but it's like carrying around a 7-20+ pound weight! I feel like I was always in better shape when I was babywearing regularly. And a bonus if you can learn to breastfeed in a baby carrier.
If you have diastasis recti…
What NOT to do
The worst thing to do for someone who has diastasis recti are flat ab/back abdominal work. This would be flat crunches and sit ups. This can cause the muscles to separate further instead of pulling them together.
What TO do
Any abdominal exercise that TWIST. So Russian twists are a great go-to exercise. This pulls the separate abdominal sides together instead of apart. Something else that some mothers find helpful to keep their abs and core in place to quicken the recovery time of diastasis recti was a waist trimmer. Again, these just keep your abs in place, pulling them together, inserted of falling farther apart.
If you have diastasis recti, it can be helpful to work with a physical therapist who specializes in postpartum women and pelvic floor therapy.
Looking for a fantastic workout and nutrition plan built just for moms? I am a HUGE fan of the Mommy Tummy Fix. It has effective workouts and delicious recipes, and it was created by a husband and wife team that I just adore. The code MOMMY30 gets you $30 off! I have personally used this and loved it.
Sample Workout Plans for Postpartum Moms
When I previously wrote this article, I had a personal trainer friend of mine put together two workout plans that include free workouts for postpartum moms. One of them is for general postpartum and one is specifically for c-section mamas. Of course, always proceed with caution with any new workout, especially right after giving birth.
For other online postpartum workout options, click here.
Living Room Moms
This workout will get your muscles burning, your heart rate up, and if you do it long enough, you'll sweat too.
WARMUP: jum prope w/out the rope for 5 mins straight.
ROUND 1: (1min mountain climbers, 1min wall sit) x3
ROUND 2: (10 burpees and 20 squats) x3
ROUND 3: (Elbows to hands for 1 min and 30sec jump squat)x3
ENDING: 10 squats, 10 lunges, 10 jump squats and 10 jump lunges with no break.
Yes, if it's been a while since you've worked out, this will kick your butt. And if you can't do 3 sets of each, then start with 1 or 2. This should be about a 30-minute workout.
Outside Moms
Here is a kick-butt outdoor workout you can do with your babe (minus the running, you could also do some of these exercises inside with your baby).
WARMUP: .5 mile jog or .5mile walk with your baby in a stroller (or in a front carrier if walking)
ROUND 1: (while holding baby, or in a front carrier) 10 step ups on a bench (each leg) and 20 squats x2
ROUND 2: Walking lunges 20 total (with the baby in a stroller) and 20 forward squat jumps with a baby in a stroller
ROUND 3: (You can lay baby on the ground on a blanket under you for these!) 20 pushups/modified pushups and 20 elbows to hands planks
ENDING: .5mile run or .5mile walk
Gym Mamas
Most machines at the gym you can use, however, just be careful with repetitive movements of the arms.
My tips for you are to nurse/pump before you go, drink tons of water, and get a great workout in! If you can join a gym that has childcare, that can be even better!
There isn't one workout that is better over another so to say, so do whatever you love, get some me time, and put some sweat in! You'll feel better, I promise!
What to Eat While Breastfeeding and Working Out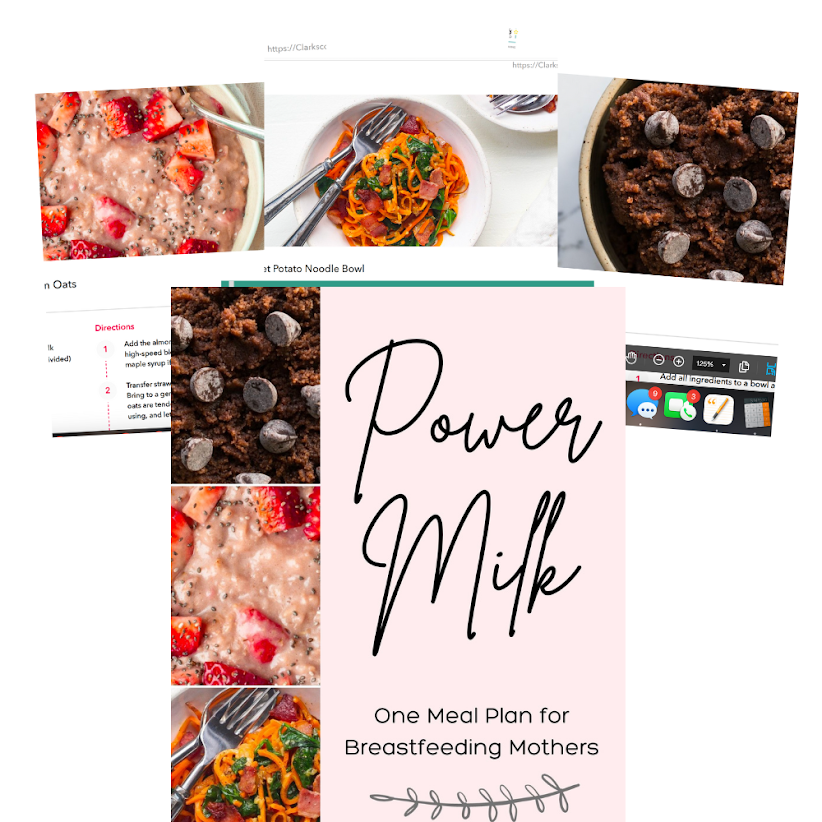 Not sure what to eat while breastfeeding and working out? I recommend making sure all meals and snacks have a Protein-Fiber-and Fat – and incorporate several complex carbs throughout the day.
Our 28-Day Breastfeeding Meal Plan is the perfect solution. Developed with a nutritionist and the specific needs of breastfeeding moms in mind, this meal plan has everything you need to feel great and eat well. It has the calorie AND macro count for every recipe!
For just $29, you will get:
60+ Breast Milk Making Recipes
Mindless Meal Plans for 28 Days
Shopping Lists for Each Week
Nutritional Information for Every Recipe
Allergy-Friendly Recipes
Recipes the whole family will love!
Plus a few extra bonuses

60-Day Postpartum Calendars (C-section Friendly)
Breastfeeding-Friendly Mocktail Recipe Book
Meal Planning Printables
FROM THIS PAGE ONLY – GRAB THE MEAL PLAN FOR $10 OFF FOR JUST $19 with the code 10DOL
FAQs
Can exercise affect milk supply?
In most situations where a mom is involved in moderate intensity exercise and is focused on eating and drinking enough, milk supply should not be impacted. Be sure to read more about this in my article about exercise and breastfeeding myths.
Can I do squats while breastfeeding?
Yes, there shouldn't be any concern with doing squats while breastfeeding as long as you don't have any physical limitations that would limit them.
Can I exercise to lose weight while breastfeeding?
Absolutely! It is safe to lose weight while breastfeeding – try and aim for 1/2 pound of weight loss a week.
When can a nursing mom start exercising?
You can generally start going on short walks pretty soon after birth and resume other exercises 6-8 weeks after giving birth. However, that is a conversation to have with your doctor.
More Articles You May Enjoy:
Katie Clark is an International Board Certified Lactation Consultant (IBCLC). She has helped thousands of mothers and families around the globe navigate breastfeeding challenges and questions since 2015. She has a passion for creating research-based, helpful breastfeeding education and helping parents find a way to make breastfeeding work for them. Katie is a mom of three little boys and lives in the great state of Colorado. She also has a degree in Communications with an emphasis in print journalism.