Can You Take Theraflu While Breastfeeding? What New Moms Should Know.
Breastfeeding mamas are pretty amazing, but that won't keep you from getting the common cold. Symptoms such as a low fever, cough, runny nose, and muscle soreness are not fun and can keep you down and anyone would want to try and find relief. There are options for you as a breastfeeding mom, but is Theraflu safe to take while breastfeeding?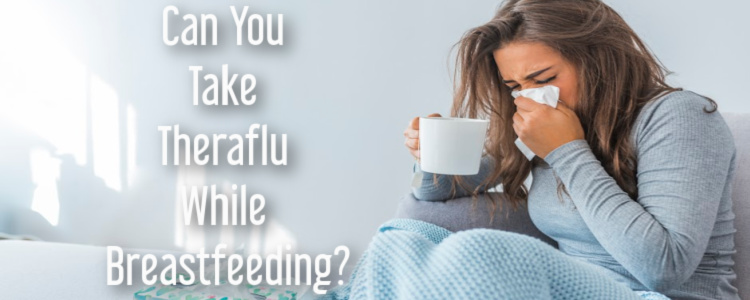 There are few things worse than getting sick while breastfeeding. Not only do you feel terrible but you worry about passing on the sickness to your baby!
While there are many medications that are safe while breastfeeding, there are some that you should avoid.
Is Theraflu one of them?
What Theraflu says
It's important to acknowledge that according to the FAQ on Theraflu website they recommend that you consult your physician before using any of their products.
Next, you need to look at the specific product itself. Theraflu is actually a brand with quite a few different products. While one of them might be safe, another may be better avoided while breastfeeding.
We won't go through all the different products, however, we will discuss a few of Theraflu's most popular products.
Theraflu Severe Cold and Flu
Acetaminophen for pain relief
Diphenhydramine for an antihistimine and cough suppresant
Phenylephrine as a decongestant
Theraflu Multi-Symptom Cold and Flu
Acetaminophen for pain relief
Dextromethorphan as a cough suppressant
Phenylephrine as a decongestant
So let's talk about each of these ingredients independently:
Acetaminophen
This is a pain medication that is very commonly used among breastfeeding mothers as well as breastfed infants. However, there is a risk of liver toxicity, and it's recommended to not take more than 3 grams a day (or 3000 mg in 24 hours – 1000 mg per dose).
It is not known how much passes through to the infant, so it might be a good idea to avoid taking acetaminophen at the same time your child takes it. However, it is a L1 drug, which means it's compatible with breastfeeding.
Diphenhydramine
The trade name for this drug is Benadryl. This is considered a L2 drug, which has limited data available but is probably compatible with breastfeeding.
There is no current evidence that this will cause a negative impact on breastfeeding. However, it can cause drowsiness so it's important to make sure there is someone else available to watch your child in case you become too tired. You should also monitor your infant for drowsiness.
Phenylephrine
This is a decongestant that is an L3 drug. There is no data but considered compatible. It has poor oral absorption, so it likely won't cause issues with the infant. However, because it is a decongestant, there is a possibility that it could impact your milk supply – especially if you have an older breastfeeding infant.
This is the main ingredient that would give me pause over Theraflu products that contain it.
Dextromethorphan
This is another L3 drug without much research available. It is not thought to transfer a significant amount through. breast milk, though you should monitor your infant for sedation.
Source for the information above – Infant Risk and MommyMeds
Conclusion
Both of the medications above have phenylephrine, which is the main ingredient that may have a negative impact on breastfeeding. If you are concerned about milk supply or have an older breastfeeding infant, it might be a good idea to avoid these medications while breastfeeding.
If you are looking for additional ways to help a cold while breastfeeding, be sure to check out our article on Sudafed and breastfeeding
We hope that this was helpful in helping you decide if you want to take Theraflu while breastfeeding. As always, reach out to your trusted medical professional with any questions or concerns.
T
Other articles you may enjoy: