Breastfeeding mamas are pretty amazing, but that won't keep you from getting the common cold. Symptoms such as a low fever, cough, runny nose, and muscle soreness are not fun and can keep you down and anyone would want to try and find relief. There are options for you as a breastfeeding mom, but is Theraflu safe to take while breastfeeding?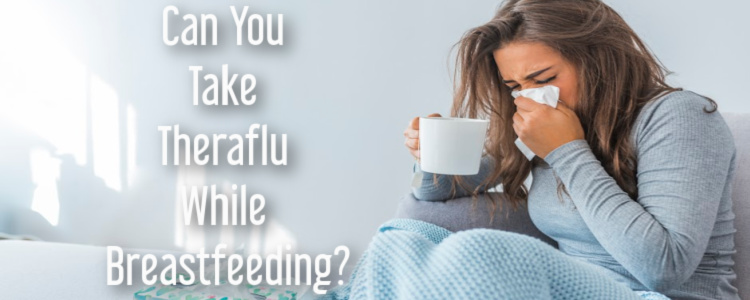 It's important to acknowledge that according to the FAQ on Theraflu website they recommend that you consult your physician before using.
However, there is some information on Theraflu and breastfeeding to help you make your own educated decision. Theraflu is a mix of three medications: Acetaminophen relieves pain, Dextromethorphan helps with coughs and henylephrine relieves sinus discomfort.
Medication, food, and nutrients can pass through breast milk so any side effects from Theraflu could potentially be passed onto your baby. Dextromethorphan is a sedative and it could possibly make your baby drowsy and also cause a dip in your milk supply.
Tylenol, or acetaminophen and Advil,or ibuprofen are more commonly approved for breastfeeding, but as always consult your doctor if you have any concerns.
New to breastfeeding? Need a refresher for a second baby? Make sure you signup for "The Complete Online Breastfeeding Class". This on demand class is designed to help you meet your breastfeeding goals.
Other articles you may enjoy: