The Best Online Tongue Tie Support Groups for the United States!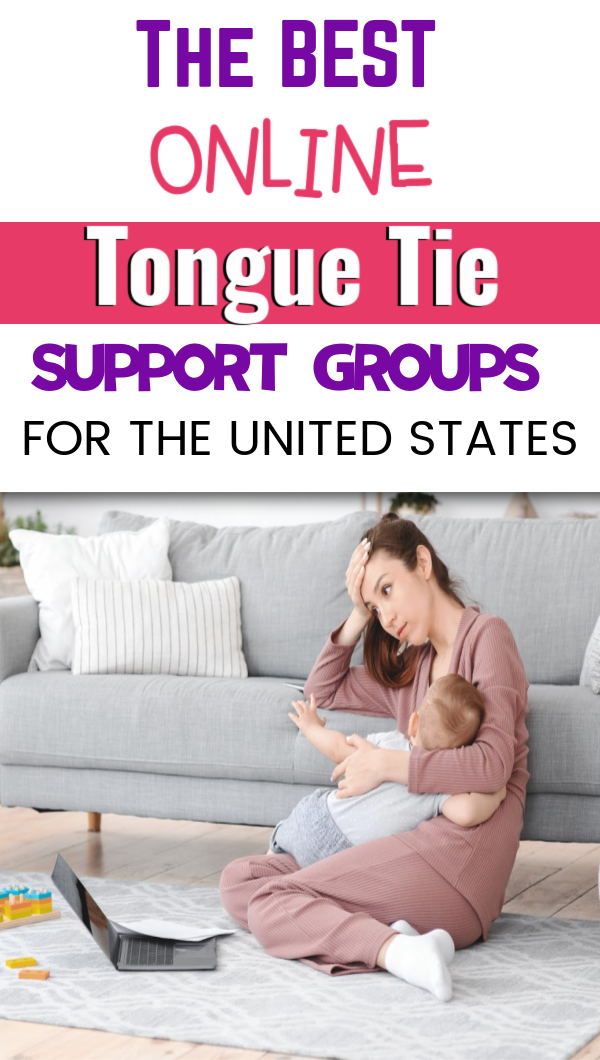 If you have a baby with a tongue or lip tie it be helpful to find support from others. Facebook is filled with Tongue and Lip Tie Support Groups. Even better-most states have a support group so you can find resources that are local to you.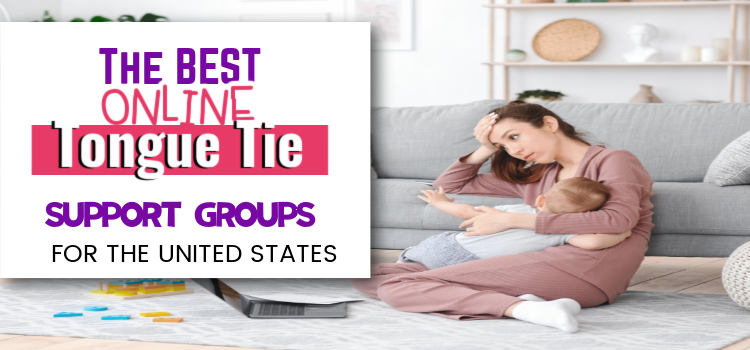 Finding out your baby or child has a tongue tie might seem a little overwhelming. You most definitely want to be an advocate for your child and make sure you educate yourself so you can make the right decisions for them.
Finding a support group near you can really help as you navigate everything you need to know and learn about tongue and lip ties. Luckily, Facebook is filled with support groups.
Most states have Tongue and Tip Tie Support Groups and we have found them for you so you can be supported by locals who may have resources that can help you.
These groups are typically filled with parents and tongue tie savvy professionals, such as IBCLCS and dentists. They can be a great way to find someone in your area who is competent enough to diagnose and treat oral restrictions.
What is a tongue tie?
A tongue tie is present at birth and is a condition that restricts the tongue's range of motion.
You can usually see a short and tight band of tiessue that tethers the tongue's tip to the bottom of the mouth.
Having a tongue tie could affect your child's speech, how they eat and interfere with breastfeeding.
Alabama
Alabama Tongue and Lip Tie Support Group
Alaska
Alaska Tongue and Lip Tie Support
Arizona
Arizona Tongue Tie and Lip Tie Support Group
Arkansas
California
California Tongue Tie and Lip Tie Support
Colorado
Colorado Tongue Tie and Lip Tie Support
Connecticut
Connecticut Tongue Tie Support and Resource Group
Delaware
Tongue Tie Support- MD, DE, DC, VA, WV, PA Area
Florida
South Florida Tongue Tie Support Group
North Florida Tongue Tie Support Group
Gainesville Florida Tongue Tie Support Group
Georgia
Georgia Tongue Tie Babies Support Group
Hawaii
Idaho
Illinois
Illinois Tongue and Lip Tie Support Group
Indiana
Indiana Tongue and Lip Tie Support Group
Iowa
Iowa Tongue and Lip Tie Support Group
Kansas
Kansas Tongue Tie Education Group
Kentucky
Kentucky Tongue Tie and Lip Tie Support Group
Louisiana
Louisiana Tongue Tie Support Group
Maine
NONE
Maryland
Tongue Tie Support- ME, DE, DC, VA, WV, PA Area
Massachusetts
Massachusetts Tongue Tie and Lip Tie Support Group
Michigan
Michigan Tongue Tie and Lip Tie Support Group
Minnesota
Missouri
Missouri Tongue and Lip Tie Support Group
Montana
Nebraska
Nebraska Tongue and Lip Tie Support Group
Nevada
Nevada Tongue and Lip Tie Support Group
New Hampshire
NONE
New Jersey
New Mexico
NONE
New York
North Carolina
Tongue and Lip Tie Support of NC\SC
North Dakota
Tongue and Lip Tie North Dakota
Ohio
Ohio Tongue\Lip Tied Babies Support Group
Oklahoma
Oklahoma Tongue Tie Support Group Public
Oregon
Oregon Tongue Tie Support Group
Pennsylvania
Pennsylvania Tongue Tie Center
Rhode Island
NONE
South Carolina
Tongue and Lip Tie Support of NC\SC
South Dakota
NONE
Tennessee
Tennessee Tongue and Lip Tie Support
Texas
Texas Tongue Tie Babies and Children Support Group
North Texas Babies Tongue Tie Support Group
Utah
Utah Tongue and Lip Tie Support Group
Vermont
NONE
Virginia
Tongue Tie Support- MD, DE, DC, VA, WV, PA Area
Washington
Tongue Tied in Washington Support Group
West Virginia
Tongue Tie Support- MD, DE, DC, VA, WV, PA Area
Wisconsin
Tongue Tie and Lip Tie in Wisconsin
Wyoming
Wyoming Tongue\Lip Tie Support Group