Is Pre Workout Safe While Breastfeeding + 10 Kinds to Try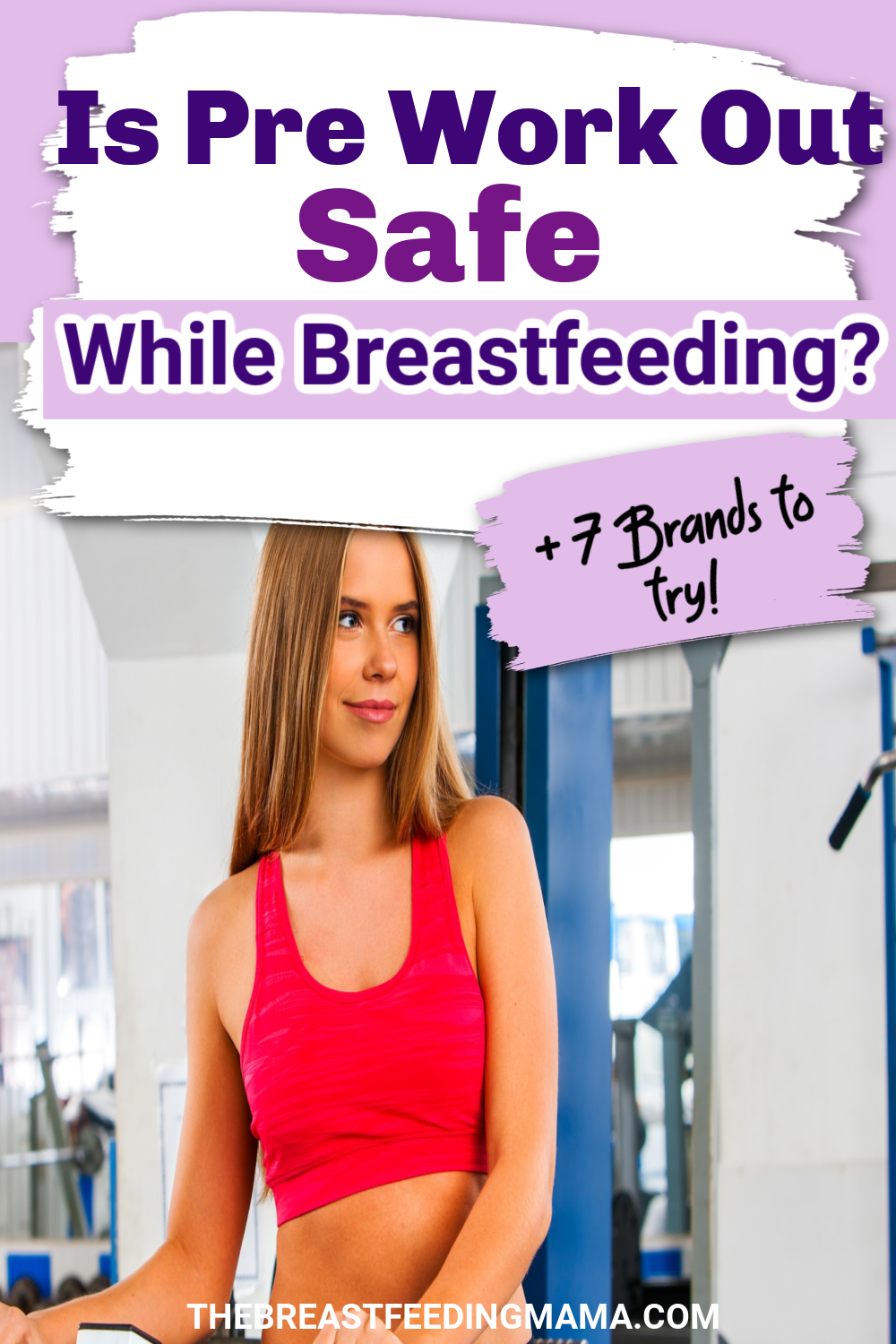 Do you want to use pre work out while breastfeeding? Many women wonder how safe it is and what brands are safe to use. This article has everything you need to know about pre-workout and breastfeeding, including our favorite pre-workout for breastfeeding mothers.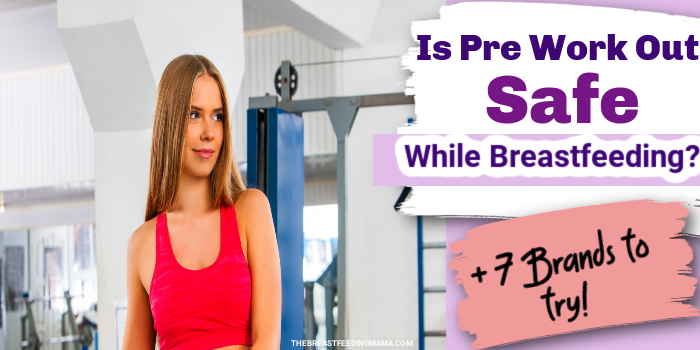 Do you like to work out? Many people do, and for a good reason! Working out is a great way to get in shape, boost energy levels, and improve overall health.
Many people wonder about breastfeeding and exercise and whether or not it's safe. They also wonder – are there any safe pre-workout options you can use? Yes, there are! But what if you are breastfeeding?
Many caffeine-free or low-caffeine options are available on the market, and we've compiled a list of our favorites for you here.
You may also enjoy:
What is pre-workout?
Pre work out is a supplement you might take before a workout to help provide your body with enough extra energy to get through a tough workout. Most are compiled of caffeine (which helps with energy and focus) and nitrates (once ingested, it turns to nitric oxide and causes blood vessels to expand, helping more oxygen and nutrients to your muscles).
What do avoid in a pre-work
Not all pre-workouts are created equal. It is important to choose a pre-workout with quality ingredients -especially if you are breastfeeding.
A few ingredients to be aware of or stay clear from include:
Too much caffeine
Proprietary Blends
Artificial Sweeteners
Is Pre-Work Out safe to use while breastfeeding?
Generally, yes, you can take pre-workout while breastfeeding. However, you should always talk with your doctor about your specific situation. With that said, there are a few things to keep in mind when doing so.
It comes down to your own personal opinion. Please refer any questions to your doctor or a lactation specialist if you have any concerns or help you make an informed decision.
Watch the caffeine intake.
For pregnant or breastfeeding women, it's recommended to limit caffeine to between 200 and 300 mg of caffeine each day.
Some babies tolerate caffeine better than others. It's important to watch your baby's behavior and adapt if you find your caffeine intake is impacting them. Ideally, a caffeine-free pre-workout would be ideal.
You might want to start with less if you start with a pre-workout. Consider using half of a scoop first to see how your body tolerates it and how your baby tolerates it. Regardless, here are a few things to keep in mind:
Pre-workout can often leave you feeling jittery or keep you from falling asleep. This could pass on to your baby, so you will want to look for any adverse effects after consuming it.
If you will use pre-work and find your baby is impacted, try pumping or feeding right before you nurse to give it more time to work its way through your body.
Taking it right after a feed will give your milk more time to dispel some of the caffeine before the next feeding.
If you're using a stimulant-free pre-workout, you don't necessarily need to be as cautious, but you should still start slow, and use it after a feeding, to be on the safe side.
Suppose you are still worried about the caffeine in your pre-workout try eliminating caffeine in other ways throughout the day. Skip a cup of coffee or a caffeinated soda to ensure your caffeine consumption is at the right mark.
Stay hydrated
It's important to stay hydrated- especially while breastfeeding but even more so if you exercise and take supplements like pre-workout.
Keeping your fluid intake up is important because becoming hydrated is the most common cause of a decrease in milk supply- which some women may worry about when taking a supplement.
You might also enjoy – How Much Water Should I Drink While Breastfeeding?
Follow the instructions
Never mix pre-workout or take more than the recommended dose. It would be best to avoid alcohol when taking pre-workout as it affects metabolism and may cause intolerance. Always read the instruction label and consult a physician for any questions.
Our Favorite Pre-WorkOuts
Here is a list of our favorite pre-workouts for breastfeeding moms. Always double-check the ingredients and make sure it's something you feel comfortable taking.
We have divided this into caffeinated and non-caffeinated
Caffeinated Pre-Workouts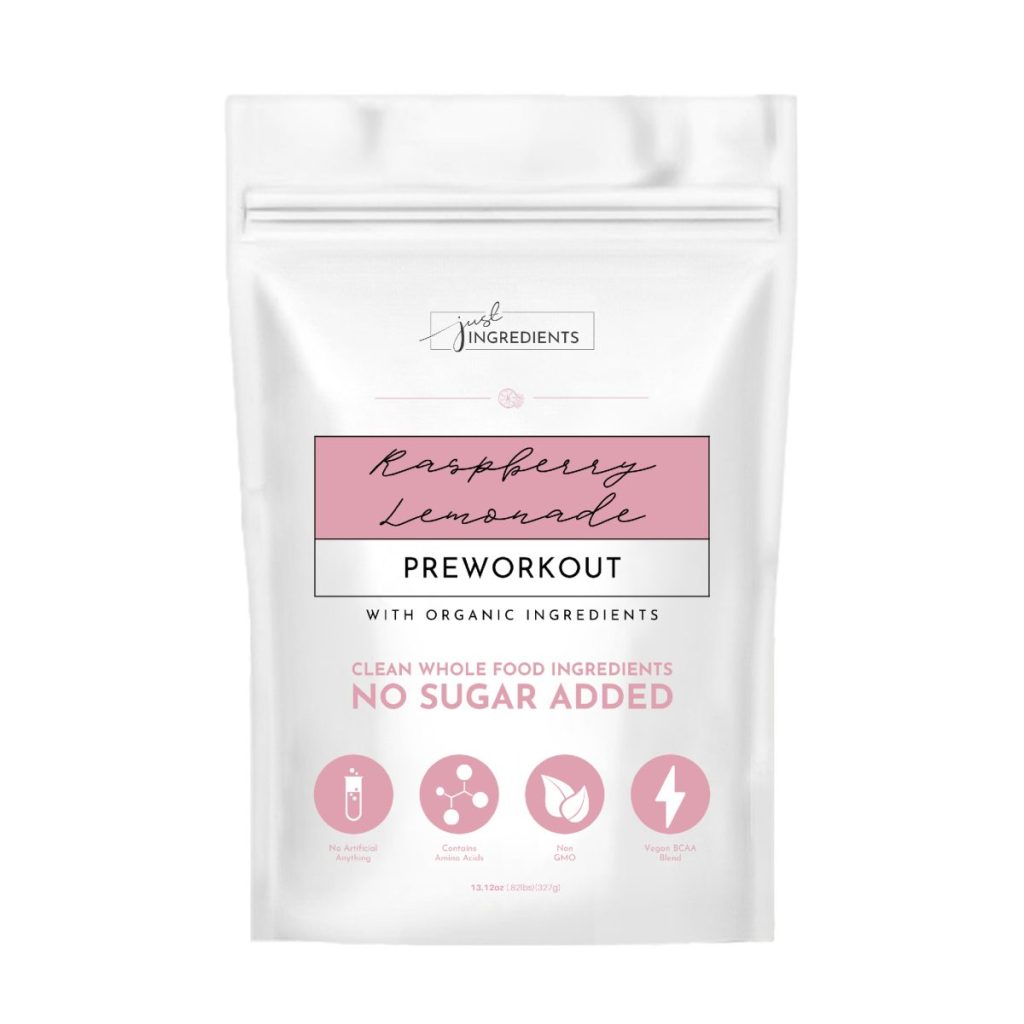 Just Ingredients is a great option for breastfeeding moms. Their pre-workout is made with no artificial sweeteners or ingredients. And it also includes citrulline malate, taurine, beta-alanine, and BCAAS for increased performance and recovery- all clean ingredients and no sugar added.
It also is said to help increase energy, improve mood, sharpen mental focus, increase strength and endurance, and reduce fatigue.
One serving has 150 mg of caffeine.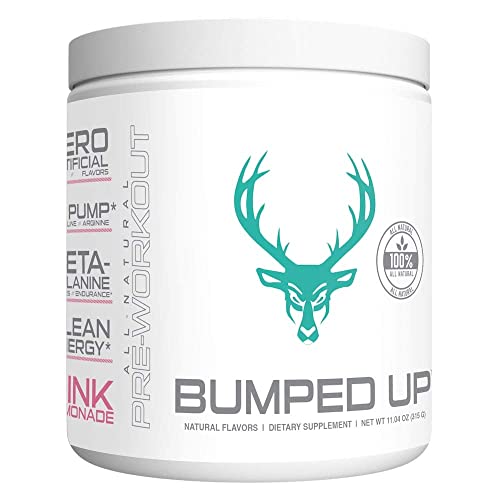 This pre-workout has been designed specifically for pregnant and breastfeeding moms. It is lower in caffeine, with just 100 mg.
It comes in three flavors and has a 30-day moneyback guarantee
Sale
C4 Original Pre Workout Powder Fruit Punch - Vitamin C for Immune Support - Sugar Free Preworkout Energy for Men & Women - 150mg Caffeine + Beta Alanine + Creatine - 60 Servings
C4 PRE WORKOUT POWDER FOR MEN & WOMEN - America's Number 1 Selling Pre-Workout Brand has been trusted since 2011 with over 2 billion servings sold* For advanced energy support, endurance, force, and pumps
BUILD MUSCLE & STRENGTH - Formulated with a super creatine compound to support strength and performance. Whether you're just starting your fitness journey or you're striving for a new goal, C4 will help unlock your full potential
INCREASE REP COUNT - C4 pre workout for women and men is formulated with CarnoSyn Beta-Alanine, a premium clinically studied beta-alanine, which has been studied to support muscular endurance and fight fatigue and may cause a harmless tingling sensation
MORE CAFFEINE, PLEASE - Formulated with a patented and clinically studied compound that may help the body prolong its caffeine tolerance buildup. Take 1 serving of sugar free pre workout mixed with 6 fl. oz of water 20-30 minutes before training
DELICIOUS FLAVORS UNLIKE ANYTHING ON THE MARKET - Cherry Limeade, Fruit Punch, Icy Blue Razz, Orange Burst, Strawberry Margarita, Juicy Candy Burst, Watermelon, and Pink Lemonade
C4 has no added sugar or chemicals and is said to help supply endless energy, sharp focus, and overwhelming stamina.
It comes in 12 flavors; one serving has 150 mg of caffeine.
Sale
Vega Sport Pre-Workout Energizer, Strawberry Lemonade - Pre Workout Powder for Women & Men, Supports Energy and Focus, Electrolytes, Vegan, Keto, Gluten Free, Non GMO, 1.1 lbs
Packaging may vary - You may receive our fresh new label, but it's still the great taste you love.
HELPS YOU STAY ALERT with 100mg of caffeine from natural sources like coffee fruit and green tea to help you focus, so you'll be ready for your workout, cycling, hiking or running.
ELECTROLYTES: hydrate with ingredients that provide electrolytes.
MADE FOR ATHLETES, vegan, gluten free, and Non-GMO Project Certified.
EASY TO MIX pre-workout drink, just shake one scoop of Vega Sport Pre-workout Energizer into 1-2 cups (8-16 fl. oz) of ice-cold water before you exercise.
This pre-workout is a plant-based drink mix with 100 mg of caffeine extract from green tea, organic coffee, and fruit, plus 16 grams of premium carbohydrate fuel.
It is a vegan-based, gluten-free pre-workout that also supports the keto lifestyle. It currently comes in two flavors, strawberry lemonade and Acai berry.
Sale
Alani Nu Pre Workout Powder Hawaiian Shaved ICE | Amino Energy Boost | Endurance Supplement | Sugar Free | 200mg Caffeine | L-Theanine, Beta-Alanine, Citrulline | 30 Servings
PRE WORKOUT PUMP: Turn your workouts up a notch with our flavor packed Pre-Workout. Formulated to provide you with 200mg of caffeine, sourced naturally from coffee beans to provide sustained and steady energy. The endurance and performance you need, in crisp flavors you deserve.
INCREASE PERFORMANCE: Take 20-30 minutes before your workout for sustained energy and endurance to help achieve your fitness goals. Alani Nu Preworkout contains essential amino acids like L-Theanine to prevent you from crashing, Citrulline to improve the amount of oxygen in your muscle tissue, provides enzymes crucial to cardiovascular health, and beta alanine to regulate lactic acid accumulation in muscles.
CRAVABLE FLAVORS: Don't wait for cheat day! Indulge in delicious flavors like Hawaiian Shaved Ice, Mimosa, and Blue Slush – all without the sugar. Check out all of our preworkout flavors in the Alani Nu Brand Store.
GLUTEN FREE, VEGAN AND SUGAR FREE: Alani Pre Workout is formulated to be gluten free, vegan and no sugar to keep the goodness within each jar of pre-workout. 100% transparent ingredients mean no proprietary blends, so you know exactly what you're putting into your body
ALANI NU PRE-WORKOUT: Here for your taste buds – Alani Nu was founded in 2018 by entrepreneur and influencer, Katy Hearn, Alani Nu is a health and wellness brand focused on providing low-calorie products with unique flavors. Check out everything else from Alani Nu and follow us through our brand store to stay up to date on all things Alani! Alani pre-workout is not recommended for Children, People Sensitive to Caffeine, Pregnant Women or Women Nursing
It is gluten-free and comes in seven delightful tropical flavors (think Mimosa and Pink Guava) with no added sugars, fat, or chemicals.
One serving has 200 mg of caffeine but is still considered safe for breastfeeding moms. However, if you are drinking coffee or other forms of caffeine, you may want to skip this one.
RSP NUTRITION AminoLean Pre Workout Powder, Amino Energy & Weight Management with Vegan BCAA Amino Acids, Natural Caffeine, Preworkout Boost for Men & Women, 30 Serv
Pre Workout for Men and Women – 125mg of natural caffeine provides a clean, sustained boost of energy along with enhanced mental focus to help you crush your workout and maintain alertness throughout the day.
Natural Amino Energy – Naturally sourced caffeine means AminoLean can be taken any time of day with no jitters or crash. Use it as a preworkout powder, morning coffee replacement, or afternoon pick-me-up.
Vegan Amino Acids – 5g of vegan BCAAs and EAAs help improve workout performance and offers a more complete amino profile than typical BCAA powders.
CLA, L-Carnitine, Green Tea – An optimal blend of these 3 diet friendly ingredients promotes natural weight management in combination with your exercise program to help maintain a healthy, lean physique year-round.
Clean Energy with Zero Sugar – AminoLean is vegan friendly, gluten-free, and contains zero sugar or artificial colors, making it an ideal pre workout for any diet including keto.
Amino Lean is the perfect pre work out for weight management. It comes in six fruity flavors and can be taken any time of day with little to no crash or jitters due to the natural amino energy. There are zero calories and zeros sugar in each serving.
This comes in several fruity flavors, such as blue raspberry and blackberry pomegranate.
One serving has 125 mg of natural caffeine, boosting energy and enhancing mental focus.
Caffeine-Free Pre-Work Out
This one is designed for pregnant moms, and many breastfeeding moms also use it. It is stimulant and caffeine-free, and it also has some other added ingredients, such as ashwagandha, which are helpful for new moms.
It is gluten-free, dairy, soy, and GMO-free. With that said, many people say it tastes terrible, which is why it didn't top the list as our favorite non-caffeinated version.
⭐️ Legion Pulse – Favorite Caffeine-Free Option
LEGION Pulse Pre Workout Supplement - All Natural Nitric Oxide Preworkout Drink to Boost Energy, Creatine Free, Naturally Sweetened, Beta Alanine, Citrulline, Alpha GPC (Caffeine Free Fruit Punch)
100% ALL NATURAL PRE WORKOUT POWDER. Pulse is a naturally sweetened and flavored pre workout supplement that contains large and effective doses of the best science-backed ingredients, including those found in many nitric oxide supplements: L citrulline malate, betaine, beta alanine and alpha gpc.
BOOSTS ENERGY & FOCUS. Mix a serving of this preworkout for women and men with water, swig it down, and get fired up and zeroed in and crush your workout . . . and without the jitters, upset stomach, or post-workout crash.
ENHANCES STRENGTH & ENDURANCE. This all natural preworkout powder is a nitric oxide booster and helps you push more weight and reps, get bigger and better pumps, and gain more muscle and strength.
GUARANTEED RESULTS OR YOUR MONEY BACK. If you're not 100% satisfied with this preworkout for men and women, just notify us and we'll give you a prompt and courteous refund on the spot. No complicated forms and no return necessary.
THE MAN BEHIND THE BRAND. Tired of the exaggeration and lies of the workout supplements industry? So was Mike Mathews, international bestselling fitness author with over a million books sold, and that's why he created Legion Athletics.
Legion Pulse is a popular pre-workout. They have caffeinated versions, but their caffeine-free mixture is fantastic. It has several flavors (we like the fruit punch one) and is all-natural.
They guarantee that you'll see results, or they'll give you your money back.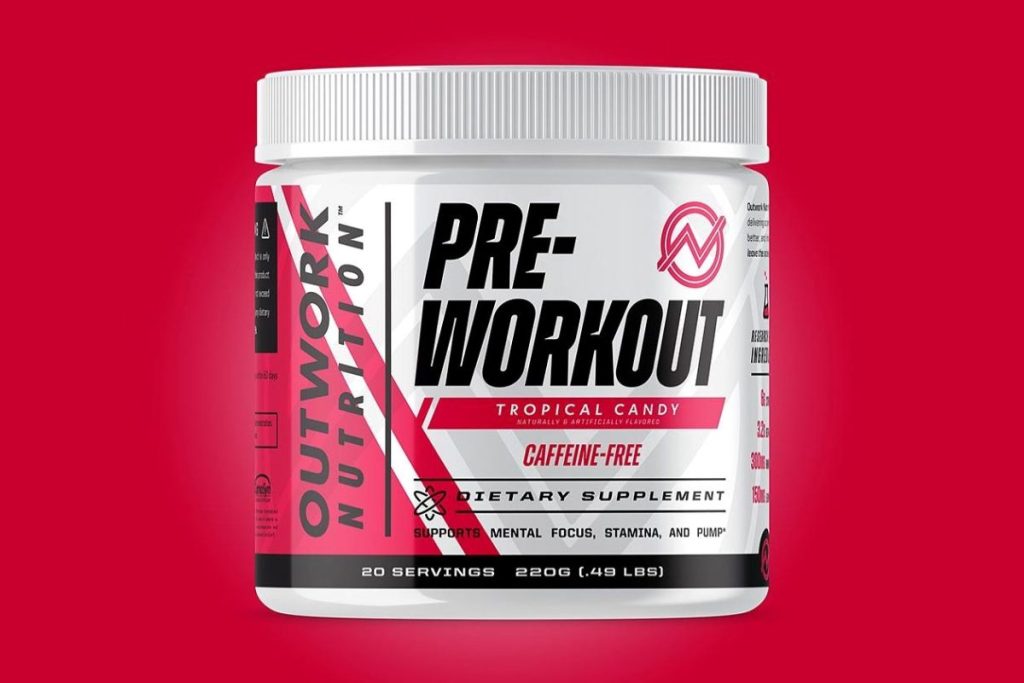 Outwork Nutrition is caffeine-free, supports mental focus and stamina, and has no proprietary blends and unfamiliar ingredients.
Not all flavors are available caffeine-free, so make sure you purchase the one specifically marked as that. Right now, they offer Tropical Candy and Raspberry Lemonade caffeine-free.
Sale
Zhou Nutrition Lite Up, Non-Stimulant Pre Workout Powder, Caffeine Free Nitric Oxide Booster, No Sugar Added, Vegan, Gluten Free, Non GMO, Berry Lemonade, 7.5 Oz
STRENGTH. ENDURANCE. PERFORMANCE. - Lite Up is designed to amp up the voltage for your next workout. This non-stimulant pre-workout includes ingredients like Nitrosigine for a nitric oxide boost, citrulline malate and malic acid. With Lite Up, PRs are a given.
CAFFEINE FREE: Powerful workouts without the caffeine jitters. Yeah, we did that. Lite Up is a non-stimulant pre-workout powder designed to give you the energy and endurance to power through your workout without the jitters from caffeine.
NITRIC OXIDE BOOST - Step up your pump with Nitrosigine, a patented complex of bonded arginine silicate that promotes blood flow. This powerful and safe nitric oxide booster supports strength, endurance and energy.
PROMOTE ENDURANCE: All the energy you need in one berry lemonade flavored scoop. Malic acid plays a key role in energy production and may support physical endurance during exercise.
WHAT SETS US APART? At Zhou, we use only the highest-quality ingredients in a facility following GMP (good manufacturing practices). Plus, we test everything at our lab in Utah, so you can be confident that you're fueling your body with the very best.
This non-stimulant pre-workout is caffeine-free, vegan, and gluten-free with no added sugar.
The caffeine-free version is available in the berry lemonade version. Make sure you select that when you checkout!
Is Pre-Workout bad to take while breastfeeding?
You will need to weigh the pros and cons of any added supplement. When it comes down to it, taking pre-work will be a personal choice.
It is important to have a healthy mind and body while you breastfeed. Staying physically active during this time can only help with both. Be sure you do what is good for you and your baby, and if you experience any adverse effects of pre-workout while breastfeeding, you should stop taking it and reevaluate your options.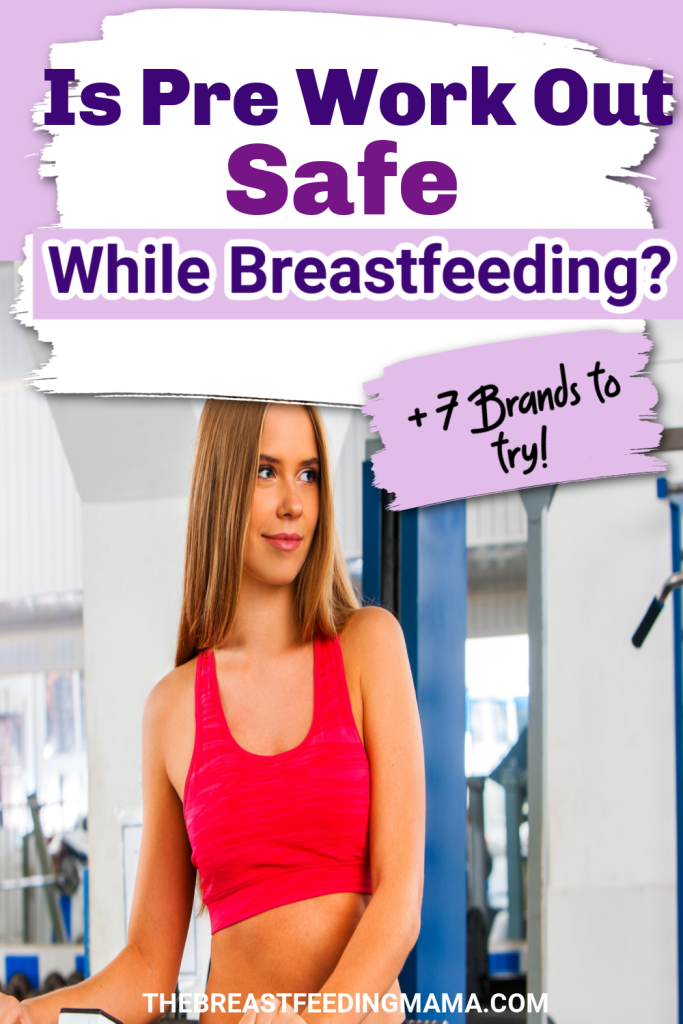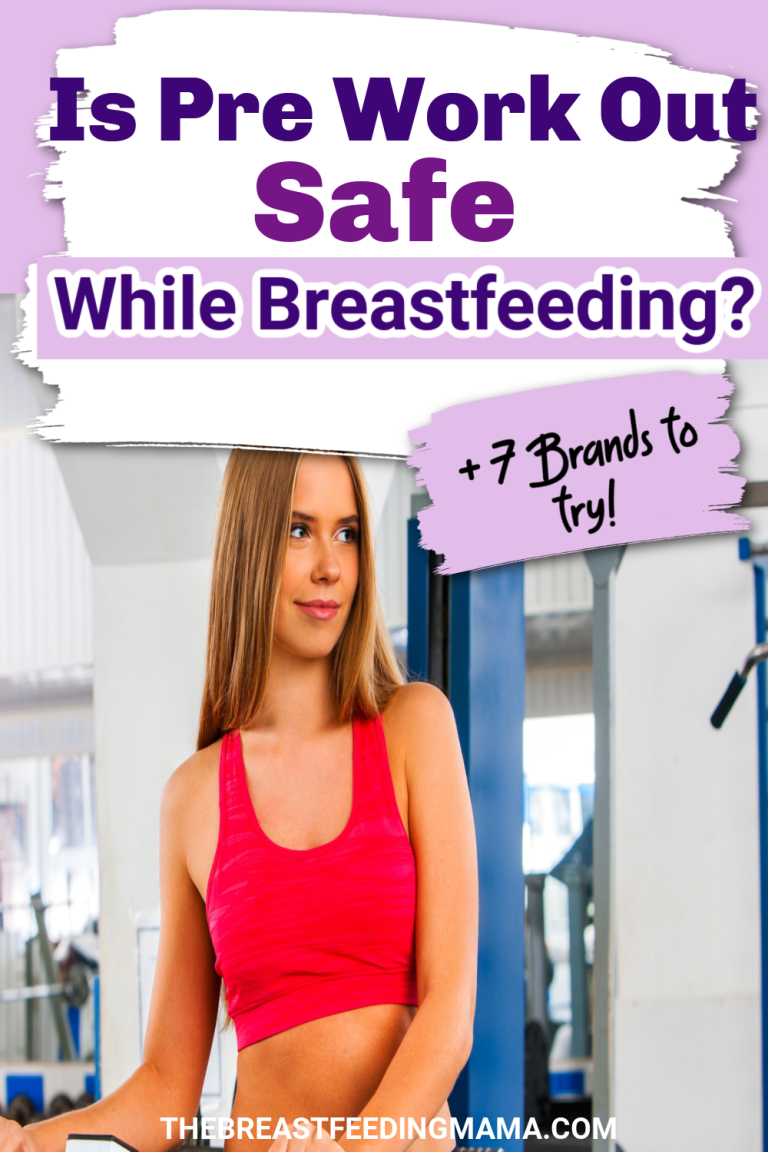 More Posts You Might Enjoy:
Katie Clark is an International Board Certified Lactation Consultant (IBCLC). She has helped thousands of mothers and families around the globe navigate breastfeeding challenges and questions since 2015. She has a passion for creating research-based, helpful breastfeeding education and helping parents find a way to make breastfeeding work for them. Katie is a mom of three little boys and lives in the great state of Colorado. She also has a degree in Communications with an emphasis in print journalism.