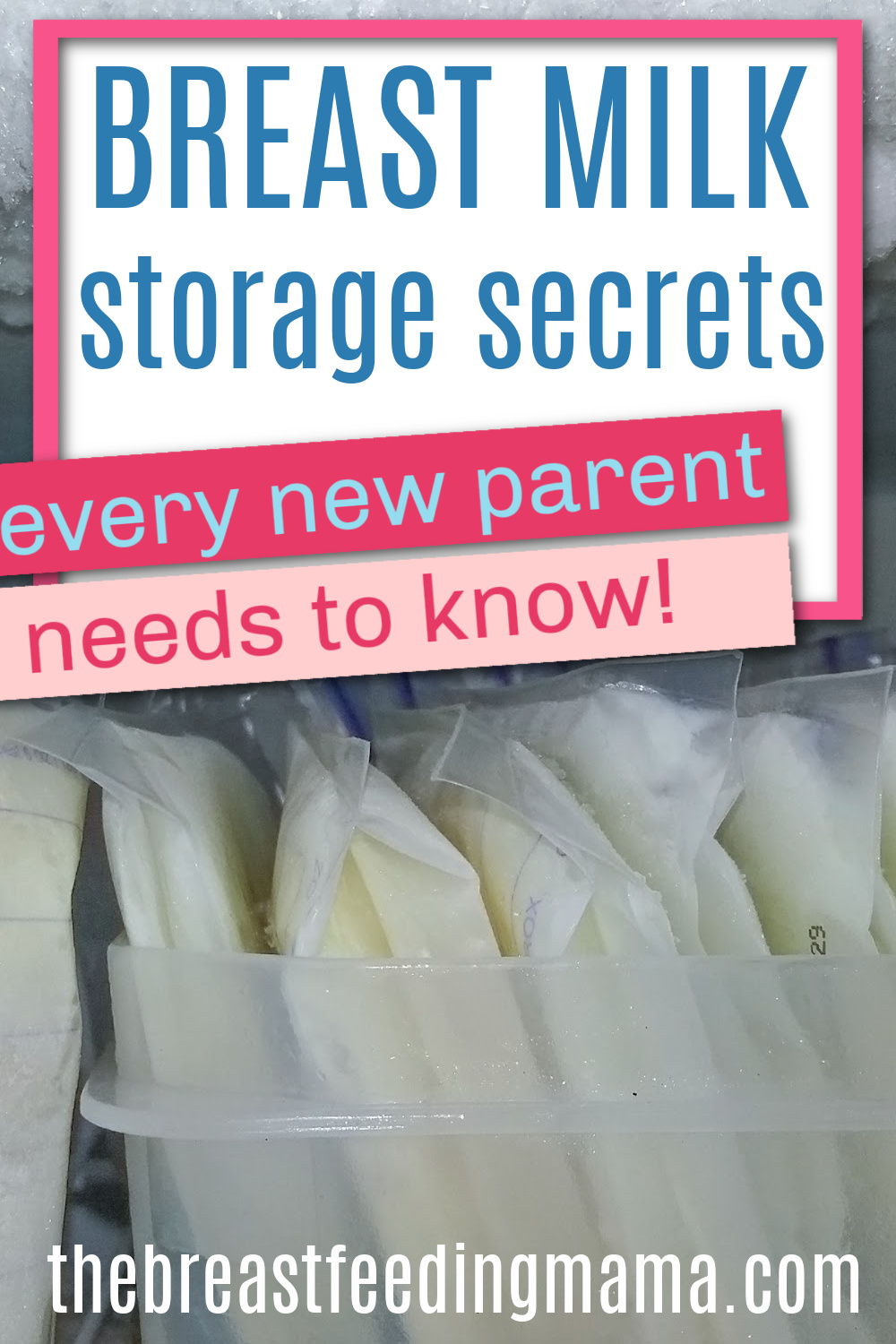 Are you wondering how to store breast milk? Here are awesome tips and everything you need to know about storing that liquid gold. We will answer a lot of the common questions you may have- including how to keep your older milk at the front and the latest on breast milk storage guidelines.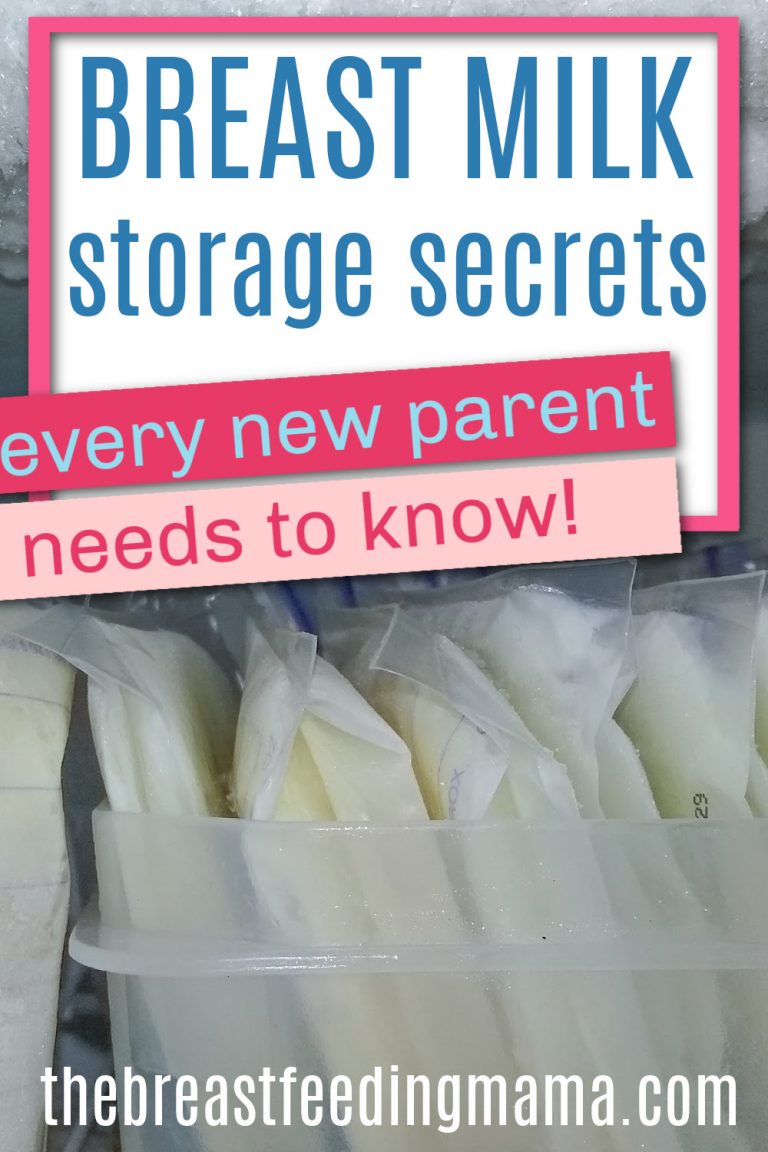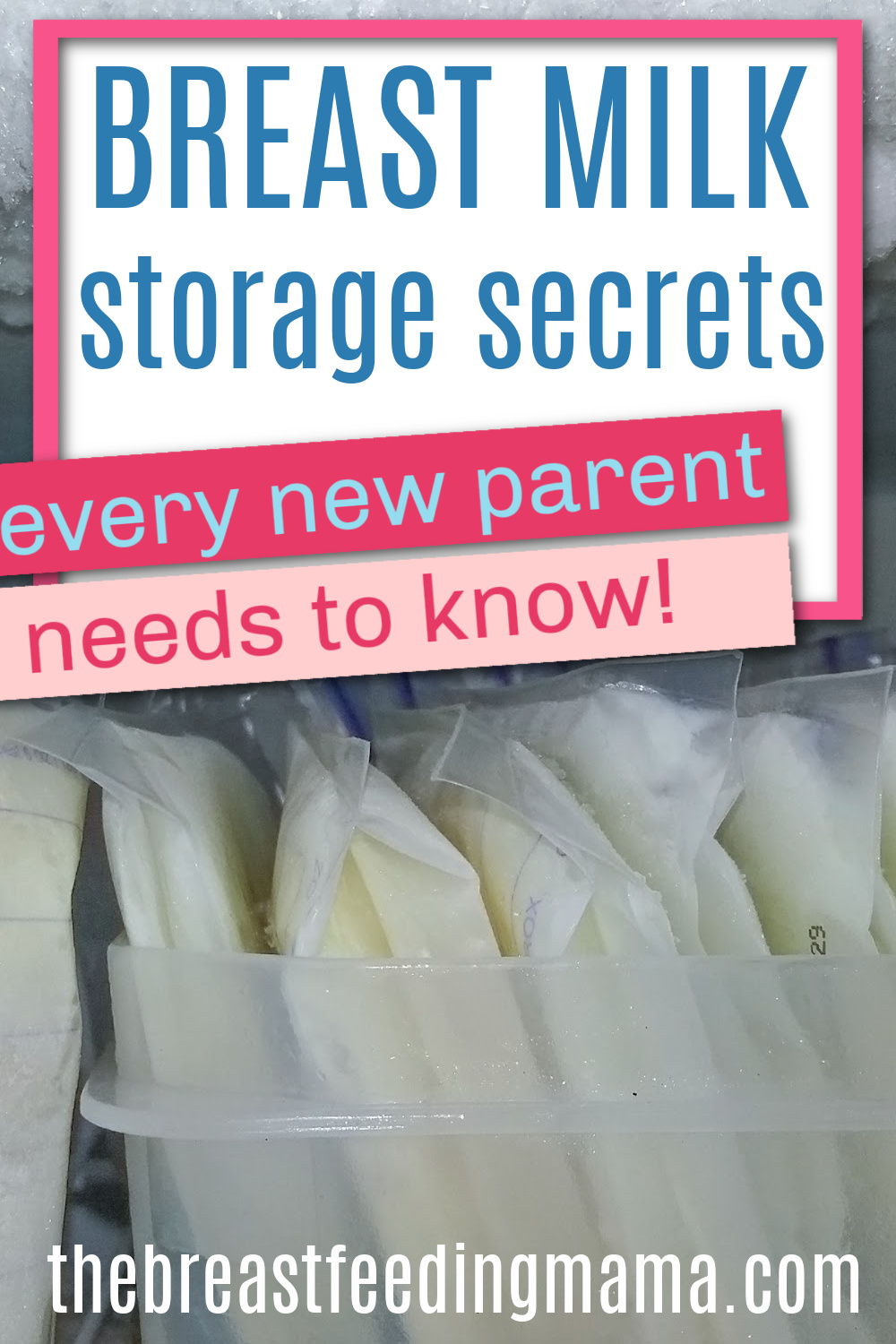 If you are breastfeeding mom who also pumps then you know that how you store breast milk is really important. It is a good idea to organize your bags of breast milk in a way that will keep your deep freezer organized and your oldest milk at the front.
Breast milk storage doesn't have to be tricky – but it is important to have a plan is important! Feeling a little lost? Don't worry – this post has EVERYTHING you need to know about maximizing your freezer space and making sure all that liquid gold is stored safely!
Need help with pumping and understanding your milk supply? Be sure to signup for Demystifying Milk Supply and Pumping – the best online pumping and milk supply course. It's available 24-7 and designed to help you feel confident in your ability to produce milk!

How to store breastmilk at room temperature and in the fridge
So let's start at the beginning. Once you have pumped you have three options for what to do with that fresh milk. You can feed it to your baby right away, you can store it in the fridge or you can freeze it
If you are exclusively pumping then you may prefer to pump and then leave your milk out at room temperature to feed your baby the next time they are hungry. Freshly pumped milk can safely stand at room temperature for at least 4 hours.
Another option is to finish your pumping session and then put your expressed milk into some kind of storage container like breast milk storage bags or glass bottles (we will get into those more later) and put them directly into the fridge to use for later.
The CDC recommends that breastmilk is fine in the fridge for up to 4 days. If you are pumping enough milk to get a small stash saved up in your fridge then the best way to make sure you are giving your baby the oldest milk first is to line the breast milk bags in a way where you are grabbing the oldest bag first. It would be a great idea to label them with the pump date just to be on the safe side too.
For more information on storage guidelines, here are a few other articles you may enjoy:
You can download this printable below for a quick reference chart:
The Pitcher Method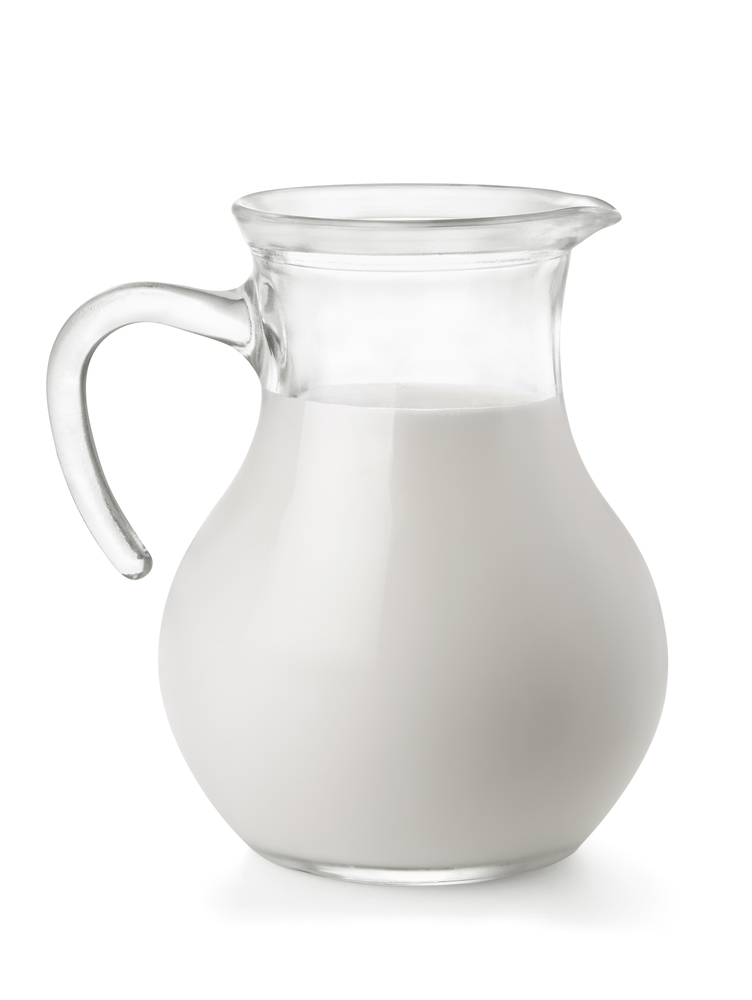 If you are an exclusive pumper your may find that you prefer to use the "pitcher method" for a breastmilk storage idea. You would simply combine all the fresh breast milk that you pump in one day and place it all into a large pitcher or mason jar. Then, at the end of the day simply prep bottles for the next day and freeze any extra milk. This is an easy way to get a stock pile of frozen milk.
How to warm milk for a feeding
When it's time to take refrigerated milk out to feed your baby you will probably want to warm it. While you can feed your baby cold (not frozen) milk most babies won't take it and warm milk just seems a little more comforting.
You can warm your baby's bottles three ways.
Use a bottle warmer
Put the stored milk in a cup of warm water
Run the milk bag\bottle under warm water
If you are thawing frozen breast milk you can do this by placing the milk in a cold container of water, placing the frozen milk in the fridge to thaw slowly (which involves planning ahead) or if you want to thaw and warm it at same time you can place the milk container into a container of warm water which will thaw it and warm it at the same time. You can also use a bottle warmer- just know that those sometimes take up to 15-20 minutes to warm and thaw completely.
Do not put breastmilk (or formula) in the microwave to warm This will kill nutrients and can create hot spots that can burn the baby's mouth.
Freezing Breast Milk
You can freeze breastmilk for up to 12 months. However, the CDC recommends storing up to six months. At one point, the CDC had different regulations for deep freezers and regular freezers but that is no longer the case and you can use the same guidelines no matter what kind of freezer you store milk in.
You can freeze breast milk in glass bottles, plastic bottles or breastmilk storage bags. The first thing you should do is label the bottle or bag with the date and how many ounces there are.
If you are planning on sending this milk to a day care or with a family member it would be a good idea to also write baby's name on it as well.
Once frozen milk has been thawed do not freeze it again.
How much milk should go in each bag?
Most bottles or milk bags recommend that you don't store more than 4-6 ounces of human milk in them. As you get the hang of things you will figure out what works best for you.
You may put whatever you pump at one sitting into one bag or split it up into two containers. If you thaw milk and your baby doesn't drink all of if you can give it to them later just be sure to use it again within 24 hours.
How to start a stockpile of breastmilk
This might be different for everyone. Some of the best tips for getting frozen milk stash is to start freezing any extra milk that you don't think your baby will need right away.
If you are nursing your baby from the breast you can pump afterward and put that milk into the freezer. If you are trying to up your breast milk supply you can do power pumping which can also yield extra milk that you can then freeze.
Some moms have luck using a Haakaa silicone suction pump in the beginning. It tends to be a more low-stress approach to getting a little bit extra.
You should aim to have a freezer stash of milk that will last 2-3 days. You may need more or less depending on different factors. If you are trying to go back to work, we recommend having enough for your first day back and then 2-3 days.
If you are are aiming to have a large stockpile you can certainly stock your freezer full. However, don't get discouraged if you are unable to do that. As long as you have enough milk for at least several days you should feel comfortable.
Can you store breastmilk in a cooler?
You can safely store your breastmilk in a cooler for up to 24 hours. Using a cooler for frozen breastmilk is a good option if you are traveling but it is not an optimal way to store your milk for long periods of time.
Be sure to check out our article that outlines everything you need to know about breastmilk coolers.
What kinds of containers can you use to store breastmilk in?
You have several options when it comes to storing your breastmilk. There are a ton of different breastmilk bags available to use.
Please note that a breast milk storage bag is different than a bag you would store food in. They are thicker , BPA-free and FDA-approved for the use of storing and protecting breast milk.
Breast milk bags also come with ounce or milliliter markers on the side to track the volume of milk you are storing and feeding.
When possible it is convenient to get storage bags that you can pump directly into from your breast pump. This will save time as you won't have to transfer the milk from the bottle into a storage container.
A good storage bag will freeze flat and take up less freezer space. So what are the best breast milk storage bag to use? Here are some of our favorite milk storage bags.
Best Milk Storage Bags
Lansinoh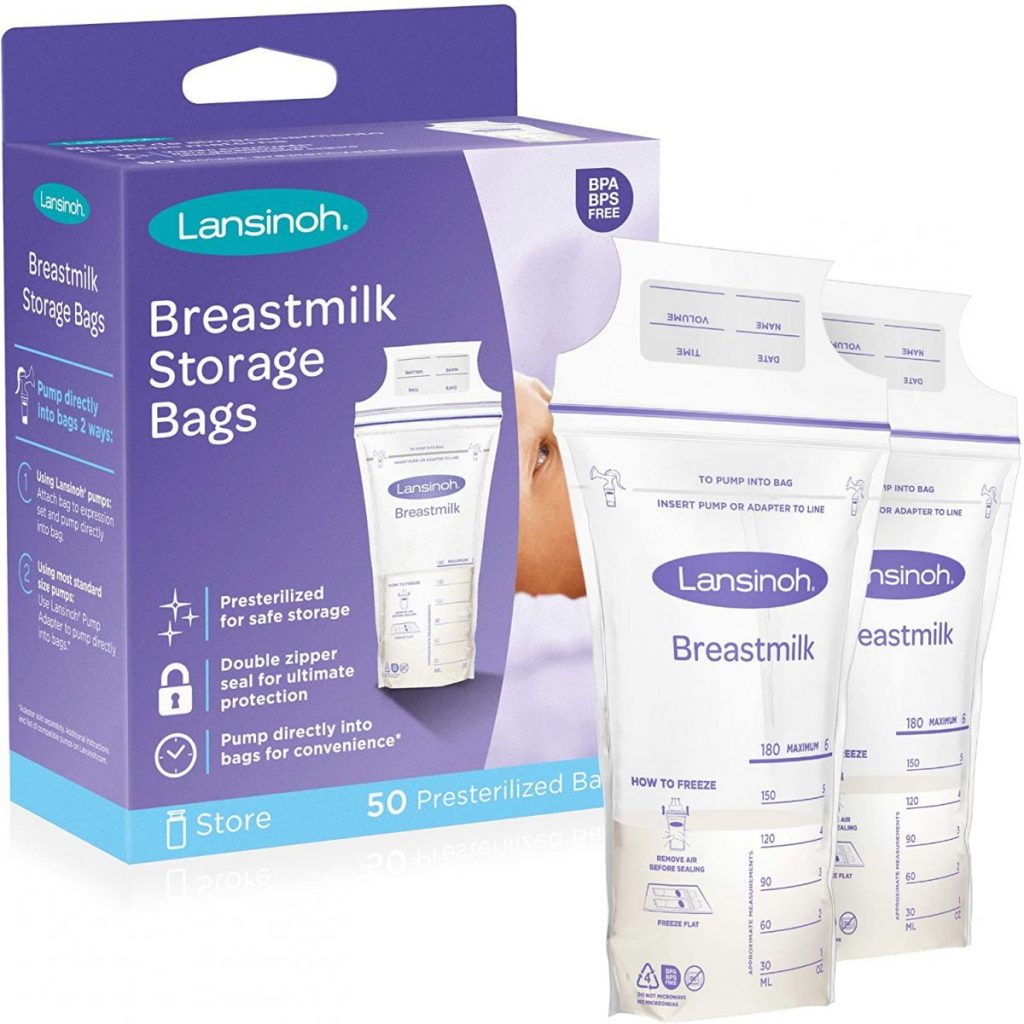 Lansinoh is a trusted well-known brand that has been around for years. Their bags are a favorite among moms. You can buy their bags at any grocery store or retailer. WE love them because they are made from thick, BPA- and BPS-free plastics. If you have the Lansinoh Breast Pump, you can pump directly into them. Plus moms report that the bags fit around other types of breast pumps, too- so these bags would be fit the bill for many.
You can buy a 50 pack for around $8 on Amazon
ZipTop Silicone Breast Milk Bag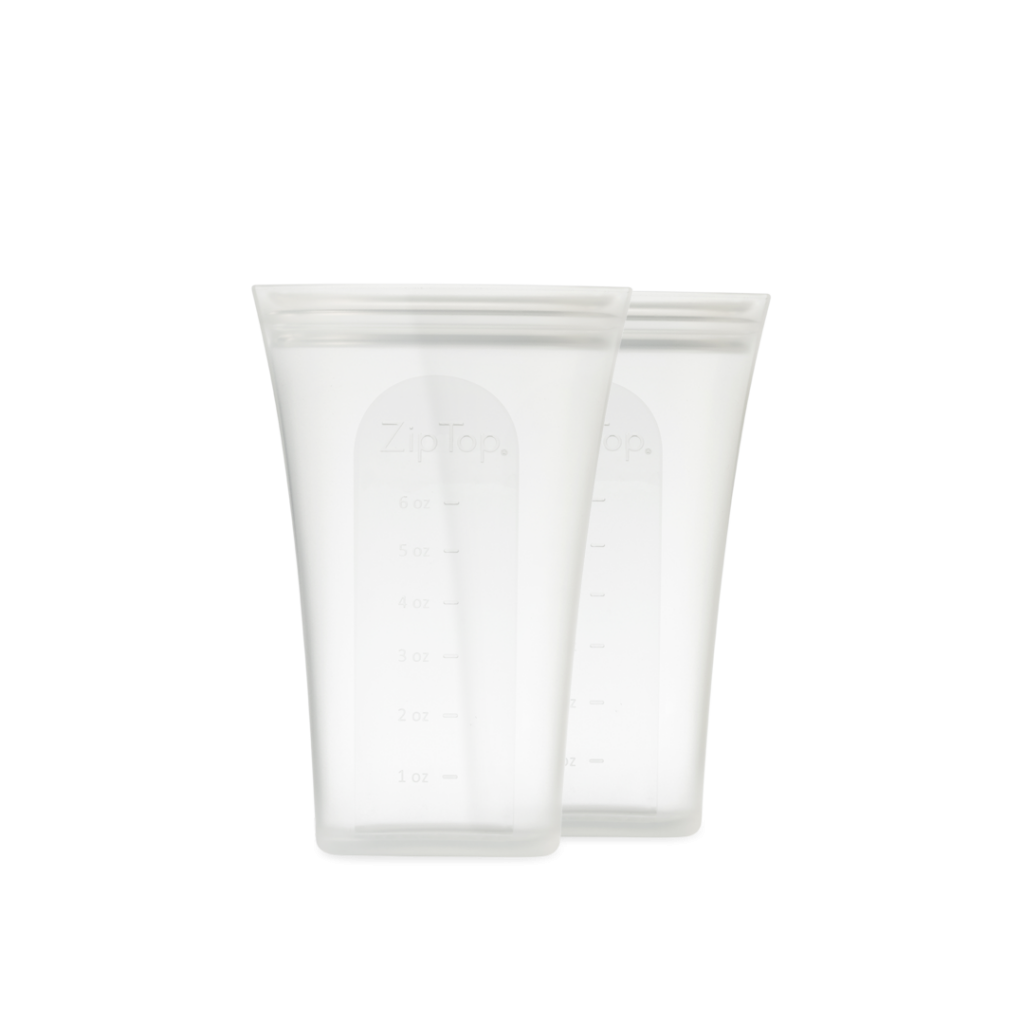 Are you looking for a more eco-friendly and durable milk storage option? The ZipTop Milk Bags top our list in that category. They stand up straight, are super easy to close and open, and you definitely don't have to worry about leaks.
These are obviously more of an investment – especially if you use a lot of milk storage bags. But they are a fantastic option – made from premium silicone, no BPA, lead, PVC and phthalate. They are single-piece construction, which means there are no by-products, like glue, holding them together.
ZipTop also has a great storage tray designed specifically for the trays. You can get these (and anything else on the ZipTop website) for 15% off with the code CLARKSCONDENSED15.
You can buy a 2-pack for $15.99 or the six pack plus freezer tray for $49.99. Don't forget to use the code CLARKSCONDENSED15.
Dr. Brown's Milk Storage Bags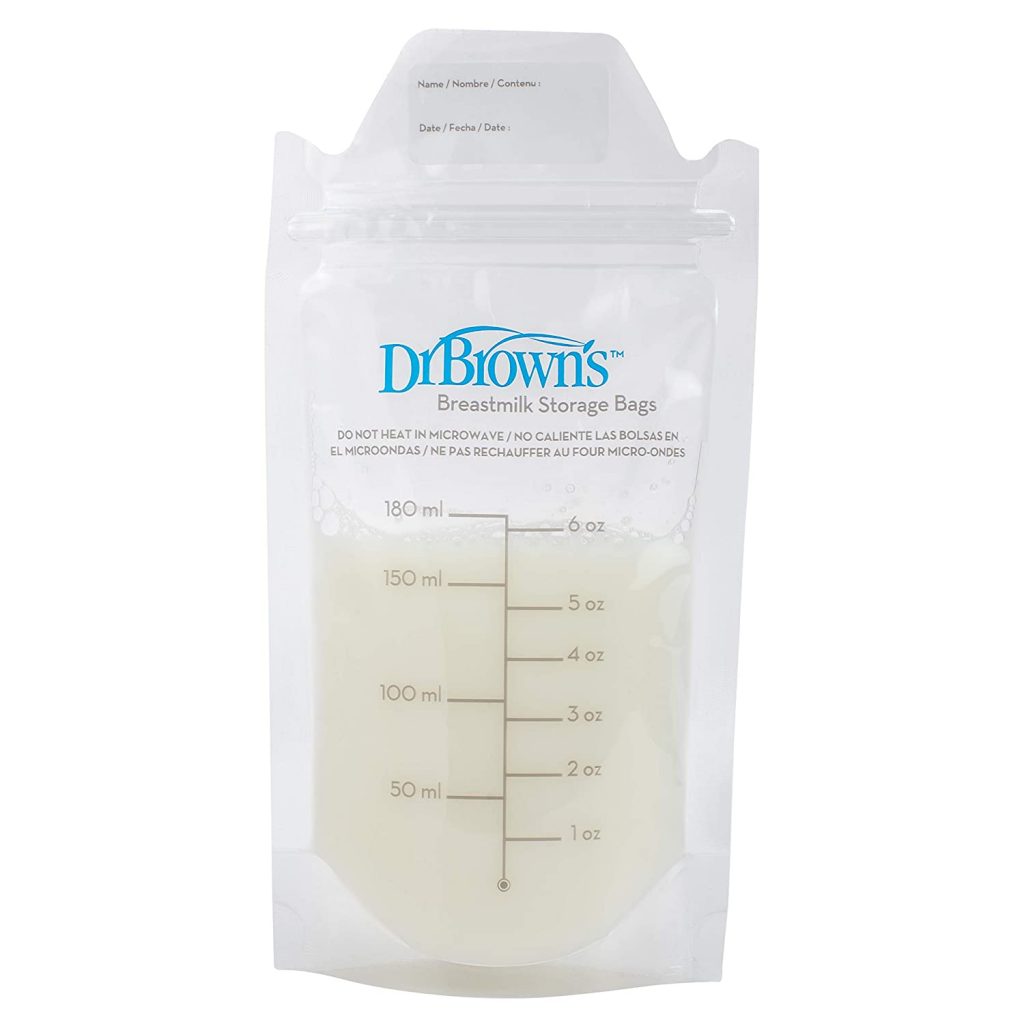 We love these bags because they thick and durable, large enough to write your baby's name on it and comes with an exterior trim for extra cushioning.
You can buy a 50 count for around $9 or a 100 count for $13 on Amazon.
Philips Avent Breastmilk Storage Bags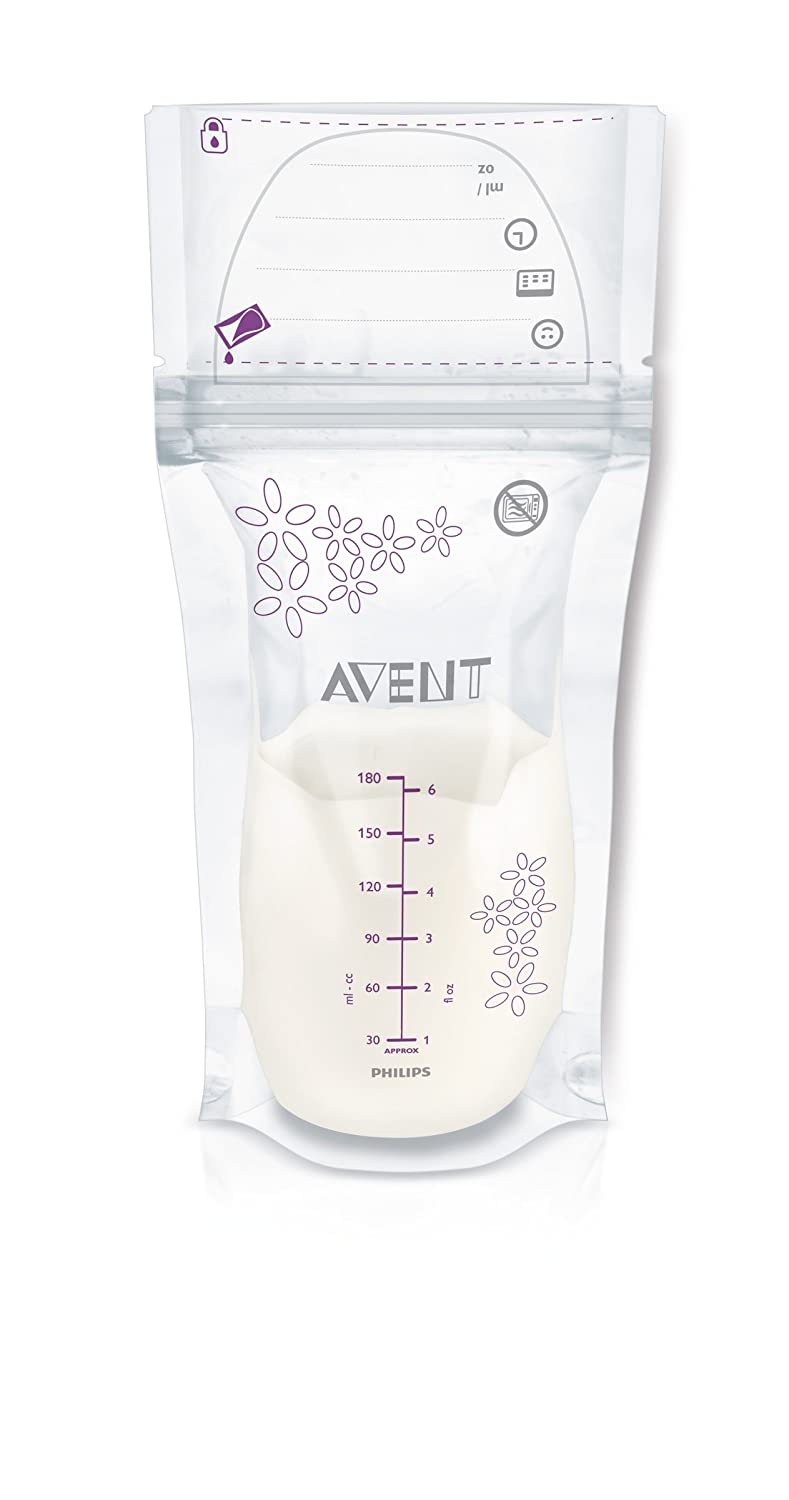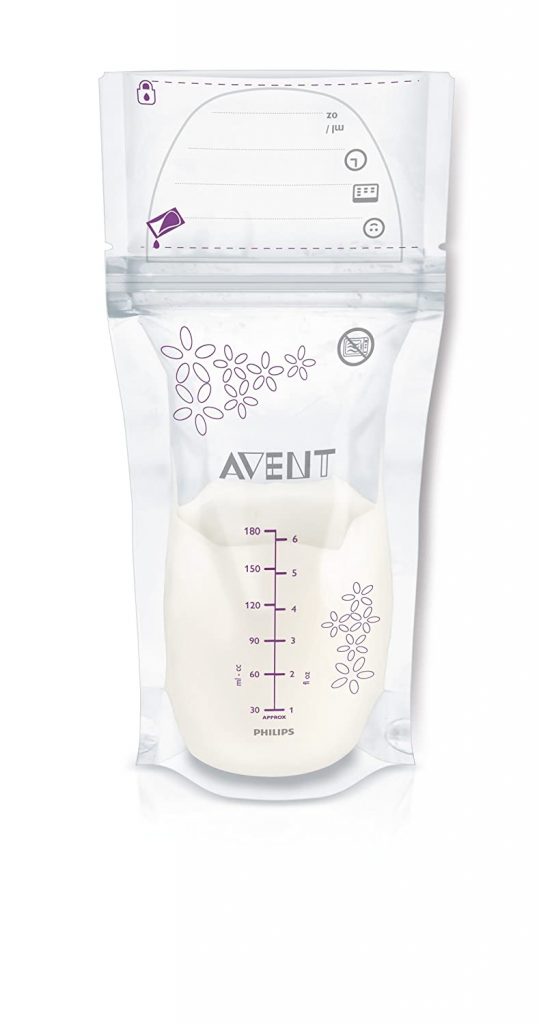 Avent Breast Milk bags are an even more affordable option that you can trust. They come with a double-zipper closure, they are BPA-free and have a tamper evident-seal, and dual layers for added thickness. They can also stand up easily and comes with a wide opening to make it easy to pour milk in and out of.
You can but a 50 pack for around $7 on Amazon.
Nano Bebe Milk Storage Bags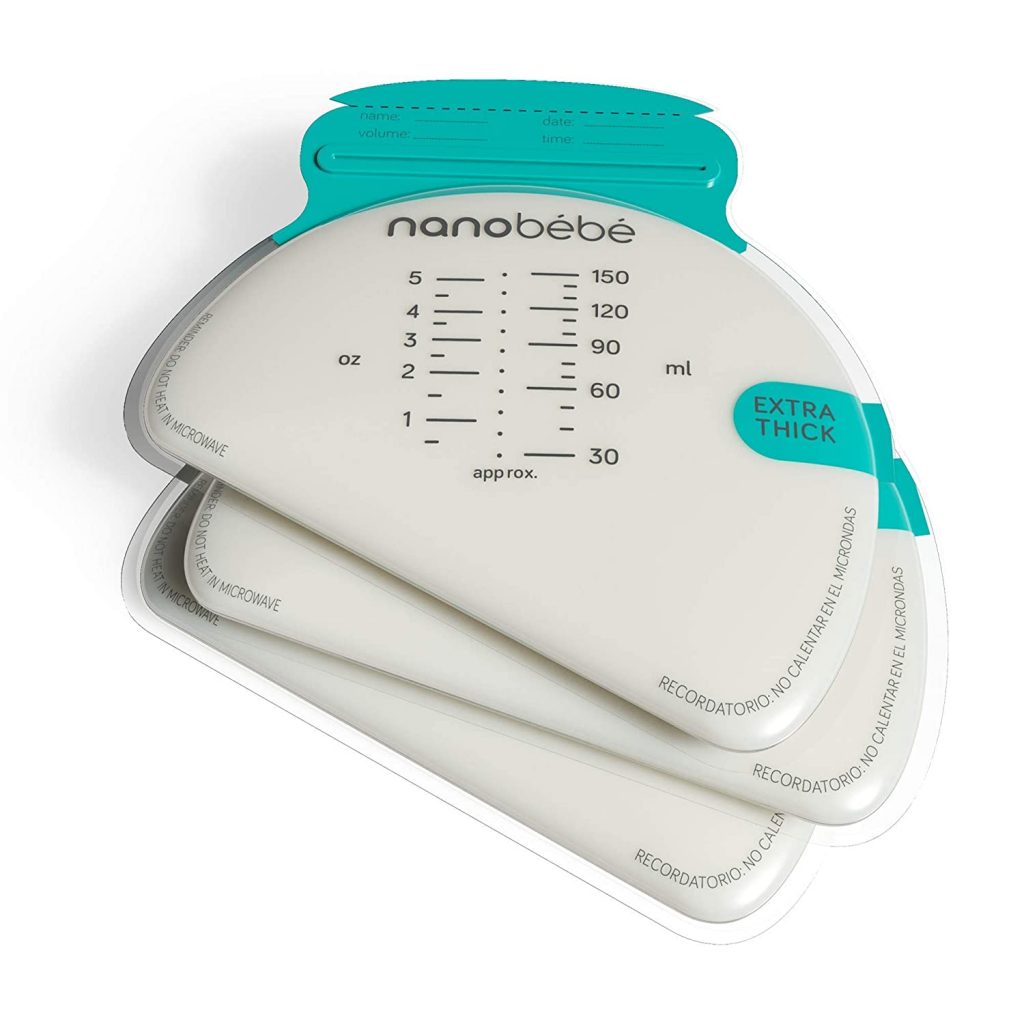 Nano Bebe are more expensive however they are made especially to take up less space in your freezer. They have a stackable design and if you purchase their veritcal storage bin you can easily 50 bags in it. They also defrost up to two times faster than most other bags or bottles.
You can buy a 50 count for around $10 or a 100 pack for $18 on Amazon
Best Beast Milk Storage Bottles
Another option is store your frozen breast milk in a plastic or glass bottle. This option may take up more space in your freezer but it really comes down to preference and convienece when it comes to using bottles or bags. There are a lot of options out there- you'll have to decide for yourself which option is best for you.
Medela Breastmilk Storage Bottles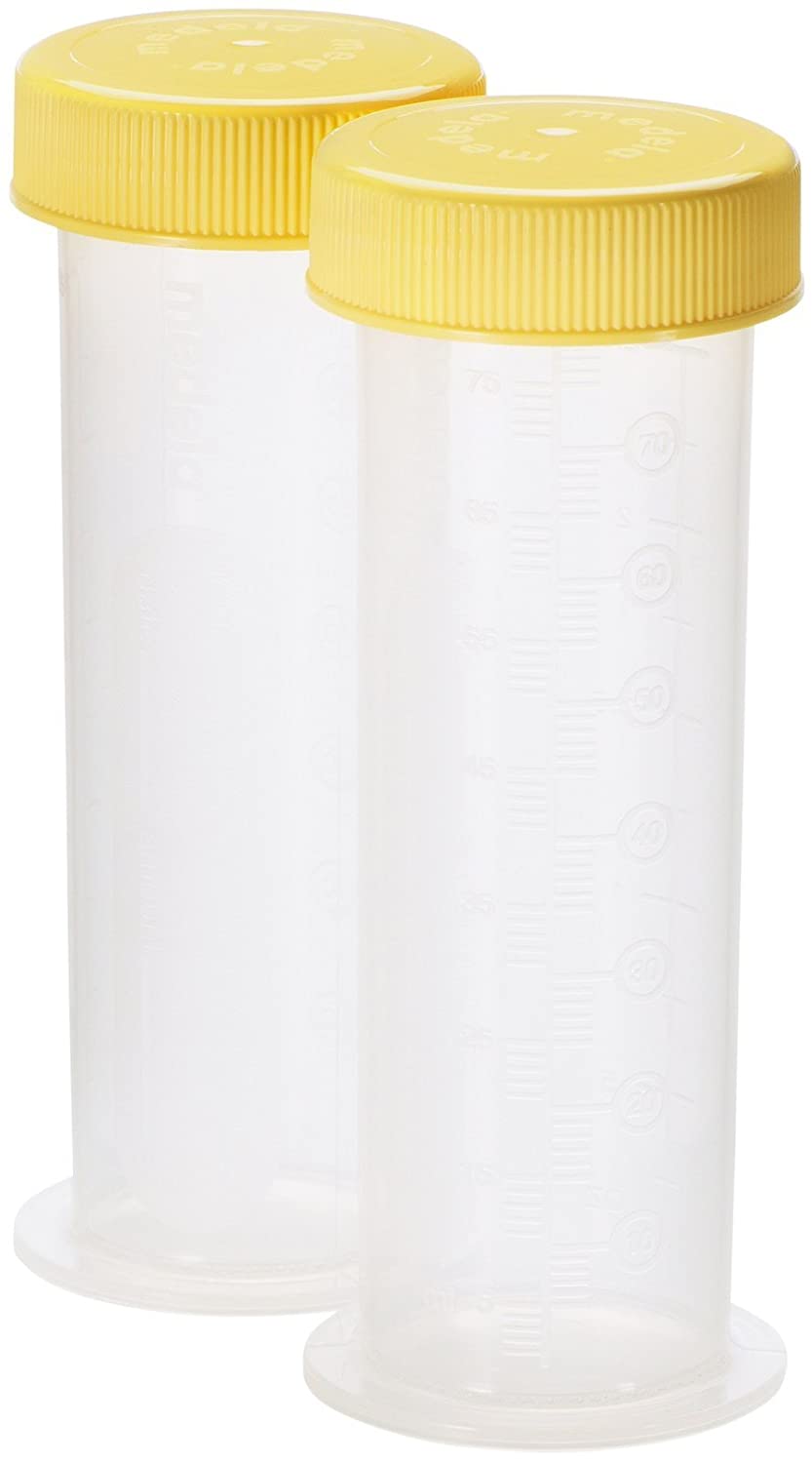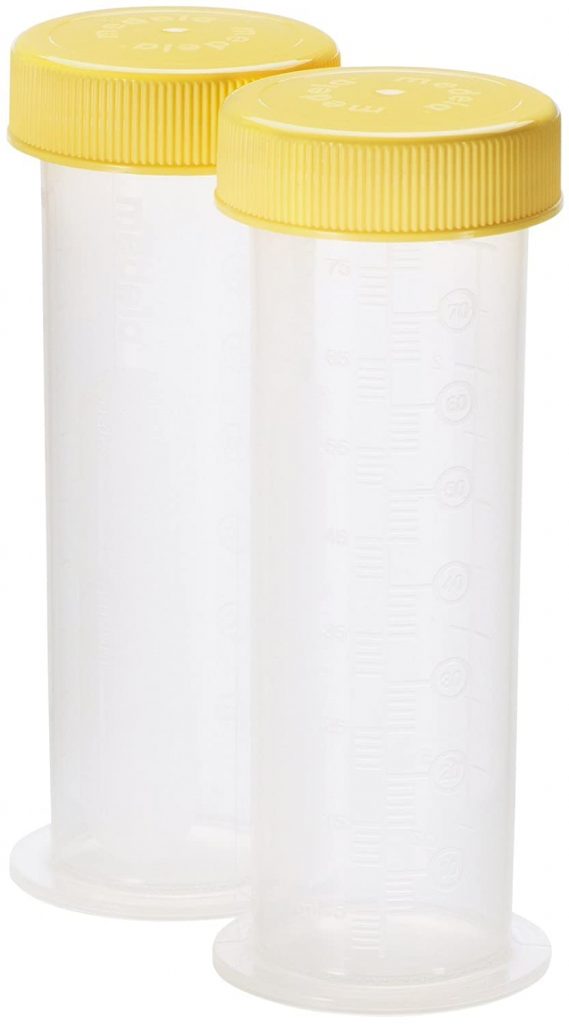 These bottles are BPA-free bottles can go directly in the freezer to store (skipping the part where you have to transfer to a bag) and bonus points- If you have a Medela pump, you can also pump right into these bottles saving you time!
These bottles would be perfect for the beginning of your breastfeeding journey when you aren't necessarily pumping as much. They only go up to 2.7 ounces but they are a good option for when you aren't pumping as much.
You can buy a 12 pack for $15 on Amazon
Matyz Widemouth Freezer Bottles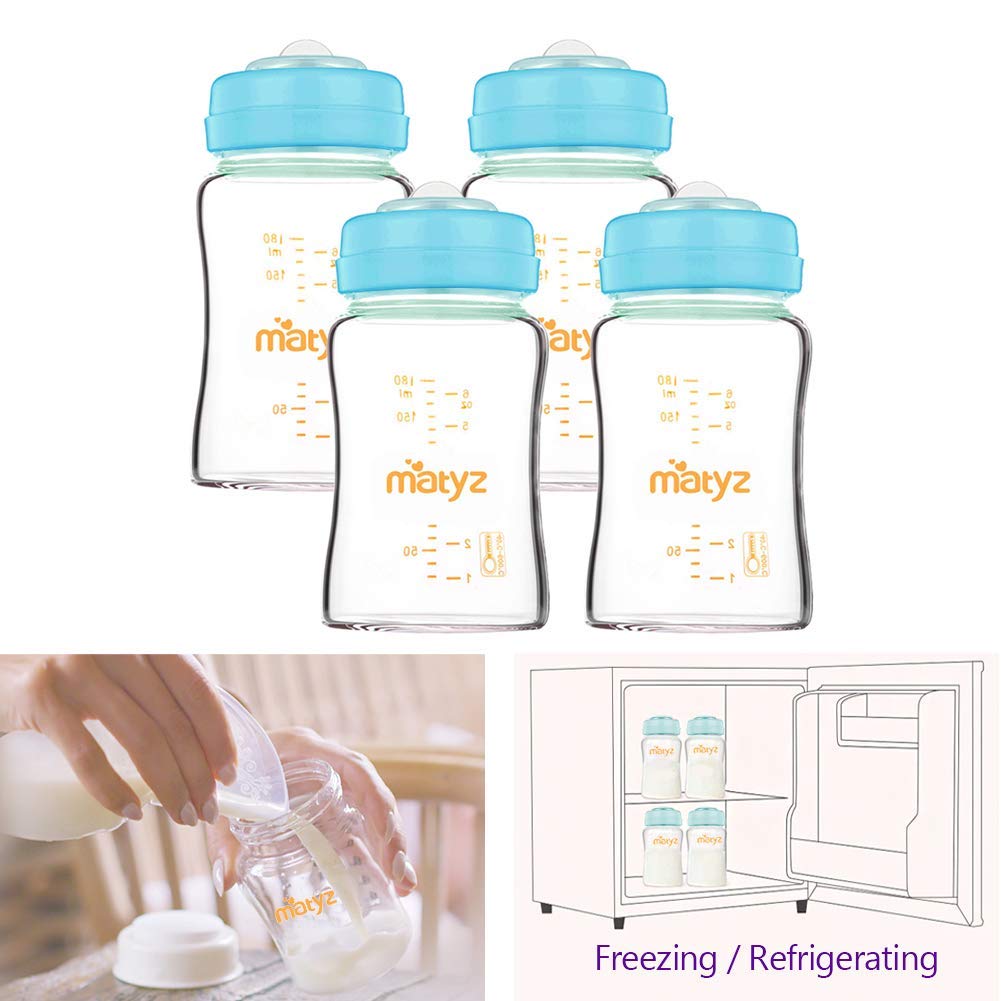 If you want to stay away from plastic bottles than your best option is to choose a glass bottle to freeze your milk in. These bottles store up to 6 ounces of breast milk and are compatible with the Philips and Spectra pumps. It is a great breast pump accessory for the Medeal, Spectra, Avent Pumps.
They contain no harmful chemicals, no plastic taste and have a wide neck making it easier to use and clean!
They are dishwasher, freezer and microwave safe and are completely leak proof.
You can buy 4 bottles for $25 on Amazon . This is definitely a pricier options but remember you are buying glass containers which will always be more expensive than plastic.
Phillips Avent Breast Milk Storage Cups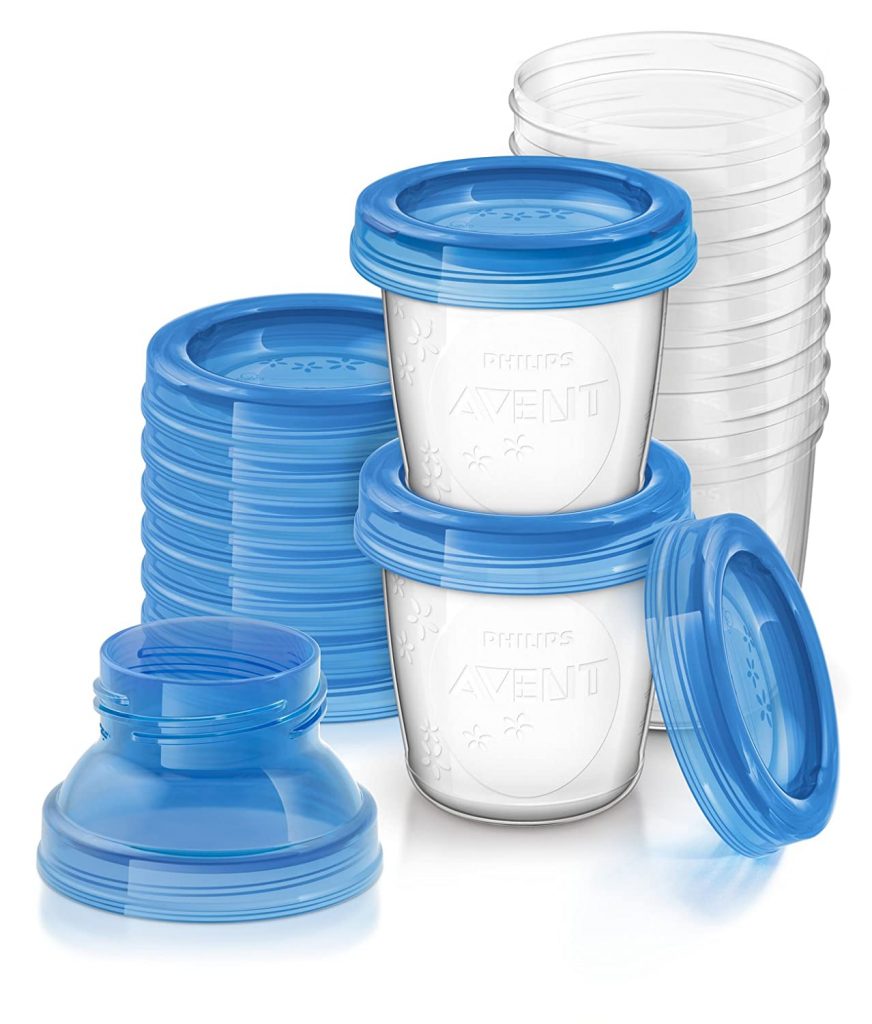 These adorable little cups hold up to six ounces of human milk making them the perfect smart portions and they are dishwasher safe and BPA-free. They are stackable, leak-proof with a simple twist on and off lid and you can easily write that date and amount of the top or side of the cups.
They are safe for the freezer or fridge and are a great option for storing your breastmilk.
You can buy a 10 pack for around $15 on Amazon.
How to organize your breast milk in your freezer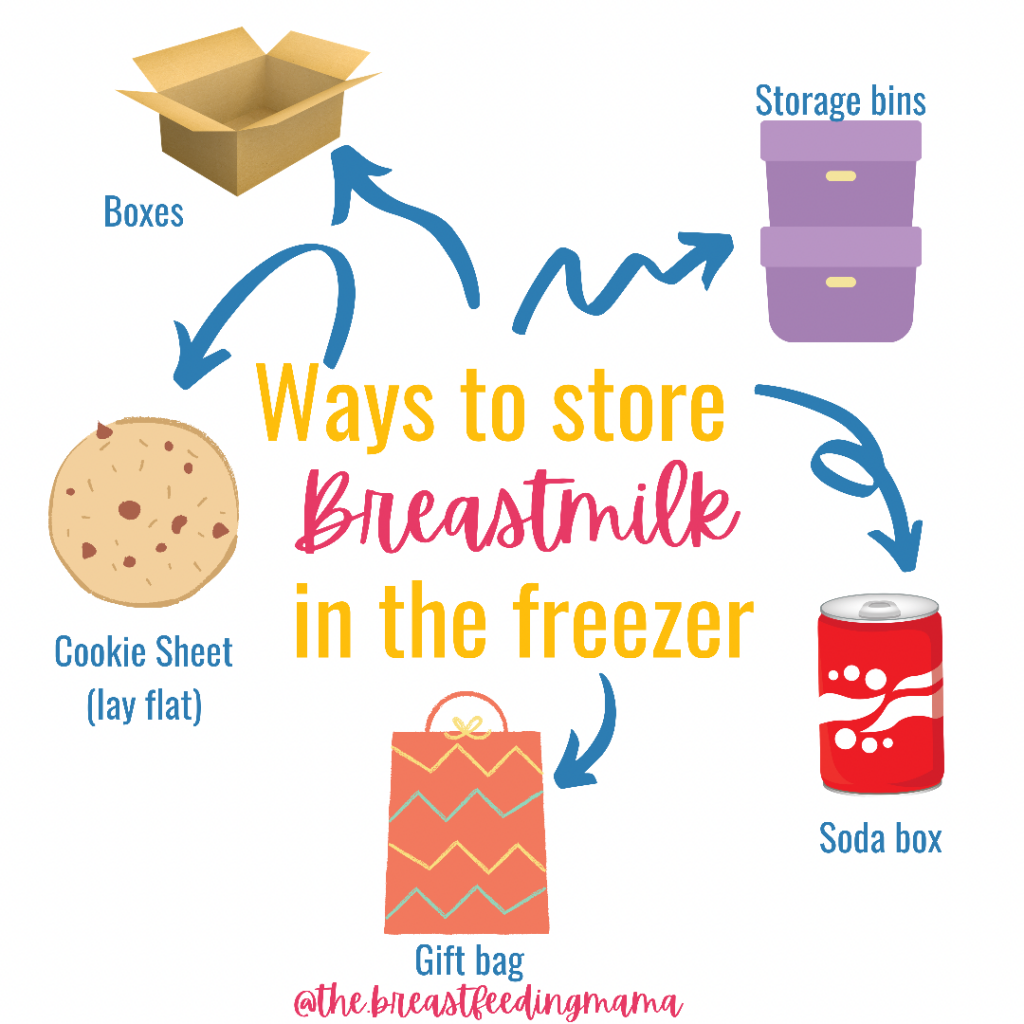 There are so many good ways to store your breastmilk! It doesn't have to be mass chaos. In fact, you will be able to keep better track of your milk when you have it organized and visible to see.
We definitely don't recommend you tossing your milk willy-nilly into your freezer. Find a solution that works for you and discover how much more space you will have in your freezer.
One pro tip is NOT store your milk in the freezer door. This makes is hard for them to lay and freeze flat.
Storage Bins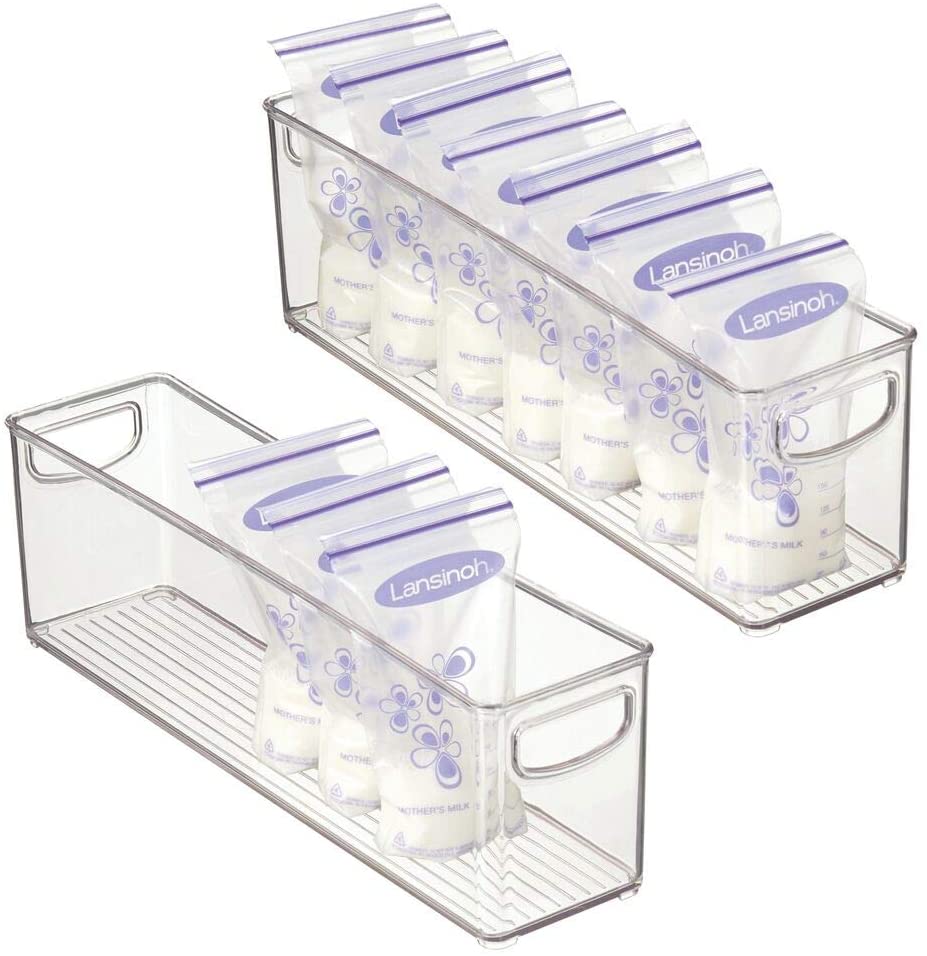 One simple way to store your breast milk is to buy a plastic storage container. You can find a universal room organizing bin ( you can get a two pack for around $23) or get a storage organizer made specifically to hold breastmilk.
The First Year's Breast Flow Milk Storage organizer is a great option holding up to 20 bags of milk. One storage bin runs about $16- but it is It's FSA/HSA eligible so be sure to use that up!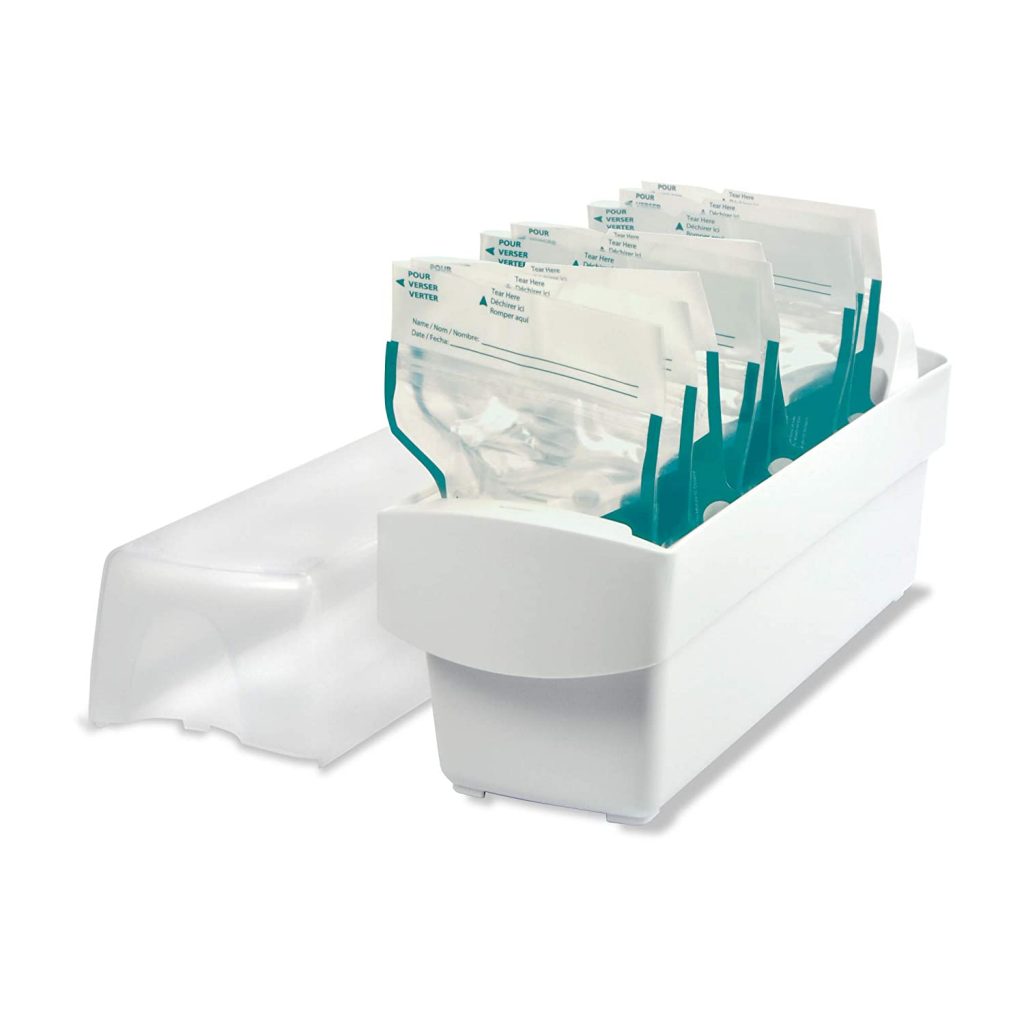 And, as previously mentioned, the ZipTop Freezer Storage Trays work great, especially if you are using their silicone bags.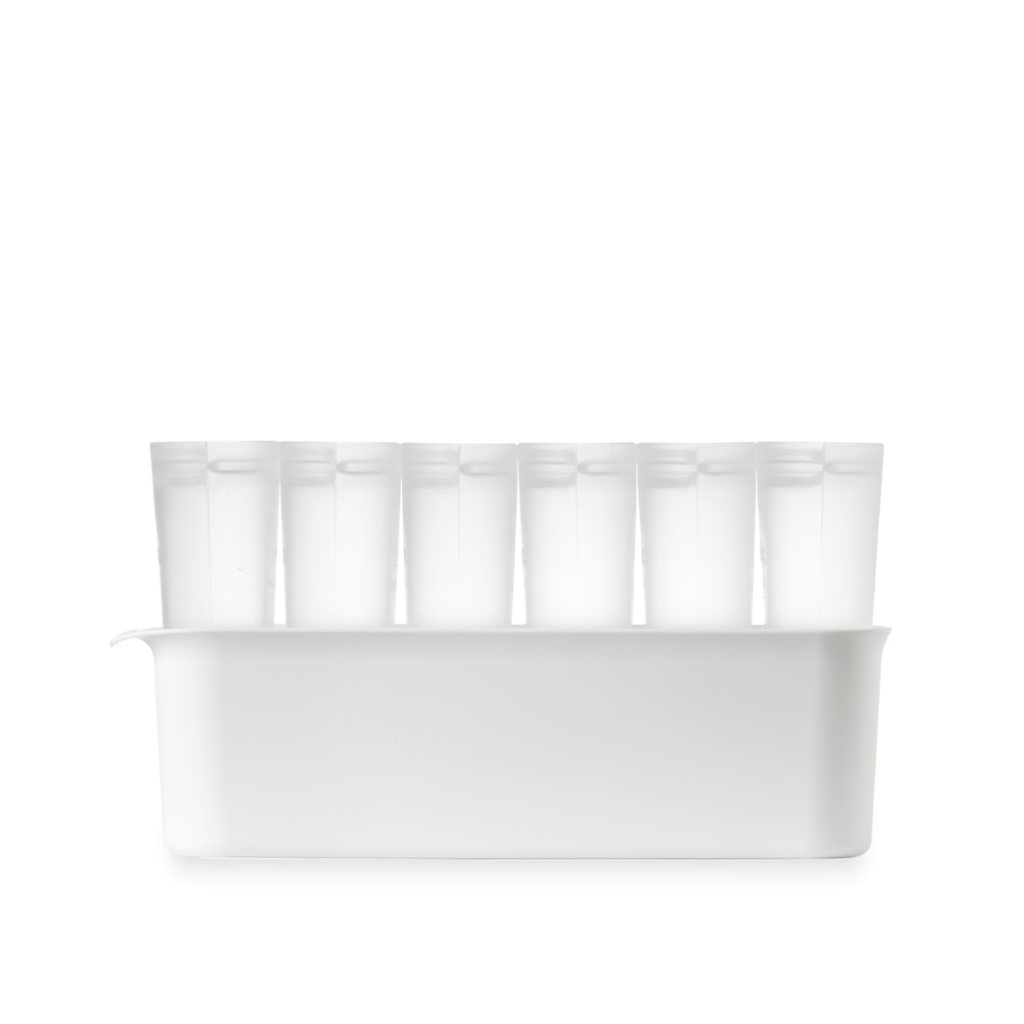 Soda Box
If you don't want to buy something specific then you also use an empty soda box.
Simply cut off the top so it is completely open and place your bags or bottles in the box. This will keep everything neat and organized.
Gift Bag Idea
Go to the Dollar Tree and buy a bunch of medium sized party bags.
Then stack your milk in the bag- labeling it by date. You can use one bag for a weeks worth of milk and pull from the oldest milk first.
Another idea that will only work if you are using milk storage bags- is to cut a slit on the bottom of the bag. Go on to stack your milk in the gift bag with the oldest milk at the bottom- with the tag sticking out of the slit. In order for this to work you will have to first freeze your breastmilk flat first and then transfer it to the top of the bag. When you need to use your frozen milk you will grab your breastmilk from the bottom slit.
Lay it flat
The best way to optimize your freezer space is to lay your breastmilk bags flat!
Whether you do that by stacking them in a bag or container first or just leave designated space in your freezer to do so- you will find that it makes all the difference.
Boxes
Another cheap way to store your milk is by using an Amazon box or other type of box and cutting cutting flaps into dividers to separate frozen milk . This would be best for an upright freezer.
Kiinde System
Kiinde is a pumping and feeding system where you pump directly into their bag that you can also freeze or store in the fridge. When it is time to use the milk you can feed your baby directly from it using a bottle that screws directly on to it.
It is easy to use. Simply attach your pump parts to the Kiinde bags using an adapter (the adapter fits most breast pumps). You then pump as usual into the bags. When they are filled screw the top onto the bag and store in your fridge or freezer. When you are ready to use you simply thaw or warm the m ilk in the same bag and feed your baby from it.
The best deal is to buy the complete system. You can find it on Amazon for about $65.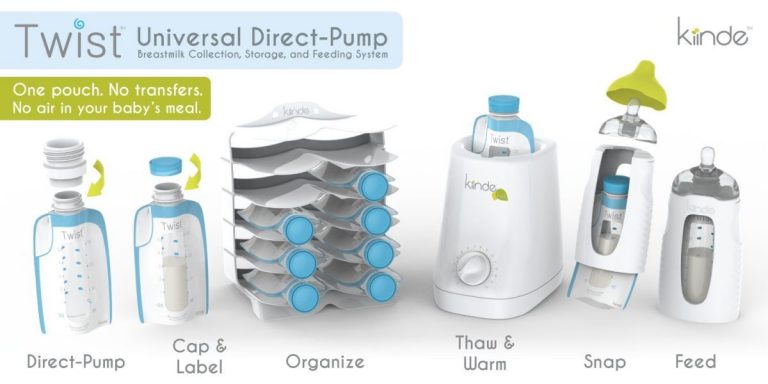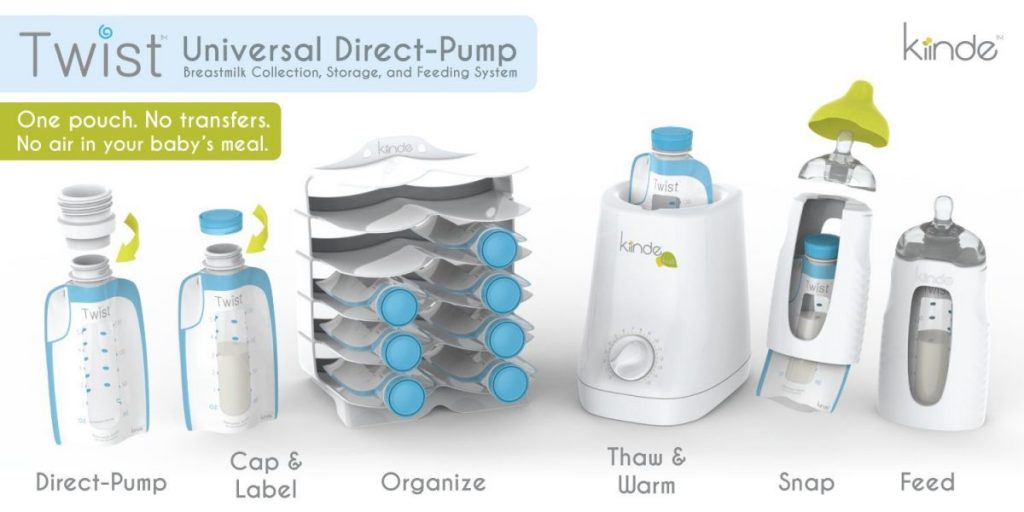 Cookie Sheet
Placing your freezer bags on cookie sheets is a helpful way to get your milk to lay flat. If you are using bottles you can also line them up on the sheets to keep them uniform and organized.
Laying the bags flat will make it easier to store in other ways, too.
Freezer Bags
Once your milk has been frozen flat you can then move the bags into a gallon Ziploc bag. Label the front of the bag by date and store in your freezer. You can also put your frozen breastmilk bottles in the Ziploc.
This method helps keep everything together and is nice for those who have a large stockpile of milk.
Let us know if we missed any of your favorite tips!
More Posts You May Enjoy: