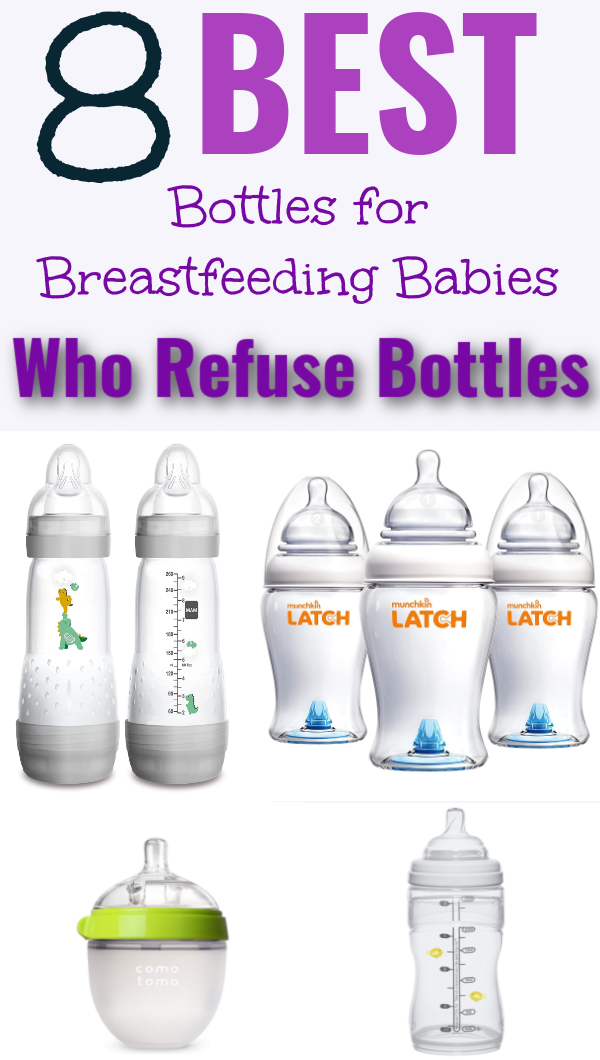 Bottle refusal can be so frustrating for any breastfeeding mom – especially when she needs her baby to take one! In this post, we share the top bottles other breastfeeding mamas have had success in giving to their more bottle-resistant babies.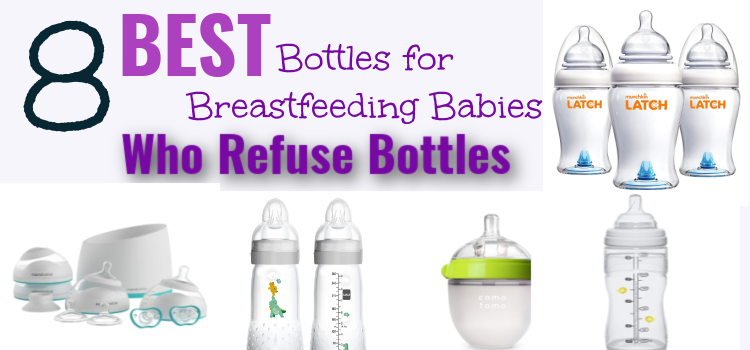 Bottles are often a major source of frustration for new moms, but they don't have to be. There are many options available today for your breastfed baby that make it easier than ever before to feed your baby with minimal fuss and mess. This blog post will discuss the best bottles for breastfeeding babies who refuse bottles so you can find what works best for you and your little one!
Breastfeeding babies who refuse bottles are a common struggle for a new mom. This can be especially frustrating and make for a hard time since the baby has to eat eventually!
Breastfeeding is a wonderful way to nourish your baby and bond with them. But, it doesn't always come naturally for every mom or their newborns!
Sometimes babies who refuse bottles when they breastfeed can make the whole process seem impossible. Bottle refusal is quite common. Luckily, If you are a breastfeeding mom there are several good options available today that will help you transition from breastfeeding to bottle-feeding, and back again as you wish!
After reading this blog post, you should have the knowledge necessary to choose the best bottle for breastfed babies who refuse bottles so you can get back to enjoying life with your little one!
Best Bottles for Babies Who Refuse Bottles
How we made our picks
As a lactation professional, several of the bottles on this list are not ones I would normally recommend (though my two favorites made the list – you can see my top recommendations for the best bottles of breastfed babies here). However, this post was done entirely off of surveying our breastfeeding mama community on Instagram about what bottles their babies finally would take.
So, don't take this as a list of recommendations for the best bottles for breastfed babies from a lactation professional's point of view – but more a list of bottles that desperate moms ended up using that worked. Because at the end of the day, the best bottle is the one your baby will take!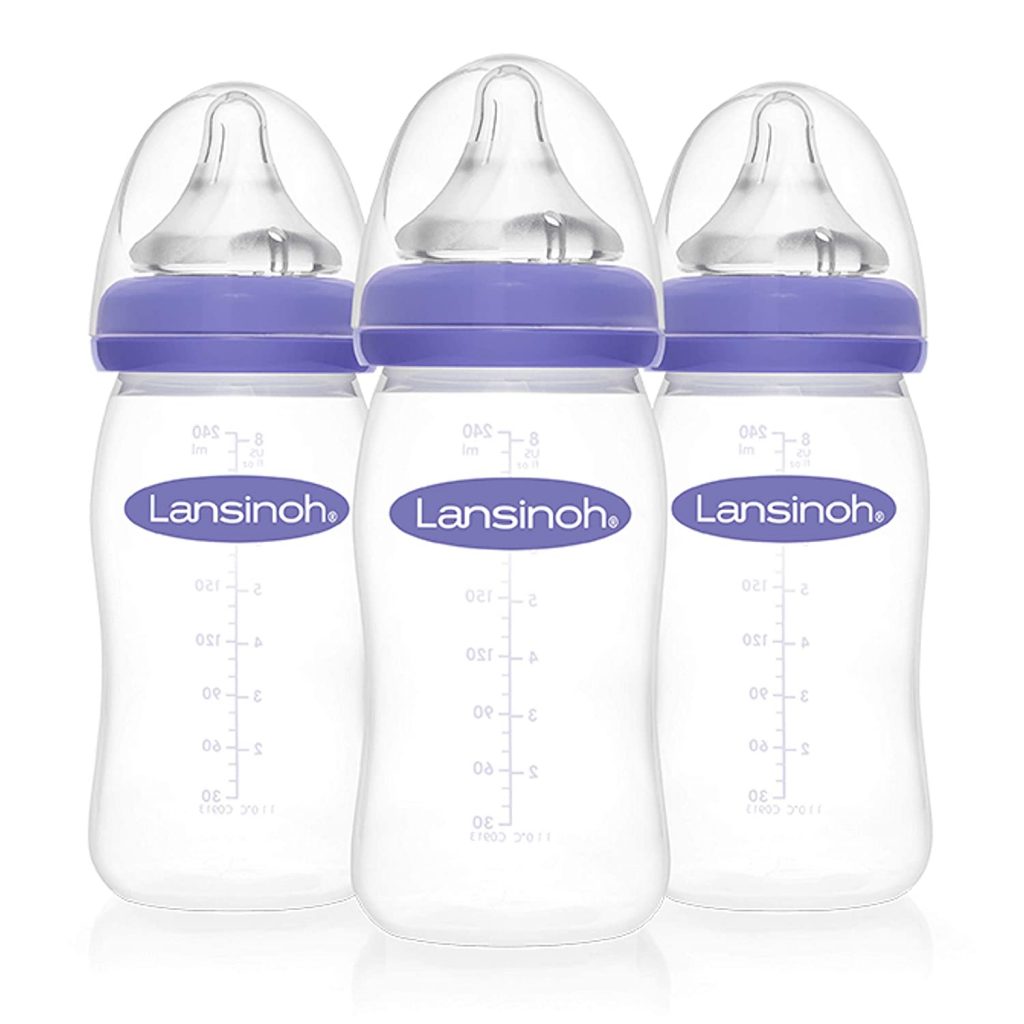 These are some of the best baby bottles for nursing moms. The NaturalWave Nipple is clinically proven to reduce nipple confusion so babies can switch back and forth between the breast and bottle.
This is a bottle I actually feel tops the list of best bottles for breastfed babies overall. I was happy to see so many moms have had success with it.
Features:
Dishwasher Safe
BPA and BPS free
The slow-flow nipple is designed to reduce the intake of air helping to reduce air bubbles and colic.
Can easily hold up to 8 oz. of breast milk
Can find a 3 pack on Amazon for around $16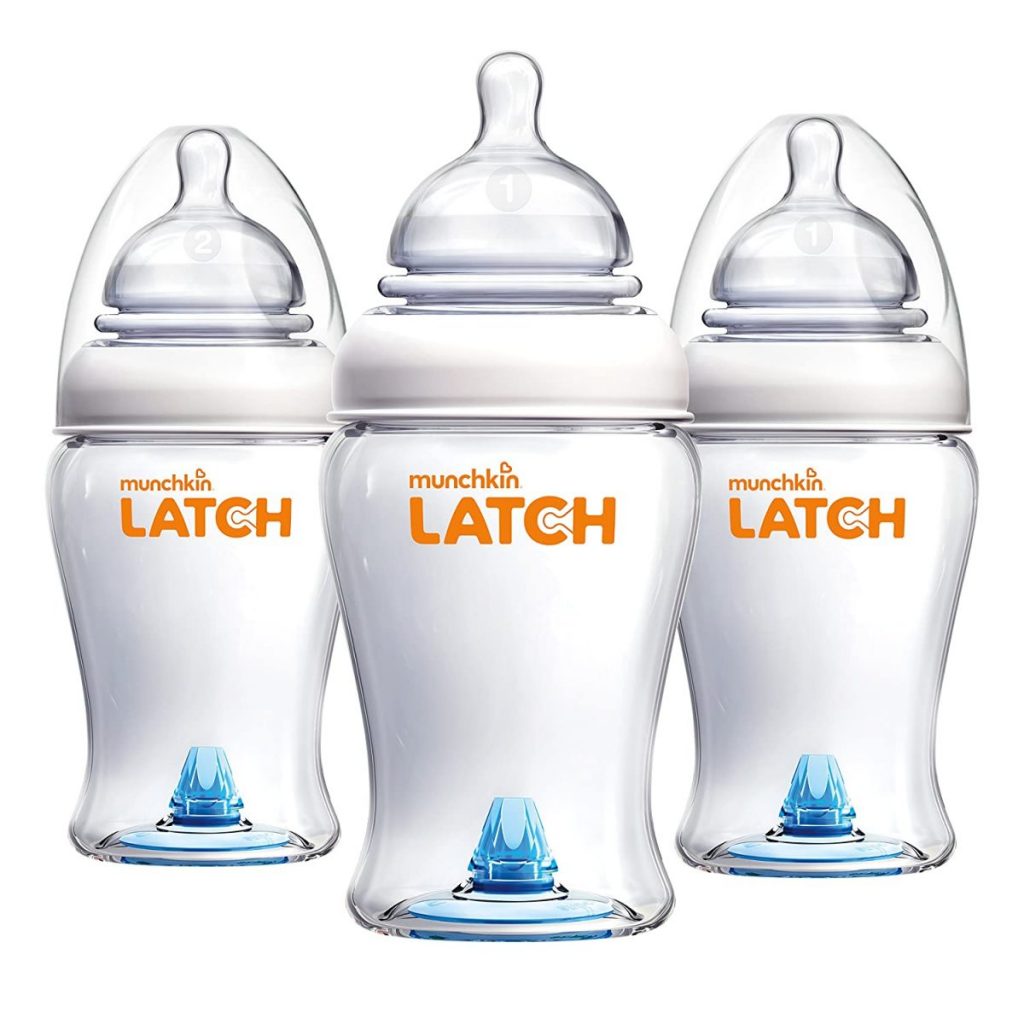 This is the perfect bottle and a great option to help your baby get used to a bottle. It will help with the way your baby swallows due to the different nipples that come in varying sizes. Some say it is the most like mom's nipple that helps baby to feel like they are nursing from their mother's breast
Features:
The nipple stretches, flexes and pumps just like the breast for a good latch every time
Anti-colic valve is uniquely located at the bottom of the bottle to reduce gassiness and fussiness
Made of BPA-free plastic
Can find a 3 pack on Amazon for around $14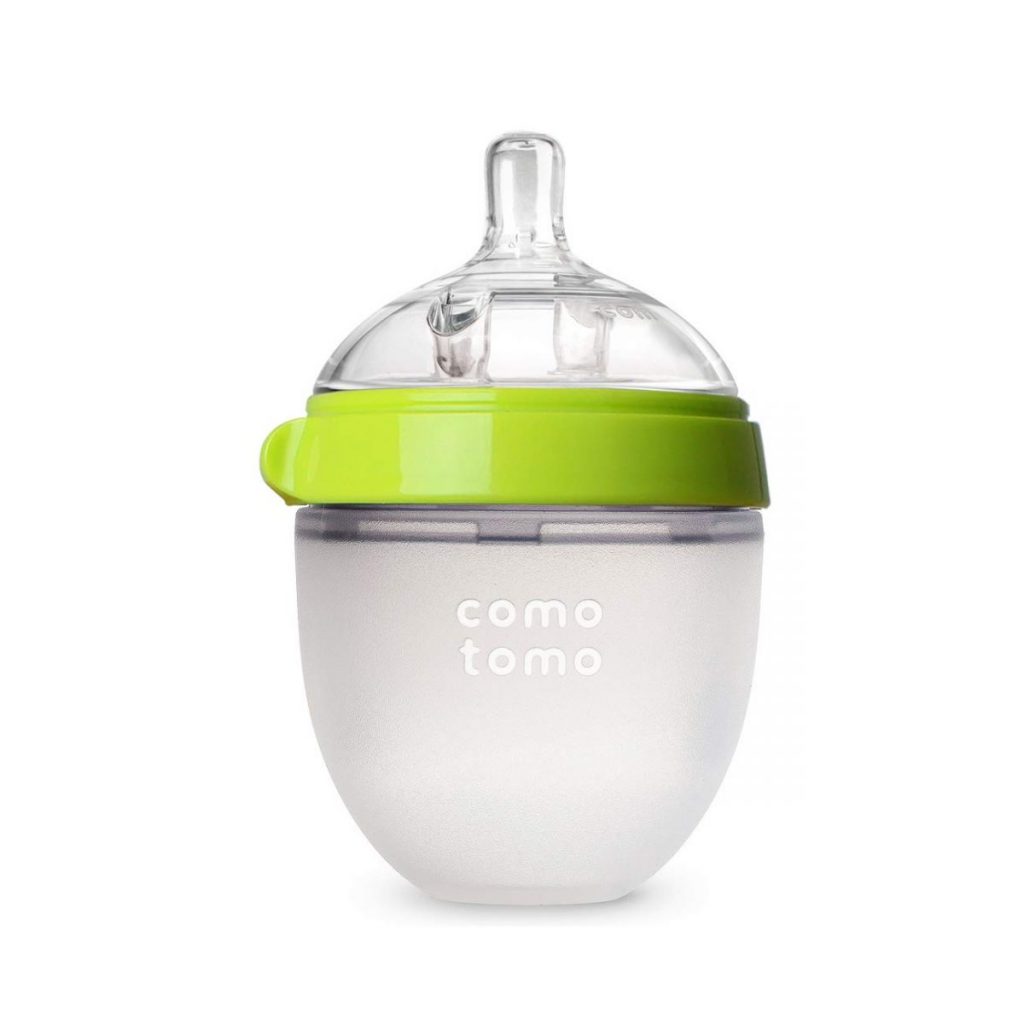 These bottles were made to mimic mom's breast due to the nipple design to help with nipple rejection and help with forming a more natural latch. And unlike most plastic or glass bottles, they are made from a soft silicone material.
Features:
Made of silicone
Affordable price on Amazon for around $13
Has an ultra wide neck to help with cleaning
Dual anti-colic vents prevent unwanted air intake and help reduce colic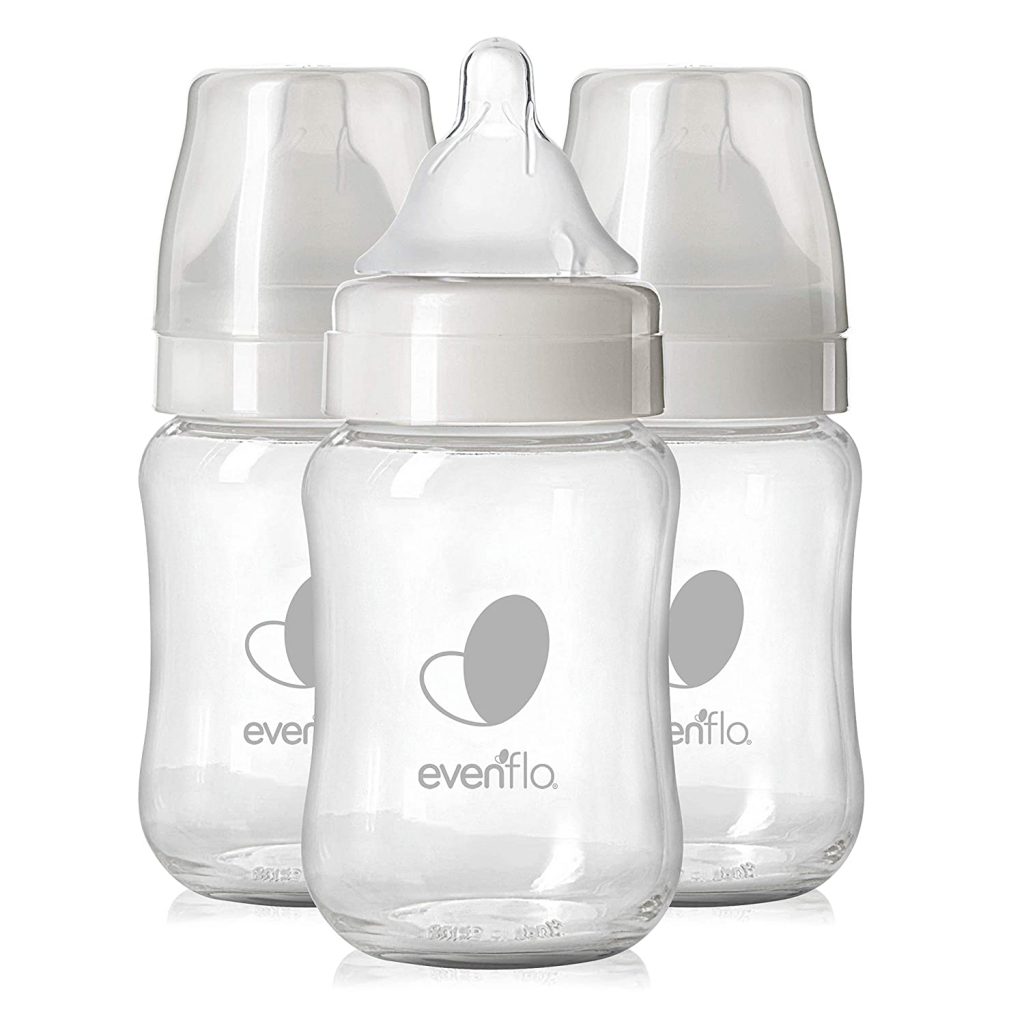 This is a recommendation I have heard from several moms as the only bottle that worked after trying countless.
Features:
Slow flow rate for optimal feeding
Glass bottle
1-piece venting to help with colic
Nipple promotes a wide latch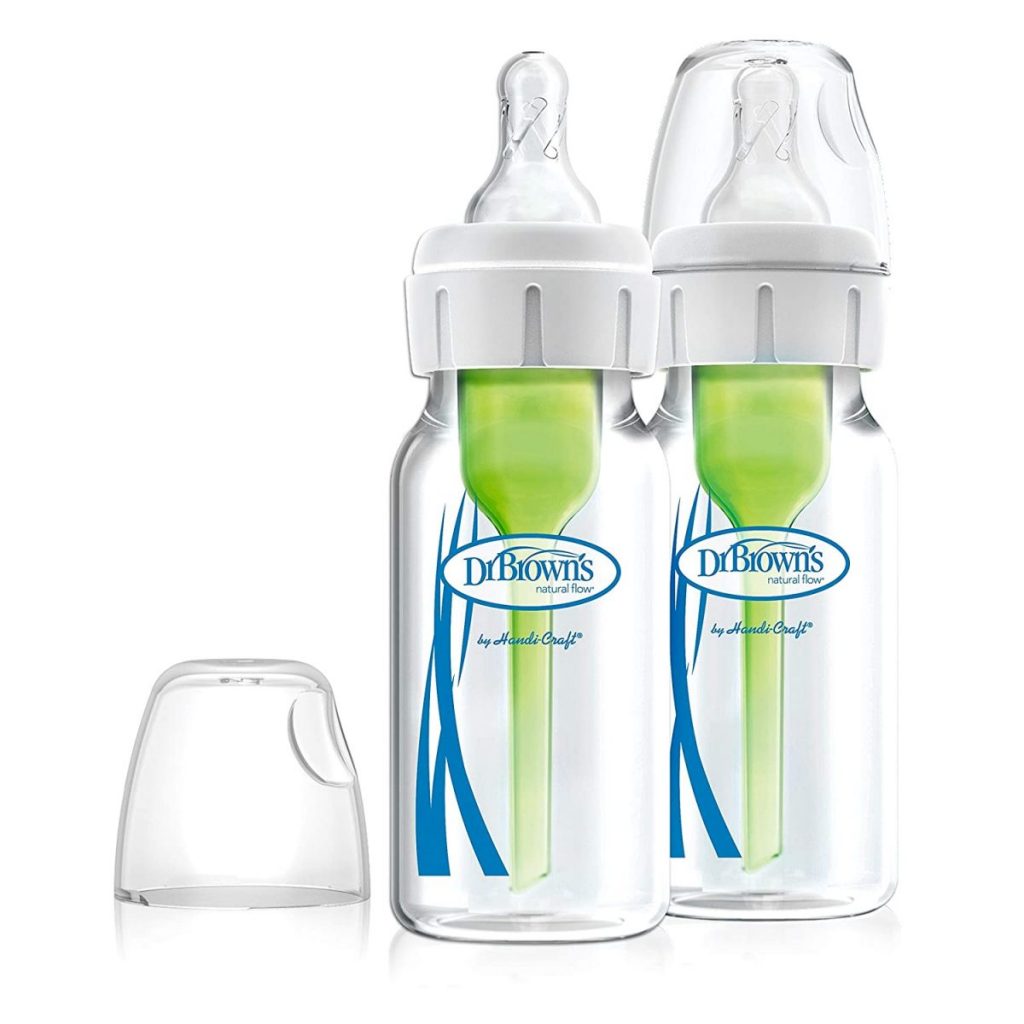 Comes with a slow flow level 1 nipple however lactation consultants recommend purchasing a preemie nipple to help breastfed babies first transition to the bottle.
Features
Air ventilation system allows a slower milk flow rate and reduces the amount of air thanks to its vent system
Known to help reduce colic in babies
Assists with making bottle feeds easier for your breastfed baby
Their are several parts that requiring cleaning
Can find on Amazon for $18.99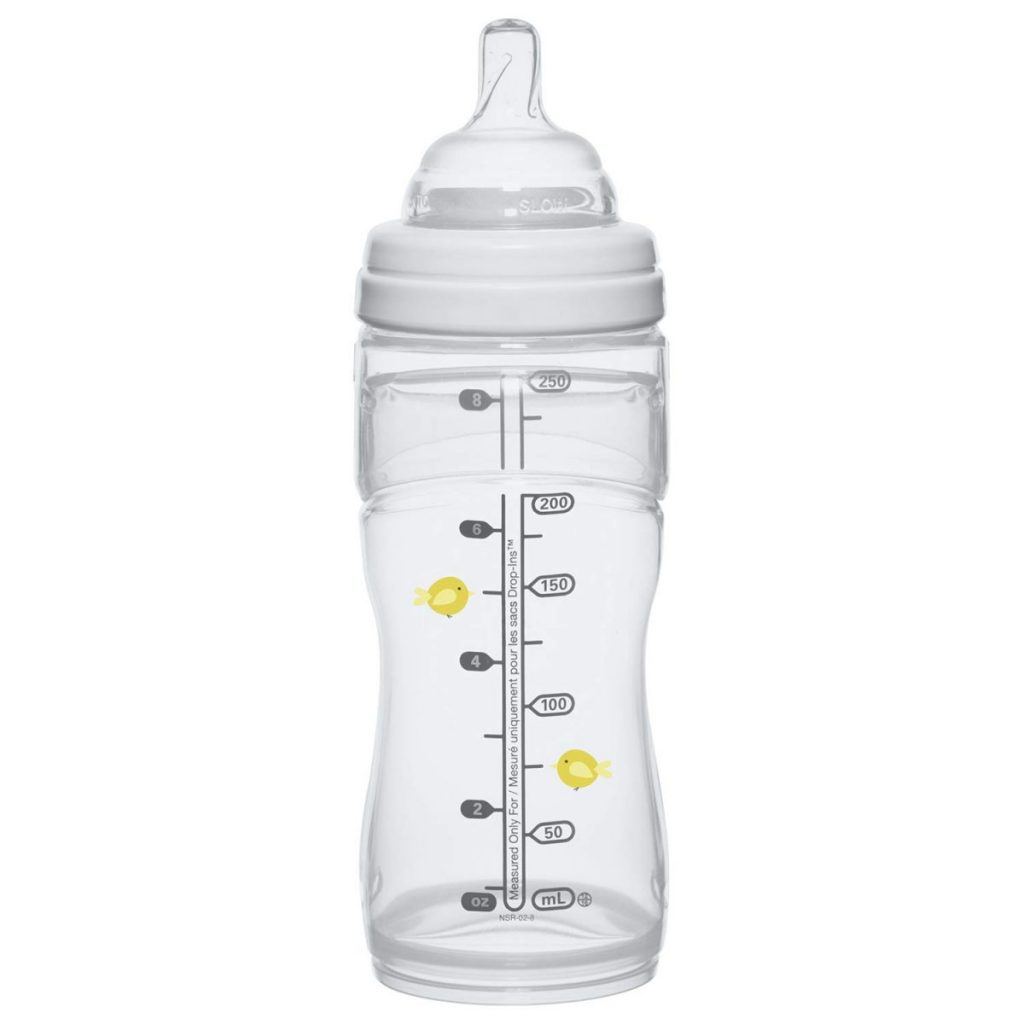 The drop-in plastic liners used in these bottle are designed to mimic mother's breast due to the natural latch silicone nipple that helps baby go from breast to bottle more easily.
Features:
Pre-Sterilized liners that are 100% recyclable
Fast bottle warming technology in the bottle
The soft, disposable liner contracts while baby feeds- this prevents air from mixing with milk and allows air-free feeding, reducing colic, gas and fussiness
Designed for on-the-go moms
Can find a 3 count on Amazon for around $18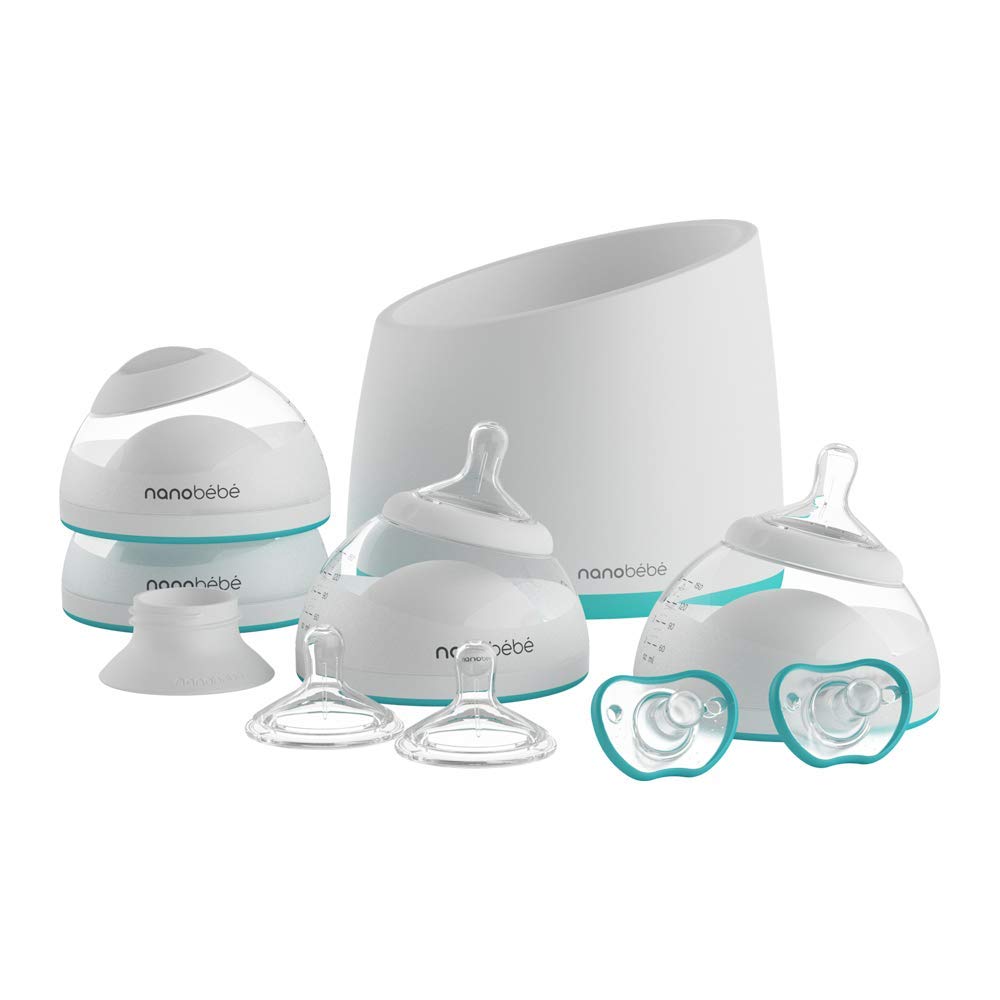 It comes with everything you need to begin your breastfeeding and bottle journey. Including their award-winning baby bottles for breastfed babies that encourage a smooth transition from breast to bottle and back again.
Features:
Can be found on Amazon for around $40
It's short and wide shape help the milk cool and heat twice as fast as standard bottles
Bottles are stackable for optimal organization
The kit comes with two breast pump adapters, two pacifiers and a non-electric warming bowl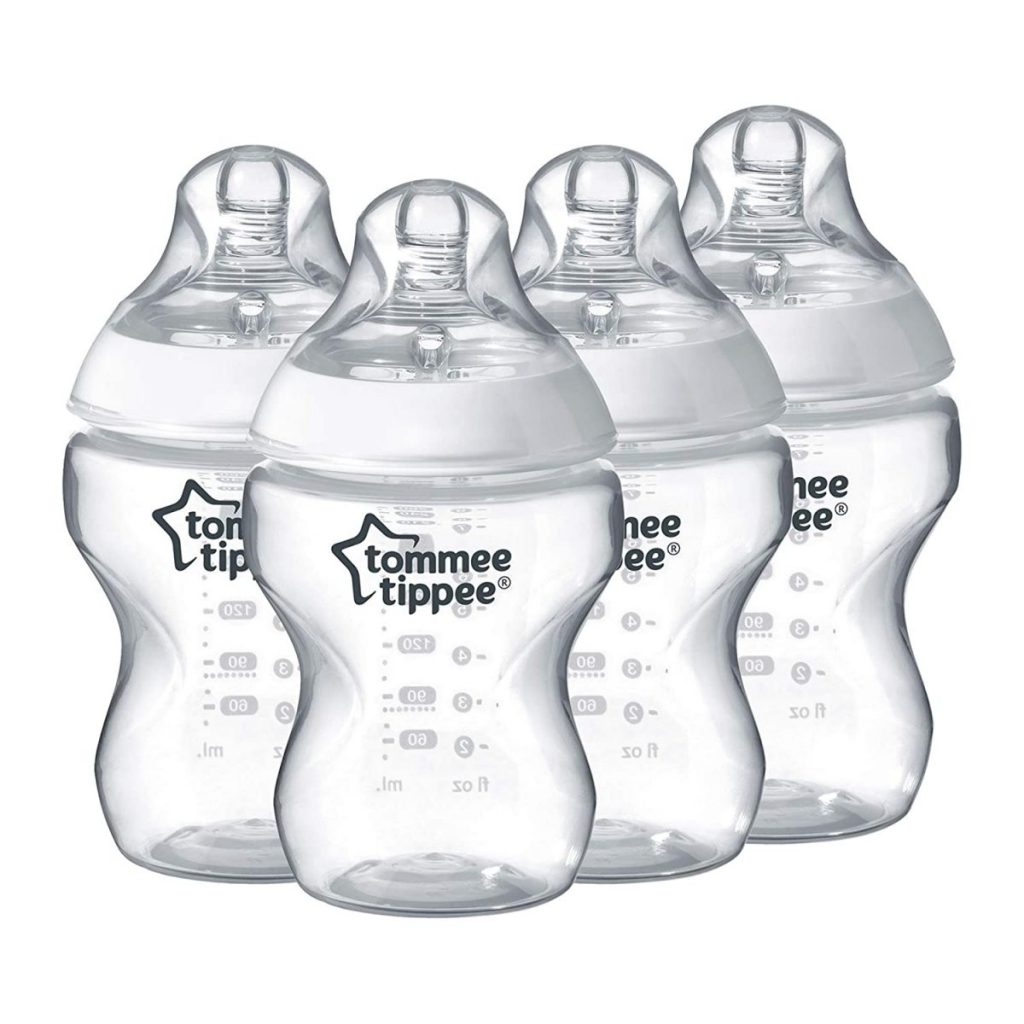 These easy transition feeding bottles are perfect for switching back and forth between the breast and bottle and are ideal for newborn babies and up.
Features:
Anti-colic thanks to the venting anti-colic nipples
Holds up to 9 ounces
The sensitive bottle nipple flexes like mom and is made of smooth silicone that helps baby feel like they are closer to skin
BPA Free
Has a wide neck
Can be purchased in a 4 pack on Amazon for $25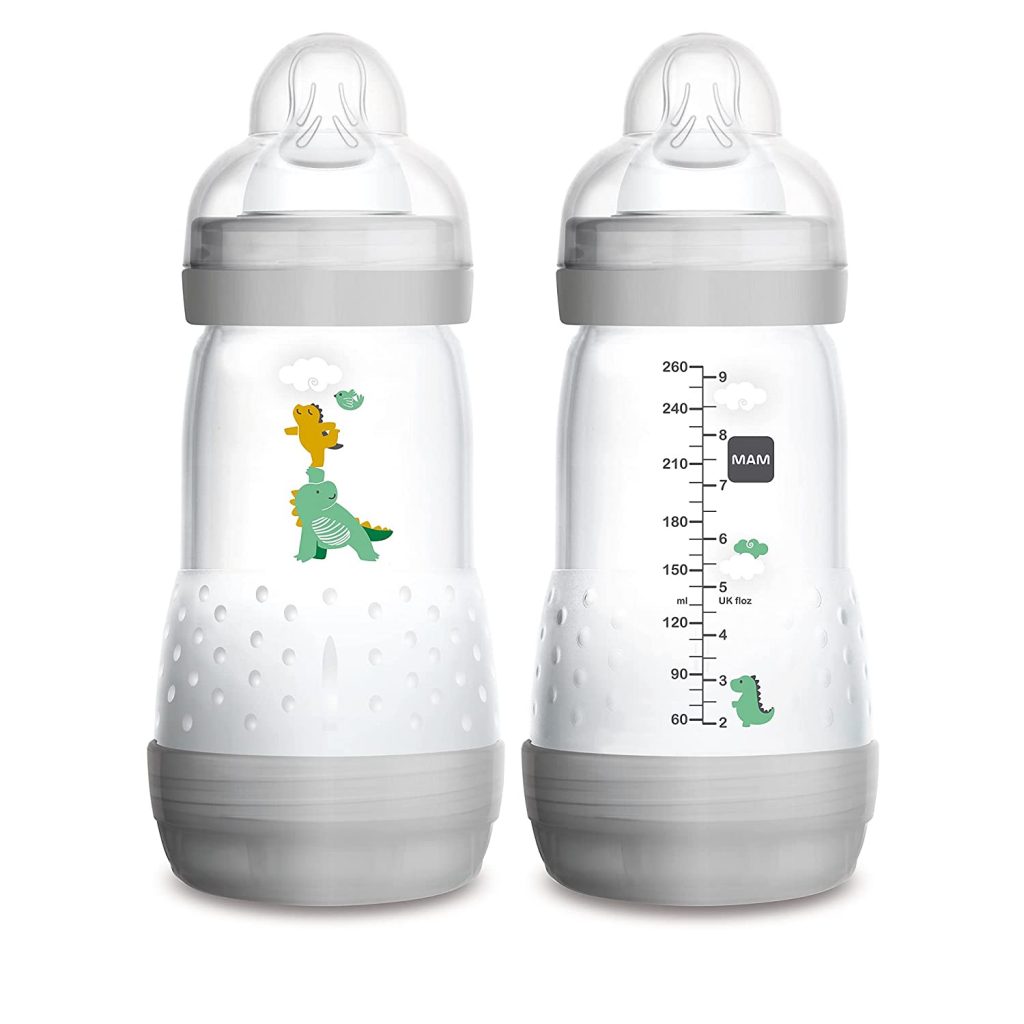 Their vented base design releases your liquid gold slowly helping to reduce colic symptoms. Thanks to its elongated nipple shape this baby bottle will feel just like mom so parents and other family members can feed the baby and your newborn can easily switch between breastfeeding and bottle feeding.
Features:
Eliminates bubbles that cause gas and colic and reflux
Self sterilizes in the microwave
Easy to clean
BPA Free
Vented bottles that hold up to 9 ounces of milk
Can be found on in a 2 pack on Amazon for $13
Why do babies refuse bottles?
There are several reasons why this happens:
Your baby prefers being the breast – it might be easier for them, it might feel more comforting, etc.
The flow of milk – if your baby is used to a slower or faster flow at the breast, it might be hard for them to switch back and forth
Temperature of Bottle – babies can be particular about what they like! T
High Lipase – some mothers produce milk that is high in lipase, which can result in a metalic or soapy smell
Whatever the reason may be, there are several good bottles that will easily replace your breasts and make feeding time a little easier.
How to Prevent Bottle Refusal
It can be a delicate balance to introduce a bottle while maintaining a breastfeeding relationship. If you introduce it too soon, you may have a baby to rejects the breast. If you wait too long, you might have a baby who refuses the bottle.
For parents who need to have their babies take bottles, I recommend starting a "snack" bottle once every day. This doesn't have to be a big bottle – just .5-1 ounce would be fine. However, this can really be helpful in preventing bottle refusal while maintaining a strong breastfeeding relationship.
How do I transition my breastfeeding baby to take a bottle?
Take it slow
The best way to do this is by taking it slow and easy. Know that their first bottle may be a little trickier for them. So be patient with yourself and your baby.
You can do this by choosing a good time of day to give them their bottle. The middle of the night might not be the best choice. Choose a time of day where they are most alert and when you are the most rested as well.
Try again if it doesn't work out the first time.
You can practice once a day until your baby begins to get the hang of it. If one bottle doesn't work well, consider moving on to another one until they find one they take to better.
Hold your baby upright
It's important to begin by holding your baby upright. Feeding a baby from a bottle is different than nursing from the best. You will want to make sure your baby is more upright with the bottle parallel to the floor so the milk is coming at them.
Pace Bottle Feed
Paced Bottle Feeding is also a good idea. This means that you pause every few minutes during their feed to help them from getting overwhelmed and to allow them to suck at their own pace.
You can learn all about paced feeding in this article – How to Give a Breastfed Baby a Bottle and Avoid Bottle Preference.
Start off with the smallest bottle nipple available (slow flow) before slowly transitioning into bigger ones as you begin introducing the bottle. If your baby is already refusing the smallest nipple size, you may need to go back a step or two until they have successfully made it down to the slow flow nipple.
Other Posts You May Enjoy: