10 Best Protein Bars for Breastfeeding Moms (2023)
Are you looking for the best protein bars to help you with your breastfeeding journey? If so, you're in luck! This list has the ten best protein bars that are perfect for new moms. They'll help you stay energized and focused while you take care of your little one. So, if you're looking for a quick and easy snack that will help you reach your goals, be sure to check out this list!​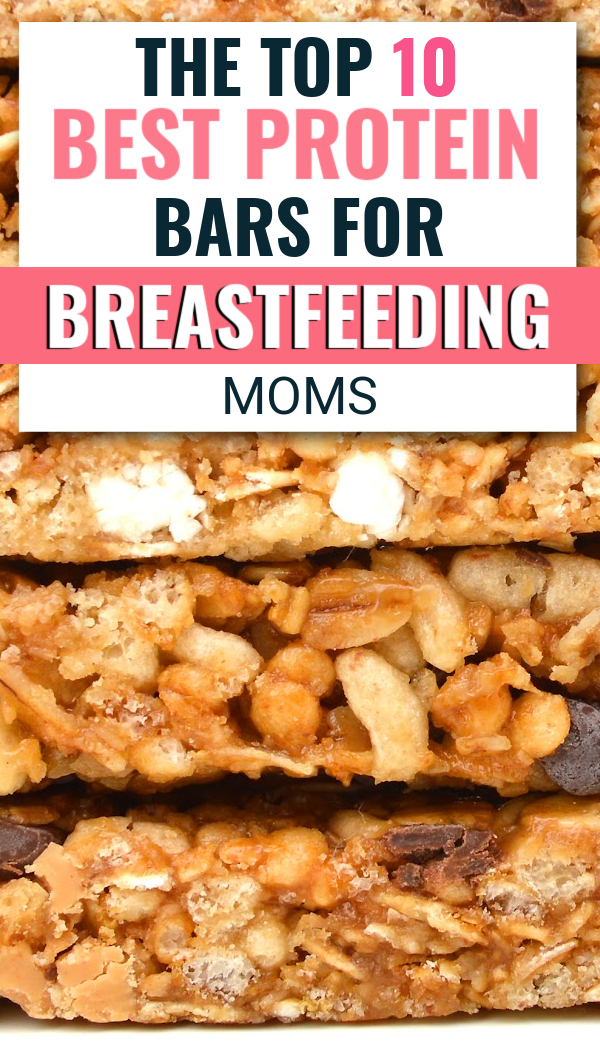 It can be hard to get all the nutrients you need when you're breastfeeding and to eat balanced meals.
Protein can be especially hard to get!
Protein bars are a great way to get a little bit of extra protein and energy in your day. They are convenient and easy to carry with you, making them perfect for on-the-go moms.
However, not all protein bars are created equally. To help you out, we have compiled a list of the 10 best protein bars for breastfeeding mothers, so you can be sure you are getting the best quality products.
Here are our top picks, but we'll go into more detail about them later on!
Looking for protein powder recommendations? Check out this post – 9 Best Protein Powders While Breastfeeding + Is it Safe to Drink?
What to Look for in a Protein Bar
There are many different types of protein bars on the market, so it's important to choose one that is high in quality and nutritious. Some things to look for when choosing a protein bar include:
High protein content (at least 15 grams per serving is ideal)
No artificial sweeteners, flavors, or colors
Healthy fats and fiber
A variety of vitamins and minerals
There are a lot of protein bars out there, but unfortunately, many of them are filled with artificial sugar (or a LOT of regular sugar), preservatives, and lots of ingredients that you probably are better off avoiding. A protein bar that is worth eating while breastfeeding should be made with high-quality ingredients, in our opinion!
Best Protein Bars for Breastfeeding
G2G Protein Bar, 8 Flavor Variety Pack, High Protein, Gluten-Free, Healthy Snack, Delicious Meal Replacement, Clean Ingredients, Refrigerated for Freshness, (Pack of 8)
Why pay good money for G2G Bars over other protein or nutrition bars? The answer: Value. G2G Bars are HUGE (70g) and contain real food ingredients that keep you full. Most protein bars contain additives, preservatives and fillers that chemically manipulate the macros and allow them to be shelf-stable for YEARS! Not G2G Bars. G2G Bars are made with all-natural, unprocessed, real food ingredients. They contain no preservatives and are refrigerated for freshness. Better ingredients. Better life.
FRESH - Made with freshly-ground peanut or almond butter. No preservatives. Refrigerated for freshness, Good2Go for 30 days out of the fridge.
HEALTHY - All-natural, gluten-free, 99.9% lactose-free, and made with organic ingredients. NO refined sugar or sugar alcohols. High protein-18 grams from whey, peanuts/almonds and organic oats. High fiber. Balanced macro nutrients for sustainable energy.
DELICIOUS - Our flavor sets us apart. Indulgent and satisfying. G2G Bars taste homemade but better!
G2G bars are loved by athletes, families, kids, and outdoor enthusiasts! Perfect for hiking, biking, golfing, a day at the beach or the park. Natural fuel for your next workout or run or simply throw in your purse (or murse) for a convenient and healthy meal on the go.
I love G2G Bars, and they are great for helping keep your energy up during the day. Here are a few things to know:
Great flavor options, including:

Peanut Butter Chocolate Chip
Peanut Butter Coconut Chocolate
Peanut Butter Banana Chocolate
Peanut Butter & Jelly
Almond Chocolate Chip
Almond Coconut (my personal favorite)
Almond Mocha
Almond Oatmeal Cookie

They are a little bit pricier, however, I find that I only eat 1/3-1/2 of one at a time
They have to be refrigerated
Simple ingredients
18 grams of protein
Gluten free
You either have to buy them online or at a specialty store like Good Earth.
I have been a big fan of Built Bars for a long time, and they are often my go-to. They are often stocked in my pantry, and they often taste like a treat!
They offer their traditional bars, "puffs" (marshmallow-like texture), and occasionally granola bars – all protein packed
They taste great frozen or in the pantry
Lots of new flavors released – though keep in mind that many are limited edition, so you may not always see your favorite flavor again
They have 17 grams of protein (I think they all do, though if not, they are around that amount)
If you are on a budget, these are a good option. My kids love these, and they taste good. I feel like they are similar to "Chewy" bars, but just with more protein.
These are gluten free
A little lower on the protein spectrum with 10 grams of protein
40 Bars in each package
Most ingredients are okay but a few aren't my favorite (corn syrup, maltodextrin)
Very tasty
Boobie Bar Superfood Lactation 1.7 Ounce Bars Package May Vary, Oatmeal Chocolate Chip, 6 Count
MILK-BOOSTING LACTATION BARS – Our Milk to the Max Bars are expertly formulated to increase milk supply with one convenient, ready to eat bar – no more pills to swallow, no more teas to brew!
6 POWERFUL SUPERFOODS – made with Moringa, Turmeric, Cinnamon, Shatavari, Flaxseed, and Whole Grain Oats for milk-boosting lactation support.
BREASTFEEDING ESSENTIALS – Our lactation bars for breastfeeding provide 6g of fiber and are a healthy alternative to lactation cookies. The ideal lactation supplement for nursing moms.
INGREDIENTS MOMS TRUST - Gluten-Free, Dairy-Free, Vegan, Soy Free, Non-GMO, Certified Kosher, and Fenugreek-Free. Made in the USA.
CREATED BY CERTIFIED LACTATION CONSULTANT - Founder, Nurse Wendy, is an RN and International Board Certified Lactation Consultant (IBCLC). She expertly crafts all Boobie products for optimal support of motherhood.
I was surprised to see there really weren't a lot of lactation protein bars out there – pretty much just Boobie Bars. I nave never actually tried these, but the reviews are pretty good.
Three Flavors

Oatmeal chocolate chip
Peanut Butter
Blueberry Muffin

Contains six "superfoods"

Organic Moringa Leaf
Organic Cinnamon
Organic Shatavari Root
Organic Tumeric
Flaxseed
Whole Grain Oats

Vegan, Gluten Free, Soy Free, Non GMO, Dairy Free, Fenugreek Free, and Certified Kosher
Only 3 grams of protein, so definitely not a traditional protein bar
Ingredients all seem pretty good. It does have sunflower lecithin, which has been a little controversial
There is a lot of sugar – 12 grams of added sugar per bar
RXBAR Blueberry, Protein Bar, High Protein Snack, Gluten Free ,Pack of 24
A REAL FOOD PROTEIN BAR: Our Blueberry RXBAR is the perfect protein bar for any berry lover. Made with real food ingredients—egg whites for protein, dates to bind, nuts for texture. 12 gram of protein. 4 gram fiber. Gluten free.
ANYTIME HIGH PROTEIN SNACK: It's always the perfect time for a wholesome snack. That's why we suggest trying this real food protein bar for breakfast time, lunch time, or as a pre or post workout snack. Eat the whole snack bar or save some for later.
GLUTEN FREE AND GUILT FREE SNACK: Paleo, check. Whole30, check. Guilt and gluten- free, double check. RXBARs are the perfect protein bar for any healthy lifestyle. Check out RX Nut Butter for a keto snack option.Dairy free
ON-THE-GO PROTEIN PACKED FUEL: RXBARs are great for the office, on-the-go snacks, or just a wholesome treat. Grab one bar for a protein-packed pre or post workout snack and get the energy you need.
WE'RE THE BAR THAT RAISED THE PROTEIN BAR, BAR: At RXBAR, we make protein bars. Simple real food ingredients, no gluten, no added sugar, and no B.S.
This is a well-known brand with a variety of different protein bars. They can be readily found at many grocery stores. They have very simple ingredients, which is one of their biggest appeals.
There are several different kinds of RXBars:

Original RXBar – Around 12 grams protein
AM Bar – 10 grams protein
Mini's – 6 grams protein
Plant – 10 grams protein

Typically have 3-5 ingredients; usually things like dates, nuts, and egg whites
I find them to be pretty dense
The flavor is pretty good
Majka Lactation Supplement Breastfeeding Protein Powder - Postnatal Vitamins for Breastfeeding Moms - Essential Nutrients for Mom + Baby - Gluten Free and Vegan 1.03 LB (Green Vanilla)
BREASTFEEDING PROTEIN POWDER: Majka lactation supplement for breastfeeding boosts milk supply and supports energy levels. Our plant based protein powder is the only postnatal protein powder that serves as a complete bioavailable postnatal vitamin and contains a high quantity of galactagogue (breast milk boosting) herbs, meaning, it can substitute your pre/postnatal vitamin, unlike any other powder on the market!
NOURISHING FOR NEW MOMS: Our lactation drink mix is formulated to restore and replenish your body after giving birth; It provides probiotics and digestive enzymes for nutrient absorption, nourishes your breastmilk, and keeps you feeling full and energized.
LACTATIONAL SUPPLEMENT: Majka nursing protein powder is the best breastfeeding supplement with 15 grams of organic protein, active forms of B vitamins, organic galactagogues, fruits and vegetables, probiotics and enzymes. It is essentially 6 supplements in one! Making this a comprehensive, convenient, and delicious way for breastfeeding moms to get the nutrition they need!
LACTATION SUPPORT YOU'LL LIKE: Our lactation supplements are non GMO, vegan, gluten free, soy free, sugar free, have no artificial sweeteners, are whole food based, and fenugreek free
FOR BEST RESULTS: Add 2 scoops of our lactation blend to your favorite smoothie or mix with your favorite plant based milk; Our Lactation protein powder can be enjoyed at any time of the day as a breast milk supply boost and to promote your overall well being
These are advertised as "clean protein" bars with no added preservatives or additives. They also have additional flax seed added, which is kind of nice, since that is a galactagogue. Here are a few highlights:
12 grams of protein
Simple Ingredients
They have sunflower lecithin, which is an ingredient some use to help with recurrent clogged ducts
Non GMO Certified
Various flavors include:

Vanilla Swirl
Chocolate Mocha
Dark chocolate sea salt
Dark chocolate coconut almond
Dark Chocolate blueberry almond
Chocolate peanut butter

Available for purchase online
Sale
These are protein bars that have a higher amount of protein than many and are available nationwide at stores like Target.
Bars have 20 grams of protein
Lots of delicious flavors

Chocolate & Creme Cupcake
Chocolate Fudge
Chunky Peanut Butter
Cookies and Creme
Creamy Peanut Butter
Lemon Delight
White Chocolate

They have a variety of products, such as Keto and Plant-based bars
Ingredients aren't terrible, but they aren't as good as some bars
Perfect Bar, Dark Chocolate Chip Peanut Butter Protein Bar, High Protein, Organic, Gluten Free, Soy Free, Non GMO, No Sugar Alcohols, 2.3 Ounce Bar, 10 Count
DARK CHOCOLATE CHIP PEANUT BUTTER PROTEIN BAR: Enjoy wholesome ingredients like ground organic peanut butter, organic honey, dark chocolate chips, and a touch of sea salt. Satisfy your cravings and recharge your muscles with 15g of whole food protein, 20+ superfoods, and a delicious cookie dough texture. (packaging may vary)
SUPERFOOD: Superfoods like fruits, vegetables, seeds & oils in every protein bar provide a convenient source of vitamins, minerals & natural energy. Plus, we use whole food protein instead of whey or soy.
THE INSIDE MATTERS: Deliciously packed with clean, whole food ingredients & a low glycemic index, these high-protein bars help keep you fuller for longer. Organic, non-GMO, gluten free, soy free, no sugar alcohols & kosher. Free of artificial flavors, colors, or preservatives.
REFRIGERATED FOR A REASON: Perfect Bar is kept refrigerated for optimal taste & texture, but is still perfectly fresh out of the fridge for up to a week. This nutritious protein bar is a great way to increase your protein intake on the go.
PERFECT BAR: Our nutritious protein bars are great for any occasion! Enjoy as a breakfast bar, meal replacement, an afternoon snack, or for a quick energy boost to keep you fueled throughout the day. Enjoy our full line including Perfect Bar, Perfect Bar Snack Size, Perfect Bar Layers & Perfect Snacks Peanut Butter Cups.
These are another bar that are available at stores like Target and Sam's Club. It is a refrigerated bar and boasts of having lots of super foods in them.
14 grams of whole food protein
Really great ingredient – you'll find items like celery, kelp, whole egg powder, alfalfa, and other super foods on the label. I don't see anything artificial!
Higher calories – each bar is around 300 calories or more
Snack Size Available
Lots of flavors, and they seem to release lots of seasonal ones

Chocolate Chip Cookie Dough with Sea Salt
Dark Chocolate Chip Peanut Butter
Peanut Butter
Coconut Peanut Butter
Pumpkin Pie (limited time)
Salted Caramel
Almond Butter
Dark Chocolate Almond
Chocolate MInt
Chocolate Hazelnut Crisp

Very good reviews across the board
These are plant-based protein bars. The protein amount is a little lower than some, but they are organic and seem to have good reviews.
Organic
Contain 10 grams protein
Variety of flavors

Peanut Butter
Coconut Vanilla
Salted Chocolate
Chocolate Cherry

Ingredients are very simple and real food – protein sources are dates, sunflower seed powder, sunflower seeds and poppy seeds.
Good reviews – some people say they are a bit dense
CLIF Nut Butter Bar - Variety Pack - Peanut Butter Filled Energy Bars - Non-GMO - USDA Organic - Plant-Based - Low Glycemic - Amazon Exclusive - 1.76 oz. (12 Count)
VARIETY PACK: Includes 12 CLIF Nut Butter Bar snack bars in craveable flavors like Chocolate Peanut Butter, Peanut Butter, and Chocolate Chip Peanut Butter (packaging and assortment may vary)
NUT BUTTER FILLED: Filled with delicious, craveable nut butter with a balanced mix of satisfying nutrients
QUALITY INGREDIENTS: Made with great-tasting, wholesome ingredients that provide plant-based energy like organic oats and real peanut butter
ORGANIC AND NON-GMO: CLIF Nut Butter Bars are USDA organic, made non-GMO ingredients, and have no artificial flavors or high-fructose corn syrup
PLANT-BASED PROTEIN: Each bar has 7g of plant-based protein and is low glycemic to help you power through your busy day
I think these are pretty tasty. Obviously, they have nuts in them, so they aren't an option for anyone with nut allergies. However, they are delicious and aren't as "protein-y" as some bars might be.
Lower protein – 5-7 grams per bar
I have gotten these at Costco
Variety of Flavors

Chocolate & Peanut Butter
Peanut Butter
Chocolate & Hazelnut Butter

Plant Based
Not the best ingredients but overall pretty good
How much protein do I need while breastfeeding?
The amount of protein you need while breastfeeding depends on many factors, including your weight, activity level, and the amount of breastmilk you produce. The American Dietetic Association (ADA) recommends that nursing mothers consume at least 68-120 grams of protein per day.
What are the benefits of protein bars while you're breastfeeding?
Protein bars can help nursing mothers meet their increased protein needs. They are also a convenient and easy way to get the nutrients you need on the go. Protein bars can help you:
Potentially Increase milk production
Boost energy levels
Promote muscle growth and repair
Reduce hunger and cravings
Support a healthy immune system
I like protein bars that have some carbs, because that helps you process much-needed carbs a little easier while keeping your full for longer (as opposed to just eating carbs on their own).
Do Protein Bars Increase Milk Supply?
I don't think there are any studies showing that protein bars increase milk supply – it would definitely depend on the ingredients. However, if you aren't eating enough and protein bars give you energy to remember to nurse frequently and keep up your caloric intake, it could potentially help milk supply.
Protein bars are a convenient and easy way to get the nutrients you need while breastfeeding. They can help you meet your increased protein needs and boost energy levels. Choose a protein bar that is high in quality and nutritious, and be sure to check with your healthcare provider before making any dietary changes.
Are protein bars safe while breastfeeding?
Protein bars are generally safe for nursing mothers to consume. However, it's important to choose a high-quality protein bar that is nutritious and free of artificial sweeteners, flavors, and colors. You should also check with your healthcare provider before making any dietary changes while breastfeeding.
Why does breastfeeding make you so hungry?
Breastfeeding can make you feel hungrier than usual because it requires extra energy to produce milk. Nursing mothers need to consume more calories than they did before pregnancy in order to meet their increased energy needs. Protein bars are a great way to get the nutrients and energy you need while breastfeeding.
Will my appetite decrease when I stop breastfeeding?
It's normal for your appetite to decrease when you stop breastfeeding. This is because you no longer need the extra calories that are required to produce milk.
However, it's important to continue eating a balanced diet and including protein-rich foods in your meals and snacks. Protein bars can be a convenient and easy way to get the nutrients you need on the go.
If you are having trouble eating balanced meals, I highly recommend checking out our breastfeeding/postpartum meal plan. It has so many great meal ideas!
What happens if you don't eat enough while breastfeeding?
If you don't eat enough while breastfeeding, you may experience fatigue, low energy levels, and may even have difficulty producing milk. It's important to consume a balanced diet that includes plenty of protein-rich foods in order to meet your increased nutrient needs. Protein bars can be a convenient and easy way to get the nutrients you need on the go.
Is a high protein diet bad for breastfeeding?
A high protein diet is not necessarily bad for breastfeeding. However, it's important to choose a variety of healthy protein sources, such as lean meats, seafood, beans, tofu, nuts, and seeds.
You should also include a variety of other nutritious foods in your diet, such as fruits, vegetables, whole grains, and healthy fats.
Other Ways to Get Protein While Breastfeeding
Natural Yogurt and Granola
Cheese with Whole Grain Crackers
Peanut Butter and Bananas
Hardboiled Eggs and Fresh Fruit
Dried Fruit and Nuts
Smoothie with Protein Powder (check out our favorite breastfeeding friendly protein powders)
Chicken Salad Wrap
Tuna Salad Sandwich
Bean Soup with a Side of Bread
Lentil Stew with Rice Salmon with Quinoa and Broccoli
Homemade Protein Bar Recipes
Here is a great recipe for no bake protein bars!
Ingredients:
1 cup creamy peanut butter
1/2 cup honey
1/4 cup cocoa powder
1 teaspoon vanilla extract
1 cup rolled oats
1/2 cup ground flaxseed meal
1/2 cup protein powder
1/4 cup chocolate chips
Instructions:
1. Line an 8×8 inch baking dish with parchment paper.
2. In a large bowl, mix together peanut butter, honey, cocoa powder, and vanilla extract until smooth.
3. Stir in oats, flaxseed meal, protein powder, and chocolate chips until well combined.
4. Press the mixture evenly into the prepared baking dish.
5. Refrigerate for at least 1 hour, or until firm.
6. Cut into bars and enjoy!
What are good snacks for breastfeeding moms?
There are many nutritious and convenient snacks that are perfect for breastfeeding moms. Protein bars are a great way to get the nutrients and energy you need on the go. Other good snack options for nursing mothers include:
Yogurt, cheese, peanut butter, bananas, hardboiled eggs, and fresh fruit.
Do KIND bars help with lactation?
There is no scientific evidence to suggest that KIND bars help with lactation. However, they are a nutritious and convenient snack option for breastfeeding mothers. KIND bars are high in protein and fiber, which can help nursing mothers meet their increased nutrient needs.
What protein is good for breastfeeding?
There are many healthy protein sources that are perfect for breastfeeding mothers. Good protein options for nursing mothers include lean meats, seafood, beans, tofu, nuts, and seeds. You should also include a variety of other nutritious foods in your diet, such as fruits, vegetables, whole grains, and healthy fats.
If you are a breastfeeding mother, it is important to consume plenty of protein. Protein bars can be a convenient and easy way to get the nutrients you need on the go. I hope that this article has been helpful for helping you choose a protein bar!
More Articles You may Enjoy:
Katie Clark is an International Board Certified Lactation Consultant (IBCLC). She has helped thousands of mothers and families around the globe navigate breastfeeding challenges and questions since 2015. She has a passion for creating research-based, helpful breastfeeding education and helping parents find a way to make breastfeeding work for them. Katie is a mom of three little boys and lives in the great state of Colorado. She also has a degree in Communications with an emphasis in print journalism.