The Willow Breast Pump Review: From a Twin Mom (2021)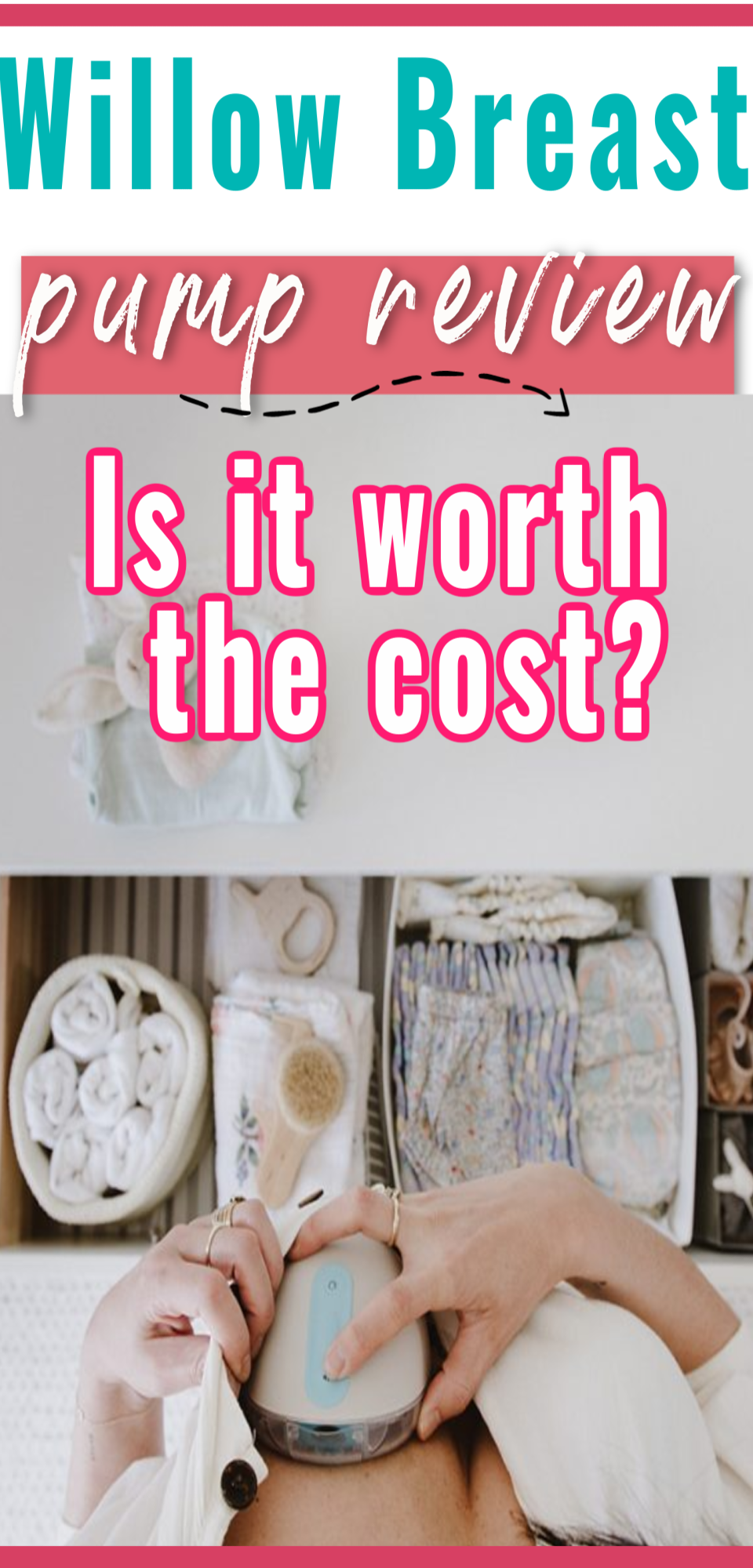 Breast Pumps sure have a come long way over the years and the Willow Breast Pump is no exception. This pump is innovative, modern and has all the bells and whistles you could ask for. Be sure to read our entire review of this hands-free breast pump to make sure this is the breast pump for you – including a personal experience from a mom of twins!
The Willow Breast Pump is a hands-free, base free, cord-free breast pump that fits in your bra and goes where you go. Sounds pretty amazing, right?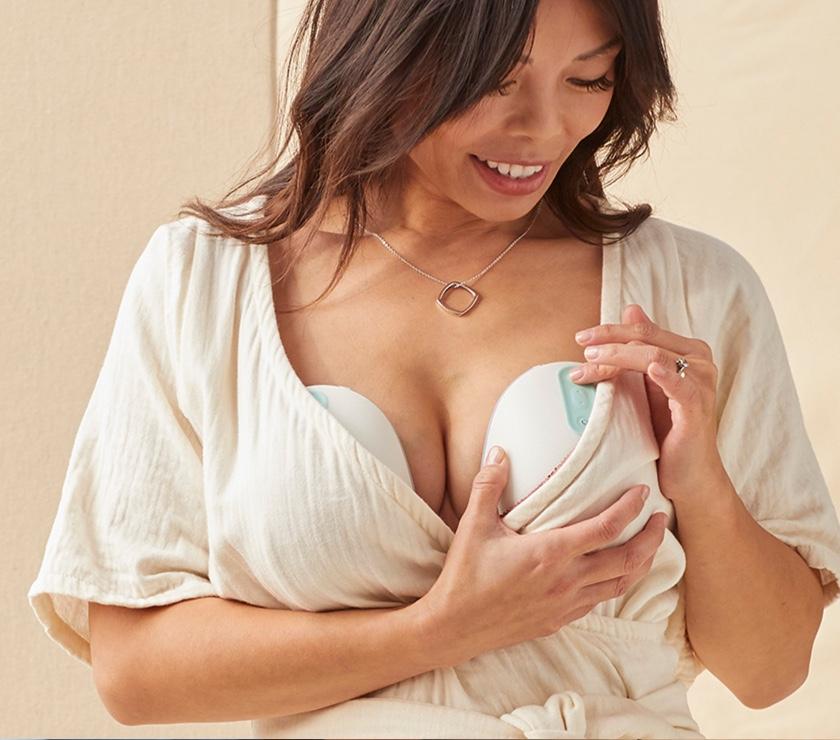 Before we get into our review we want to make sure you are aware of The Breastfeeding Mama's Online Breastfeeding courses. Read on to learn more!
The Breastfeeding Mama's Online Breastfeeding Course
Whether you are a seasoned breastfeeding mama or a first time mom- be sure to register for our Complete Breastfeeding Course and learn the secrets to successful breastfeeding in just a few hours. I have developed this course to actually prepare you for what's to come with breastfeeding.
If you are on this page, chances are, you are going to be pumping. I HIGHLY recommend at least taking our Milk Supply and Pumping – it's just $24!
Willow Review with Twins
I initally wrote this review after researching and reading up on the Willow. At the time I was pregnant with my twins and had not had the chance to use it yet.
I have since used the Willow and wanted to give an honest, more accurate review after using it personally.
What I liked about Willow
My favorite thing about the Willow was that I could pump with it anywhere. It's not attached to a cord and that made it very convenient for me. My babies spent two weeks in the NICU so I was able to easily transport it to the hospital and not worry about bringing a big bulky pump.
I ended up pumping and driving one time and while I really wouldn't recommend it (I found myself a little too worried and anxious about it) it did work well and I like how it helped me multi-task.
I loved using the app! It was so cool to see how many ounces I was pumping. It also would alert me when it wasn't working properly. It gave trouble shooting advice so I knew what to try first in order to fix it.
I started out using the Willow milk collection bags-but we blew through them! Pumping directly into the Willow milk bags was great, because I could then just drop them into my freezer. But eventually we used the reusable, hard-shell milk collector and that was a game changer.
Most of the time I was able to empty my milk into bottles that the babies would eat from soon after or I would transfer it into other milk bags that were cheaper and a generic brand and that seemed to work just fine.
I found that the pump itself fit nicely into my bra and the flange sizes were great. I didn't have any pain while using it.
What I didn't like
My biggest gripe with the Willow was how finnicky it was to use. In order for it work properly every part needed to be clicked in and adjusted perfectly. Which wouldn't be a problem if it wasn't a little hard to do so.
There were times where I would be certain everything was in place only to have it blink that orange light letting me know something wasn't working. Usually it was just one side so I would have to stop pumping all together, readjust it, ask my husband for help and fiddle with it before I began again. This became a source of stress for us that I just didn't want to deal with.
I also didn't love how hard the parts were to clean. Because I used it every 2-3 hours I was handwashing everything and by the time I had to pump again- the parts weren't dry and I had to stick paper towels into the small crevices to ensure it was dry. I know these sound like first world problems but when you had to do that multiple times a day it got very tiring. To me the parts were a little tedious to deal with.
Initially, learning to put the pump together was hard. I did get to where I could do it fairly quickly but there is a learning curve. As mentioned above, everything needs to be clicked into place, certain parts had to be switched to a certain location to make sure it doesn't leak and to empty the milk. There was just too much to remember for me as a busy twin mom.
The pump is also not as quiet as it boasts. This wasn't a game changer for me because I pumped mostly at home and it didn't matter. It is still quieter than some pumps- just not as quiet and discreet as I originally thought it would be.
My husband took a picture of me pumping in the car on the way to the NICU and let's just say- you could definitely tell I had a pump on. Again, not a huge deal, but don't plan on the Willow being discreet and un-noticeable- because it is.
Final thoughts and who the Willow would be best for
I really wanted to love the Willow. Because I was exclusively pumping I did find it to be too cumbersome and finnicky to work with as often as I was.
I believe this would be the perfect pump for someone who is not exclusively pumping- or someone who uses it along side a traditionally pump. If I only used it occasionally (in the car, or when we went somewhere) the cons may not have bothered me as much.
I personally did not want to float between two pumps so I ended up exclusively using my Spectra 3 and I really loved it. I found that the ease and mindlessness of a more traditional pump worked better for my exclusive pumping and lifestyle.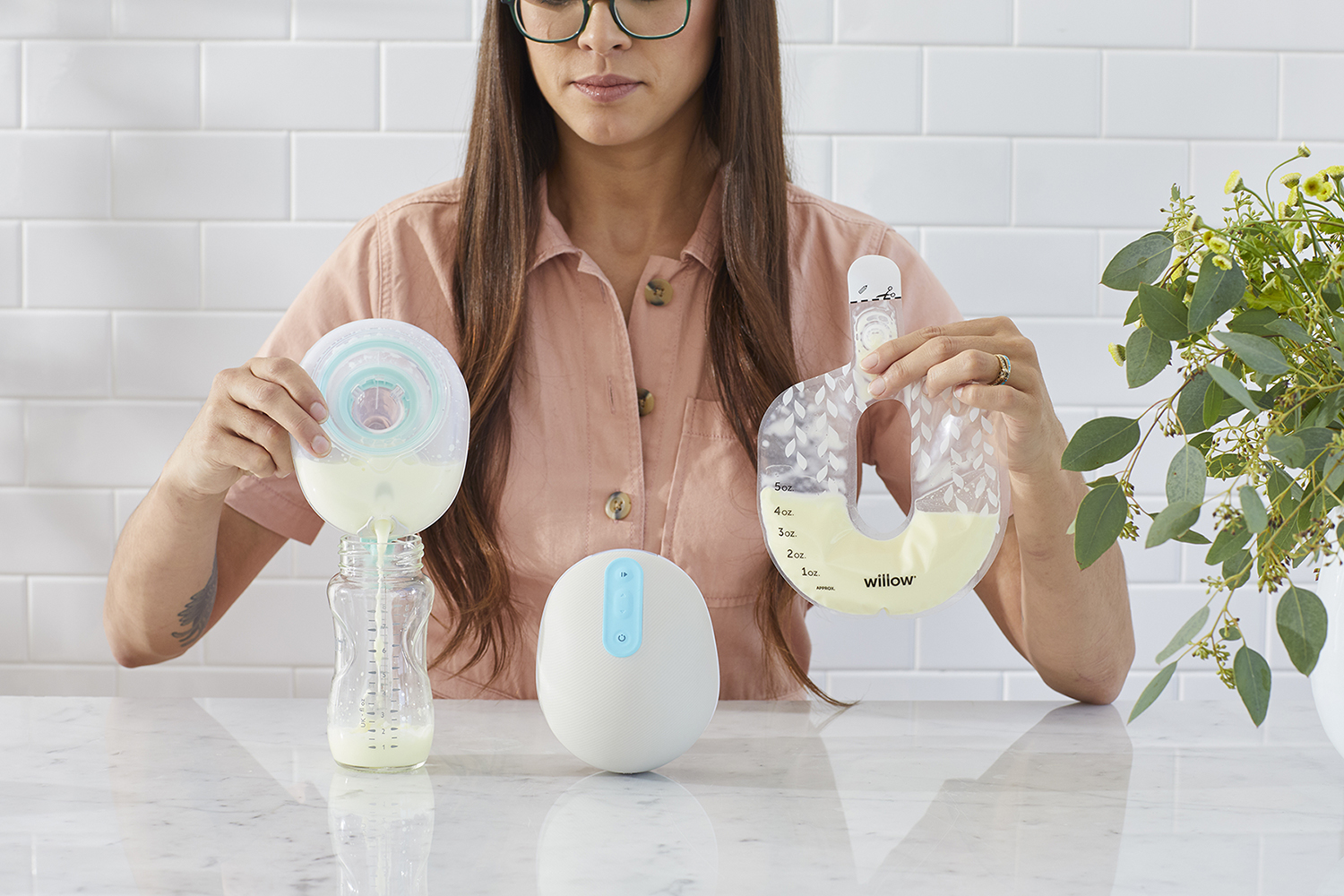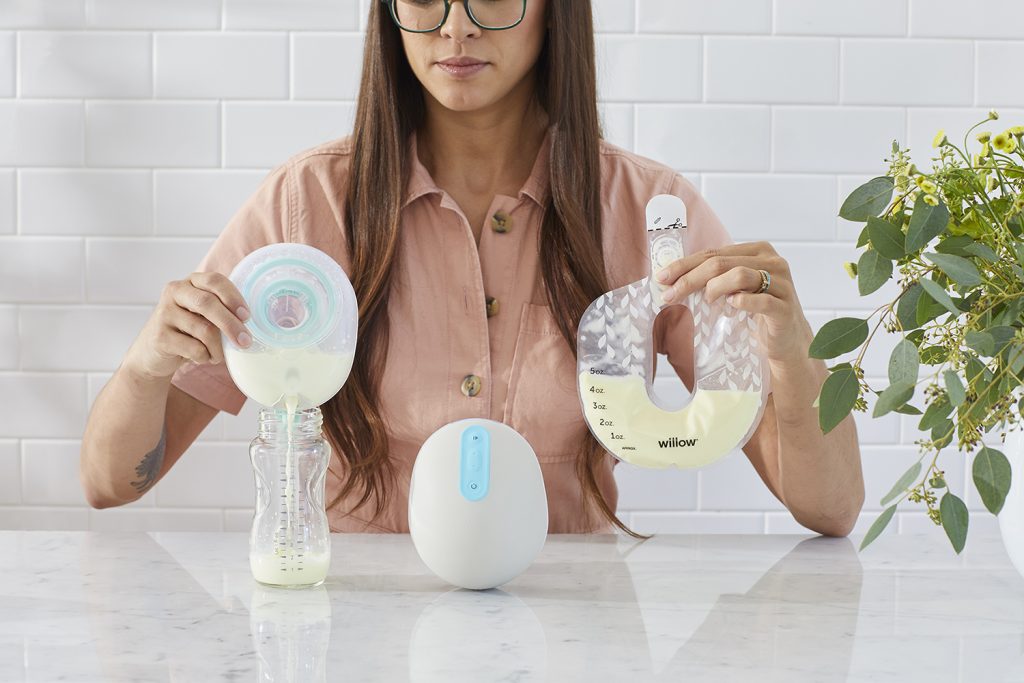 Price
First things first. How much does it cost? And is it worth it?
At this time the Willow Wearable Breast Pump Generation 3 will cost you around $499. They occasionally offer a promotion to make it less expensive – if there is one going on, you'll see an image below with the current offer!
[the_ad id='2209′]
This is the cost found on their website and on Amazon. I would suggest going through their website for the most streamlined approach and to take advantage of any promotions.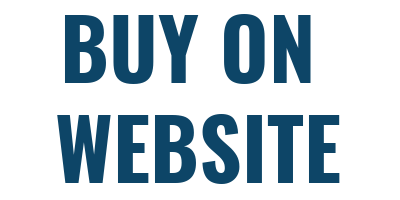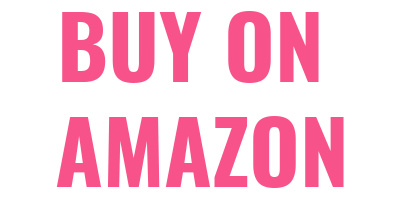 Tutorial
There is a learning curve, so we put together this video with a tutorial and tips for use!
Portability
The main draw for this pump is how incredibly portable it is. The Willow is advertised as the only in-bra pump that gives you the flexibility to pump directly into spill-proof storage bags.
That means- you can take this pump anywhere and everywhere and you can pump without having to slow down and stop what you are doing and you can pump in any position that is comfortable for YOU.
Features
The Willow was designed for the ultimate comfort- while setting you up for pumping success.
Some key features include:
Smart features for more comfort and output. The Smart Technology responds to your body and maintains suction enabling mobility without spilling.
Milk is pumped into the spill-proof disposable collection and storage bag reusable container inside of the pump
Have we mentioned it is spill-proof?
No loud sucking sounds
No external tubes, cords, or awkward bottles
Track volume, view history, and receive personalized tips with the Willow App
Produces 20% more milk than average breast pumps
Willow offers Flanges and Milk Container accessories in size 21mm, 24mm & 27mm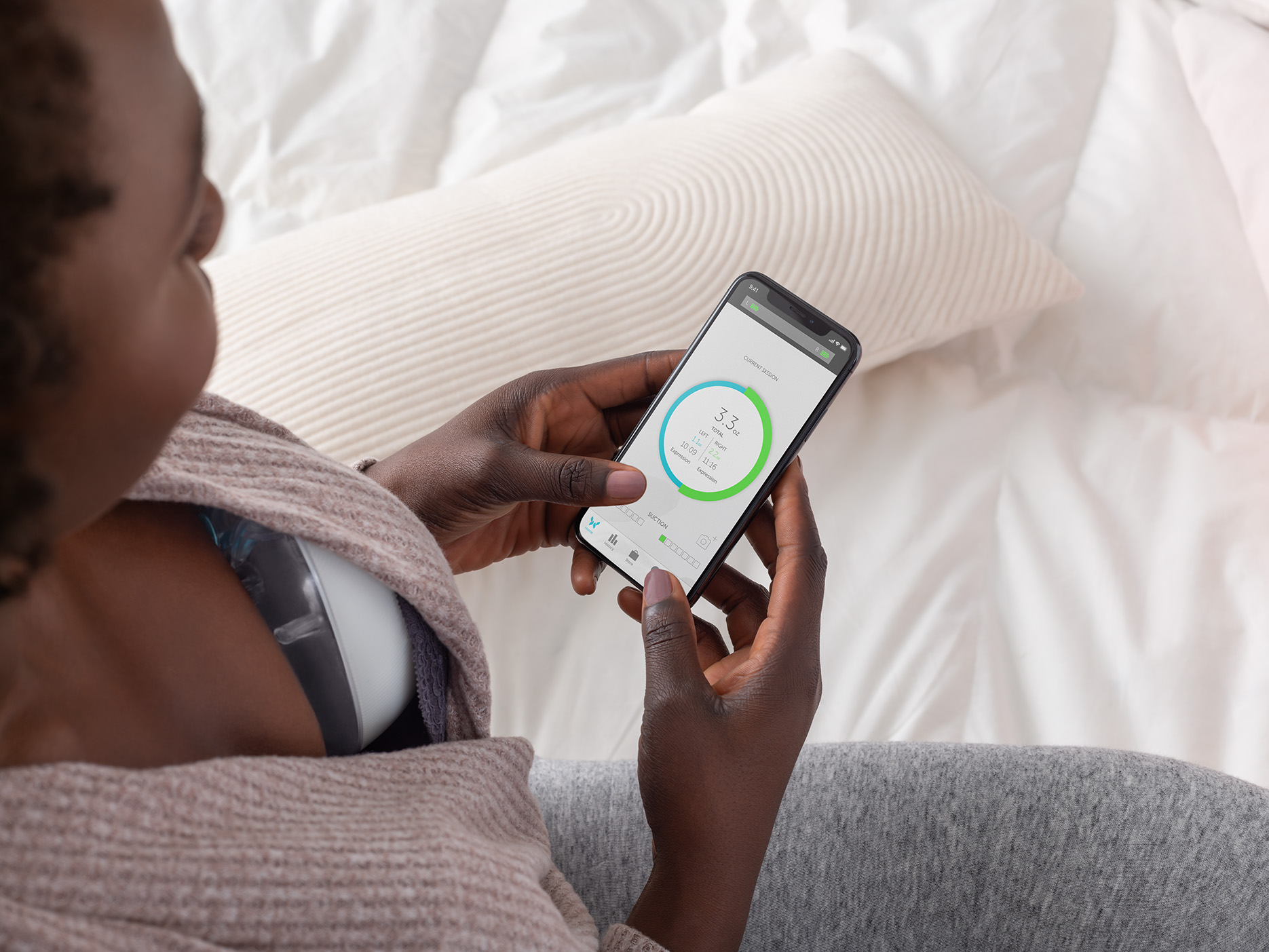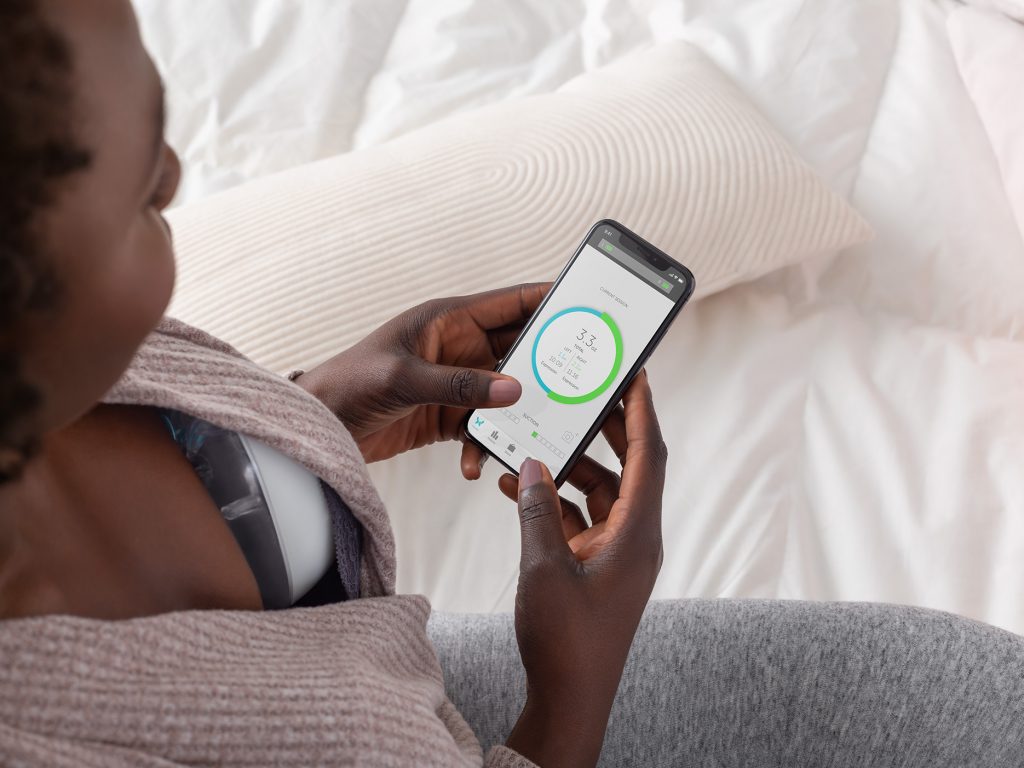 Reliability
Generation 3 Willow Pumps come with a redesigned app & setup experience, and even personalized tips for use making it the most reliable version of the product to date.
Most women find it to be pretty effective and reliable for day to day use.
Who is this pump ideal for?
This pump would be perfect for anyone who doesn't want to be held back by pumping or who would simply enjoy an easier, no hassle experience. I really can't think of anyone who wouldn't want a hands-free, cord- free pump. It will take some time to get used to- placing a pump in your bra might sound a little strange at first- but once you get the hang of it it will be life changing.
What is included?
The Willow includes the following:
2 Willow Pumps
2 Flanges
2 'Flextubes'
1 Charger
1 Pack of 24 4 oz Milk Bags
2 Cleaning Brushes
What we like
It's quiet
It's easy to clean
You can take it anywhere and pump anywhere
It's discreet- you can be pumping and no one will even know
Spill-proof
Parts are dishwasher safe
There are seven levels of suction with two new lower level settings as well as a new sensitivity setting.
BPA Free
It holds just over four ounces of milk and you can put them straight into the fridge or freezer- without spilling!
Bags fit nicely into the fridge and freezer- much better than bulky bottles
Made for all breast sizes including G and H bra cups
No special bra needed- but is is recommended to wear a full-coverage nursing bra that's stretchy and has a flap- avoid underwire and padded bras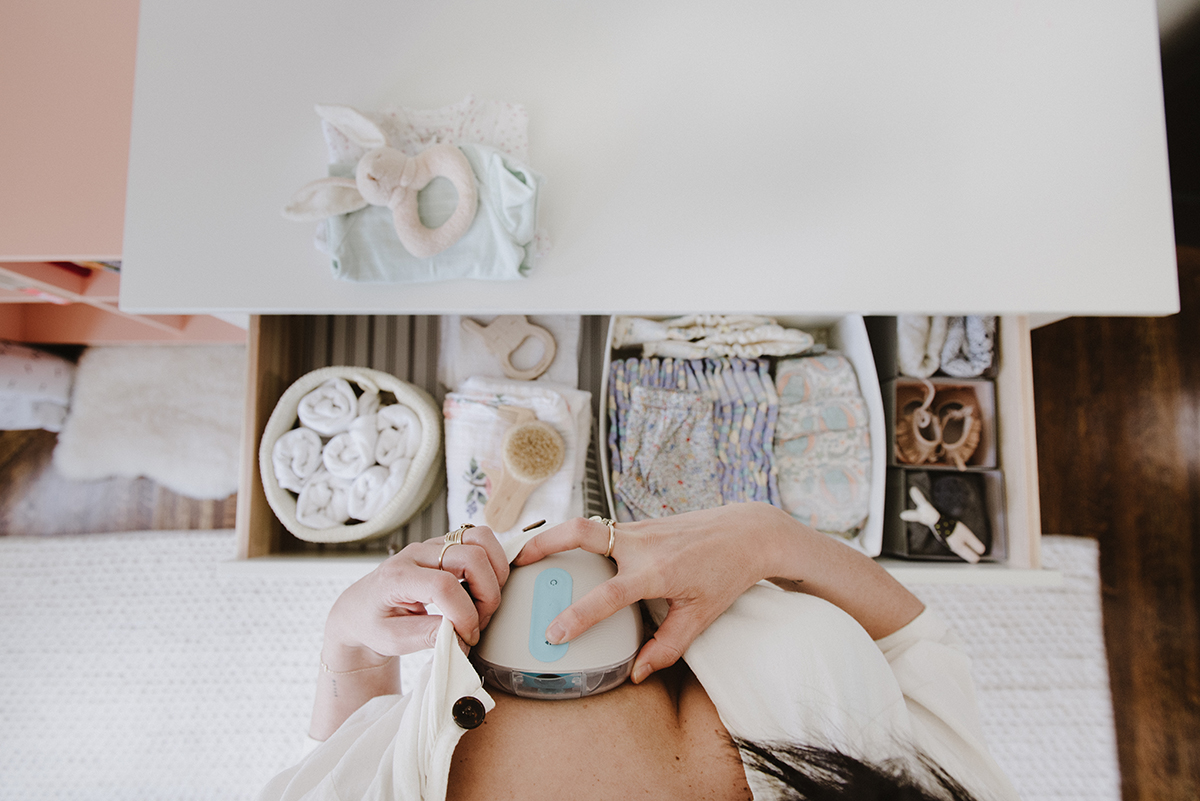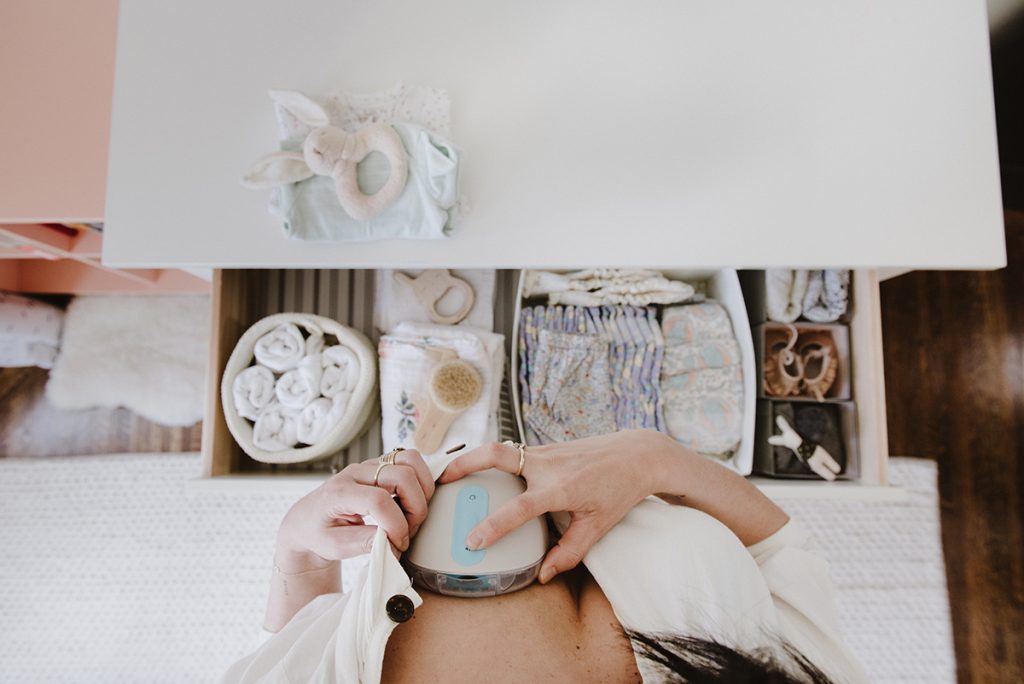 What we don't like
It's expensive and generally not covered by insurance
The rechargeable battery lasts for five pumping sessions so you may need to charge regularly
Bags cannot be reused- Once you're ready to use the milk, you must cut the top of the bag. However, you can purchase reusable containers, which were a major improvement.
It can take a few sessions to get used to
Some women feel like it's a bit bulky and makes them look bustier than they actually are
The Willow App is not always reliable
Additional supplies will need to be purchased. This may include:

2-pack of reusable containers $49.99 (replace every 3 months)

48 Milk Bags $23.99
2-pack of Milk Container Inserts $19.99 (replace every 3 months)
2-pack of Flanges $29.99 (replace every 3 months)
2-pack Flextubes $29.99 (replace every 3 months)
Charger $29.99
Is it covered by insurance?
The Willow Pump is not typically covered by insurance. Some moms have had success getting a portion of it covered, though.
However, it is HSA/FSA eligible. This means you can purchase the Willow Breast Pump with one of those accounts- which is better than nothing in some cases.
Willow Pump provides some helpful info on HSA & insurance eligibility and how-to here.
Willow Breast Pump Reviews
"Amazing for those with busy schedules. I'm a d cup and it does look a bit odd but i would rather have that then have my sessions interrupted by my busy life with 4 kids and work."
"First time pumper here! Ordered this product as it was recommended by a fellow pumping mom and my lactation consultant. I will say.. *EXPECT A LEARNING CURVE* the flip to finish gets me sometimes, and getting it positioned appropriately to get the most volume and most comfortable session takes practice. Proper flange size and a very good bra are a must. But once you get everything sorted it is an amazing convenience! I'm a just enough and this seems to work well enough. I do have a hospital grade pump at home I still use from time to time just to make sure I'm really empty but overall I have had great success."
"I absolutely love this pump. Best one in the market!
Easy to clean, easy to assemble and complete freedom to multitask while pumping.
I have not faced any problems to get my bottles filled. It just normally takes 20-25 min. ( I must say I have good supply of milk.)"
"I love this pump. I have 3 kids. I needed portability. I needed to be able to hold my baby and bottle feed him while I pumped. I am an exclusive pumper. I also work part time, on-call. So set schedule does not happen in my household. This pump allows me to keep to my pumping schedule no matter what. This pump has allowed me to maintain and increase my supply. The comfort level is decent you need to make sure your flange is the correct size."
"The Willow has the potential to be awesome, but it definitely falls short. I love that I can stick it in my bra and keep doing things – cook, feed the baby, fold laundry, work, etc. BUT the suction hurts more than a normal pump, the flange sizes are limited, and the bags are expensive."
Read more testimonials on the Willow homepage here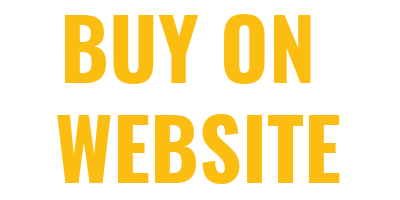 Other Hands Free Breast Pumps to Consider
The Willow Breast Pump is not the only hands free breast pump out there. If you are shopping around, Elvie offers a very similar pump, and Freemie offers a few different hands free pumps you can consider. Freemie is much more likely to be covered by insurance.
What are your thoughts on the Willow Breast Pump? Comment below, and click here if you are looking for more breast pump reviews.
Other Posts You May Enjoy: