50+ Ways to Stay Awake While Breastfeeding (From Experienced Moms)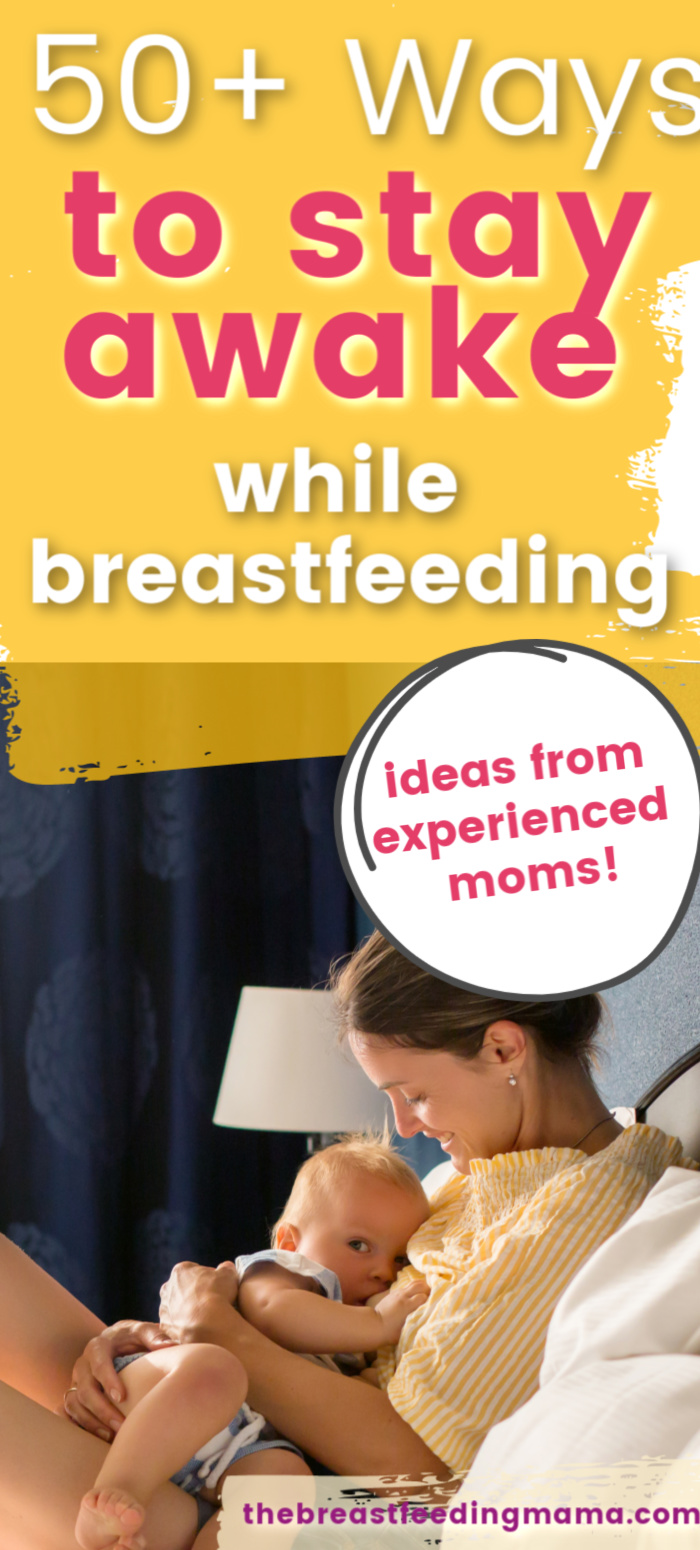 Having trouble staying awake while nursing your baby? You aren't alone! Here are 50+ ways to keep your eyes open while breastfeeding.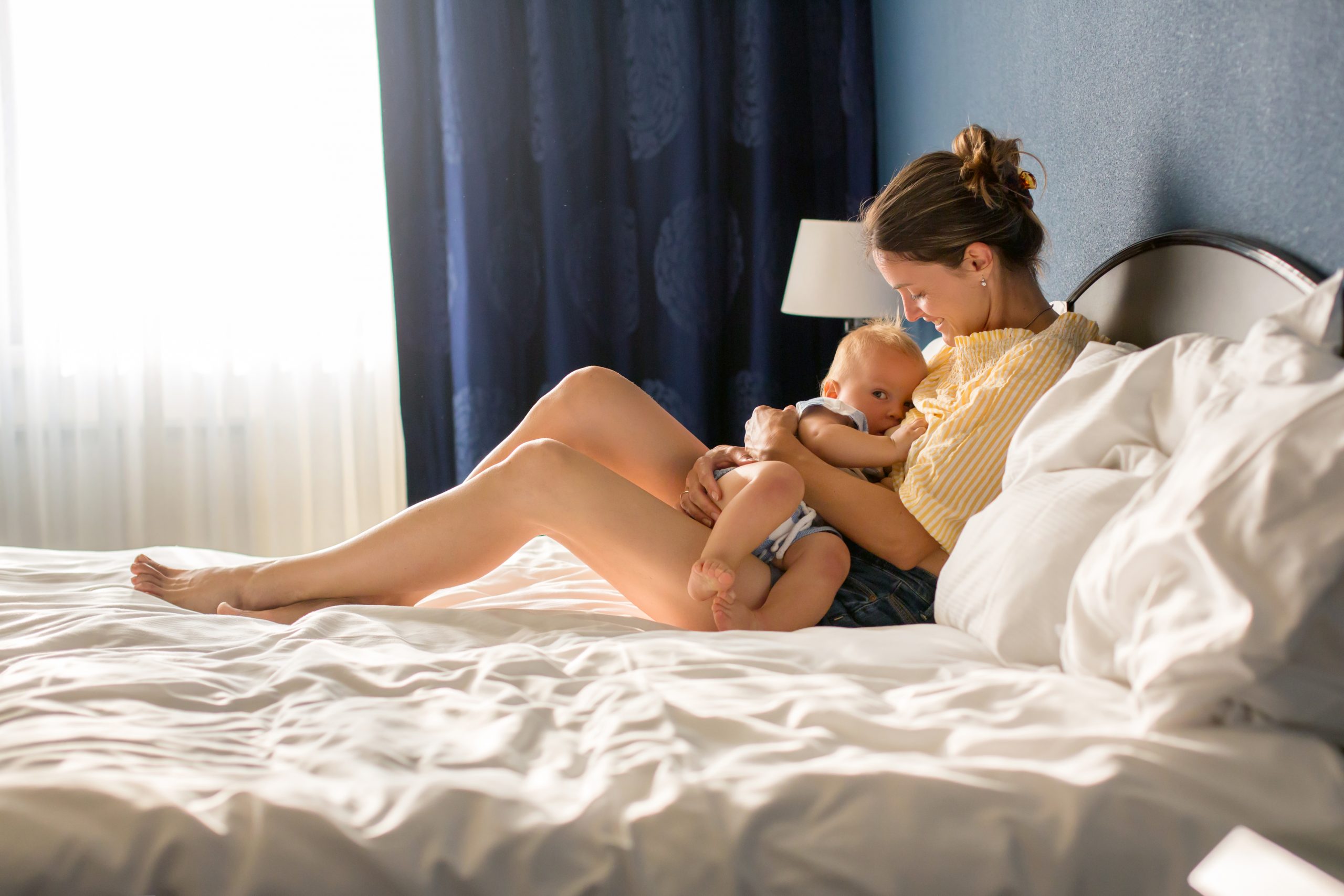 I absolutely love newborns.
Minus the sleep deprivation and frequent middle of the night feedings.
With Oliver, I felt like I was able to handle them a lot better than I did with Jack…but with Andrew, I REALLY struggled to keep my eyes awake during the early months of his life.
It felt like every time I close my eyes, it was time to wake up again.
As he's gotten older, it's gotten easier. But man, those newborn months were rough. And it was a little scary a few times to realize I had dozed off while I was trying to nurse him.
So I know I'm not the only mom to ask this.
"How can I stay awake while breastfeeding?!
I decided to pose this question in our breastfeeding support group on Facebook, and I got a lot of great responses.
I would love for you to share your ideas, too!
How to Stay Awake While Breastfeeding
Here are 50 ideas!
Sing lullabies or other songs to your baby
Sip on a cold glass of water
Focus specifically on your baby's eyes, nose, mouth, etc.
Sit up straight in your chair or in your bed
Watch a favorite TV show that you are only allowed to watch while breastfeeding
Play Candy Crush on your phone
Scroll Facebook, Instagram or TikTok – I especially find TikTok entertaining in the wee hours of the night.
Online shop
Take a breastfeeding course – shameless plug for our free breastfeeding course!
Browse Amazon (though maybe turn off the 1-click buy setting…trust me. I have a few middle of the night purchases I don't remember!)
Read a book
Read an Ebook
Listen to an audiobook (I'm a big fan of Scribd)
Keep snacks close by to munch on – here is a great list of snacks for breastfeeding moms
Go to the bathroom before feeding to wake yourself up
Ask your spouse to stay up and chat with you
Sit on the floor to avoid getting too comfortable
Play Clash of Clans on your phone
Do a Sudoku
Watch Netflix or Hulu on your phone – here is a list of my favorite binge-worthy TV shows
Download the 1SE app on your phone and start a compilation of your baby's first year
Play a game of Solitaire on your phone
Move to a different space to give yourself room to move around
Turn on a lamp
Meal plan for the week
Skim mommy chat boards or groups online
Turn on a movie
Browse Pinterest
Find new recipes to try
Crossword app
Journal – I love the Day One app for journaling
Write your grocery list on your phone
Look at pictures on your phone
Edit photos
Clean out your contact list of names you don't need anymore
Delete accounts you don't want to follow anymore on Instagram
Watch movie trailers for upcoming movies
Read Reddit – there are tons of threads. I particularly like to read threads on TV shows I watch.
What would you add?
Don't forget to signup for our FREE breastfeeding basics class! It's available 24/7 online.
Katie Clark is an International Board Certified Lactation Consultant (IBCLC). She has helped thousands of mothers and families around the globe navigate breastfeeding challenges and questions since 2015. She has a passion for creating research-based, helpful breastfeeding education and helping parents find a way to make breastfeeding work for them. Katie is a mom of three little boys and lives in the great state of Colorado. She also has a degree in Communications with an emphasis in print journalism.