The Elvie Breast Pump Review: Is This the Best Hands-Free Pump?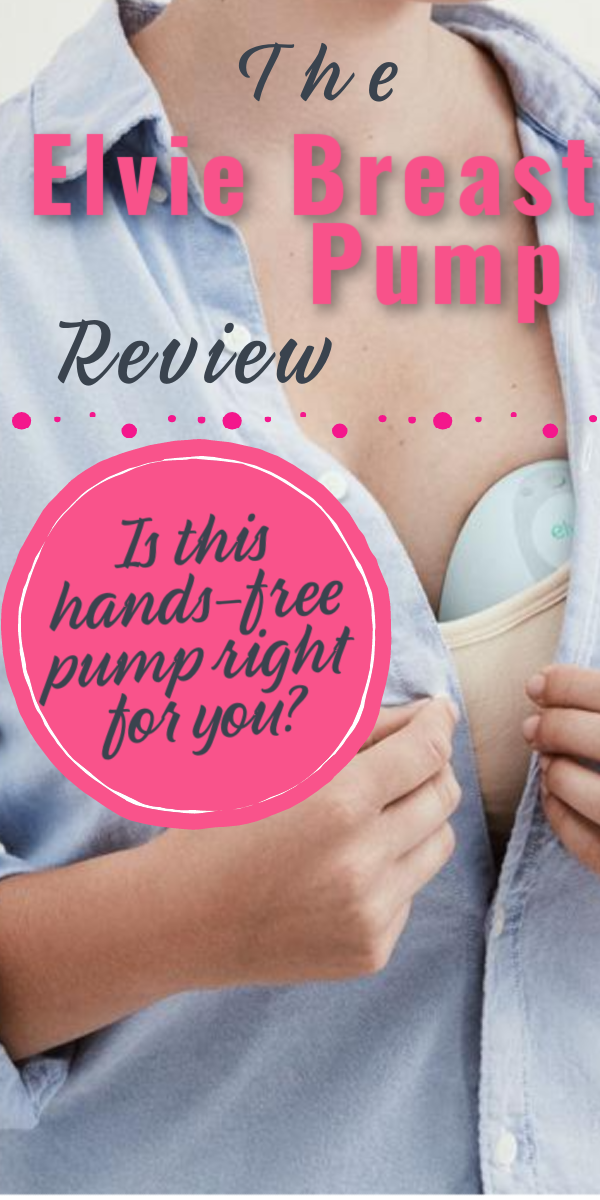 Learn all about the Elvie Breast Pump and decide if it is the hands free pump for you! Discover everything you need to know about this new and modern breast pump.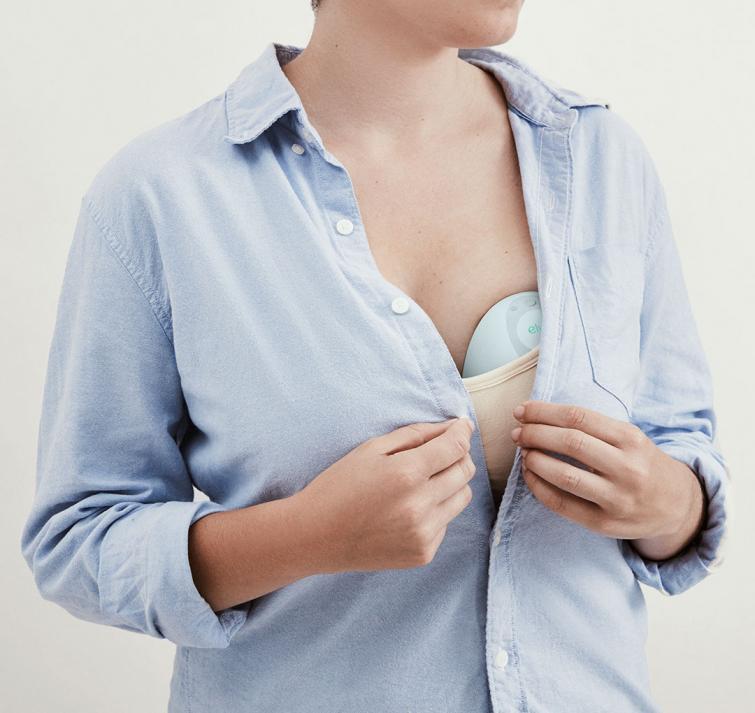 Hands-free Breast Pumps are the newest thing right now and we kind of love it. Breast Pumps are known to be bulky and awkward and loud and I'm pretty sure no one likes that!
Enter the Elvie Hands-Free Breast Pump.
the Elvie is a wearable breast pump. You place it directly on your breast(s) inside your bra and the motor is located within the breast cup itself. This innovative pump is wireless, tubeless, incredibly quiet, and hands-free.
The Breastfeeding Mama's Online Breastfeeding Course
Whether you are a seasoned breast feeding mama or a first time mom- be sure to register for our Complete Breastfeeding Course and learn the secrets to successful breastfeeding
We also offer mini courses:
If you are on this page, chances are, you are going to be pumping. I HIGHLY recommend at least taking our Milk Supply and Pumping – it's just $19.
Price
Purchasing the Elvie will be an investment. You may need to decide if it is worth the cost. If you plan on using it for more than one baby, enjoy modern upgrades and would prefer a more discreet way of pumping- then it just might be worth it.
You can buy the Elvie on their website for $499 for a double or $279 for a single. You can also purchase it on Aeroflow, along with checking your insurance coverage for it.
You can also purchase on Amazon for the same prices.
Portability
Because of its small size you can take this pump anywhere. Put in in your purse or diaper bag and be on your way. You can even store it at home, in your office or wherever you mostly pump and it won't take up a lot of space.
Features
The Elvie has everything any modern woman would want or need.
First and foremost, it's wearable, small and light weight and fits perfectly in any bra.
You can connect it to the free app to monitor milk volume in real time, track pumping history for each breast and control the pump remotely.
Includes 7 intensity pumping suction settings
Charges in 2 hours via micro-USB
Made with BPA free, dishwasher safe plastic
Comes with 3 Breast Shield sizes (2 included in the box)
Has 2 phases: Stimulation and Expression modes- automatically switches from Stimulation into Expression mode when it detects let-down and will pause when the bottle is full.
Comes with bra adjusters to help you enjoy pumping in comfort with your existing nursing bras.
The collecting bags are in the breast cup itself, so there's very little visibility or physical access.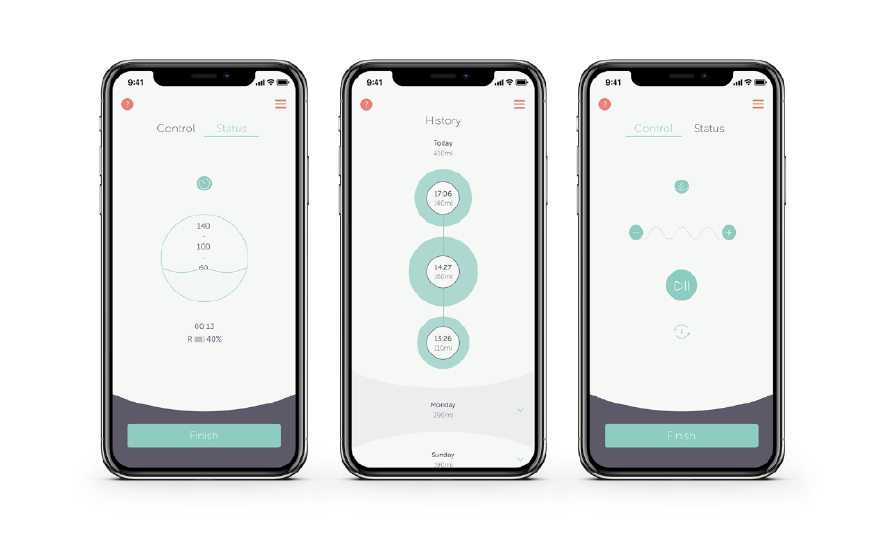 Reliability
The Elvie Pump cannot be used while it is charging so you may need to be on top of making sure it is fully charged for when you need to use it.
While it allows you to maintain independence while pumping-you do need to know that it still requires more-or-less "stationary activity." It can falter with bending or any activity that has you moving around too much.
Most reviews for this pump are five start amazing- but there has been some women who complain that the app isn't always the best complaining that its volume tracking is inaccurate and unreliable.
The Elvie is not particularly known for it's power and may have a weaker suction than other pumps. Because it is known for its gentle suction it may not the best choice for increasing milk supply.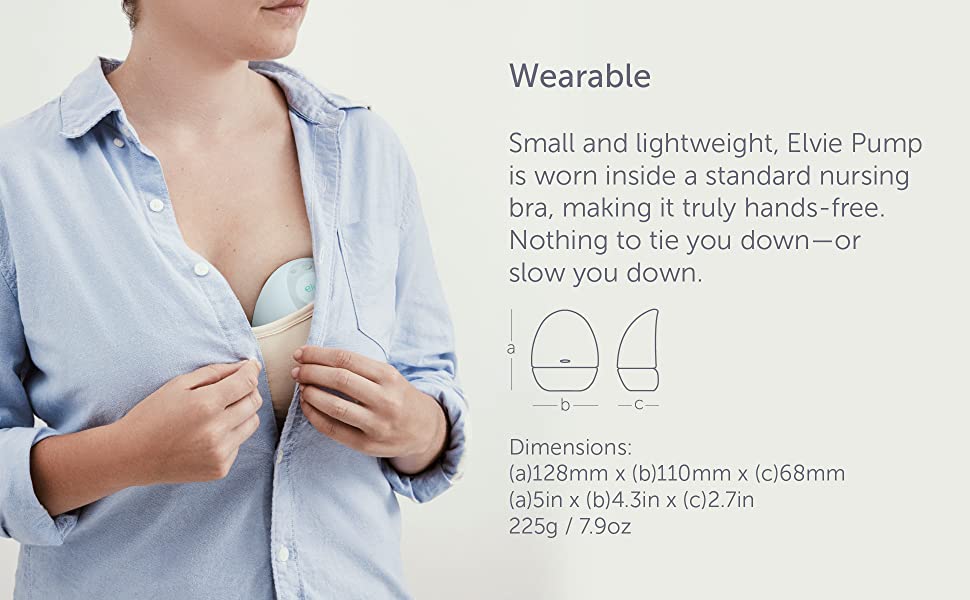 Who is this pump for?
This pump would be perfect for anyone who wants a discreet, quieter way of breast pumping and wants to do it on their own terms. It is perfect for someone on the go, who doesn't need to increase their milk supply and someone who can multi-task and isn't afraid of trying something new.
While there is a learning curve- I'm confident anyone really can get the hang of it. It may come easier to some than others but having a pump that fits in your bra, doesn't have cords and is relatively quiet is a trade off most women might enjoy.
What is included?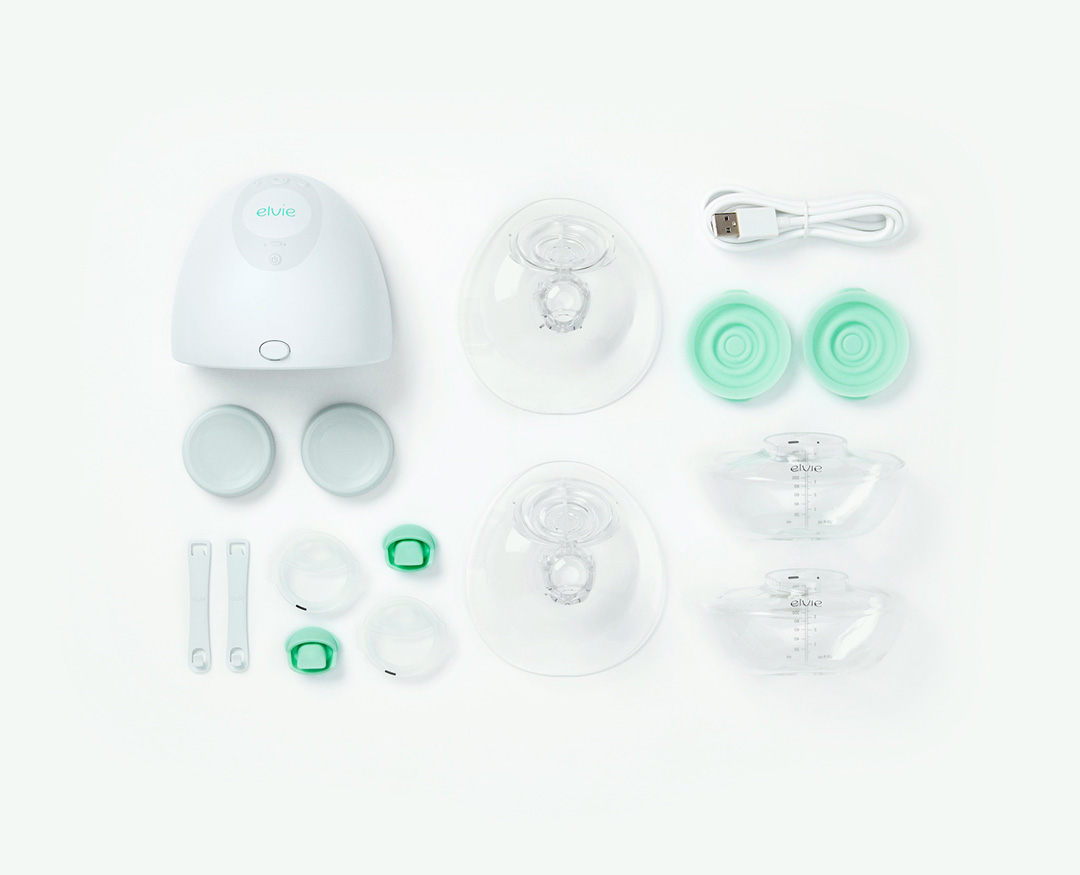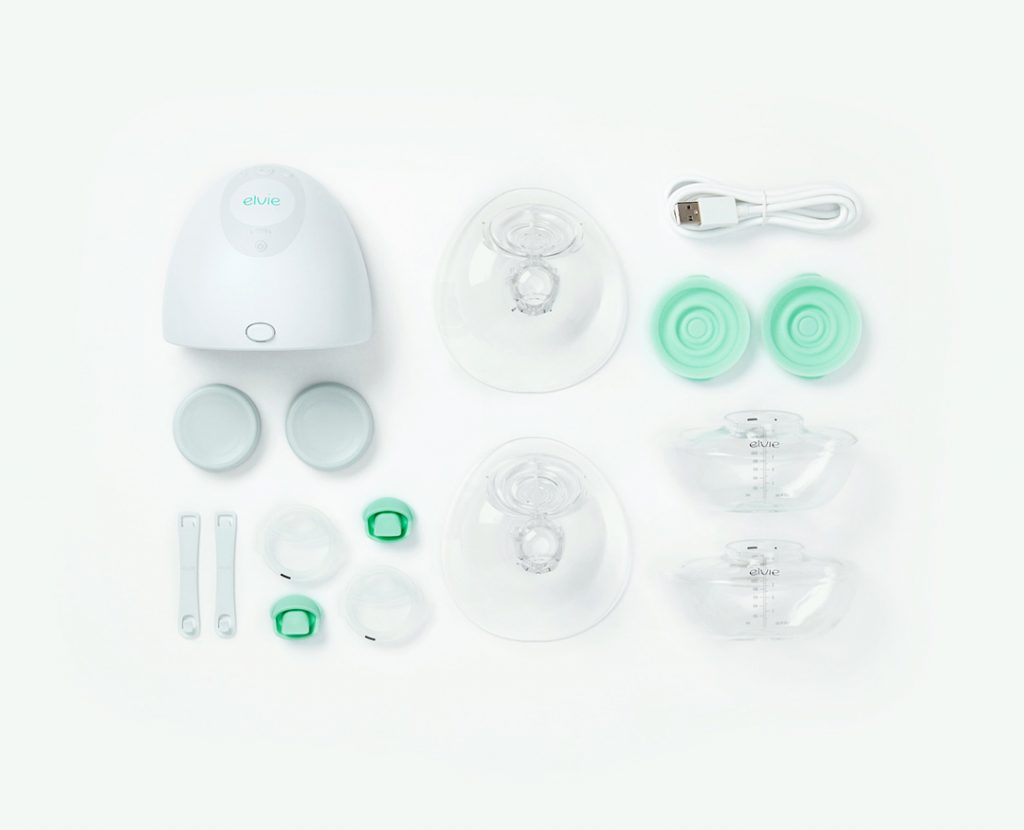 The price tag includes quite a bit of extras- and everything you need to get started on your breastfeeding journey.
1 Hub
2 Bottles (5oz/150ml, BPA free)
1 Breast Shield (24mm)
1 Breast Shield (28mm)
2 Valves
2 Spouts
2 Seals
2 Storage Lids
2 Bra Adjusters
1 USB Charging Cable
1 Carry Bag
Instructions for Use
They also sell extras and add-ons that you can find here.
What we like
It's hands-free, cord free
Wearable
Silent- it doesn't make a lot of noise!
You can connect it to an app
Only 5 parts to clean
Only takes seconds to assemble
Can purchase with an FSA\HSA card
The hub comes with a 2-year warranty while the parts (including bottles, breast shields, spouts and valves) come with a 90-day warranty
Can be washed on the top shelf of your dishwasher
The suction action draws milk from your breast via a breast shield directly into the bottle
What we don't like
It's expensive if not covered by insurance
Some women complain about spilling or leaking
There's a learning curve- it might take a few sessions or more to get used to
The Elvie app is not always reliable
Not particularly powerful or fast
Harder to wash by hand
Has a 2.5 hour battery time
One breast could potentially look lopsided while in use
Is it covered by insurance?
The best way to find out if your insurance covers this breast pump is to reach out directly to your insurance. However, the Elvie Pump may be partially covered by your insurance plan. They work with Durable Medical Equipment (DME) suppliers who partner with various insurance providers to offer Elvie Pump via their plans.
First, check their websites to see if you are eligible for Elvie Pump via your insurance provider or contact your insurance provider directly, as they will have information that is specific to you.
Get started by filling out this form with your insurance information.
Reviews
Can be worn on the go. While doing laundry, house cleaning, while baby wearing basically anytime you are upright doing anything. No hoses, no being stuck by the plug, no large awkward shape.-It is indeed very quiet when compared to the other pumps. Small pumping sound very non noticeable. Seems to do a better job getting all of the milk out in less time. App sends notification when pump bottle is getting full, when you are exhausted and pumping this is seriously helpful so you get notified when you need to change out a bottle. App tracks pumping session and quantities which you can adjust to be more accurate.
The Elvie is a great pump for on-the-go moms. The suction is strong and you can't even tell it's in your bra because it's extremely quiet. I do still use my hospital grade pump whilst at home because I feel with the Elvie I'm never fully "drained."
Love this pump. Very sleek, efficient and easy to use.
You also have to be extremely careful with how you place it-understandable, but then you clip your bra on and it could move it in the slightest way making you feel it pumping but when you go to take it off it's empty! One more thing, although it does say wearable you have to be so cautious when moving around and you feel like you still have to hold on to it just to be sure you don't move it out of place in any way.
Sometimes it just doesn't pump. It makes the noises of pumping, but it won't actually pump. No suction is actually being done to my breast. I check the placement of my breast and nipple over and over and sometimes, it just doesn't do anything. Sometimes it works properly (and when it does, it's the best) but in my case, it doesn't work in the worst times.
This was a game changer for me, I spent the first few months exclusively pumping and would have difficulty caring for my son with the bulky flanges Of my hospital grade pump. It also made trips out of the house more convenient because the profile is so small.
Best pump ever, I own the medela pump and had to buy like 4 pump bra and used it the few three weeks postpartum. The elvie pump was life changing, I could walk and do my chores while pumping and that's important when you have a newborn. It is tricky to get your nipple position right but after a few try u will get used to it. And I get more milk out than my medela; I get 3-4 oz per boob!
More Breast Pump Reviews:
Other Posts You May Enjoy: