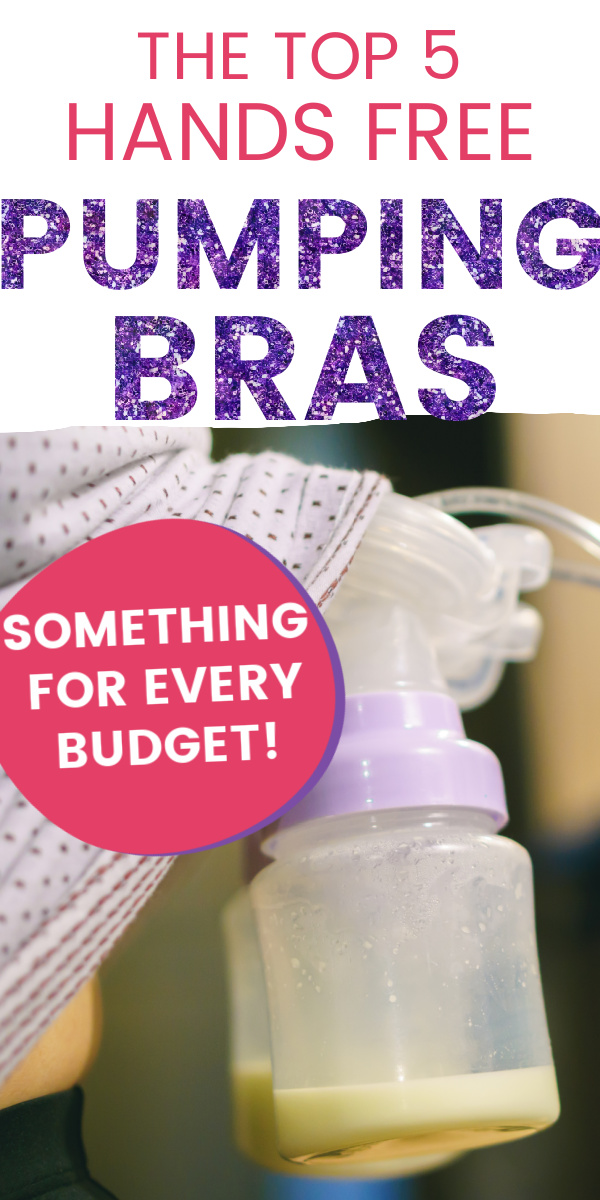 Selecting the right hands-free pumping bra can be a big decision! We've scoured the Internet for the best pumping bras around and compiled this list with our top five favorites!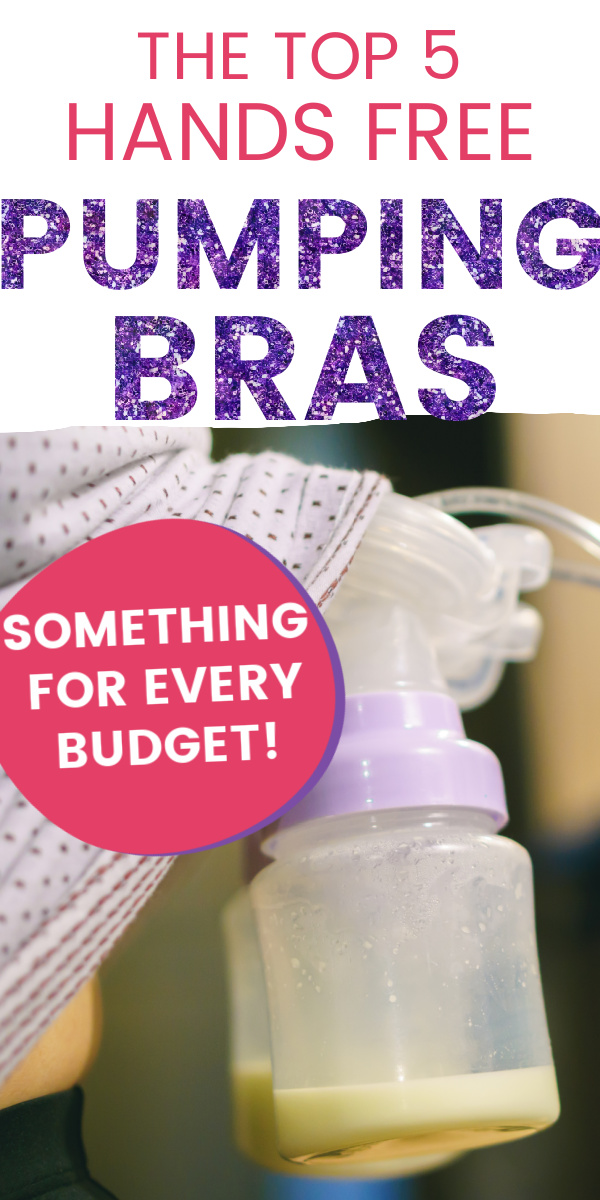 When it comes to breastfeeding, it can be overwhelming to decide which equipment to buy. There are so many to choose from!
Many women choose to use hands-free pumping bras. While we can't choose the best one for you, we can direct you to the best options on the market.
Hands-free pumping bras help women save time and allow them to multitask. These bras are affordable for anyone, offer great support, and are easy to use. These five bra suggestions will help you be able to decide the best fit for you.
If you are looking for more help with pumping and milk supply, be sure to check out our pumping and milk supply master class!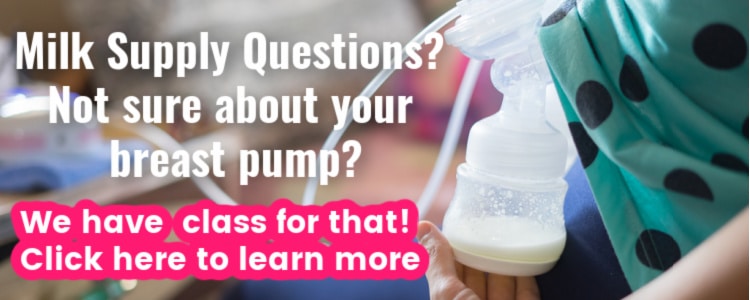 Price: $28
Ratings: 4.5 out of 5 stars on Amazon 9,650 ratings

Description: This bra works with all electric pumps. There are XS-L sizes. This bra is adjustable for whether you lose or gain weight or your breast gets deflated, it works for all sizes. The material feels like a swimsuit for sports bra material. The bra comes with stretchable openings. There is a zipper going in the front and it is adjustable.
Pros:
Adjustable to any body type: postpartum, if your breasts change after losing baby weight
Additional straps for more support
Great for women with large-breasts
Cons:
This style can make breasts compressions awkward
After a couple months the material can start to wear and stretch from normal use.
Light color bras can be stained from milk. Would recommend getting darker color
02: Ollie Gray Anywhere Bra
Price: $68
Ratings: Ollie Gray Website 4.5 Stars out of 5, 50 reviews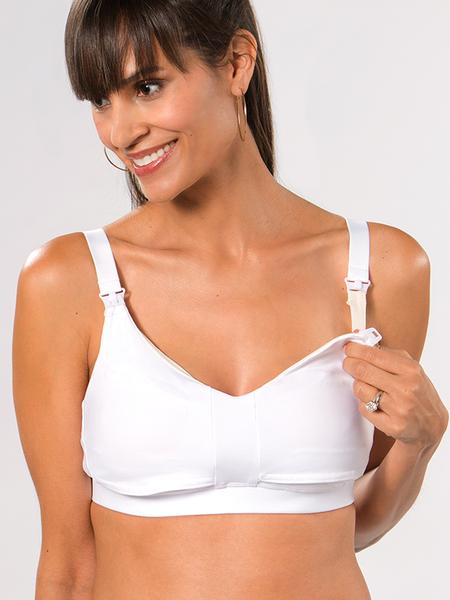 Description: A comfortable mom bra, from the former designer of Lululemon, that you can nurse and pump for busy on-the-go moms?! This bra can do it all including pump, breastfeed and sport bra. This is a great nursing bra for pre-pregnancy and postpartum use. In addition to being comfortable, this bra is also wireless and has a crisscross or traditional bra strap.
One review said "This bra is great for Functionality, Support, style/comfort, The bra could be used for pumping and nursing, AND was cute. If I'm traveling and wearing a looser/flowy top or dress, I can pump wherever. Nobody can even tell what I'm doing. My only criticism of the functionality of the bra would be that there aren't two straps so when you go to nurse, sometimes the strap falls down and you're searching for them on your back as they've fallen down"
Pros:
Has great support and functionality
Wireless and has a crisscross or traditional bra strap
Polyester, spandex
Cons:
Pricey
Fits most pumps
Some reviewers say it was not as supportive as they would have liked
Good for exercise, but maybe not all day
The sizing can be off and tricky (runs small)
Price: $21
Ratings: 4.5 out of 5 Stars/ 3,363 ratings on amazon
Description: This bra is 85% nylon and 15% spandex.
Moms can expect the bustier to loosen slightly as it adapts to your unique body. This bra allows double pumping while multitasking. Medela says "This integrated top hook makes zipping up easy, while an adaptive stretch nylon and spandex blend accommodates your changing body for an ideal fit, enhanced comfort, and ultra-soft material against your skin." This is designed retain its shape, even after multiple turns in the washing machine.
Pros:
Made with quality materials
Extremely comfortable
The pump doesn't move
Cons:
The holes in this bra are can be small and hard to stretch
The sizing can be off. Reviewers would not recommend if you're larger than a d cup or wider than 38 in
Price: $19.99
Ratings: 4 out of 5 stars / 4,560 reviews
Description: This bra has thick padding. The front part will help you with leacking and will not show through because it will soak it up. This comfortable bra has great support. It is a versicle for breastfeeding and pumping. You can easily set both pumps on both sides of your breasts. This bra is easy to breastfeed on one side and on the other side you can pump.
Pros:
Quality material
Fits comfortably
Hold your bottles firmly in place so you can pump hands free.
Cons:
The seams around the pump opening are stiff
Some reviewers say the material is itchy and the support for pumping is a bit lighter than preferred.
05 Pump Strap's Strap Hands-Free Pumping & Nursing Bra
Price: $26.99-$37.99
Ratings: 4.5 stars out of 5 on Amazon (1,235 reviews)

Description: This bra allows moms to wear by itself or over a nursing bra or nursing top. This bra is simple and effective. When cleaning make sure to air dry. This bra makes breast pumping easy and allows both hands free to multitask.
Pros:
Adjustable hook and loop closure
Removable and adjustable straps
Cons:
"One size fits all"
Velcro backing can be loud when taking off
BEST PUMPING BRA TO WEAR ALL DAY
The Ollie Gray Anywhere Bra is a great bra to wear throughout the day that can quickly transition to being a pumping bra. We love the style and how it's available in many different colors. Reviews state how comfortable it is, which is a must for wearing all day!
BEST PUMPING AND NURSING BRA IN ONE
The Kindred Bravely Sublime Pumping Bra is wonderful! I personally own and use this one. It makes pumping so easy and convenient, so this would be a great one to have at work as well!
OUR #1 PICK FOR BEST HANDS FREE PUMPING BRA:
After combing through reviews on features, our number one pick is…
Simple Wishes Signature Hands-Free Pumping Bra is the winner for overall price and features! This is a very popular and affordable hands free pumping bra that does a great job!
Be sure to check out this post on how to make a DIY hands free pumping bra!