12 Hands-Free Pumping Bras (For All Budgets!)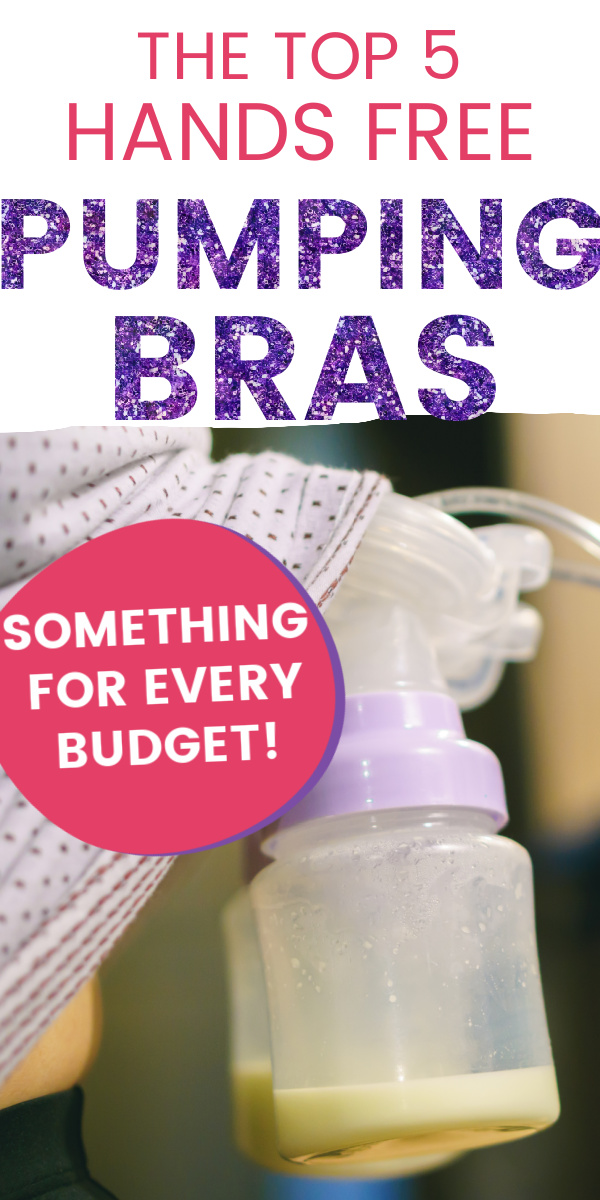 If you're in the market for a new pumping bra, we've got you covered. We've rounded up 12 of the best bras for hands-free pumping, and they range from simple to sophisticated. Plus, they all come at different price points so there is something for everyone. So what are you waiting for? Check out our top 12 picks below!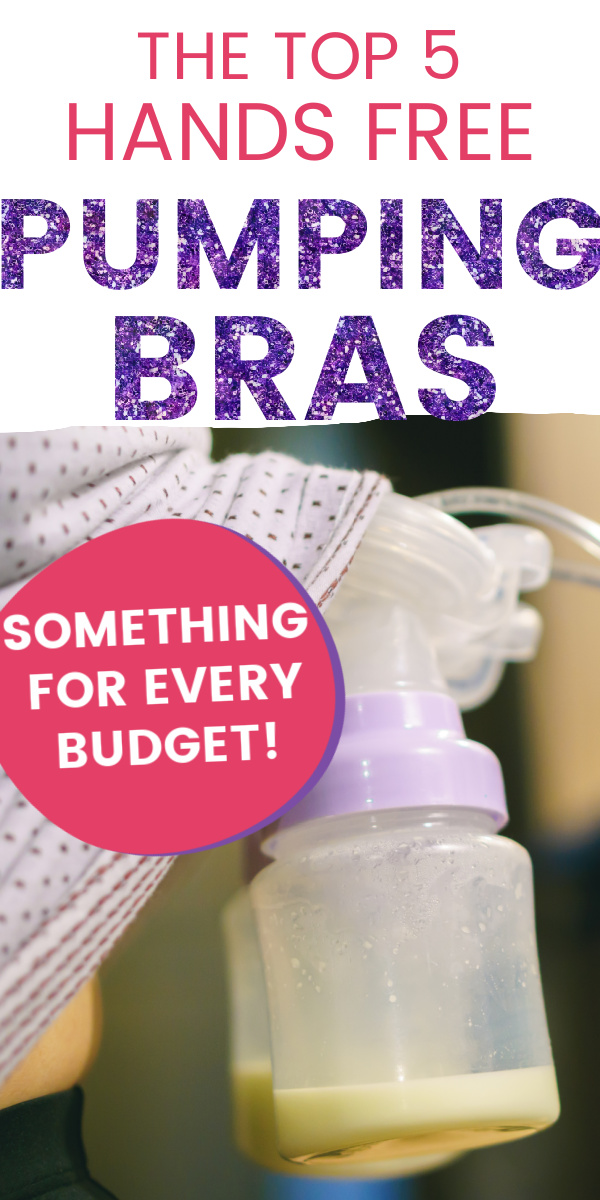 When it comes to breastfeeding, it can be overwhelming to decide which equipment to buy. There are so many to choose from!
Many women choose to use hands-free pumping bras. While we can't choose the best one for you, we can direct you to the best options on the market.
Hands-free pumping bras help women save time and allow them to multitask. These bras are affordable for anyone, offer great support, and are easy to use. These five bra suggestions will help you be able to decide the best fit for you.
If you are looking for more help with pumping and milk supply, be sure to check out our pumping and milk supply master class!
BEST PUMPING BRA TO WEAR ALL-DAY
We LOVE the Larken X. Although this pumping/nursing bra is often sold out, it's worth the wait to get it. It's very comfortable, doesn't have any annoying clips or straps, and it can be easily worn all day. It gets rave reviews from moms all over!
BEST PUMPING AND NURSING BRA IN ONE
The Kindred Bravely Sublime Pumping Bra is wonderful (use code 20TBM for 20% off)! I personally own and use this one. It makes pumping so easy and convenient, so this would be a great one to have at work as well!
OUR #1 PICK FOR BEST HANDS-FREE PUMPING BRA:
After combing through reviews on features, our number one pick is…
Simple Wishes Signature Hands-Free Pumping Bra is the winner for its overall price and features! This is a very popular and affordable hands-free pumping bra that does a great job!
Price: $59.99
Ratings: 4 out of 5 stars / 4,560 reviews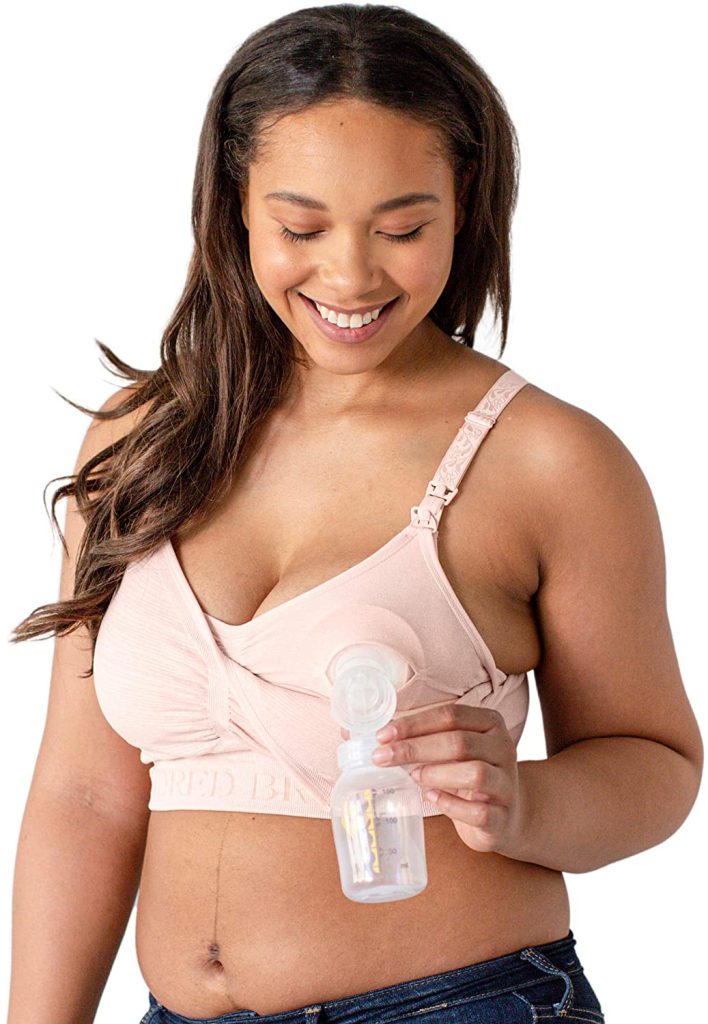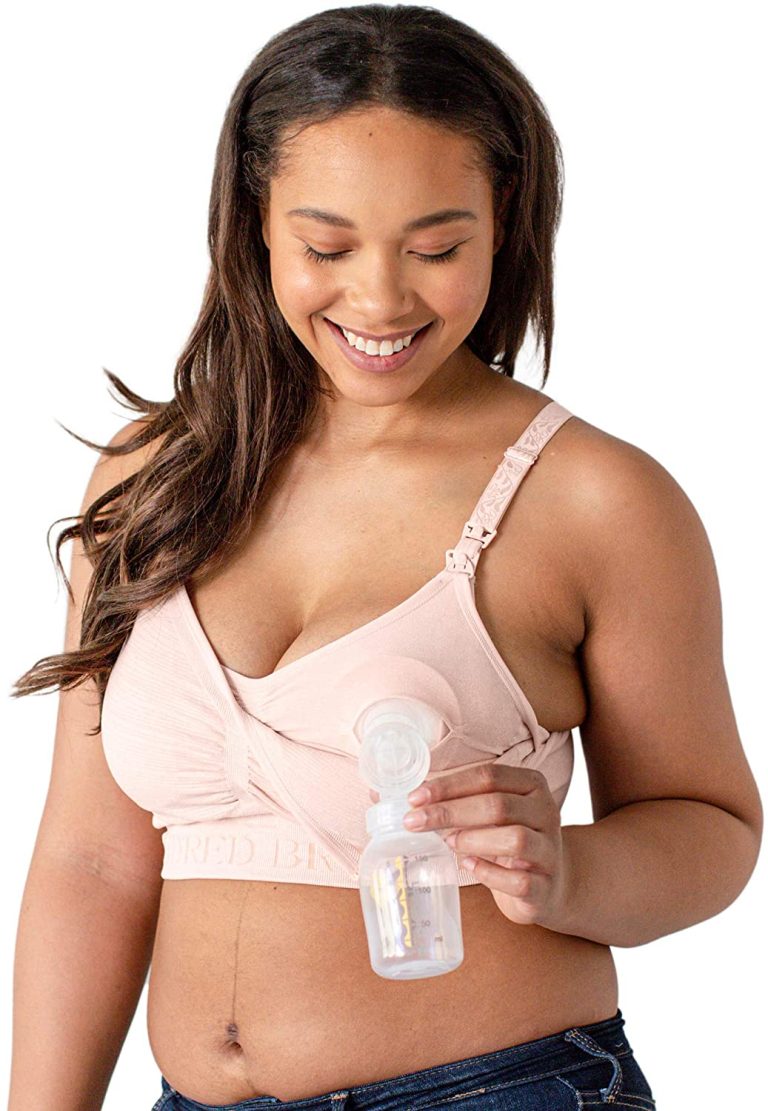 Description: This bra has thick padding. The front part will help you with leaking and will not show through because it will soak it up. This comfortable bra has great support. It is a versicle for breastfeeding and pumping. You can easily set both pumps on both sides of your breasts. This bra is easy to breastfeed on one side and on the other side you can pump.
Pros:
Quality material
Fits comfortably
Hold your bottles firmly in place so you can pump hands-free.
Cons:
The seams around the pump opening are stiff
Some reviewers say the material is itchy and the support for pumping is a bit lighter than preferred.
They also offer a hands-free pumping sports bra and a pumping tank if you are looking for other options.
USE THE CODE 20TBM for 20% off anything on Kindred Bravely
Price: $28
Ratings: 4.5 out of 5 stars on Amazon 9,650 ratings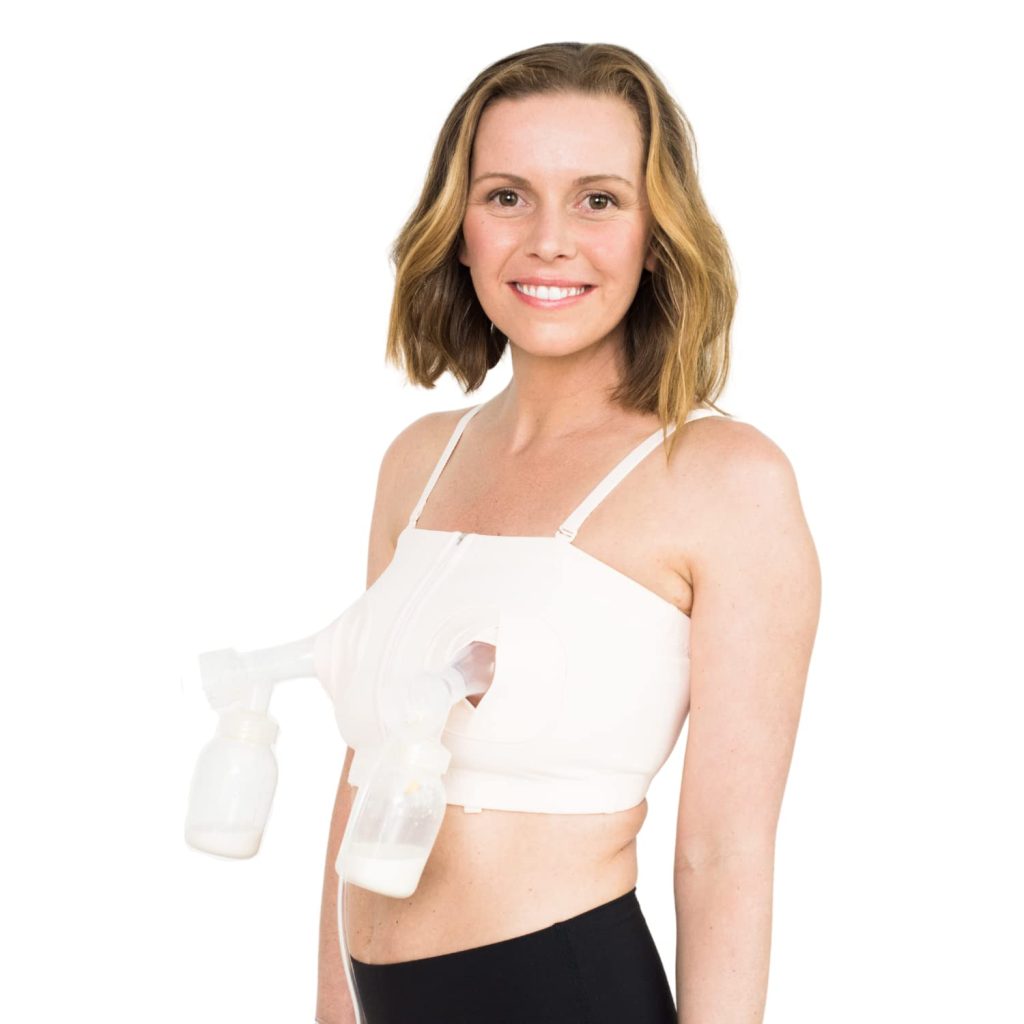 This bra works with all-electric pumps and is available in XS-L sizes. This bra is adjustable for whether you lose or gain weight or your breast gets deflated, it works for all sizes. The material feels like a swimsuit or sports bra material. The bra comes with stretchable openings. There is a zipper going in the front and it is adjustable.
Pros:
Adjustable to any body type: postpartum, if your breasts change after losing baby weight
Additional straps for more support
Great for women with large breasts
Cons:
This style can make breasts compressions awkward
After a couple of months the material can start to wear and stretch from normal use.
Light color bras can be stained from milk. Would recommend getting a darker color
Price: $68
Ratings: Ollie Gray Website 4.5 Stars out of 5, 50 reviews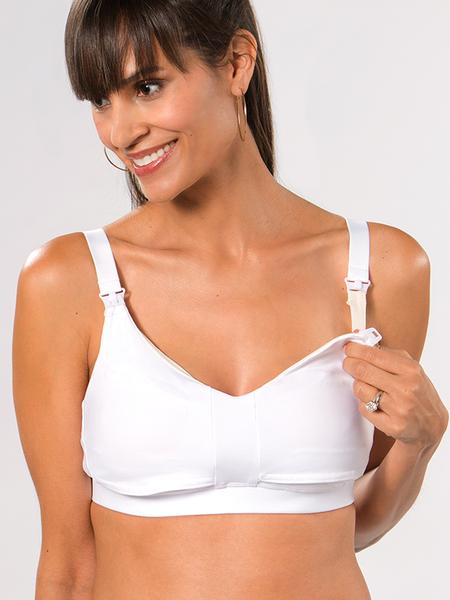 A comfortable mom bra, from the former designer of Lululemon, that you can nurse and pump for busy on-the-go moms?! This bra can do it all including pump, breastfeeding and sports bra. This is a great nursing bra for pre-pregnancy and postpartum use. In addition to being comfortable, this bra is also wireless and has a crisscross or traditional bra strap.
One review said "This bra is great for Functionality, Support, style/comfort, The bra could be used for pumping and nursing, AND was cute. If I'm traveling and wearing a looser/flowy top or dress, I can pump wherever. Nobody can even tell what I'm doing. My only criticism of the functionality of the bra would be that there aren't two straps so when you go to the nurse, sometimes the strap falls down and you're searching for them on your back as they've fallen down"
Pros:
Has great support and functionality
Wireless and has a crisscross or traditional bra strap
Polyester, spandex
Cons:
Pricey
Fits most pumps
Some reviewers say it was not as supportive as they would have liked
Good for exercise, but maybe not all day
The sizing can be off and tricky (runs small)
Price: $21
Ratings: 4.5 out of 5 Stars/ 3,363 ratings on amazon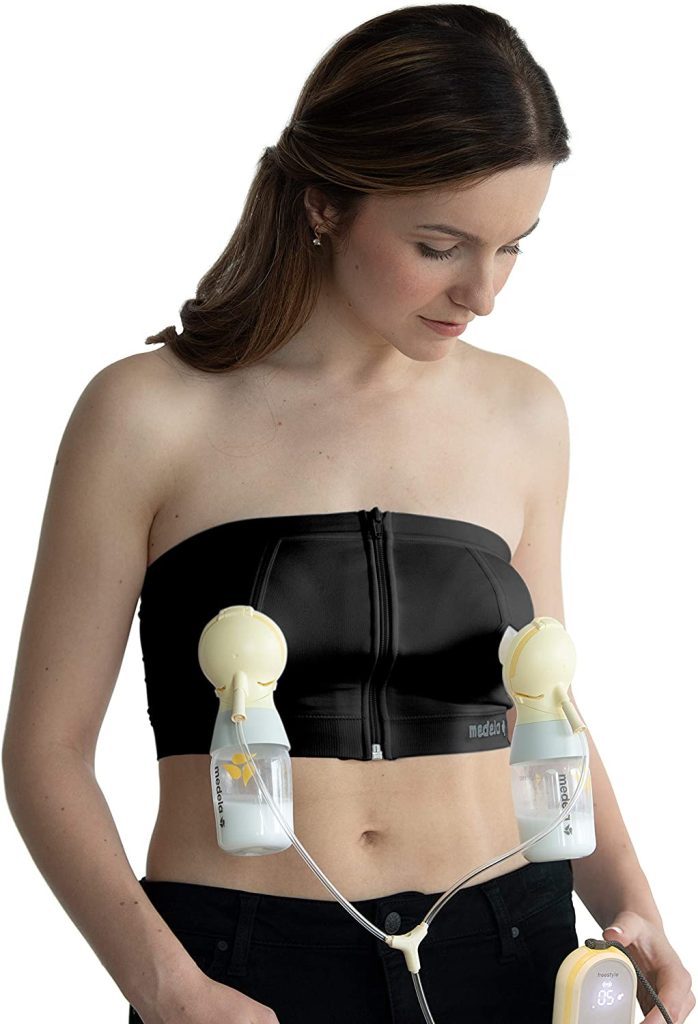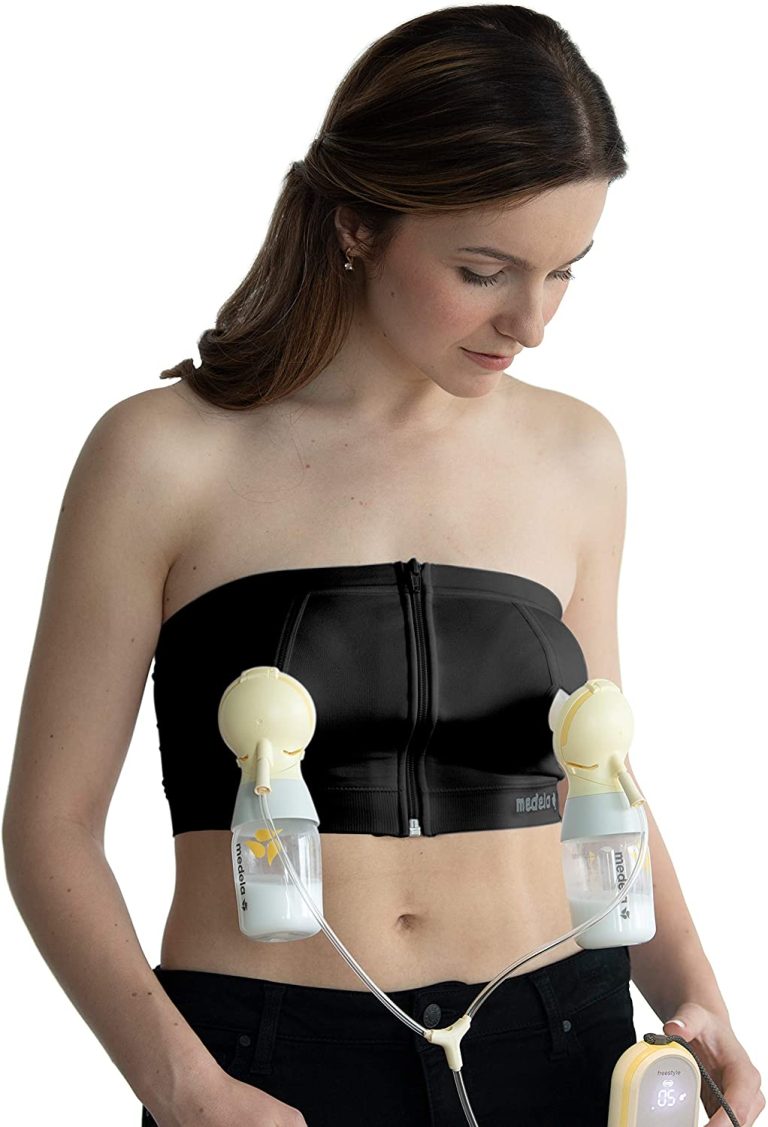 This bra is 85% nylon and 15% spandex. Moms can expect the bustier to loosen slightly as it adapts to your unique body. This bra allows double pumping while multitasking.
Medela says "This integrated top hook makes zipping up easy, while an adaptive stretch nylon and spandex blend accommodates your changing body for an ideal fit, enhanced comfort, and ultra-soft material against your skin."
This is designed to retain its shape, even after multiple turns in the washing machine.
Pros:
Made with quality materials
Extremely comfortable
The pump doesn't move
Cons:
The holes in this bra are can be small and hard to stretch
The sizing can be off. Reviewers would not recommend if you're larger than a d cup or wider than 38 in
Price: $26.99-$37.99
Ratings: 4.5 stars out of 5 on Amazon (1,235 reviews)

This bra allows moms to wear it by itself or over a nursing bra or nursing top. This bra is simple and effective. When cleaning makes sure to air dry. This bra makes breast pumping easy and allows both hands-free to multitask.
Pros:
Adjustable hook and loop closure
Removable and adjustable straps
Cons:
"One size fits all" isn't necessarily true
Velcro backing can be loud when taking off
Price: $64.99
Ratings: 4/5 (36 reviews)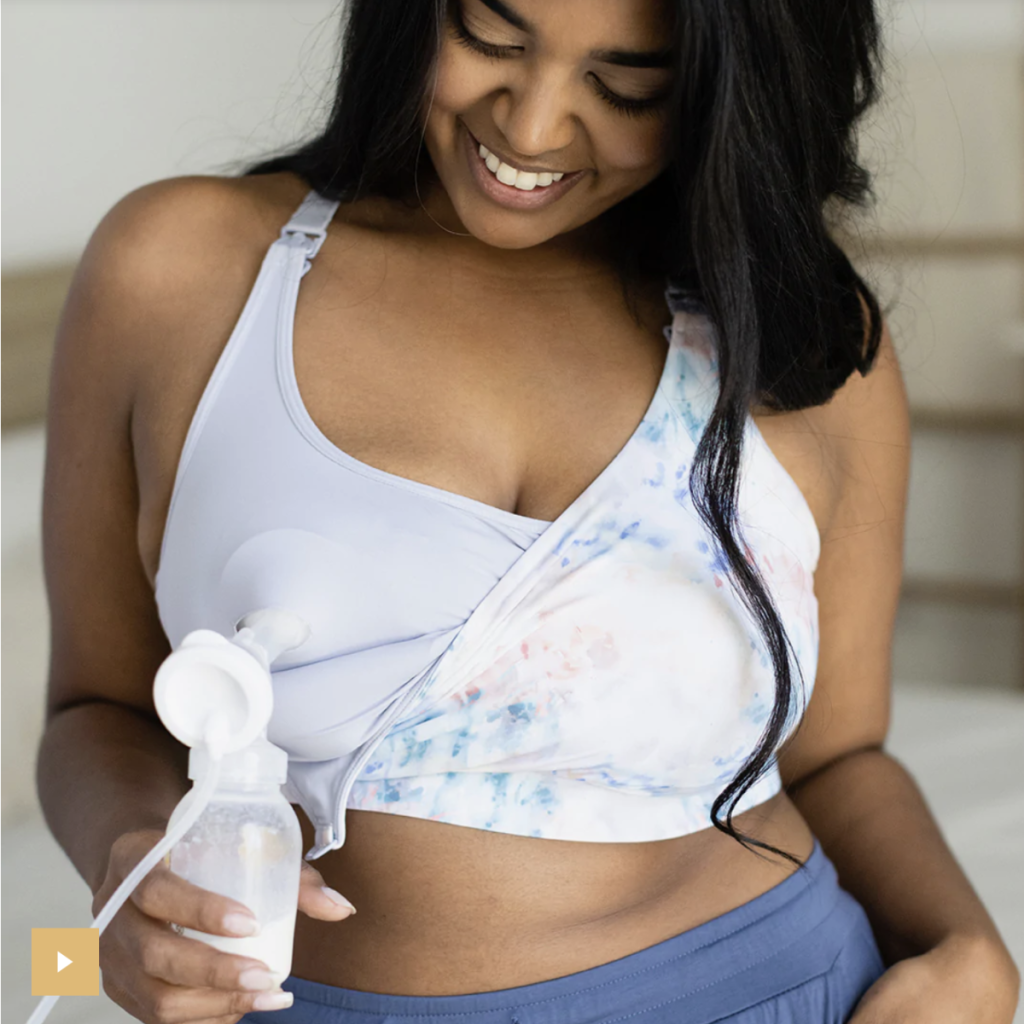 The BFF Nursing and Pumping bra is the latest in the line of nursing bras available from Kindred Bravely. This bra was designed to be silky smooth and easy to wear all-day and pump in when needed. It also has moisture-wicking properties to help keep your clean and comfortable
Pros:
Designed to be used for daily wear and pumping
Underwire free
Removable padding
Adjustable straps
Available in S-XXL Busty
Fits most standard flanges
Converts from traditional to racer back
Cons:
Expensive
Hand wash only
Some say the clips come undone pretty easily
Complaints of not enough support
One reviewer said the holes were not large enough for flanges
USE THE CODE 20TBM for 20% off anything on Kindred Bravely
Price: $48
Reviews: 597 five-star reviews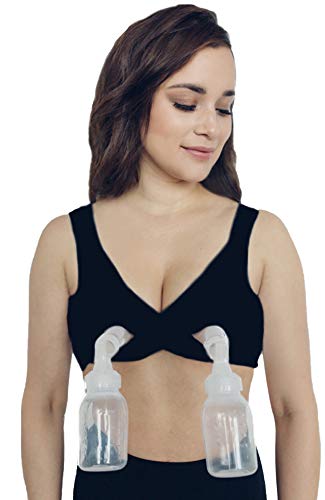 One reviewer said, "This is the most comfortable and functional pumping/nursing bra I own. I am large chested and my pump flanges do not stay in place with other pumping bras, this bra allows me to securely place the flanges so that I'm not stuck staying in one position while pumping.
My only complaint is that it is sold out in every other color in my size or else I'd buy them all."
Pros:
Super comfortable
No underwire
Various colors
Available in XS – XXL
Zipper and Clip Free
Cons:
Frequently out of stock
A little on the pricier end
Use code Thebreastfeedingmama for 10% off
Price: Under $30
Reviews: 4.3/5 – 5041 reviews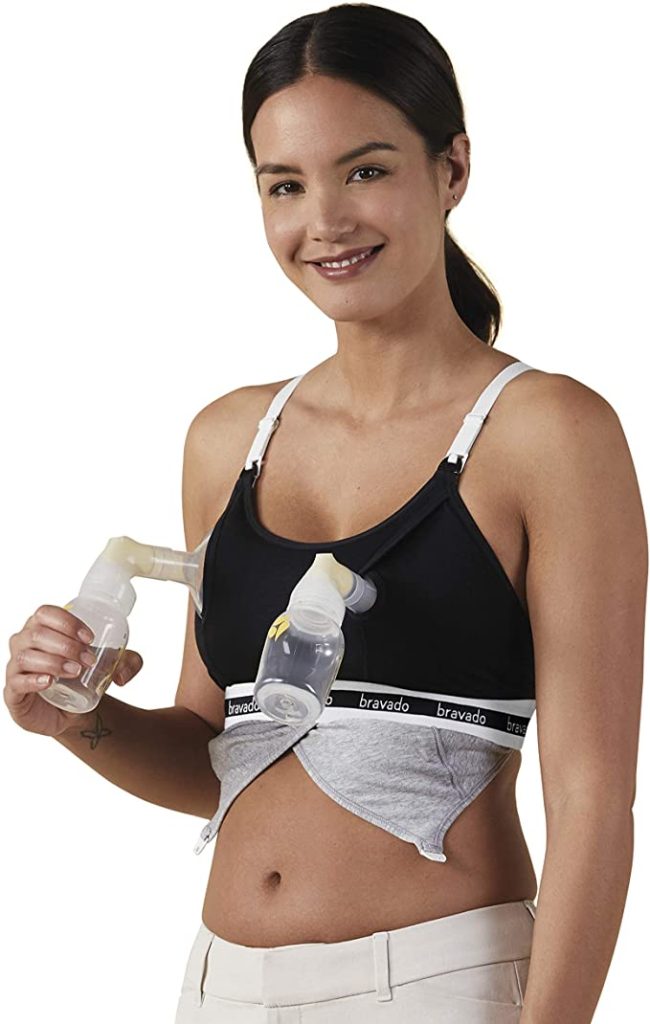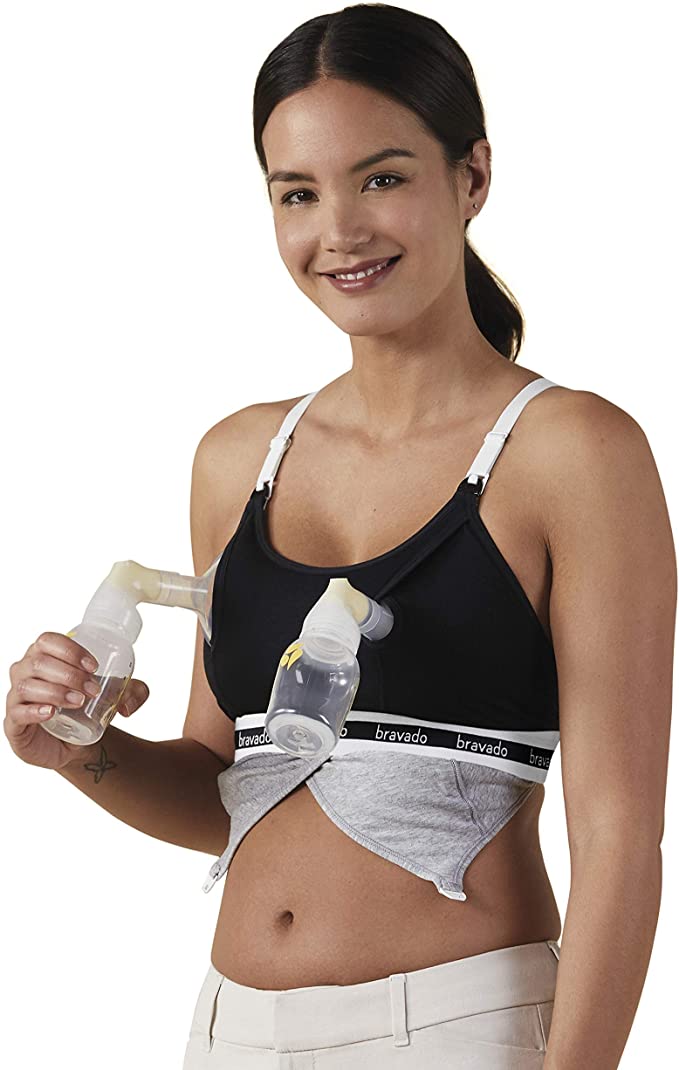 The Bravado pumping bra clip is very popular – and for good reason! It makes it so you can easily convert any nursing bra into a pumping bra with ease. Many mothers rave about this! Bravado does have other pumping bras, but this offers the most versatility and the best reviews.
Pros:
Machine washable
Six colors
Small-XL
Patented figure-eight openings to help prevent spillage
Compatible with all standard breast flanges
Portable and easy to put on without taking shirt off
Cons:
Some might find it cumbersome to put on
Some found the band to be a bit small
Not really one size fits all
Doesn't seem to be built to last a really long time
09 Love & Fit Everyday Luxe Nursing & Hands-Free Pumping Bra
Price: $54
Reviews: 4.5/5 reviews (11 reviews)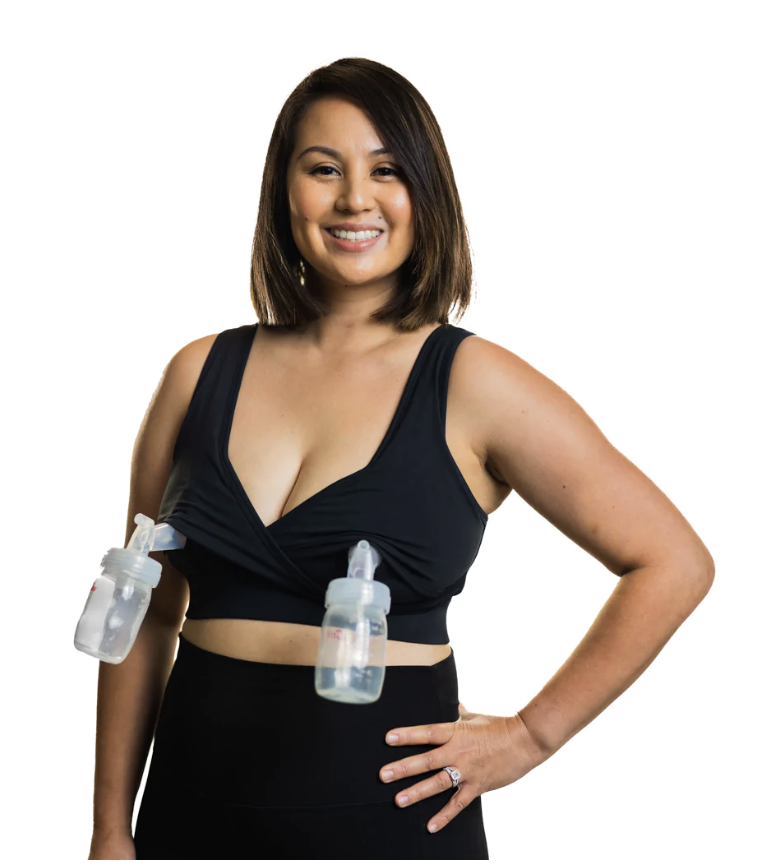 s
This is a newer pumping bra from a small company, but the reviews are pretty strong!
Pros:
Discount for purchasing more than one (can mix and match with other nursing bras)
Small through XL
Two colors available
Designed for everyday wear
Comfortable enough to sleep in
Machine washer and dryer friendly
No zippers, clips or hooks
Cons:
Some find it a bit fumbly for pumping in
A few reviewers complained of it being a little bit tight
Sizing seems a bit tricky to master
Price: $32
Reviews: None available yet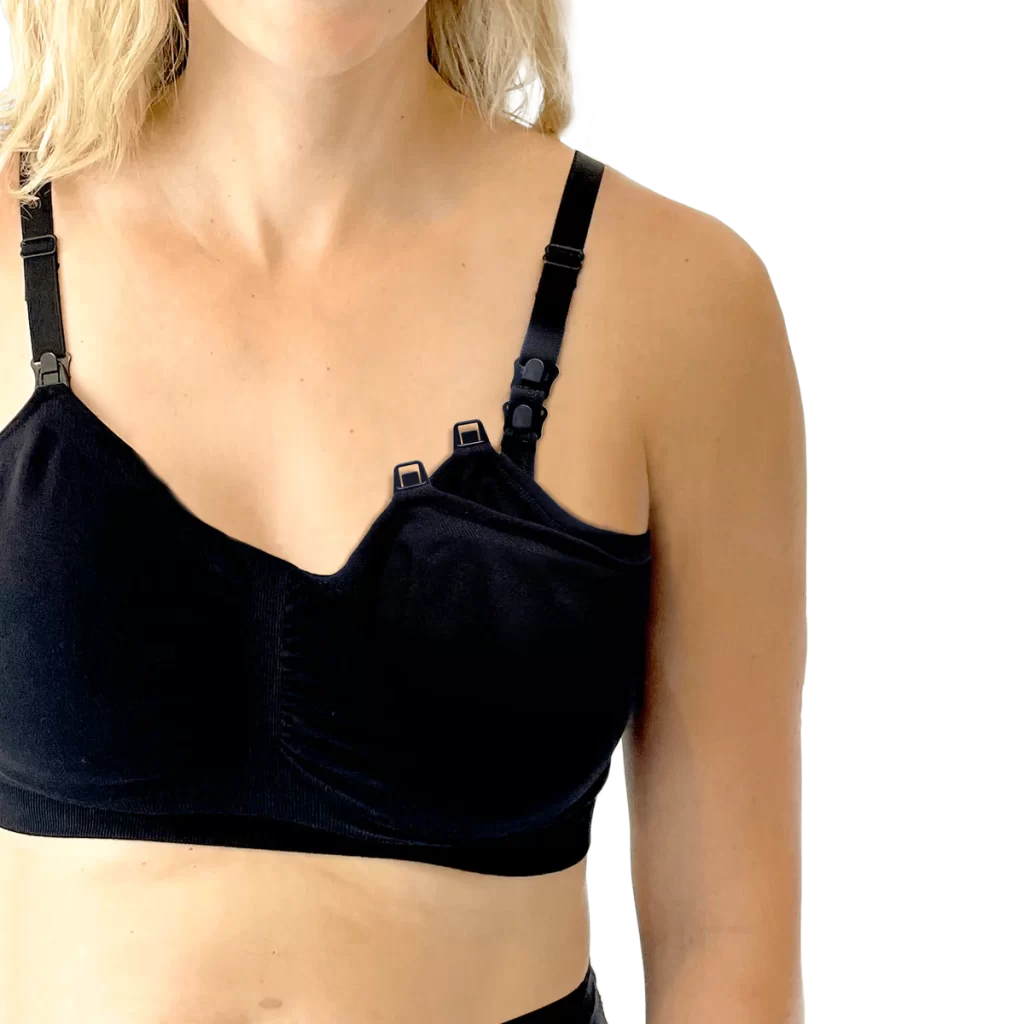 This bra isn't actually available yet, but it looks wonderful! Bamboobies always does a great job of making new moms feel beautiful! This pumping/nursing bra is designed for all-day wear and is made of soft and stretchy bamboo material.
Pros:
Made from 70% Bamboo Viscose
Designed for softness and elasticity
Affordable
Machine-washer friendly
Cons:
Because there are no reviews, and I haven't tried this one myself, I currently don't have any cons. When this is available and you purchase it, be sure to let me know in the comments what you think!
Price: $58
Ratings: 5 Stars (327 reviews)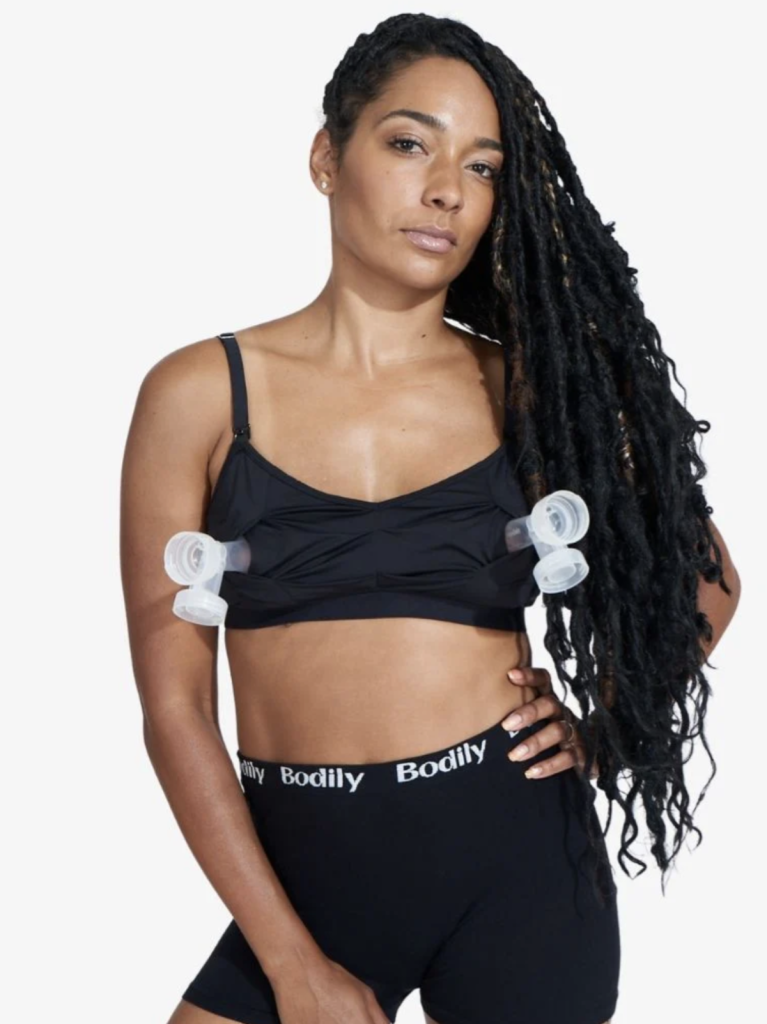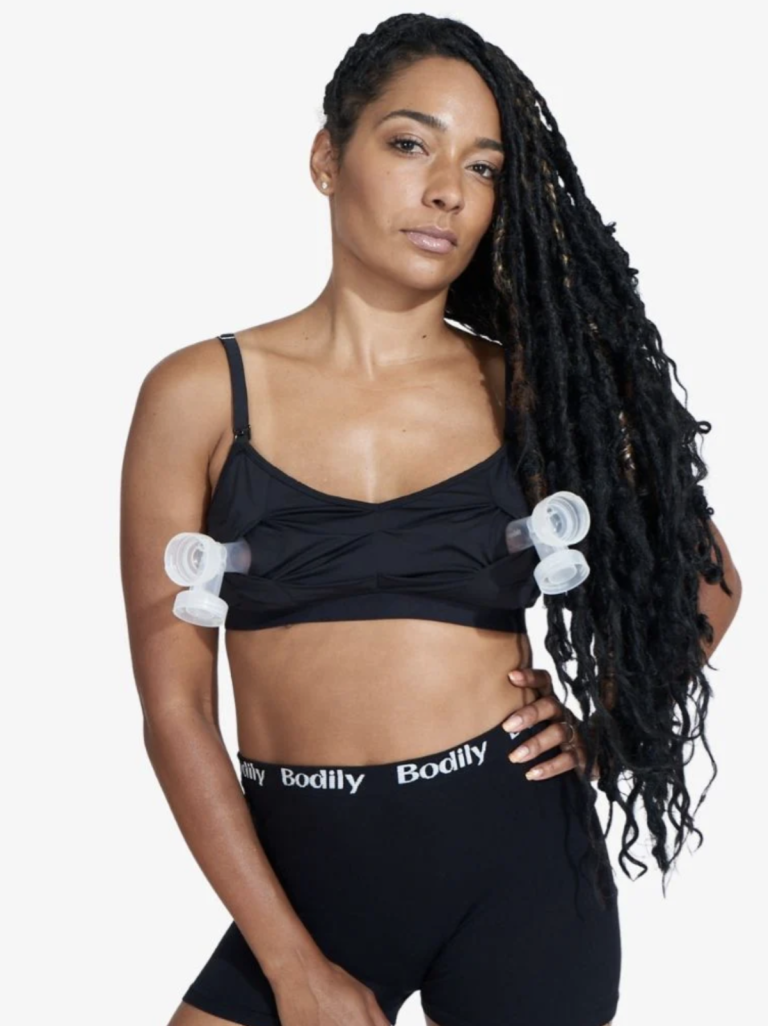 This pumping bra was designed specifically for moms who need to be active while pumping. It was designed in collaboration with a lactation consultant, and it has rave reviews!
Pros:
Smooth, soft, and stretchy
Very supportive and strong enough to hold the pump and pump parts in place
small through 3x
Available in three colors
Sliders for adjustment
Straps convert from traditional to racerback easily
Front clip nursing access
Extended back closures
Cons:
Pricier
Some feel it's not as supportive as it claims
Some reviewers felt like it was hard to keep the pump parts in place, especially filled bottles of milk
Price: Variable – under $10 usually!
r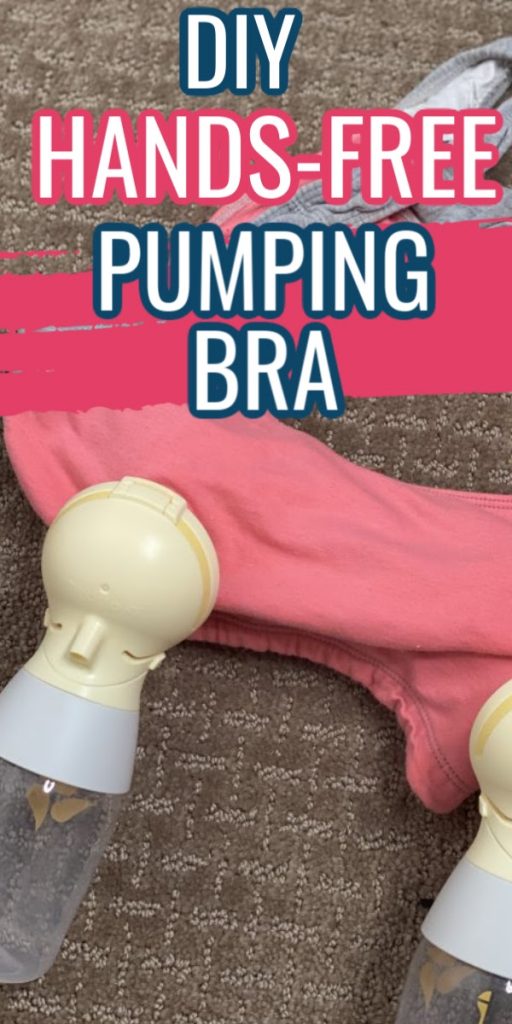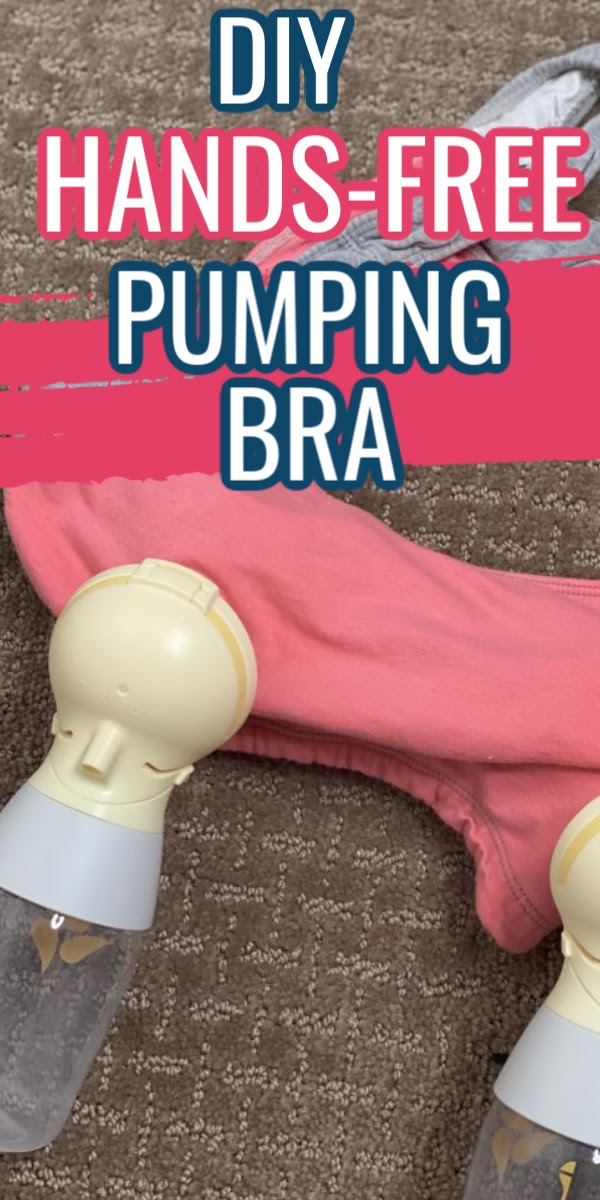 Many mothers find that making their own hands-free pumping bra is the way to go! You can use an inexpensive sports bra from the store, and with just a couple of snips of the scissors, you have a functional pumping bra.
Here is our full tutorial on how to make a DIY pumping bra.
Pros:
Inexpensive
Easy to make
Good for occasional pumpers
You can choose your own bra
Cons:
Not super high quality
Not ideal for wearing outside of pumping
Doesn't offer a ton of support
Are hands-free pumping bras worth it?
There are a lot of products on the market that promise to make life easier for moms, and hands-free pumping bras are one of them. But are they worth the money?
Pumping can be a time-consuming task, and anything that can make it easier is worth considering. Hands-free pumping bras allow you to pump without having to hold the flanges in place, which can be a real relief.
There are a few things to keep in mind when considering a hands-free pumping bra.
First, make sure it is comfortable. You'll be wearing it for a while, so it should not be too tight or constricting.
Second, make sure it is easy to use. You don't want to waste time fumbling with a complicated bra when you could be using that time to pump.
Finally, consider the price. Hands-free pumping bras can be expensive, so you'll want to make sure it is worth the investment.
Overall, hands-free pumping bras can be a great investment for busy moms. They can make pumping easier and more convenient, and they can be a real lifesaver when you're short on time.
Can you pump hands-free with Spectra?
Yes! All you need is the right pumping bra.
We recommend the Simple Wishes Hands-Free Pumping Bra. It's comfortable, easy to use, and it's affordable. Plus, it really works! We've tested it ourselves and can attest to its efficacy.
If you're looking for a hands-free pumping bra that will work with your Spectra pump, the Simple Wishes Hands-Free Pumping Bra is a great option.
Can you wear a pumping bra all day?
Yes, you can! If you're comfortable wearing it, there's no reason you can't wear a pumping bra all day. In fact, many women find that they prefer to wear a pumping bra all day because it makes pumping easier and more convenient.
With that in mind, there are some that are better to be used as a nursing bra/pumping bra combination. We really like the Kindred Bravely Sublime and the Larken pumping bra for all-day wear.
More Articles You May Enjoy:
Katie Clark is an International Board Certified Lactation Consultant (IBCLC). She has helped thousands of mothers and families around the globe navigate breastfeeding challenges and questions since 2015. She has a passion for creating research-based, helpful breastfeeding education and helping parents find a way to make breastfeeding work for them. Katie is a mom of three little boys and lives in the great state of Colorado. She also has a degree in Communications with an emphasis in print journalism.