The Best Pacifiers for a Breastfeeding Baby – Mother Recommended Options!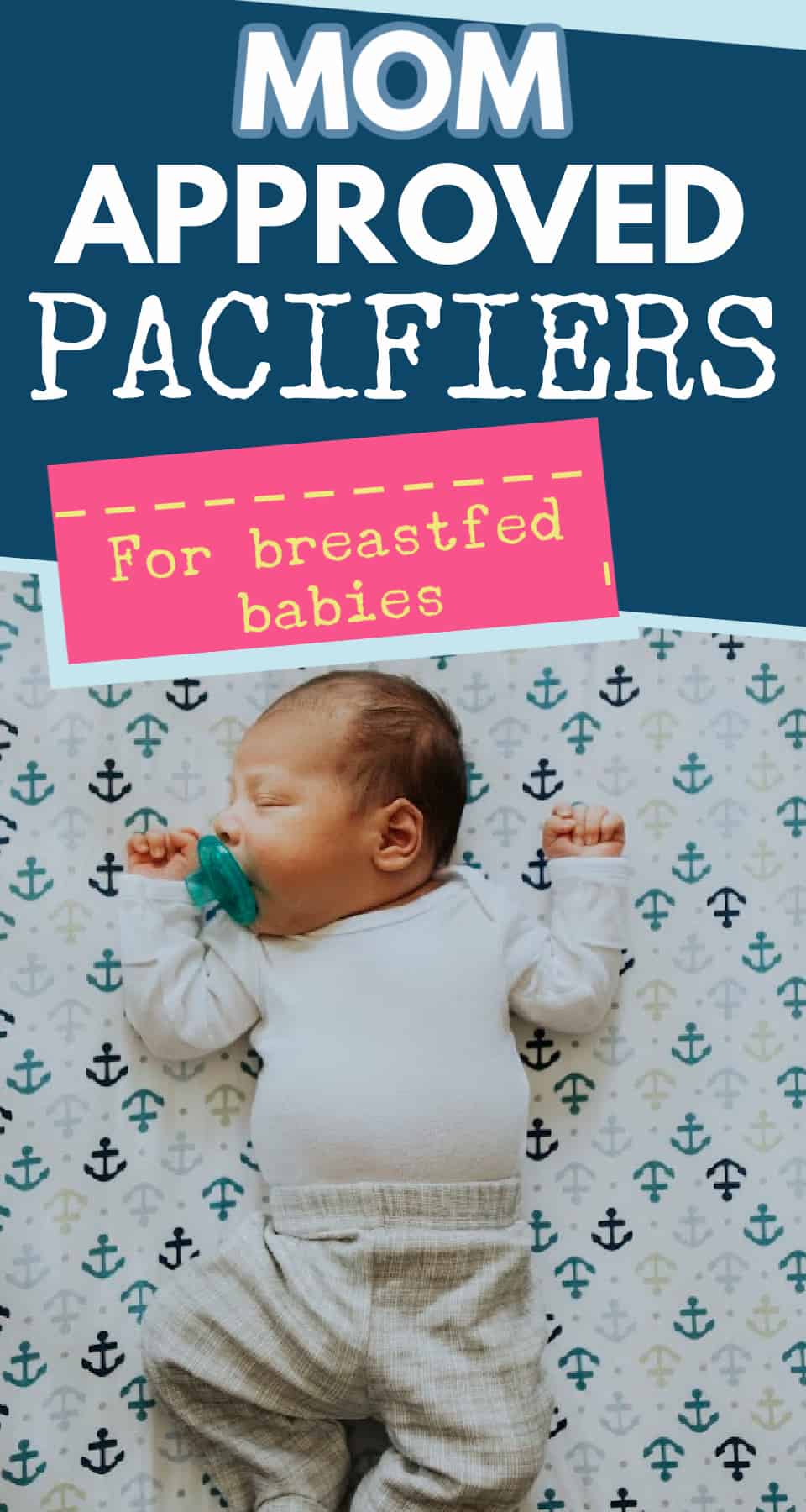 Not sure what is the best pacifier for a breastfeeding baby? Here are the top choices from breastfeeding mothers to help you decide – these options tend to encourage breastfeeding while offering a great soothing option.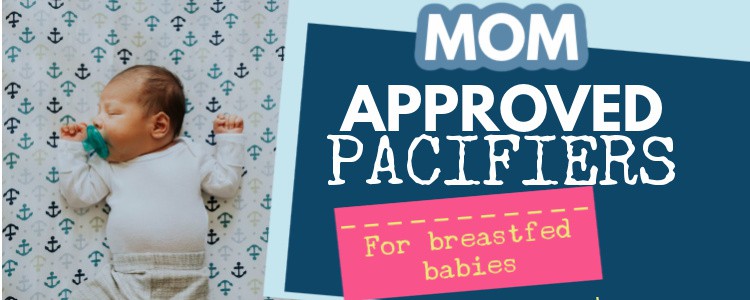 Pacifiers can be a controversial topic for various reasons – especially in the breastfeeding community.
However, many parents want their child to take a pacifier. It can be tricky to know which one is going to be best for your breastfed baby, but in general, my advice for the best pacifier for a breastfed baby?
The Best Pacifier is the one your baby will take!
Okay, maybe it's not that simple. There are pacifiers that are a better shape for encouraging sucking skills, which I will discuss. But at the end of the day, if you need to use a pacifier, sometimes you go with what your baby likes.
If you are trying to make the decision on whether or not you want to offer a pacifier to your breastfed baby – you may want to read this article: Pacifiers and Breastfed Babies: What All New Parents Need to Know.
However, if you are just here looking for recommendations on what pacifier to offer (or maybe you are frustrated because your baby won't take one!), you are in the right place.
I did a survey on my Instagram page a few months ago, asking moms what pacifier their baby took to the most. I got hundreds of responses, and the vast majority of those who follow my page are breastfeeding mothers, so I think it's a pretty good place to look for recommendations!
I have combined this recommendations with my knowledge as an IBCLC. The first recommendations are pacifiers that are best for oral function – the second part of the list are ones that moms recommend.
Best Pacifier for Breastfeeding Baby
When looking for a pacifier, you should get a pacifier that has a cylindrical shape. This allows the baby to cup the pacifier with their tongue and is better for encouraging good sucking behavior.
The top pacifier I recommend is the simple and traditional Avent Soothie. It's inexpensive, easy to find, and it allows the tongue to wrap around it, which can promote better function of sucking and muscles of the mouth.
Here are a few other options that have this shape as well:
This has been my go to pacifier for all of my children. It's the one they have taken most easily. They are easy to find, inexpensive, and I don't find that they disrupt breastfeeding at all. I also love being able to put your finger in the back to help sooth baby even more.
We are also big fans of the Wubbanub pacifier, and this is the pacifier they use for those.
Many other mothers recommended this pacifier as well for the breastfeeding babies.
They come in 0-3 months and 3+ month sizes and are a one piece design which allows for them to stay in more easily and be less of a choking hazard. They come in blue, green, pink and purple.
Certainly not the cutest pacifier in town, but it works well. They have the "shapes" version of this pacifier which looks like a little teddy bear. I'm not sure if it has much of a different function beyond looking a little cuter.
These are made from 100% medical-grade silicone and are designed with orthodontia in mind.
Ninni Pacifier
Great for oral motor function – especially hepful for babies with ties. Allows the baby to keep their mouth slightly more open.
Expensive, can be hard for a baby to get used to. Feels very different than most
Good for after a rlease, encourages baby to push tongue up, helps with suck training
This was, by far, the most mentioned brand of the pacifier in my survey. MAM comes in various sizes and styles, with various options for different sizes.
Here are some of the highlights of a MAM pacifier:
The curved shield allows the pacifier to sit comfortably on baby's face
MAM Ultra Soft Silicone Nipple stays comfortably in baby's mouth due to the anti-slip texture
Symmetrical nipple ideal for baby's jaw development
Textured surface and multiple small openings on the pacifier shield allow air to circulate and baby's skin to breathe
They have Newborn, 0-6 month, 6+ months and 18+ month categories. Most of the different styles are just differences in colors, but they do have a few different ones that are designed different. It's actually a little overwhelming how many options there are!
MAM Night – Glow in the Dark
MAM Air and MAM Air Mini – Wide openings in the shield provide extra airflow allowing baby's skin to breathe
MAM Perfect – This was developed with Orthodontics and pediatric dentists to help reduce the risk of misaligned teeth.
MAM Start – this is super small and lightweight. Great for smaller babies!
MAM Comfort – This is a one-piece, silicone pacifier that is designed for newborns and to stay in place more easily. It is also designed to help promote proper oral development and supports more natural suckling behavior
Allows tongue to elevate and similar movement to the breast
Both Nuk and Nuk Orthodontic were mentioned several times. When I think of pacifiers, Nuk definitely is the look I think of!
It has the classic ring on the outside, and they have TONS of different colors and designs. These are readily available everywhere and come in various sizes from 0 months to 18 months and beyond.
They also have the Orthodontic style, which is great and highly recommended. This comes in both the traditional ring style and the look that is more similar to the Avent Soothie (I actually have used these and actually liked them a bit more than Soothie – I guess this is their "sensitive" line!)
I think they have some different lines as well, so make sure to look into the different ones.
They have actually done market research to show that the nipple shape of their pacifier was not shown to encourage nipple confusion/preference, and it has a heart shaped design to allow for more easy breathing.
These are very inexpensive and available at most stores across the United States.
popular but not necessarily the best. It can hinder oral function and forces the tongue back. May be indicative of oral restrictions if this is the only one a baby will take
When I saw this recommendation coming through, I was so confused. I thought people were using feeding bibs as a pacifier, and it seemed so bizarre to me!
After the tenth recommendation, I decided I better look it up…and I realized it was a brand of pacifier. It was actually one I had been seeing a lot of my friends using over the past year, but I had never thought to ask what it was.
I really like how simple these are – there are just two sizes, and they are classic – yet modern-looking. They are actually made in Denmark, and have been made for over 40 years. I think they've only recently gained popularity in the United States.
Unlike many pacifiers, they are actually made from natural rubber. This is meant to help encourage natural sucking, and it's designed to mimic the shape and feel of the breast as a way to encourage an easy transition back and forth.
They are made from 100% natural latex and are lead and pthalate free.
Mom-Favorite Pacifiers
These are pacifiers that moms have said worked best with their babies. These don't necessarily make my list of the best pacifiers, shape, and function-wise, but they are ones that lot of people love.
So tell me – what is your breastfed babies favorite pacifier?
More Posts You May Enjoy: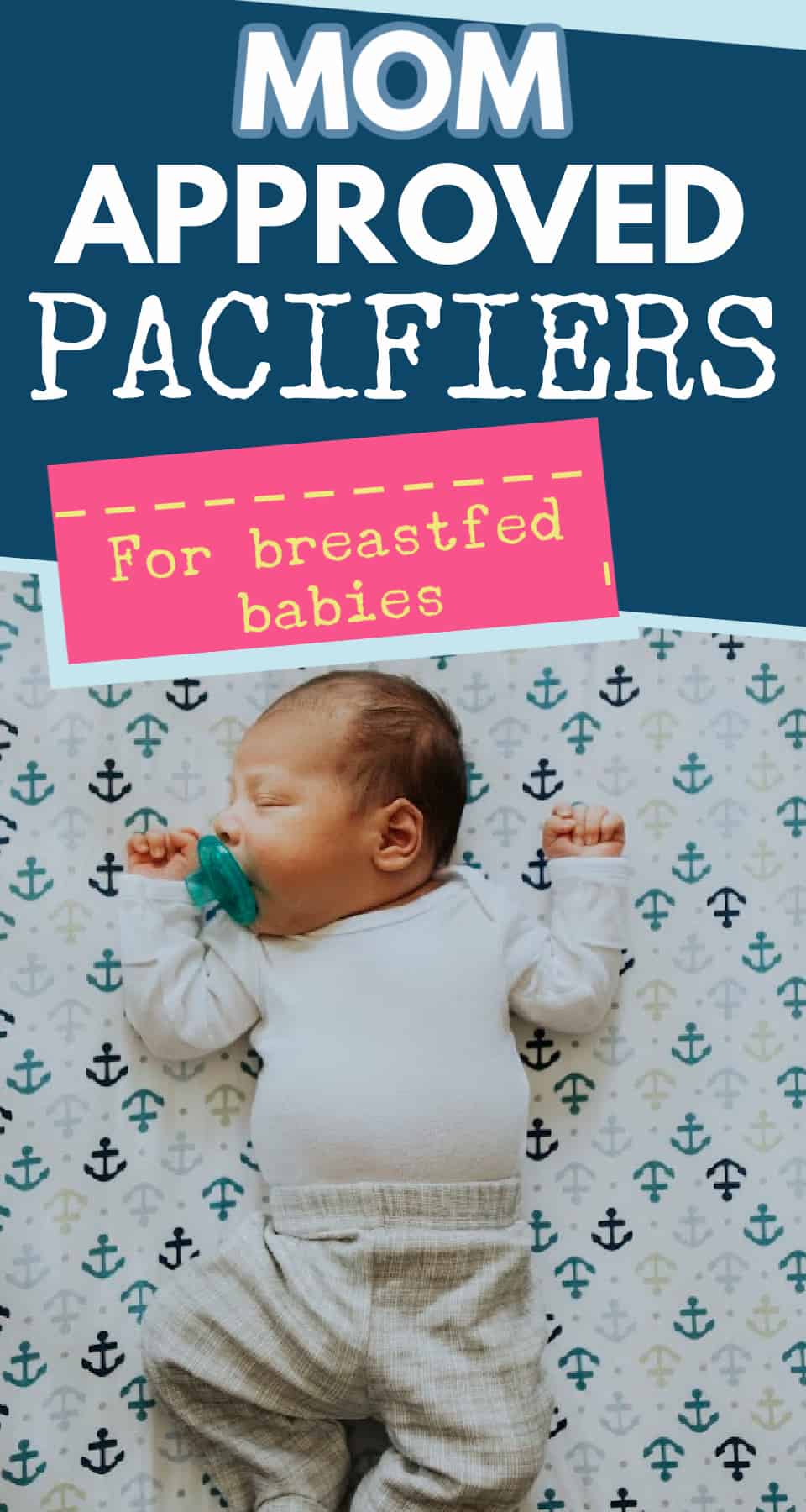 Katie Clark is an International Board Certified Lactation Consultant (IBCLC). She has helped thousands of mothers and families around the globe navigate breastfeeding challenges and questions since 2015. She has a passion for creating research-based, helpful breastfeeding education and helping parents find a way to make breastfeeding work for them. Katie is a mom of three little boys and lives in the great state of Colorado. She also has a degree in Communications with an emphasis in print journalism.