8 Expert Tips to STOP Biting While Breastfeeding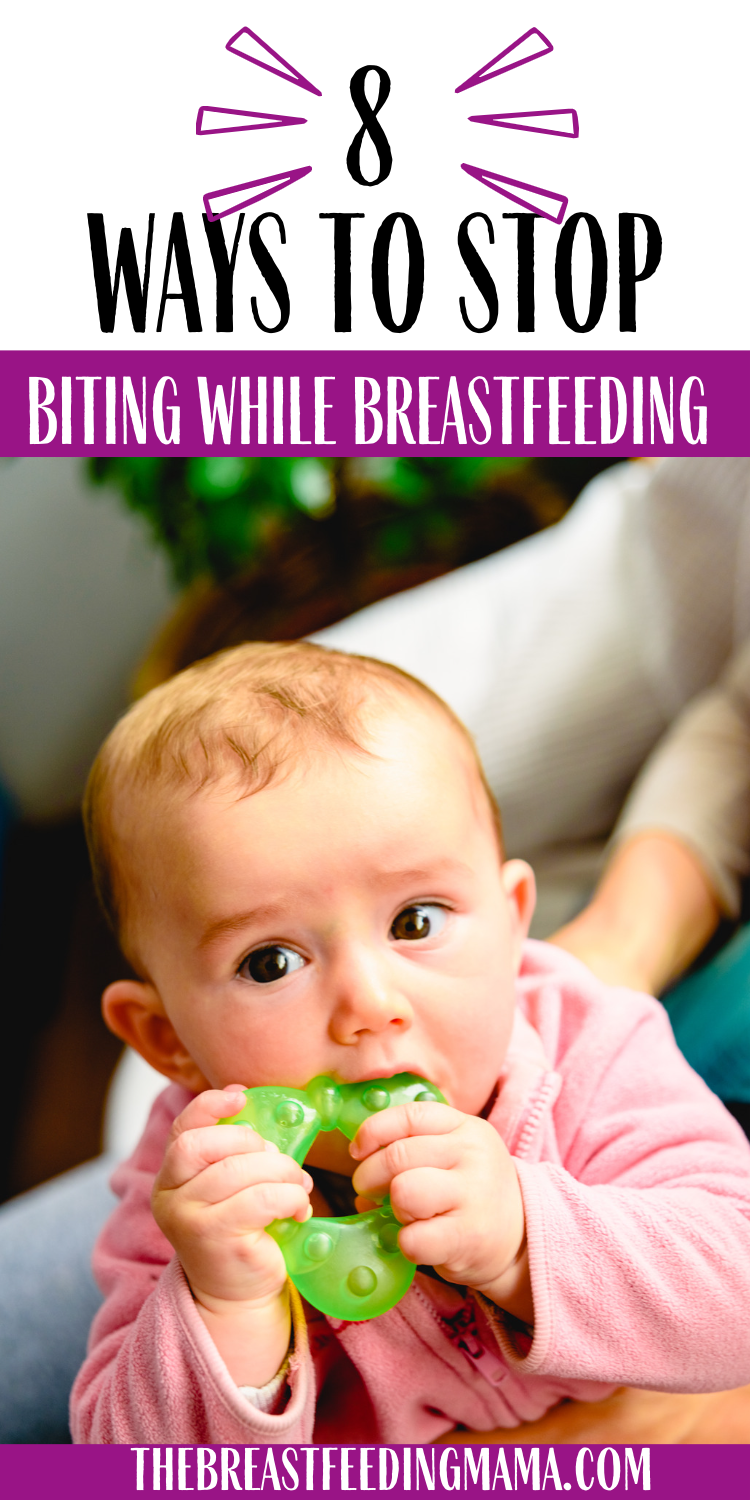 Biting while breastfeeding is one of the most frustrating breastfeeding challenges you may encounter. However, it doesn't mean you have to end your nursing journey. In this article, an expert IBCLC and mother of three shares the best tips on how to stop your baby from biting while breastfeeding.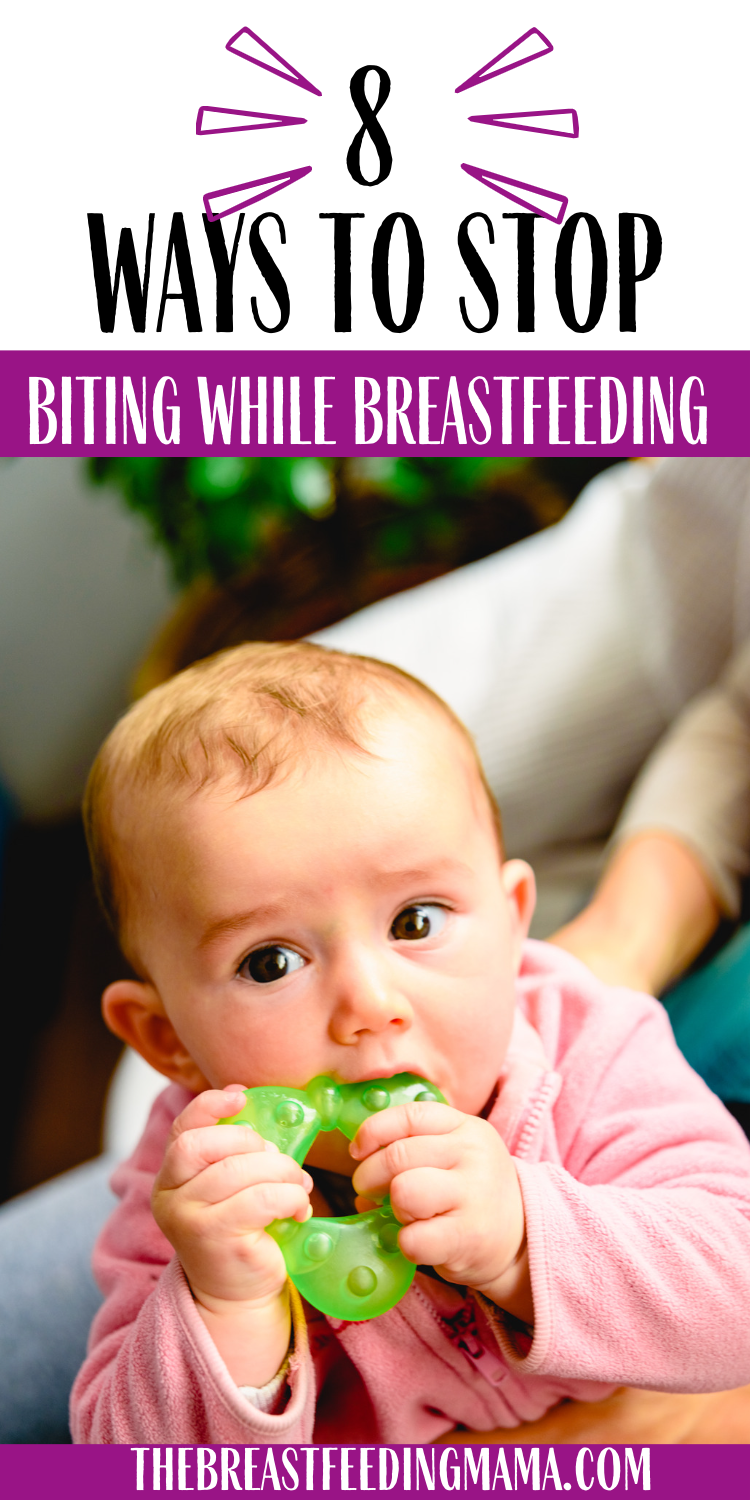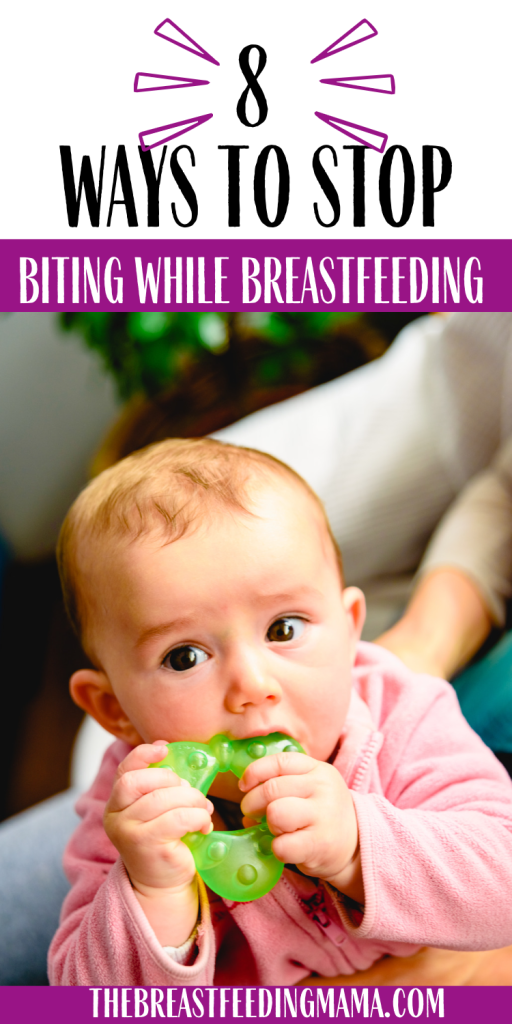 How to Stop Baby from Biting While Breastfeeding
QUICK TIPS: When it comes to biting, patience is key. Try to avoid overreacting (even when it's hard) and provide appropriate biting/teething outlets. Giving a firm "no" and stopping the breastfeeding session helps!
As soon as my kids get their first tooth, I get a little nervous.
Will they bite me?
My first son never bit me that I can remember. My second did a few times, but he had a terrible latch, and it often just felt like I had little razors digging to me every time he nursed.
My third son just got his first two teeth, and yep…he's a biter. Fortunately this time around, I have a few more tricks up my sleeve, and it seems to be less and less.
If you are breastfeeding your baby you might have experienced the pain of your baby biting while breastfeeding. Chances are, if you are reading this, you are going through this right now!
Breastfeeding biting is a common problem in breastfeeding, but there are solutions to help overcome your breastfeeding-biting baby. Here are some of the best tips to stop your baby from biting while breastfeeding.
Hi! 👋 I'm Katie, an International Board Certified Lactation Consultant I have helped thousands of moms across the world navigate their breastfeeding journey since 2015. I can't wait to help you! Be sure to consider checking out my 1:1 lactation support services or enrolling in one of our online breastfeeding workshops today.
Not sure why your baby is biting while breastfeeding? This article might help – Why is My Breastfed Baby Biting.
Biting While Breastfeeding TIps
If your baby is biting you, your initial reaction will probably be to yell and cinch up – you are probably in a lot of pain! Unfortunately, this isn't usually the best approach. Here's what you should do first.
1. Act Fast
Act fast by watching to see if your baby shows any signs that they are about to bite. You can sometimes feel this about to happen by a pause in their eating and a tightening of their jaw. This is when you quickly unlatch their mouth to save them from getting bitten.
This was the #1 remedy I found with my third child. I just pay attention to when he seems to be done actively eating, and he's just kind of "hanging out", and I make sure to pull away.
2. Replace with a Teething Toy
I actually picked this up from learning about what to do about biting puppies…ha! Chances are if they are biting, and it's because they are teething…it's because they need to CHEW – and what better than their mama's breast that they love so much?!
Replace immediately with something else that's more appropriate for biting and chewing – and make sure it's similar in feeling and texture. Anything silicone is great!
Here are a few options from Amazon:
Sale
Fu Store Hollow Teether Tube, 6 Pack Chew Straw Toy for Infant Toddlers Silicone Tubes Teething Toys for Babies 3-12 Months BPA Free/Freezable/Dishwasher and Refrigerator Safe
【Soft Design】 Soft Teething Toys are specially designed to be hollow, flexible, and easy to hold.
【Safe】Made of high-quality 100% food-grade silicone, it is completely safe for children. Choking Hazard Small Parts! The teether tube should be used under adult's supervision.
【Easy to Clean】Easy cleaning is a must! Just clean them with mild soap and water, can be boiled at high temperature of 100°C! With the tube brush, it is convenient to clean the inside of the empty pipe.
【Perfect Size and Weight】These teething straws for babies are light and little, supper easy for little hands to hold and chew on.
【6 Pack Beautiful Colors 】You will get 6 different hollow teethers in different colors and 1 tube brush.
Baby Teething Toys, Soft Silicone Fruit Teether Set with Pacifier Clip/Holder for Toddlers & Infants, 5 Pack
100% Safety: Each of our teethers are carefully made with Chewable Silicone for the comfort and safety of babies. The materials are BPA-free, Toxin-free, and Dishwasher and Freezer Safe.
Solve Babies' Tooth Pain: When babies start to develop then causes soreness and discomfort. Our teething toys gently massage the gums and stimulate teeth growth, then can keep your babies from suffering.
Unique Designs: Fruit Trees design, peaches, orange, strawberry,pineapple and grapes with pacifier clip. The teething toys like babies'gift, it is perfect for a baby shower.
Simple to Grip Handle: When Babies teeth start to growth, babies want to pick up objects to their mouths to try to ease any soreness they're felling. Our teeth toys come with wide handles so it is easy to baby to grip.
Pacifier Clip: Two-sided thick nylon ribbon helps keep the teethers off the floor and in their hands, our clips are safe for your little baby.
Sale
3 Pack Baby Teether Teething Toys for Babies 0-6 Months Baby Teething Toy Silicone Anti Dropping Infant Hand Teether Pacifiers Wrist Hand Chew Toys for Sucking Needs (Blue, Caramel, Green, Bear)
Package Information: you will receive a package that comes with 3 pieces of wrist teethers, which are available in 3 colors, 1 piece for each color; The abundant quantity can satisfy your use and replacement requirements in daily life, and you can also share them with your close friends
Proper Size Provides Comfortable Use: the size of our infant chew toy is about 10.6 x 8.3 cm/ 4.2 x 3.3 inches, suitable for babies ages 3+ Months due to the fully wrapped design; Unlike other wrist teethers, this teether will entirely avoid your baby biting, sucking, or chewing his or her fingers, allowing him or her to develop normally
Dependable Material: our baby bear teethers are made of reliable quality silicone material, sturdy and safe, east to clean, not prone to deforming or breaking, giving you a lengthy service
It is Hard to Drop: the hollow baby sucking toy has a stem inside it, allowing small hands to hold; The nipples are on either side and can be easily positioned into the mouth when the baby holds it; Worn on your baby's wrist, your baby's hand is more comfortable than a glove
It is a Breeze for You to Clean: these baby hand teethers can be disinfected in hot water and steam sterilizer, and can be stored in dishwasher and freezer; You need simply rinse teething pacifiers for babies in tap water after each use, providing your sweet ones an enjoyable using experience
haakaa Palm Teether - Super Soft Silicone Baby Soothing Teether Pacifier, Teething Toys for 3M+ Babies, 0-6, 6-12 Months, BPA Free (1 Pack) Multicolor
👶 Stimulate the Senses - The baby teething toys can exercise baby's brain, body and mind. ① Vision - Cute colors of candy, cultivate your baby's color perception ability. ② Touch - Soft liquid silicone material, sens like mother's skin, give the baby physical and emotional comfort, and make the baby more at ease. ③ Grip - hollow teething rings design, even newborns can easily grasp, exercise baby's finger
🦷 Relieves Toothache -Perfect teether for teething relief.Chuck in the freezer to provide added relief to those little aching gums
✔️Patented Design - Easy to hold teething rings to grap and chew.
✔️ Easy to Clean - Integrated molding, no blind angle, no parts, clean easily with soap and water, boil it in water for 2~3 minites, or put it into dishwasher.
✔️Safety - ① Food-grade silicone material. ② The length of the protruding part is safe, not jam the baby's throat. ③ Integrated molding, there is no risk of parts falling.
3. Get a Deep Latch
So many breastfeeding problems can be resolved with a good latch. If your child has a nice, deep latch, their tongue will go over their teeth, and they simply won't be able to bite you WHILE they are nursing.
As I mentioned, with my second son, he didn't have a very good latch due to an undiagnosed tongue tie. it got lazier the older he got, and if I didn't pay close attention, I would surely get bitten or just have his teeth dig into me while he nursed.
When I made sure to get a deep latch, it helped a lot.
4. Distract
When you are breastfeeding take this time to talk to your baby. Breastfeeding is not the time to skim through your emails or catch up on text and phone calls. You will find as you are talking to your baby you are distracting them from any ideas they may have to possibly bite or stop eating to play.
Having a toy for them to play with can help, too.
5. Be Firm
As soon as your baby bites you, stop the feeding immediately.
Being firm is ok if you get bitten. Your baby doesn't know that biting while breastfeeding hurts. Right after they have bitten you it is ok to firmly say "No bite" or "ouch do not bite me" and stop the feeding.
As hard as it might be to avoid, try to not yell or scream. This shows your baby that they get a reaction from the bite, which may cause them to do it again.
You should comfort them after a firm "no" has been given but do not offer the breast again unless they are clearly hungry.
You should never flick or smack their mouth in anger if they bite.
6. Express Milk Before Breastfeeding
Your baby could be biting because your milk is not coming out fast enough for them. They get upset when the milk does not come out fast as they like, which could result in biting.
Expressing milk before you begin your breastfeeding session could help with less frequent biting while breastfeeding. I would only give a small amount before you try and latch again.
7. Give Praise
We all love praise and to know we are doing a good job. Your baby does as well. Once you start each breastfeeding session give praise for a good latch and for not biting.
If biting while breastfeeding occurs, withhold praise. You will notice that the more praise you give your baby while nursing the happier they are and the less biting occurs while breastfeeding.
8. Make sure there is nothing in their mouth
This may sound weird, but with my third son, the main times he bit were when he had something in his mouth. I know this makes me sound like the parent of the year, but once there was a tiny leaf he'd thrown in his mouth, and he kept biting me. It wasn't until I fished around and found a leaf that I realized why he was biting.
PRO TIP:
All breastfeeding moms will tell you the same thing about breastfeeding and biting:
DO NOT not pull back once your baby has clamped down on your nipple and is biting you, especially if your baby does not release right away. Trust me this is easier said than done because it is going to hurt!
To get your baby off gently place your fingers between your baby's gums or teeth to break the suction and this will make it much less painful to get your baby off your breast.
You may even try bringing the baby towards your breast so they have to open their mouth to breathe and you will find they will quickly release from your breast.
Is It Time to Wean Now that My Baby Has Bit Me?
If your baby starts to bite you, it does not mean that you need to wean – especially since most biting starts when your child still needs the nutrition from breast milk. It may time but focus on finding the cause of the biting and work on correcting the issue. You could be as simple as fixing the position that you breastfeed and reviewing your baby's latch.
However, some mothers find they can't tolerate the biting or can't get their baby to stop regardless of what they do. If this is your situation and you want to wean, that is a personal decision. If your child is before the age of one, you will need to wean to expressed breast milk or formula.
How to Heal Bitten Nipples
If your baby has bitten you while breastfeeding, here are a few tips:
Try allowing your nipples to be exposed to air as much as possible.
Cold compression packs over a layer of clothes for 20 minutes on and 20 minutes off will help soothe the nipple as well.
If the pain is really bad you can try relieving the pain with ibuprofen or Tylenol which are both safe to use while breastfeeding.
Will My Baby Stop Biting?
I am happy to report that most of the time, biting is a phase. Once you address the issue and have figured out the cause it will typically end quickly. You will notice that your baby is no longer biting while breastfeeding and the habit is resolved.
Biting while breastfeeding is never an easy problem to overcome. However, with patience and time, you will be able to look back on this time soon.
More Articles You May Enjoy: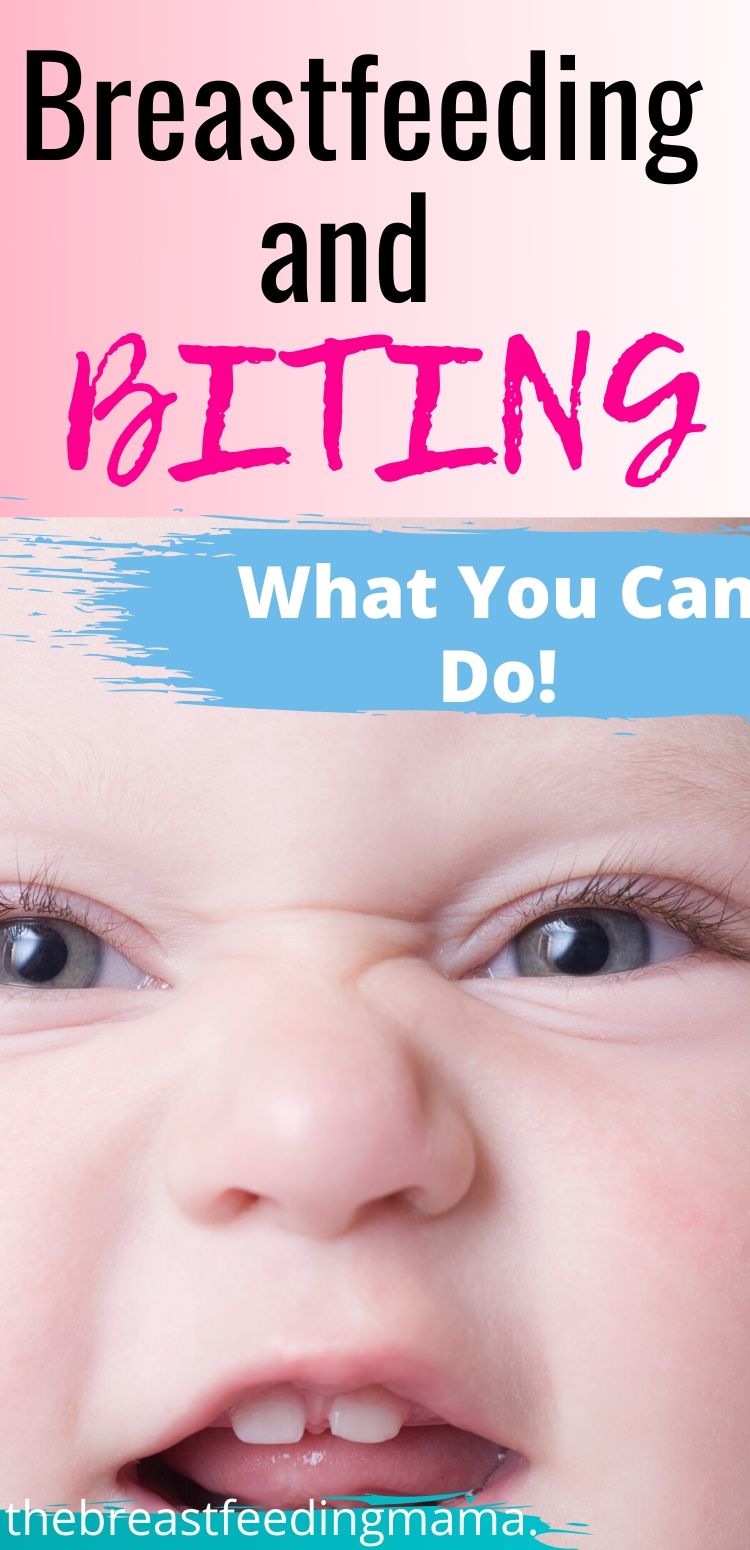 Katie Clark is an International Board Certified Lactation Consultant (IBCLC). She has helped thousands of mothers and families around the globe navigate breastfeeding challenges and questions since 2015. She has a passion for creating research-based, helpful breastfeeding education and helping parents find a way to make breastfeeding work for them. Katie is a mom of three little boys and lives in the great state of Colorado. She also has a degree in Communications with an emphasis in print journalism.