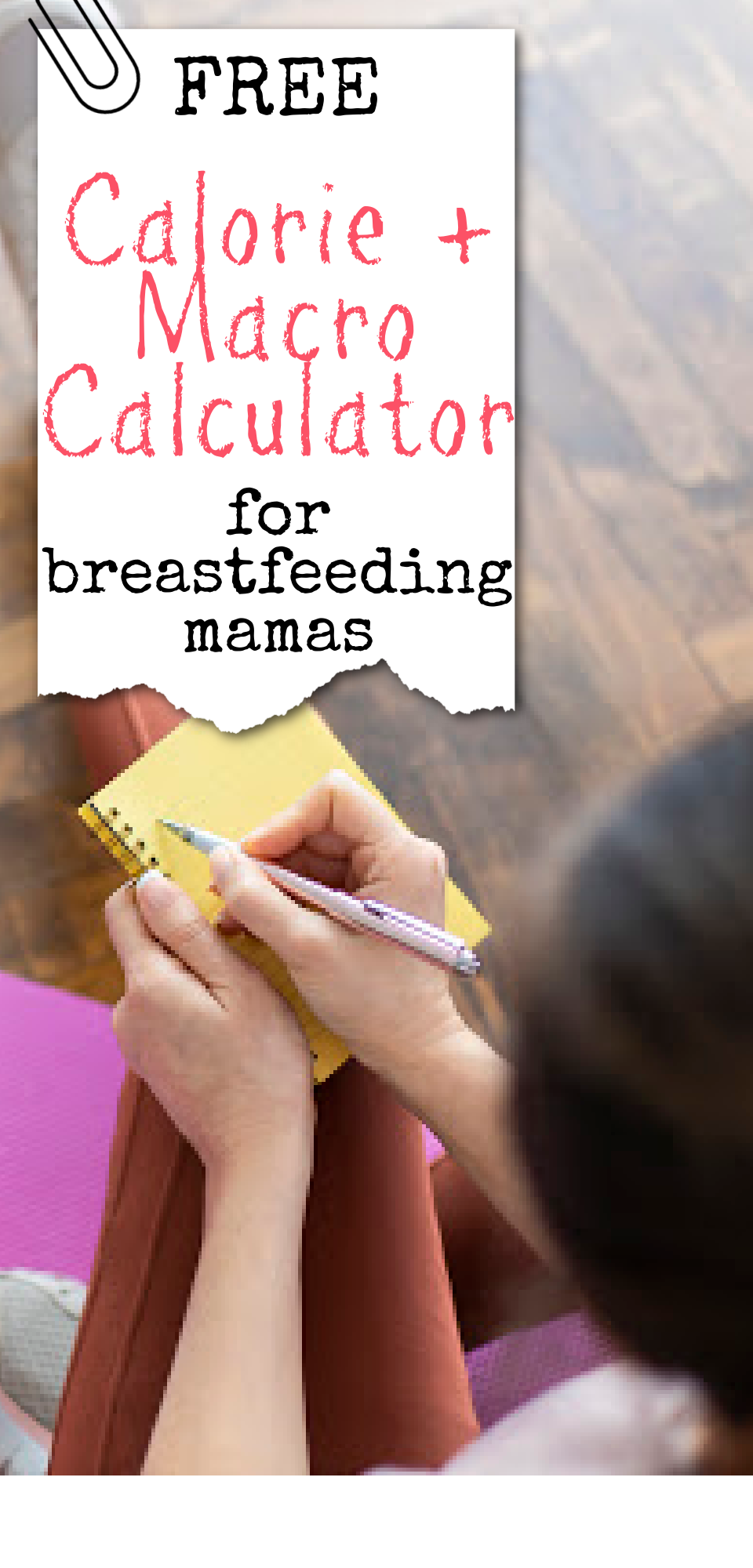 Are you wondering how many calories you should be eating while breastfeeding? Is your goal to lose a little weight without compromising your breast milk supply? Want to count macros but not sure how many to use while breastfeeding? You will love our calorie calculator for breastfeeding moms.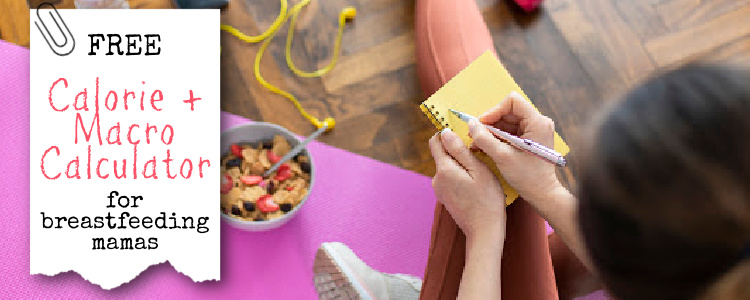 I am always having people asking me how many calories they need to eat while breastfeeding – and more recently, people are wondering what macros they should eat. While this can vary depending on MANY factors, I've developed this handy calorie and macro calculator to help you find a place to start (click here to jump straight to it!)
When you are breastfeeding, it's important to eat enough calories to help sustain your milk supply. These calories shouldn't just be empty calories, though – it's vital for your health to get the right balance of carbs, proteins, and fats.
If you are curious about how many calories you should be consuming while breastfeeding, especially if you are wanting to lose weight, you are in the right place.
I have developed this easy-to-use breastfeeding calorie calculator. Not only does it take into account the unique nutritional requirements for a breastfeeding mom, it also provides an idea of what number of macronutrients you should aim for as well. It takes into account how often you are breastfeeding, your activity level, and what your end goal is.
Calorie Calculator Breastfeeding
Calorie Calculator
Formula
This Calorie Calculator is based on the Mifflin-St Jeor Equation with adjustments made for breastfeeding and pregnancy. The results are based on an estimated average.
For women: BMR = 10 × weight (kg) + 6.25 × height (cm) - 5 × age (y) - 161 * Activity

For Breastfeeding, an average of 500 extra calories (exclusive breastfeeding),400 extra calories (mostly breastfeeding), 250 extra calories (partial breastfeeding) or 0 extra calories (no breastfeeding) is added.

For Pregnancy, an average of 450 extra calories (third trimester), 700 extra calories (third trimester twins), 340 extra calories (second semester), 50 extra calories (first semester) or 0 extra calories (not pregnant) is added.

Disclaimer: All calorie values are estimates and do not guarantee weight loss, weight gain, an adequate milk supply or sufficient calorie supply while pregnant or breastfeeding. We are not responsible for any loss of milk supply and make no claims to increasing milk supply. Please consult a medical professional to ensure the appropriate amount of calories, especially if you are breastfeeding and pregnant.
Macro Friendly Meal Plan and Recipes
If you are like me, meal planning can be so tricky – especially when you are breastfeeding! There are a lot of "macro-friendly" recipes out there – but so many of these are time-consuming to make!
However, I have found one meal planning app that is PERFECT for busy moms like you. It's called Macro Friendly Food, and it's run by a woman named Elyse Ellis. She has lots of kids (and a brand new puppy!), so she knows the importance of fast and easy meals that your family will actually make.
You can buy the meal plans, but they just released their web-based app which has all the recipes. It also makes it SUPER easy to meal plan.
You can check it out here! Use the code CLARKS10 for 10% off your subscription!
Her cheeseburger mac and cheese is to DIE for.
T
What is counting macros?
Counting macros as a way to maintain, lose, or even gain weight is really popular and a lot of moms have success with it. When a mother comes to me asking about tips for losing weight while breastfeeding, this is something I often recommend doing.
It's really not just about the number of calories you are consuming but the types, so having a rough estimate of what percentage of your calories should be from fat, protein, and carbs can be really beneficial.
A lot of people like counting macros because it allows them to eat more of what they want. You can plan out your days so you can feel good eating Friday night pizza, while still knowing you are getting all the nutrients you need.
I really love using the My Fitness App in order to count macros, though I think you need the premium version in order to specify the exact amounts of macronutrients. I think it has the best database available, too. However, there are other apps out there, so you can think about using those as well.
Should I count macros while breastfeeding?
It's really up to you! I find that counting macros is helpful for those who want to lose weight or just feel healthier and make sure they are eating a balanced diet. It DOES take time to track everything though, which not all breastfeeding mamas have the time to do!
How many calories should I eat while breastfeeding?
For these calculators, you will have an additional allotment of calories you need based on your weight, how often you breastfeed, and even if you happen to be pregnant again. The added amount is between 200 and 500 calories – make sure you are honest with how frequently you are nursing.
We have also increased the amount of protein you might need, as breastfeeding and pregnant moms do need more than the average person.
While this calculator is based on standard formulas that are available, it should only be used as a starting point. It can be a great idea to get a nutritionist or dietitian to get the most accurate idea of what you should be eating, the frequency, and when.
Of course, always monitor your baby's weight gain, diaper count, and milk supply carefully as you change your diet!
Nothing on this page should be taken as medical or weight loss advice. Always work with a qualified professional when making decisions regarding your health.
Free One Week Breastfeeding Meal Plan
We have developed a FANTASTIC breastfeeding meal plan that takes into account the nutritional needs of a breastfeeding mother, as well as provides for easy ways to add or remove calories from the day to fit your needs.
We offer the first week of it to try out for free – just signup in the box below or click here to learn more.
We hope that our breastfeeding calorie calculator will help you meet your goals while nursing. Remember to consult with a doctor or nutritionist if you have any questions about how many calories you should be eating while breastfeeding. And as always, happy eating!
Additional Resources:
Katie Clark is a Certified Lactation Educator, Certified Breastfeeding Specialist, and IBCLC student. She has helped thousands of mothers and families around the globe navigate breastfeeding challenges and questions since 2015. She has a passion for creating research-based, helpful breastfeeding education and helping parents find a way to make breastfeeding work for them. Katie is a mom of three little boys and lives in the great state of Colorado. She also has a degree in Communications with an emphasis in print journalism.