Getting back into shape after having a baby is important to a lot of women. While there are a lot of ways to lose the extra pounds some women turn to It Works! products to help them. This article will answer the question is it safe to use It Works! while breastfeeding?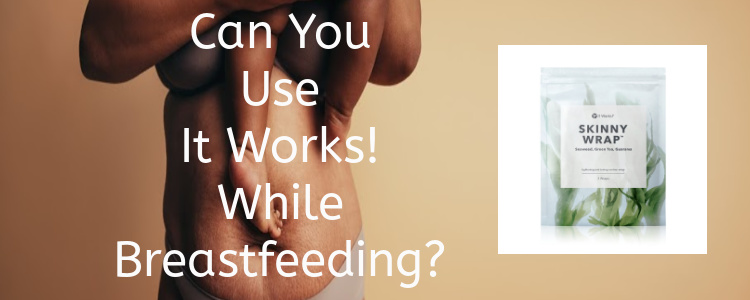 Can you use It Works! products while breastfeeding?
A lot of people use It Works! products to help them lose weight. They sell a variety of products from slimming wraps, to teas to collagens to gummies. While they say that their products are all natural they do have a disclaimer at the bottom of each product that says: "These statements have not been evaluated by the Food and Drug Administration. This product is not intended to diagnose, treat, cure or prevent any disease."
In their FAQ section, under a question about pregnancy or breastfeeding, it says:
"At all times check with a medical doctor before making use of any new product, whether or not a skincare, topical lotion or remedy, or another item, to verify if it will be risk-free in order to use."
Basically, they don't really give a hard and fast rule and push you off to your doctor – who likely won't have much to say either.
In general, topical ointments and lotions typically aren't absorbed by the skin, thus likely won't enter into the bloodstream. With that said, there are no studies done, so we just don't know if It Works! wraps have any component that may pass through the bloodstream.
It Works Applicator Ingredients
Here is a list of the ingredient in It Works! applicators:
Water
Glucose
Caprylic/Capri Triglyceride
Glycerin:
Alcohol Denat.
Stearic Acid
Stearyl Alcohol
Ceteareth 12
Aesculus hipposcastanum (Horse Chestnut) Extract
Urea
Centella asiatica (Hydrocotyl) Extract
Camellia sinensis (Green Tea) Extract
Fucus vesiculosus (Bladderwrack) Thalle Extract
Hedera helix (Ivy) Extract
Equisetum arvense (Horsetail) Extract
Ruscus aculeatus (Butcher's Broom) Root Extract
Tocopheryl Acetate
TEA Hydroiodide
Methylsilanol Mannuronate
Menthol
Camphor
Panthenol
Phenoxyethanol
Paullinia cupana (Guarana) Seed Extract
Simmondsia Chinensis (Jojoba) Seed Oil
Decyl Oleate
Magnesium Aluminum Silicate
Glyceryl Stearate
PEG 7 Glyceryl Cocoate
There are a lot of ingredients that I have never heard of and cannot pronounce easily – and in general, I don't recommend using something with ingredients like that. This website gives a good overview of what all these ingredients are.
It has ingredients such as menthol, which could decrease milk supply when ingested – it's not known if simply applying it to your body or inhaling would have the same impact. I generally recommend avoiding peppermint essential oils, though.
A quick look of their website will show you several other products they sell. The following warning is at the bottom of most of their merchandise:
Consult your physician if you have any stomach/bowel related issues, such as diarrhea, or if you are pregnant, nursing, taking medication or have a medical condition.
As always, it is important to consult your doctor when wanting to try something new while breastfeeding. I wish there was a solid answer as to whether or not It Works! wraps are safe or not, but there isn't a lot of information.
Other articles you may enjoy: