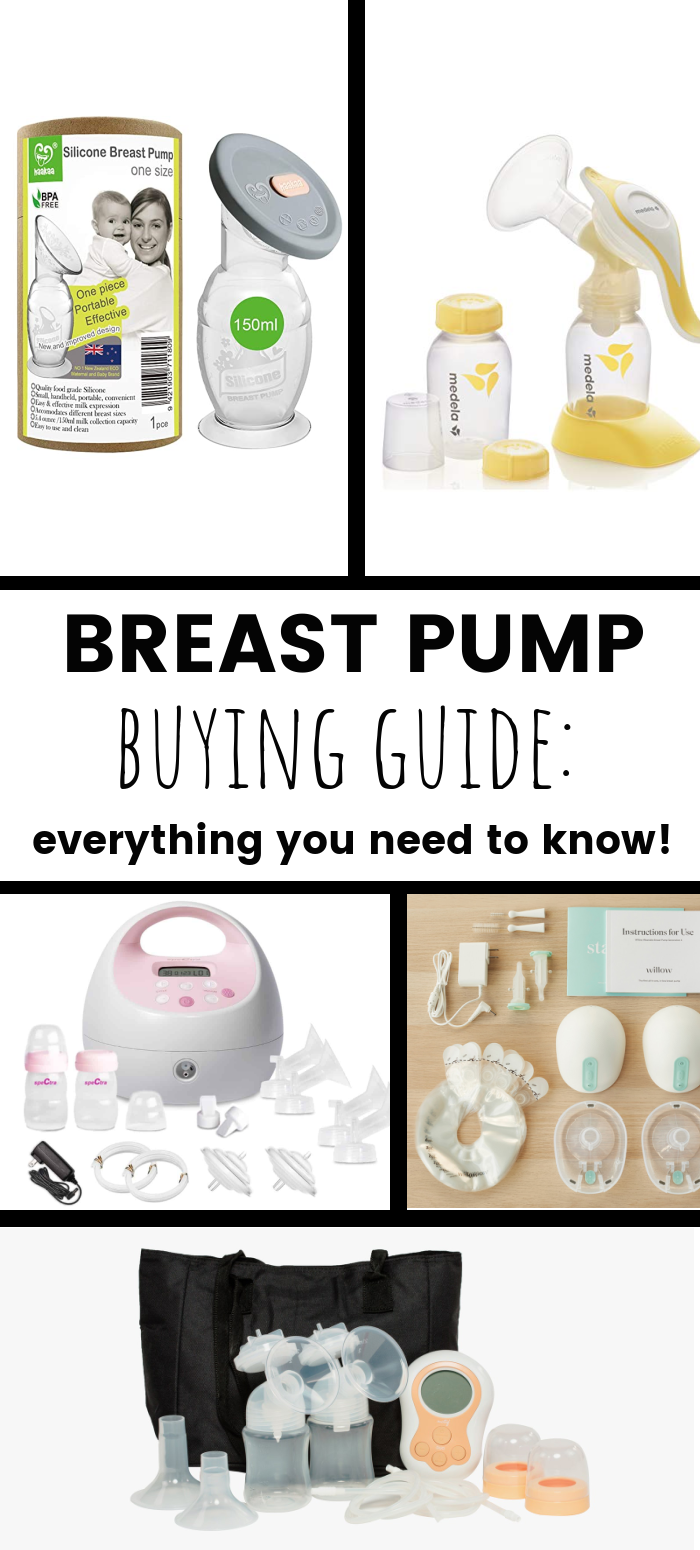 You're having a baby and you've decided you want to pump your milk. You may have come to this decision because you work full-time, you struggle with engorgement, or because you want more flexibility to leave your baby for longer periods of time. Regardless of the reason, you need to find the perfect breast pump for your needs.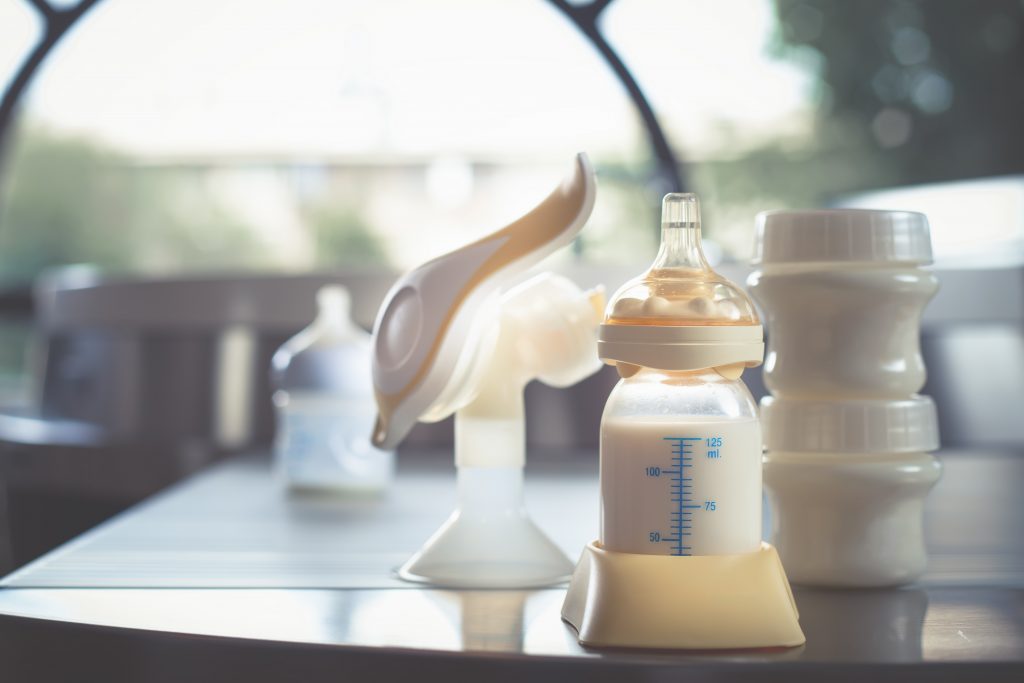 What exactly goes into choosing the perfect breast pump? Well, there is a wide variety of options and features that may or may not be important to you. In this post, I'm going to go over types of pumps, checking insurance coverage (always looking to get our mamas some deals!), what to consider when picking the right pump, and pump suggestions.
Make sure you signup for "Demystifying Pumping and Milk Supply" to learn EVERYTHING you need to know about getting started with pumping – all in under 90 minutes.
Insurance Coverage for Breast Pumps
A great thing that came out of the ACA (Affordable Care Act) is that it requires insurance providers to provide new mothers with a breast pump. The type and quality of breast pump might depend on your insurance provider, but all will provide you with something!
You can contact your insurance provider directly to find out what type of pump is offered or you can use a website. Our suggestion for finding out about your breast pump options is through Aeroflow. Aeroflow is an extremely straightforward website that has you input your insurance provider and personal information. They then have a specialist contact you in a few days with what you qualify for and how you can access the pumps directly through their website.
If you find you do not qualify for any breast pump or for the type of pump you were hoping to purchase, there are a couple of options for you. First off, Aeroflow offers some of the lowest prices on most breast pumps. Second, Aeroflow offers an upgrade option if you find you're not interested in the specific pump you qualify for.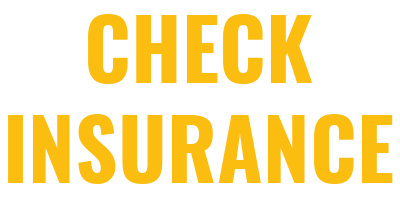 Types of Breast Pumps
1. Manual Breast Pump
A manual breast pump works exactly as you might expect! After attaching the pump to your breast you manually squeeze a handle or lever creating suction and expressing your breast milk.
Our Suggestion: Medela Harmony Manual Breast Pump
The Medela Harmony Manual Breast Pump uses a swivel handle to manually pump out your breast milk. However, due to its convenient design, it doesn't require much pressure to effectively squeeze the handle. A great thing about this pump is that it comes with two 5 oz bottles for collecting milk and a lid to keep the milk safe! This is a small, compact option for a mom who is looking to pump on the go without making a huge production.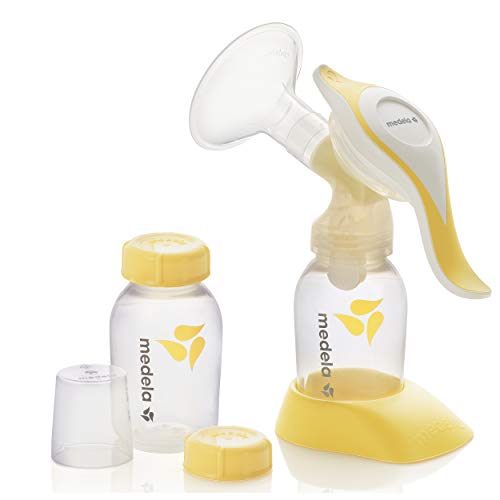 2. Battery Operated Breast Pump
Battery operated breast pumps are the middle-man between a manual pump and an electric pump. Rather than manually creating the suction, this pump does that on its own. However, it's not as strong as an electric pump and is only feasible if you're limiting your pumping to about once a day.
Our Suggestion: Motif Medical Duo
The small size of the pump and high powered vacuum makes this a great option for a pumping mom on the go! With the pump itself measuring at 3.7 inches by 1.9 inches by 5.19 inches it's extremely manageable to cart around with you anywhere you need to go. Some of the top reviews of this pump are it's ability to adjust the vacuum strength and frequency, and the ability to save pumping sequences.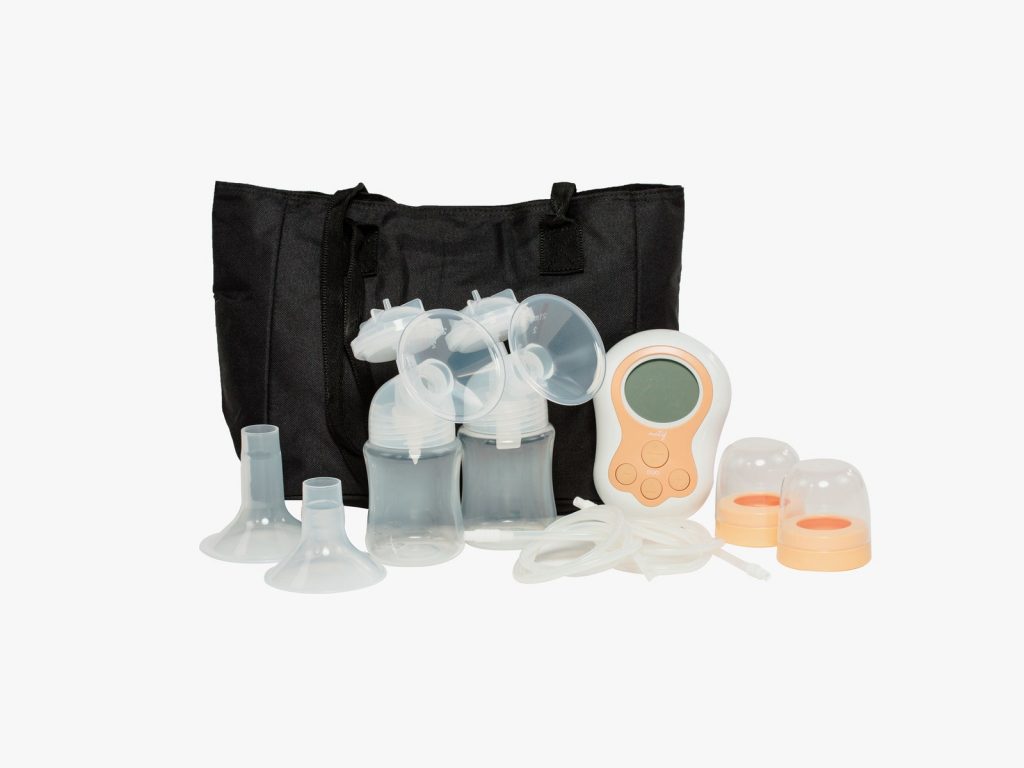 3. Electric Breast Pump
Electric breast pumps are attached to your breast with a cord connecting to a small motorized pump that creates suction, helping you express milk. With this type of pump, you're given a lot more options on settings and suction levels. Similarly, the electric pump provides a lot of power and can be used multiple times throughout the day.
Within this category, you will find TONS of options. You will find pumps that are consumer grade as well as hospital grade (we'll talk more about that at the end).
Our Suggestion: Spectra S2 Double/Single Breast Pump
The Spectra S2 is an extremely powerful and highly rated breast pump. This could be a good option to breast pumping mothers who have the ability to be more stationary while they're pumping and have access to an outlet. For example, if you're pumping at work everyday and have an outlet at your desk- this could be perfect for you! This pump is popular based on its low volume and high efficiency. It's also known for being very gentle which is great for newly nursing mothers who may already have tender nipples.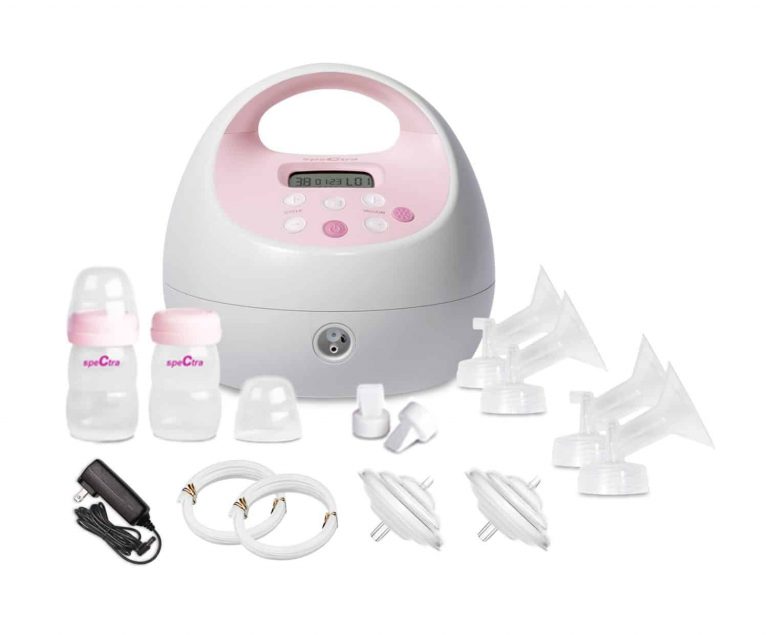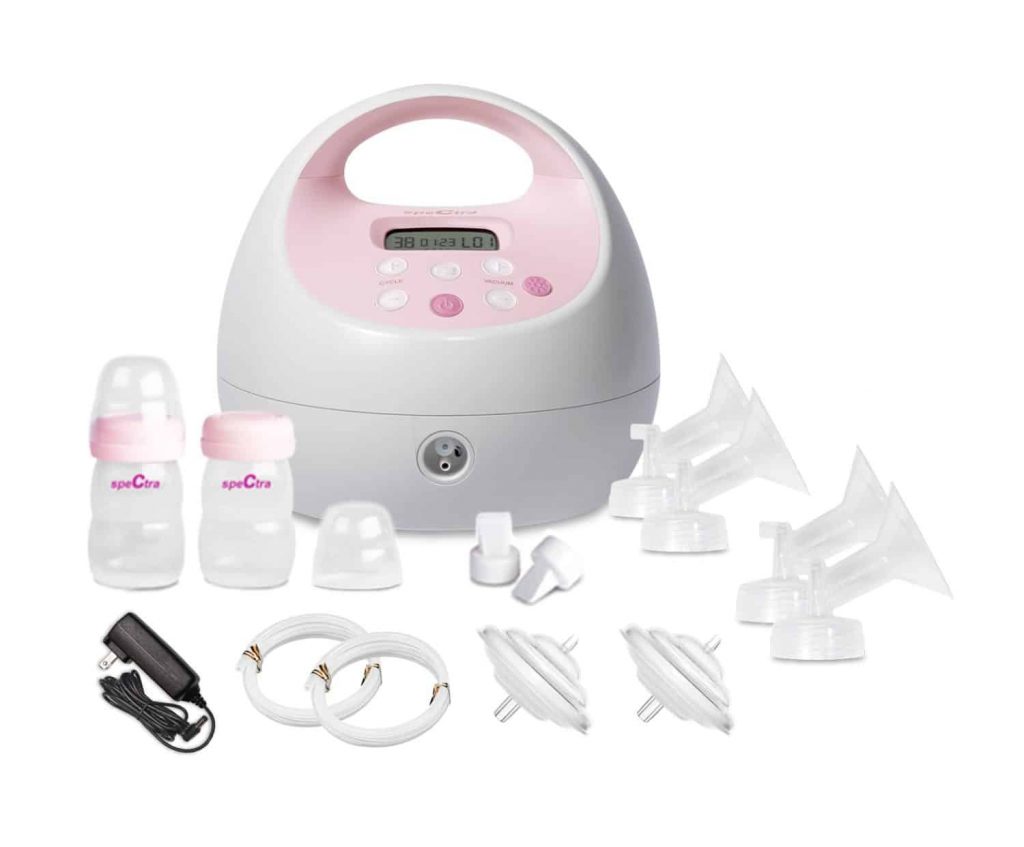 4. Hands-Free
Hands-free breast pumps allow you to complete your daily routines and rituals all while pumping milk for your sweet baby! They conveniently fit directly into your nursing bra so that you can be hands off while you pump. The milk catches in the same little container as the pump.
Our Suggestion: Willow Wearable Breast Pump
The Willow Wearable Breast Pump and Elvie pump have a lot of similarities and some differences too. In this article, we're suggesting the Willow pump but if you're interested in comparing the two check out our blog post focused on just that!
The Willow pump's first strength is very obviously the fact that it's completely hands-free. Women love that they can do chores around the house, do their makeup, watch tv, play with their children, etc. all while pumping! This pump has only 4 total parts to clean and has a nice app that shows you the volume of milk you've pumped.
Be sure to read our comparison of the most popular wearable pumps here – Willow versus Elvie: Which Hands-Free Pump is Best?
For a more budget hands free pump, the Freemie is a good choice.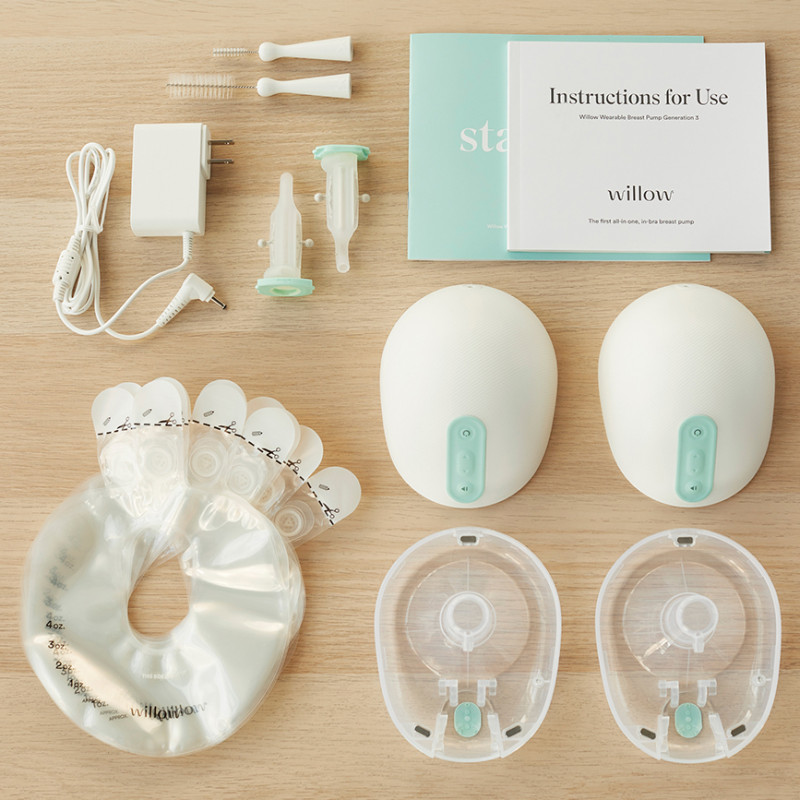 5. Suction Pumps
Suction breast pumps are a form of manual breast pumps that just suction to the breast and draw out milk. This pump is great for a breastfeeding mama who just wants to catch a little bit of extra milk on the side.
Our Suggestion: The Haakaa Silicone Breast Pump
The most common or recognizable suction pump is the Haakaa Silicone Breast pump, we have an entire blog post dedicated to discussing the Haakaa and how you can use it. We would recommend this pump for individuals who want to breastfeed primarily and catch their milk letdown in the process. People love the Haakaa because it's hands-free and easy to transport in your purse.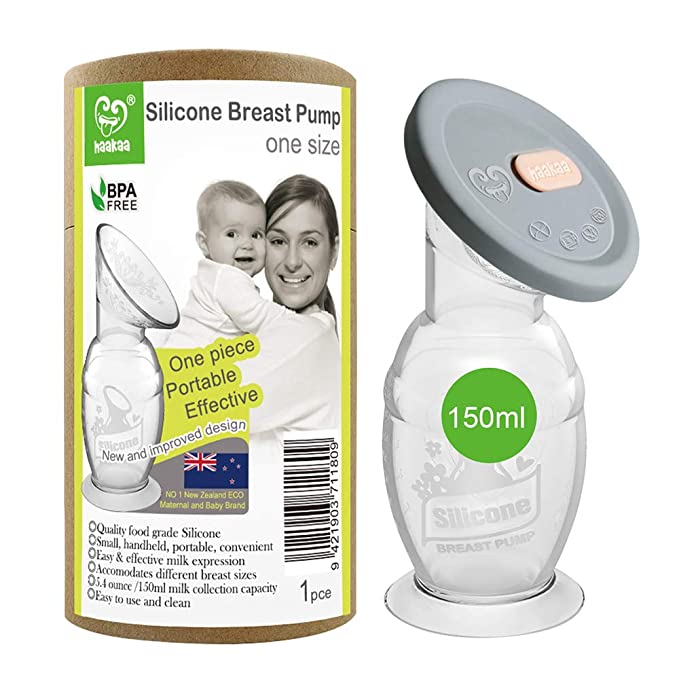 Hospital Grade
Hospital grade pumps are designed for multi-use among mothers and are often used in hospitals or rented out by WIC offices. They can purchased for consumer use, but they are quite expensive – though there are places you can rent them from.
They are ideal for those who aren't able to latch or nurse in the beginning to help bring in and establish milk supply. With that said, there are many consumer pumps that have just as much suction and power – they just aren't designed to be used by multiple mothers, nor do they have the same wave length or programming.
Most people do not need a hospital grade pump.
Closed versus Open System
When purchasing a pump, you will hear about closed versus open systems. An open system means that there is no barrier between the actual pump and your breast milk. If milk were to get into the tubing, it could possibly leak into the pump.
With a closed system, there is a barrier that prevents this from happening, which makes it a bit more sanitary. It also opens the possibility of donating or sharing the pump with someone else, so long as the pump kit (flanges, tubing, etc) are replaced.
Summary
Choosing a breast pump can be an extremely overwhelming decision! I hope that this post helped narrow things down for you and simplify the variety of choices you have. Comment down below what type of pump is your favorite or what pump you decided to get!
More Posts You May Enjoy: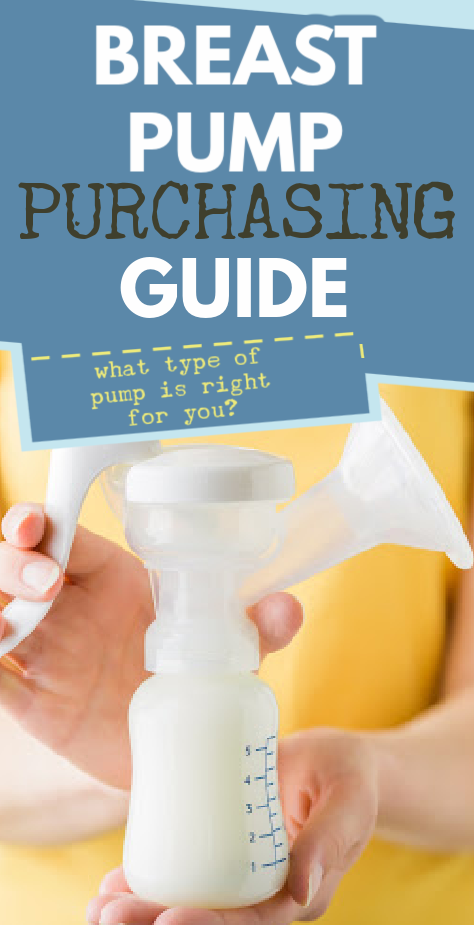 Katie Clark is a Certified Lactation Educator, Certified Breastfeeding Specialist, and IBCLC student. She has helped thousands of mothers and families around the globe navigate breastfeeding challenges and questions since 2015. She has a passion for creating research-based, helpful breastfeeding education and helping parents find a way to make breastfeeding work for them. Katie is a mom of three little boys and lives in the great state of Colorado. She also has a degree in Communications with an emphasis in print journalism.