The Top 5 Best Glass Bottles For Breastfed Babies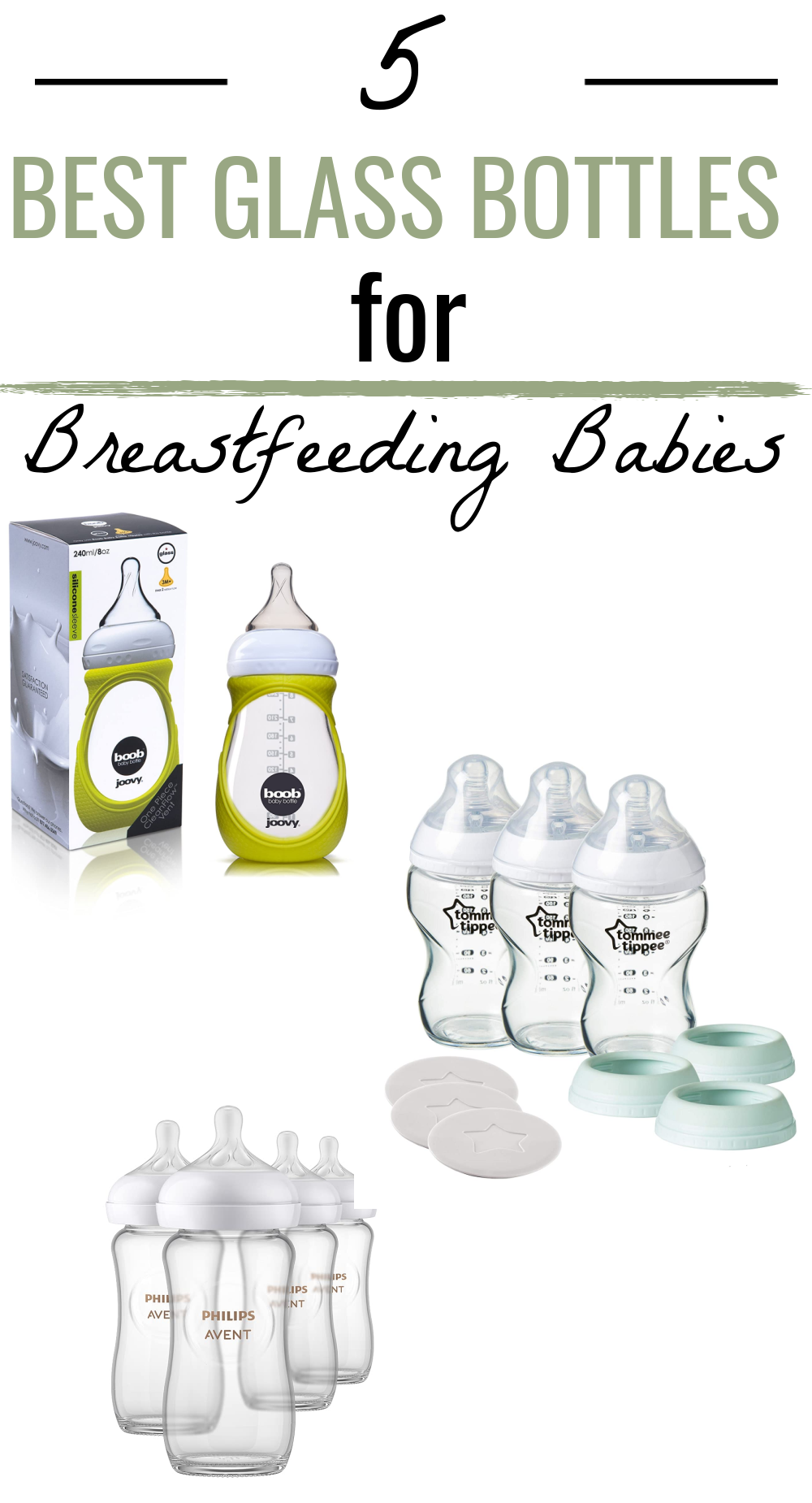 Does your breastfed baby also take a bottle? One thing you'll want to avoid is having them prefer the bottle over the breast and there are some amazing bottles out there that are created to mimic the nipple and breast. Glass bottles are becoming more and more popular and for good reason- they are also perfect for breastfed babies!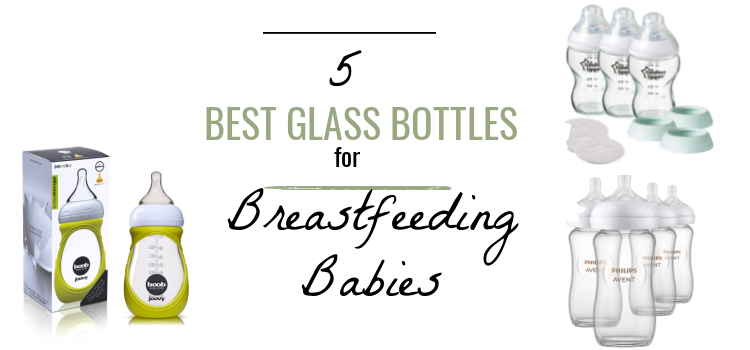 It is a commonly known fact that breastfeeding is the best way to nourish your baby. It has many benefits and will help you bond with your child. If you are considering breastfeeding, then it is important to have the right supplies on hand so that you can be as comfortable as possible while doing so.
In this article, we discuss why glass bottles may be good for breastfeeding babies, what they offer and how they can help make life easier for those who breastfeed their children! We will also share the top-recommended glass bottles for a breastfed baby and help you find the right bottle for your needs!
✔️ In a hurry? Dr. Brown's is our overall favorite because of its compatibility with breastfeeding, affordability, and the quality.
We know that as a parent you want the best option that is high quality that is also a top pick among other moms when it comes to choosing a glass bottle. We have compiled the best glass baby bottles to store your breast milk in and to feed your baby with. You can feel confidant that these are the best bottles out there! The important thing to remember is that all babies are different. It might even take a little trial and error before finding the perfect bottle. But don't give up!
The bottles we are sharing have all been known to be better for breastfed babies than leading regular plastic bottles. All bottles are a little different with wonderful things about them all. It would be a good idea to decide what is most important to you! Some moms prefer bottles with different flow rates or one that is adaptable to their breast pumps.
The last thing you want to worry about during your bottle feeds is whether or not your baby's tummy is going to hurt after or if they'll have a hard time switching back to the breast.
We have shared our favorite bottles for breastfed babies in the past, but these are not all available in glass. Since glass bottles are preferred by many parents, we put together a list for you, too!
Keep reading to find out everything you need to know about the best baby bottles made of glass for your breastfeeding babies!
The Best Glass Bottles For Breastfed Babies
Sale
Dr. Brown's Natural Flow® Anti-Colic Options+™ Wide-Neck Glass Baby Bottles 5 oz/150 mL, with Level 1 Slow Flow Nipple, 3 Pack, 0m+
ANTI-COLIC GLASS BABY BOTTLE. Anti-Colic internal vent system is clinically proven to reduce colic. Decreases spit-up, burping and gas.
CONSISTENT FLOW RATE. Vacuum-free feeding is closest to breastfeeding and Dr. Brown's silicone nipples provide a consistent flow so babies can feed at their own pace.
PRESERVES NUTRIENTS. The anti-colic vent system is proven to help preserve bottle milk nutrients and aids in digestion for a better night's sleep.
BREASTFEEDING BOTTLE. The breast-like nipple shape encourages a proper latch for a more natural bottle feeding experience and eases the transition from breast to bottle and back again.
BOTTLE GROWS WITH BABY. Dr. Brown's Natural Flow Anti-Colic Options+ baby bottle works best with the internal vent system in place but can be removed as baby's feeding develops – no need to introduce a different bottle.
Dr. Brown's bottles are commonly known as a reputable and well-loved product. It's even better than not only do they sell plastic bottles- but glass ones as well! Dr. Brown's options are limitless but here is everything we know about their glass bottles.
Anti-colic vent system is clinically proven to reduce symptoms like spit-up, burping and gas by limiting the amount of air that is let in
Comes in an effective and simple design
Better preserves nutrients in milk and formula
Aids better in digestion to help babies sleep better
Wide neck nipples that are the most breast-like nipple
Several nipple sizes available including a medium flow nipple
Comes in 5 or 9-ounce bottles
Price:
A 9 ounce 3-pack costs around $19 on Amazon.
Evenflo Feeding Premium Proflo Venting Balance Plus Wide Neck Baby, Newborn and Infant Bottles - Helps Reduce Colic - 9 Ounce (Pack of 6)
SUPPORTS HEALTHY BOTTLE FEEDING - When it comes to bottles, a good latch can be hard to achieve. That's why Evenflo created the Balance Plus Wide Neck Bottle, designed with a unique, naturally sloped nipple and a wide nipple base allowing baby's lips to maintain a wide latch without getting tired or slipping to the nipple tip, similar to how baby would latch at breast.
GULP-FREE FLOW RATE - The Balance Plus Wide Neck Baby Bottle is designed to have a slower, more comfortable flow ensuring a more relaxed drinking pace for baby, without the need to gulp to keep up. The perfect choice for baby's first bottle
PREMIUM VENTING - Evenflo Feeding's patented Proflo Venting Technology was developed to ensure milk bubbles stay in the bottle and not in your baby's tummy. This gentle, 1-piece venting system helps significantly reduce the potential for colic, reflux, gas, and fussiness, keeping your baby comfortable even after they are finished eating.
EASY TO CLEAN - Designed with only 3 pieces, the Balance Plus Wide Neck Baby Bottles can be easily assembled and disassembled for a quick, thorough cleaning between feedings. And because there are only a few parts, there is nothing extra to worry about misplacing. These bottles are also dishwasher safe (top rack only), making your busy life a little easier.
PUMP DIRECTLY INTO YOUR BABY BOTTLES - Breastfeeding and pumping can be a time consuming task and as a mother you have things to do. Evenflo Feeding's Wide Neck Breast Pump Adapters (sold separately) allow you to pump directly into the bottle saving time and energy. The adapters work with most standard neck breast pumps and pumping directly in your Wide Neck Baby Bottles help make pumping sessions quicker and easier.
Evenflo Balance glass bottles come highly recommended and for good reason. They are affordable, have a nice design, and make for easier cleaning and the ease of use is top-notch. This is a bottle that many mothers claim to be the only one their breastfed baby would take, so it would be a great option if you have a baby that's a little more finnicky!
BPA Free
Vented bottle nipple
recyclable, sustainable and safe for the environment
Made of tempered glass for optimal safety
Soft silicone nipples
Molded measurements in ounces and milliliters
Dishwasher safe
Come in 4 and ounce bottles
Price
A six pack of five-ounce bottles costs around $24.99 on Amazon
Philips AVENT Glass Natural Baby Bottle with Natural Response Nipple, Clear, 8oz, 4pk, SCY913/04
Philips Avent Glass Natural baby bottle with the Natural Response nipple lets baby control the pace of the milk, like they do when breastfeeding
This Natural Philips Avent baby bottle is made of premium quality borosilicate glass, a BPA free material; It is heat and thermal shock resistant, so it can be safely stored in the fridge or warmed and is easy to wash and sterilize
Bottle makes it easy to combine breast and bottle feeding with a wide breast-shaped nipple that has a soft feel that mimics the shape and feel of a breast
No-drip nipple design helps prevent lost milk from the tip of the baby bottle, giving you peace of mind; Bottle Nipple comes in Flow 3
Anti-colic valve is designed to reduce colic and discomfort by sending air away from your baby's tummy
This bottle is well-loved because of its Natural Response nipple that lets babies control the pace of the milk, just like they do when breastfeeding. What makes it unique is the nipple's opening and tip only release milk when your baby actively drinks. Some find that the nipple flows can be a little fast, so make sure to get the slow flow nipple.
Made of premium quality borosilicate glass
BPA free
Heat and thermal shock resistant
Flow rate nipples from 1-5 stages
Dishwasher safe for an ease of cleaning
The anti-colic valve is integrated into the nipple to reduce discomfort
Has a no drip design
Price
A four-pack of 8-ounce bottles is around $37 on Amazon
Joovy Boob Glass Bottle and Sleeve, Green, 8 Ounce
Glass bottle does not absorb odor, color or taste (BPA and PVC free)
The 1-piece Clean Flow vent is easy to clean, it prevents leaks, reduces colic and provides a consistent liquid flow
Unique nipple design prevents nipple collapse, promotes proper latching and allows for easy breast-to-bottle and bottle-to-breast transitions
Silicone sleeve reduces slips and breakings
Includes stage 2 medium flow nipple for 3 plus months
The Boob bottle was created to best imitate the natural breast. The nipple allows for a natural latch to help your baby feel like they are breastfeeding. This is a more pricey option but the benefits might just make it worth it.
Ergonomic shape that fits perfectly in your hand
Comes in five flows of nipples including optional Naturally Nood Nipple has texture for babies who don't want to take a bottle
Has a CleanFlow Vent to prevent nipple collapse, negative pressure and colic symptoms
Prevents colic
BPA free
Easy to clean and assemble
Color and odor resistant
Comes with a colorful silicone sleeve to help reduce slips and breaking
Price
One bottle will set you back about $20 on Amazon but it is a high-quality bottle that you can trust.
Tommee Tippee Closer to Nature 3 in 1 Convertible Glass Baby Bottles, Anti-Colic Valve – 9-Ounce, 3 Count
100% pure glass baby bottle featuring our award-winning breast-like nipple, with adaptable design that lasts as your baby grows
BREAST-LIKE NIPPLE, ANTI-COLIC VALVE: Smooth silicone bottle nipple flexes like mom for an easy latch and seamless breast to bottle transition, acceptance guaranteed
BABY-SAFE: Medical-grade borosilicate glass is free of BPA, BPS, phthalates and toxins
GROWS WITH BABY: Convertible design for use as a baby bottle, food jar, or open cup
DURABLE: Thermal shock-resistant glass for long-lasting and continual use, and superior stain-resistance leaves no odors or white film
The Tommee Tippee bottles are made of 100% glass and feature an award-winning breast-like nipple with a sleek and modern design.
Is made of borosilicate glass
BPA, BPS, phthalates and toxins Free
Grows with baby! ( from bottle to food jar to open cup
Durable: thermal shock-resistant glass for long-lasting and continual use
Breastlike nipples
Stain resistant
Dishwasher, sterilizer and baby warmer safe
Has anti-colic valve technology
Mom recommended (97% success rate)
Shaped and feels like a breast
Price
9 ounce 3 count bottles will cost you $22 on Amazon
What are the benefits of using a glass bottle?
Glass is a natural and safe material that will not leach harmful chemicals into your baby's milk like some plastic bottles can.
Glass is easier to clean than plastic, which makes it more sanitary for your baby's milk.
Glass bottles are heavier than plastic ones, so they may be less likely to tip over and spill when placed on an unstable surface like a table or countertop.
It is easy to see the amount of liquid remaining in glass containers, whereas some plastics can become cloudy over time and it can give you hard time to gauge how much milk is left.
Some believe that glass bottles to with provide a better bottle feeding and breastfeeding experience.
Glass Bottles for Breastfeeding Babies: The Cons
There are a few potential drawbacks to using glass bottles for breastfeeding babies as well.
Glass bottles can break if they fall or are mishandled, which could potentially cause injury to your baby.
Glass bottles are more expensive than plastic ones, so they may not be a good choice for those who want to save money. However, if you plan on breastfeeding for an extended period of time it is worth investing in glass bottles because the potential savings will outweigh the initial cost over time!
If your child sucks very hard on a glass bottle, they may end up with teeth marks on the side. This is not as common of an occurrence with plastic baby bottles.
Glass bottles also make it easier to see how much air has been pumped into the bottle before bottle feeding your baby, so you know if they would prefer more or less air in their bottle next time
How do I transition my breastfeeding baby to take a bottle?
Take it slow
The best way to do this is by taking it slow and easy. Know that their first bottle may be a little trickier for them. So be patient with yourself and your baby.
You can do this by choosing a good time of day to give them their bottle. The middle of the night might not be the best choice. Choose a time of day where they are most alert and when you are the most rested as well.
Try again if it doesn't work out the first time.
You can practice once a day until your baby begins to get the hang of it. If one bottle doesn't work well, consider moving on to another one until they find one they take to better.
Hold your baby upright
It's important to begin by holding your baby upright. Feeding a baby from a bottle is different than nursing from the best. You will want to make sure your baby is more upright with the bottle parallel to the floor so the milk is coming at them.
Paced Bottle Feed
Paced Bottle Feeding is also a good idea. This means that you pause every few minutes during their feed to help them from getting overwhelmed and to allow them to suck at their own pace.
You can learn all about paced feeding in this article – How to Give a Breastfed Baby a Bottle and Avoid Bottle Preference.
Start off with the smallest bottle nipple available (slow flow) before slowly transitioning into bigger ones as you begin introducing the bottle. If your baby is already refusing the smallest nipple size, you may need to go back a step or two until they have successfully made it down to the slow flow nipple.
Which of these glass bottles is your favorite? Be sure to let us know in the comments!
Other Posts You May Enjoy: