Looking for a bottle for your breastfed baby that will limit nipple confusion and make the transition easier? This post share results from a survey done regarding a variety of moms favorite bottles for their breastfed baby, along with a lactation professional's opinion on the best bottles.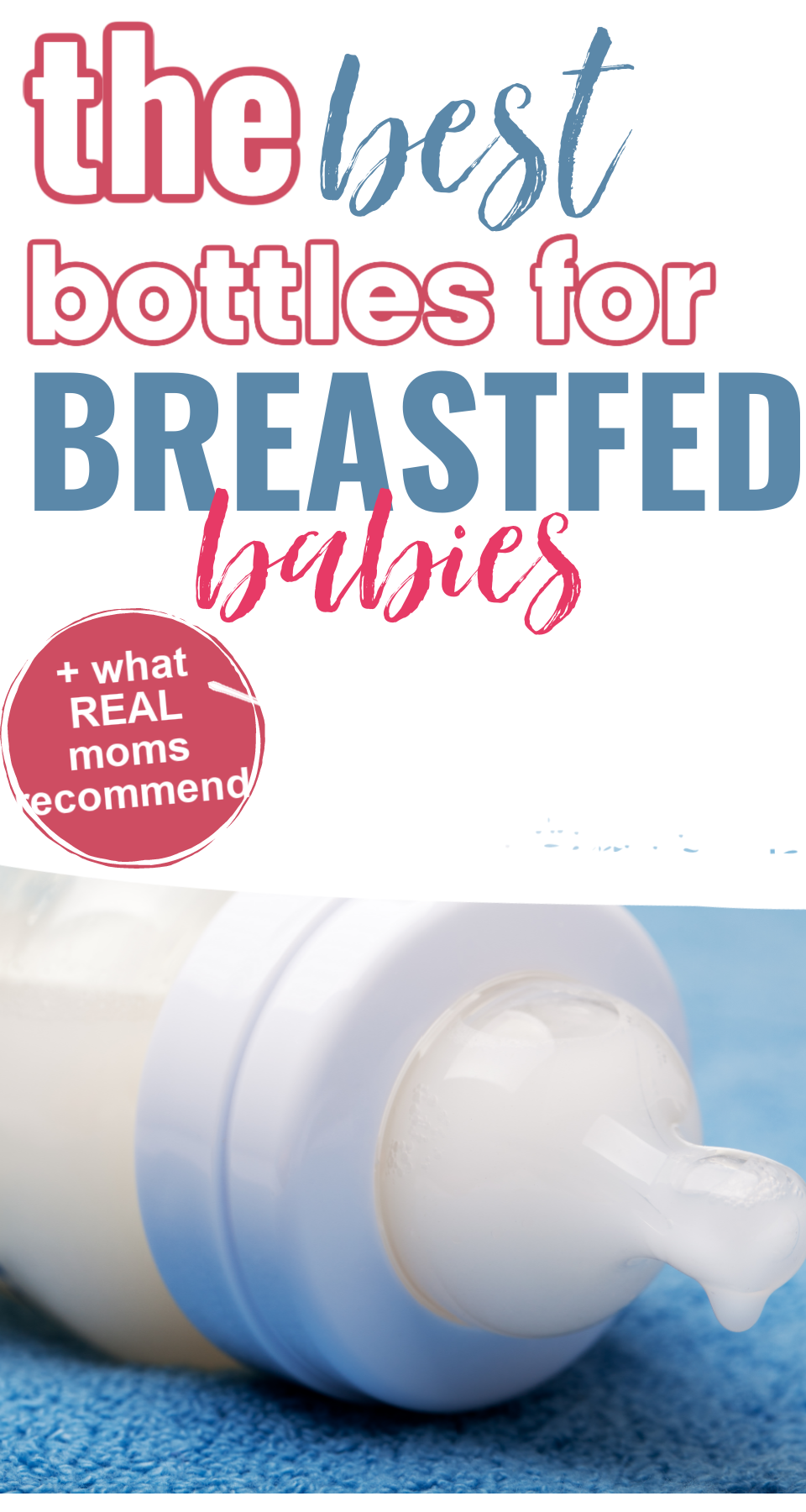 Choosing a bottle for your breastfed baby can be a tricky process.
Not all bottles are the same, and choosing the right one can really make or break your experience.
In this article, you will learn about what to look for in a bottle, when to introduce it, and what bottles I recommend as a lactation professional.
However, I will also be sharing insights from tons of moms in a survey I did awhile back. I have included commentary on many of these bottles from the moms who have used them.
I call this an "unbiased report" because I am not being paid by any of these bottle companies for my recommendation. These bottles are my recommendation based on how breastfeeding works, as well as feedback from other moms.
What to Look for in a Bottle for a Breastfed Baby
But first, here are a few things to consider when finding the perfect bottle for your breastfed baby:
Does it offer a preemie or newborn-sized nipple? It is good to try and use the slowest flow nipple possible. This helps prevent nipple confusion, as it more mimics the breast. A mother's nipple doesn't change in size as the baby gets older, so you shouldn't really need to change nipple size! The only time I recommend a faster flow nipple is if a baby is rejecting the bottle
Is there a gradual slope or a more significant difference between the base and nipple of the bottle? I'll talk about this more below, but you want a bottle that has a gradual slope from the nipple to the base, as this will allow for a more similar latch.
Is the nipple flat or more round? I'm not a huge fan of bottle nipples that are flat on one side. I feel like this encourages an inefficient latch and may result in your nipple being flattened when the baby nurses!
How many parts does it have? Remember – you are going to have to wash these bottles! Sometimes, less is more!
Should I look for a breast-shaped bottle?
There are A LOT of bottles out there that claim they are best for breastfed babies because they look like the breast.
These bottles are kind of gimmicky. Yes, some babies love them! But they really don't allow your baby to latch like they would on the breast.
When a baby breastfeeds, they need to get a nice, big mouthful of the nipple and areola. These bottles that have a very distinct nipple and then a wide base make it difficult to get their mouth around the base.
This is why I recommend a bottle that has a gradual slope – this is going to be more similar to how your baby is going to latch, and they can get the nipple and base in their mouth more easily.
Best Bottles for Breastfed Babies
These are the bottles I recommend as the best for breastfed babies. They meet all of the requirements I've listed above, and I've seen lots of parents have success.
Evenflo Feeding Premium Proflo Venting Balance Plus Wide Neck Baby, Newborn and Infant Bottles - Helps Reduce Colic - 9 Ounce (Pack of 6)
SUPPORTS HEALTHY BOTTLE FEEDING - When it comes to bottles, a good latch can be hard to achieve. That's why Evenflo created the Balance Plus Wide Neck Bottle, designed with a unique, naturally sloped nipple and a wide nipple base allowing baby's lips to maintain a wide latch without getting tired or slipping to the nipple tip, similar to how baby would latch at breast.
GULP-FREE FLOW RATE - The Balance Plus Wide Neck Baby Bottle is designed to have a slower, more comfortable flow ensuring a more relaxed drinking pace for baby, without the need to gulp to keep up. The perfect choice for baby's first bottle
PREMIUM VENTING - Evenflo Feeding's patented Proflo Venting Technology was developed to ensure milk bubbles stay in the bottle and not in your baby's tummy. This gentle, 1-piece venting system helps significantly reduce the potential for colic, reflux, gas, and fussiness, keeping your baby comfortable even after they are finished eating.
EASY TO CLEAN - Designed with only 3 pieces, the Balance Plus Wide Neck Baby Bottles can be easily assembled and disassembled for a quick, thorough cleaning between feedings. And because there are only a few parts, there is nothing extra to worry about misplacing. These bottles are also dishwasher safe (top rack only), making your busy life a little easier.
PUMP DIRECTLY INTO YOUR BABY BOTTLES - Breastfeeding and pumping can be a time consuming task and as a mother you have things to do. Evenflo Feeding's Wide Neck Breast Pump Adapters (sold separately) allow you to pump directly into the bottle saving time and energy. The adapters work with most standard neck breast pumps and pumping directly in your Wide Neck Baby Bottles help make pumping sessions quicker and easier.
These are great bottles, and they are bottles that many parents who were dealing with bottle refusal. The nipple has a nice, gradual slope, and they have a nice, slow flow. They also have only three parts for easy cleaning, and you can pump directly in them with a breast pump adapter.
Lansinoh Baby Bottles for Breastfeeding Babies, 5 Ounces, 3 Count, Includes 3 Slow Flow Nipples (Size 2S)
FROM BREAST TO BOTTLE AND BACK- NaturalWave Nipples are clinically proven to reduce nipple confusion for breastfed babies
MIMICS NATURAL FEEDING ACTIONS- Lets your baby use the same feeding actions learned while breastfeeding
AIR VENTELATION SYSTEM- Our NaturalWave nipples are designed to reduce intake of air and potential causes of gas associated with colic and spit up to help baby while bottle feeding
EASY TO CLEAN AND USE- These dishwasher-safe baby bottles only have four pieces for easy cleaning and assembly
SAFE FOR BABY- Our NaturalWave Nipple is made with 100% silicone that's soft, flexible, and designed for optimal compression. BPA and BPS Free
Another great option for breastfed babies. They are easy to clean, designed to work well with paced feeding, and are clinically proven to decrease nipple preference/confusion. The have an air ventilation system which makes it easier to prevent gas/colic. They come in 5 and 8 ounce varieties.
One complaint I have heard is that the flow is too fast for some babies. If you are dealing with flow issues or bottle preference, Dr. Brown's preemie nipple is probably going to be your best option.
"Lansinoh mOmma bottles are my favorite. I don't like the tommee tippee because the nipple always collapses into there and I always have to pull it out while feeding. Dr brown has the slowest flow in my opinion but the nipple was weird for him.." – Kayla E.
Lansinoh Baby Bottles for Breastfeeding Babies, 5 Ounces, 3 Count, Includes 3 Slow Flow Nipples (Size 2S)
FROM BREAST TO BOTTLE AND BACK- NaturalWave Nipples are clinically proven to reduce nipple confusion for breastfed babies
MIMICS NATURAL FEEDING ACTIONS- Lets your baby use the same feeding actions learned while breastfeeding
AIR VENTELATION SYSTEM- Our NaturalWave nipples are designed to reduce intake of air and potential causes of gas associated with colic and spit up to help baby while bottle feeding
EASY TO CLEAN AND USE- These dishwasher-safe baby bottles only have four pieces for easy cleaning and assembly
SAFE FOR BABY- Our NaturalWave Nipple is made with 100% silicone that's soft, flexible, and designed for optimal compression. BPA and BPS Free
I personally used Dr. Brown's bottles when I was needing to feed my second son pumped milk via a bottle. I liked that they offered a preemie nipple, which helped with bottle preference.
They have a couple of different versions (wide mouth and traditional), and they are also available in the glass if that's important to you.
The two biggest complaints I've heard about these bottles are that they leak, and they have multiple parts. It can be annoying to clean all the parts, but I didn't find it that big of a deal (but we only used the bottle maybe once a day for a few months). I did experience a little bit of leaking.
Overall, this was the most popular bottle recommended by moms in my survey. Here are a few other comments that I gathered:
"Dr. Brown's Bottles with the 0-3 months Slow Flow Nipples, continue with the same type & age nipple throughout the first year. Mom's nipples don't change, so why should the bottle nipples change? Just our thoughts. :)" – Megan W.
"We give one bottle of breast milk a day. He is a month old and we started 2 weeks ago. he has had no problems. He has taken Dr. Browns and Avent. Mam is next because I have a couple and then Kiinde because I am freezing milk in those bags." – Shannon R.
"Dr. Brown was the only bottle my LO would take slow and not get angry afterward. Still using the size 1 nipple at 8mnths." – Kathryn S.
"Dr. Brown's–my 9mo still uses the preemie nipple." – Kristina Y.
"Dr. Brown's options with the slow flow and newborn nipples size 1 to make them work for the milk." – Cindy C.
What Other Moms Recommend
A while back, I asked some members of my Breastfeeding Facebook Group for their insight.
Below, you will find the most popular bottles, listed in order of popularity from the people I surveyed – I have also included some of the insight that was left on them.
Keep in mind, these are not bottles I recommend as being good for breastfed babies.
I just think it's valuable to see what others suggest and have experience with. You can also see this list of bottles of babies who refuse bottles. I would just recommend trying one of the bottles I recommend above first 🙂
MAM Easy Start Anti Colic Baby Bottle 5 oz, Easy Switch Between Breast and Bottle, Reduces Air Bubbles and Colic, 3 Pack, Newborn, Unisex
ANTI-COLIC - Our vented base design releases liquid slowly, reducing colic symptoms in 80%* of babies by eliminating bubbles that cause gas and aggravate colic & reflux
BREASTFED BABIES - The elongated nipple shape of our anti colic baby bottles feels just like mom so parents and newborns can easily switch between breastfeeding and bottle feeding
EASY CLEAN - No need for a separate bottle sterilizer: MAM bottles self-sterilize in the microwave in 3 minutes, meaning fewer baby items to take on the go
PRODUCT DETAILS - MAM Easy Start Anti Colic Baby Bottles 5 oz (3-Pack), 3 Baby Bottles with 3 Slow Flow Silicone Nipple, Baby Essentials, Unisex, White
I found a lot of people mentioned MAM as a bottle they used in addition to their preferred bottle. I also noticed that these bottles had really good reviews on Amazon – a lot of bottles (even the most popular above!) don't have near five star reviews like these. Interesting!
Jackie Gordon McIlroy "MAM – brilliant as anti-colic and teats are meant to be very close to nipple." – Jackie M.
Philips AVENT Natural Baby Bottle with Natural Response Nipple, Clear, 4oz, 4pk, SCY900/04
Natural baby bottle with Natural Response nipple: Baby controls the pace, just like breastfeeding
Designed with a unique opening and tip which only releases milk when baby actively drinks; When pausing to swallow and breathe no milk flows from the bottle, just like at the breast
Our baby bottles make it easy to combine breast and bottle feeding with a wide breast-shaped nipple that has a soft feel that mimics the shape and feel of a breast and baby can control the flow of milk
No-drip nipple design helps prevent lost milk from the tip of the baby bottle, giving you peace of mind; Bottle Nipple comes in Flow 2
Anti-colic valve is designed to reduce colic and discomfort by sending air away from your baby's tummy
I have used these bottles, but I feel like the slow flow still has a pretty fast flow. I would get the natural, not the classic if you go with these.
"Phillips Avent was the only ones my daughter would take other than nursing."
"I loved Avent…none of my five kids ever had nipple confusion." Paula I.
"Avent natural. We tried 4 other bottles before my son took that one."
"I started with Dr Browns but they leaked and I got tired of washing so many parts. I switched to Avent Natural (not Classic) and she's done fabulous on them. Only breast milk but she takes them no problem." Lisa S.
"Avent natural glass bottles. I prefer the glass ones over plastic."
"Avent. My daughter loves them, they're super easy to use and clean!" -Lizeth G.
NUK Simply Natural Baby Bottle with SafeTemp, 5 oz, 1 Pack
Multiple nipple holes provide a natural feed, just like mom's breast
Features NUK's SafeTemp indicator, which changes color when milk is too hot
Nipple comes with 3, 6, or 9 holes, depending on flow rate
5-oz. bottle comes with slow flow nipple that has 3 holes, 9-oz. comes with medium flow nipple that has 6 holes
Advanced 1-piece Anti-Colic Air Vent helps reduce colic, gas, and spit up
I had actually not even heard of this one, but it was mentioned several times as the preferred bottle.
The nipples have been 3 and 9 nipple holes, depending on the flow of the nipple. I thought this was an interesting idea, since it is similar to how breastfeeding works (as in, milk comes out of multiple holes in the nipple!). I would be concerned if this would make the flow too fast, though.
"Nuk Natural.
He never did well with medela bottles, We had hand-me-down bottles from a close friend & they were Phillips Advent & Nuk Natural. He took Nuk much better & at 9 months still uses it with a slow flow nipple. I think I would have liked to give tommee tippee or munchkin latch a try if he didn't like Nuk, I liked reading all the great reviews on Amazon but never tried them." – Sophie H.
Tommee Tippee First Bottle Solution, Baby Bottle Kit with Closer to Nature Baby Bottles, Breast-Like Nipples with Anti-Colic Valves and Travel Lids
First Bottle Solution: This kit contains 2x 5oz Closer to Nature bottles with extra slow flow nipples, 3x 9oz Closer to Nature bottles with slow flow nipples and 3x travel lids
Breast-like: Our soft silicone, breast-like nipples feel closer to skin and flexes like mom for a comfortable feed and supports in the transition from breastfeeding to bottle feeding
Anti-colic: Sensitive Closer to Nature nipples with anti-colic valve reduce excessive air flow, so little ones ingest more milk and less air, preventing symptoms of colic
A latch made in heaven: 95% of moms say baby accepted our nipple* – the most easily accepted and breast-like nipple, ever, to encourage a natural latch
"Tommee tippee. They have a "first feeds" bottle with an extra slow flow nipple that worked beautifully for my baby. She switched to a munchkin weighted straw cup at 9 months, but she kept the same nipple until 6 months." – Erika Clifford
"I got the tommee tippee starter pack and it had extra slow flow nipples in there and they are the only ones my baby can use without choking. They didn't sell extra in the stores so I emailed them and they sent me two free extra slow flow "0" nipples since they are still working on trying to get them in stores." -Kalissa N.
"Tommee tippy worked so well for us! Never any nipple confusion." – Michael G.
Sale
Comotomo Baby Bottle, Green, 5 oz
Comotomo baby bottles are deisgned to most closely mimic breastfeeding to reduce bottle rejection
Ultra wide neck design allows easy cleaning by hand without a brush
Safe in microwave, boiling water, dishwashers and sterilizers. The 5oz bottle comes with a slow flow nipple suitable for newborns up to 3 months
Nipple and body is made of 100 percent safe hygienic medical grade silicone
Dual anti colic vents prevent unwanted air intake and reduce colic. Maximum temperature for bottle- 180 degree celsius
"We love the Comotomo bottles! They are good for breast tobottle transitioning and they are easy to clean!" – Alyson H.
"My 6 month old took right to the como tomo when he was 6 weeks. I liked that the nipple shape was like my own and the silicone was soft like my breast." – Meaghan S.
I've seen a lot of discussion on this bottle, and I feel like people either love or hate it. It has a longer nipple, which I've heard some moms say their baby gags a little bit on. But other moms say it is the only thing their baby will take.
"My second nurses and will only take medela bottles."
"For BM the Medela bottles worked well. I much prefer Dr Browns for formula." -Amber F.
"We use Medela. Thinking about switching because even though it's a slow flow nipple it still seems too fast." – Miranda
Playtex Baby Nurser Bottles Drop-Ins Recyclable Disposable Liners, Pre-Sterilized, 4 Oz, 50 Count
More Natural Breathing - Clinically Proven - Pre-Sterilized Liner Gently Collapses Like Mom's Breast As Baby Feeds
More Natural Breathing - Clinically Proven - Pre-Sterilized Liner Gently Collapses Like Mom's Breast As Baby Feeds
Air-Free Feeding To Help Reduce Colic - Unique Anti-Colic Liner Gently Collapses As Baby Feeds, Preventing Air Bubbles From Mixing With Milk
Mimics Natural Breastfeeding By Simulating Same Suck, Swallow And Breathe Patterns As Breastfeeding, So Baby Breathes More Naturally During Feeding
I think I only used a bottle three times with Jack, but this is the brand we used when we did. My sister-in-law recommended them, and I thought they worked well.
"Started with Munchkin Latch then he took plain old playtex nursers with drop in!"
"I found the Playtex Nursers work best for us. You can squeeze a large majority of the air out before feeding. It helps with fussiness after feeding a lot. I tried other bottles (Avent and Nuk) and LO was fussy after, plus the bottles often leaked!"- Megan N.
"Munchkin Latch worked better for us
" – Jodie A.
"With my son, the Munchkin Latch. The most important thing on both being the vent at the bottom!"
Kiinde Twist Universal Direct-Pump Feeding System Starter Kit for Leak-Free and Transfer-Free Breastmilk Collection, Freezing, Heating and Feeding, New Mom Gift
Pump breast milk directly into storage bags; Bags twist lock directly onto pumps from all major brands; Collect, store, prepare, and feed using a single disposable breastmilk storage bag to prevent germs from contaminating your milk supply
Feed directly from pouches, no transfer of breast milk needed; Pouch drops into bottle frame for feeding; No risk of spills or dirty bottles to wash; Perfect bottle starter set for new moms
Includes Pump and Nipple Adapters; adapters fit every major pump brand for leak free, transfer free pumping, directly into the Twist Pouch; Use the same adaptors to experiment with different nipple shapes and sizes and find what your baby likes
Sturdy twist top bags are pre sterilized and BPA, PVC, and phthalate free, leak proof, freezer proof, and made with food grade materials; also great for baby food purees using the Kiinde Foodii System
Natural Nipple Design; Twist Active Latch nipples are designed to provide a seamless transition between bottle and breast; Twist Pouches removes air from your baby's meal without complicated venting mechanisms; helps relieve colic in breastfed infants
Kiinde is an interesting product. They are bags that you can pump directly into. I know a lot of people that love these bags for pumping, but they don't necessarily use the nipples for nursing. However, a few mothers mentioned that these worked well for them, so if they do…then it makes life easier if you don't have to transfer milk from a bag to a bottle!
"I use the kiinde system. I love it and my daughter has had no problems with it. Its easy and simple to use! Also, if you like it but your child doesn't like the nipples, you can still use the system to pump, store, and feed from but use a nipple they like(different brand)." – Alicia W.
"We use the kiinde bottles/bags and lucked out- She's never had a problem going back and forth. She gets a bottle 1-2 days a week when I work in the office." – Rachel A.
When to Introduce a Bottle to a Breastfed Baby
This can really depend on the situation and the baby. If you need your baby to take a bottle, I recommend introducing it around 2-3 weeks, just every now and then, if breastfeeding is established.
After that, I suggest giving a snack bottle daily starting around 4 weeks.
If you don't care if your baby takes a bottle, you don't ever have to introduce one!
Be sure to check out this article with more tips for introducing a bottle – How to Give a Breastfed Baby a Bottle and Avoid Bottle Preference
I
What if my Baby Rejects a Bottle?
This can be such a frustrating situation to be in! There are a few different tips and tricks you can try – and I would also suggest having them evaluated for a tongue tie if you can't get them to take it at all.
This article has a lot of great tips for helping with bottle refusal.
What size bottle should I get?
Most of the time, you'll see bottles available in 4-5 ounces or 8-9 ounce sizes. I usually recommend the 4-5 ounce bottles. Most breastfed babies really don't need/shouldn't get more than 5 ounces at a time in a bottle (and I usually recommend less!). You can check out my Free Breast Milk Calculator for more tips on how much milk to put in your baby's bottle.
Well, I hope that this was useful in helping you decide what bottle to get for your breastfed baby. Be sure to let me know in the comments what bottle you like the best and if you have any questions!
More Articles You May Enjoy:
Katie Clark is a Certified Lactation Educator, Certified Breastfeeding Specialist, and IBCLC student. She has helped thousands of mothers and families around the globe navigate breastfeeding challenges and questions since 2015. She has a passion for creating research-based, helpful breastfeeding education and helping parents find a way to make breastfeeding work for them. Katie is a mom of three little boys and lives in the great state of Colorado. She also has a degree in Communications with an emphasis in print journalism.