7 Best Baby Carriers for Breastfeeding + Tips for Success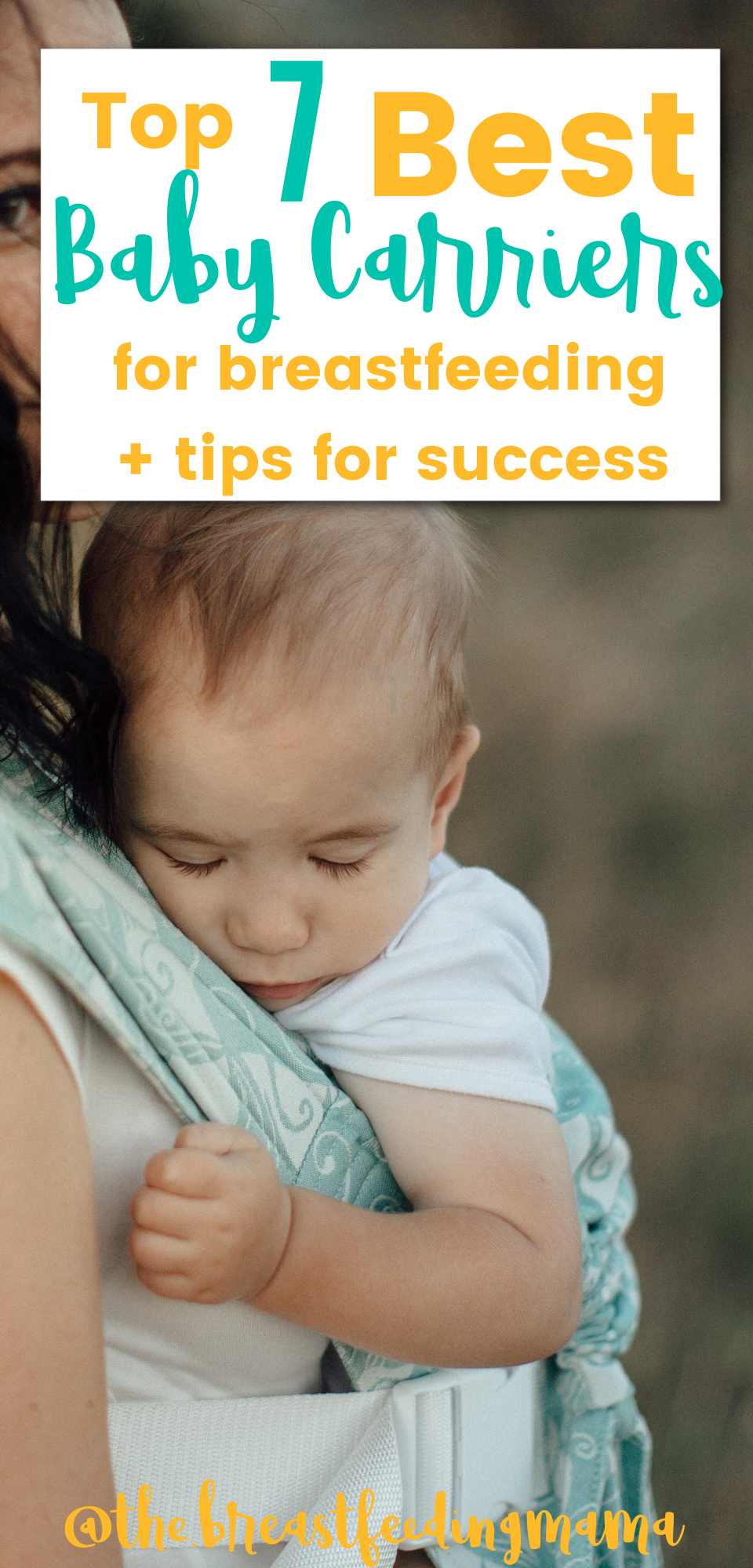 As a breastfeeding mama you know that when you have a hungry baby you need to feed them anytime and anywhere. And that might mean while you are out and about. There are many types of baby carriers– but not all are good for nursing moms. In this post, we'll share our favorite breastfeeding-friendly baby carriers, along with some tips for babywearing!
Any new mom will tell you that tasks that once seemed mundane and simple can be a little more complicated once a baby arrives. A newborn baby requires a lot of holding, soothing, and cuddling – especially when they are breastfeeding! Learning how to breastfeed in a baby carrier – and what are the best carriers for doing so – can be life changing!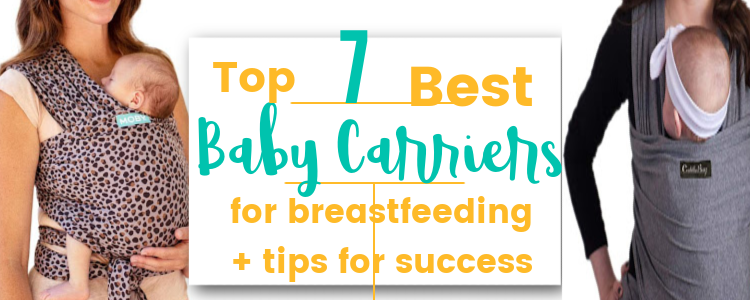 We love babywearing around here – there are so many AMAZING benefits, and it can really free up your hands.
Once a mom discovers how nice babywearing her baby is, she might start to wonder, "Can I breastfeed in this thing?"
And the answer is YES!
With a little practice, you can breastfeed your baby in a carrier in no time.
Did you know that moms who regularly wear their babies are twice as likely to breastfeed successfully. Cool, huh? This is because when you baby wear the hormone oxytocin is released due to the closeness you feel when close to your baby. This increased bond and connection to your baby can make the feeding experience more pleasurable.
Not all baby carriers are created equal. There are several things to consider when choosing a carrier to use while breastfeeding. And we have done all the reserach for you so you don't have to.
We considered positive feedback, and design characteristics that help moms and hungry babies when choosing which types of carriers are best for nursing babies.
Preparing to breastfeed for your first baby? Maybe needing a refresher or extra support if baby is already here? Be sure to signup for "The Complete Online Breastfeeding Class" – you'll be able to find a way to meet your breastfeeding goals in the comfort of your home!
Why should I use a baby carrier?
Many women choose to baby carry using stretchy wraps, pouches, or soft-sided carriers that hold their baby in an upright position. Baby wearing helps with keeping your hands free to do other things but it is also probably one of the best ways to stay close and connect with your baby as you are essentially "wearing" them on your chest.
Whether you plan to breastfeed while using your carrier or not- there are proven benefits for baby wearing.
It has been proven that babies who are carried in a wrap or sling also cry about 43% less than they might otherwise. Babies are happier and have less need to cry when they are held close.
Baby wearing can also help with back pain because of the great support of a wrap. Wearing your baby in a carrier while breastfeeding can increase your milk supply, lower your risk for post partum depression and help strengthen the mother\baby bond.
What is a baby carrier for breastfeeding?
Many new moms that are breastfeeding can feel overwhelmed when their days are spent sitting and breastfeeding their child and can't get anything else done. Once you're baby is successfully breastfeeding, incorporating a baby carrier can be a great option to give you a sense of freedom, while still tending to the needs of your new baby.
Wearing your baby would be especially helpful when you are nursing. Because who wants to disrupt their hungry baby any longer to take them out of a wrap? No one I know that's for sure!
That's why using a baby carrier that can be used while breastfeeding can be so valuable.
Baby carriers for breastfeeding need to have support structures to give your baby access to your breast for nursing. This should make for a soft, flexible carrier rather than a firm, structured baby carrier. Because babies nurse at different stages as they get bigger and breastfeed with more ease a wrap that is breastfeeding friendly should adjust to encourage upright feeding as well as in a reclining position for those first few months.
What are the different types of baby carriers?
There are many different types of popular baby carriers – n ot all of which are conducive to breastfeeding or every age of infant. Here are some of the different types of carriers you might encounter.
Wraps
Wraps typically consist of a long piece of fabric that you tie in various ways across your body to hold your baby. These are fantastic for newborn babies but can also be used for older babies.
They are often recommended for breastfeeding as well because of their versatility. They tend to be less expensive, though it can depend on the wrap. They can be tricky to tie at first, but once you get it down, it's like tying your shoe!
Ring Slings
These are another popular type of carrier that can be used from infancy to toddlerhood. Many new parents rave about these! I personally used one and wasn't a huge fan – but I think it's because I didn't invest in a very good one 🙂
Ring slings are made out of a woven wrap and have rings that are sewn into the shoulder and allow you to have plenty of support. It's super adjustable, which makes it easy to get your baby in the right position to breastfeed. Some feel these are the best wraps
Pouch Slings
This is probably my least favorite kind of baby carrier. They are basically a continuous tube of fabric that you is worn over one shoulder – somewhat similar to a ring sling. However, it's not adjustable, so it's important to have one that is fit for your body size and shape.
I think if you can get it to fit correctly and secure, it can be a decent option and be used for breastfeeding. You can get a free one from HotSlings.com with the code TBMama1.
Mei Tai
A Mei Tai – or now often referred to as a meh dai – is a carrier that originated in China. It has a fabric panel that supports the baby with long straps. The straps can be tied or twisted around the mother's body. This can be a good option for babywearing.
They are great for those who want the support of a structured carrier without the buckles, yet the closeness of a wrap.
Soft Structured Carrier
These are carriers that have a little more structure to them and typically have shoulder straps, buckles (sometimes earning them the name buckle carrier), etc. I really like my soft structurd carrier, and often you can get one with a newborn insert so it can be used from infancy through toddlerhood.
You can breastfeed in these (I have breastfed in my Ergo many times), but I don't find them to be as easy to breastfeed in as maybe other carriers might be.
Hybrid
A hybrid carrier basically combines some of the features of a wrap with the structure of a soft structured carrier. This MOBY Fit is a good example of that.
What to keep in mind when choosing a baby carrier
Not every carrier will work well for every baby and parent. I used different carriers with all of my children. My oldest LOVED my Moby wrap, while my second child wasn't as big of a fan. However, he'd stay in my Ergo carrier all day long if I let him.
A few things to keep in mind as you are choosing a carrier are:
Your budget – carriers can get expensive. If you don't want to keep buying new ones, you might want to consider trying out carriers from friends and purchasing one that can be used for the longest period of time.
Baby's weight – Most carriers I've seen recommend waiting until a baby is eight pounds to put them in it. If you have a large baby/toddler, you definitely want a carrier that's going to have good support.
Baby's age
Is it made from breathable fabrics?
What is your body type and body shape – you want to make sure you are using a carrier that works well with your body type. I think wraps can be fantastic for all shapes and sizes!
Does it offer good head support for your baby?
Is there easy access for breastfeeding?
Baby wearing Safety
Safety is also very important when babywearing. While it's a very safe practice, if you don't follow the instructions for your carrier, it could be very dangerous. Here are some basic tips:
Your baby should be visible at all times, and you should be able to easily kiss their heads
Their chin should never be touching their chest – make sure your baby's head is in a good position
No fabric should ever cover their face – they should be able to easily breath at all times
Check your baby frequently
Their knees should be above their bums in a forg like position – buttom down, knees up, and straddling you with their legs at a 90 degree angle to their spine.
Avoid letting them curl into a ball
Never do anything that result in your baby being bounced and shaken (so, no running around in your baby carrier!)
If YOU are in pain – make sure you adjust your carrier. You shouldn't have any type of of pain as a result of baby wearing.
Best Types of Carriers for Breastfeeding
The best carrier for breastfeeding can depend on how old your baby is, how well they breastfeed, and your comfort level with using a carrier. However, overall, I think the best carriers for breastfeeding are:
I think the Ring Sling probably wins out in my opinion – if you can get it to work well for you. It has a lot of versatility and can be easily used from the time your baby is a newborn until they are a toddler!
How to Breastfeed in a Baby Carrier
Someday I will do an entire post about this, however, for now, I will just share some videos of some different carriers and how to breastfeed in them.
How to Breastfeed in a Wrap Carrier
How to Breastfeed in a Ring Sling
How to Breastfeed in a Soft Structurer Carrier
How to Breastfeed in a Pouch Sling
How to Breastfeed in Mei Tai
The Best Baby Carriers for Breastfeeding
Now let's talk about the best carriers for breastfeeding. As mentioned, we tried to find carriers that had high ratings for both comfort and safety but others found success with breastfeeding in them.
Baby K'tan Print Baby Wrap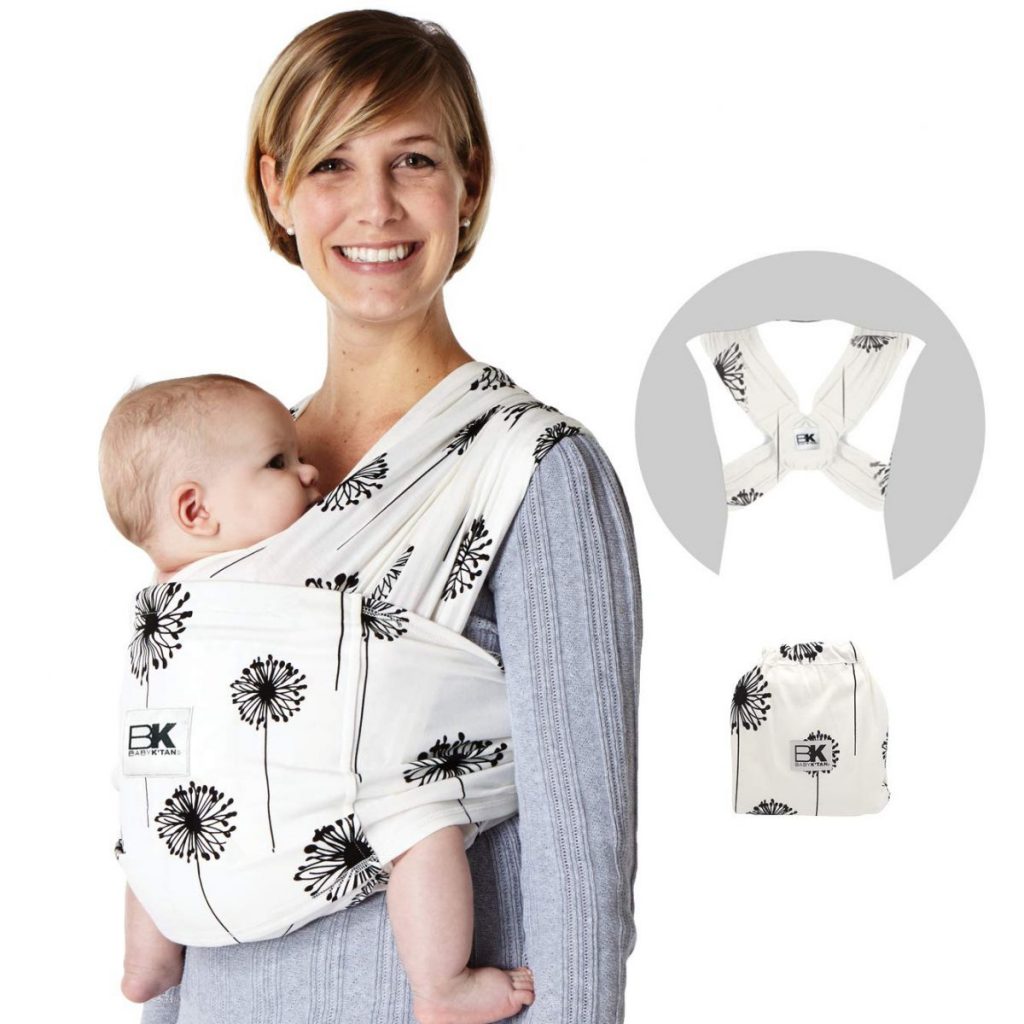 The Baby K'tan has a double loop design that is easier to use than traditional wraps which makes it more desirable for busy moms.
Features
The Baby K'tan's fabric structure supports your infant's neck and head allowing them to sit in an upright position, while the double-loop design evenly distributes weight across your back and shoulders
Accommodates babies at every stage with 5 positions
Accredited by the International Hip Dysplasia Institute as a "hip-healthy" carrier
Simple design making it easy to use
This is a soft structured carrier made from 100% cotton for complete comfort
Comprehensive size chart so you can choose the correct size
Easy to breastfeed with
Machine washable
Multiple wearing positions from newborn to toddler 8-35lbs- so it perfect for older babies
Price
Find it on Amazon for around $60
Bable 6-in-1 Baby Carrier with Hip Seat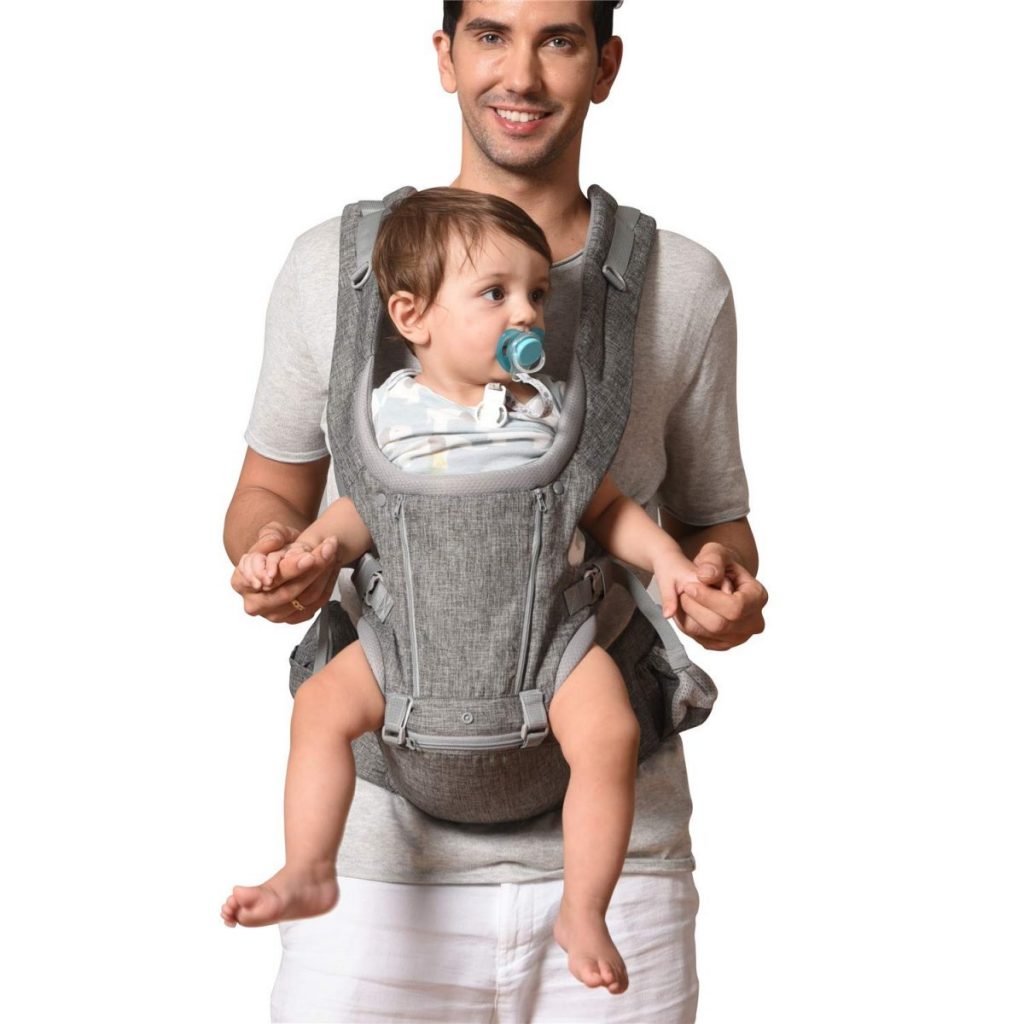 This is one of the best baby carriers you can find. This carrier has a a special hood gives nursing moms some privacy. With six different positions to wear your baby you will find a comfortable position to breastfeed and your baby will love it.
Features
6 different positions
Adjustable straps to accommodate all sizes from petite sizes all the way to plus size mamas
Breathable fabric with a mesh back to avoid overheating in hot weather
Baby can face inward or outward
Comes with accessories like a nursing cover, baby hood for sun and wind protection, and side pockets for bottles, phones, etc.
Padded hip seat for comfort and reduce stress to baby's limbs
Price
This sells for around $44 on Amazon
CuddleBug Baby Wrap Ergo Carrier Sling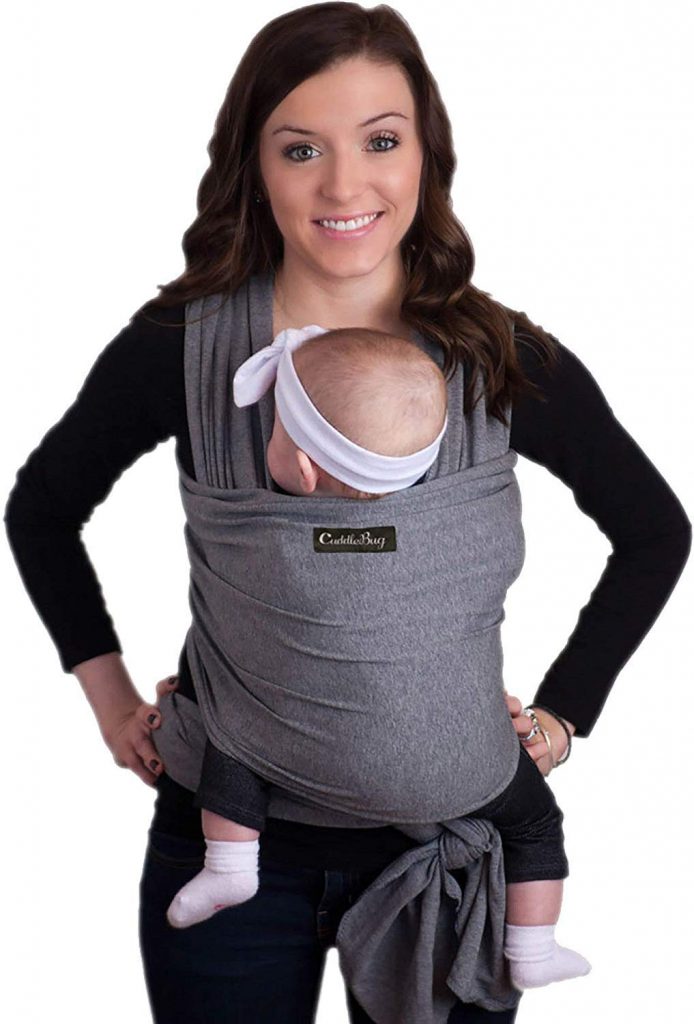 There is a learning curve to this wrap carrier sling but once you do it will be well worth it. With a long piece of stretchy fabric and no buckle it gives you plenty of opportunity to use while breastfeeding.
Features
Fabrics keeps it shape due to it being made from a cotton spandex blend
Machine washable
Comes in a lot of colors
Lower price
Comprehensive instructions on how to use
Lifetime Warranty
Price
You can find this for $40 on Amazon
Moby Wrap Carrier- Classic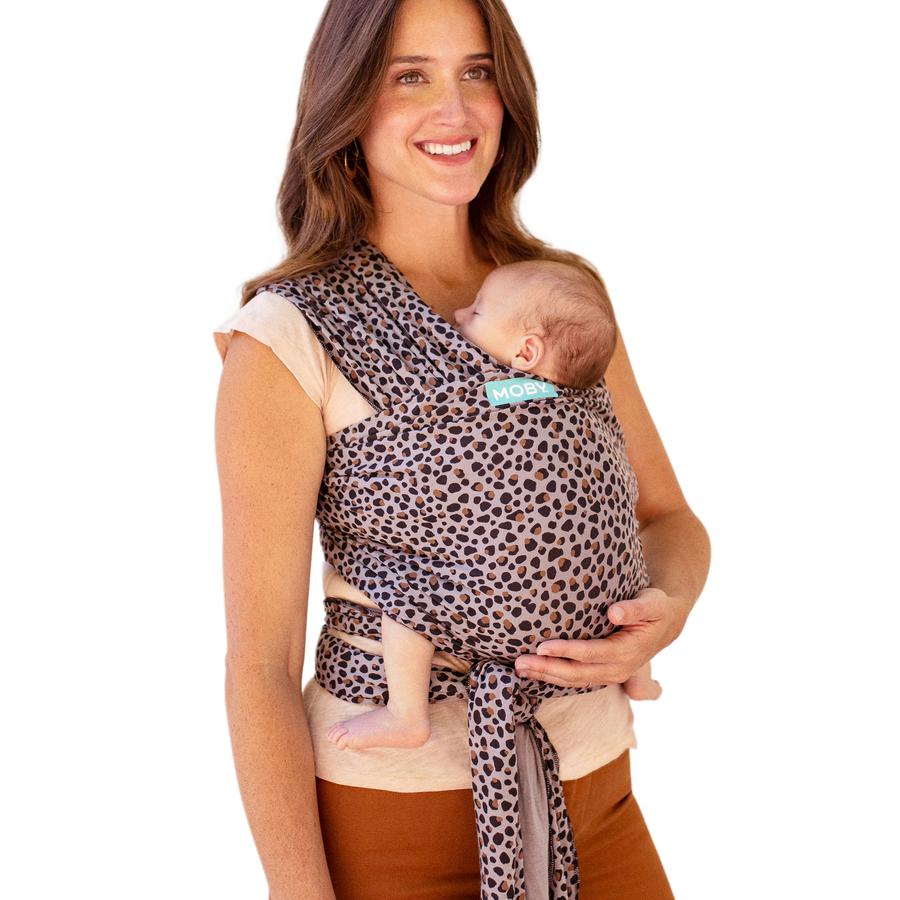 The Moby wrap carrier is great for moms and babies who prefer to breastfeed in a horizontal position. However, for safety reasons they do recommend taking baby out of the MOBY Wrap to nurse.
The MOBY Wrap can be left on while nursing, but once baby has finished feeding you can easily put your baby back in the wrap. This is perfect for a mom who wants to baby wear and breastfeed but doesn't want to feel constricted by a wrap while doing so. Because the wrap can stay on- you won't be wasting time re-tying or adjusting it after nursing. But you can still take your baby out of the wrap to breastfeed comfortably.
Features
Award winning wrap
Soft and durable, made from 100% cotton
Multiple carrying positions
Grows with baby- newborn to toddler
Breathable fabric
Easy to wear
Machine washable
Price
You can find it for around $44 on Amazon
Other wraps you might like are – boba wrap, Solly baby wrap, Maya wrap
4 in 1 Baby Wrap Carrier
You can use this wrap as a baby sling or a wrap and allows access for nursing. This is a stretchy wrap and can be used with or without its rings. You will be putting your baby's needs first with this versatile, inexpensive baby carrier.
Features
Machine washable
Return policy
Easy to follow instructions
Made of a special cotton blend that is soft, breathable
Adjustable for all shapes and sizes
Can be worn as a post-partum belly band
Easy to breast while wearing
Can be used as a nursing cover
Inexpensive
Comes with a carrying pouch
Price
Sells for $29 on Amazon
Tula Signature Baby Carrier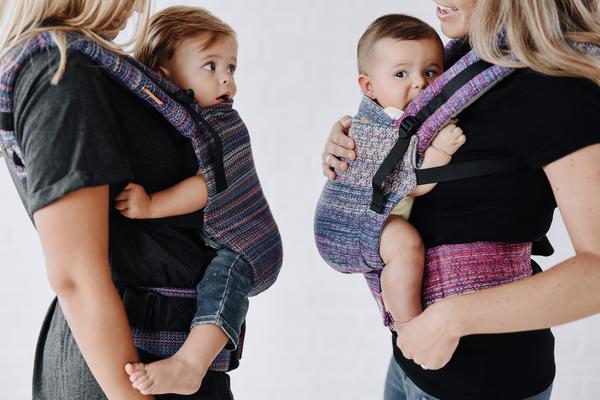 This woven carriers truly is designed in collaborations with other artists and sewn by seamstresses in the town where Baby Tula began- Bialystok, Poland.
It offers the ease and comfortable support of a soft structure buckle carrier, while being able to mold softly around your baby while still be supportive. And it's perfect for breastfeeding by loosening your arm straps and lowering the waistband, without unbuckling any buckles, and positioning your baby to your chest.
Features
Cool mesh carrier panel
Non bulky
Padded should straps
Several styles, patterns colors
Baby can be carried in several positions
Machine washable
Price
Sells for $160-$190 on Amazon
DIDYMOST Meh Dai/Mei Tai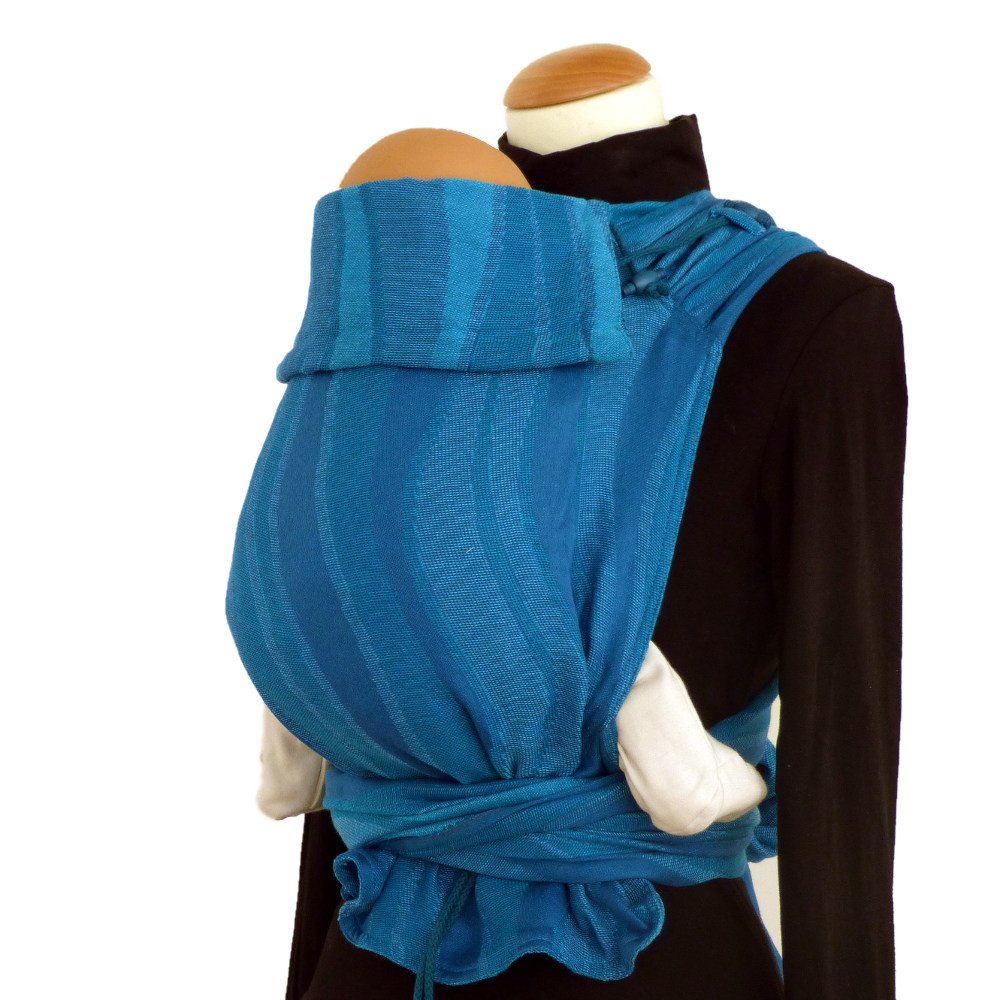 These types of carriers are quite expensive, but they have great longevity and are typically very well made. This brand has amazing reviews!
Features
Made from organic cotton
Uses non-toxic dyes
Fully adjustable
Great for different sizes of people
Can be used from newborn until preschool
Allows for different positioning
Price
Sells for around $210 on Amazon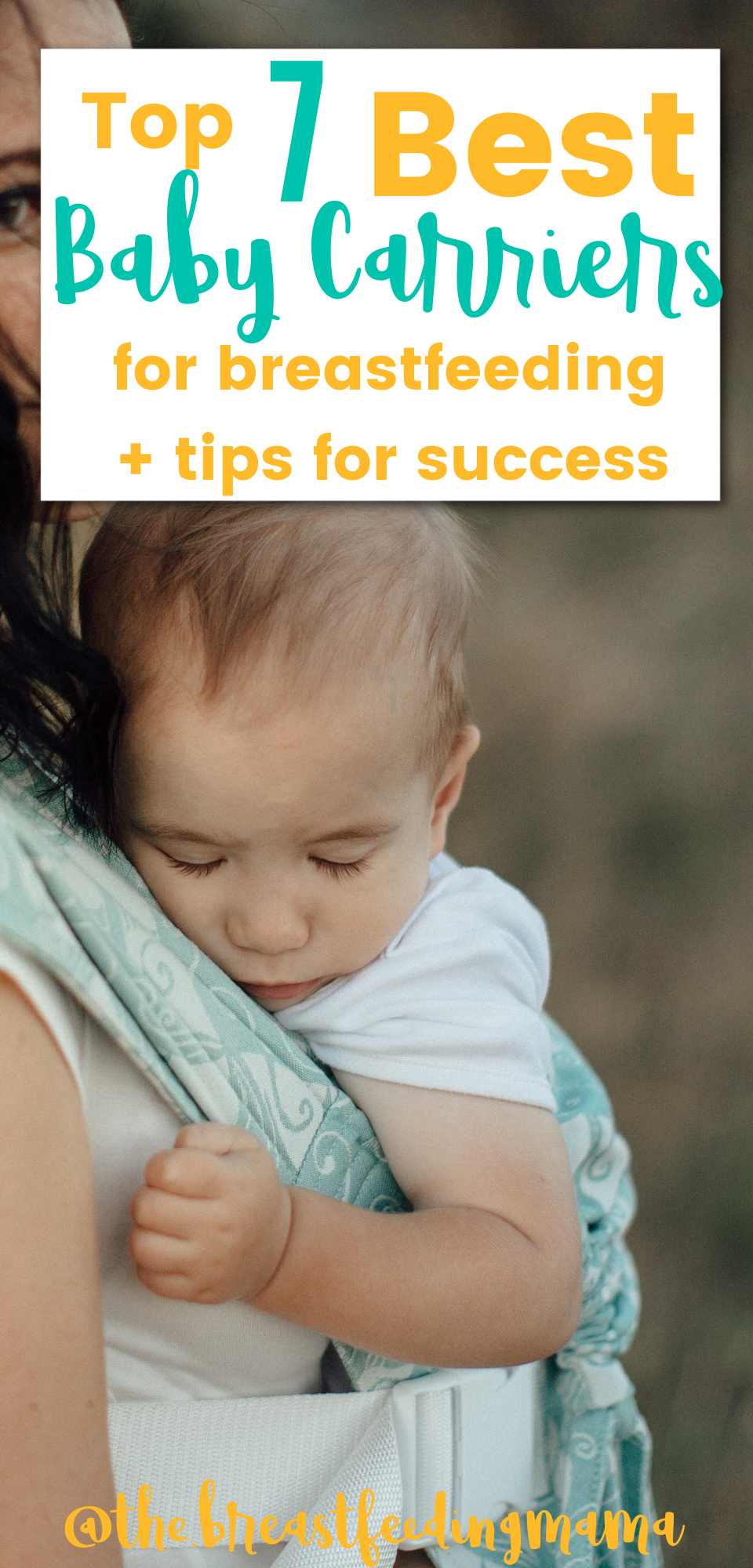 More Posts You May Enjoy:
Cindy Maudsley lives in Utah with her husband and five children. Aside from writing, her passions include her family, faith, and spreading infertility awareness. She also loves a good book or podcast, true crime documentaries, a good Netflix binge, diet Coke and the weekly (sometimes daily) Target run.