Nursing Clothes 101: Affordable, Cute, and Functional Breastfeeding Clothing
The best places to find breastfeeding clothes that are fashionable, functional, and awesome for nursing your baby in! Nursing clothes don't have to be frumpy!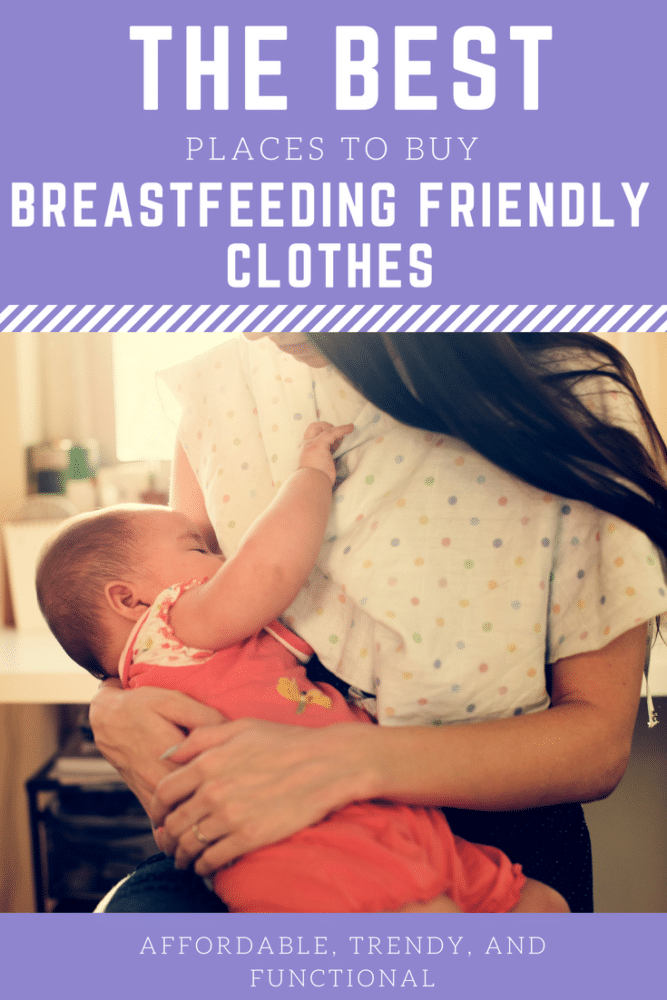 Breastfeeding Clothing
Finding maternity clothes that are cute and flattering can be annoying, but it's do-able.
Most stores have a maternity section, and there are plenty of websites dedicated to maternity wear.
But what about clothes that make breastfeeding easier? What about affordable nursing clothing?
That has been my issue – specifically when it comes to dresses. I don't have as much issue with shirts as I do with dresses.
So I thought as my first post for breastfeeding awareness month, I'd share a few tips for finding breastfeeding clothing, as well as adapting your current clothing. Many of these options are companies that are totally dedicated to making breastfeeding friendly apparel. However, I've also listed some stores and websites that also cater to this demographic.
Breastfeeding Clothes
This is, by far, one of my favorite places to get clothes in general. However, I got many nursing-friendly outfits from them. They don't always say they are specifically for nursing, but most of them have stretchy tops or bottoms that are very easy to nurse in. Many of them also have buttons. Occasionally they have nursing specific outfits. The clothes are pretty affordable and super cute – and they are always having sales! Check out everything they have here.
This is one of my favorite companies. They have the best selection of nursing bras (for ALL sizes), and they have some cute breastfeeding clothes and pajamas. I LOVE their pajamas! They are often running sales, so keep your eyes open.
You can save 20% with the code CC20.
I love Stitch Fix! It is a clothing subscription service. You fill out a profile, and the company will send you a box full of clothing specifically chosen and styled for you. You pay a $20 styling fee which can be applied toward any clothing you decide to keep in the box.
They have a maternity option, but if you specify in your instructions that you are breastfeeding, your stylist will accommodate that. I did this recently, and I got two of the cutest tops ever! My highest quality clothes always come from Stitch Fix, and I love how it's so customized to you in whatever stage of life you are in.
Sign up for your first Fix here!
I saw this website when I was pregnant, and I loved all the options. I found that the products were affordable as far as nursing clothing goes, and you can get dresses, shirts, hoodies, etc.
I was recently introduced to this line, and I love it. The outfits are stylish, affordable, and very comfortable. I was sent the Chic Cowl Nursing Dress in black lace, which I really loved. I paired it with a pair of colored tights, and it was very easy to discretely nurse in! I really liked how it was flattering everywhere.
I love all the other items as well. They have everything from shirts, to dresses, to pumping shirts. There's really something for everyone. I'm dying to buy some more things. You can buy on their website, online at Nordstrom, or on Amazon!
Zulilly
Zulilly occasionally has some great sales on breastfeeding clothes (along with maternity clothes and other breastfeeding products.) Sign up so you can find out when they do!
Le Tote is a clothing rental company, and it's actually pretty cool! You can wear the clothes for as long as you want, and when you are done, you can send them back (so long as you have an active subscription). You can also send the clothing back as much as you want during the month and get other clothes. If you end up loving the clothes, you can buy them at a discounted rate. This is perfect for something like nursing clothing since you won't necessarily be wearing them forever. For instance, you may need a fancy dress for one occasion that is nursing friendly – you can get that, and when you are done, you can send it back!
They mainly have pregnancy clothes, but they have a nursing section with clothes that are compatible with breastfeeding. The models in this section are pregnant, but I can see how they could easily still be worn post-pregnancy for nursing. They have some of the most beautiful outfits!
I saw this company on Facebook the other day, and I loved the cute options! Everything looks so soft and fashionable. There are just a few different options, but they are very versatile and you can wear them in so many different ways!
Etsy
Etsy is a great place to find handmade or upcycled nursing clothes. I would definitely browse through the listings to find something unique!
I love this site! They have everything you could possibly need when it comes to nursing clothing. Dresses, shirts, nursing bras, sleepwear…they have it all! Everything looks very high quality as well. You can buy on their website or on Amazon!
They only have a few items, and they are kind of expensive. They aren't really my style, but I can see why people would like them!
I always like clothes from Motherhood Maternity. They often have sales, and the clothes are pretty comfortable. While most of the things they offer are for pregnancy, they do have a nice selection of nursing clothing available. Destination Maternity is another great one – as of the time of this post, they were having a sale – buy three nursing tops, get one free. Not sure how long that goes on for, but they seem to always have sales.
They don't have a huge selection, but they do have very affordable and inexpensive nursing tees.
I think Old Navy is a great place to find very inexpensive outfits, including ones for breastfeeding.
Amazon
Just a quick search on Amazon will bring up very affordable and cute nursing clothes!
This is a great place to get gently used clothing for a killer price. I've gotten a lot of really cute things here for just a couple of dollars!
BONUS:
I have seen the Nurslet on Instagram, and I think it's such a neat, simple product. It's something that makes shirts more breastfeeding friendly. I keep meaning to order one!
In addition, I think Maxi dresses are AMAZING for breastfeeding. I've gotten a few at Target, and they work really well.
Also, having a properly fitting nursing bra is important for any breastfeeding woman's
And I know that this isn't exactly nursing apparel, but if you are like me and not quite comfortable with nursing without a cover, you have to check out Covered Goods. You can use it as a nursing cover, car seat cover, and as a cute scarf! I frequently see sales for them online, so keep your eyes opened.
Save
Katie Clark is an International Board Certified Lactation Consultant (IBCLC). She has helped thousands of mothers and families around the globe navigate breastfeeding challenges and questions since 2015. She has a passion for creating research-based, helpful breastfeeding education and helping parents find a way to make breastfeeding work for them. Katie is a mom of three little boys and lives in the great state of Colorado. She also has a degree in Communications with an emphasis in print journalism.