The Brilliant 2-Shirt Method for Breastfeeding for Nursing in Public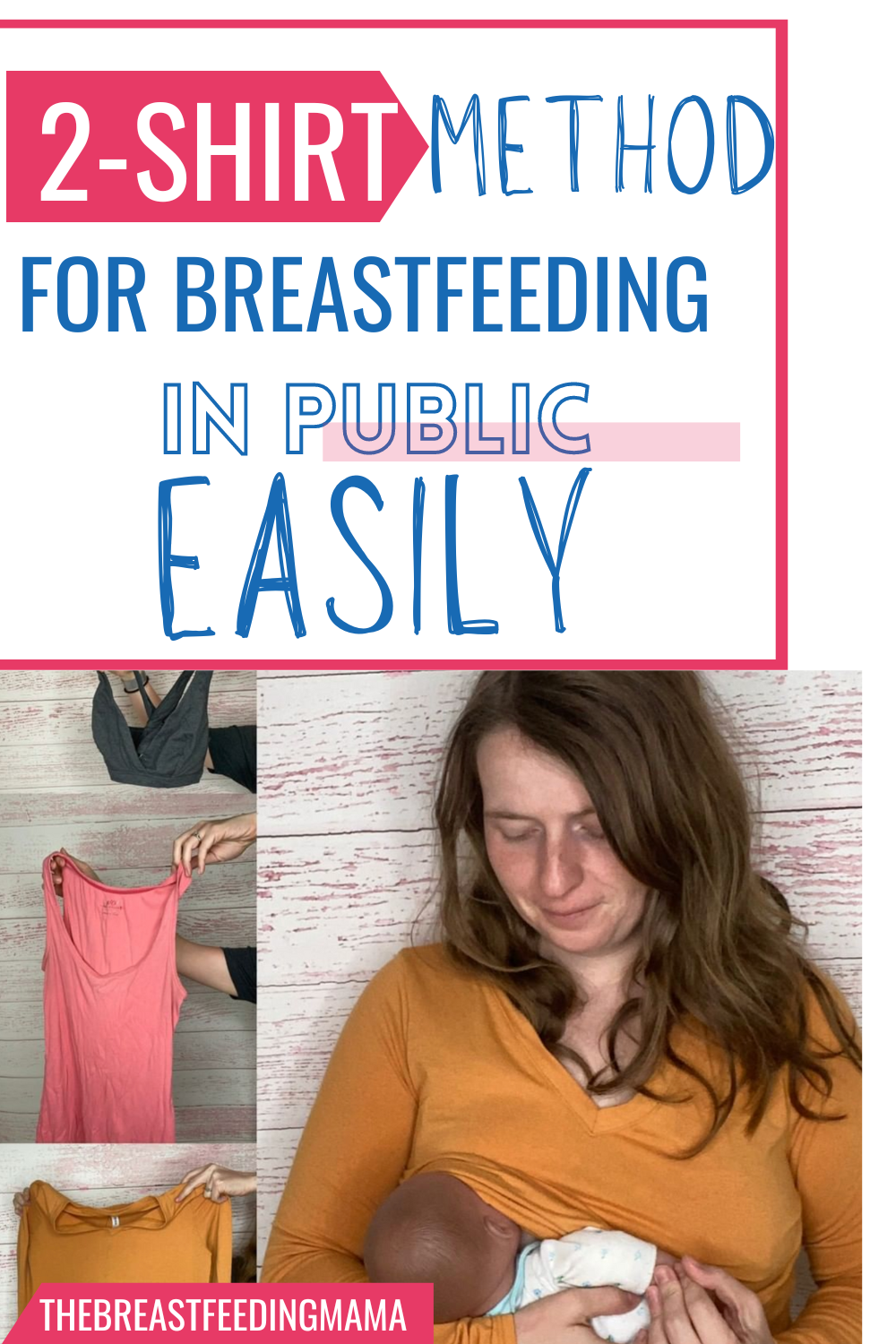 Do you feel self-conscious about nursing in public? You're not alone. Here's a two-shirt method that makes it easy to breastfeed discreetly in any situation. Nursing your baby is an important bonding experience, and this trick will make it a little easier for you. Enjoy!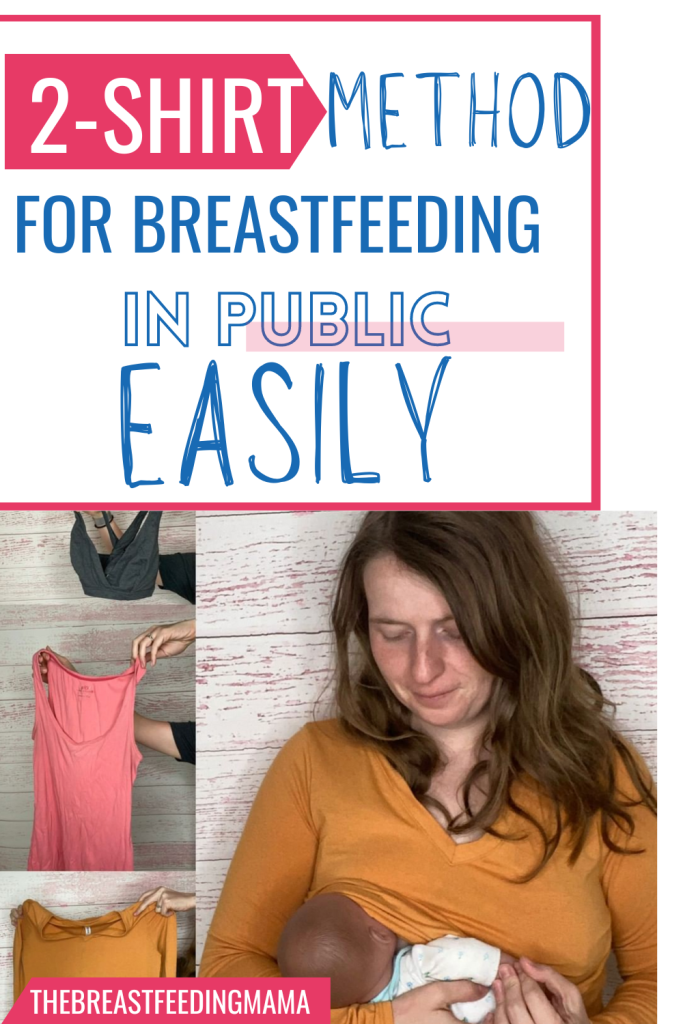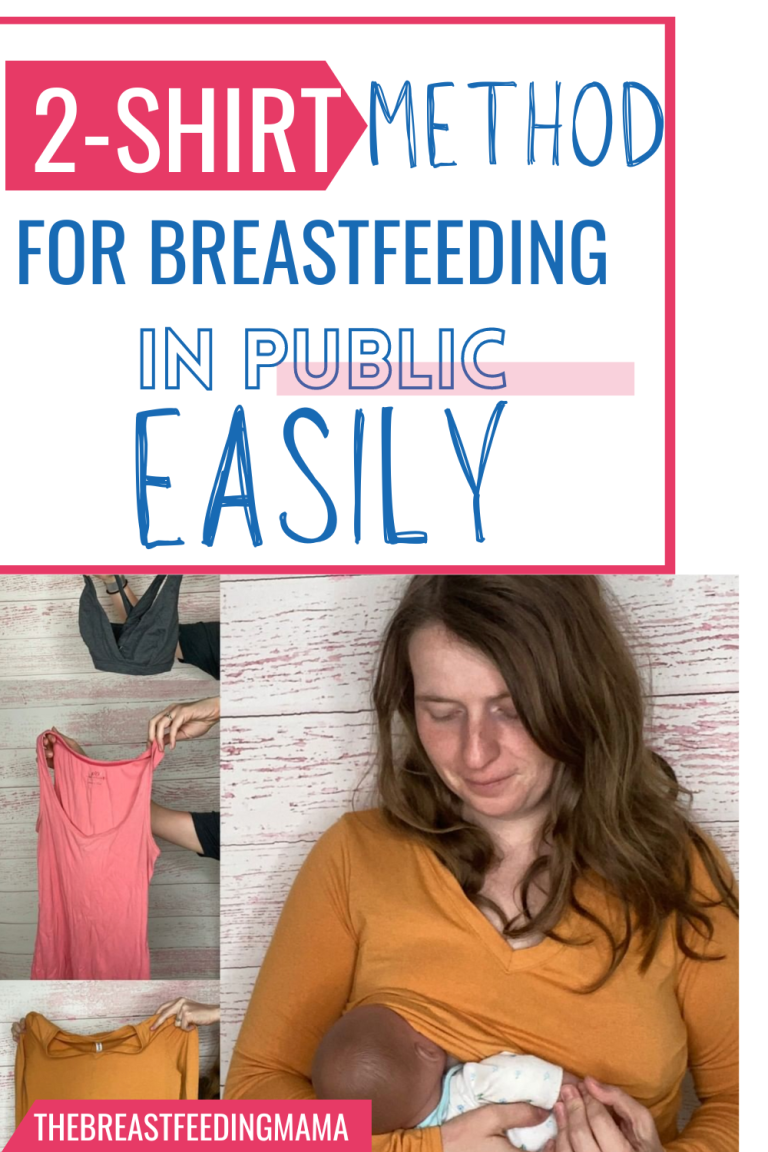 Nursing in public can be difficult because you don't want to expose your breast.
Many women feel self-conscious about nursing in public, because they feel like they are exposing themselves.
The 2 shirt breastfeeding method is a simple way to nurse discreetly without anyone seeing your bare skin. This method is easy to do, and it doesn't require any special clothing.
What do you need for two-shirt nursing?
You don't need a lot! Here are a few things you'll need in order to be successful with this method.
Tank top
Overshirt (button down or stretchy is ideal)
Nursing Bra
How to do the 2-Shirt Breastfeeding Method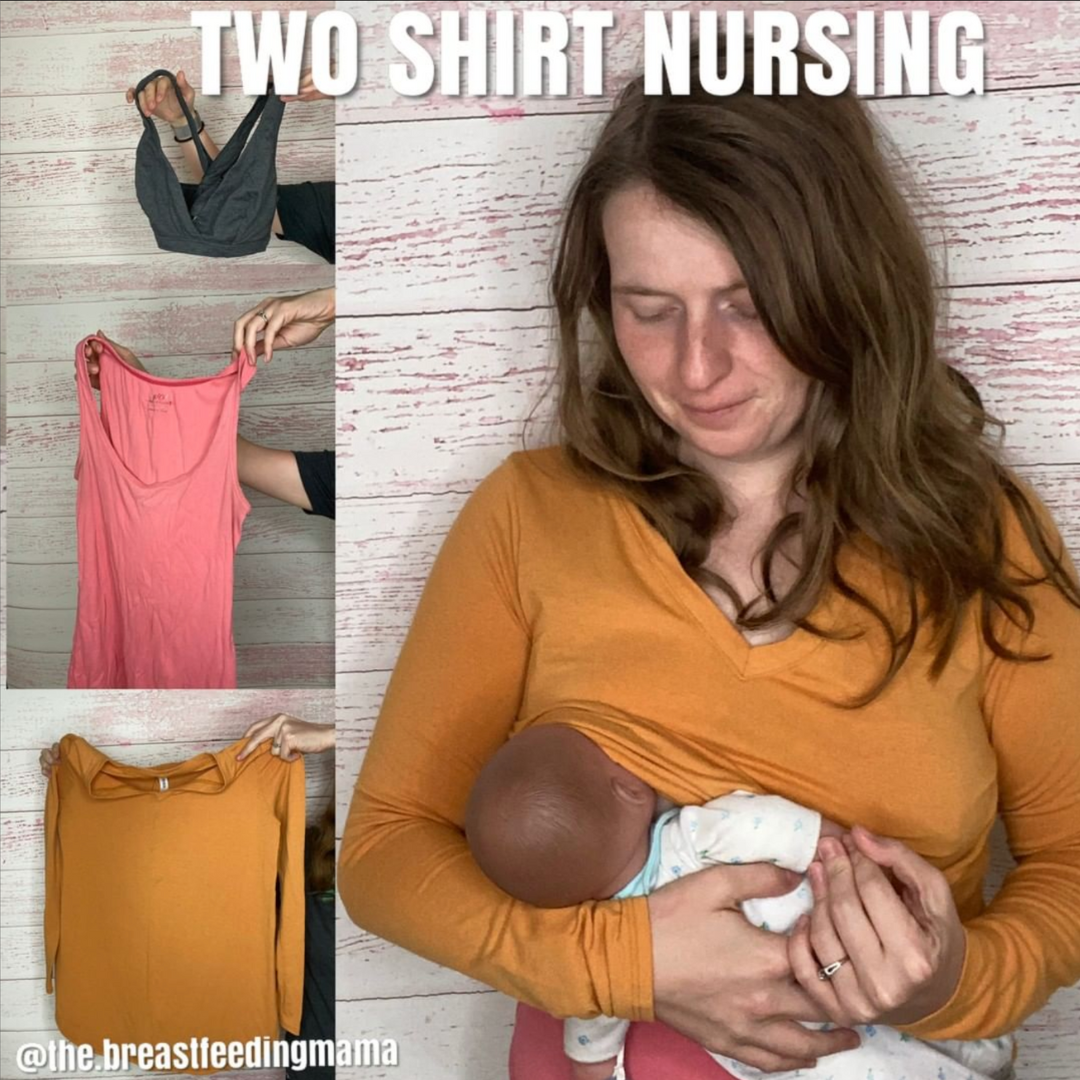 The 2-shirt breastfeeding method isn't hard at all, and there's really not a huge learning curve.
1. Wear a tank top or other thin shirt underneath your outer shirt.
2. Unbutton the outer shirt enough to expose the inner shirt or pull up from the bottom.
3. Pull down the top of the inner shirt and latch your baby on.
Here is a video for the more visual learners out there!
Benefits of Two-Shirt Nursing
There are many benefits to using the two-shirt method for nursing in public.
This method is quick and easy to do/learn
It doesn't require any special clothing – just items you likely already own
It allows you to nurse discreetly and modestly without having to use a cover, which many babies just don't like
It also provides good coverage for both you and your baby.
You can save money over time if you aren't having to purchase lots of breastfeeding-friendly clothing options.
Best Tank Tops for Two-Shirt Breastfeeding
You really can just use any tank top that you have, though I recommend having one that is easy to pull down from the top.
With that said, here are a few options I personally like.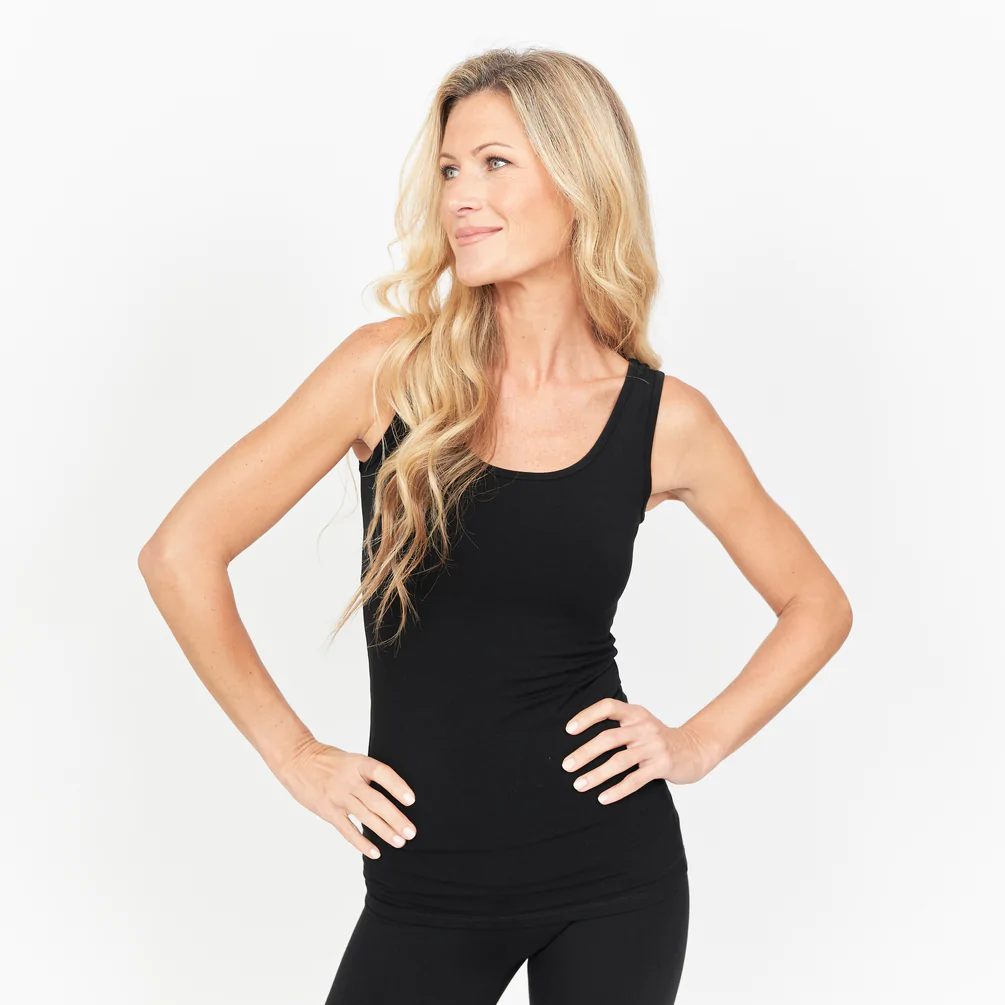 I absolutely love this tank top! It is made of super comfortable and stretchy material, which makes it easy to pull down from the top. It is form-fitting, so it doesn't add a lot of bulk underneath your shirt. It's also very breathable!
It comes in white and black in sizes small through extra large. It is pregnancy and breastfeeding-friendly and costs $42. It is on the higher end of things, but if you want to invest in just one or two breastfeeding clothing options, it's probably worth the investment.
Use the code thebreastfeedingmama for 10% off.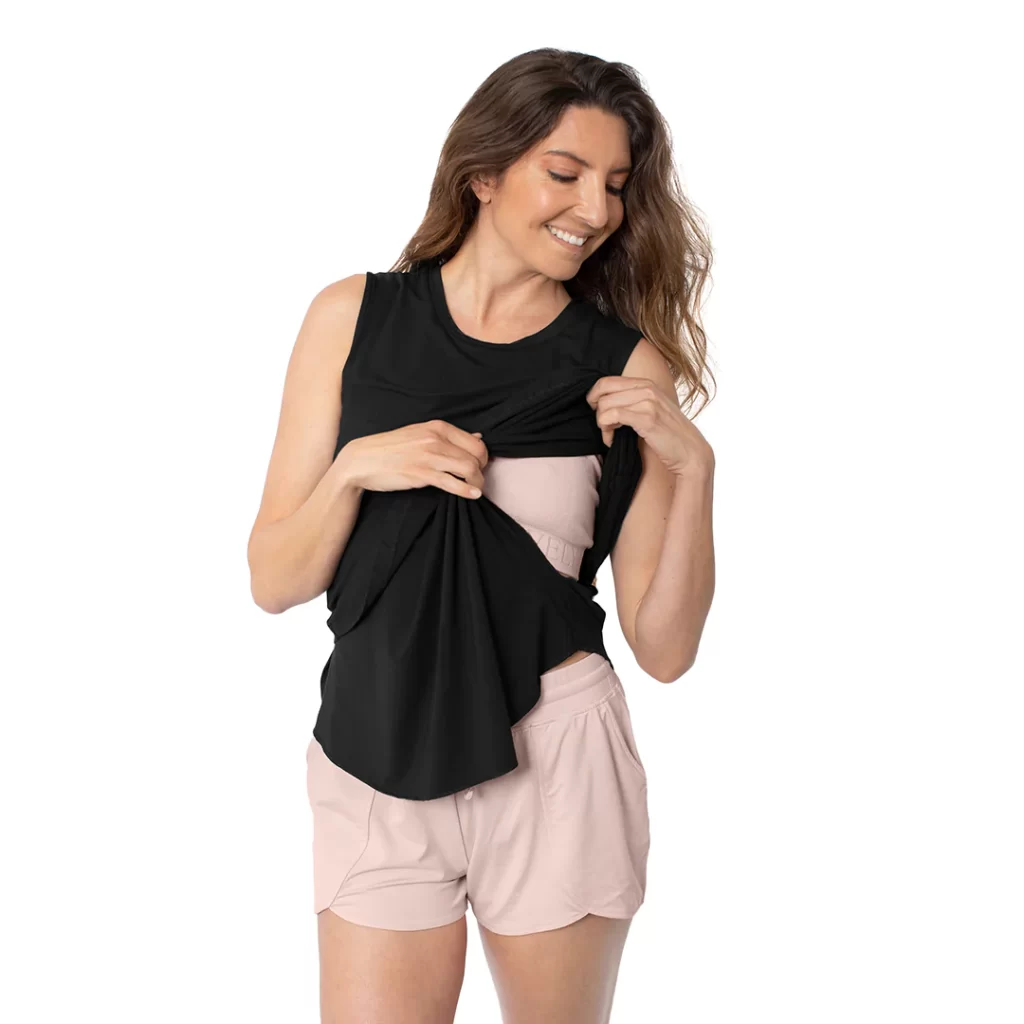 I am always a big fan of Kindred Bravely, and their Bamboo nursing and pregnancy tank is awesome. It has 167 five-star reviews. What people comment on the most is the comfort, how it is easy to nurse discretely in, and it doesn't scream "nursing tank!" Many mothers felt like it was super flattering for their postpartum figure.
This tank costs $36.99 and comes in sizes small through XXL. You can use the code 20TBM for 20% off anything on the Kindred Bravely website!
Truthfully, I don't know much about these nursing tanks, but they are popular on Amazon:
Sale
SUIEK Women's Nursing Tank Top Cami Maternity Bra Breastfeeding Clothes (Small, Black+Black+Black)
✅ "The bust with double-layered cotton fabric, as a nursing bra" and the under bust with elastic band, Suitable for all bust sizes. - Allowing extra room for When your milk comes in, It never constrict or squeeze your breasts.
✅ Loose waistline - Especial to hide the lower tummy area for postpartum mamas, Suitable for every stage of pregnancy and postpartum.
✅ Fashionable Racerback design, Sexy and charming! - It's also prevent shoulder straps from slipping off.
✅ Easy one hand nursing clasps, quick drop down cups, Easy to quick feeding. - Adjustable and highly elastic shoulder straps.
✅ Perfect for sleep or leisure, or Match your favorite under sweater or jacket. - Great fit for Pregnancy and Nursing, sleeping, exercising, staying at home.
Women's Maternity Nursing Tank Tops with Built in Bra for Breastfeeding Shirt 4Pack
Wire free,seamless soft fabric is very gentle to your skin.This nursing cami top easy to wear. Stretchy and Breathable material comfortably hugs your changing body from pregnancy through postpartum and nursing.
Adjustable straps comfy stay on your shoulder.Detachable back straps design allows both nomal and criss-cross style in your daily life.
Easy, one-handed, clip-down cups allow for quick access for nursing or skin-to-skin contact with baby. This maternity tank top has long length to provides smoothing coverage for pregnant and nursing mamas.
Our nursing tank is Stylish and practical for any activity :shopping, traveling, hanging out at home. It is comfortable when worn layered as an undershirt, or on its own as a tank top.this maternity cami also looks great under T-shirts, cardigans, and your favorite nursing tops. And even comfortable enough to sleep in.
Simplify your pregnancy and postpartum wardrobe with this high-quality piece that will take you from midnight nursing sessions to afternoon playdates.Pregnant Women Camisole applicable period: Early pregnancy, second trimester, late pregnancy, perinatal pregnancy.
Sale
Motherhood Maternity Women's Maternity Clip Down Nursing Tank Top Cami, Black, Extra Small
CONVENIENT CLIP DOWN FEATURE - The Motherhood Maternity Women's Clip Down Nursing Tank Top is perfect for new moms who want easy and convenient breastfeeding access. The clip down feature makes nursing a breeze, no matter where you are.
VERSATILE STYLE - This nursing tank top is perfect for everyday wear. Pair it with pajama pants for lounging around the house or layer it with a button-down shirt or cardigan for an effortless look.
SLEEVELESS DESIGN - The sleeveless scoop neck nursing cami is perfect for warm weather or layering under your favorite outfits. The double opening nursing function clip down allows for easy breastfeeding access while maintaining modesty.
BUILT-IN SHELF BRA - The nursing tank top features a built-in shelf bra and adjustable straps for comfortable wear all day long. The adjustable straps allow for a customized fit to accommodate changes in breast size during pregnancy and breastfeeding.
EASY TO CARE FOR - The Motherhood Maternity nursing tank top is easy to care for and machine washable, making it a practical and essential addition to your maternity wardrobe. Whether you're running errands or relaxing at home, this nursing tank top is a must-have for any new mom or mom to be!
Best Nursing Bras for Two-Shirt Nursing
There are a lot of great nursing bras out there, and I don't know that any is better than another for two-shirt nursing. Some people like to use a nursing tank that has a built-in bra to make tw0 shirt nursing easier. Here are a few that I like:
Tips for Breastfeeding in Public
Breastfeeding in public can be difficult because you don't want to expose your breast.
Here are a few tips to help you feel more comfortable:
Practice at home – use a mirror, if you want to use a cover, practice using that, etc.
Find a secluded spot – a quiet corner in a store, an empty park bench, etc. Wear clothing that is easy to breastfeed in – loose-fitting clothes that can be pulled up or down easily are ideal.
Consider using a cover – while you definitely don't have to use a cover, some moms find that it helps keep their baby from getting too distracted in public
. Don't worry about what other people think – nursing is a natural, beautiful thing. You are providing your baby with the best possible nutrition and bonding with your little one. Ignore any negative comments and focus on your baby. With a little practice, breastfeeding in public will become easier and more comfortable for you. Remember, you
Is it legal to breastfeed in public?
Yes, it is legal to breastfeed in public in the United States. All 50 states have laws that protect a woman's right to breastfeed in public. You can breastfeed anywhere that you are allowed to be with your baby.
Some states have additional laws that provide more protection for breastfeeding mothers. For example, some states have laws that require businesses to provide a private, clean space for mothers to breastfeed.
If you are ever asked to leave a public place while breastfeeding, you can politely explain that it is your legal right to breastfeed there. You can also contact your local lactation consultant or breastfeeding support group for more information and assistance.
Conclusion
The two-shirt breastfeeding method is a great way to discreetly nurse in public. This method can help you to feel more comfortable and confident when you are nursing in public. With a little practice, you will be able to master this method and enjoy all of the benefits that it has to offer.
More Posts You May Enjoy:
Katie Clark is an International Board Certified Lactation Consultant (IBCLC). She has helped thousands of mothers and families around the globe navigate breastfeeding challenges and questions since 2015. She has a passion for creating research-based, helpful breastfeeding education and helping parents find a way to make breastfeeding work for them. Katie is a mom of three little boys and lives in the great state of Colorado. She also has a degree in Communications with an emphasis in print journalism.