Ceres Chill Review + Coupon: A Pumping Mama's Best Friend
Are you a busy breastfeeding mama who also pumps on the go? The Ceres Breast Milk Chiller may just become your best friend! It is the pump that allows your to pump directly into a cooler! Is this innovative new product for you? Keep reading to learn everything you need to know with our Ceres Chill Review (and we have a great coupon code, too!)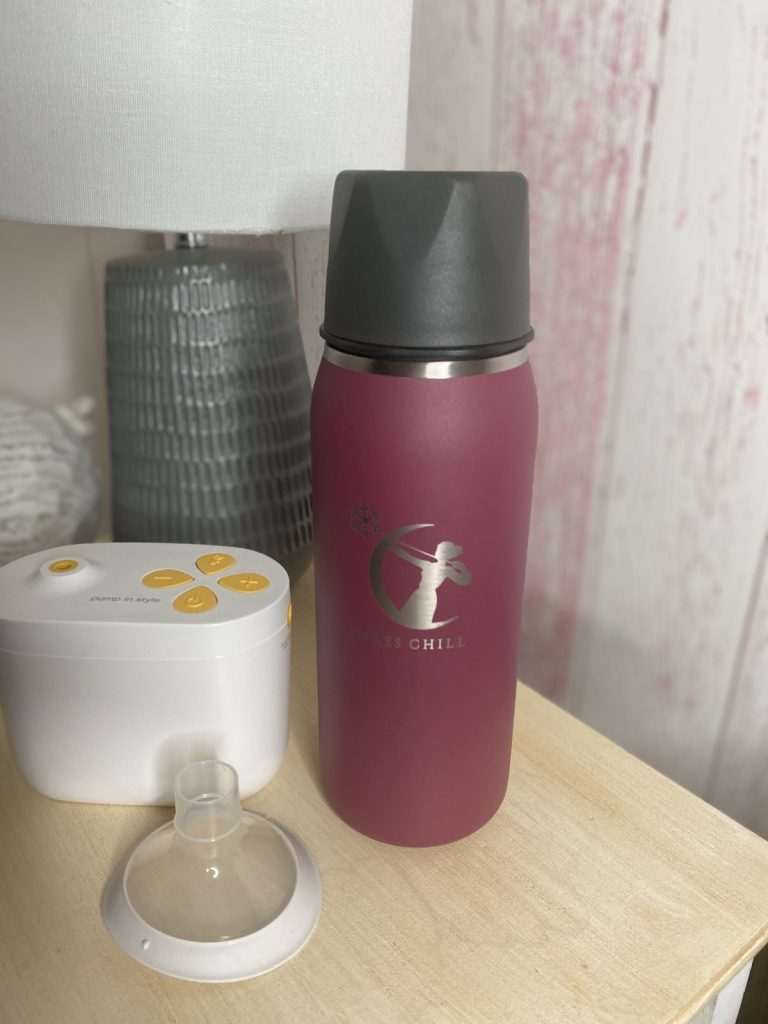 If you are a pumping mama, it goes without saying that you are BUSY.
Here at The Breastfeeding Mama, we are all about researching and checking out the latest breastfeeding products out there that are designed to make your life easier – and, when we find something we love? We can't wait to share it with you!
Mothers who pump – whether it be when they go back to work, just on occasion, or exlcusively – experience a unique set of challenges. Sadly, there is often not a lot of support or resources to help them. If there's a product that can help you reach your goals a little bit easier, we want to make sure you know about it.
That is where the Ceres Chill comes in to make your life easier!
Chances are, at some point or another, you will need to store milk on the go or bring it with you. There are various tools out there, but the Ceres Chill is our new favorite.
LIMITED TIME: Save 15% on ANYTHING from with the code TBM15. Click here to shop.
What is the Ceres Chill?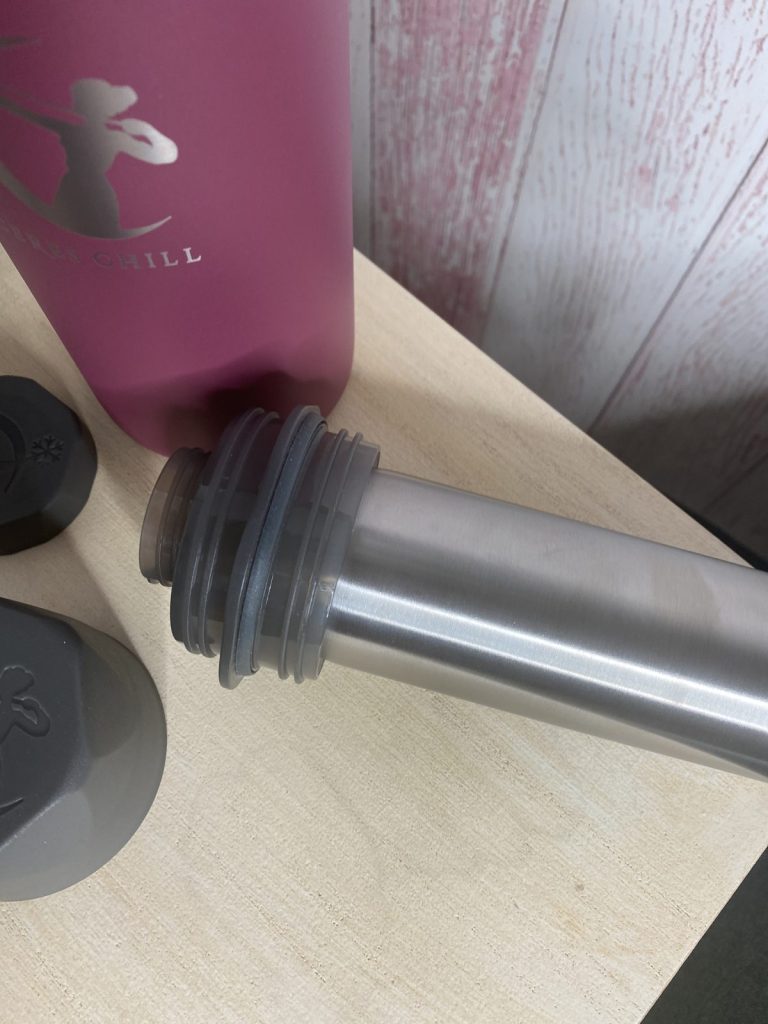 The Ceres Chill is a combination of a milk cooler, baby bottle, and container to pump into all in one sleek and modern design!
You pump your milk (single or double pump) directly into your Ceres Chill and you can then either feed your baby from it or store your pumped milk in it for up to 20 hours!
How does it work?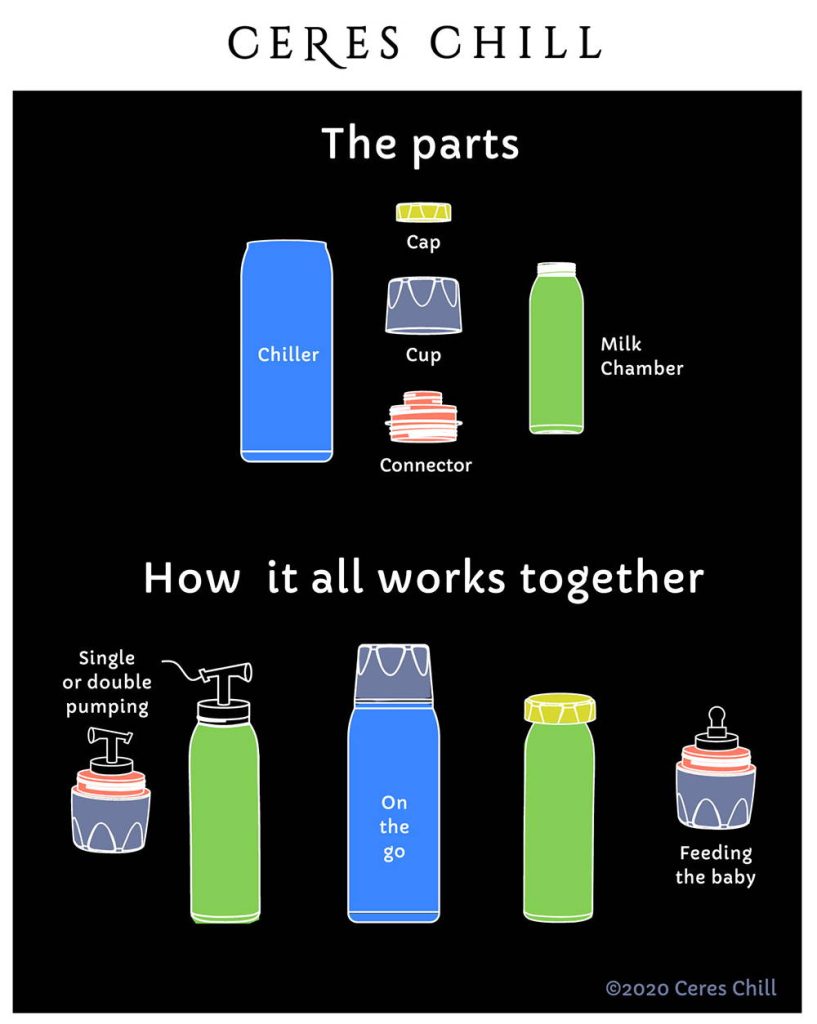 The Ceres Chill has the look of a trendy thermos but doesn't let its simple design fool you into thinking it doesn't have much to offer. It actually has several parts that work together to make the magic happen.
The stainless steel main chamber is made to have your pump parts attached directly to it. The inner chamber holds up to 12 oz. of breastmilk.
If you have a pump that screws into narrow-mouthed bottles it will thread onto the inner chamber no problem! If your pump threads wide-mouth bottles you may need to purchase an adapter that can easily be found on the Ceres Chill website.
If you are pumping on one side you can quickly unscrew the cap and cup and then connect your pump flange to the Connector neck. Simply replace the cap once you are done.
If you are double pumping you will disconnect the connector from the outer chiller. followed by disconnecting the inner chamber from the connector. Then you will connect your pump to the inner chamber to pump up to 12 ounces — and — connect your pump to the cup and connecter which holds about 3 ounces.
The cap to the outer chamber doubles as a cup can be used as a second bottle to pump into, or as a bottle to feed your baby. It holds about 3 oz of breast milk.
Pumps Compatible with Ceres
Without an adapter
Medela (the new Medela Flex only works with the inner chamber and Medela bottles)
Evenflo
Ameda
ArdoGland
Kidstime
Nibble
Babysteps
Bellema.
Need Adapter from Ceres Chill
Spectra 1 & 2
Bella Baby
Cimilre
Motif by Aeroflow
Reach out to Ceres for a special adapter if you have:
Who is it good for?
The Ceres Chill is perfect for traveling, working moms, or someone who is on the go a lot.
If you are traveling, working, or out and about you simply pump into the Ceres Chill and add ice to the outer chamber to keep it cool.
This comes in handy when you don't have access to a fridge to keep your milk cold. Think about how often you may be pumping at work, on a plane, at the park, in the car, or in between errands- if that sounds like your lifestyle then the Ceres Chill really may be perfect for you.
How It compares to the Pitcher Method
With the pitcher method, you collect all the breast milk you have pumped in one day and collect it in a large pitcher kept in your fridge. This helps free up space in your fridge and some moms find it more convenient to fill bottles from the pitcher.
Any leftover milk can be collected and put into breastmilk bags or sorted to be used for the next days.
The Ceres Chill is similar in that you can pump your milk directly into the chiller and accumulate your milk throughout the day to be used when needed.
At the end of the day, you can distribute your milk into bottles or bags for later use.
Can you pool freshly pumped milk and chilled milk?
This is a tricky question. There isn't a ton of research available on whether or not you can mix together chilled milk with warmed milk. Many mothers do it, but it's not a practice recommended by the CDC.
Earlier this year, the AAP quietly updated its FAQs page to say that this practice was okay – but within a few days, they took it down. There was never an explanation for either decision.
So, with that said, this is a personal decision based on what you feel comfortable with. Many moms do pump directly into their Ceres throughout the day, while others wait until they are the same temperature to pool.
Ceres has a dedicated page on its website to discuss this topic more. Because this is somewhat controversial, they do offer a discount for purchasing two or more Ceres Chills, for those who want to have one to pump in and one to store after it's chilled.
Can I do hands-free pumping?
If your current pump setup uses a hands-free pumping setup, you can do that with the Ceres Chill. Because it's a bit large, it may not be as easy as pumping into bottles, but it is doable.
Be sure to check out our top recommendations for hands-free pumping bras!
How much does the Ceres Chill Cost?
The Ceres Chill costs about $69. YOu can check out all the different packages and options that they have here.
You can save 15% off with the code TBM15 – make sure to shop through our link!
My Favorite Features
Before I get into the general pros and cons, I thought I would share my favorite features: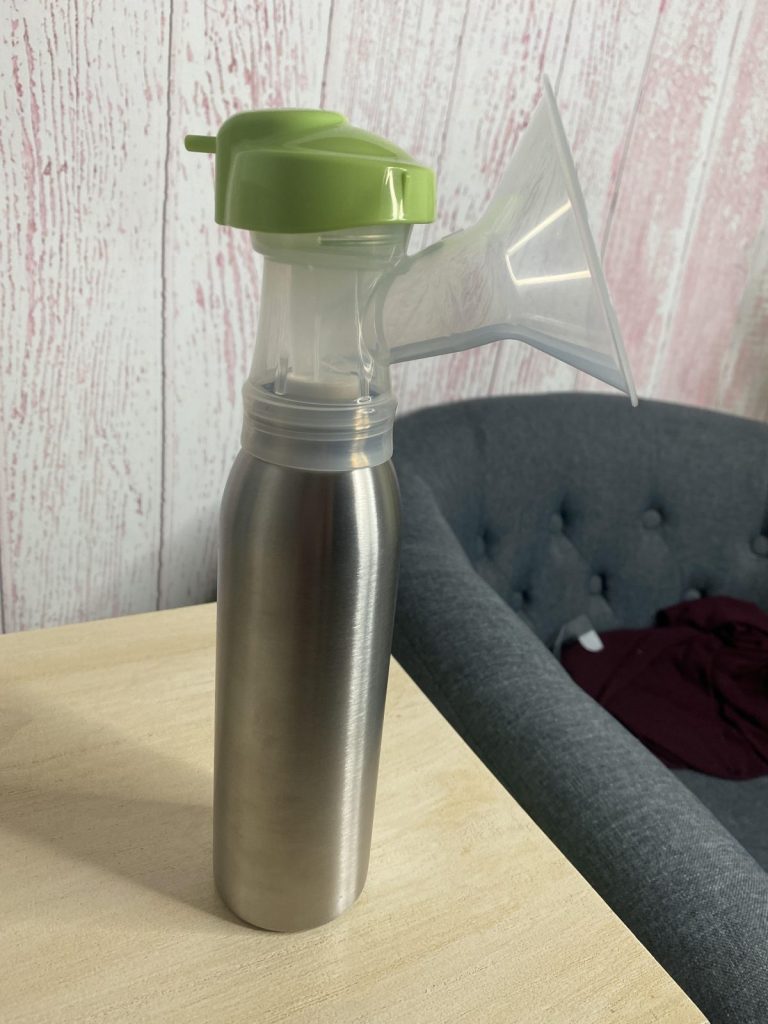 I love that you can pump directly into the inner chamber. This makes it so much more convenient!
I love that it keeps milk cool up to 20 hours
I love that you can use it as a bottle warmer!
Pros
Works with all major breast pumps including Medela, Evenflo, Ameda, Ardo, Gland, Kidstime, Nibble, Babysteps, Bellema.
You can pump into hands-free containers (Elvie, Willow) and still safely store it in the Chiller
Safely stores milk for up to 20 hours
Doubles as a bottle warmer- fill the chamber with hot water to warm up to three bottles over 8 hours
Non-disposable so it will last a lifetime!
Can be easily taken through airport security
Has a comprehensive user guide available online
You can also chill formula in it
Holds 12-34 ounces of milk.
You can buy their glass bottle insert, which makes it so you can feed directly from milk stored in the Ceres.
They offer a 20% discount if you fall under the following categories: healthcare worker, essential worker, first responder, or military servicemember/spouse
You can use it after you're done breastfeeding for other liquids.
Offers a lifetime warranty and 100% money-back guarantee
Available in a variety of colors.
Cons
If you own a Spectra 1 & 2, Bella Baby, Baby Buddha, Cimilre, or Motif by Aeroflow you will need to purchase an adapter to use.
The parts can be initially a little confusing to figure out
Does not come with a pump- you will have to have your own breast pump in addition to the Ceres Cooler
Can sometimes become discolored due to being put in the dishwasher, therefor they recommend you hand wash your parts to make sure it stays as beautiful as the day you bought it.
There is a learning curve to figuring out how to keep your milk cool, keep it from leaking, etc.
It is pretty expensive
Additional Accessories from Ceres:
Overall Thoughts:
From the first time I saw someone share their Ceres Chill on Instagram, I was intrigued. Although I am not currently pumping milk, I have in the past, and I recognized what an awesome tool this is for new moms.
It does come at a higher price tag, but for moms who are a) regularly pumping and b) need a convenient way to chill and store their milk when they are away from home, it's a no-brainer that this is a fantastic tool for them.
This isn't for everyone, but I truly believe it's a tool that can help make pumping a little bit easier for a new mama.
If you've tried the Ceres Chill, be sure to share your feelings and experiences in the comments!
More Posts You May Enjoy: