The Best Breast Pumps For Moms of Twins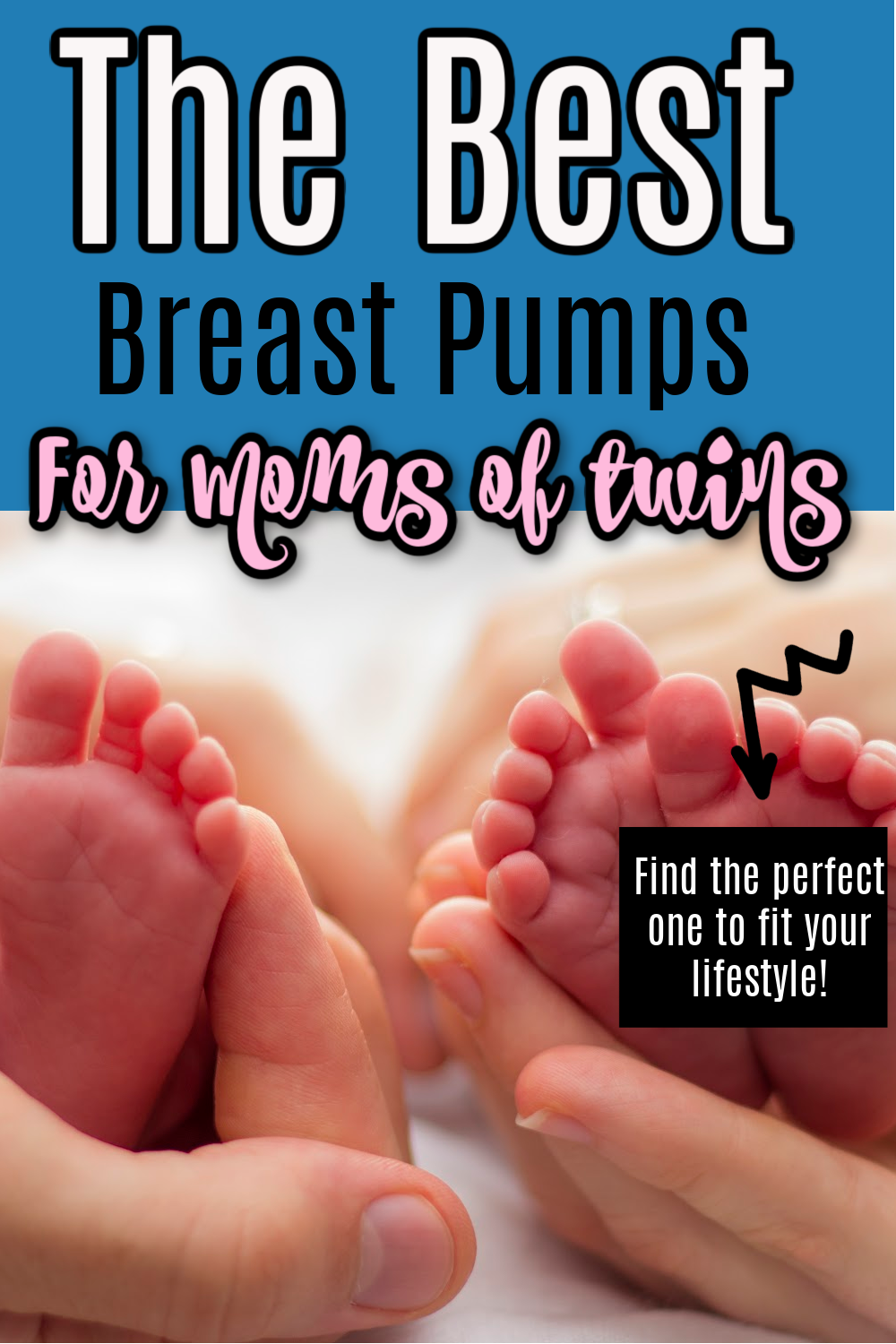 Pumping for two is a commitment and because of that you are going to want the best breast pump available. Choosing a breast pump for a twin mom is an important decision but it doesn't have to be stressful. We've researched the best pumps for a mom of multiples so you don't have to!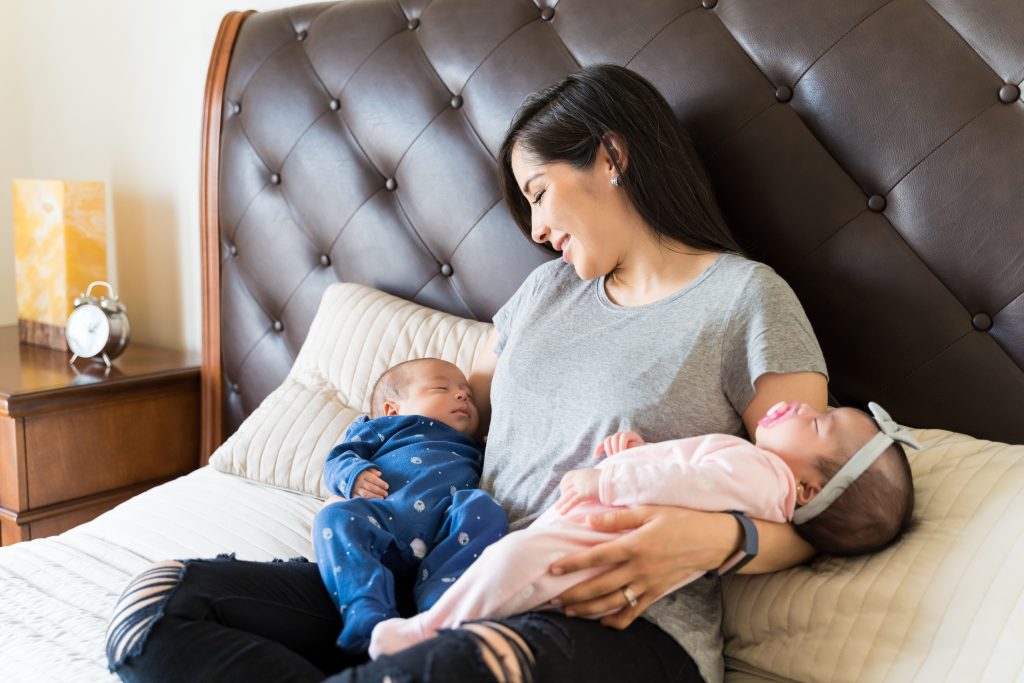 Breastfeeding takes a lot of time and commitment but it might be one of the most rewarding things you can do for your baby. Likewise, pumping breast milk can be equally exhausting yet rewarding, too.
Whether you pump occasionally or exclusively you are going to want the best of the best when it comes to a breast pump- especially if you are a mom of multiples.
For a mom of twins who is exclusively breast pumping you can plan to be pumping for at least 2-3 hours a day total.
That's why choosing a breast pump is so important!
As a mom of twins myself I can honestly say that pumping is tiring and hard- but I'm committed to it and having a good breast pump has made all the difference.
Being prepared for what is normal, what isn't, and how to approach breastfeeding and pumping has made all the difference. I think that Katie's course, Demystifying Pumping and Milk Supply, is a must-read for pumping moms of twins. She goes over EVERYTHING you need to know about getting started and maintaining your supply.
[the_ad id="2107″]
What should you look for in a breast pump?
These are questions you should ask yourself whether you are a twin mom or not and are essential in helping you decide what pump will work for you and your lifestyle. When pumping for twins your time is limited which is why you'll want an efficient pump that makes your life easier- not harder.
Portability
Cost
Convivence
Suction Settings
Double Pumping
Size of pump
Hospital Grade or not
Electric or battery
How often you'll be pumping
How easy it is to clean
Where will you be pumping the most?
Every woman is different and what is important for one might not be a priority for another. Look at your lifestyle and that will help you determine which direction you go with the breast pump you choose for pumping for twins.
We have picked the best pump for every style of pump you may need.
[birdsend form=5679]
Best Hands-Free Pump
The Willow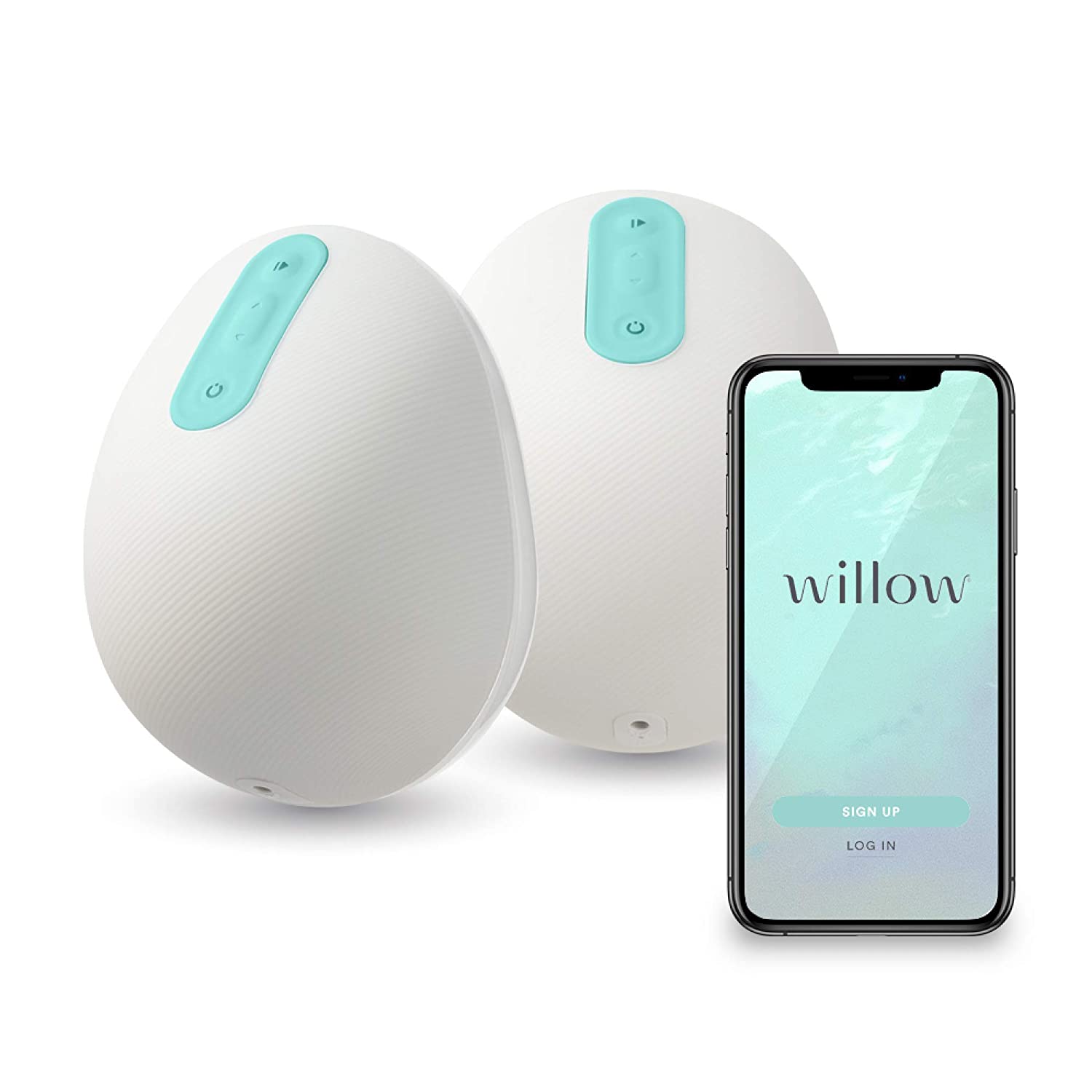 Hands-Free Pumps are relatively new and are making a big splash in the pumping community. The top two hands-free pumps are the Willow and Elvie. You can read our full review on the Willow here and our review on the Elvie here.
One thing to keep in mind abut hands-free pumps are that they typically shouldn't be relied on entirely for establishing your supply, especially if you are exclusively or primarily pumping. A hospital grade pump is going to be the best bet – but for a mom who more often than not doesn't have to two hands or time to sit down, a hands free pump can be a Godsend!
Pros to using the Willow hands-free pump
You are a mom of two (or more!) so time is everything. Using a hands-free pump almost gives you time back when you use it because don't have to be confined to one spot. A hands-free pump is ideal for a mom who is on the go and wanting to do more than one thing at a time and is good at multi-tasking.
The WilloWilloww is small and light weight and you can fit it in your diaper bag or purse- you can take it anywhere. My twins were in the NICU and I was able to drive back and forth from the hospital while pumping. It was a game changer.
The parts are dishwasher safe, too. The Willow is quiet, easy to clean, spill proof and discreet. There are seven levels of suction with two new lower level settings as well as a new sensitivity setting.
Plus- no special bra needed- simply place in your bra and start pumping!
Price
the Willow Wearable Breast Pump Generation 3 will cost you around $499. This is the cost found on their website and on Amazon. I would suggest going through their website for the most streamlined approach and to take advantage of any promotions.
Features
Smart features for more comfort and output. The Smart Technology responds to your body and maintains suction enabling mobility without spilling.
Milk is pumped into the spill-proof disposable collection and storage bag reusable container inside of the pump
Have we mentioned it is spill-proof?
No loud sucking sounds
No external tubes, cords, or awkward bottles
Track volume, view history, and receive personalized tips with the Willow App
Produces 20% more milk than average breast pumps
Willow offers Flanges and Milk Container accessories in size 21mm, 24mm & 27mm
If you are on more of a budget, using the Freemie Cups can be a good option as well. You can pair these with many different traditional pumps. A lot of moms rave about using them with a Baby Buddha Pump.
Best Traditional Pump
The Spectra S2 Electric Breast Pump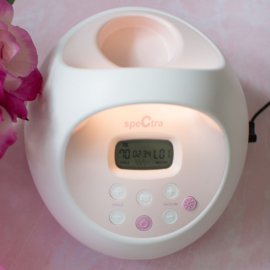 The Spectra S2 is a hospital grade electric double breast pump and is highly recommended by moms everywhere.
Pros to using an Electric Breast Pump
This pump is perfect for someone who pumps exclusively or even just every once in a while. Because you do have to be stationery while pumping it is best for someone who has the time to sit and pump for 10-20 minutes at a time. This might seem impossible with twins but it can be done!
It is also great for someone who values the importance of efficiency and high quality products. The Spectra S2 simulates the natural suckling of a baby and is made by moms for moms so you know they have thought of everything when it comes to this pump.
The parts are easy to clean, it's easy to use and figure out and I love that it is still small enough if you need to take it on the go.
Price
You can buy the S2 on Amazon or on their website for about $159.00
Be sure to check your insurance to see if they cover the cost for free!
Features
This pump is three pounds and you can easily hold it in one hand. I can actually lift the entire thing with one finger.
With one click of a silicone button you can turn on a light that gives a soft glow. This comes in handy at night when I need to pump but don't want to wake up my babies who sleep in their bassinet right next to me. The light is not overpowering but gives off just enough to be able to see what I'm doing.
It does need to be plugged into the wall as it does not run off of battery. However, the cord is really long so you can move it around where you need it to go. I plug mine into the wall in my room and it stretches over to my bedside where I keep it.
Includes a let down mode and an expression mode.
Has an auto timer that keeps track of how long you have been pumping and you can also check and see how many hours you have pumped over all.
Comes with a two year warranty from date of purchase
Its quiet motor operates at 45 decibels which makes it very soft and discreet
Has a backflow protector that protects breastmilk from harmful bacteria
You choose at what pace you pump and yeilds a more natural flow of milk
The LCD screen makes it easy to see and keep track of all your pumping stats and numbers.
Includes a bottle holder. this is a feature you wouldn't really think about if it wasn't there, but I love that it is! It is the perfect spot to hold a bottle or even a pacifier for safe keeping.
Best Silicone Pump
Haakaa Silicone Manual Breast Pump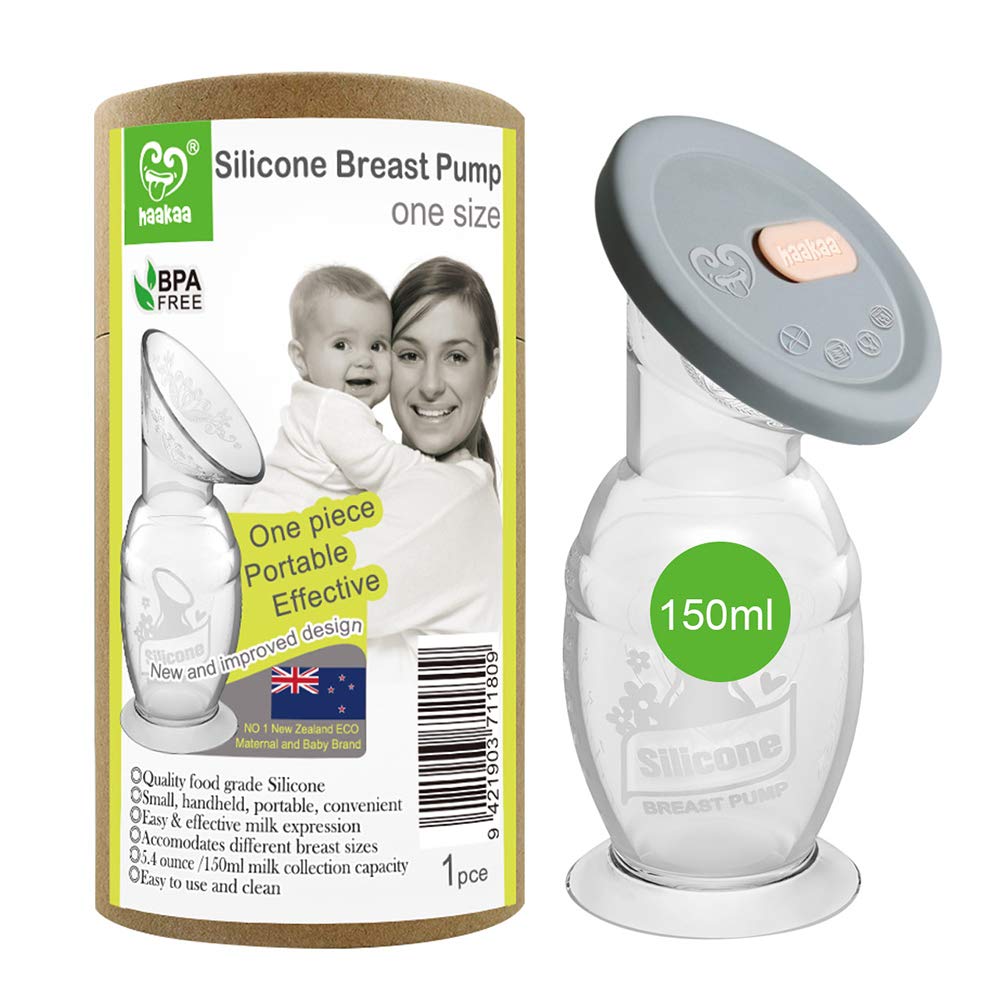 The Haakaa Silicone Breast Pump is a simple silicone breast pump with no strings, tubes or loud machines. It works by suctioning to your breast and using that suction to draw the milk out.
This suction process allows you to catch the letdown milk you typically wipe on nursing pads, shirts, bras, rags, etc in a container to save for later. Because who wants wasted breast milk?
It might not be the best option for full-time working mothers or women who will be away from their child for a length of time. It is better for moms who want to catch that extra milk to help build up a little extra supply- not for moms who plan to pump exclusively.
Why the haakaa is good for twins
When you have twins there are different ways you can feed them. You can tandem breast feed where they are both latched onto a breast at the same time or you can feed one and then feed the other.
If you do a mix of bottle feeding or single feeding then using the haakaa is the perfect solution for capturing the breast milk that would otherwise leak out and go to waste. Use it while you are breastfeeding one by suctioning it to your other breast making the pumping process effortless and convenient!
After your breast milk stops flowing, you can remove the pump and transfer the milk into a proper storage container.
Price
The most basic and popular Haakaa pump costs only $12.94 on Amazon making it an easy and affordable option.
Features
Dishwasher safe
Gentle on breast
Sleek design
Easy to use
Inexpensive
Light weight
Portable
Durable
Best Pump For On The Go
Medela Freestyle Double Electric Breast Pump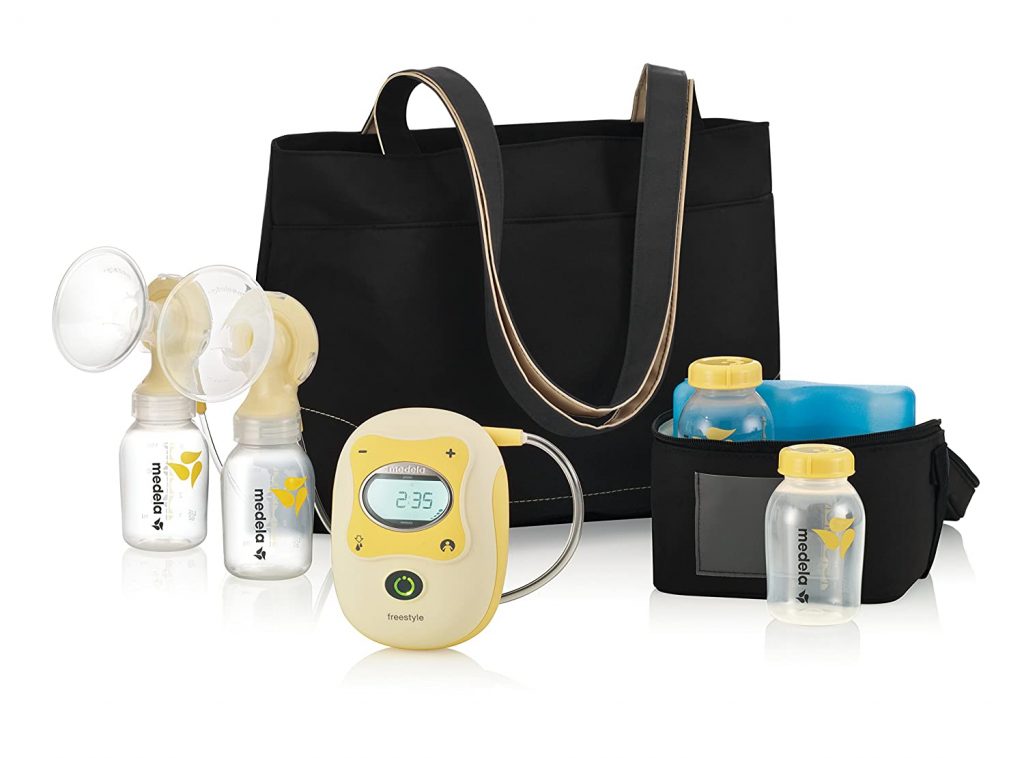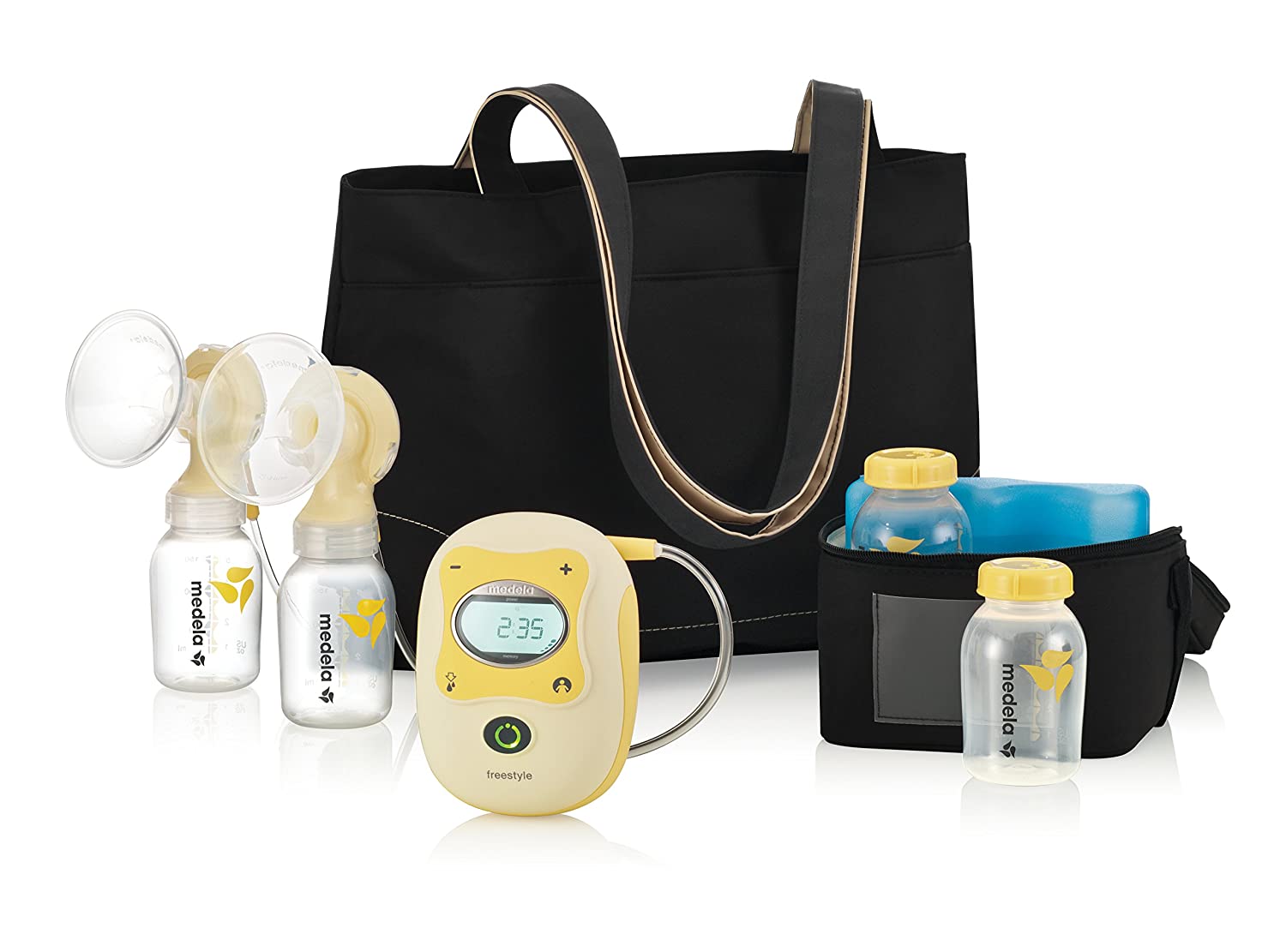 The Medela Freestyle is a compact and efficient breast pump and perfect to take on the go. It comes with a battery so you don't have to be tied to an outlet- while also being powerful enough to be considered hospital grade.
Pros to using the Medela Freestyle
The Medela Freestyle is perfect for someone who pumps exclusively or just a couple times a day. It is portable and small but also efficient in getting more milk in less time. Reviews says it is comfortable and the easy to use making it ideal for a busy new mom of twins!
It was made specifically for moms in mind to use whether at home- or on the go. Some moms have said they can walk around, do chores, write emails, etc. Not being stuck to an outlet makes it much easier to get around and to get things done while pumping.
Price
You can find it at Target for around $325 or check the Medela website. They also have a lot of great accessories to choose from, too.
As always, check with insurance to see if it is covered for free.
Features
Portable
Small in size (can fit in the palm of your hand!)
Easy interaction with digital display
More milk in less time with 2-Phase Expression technology and double pumping
You can use the Medela App
Customizable settings
Overflow protection
Battery powered
Pumping timer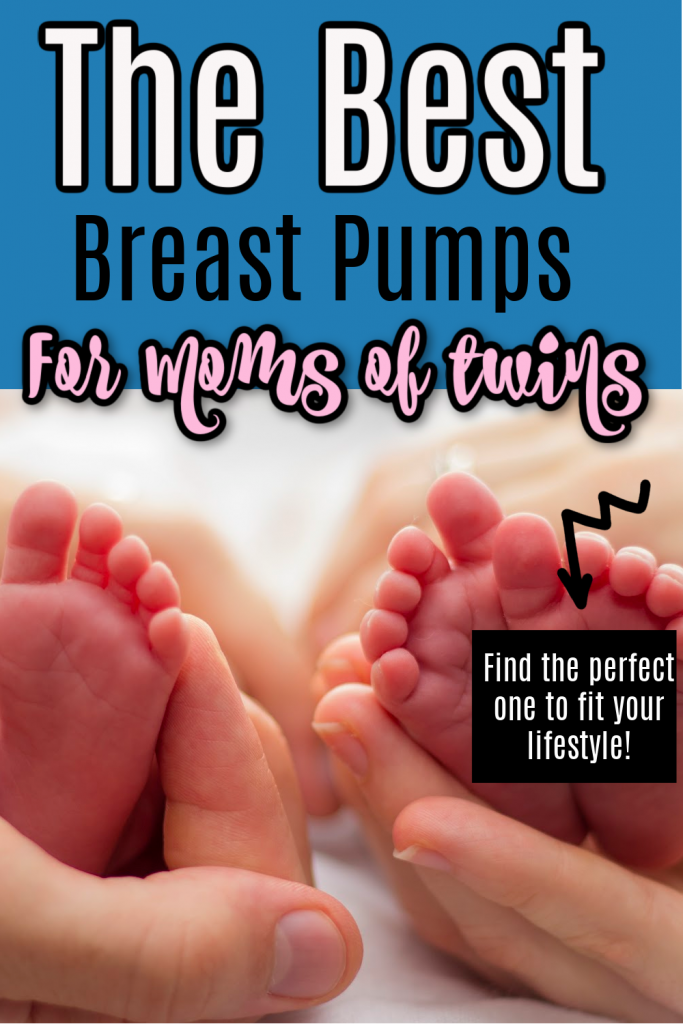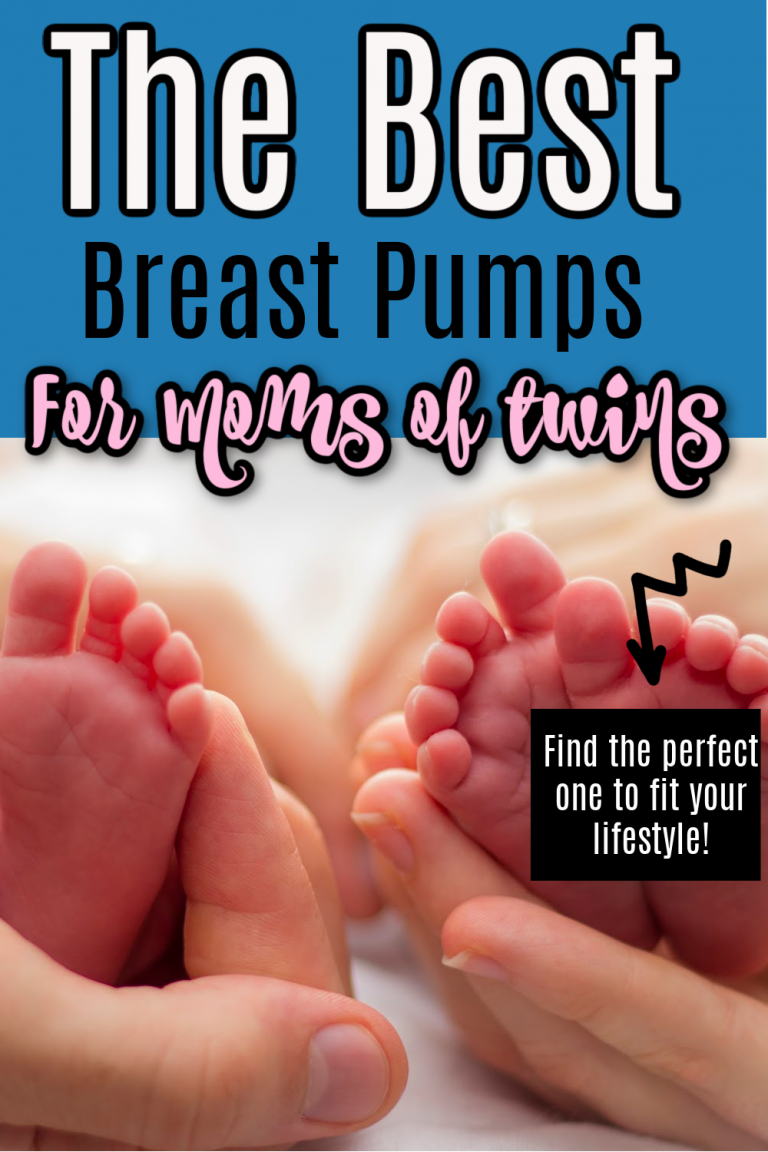 Other posts you may enjoy:
Katie Clark is an International Board Certified Lactation Consultant (IBCLC). She has helped thousands of mothers and families around the globe navigate breastfeeding challenges and questions since 2015. She has a passion for creating research-based, helpful breastfeeding education and helping parents find a way to make breastfeeding work for them. Katie is a mom of three little boys and lives in the great state of Colorado. She also has a degree in Communications with an emphasis in print journalism.