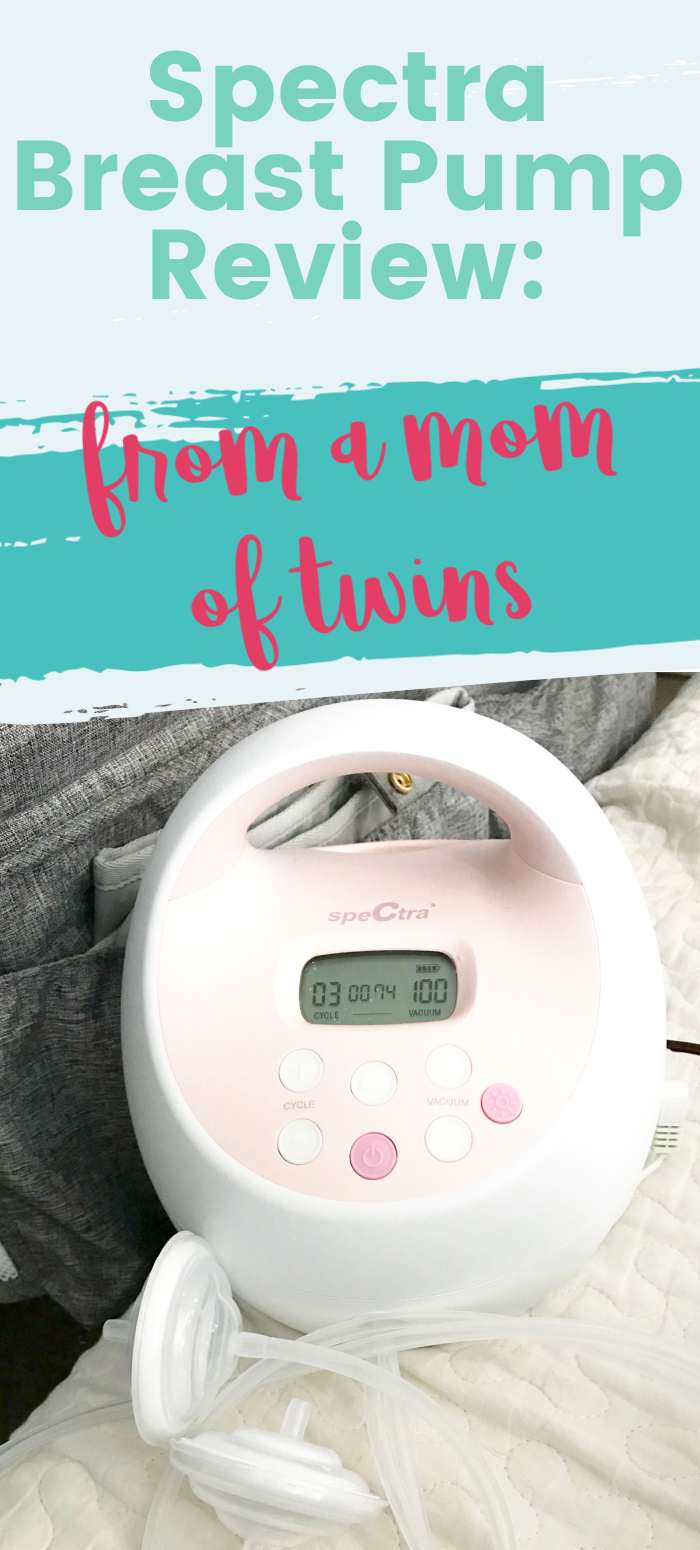 There are a lot of factors to consider when choosing a breast pump. You want to find the perfect pump that is right for you. The Spectra S2 Electric Breast Pump has lots of amazing features that could be just what you are looking for!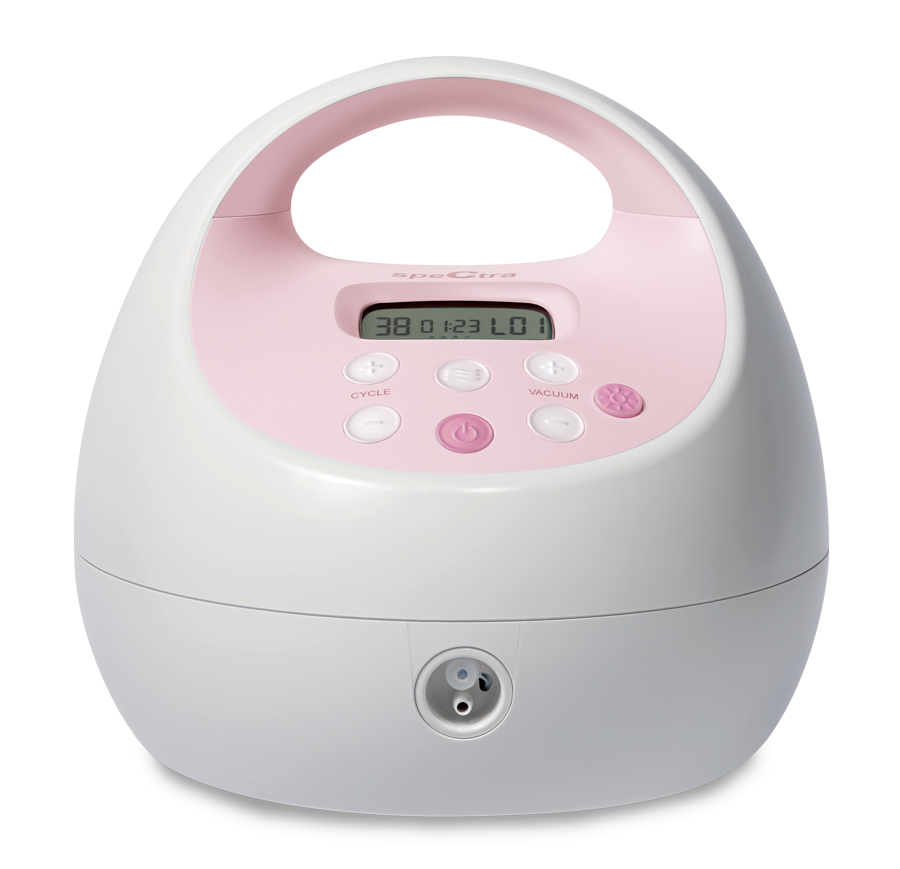 Deciding on a breast pump is an important decision. Whether you are going to exclusively pump or not- it is a commitment that shouldn't be taken lightly.
With my first baby I borrowed an old, outdated pump from a sister-in-law. I didn't end up using it after the first couple of weeks because I was able to breastfeeding exclusively- but I remember hating it! It was loud and bulky and it took forever to get the output I needed at the time.
I have also used the silly handheld pump the hospital gave me for my second baby. It barely offered any relief or yielded any milk. For my third baby I borrowed a pump that was much like the one I used with my first. Huge, loud, bulky and confusing to use with lots of tubes and pieces.
I didn't realize that sharing pumps is a little frowned upon and I wish I had known that I could have gotten a pump for free through my insurance! That would have been a game-changer.
I recently had twins and right away we looked into our insurance to see what pumps were available. We read all the reviews and poured over the pros and cons and asked my sister for her advice. We finally settled on the Spectra S2 Electric Pump.
I am currently exclusively pumping. That means I am connected to a pump for over two hours a day! I have been using the Spectra for over two months now and I would love to share everything I've learned about it.
If you are pumping – or planning to pump – make sure you check out "Demystifying Pumping and Milk Supply". This mini class is jam packed full of information establishing and maintaining milk supply, pumping tips and tricks, and much more. It's part of "The Complete Online Breastfeeding Class", but if you just need pumping and milk supply help, this course is AMAZING (and so inexpensive).
What should you consider when choosing a breast pump?
Buying a breast pump doesn't need to be nerve wracking. First, you'll want to decide what is the most important to you.
Make a list of the features that are the most important to you
How often and how much will you be using the breast pump
Price
Whether it is covered under insurance or not
Mobility
Ease and comfort of using
How it sounds when in use
Do you want a hospital grade pump or not
Everything you need to know about the Spectra S2 Electric Breast Pump
The Spectra S2 (there is another version called the S1 but I won't be discussing that pump in this post) is a hospital grade double breast pump. That means you can pump both breasts at the same time using it.
The Spectra S2 simulates the natural suckling of a baby and is made by moms for moms so you know they have thought of everything when it comes to this pump.
Features
Light weight– the pump is three pounds and you can easily hold it in one hand. I can actually lift the entire thing with one finger.
Auto light– I love this feature! With one click of a silicone button you can turn on a light that gives a soft glow. This comes in handy at night when I need to pump but don't want to wake up my babies who sleep in their bassinet right next to me. The light is not overpowering but gives off just enough to be able to see what I'm doing.
Power source– this pump does need to be plugged into the wall as it does not run off of battery. However, the cord is really long so you can move it around where you need it to go. I plug mine into the wall in my room and it stretches over to my bedside where I keep it.
Two Phase System– It has a let down mode and an expression mode.
Auto- Timer– it keeps track of how long you have been pumping and you can also check and see how many hours you have pumped over all.
Two Year Warranty– there is a two year warranty from date of purchase
Quiet Motor– it operates at 45 decibels which makes it very soft and discreet
Backflow Protector- protects breastmilk from harmful bacteria
Adjustable suction levels– you choose at what pace you pump and yeilds a more natural flow of milk
LCD Screen– this makes it easy to see and keep track of all your pumping stats and numbers.
Bottle holder– this is a feature you wouldn't really think about if it wasn't there, but I love that it is! It is the perfect spot to hold a bottle or even a pacifier for safe keeping.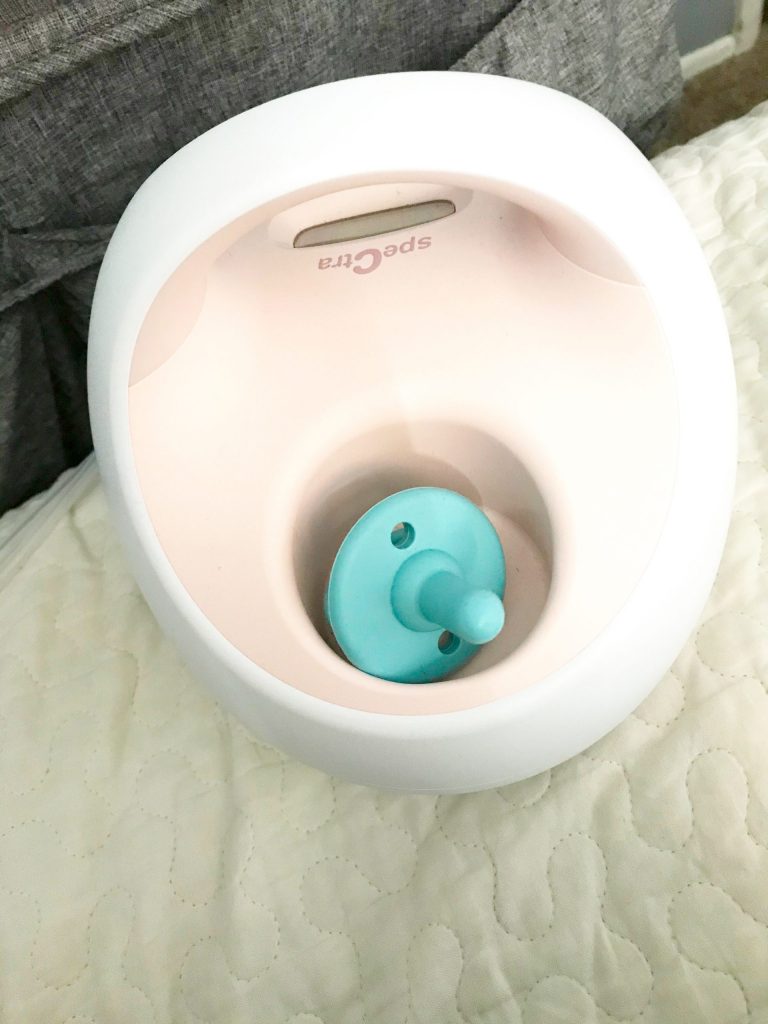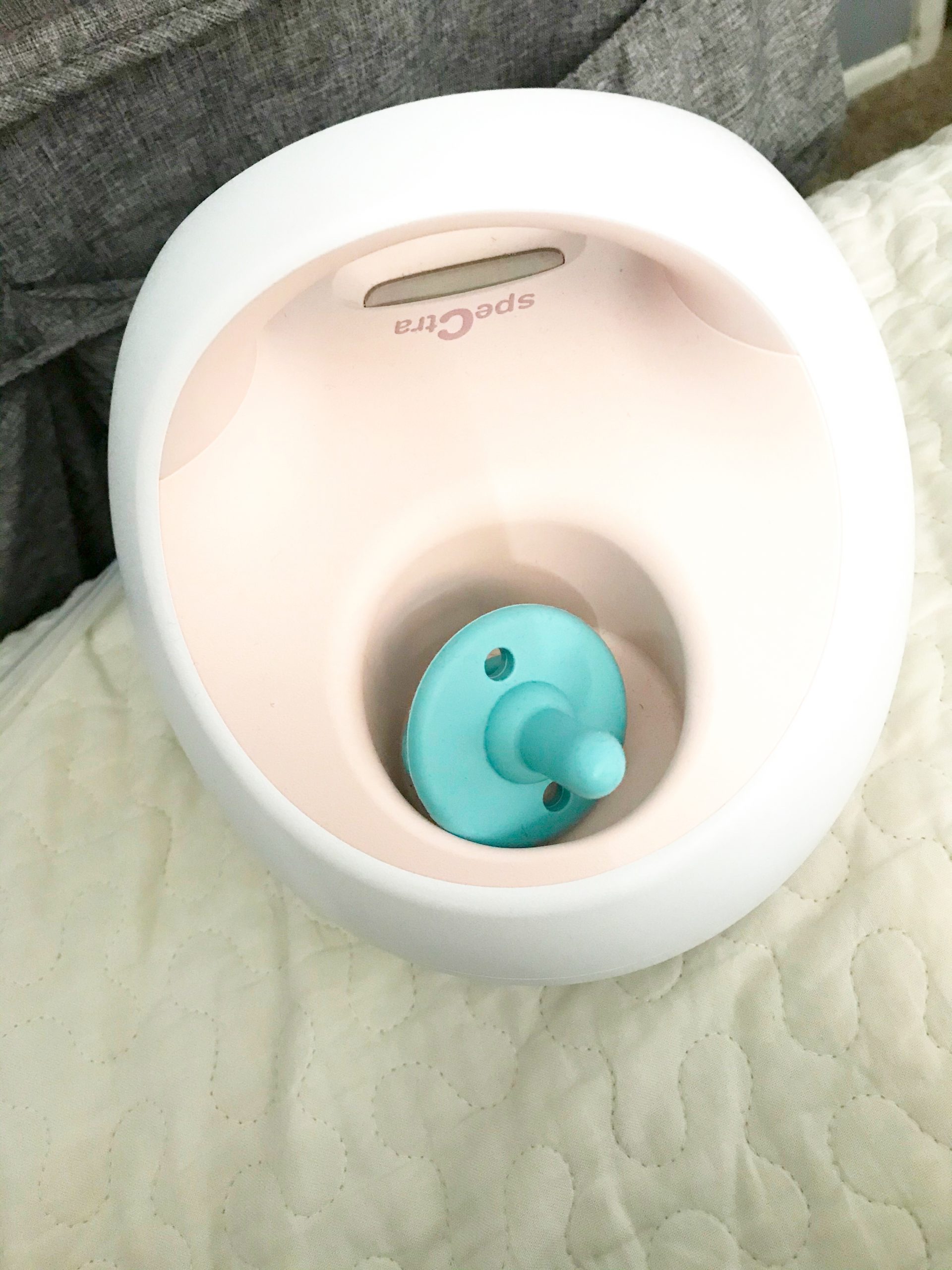 How to check the hours on your Spectra
I just discovered this neat feature and think it's neat to be able to look back and see how many hours you have pumped. To find out your overall hour usage do the following:
Press:
Power On (the pink button, bottom center)
Massage ( the top button with the squiggly lines)
Cycle +
Vacuum –
Cycle –
Vacuum +
Massage
You should then see this screen. The numbers in the middle will tell you how many hours you have pumped.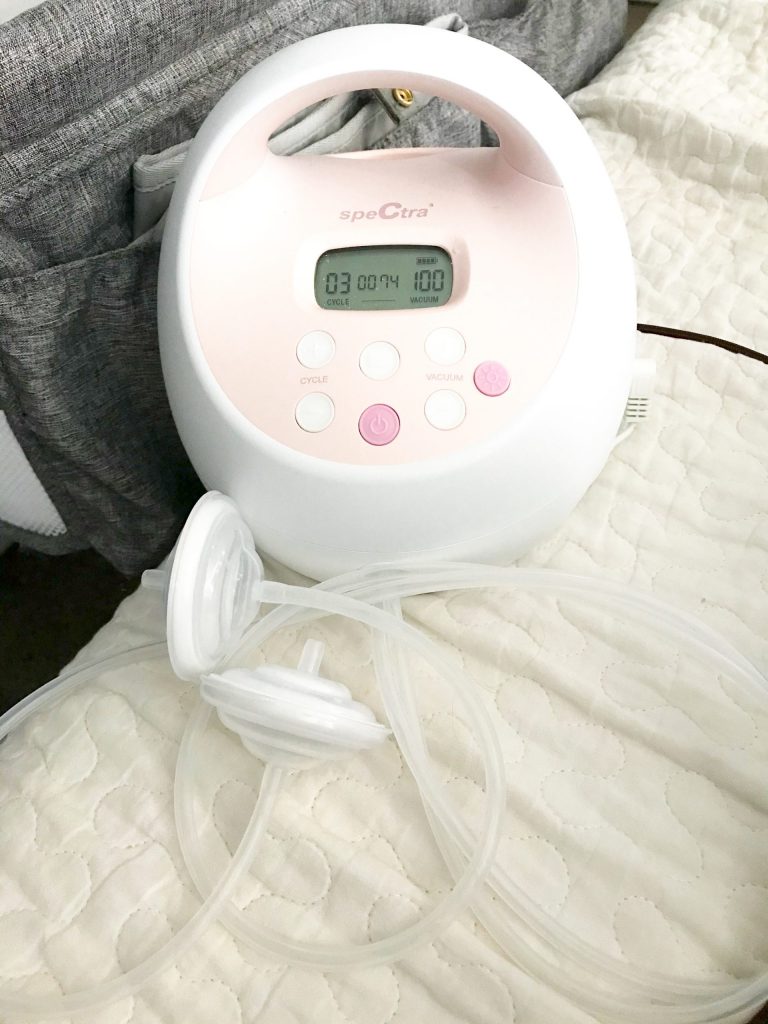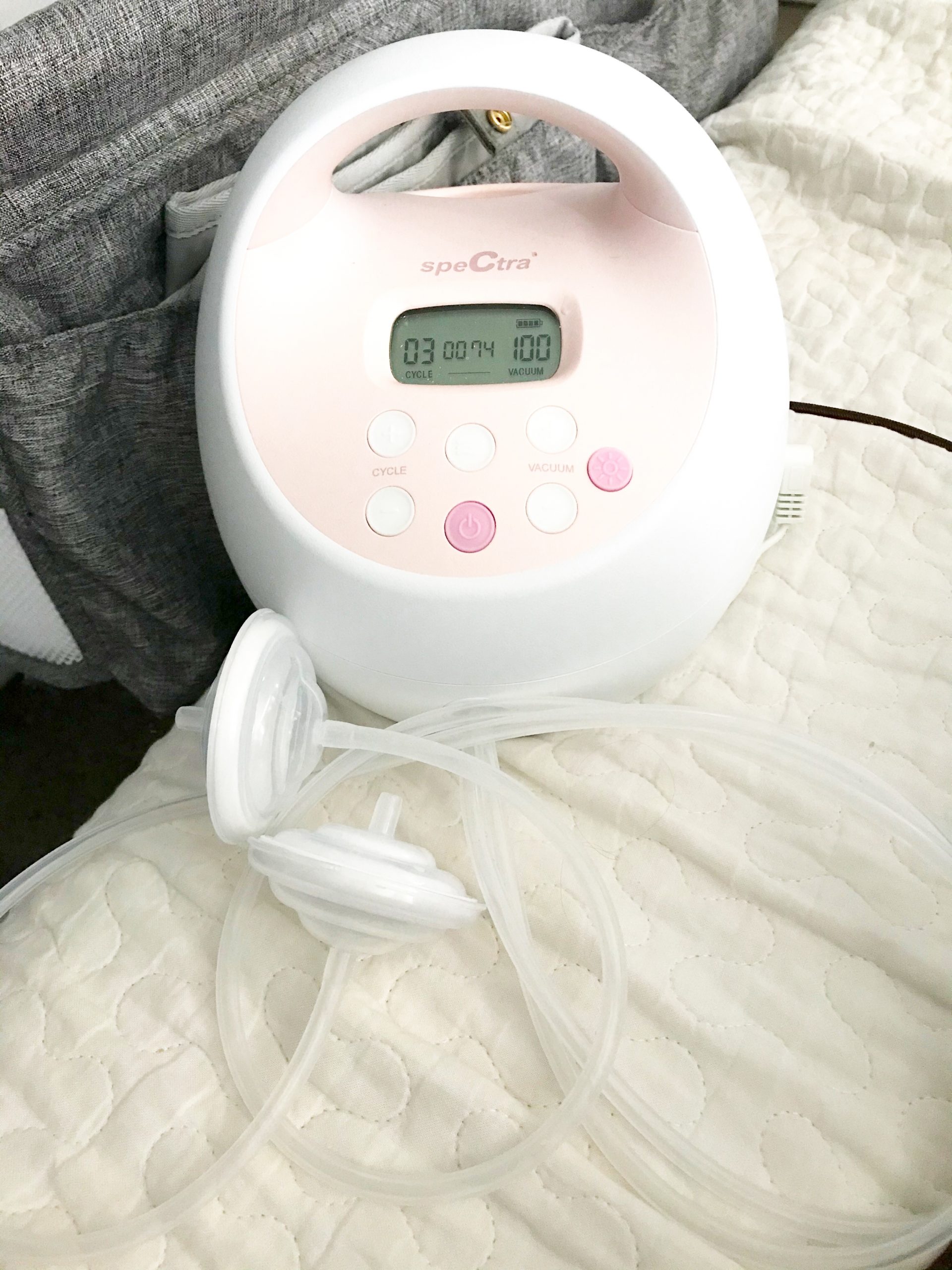 Cost
You can buy the S2 on Amazon or on their website for about $159.00
Be sure to check your insurance to see if they cover the cost for free.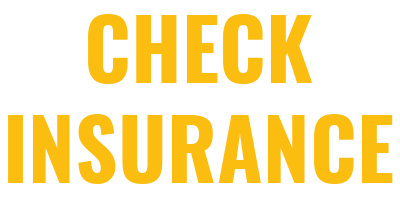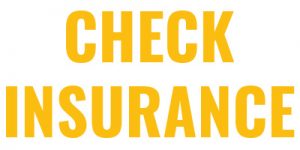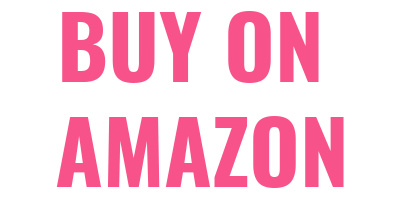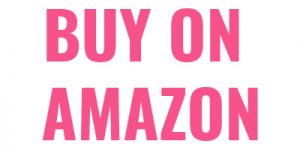 What's Included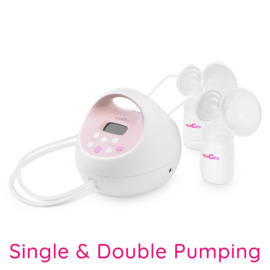 The pump itself
2 duckbill valves
tubing
2 wide neck bottles
24 and 28 mm flanges
2 backflow protectors
12 volt AC adapter
You can purchase replacement parts here and browse extra accessories here
Pros to the Spectra S1
I have used my fair share of pumps and this hands-down my favorite!
There are so many things I love about this pump and that have helped make my pumping experience more enjoyable.
Easy to clean
Because of how often I'm pumping I needed a pump that would be easy to clean. You can purchase extra parts but we haven't done that yet so I am having to use the same bottles and attachments every time. While it is not recommended that you wash in the dishwasher it takes less than a minute to clean with soap and water.
Comfort
This is the first pump I've used that hasn't been uncomfortable to use. I haven't had cracked nipples or any pain while using it. The suction is powerful enough to get the output you need while doing it in a soft, comfortable manner.
Efficient
I am currently able to pump on both breasts for 15 minutes or less every three hours to supply enough milk for two babies. The output is quick and efficient and I can tell that it is emptying out my breasts.
It's Quiet
As mentioned above it is quiet! No more loud and obnoxious pumping sounds for me. You can barely hear it and when you do it is a soft hum that is more relaxing than anything else.
Portable
The design is modern and sleek and is easy to transport and move around. Even if you need to pump at work or somewhere other than home it is light weight and simple to transport due to how few pieces are needed.
Great Customer Service
I haven't had to contact customer service but many online reviews mentioned how wonderful their customer service is. You can reach them on Facebook messenger for an exceptionally fast reply, too.
Design
The design of the Spectra S2 is modern and sleek. I love how it is small and it's actually kind of cute, too.
Cons to the Spectra S2
I can't think of many cons but there are a few worth mentioning.
Like most pumps of this kind you do need to sit up fairly straight to use otherwise it can leak. Sometimes at night I have tried to lean back little only to feel breastmilk leaking down my belly.
While having it attached to a plug hasn't been a huge issue for me I do wish it could also be battery-powered. The Spectra S1 does have a rechargeable battery but it is slightly more expensive at $199.
Who is this pump good for?
This pump is perfect for someone who pumps exclusively or even just every once in a while. Because you do have to be stationery while pumping it is best for someone who has the time to sit and pump for 10-20 minutes at a time.
It is also great for someone who values the importance of efficiency and high quality products.
Overall thoughts on the Spectra S2 Electric Breast Pump
I love this pump and will recommend it to anyone who asks.
Even if it wasn't covered by insurance I would feel comfortable paying the price for this product. It has made pumping manageable and less stressful.
It is easy to use and we haven't had any problems with it thus far. As a mom pumping full time for twins this is a pump I would highly recommend to other twin moms as well as moms of singletons!
More Breast Pump Reviews: