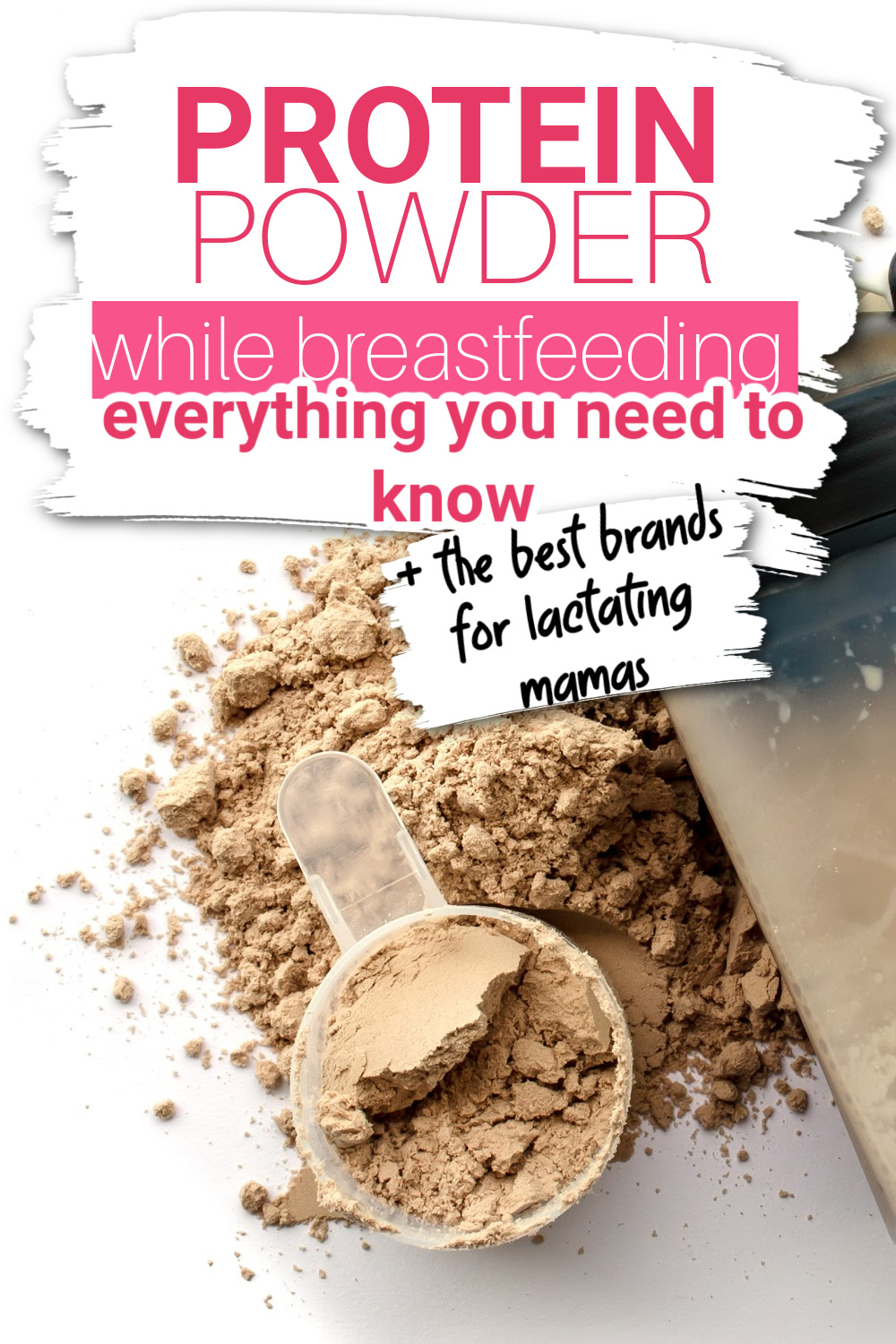 Are you wanting to use protein powder while breastfeeding? Many women wonder how safe it is and if any brands are safe while breastfeeding – or that might even increase milk supply. This article has everything you need to know about protein powder and breastfeeding, including our favorite protein powders for breastfeeding mothers.
If you are breastfeeding, you will want to ensure that what you are consuming is safe for your baby. Protein shakes and protein powder is items that many women use for shakes and recipes and help get in extra nutrients. But is it something you should continue to use while breastfeeding?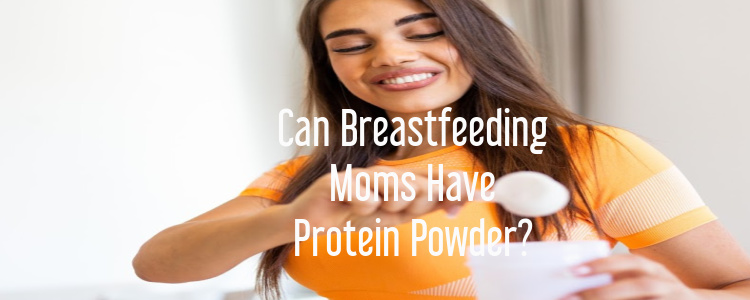 ✅ In a hurry? Just Ingredients is our number one choice due to its quality, taste, and clean ingredients.
You May Also Enjoy: Is Pre Workout Safe While Breastfeeding + 10 Kinds to Try
Are Protein Shakes safe While Breastfeeding?
Breastfeeding mothers have unique nutritional needs, and they typically require additional protein. It can be hard to get enough protein in your diet, which is why protein drinks can be a convenient and popular option for a new breastfeeding mam. Protein powder might be beneficial if she's interested in postpartum weight loss.
One of the most common questions I get from new moms is whether or not protein powder is safe to consume while breastfeeding. No mother wants to drink something that would harm her child knowingly.
Since protein powders often contain many different ingredients (and no, not all protein supplements are created equally), it's wise to make sure protein powders are a safe option for helping you meet your nutritional needs. Protein powder can be a great way to add some additional protein to your diet while breastfeeding.
Here are some additional common questions I often see regarding protein, along with our recommendation for the best protein powder for lactating moms. The most important thing is to have a healthy mom and healthy baby – so making sure your protein powder is safe is essential.
Best Protein Shakes for Breastfeeding
There are tons of different protein powders available, but, as we've already mentioned, not all of them are great for pregnant moms or breastfeeding moms. The proteins listed below are some options that would be an excellent choice for a protein powder while breastfeeding. Some of these have a unique lactation blend, but honestly, I would focus more on natural protein powders than anything.
Remember – be careful about using a protein shake or powder for meal replacements. You need to make sure you are getting enough calories and nutrition in your regular diet! Protein requirements are increased with breastfeeding, though, so a protein shake during the day can be a good option for meeting those goals.
I tried to find dairy-based ones and had plant proteins, so there should be an option for everyone. I'm not too fond of vegan-based protein powders, but I know that many people need that kind, either because of a dairy allergy for them or their child OR for personal preference.
However, I believe all these options are high quality. All of them have adequate protein levels, though some have more than others.
I recommend mixing these with fresh fruit, chia seeds, nut butter, or whatever sounds good. I'm personally a fan of using Silk Protein Almond Milk, which boosts protein.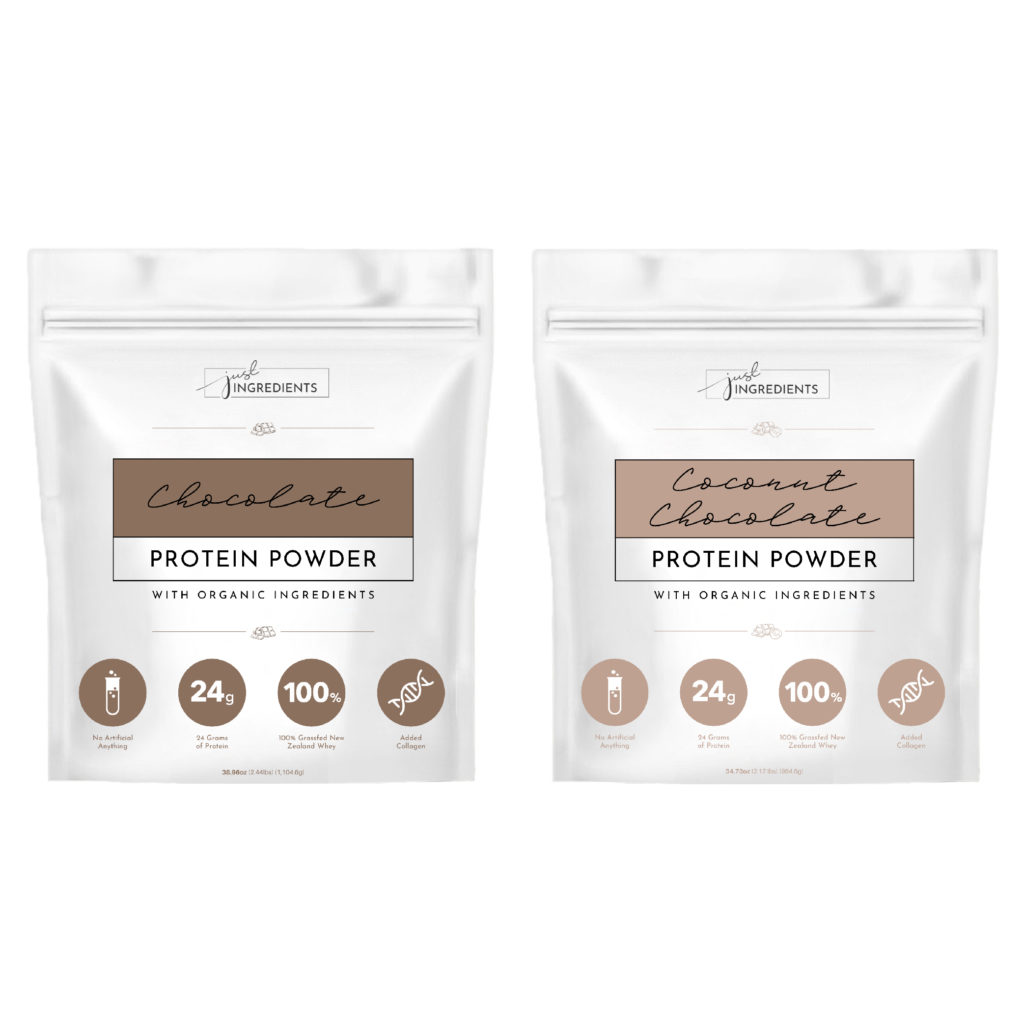 Just Ingredients is a company run by a woman named Karalynne. She runs a very popular Instagram page called Just.Ingredients and she has such a passion for bringing clean products to families and individuals in an accessible way.
She set out on a mission to create a clean protein powder, and she was accomplished that. Her protein powder is the only protein powder I've had that hasn't upset my stomach at all.
It is not lactation-specific, however, you can eat it knowing that it doesn't have anything that will harm you or your baby. There aren't a lot of flavors right now – just chocolate and chocolate coconut – but they are so tasty and easy to eat. They are a great protein powder to incorporate into your day!
Here is the nutrition profile:
Protein from Five Sources

Non-denatured 100% Grass-fed Whey Protein Isolate from New Zealand
Organic Pea Protein
Organic Pumpkin Seed
Organic Chia Seed
Collagen

Free of sugar, gluten, and artificial sweeteners
Depending on the flavor, it has between 140 and 160 calories per serving
4 grams of fat
3 carbs
3 grams dietary fiber
24 grams of protein
It is more expensive than many protein powders, but if you want the best, this is it.
You can save 10% on any products on Just Ingredients with the code TBM. Her face serum is a miracle worker – it was one of the only things that helped my son's cradle cap!
Make our DELICIOUS protein packed lactation cookies!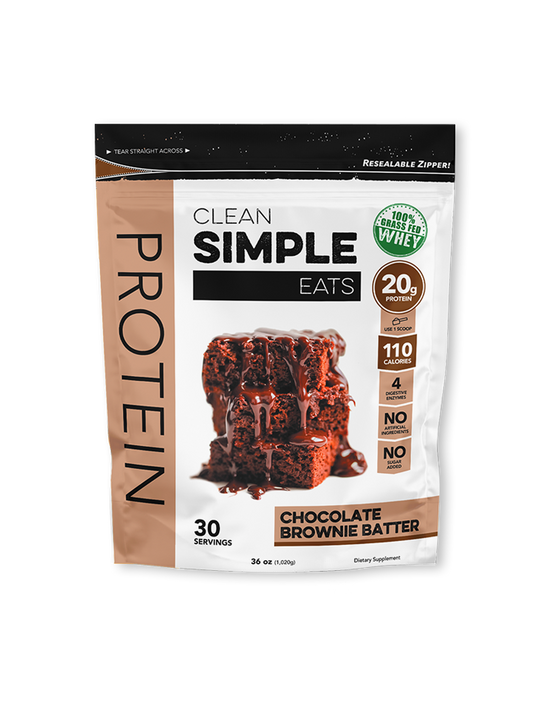 Clean Simple Eats is my personal FAVORITE when it comes to protein powder for a few reasons:
They have a wide variety of flavors, and they are always coming out with new ones.
They use clean ingredients
It is not high in sugar
It tastes really good!
I also love all their recipes, and they also have products like a super berry mix, collagen (which is fantastic for postpartum recovery), and delicious nut butter.
It has 20 grams of protein per serving, though that could vary depending on the flavor you get. They always seem to have Brownie Batter and Simply Vanilla (I've heard this is the best vanilla protein powder, which is hard to find) along with seasonal flavors.
Their protein powder has artificial colors, dyes, sweeteners, or added sugar, and it contains grass-fed whey.
Clean Simple Eats also has a line of fantastic cookbooks that often incorporate their protein powders, so that's something to consider as well. They have some of my favorite recipes for protein shakes in their cookbooks!
There are no special galactagogues in this, but this is a protein powder I can personally vouch for the quality and consistency. I have three bags in my cupboard right now!
They aren't specifically for breastfeeding moms, but you can use them and feel confident in them. This is the brand I primarily have used during pregnancy and breastfeeding. You can get 10% off with the code KATIE. Check out everything they have here.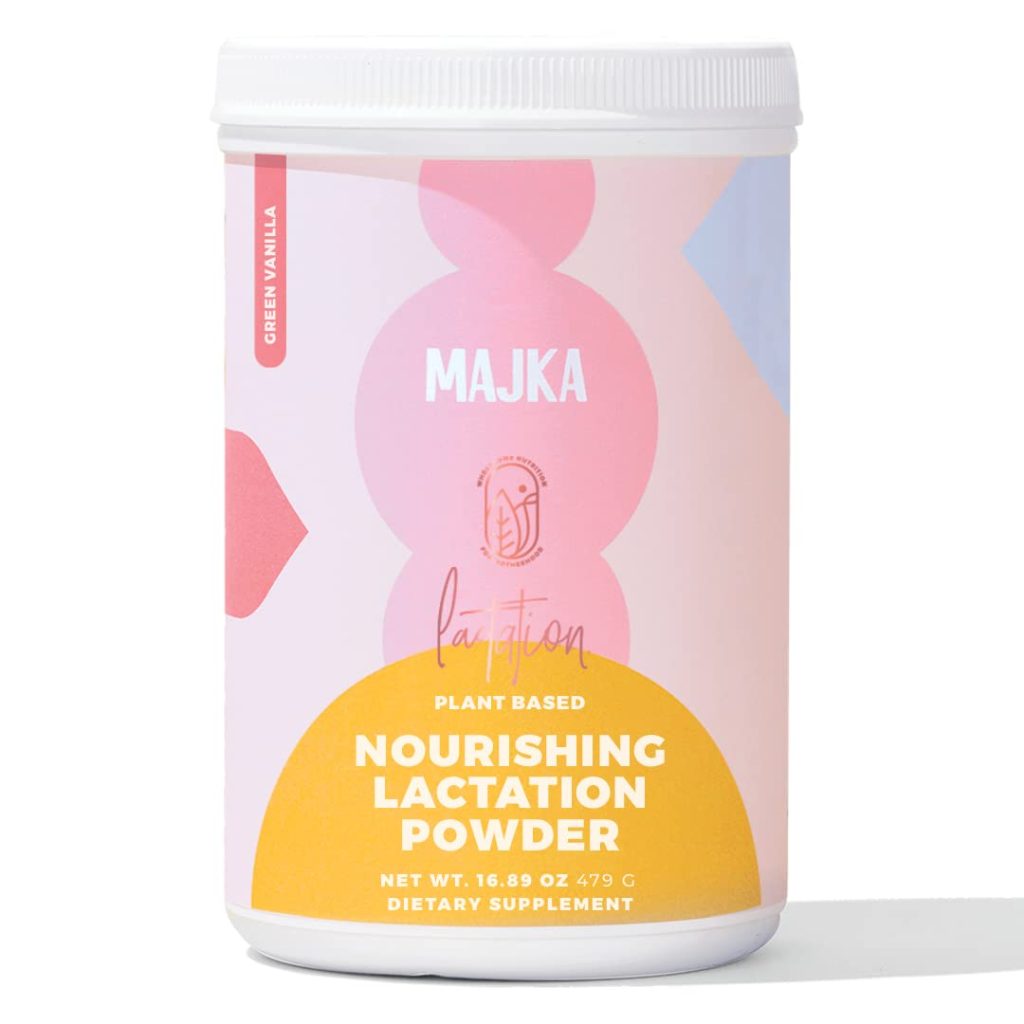 Majka Lactation Supplement Breastfeeding Protein Powder - Postnatal Vitamins for Breastfeeding Moms - Essential Nutrients for Mom + Baby - Gluten Free and Vegan 1.03 LB (Green Vanilla)
COMPLETE Lactation Support and Nutrition for Breastfeeding Moms: Our Nourishing Lactation Protein Powder is a complete and bioavailable postnatal vitamin. While also providing mamas with lactation support to boost milk supply, protein to restore and replenish your body after birth, and probiotics and digestive enzymes for nutrient absorption it's a breastfeeding mom's all in one.
Uniquely and expertly formulated Majka uses the highest quality galactagogues, wholefoods and bioavailable vitamins to increase milk supply, prevent nutrient deficiencies, nourish your breastmilk, and keep you full and energized.
Safe and nourishing for both mom and baby. One serving a day to make sure you are taking care of YOU!
The best breastfeeding supplement with 15 grams of organic protein, active forms of B vitamins, organic galactagogues, fruits and vegetables, probiotics and enzymes.
NON GMO, VEGAN, GLUTEN FREE, SOY FREE, SUGAR FREE, NO ARTIFICIAL SWEETENERS, WHOLE FOOD BASEDFENUGREEK FREE
This is the most expensive protein powder I saw that was explicitly directed toward lactating mothers. Here are some of the claims made about this protein powder:
It can help restore and replenish mothers after giving birth
It provides a complete postnatal vitamin and has probiotics and digestive enzymes.
It is specifically designed to help with milk supply.
It has an interesting profile of ingredients, including:
15 grams of protein
Various B vitamins
Galactagogues such as ginger root, flaxseed, MCT, turmeric, sesame seed, caraway, and clove.
I was happy to see it was fenugreek-free. It also has various superfoods.
It comes in chocolate and green vanilla (that one sounds kind of weird and unappetizing to me, to be honest). It is also gluten-free, vegan, and sugar-free.
This one has more bad reviews than some of the lactation blends, though it's mostly flavor and price. Many people say it is the best one they've used, and they felt it did increase their milk supply.
It does have clean ingredients, and it seems like they've been very thoughtful about how they've put it together. Read through the reviews – if you are more sensitive to the tastes of things, it might not be the best option for you.
Milk Dust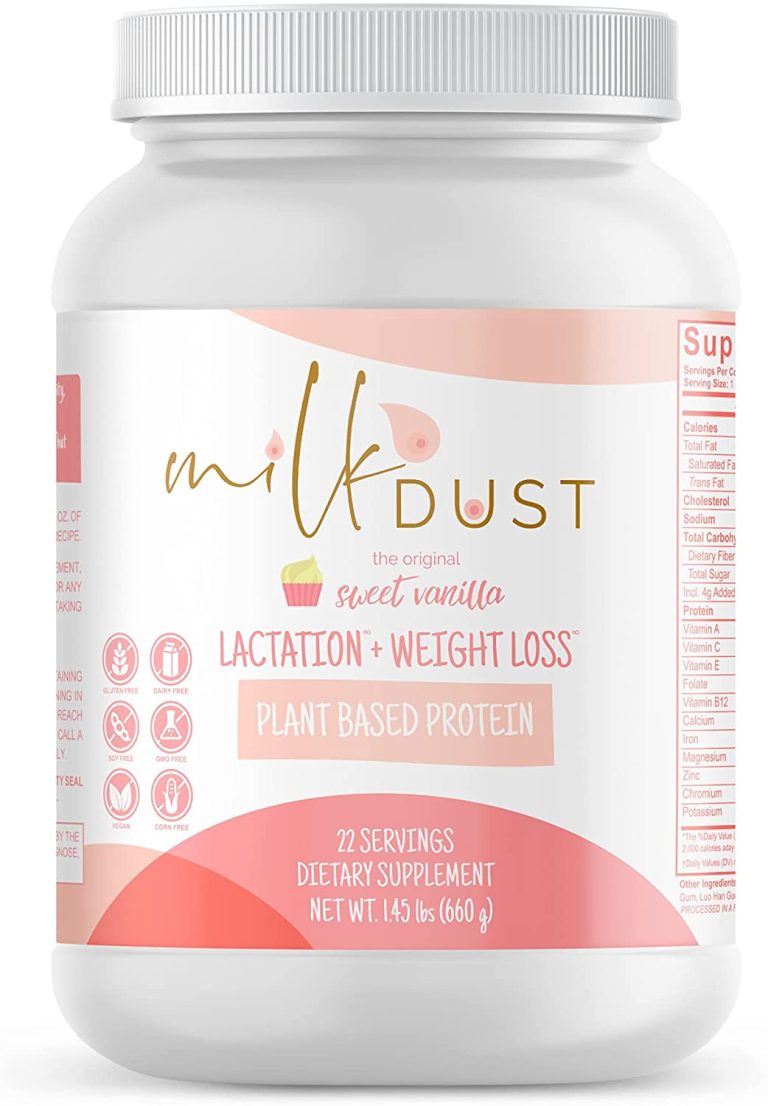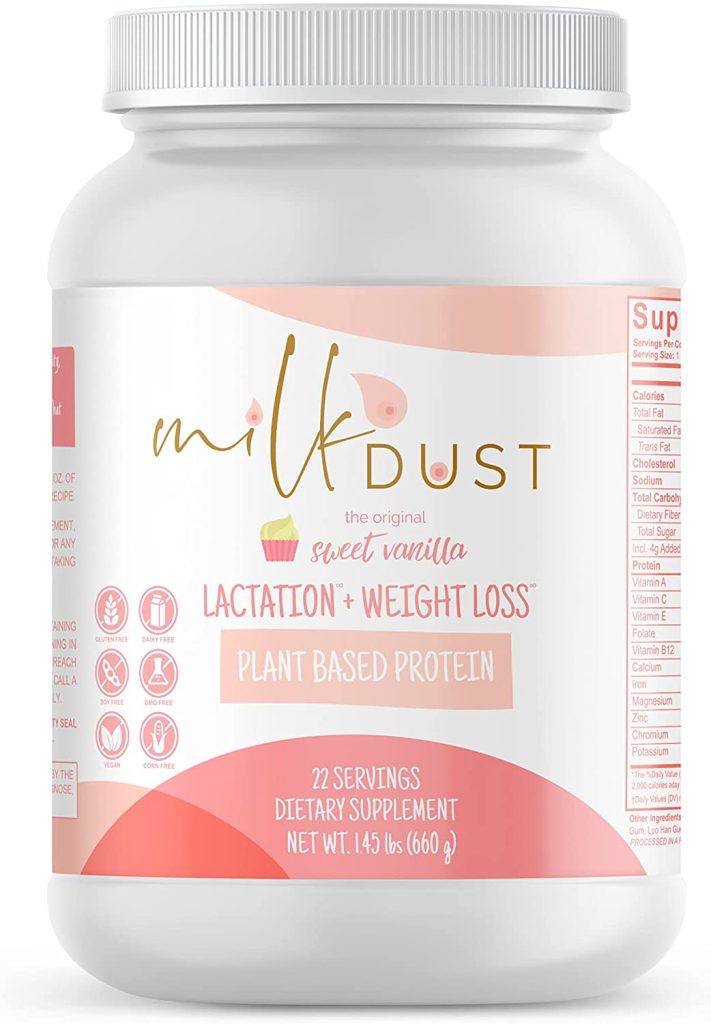 Milk Dust is explicitly marketed toward breastfeeding moms. It is a vegan protein powder with pea protein, brown rice protein, chia seeds, pumpkin seeds, and flax seeds.
This is a dairy, soy, and gluten-free protein powder, so this might be a good option if your child has any dairy issues.
It is a bit pricey at $49.99 for 20 servings. They claim it helps to calm sugar cravings and promotes a healthy milk supply. It does contain milk thistle, red raspberry leaf, brewer's yeast, fenugreek, and fennel, which are all breast milk enhancing herbs – otherwise known as galactagogues.
It has some other exciting ingredients, and they all seem to be high-quality. It contains folate instead of folic acid, which stood out to me (I try to get folate rather than folic acid in my diet, personally).
It contains 100 calories, 4 grams of sugar, and 16 grams of protein, which is low. I would not recommend just making this shake for a complete meal without adding additional calories. I couldn't tell what flavor it was – they say it's a "unique flavor unlike any other protein powder," which tastes like Dunkaroos. And no chalky after taste!
It has pretty good reviews, though some feel it's way too sweet (someone framed it as "the most expensive, offensive flavor." Others commented on the priciness of it. However, most of the comments seemed to think it helped increase their milk supply – or at least, helped them get enough calories to maintain their pool.
I did read one comment that said their supply decreased with it. I'm not sure if this is because they relied solely on just these drinks for their calories, or perhaps they had a reaction to the fenugreek (while I haven't seen any studies on this, a lot of moms claim fenugreek hurts their supply rather than helps).
We have a Blendtec Blender, which has served our family well – but you can use whatever you want! Overall, it is expensive, but it is an exciting blend. If you are especially sensitive to sweetness, it may not be the best option for you.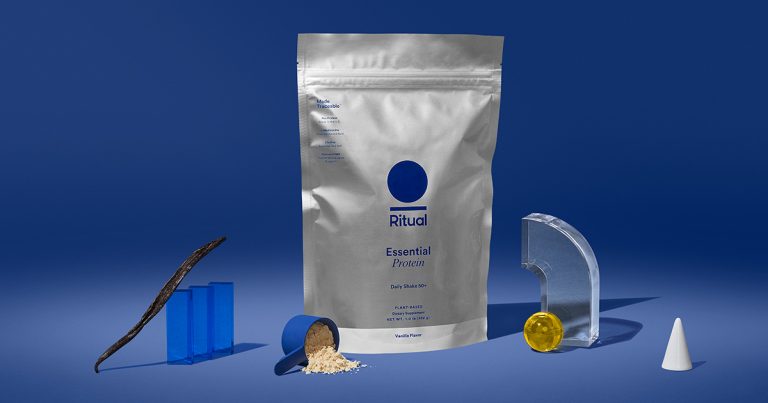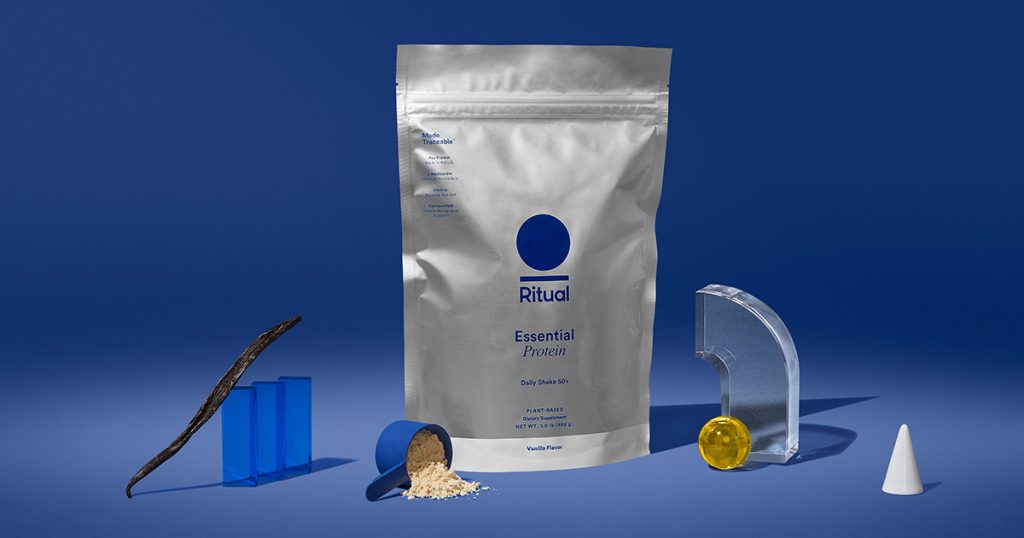 Ritual is a brand that I've liked for their daily multivitamin, so I was excited to see that they created a protein powder specifically for pregnant and postpartum women. It has 20 grams of protein and 0 grams of sugar. It also has 250mg of choline, which is really important.
It is a vegan protein powder made from pea protein, and it's available in a vanilla-caramel flavor that gets rave reviews. No specific lactogenic ingredients in this one, but it seems like a decent option!
You do have to signup fr a subscription, but you can cancel at any time and skip months. If you're like me and always seem to forget to order things, a subscription can be helpful.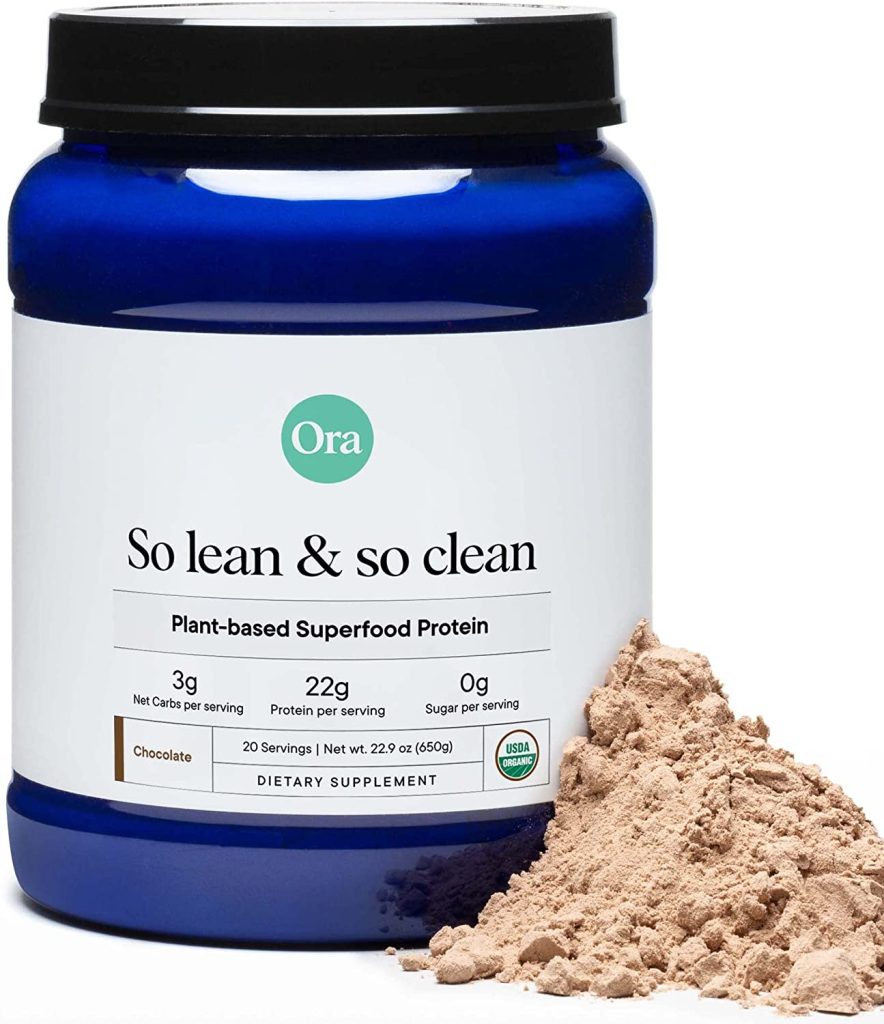 Ora Organic Vegan Protein Powder - 22g Plant Based Protein Powder for Women and Men | Keto Friendly, Gluten Free, Paleo, Dairy-Free, Gluten-Free, Soy-Free - Chocolate Flavor, 20 Servings
ALL ORGANIC & PLANT-BASED PROTEIN: Our organic plant-based protein powder formula is made from all-natural ingredients including 22 grams of protein and 5 grams of carbs, all the while being completely vegan. We include 20+ superfoods for added micronutrients and all essential amino acids to ensure you get the most out of your post-workout routine.
PROTEIN POWDER FOR SENSITIVE STOMACHS: Our inclusive plant-based protein formula makes use of pea protein as well as rice protein, also includes digestive enzymes to help break down the plant protein, which helps eliminate bloating while maximizing absorption.
GREAT FOR MOMS & KIDS: We are pleased to be chosen as the #1 Ranking Organic Protein Powder by Katie Pickett of Joyful Messes as well as the Best Vegan Protein Powder by Men's Journal.
THE CLEANEST INGREDIENTS: Clean, whole-food ingredients sourced from USDA organic certified farms. Always non-GMO and free from gluten, dairy, fillers, and artificial ingredients. Heavy metal tested. Safe for kids and breastfeeding or pregnant mamas.
AMAZING TASTE AND TEXTURE: Our protein blends easily and come in flavors that are delicious on their own or effortlessly complement many food recipes and smoothies.
This is another clean, vegan protein option. It is not explicitly made of breastfeeding mothers, but it is a great option. It comes in chocolate, vanilla, and vanilla chai.
Ora Organics:
Has 21g of protein
Gluten-free, paleo, dairy-free, and soy-free.
It costs $37.99 for 20 servings, though you can subscribe and save with Amazon to get it for a little bit less.
Its blend of ingredients doesn't have any stand-out galactagogues, but it doesn't appear to have anything known to decrease supply.
It did have coconut milk and quinoa, which sometimes are thought to be galactagogues. It has a bunch of superfoods in it, which seems appealing.
Overall has excellent reviews. Many people liked its flavor and consistency, but it was noted that this could depend on the base you put it in (whole fat coconut milk and avocados seemed like popular choices!).
Someone even claimed that it's the best plant-based protein on the planet. I saw one comment from a mom who used it through her pregnancy and post-pregnancy. I'm not going to lie – as I read the comments, I almost ordered some. It does seem like a very high-quality protein powder that doesn't have any weird chemicals or ingredients.
Boobie Body Organic Superfood Plant-Based Protein Shake for Moms, Pregnancy Shake, Lactation Shake, Keto Friendly - Chocolate Bliss, [23.4oz, 1 Tub]
Boobie's #1 breastfeeding bar brand now offers daily nutrition on the go-complete superfood Protein Blend is sourced from organic pea, sacha inchi, organic chia, Organic and flax seeds and provides a vegan, Dairy Free, and Paleo-Friendly complete amino acid profile
Organic, Gluten Free, Keto Friendly, Vegan, Dairy Free, 19g protein, 1 net carb, 0 sugar
COMPLETE MEAL REPLACEMENT IN SECONDS - Look mama, we know you are busy. That's why we pack Boobie Body full of protein, fiber, and pre and probiotics to give you a full meal replacement on-the-go
POSTPARTUM WEIGHT LOSS - We want to help you lose that pregnancy weight and reclaim your body
SUPPORTS HEALTHY MILK SUPPLY - Boobie BODY is packed with milk- boosting galactagogues to help support a healthy milk supply
This is another plant-based protein powder that is designed specifically for breastfeeding and pregnant mothers. It costs $40 for 20 servings.
It has 19 grams of protein, 1000 IUs of Vitamin D, prebiotics and a custom probiotic strand, and all essential amino acids.
Its primary source of protein is pea protein, and it also includes a variety of other ingredients such as flaxseed, chia, and maca root. The main galactagogues I saw were moringa, maca root, and Shatavari. It is sweetened with monk fruit and stevia.
I saw more negative reviews on this one about the taste, though some loved it – so it's hard to say whether or not it's the best-tasting blend out there. They offer a variety of flavors – chocolate bliss, coffee caramel, vanilla chai, and vanilla cookie.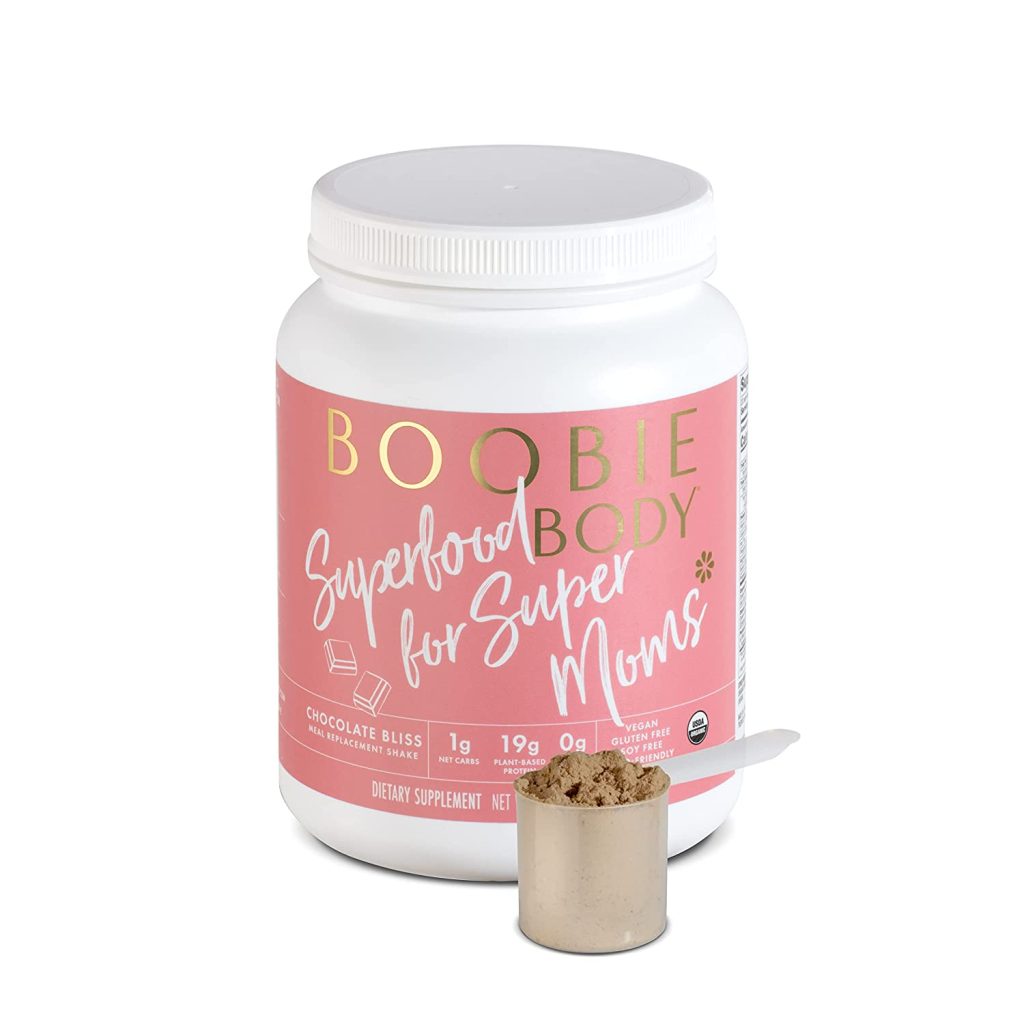 Orgain Organic Protein + Superfoods Powder, Creamy Chocolate Fudge - 21g of Protein, Vegan, Plant Based, 6g of Fiber, No Dairy, Gluten, Soy or Added Sugar, Non-GMO, 2.02 Lb
New look and label, same great product! Includes 1 (2.02 pound) orgain organic protein & superfoods creamy chocolate fudge plant based protein powder
Combined benefits of protein and superfoods: 21 grams of organic plant based protein (pea, brown rice, and chia seeds), 3 grams of organic dietary fiber, and only 1 gram of sugar in each serving. 50 organic superfoods per scoop
Vegan, USDA organic, dairy free, lactose free, gluten free, soy free, non GMO, doctor developed
Our organic superfoods blend includes organic veggies, herbs, greens, grasses, berries, fruits, sprouts, and ancient grains. Good source of food based vitamin B6 and C, iron, riboflavin, thiamin, and pantothenic acid
Ideal for healthy, on the go nutrition for men, women, and kids. These are great for an antioxidant boost, weight management, meal replacement drinks, a breakfast shake, smoothies, building lean muscle, muscle recovery, and pre or post workouts
I like Orgain protein powders, and it's widely available online and at Costco. I have tried their chocolate peanut butter, chocolate, and their limited edition hot cocoa, and I've enjoyed them all.
I recommend buying them from Orgain.com, as they often run different promotions and sales that you won't find on Amazon.
They have plant and whey-based proteins, so they have an option for everyone. Not lactation-based, just a good, clean protein option.
They also have ready-made meal replacement shakes, which can be convenient for a lot of people. I know Premier Protein shakes are popular, but I think those are full of junk, so this is a good alternative if you are looking for something you can pop open and drink.
Mommy Knows Best Brewer's Yeast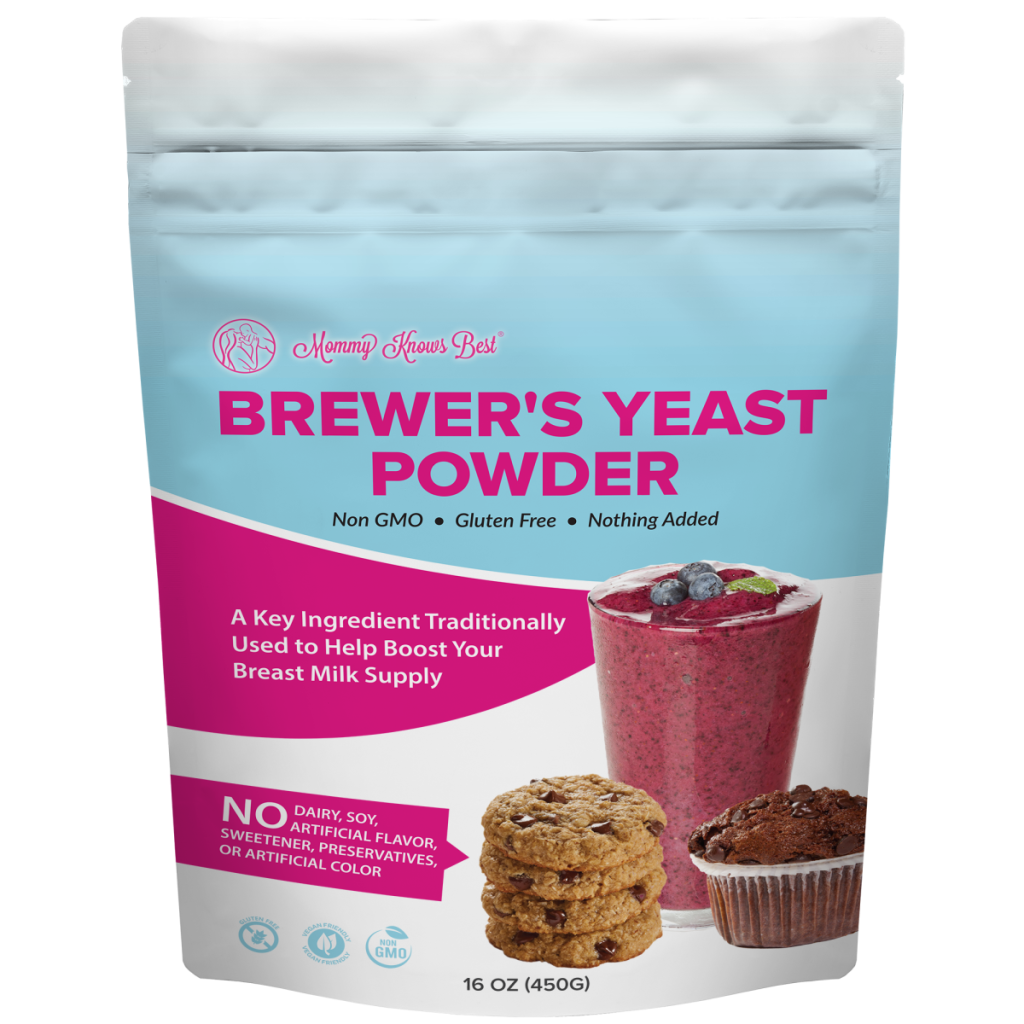 This isn't a protein powder. However, it's something that you can easily make your protein smoothies with or add to your favorite protein powder to make it more of a "lactation smoothie."
Brewer's yeast tends to be pretty nasty and bitter tasting. However, the kind from Mommy Knows Best has been debittered, which makes it taste a bit better. They have a plain and chocolate flavor, so it might be fun to try out. You can get 15% off with the code BFMAMA15.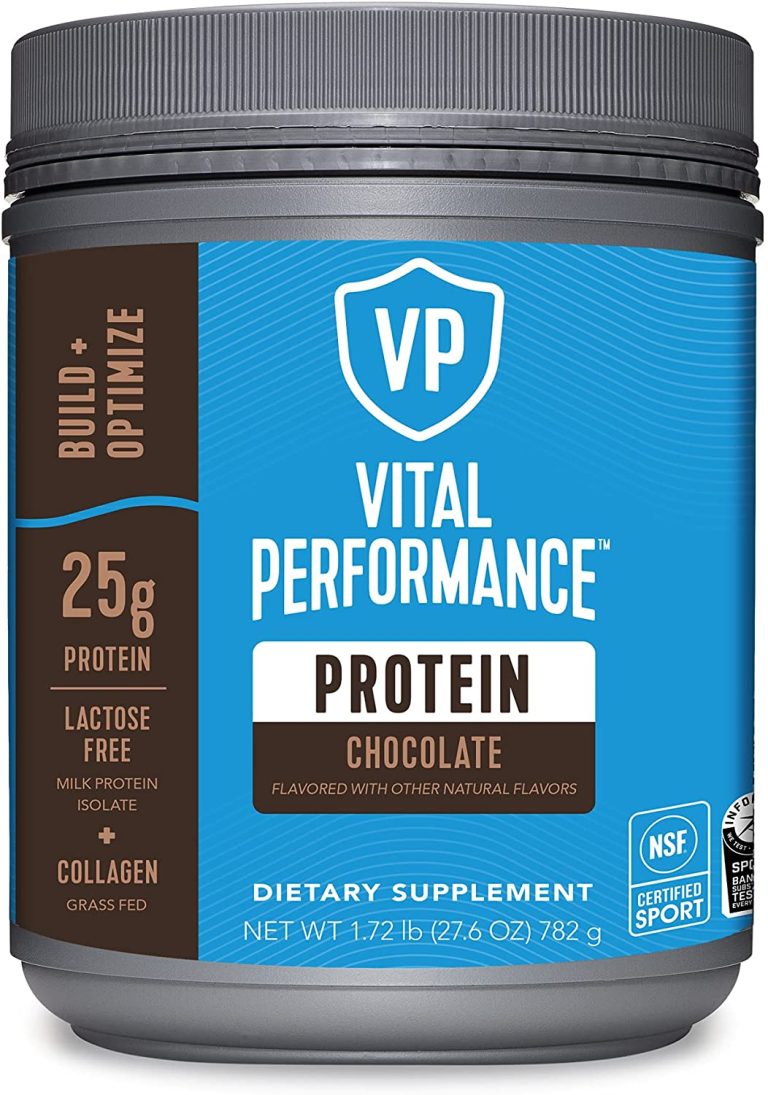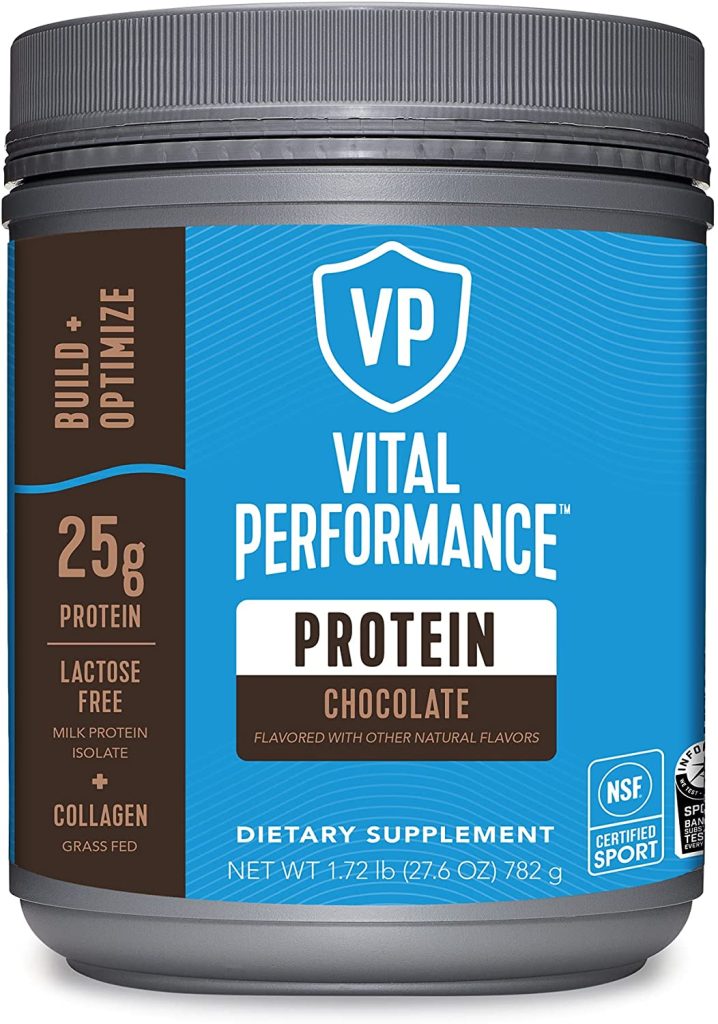 Vital Proteins is a pretty popular company with tons of different products. Their protein powder is whey-based but lactose-free, and it is jam-packed with 25 grams of protein.
It is less expensive than many of these brands at $29.99. They have a few different flavors – chocolate, coffee, strawberry, and vanilla.
Although it isn't a lactation blend, it does have sunflower lecithin, which can help with recurrent clogged ducts and mastitis, as well as MCT oil. It also contains collagen.
The reviews are great for this brand. If you are looking for a more affordable brand that tastes good and has a lot of protein, I will check them out!
All in all, there are a lot of great protein powders out there that are compatible with breastfeeding. Which one is your favorite? Be sure to let us know in the comments!
Can nursing mothers have protein powder?
Yes. The good news is that you can have protein powder while breastfeeding. It is a helpful way to meet high protein body needs during lactation. It is essential to get in all essential nutrients while breastfeeding- including protein.
You might attain that by eating whole food protein sources like:
In some cases, that might be enough to support your milk supply and you may need a little help. That's where protein can come into play.
Protein powder is great to use in shakes and other recipes. It is a quick and easy way to help you reach your protein needs.
Proper nutrition is essential while breastfeeding, and if your diet primarily consists of protein shakes, chances are, you aren't meeting your dietary needs. A
balanced diet is a healthy diet. With that said, it is vital not to rely on a protein shake to meet your nutritional needs.
Many protein powders are reported to have heavy metals found in them and unnecessary amounts of sugar, so it's essential to be careful about what kind of protein powder you are using and choose the best choice for you and your baby. A safe protein powder should be at the top of your list.
How much protein should you have as a breastfeeding mom?
The amount a pregnant woman needs in her second trimester on and throughout breastfeeding is about 71 grams of protein, though as some people try to shed the pregnancy weight, that amount may increase. However, focusing on getting at least 70 grams can be helpful (some believe that amount can also alleviate morning sickness during pregnancy!)
Protein is an essential nutrient that is one of the building blocks for muscle repair, and body rehabilitation often needed after pregnancy. The importance of protein for a healthy pregnancy and breastfeeding mothers cannot be understated.
Getting an adequate amount of protein in your daily diet is essential. Protein can also help to enhance your immunity as it helps create the cells that work with the immune system, which is often lessened in pregnant women and breastfeeding moms.
A breastfeeding mother does need more protein than the average woman – these vital nutrients are essential. This amount can vary depending on age and weight.
When choosing a protein powder to consume while breastfeeding, there are a few things to consider:
The amount of extra protein you need in your diet
If you need to avoid dairy products
How many extra calories you need to eat while breastfeeding
What are yours and your baby's nutritional needs
What vitamins you might need more of in your diet
The Ingredient List
Food Allergies
Total Calorie Intake
What to look for in a protein powder while breastfeeding?
We recommend looking for a pure protein powder when you are breastfeeding since what you eat can be passed on to your baby. There are a lot of protein powders that have a ton of added ingredients that aren't good for you or your baby.
When looking for a good protein powder, first look at the ingredient list. If it's full of ingredients that seem artificial or processed, it might be a good idea to pass on it. It's best to find a protein powder that says it has natural ingredients or, better yet, organic ingredients.
Here are a few things to look for
Omega-3 Fatty Acids
Vitamin B12
The amount of protein – I usually recommend something that has at least 20-25 grams
Healthy Fats
No heavy metals
Digestive enzymes
Essential amino acids
Natural ingredients
Digestive enzyme blend
Organic Ingredients
Minimal Ingredients – the fewer the ingredients (and the easier they are to read) the better!
What are additional ways to get protein in your diet while breastfeeding?
Although protein shakes can be an easy way to get more protein in your diet while breastfeeding, there are plenty of other ways (that are often more nutritious foods) to get protein into your daily meal plan.
Focusing on getting whole foods can be helpful as well for a well-rounded diet. Our postpartum/breastfeeding meal plan is an excellent resource for finding delicious and easy recipes.
Lean Meats – most animal products are going to be a good source of protein. Of course, you should be careful about how much meat you consume and the types you eat – but lean meats (such as chicken breasts) can be a great source of protein.
Oats – this is a double whammy, since they are considered a breastfeeding galactagogue.
Eggs
Nuts – peanut butter
Cottage Cheese
Greek Yogurt
Quinoa
Fish
Lentils
If you are looking for tons of great recipes designed specifically for breastfeeding moms, make sure you check out our Breastfeeding Meal Plan. It has tons of recipes, shopping lists, and meals laid out for you.
What ingredients to avoid?
While most protein powder is fine for breastfeeding mothers, try and stay away from powders that include:
Extra caffeine
Guarana
Ginseng
Green tea extract
Fat-burning complexes
It also is a good idea to avoid any artificial sweeteners, such as aspartame and sucralose. It is always a good idea to get in touch with your care provider for any questions you may have about what you can and cannot have while breastfeeding, along with more customized health advice for your situation.
Is whey protein safe for breastfeeding?
The most popular type of protein powder is typically whey-based, which contains dairy proteins. However, in recent years, plant-based protein powders have become quite popular – such as those that have pea protein as their base.
I don't have strong opinions either way. I primarily use whey protein powders myself. However, suppose you are on a vegan or plant-based diet.
In that case, your baby has an apparent allergic reaction or sensitivity to dairy (see The Ultimate Guide to Dairy-Free Breastfeeding (From a Dairy-Free Mom), a plant-based protein powder might be a better option. Thankfully, there are good protein powders in both these categories!
Can protein shakes increase the production of breast milk?
Every mother has the goal of having a healthy milk supply for her baby – and the desire to increase milk supply is something many hope to do.
Some wonder if protein shakes have the potential to increase milk production. While there have been some protein powders explicitly developed for breastfeeding mothers (which you can read about below), most aren't going to do much for your milk supply beyond providing you with calories.
Can protein shakes affect milk production negatively?
On the flip side, there is a potential for protein shakes to hurt your milk supply. If a mother has too many protein shakes and does not get enough calories from other sources, there's potential for her to drop below the number of calories she needs to sustain her milk supply.
Dangers of too much protein
While protein is one of the vital nutrients you need to have in your diet, there certainly are some dangers that can come from too much protein.
One study showed a link between too much protein and an increase in blood pressure.
Digestive system problems such as abdominal discomfort, indigestion, and constipation (increasing water intake can help with constipation)
According to a study in 2016, diets where proteins replaced carbs showed an increase in weight gain (though not in diets where protein replaced fat)
If you have a pre-existing kidney condition, too much protein can cause damage
Calcium loss can occur from a diet high in acid-ash protein
Of course, protein in appropriate amounts should be just fine. Consult with a dietitian if you are concerned about how much you should be eating.
Protein powder can be a good addition to your daily diet, it's just important to make sure it's good quality. We hope this post was helpful in assisting you to find the right protein powder to use while breastfeeding.
More Posts You Might Enjoy: