Not sure what breast pump you should get? The Motif Duo Double Pump is great for moms on the go who need something small but powerful. Here are my thoughts!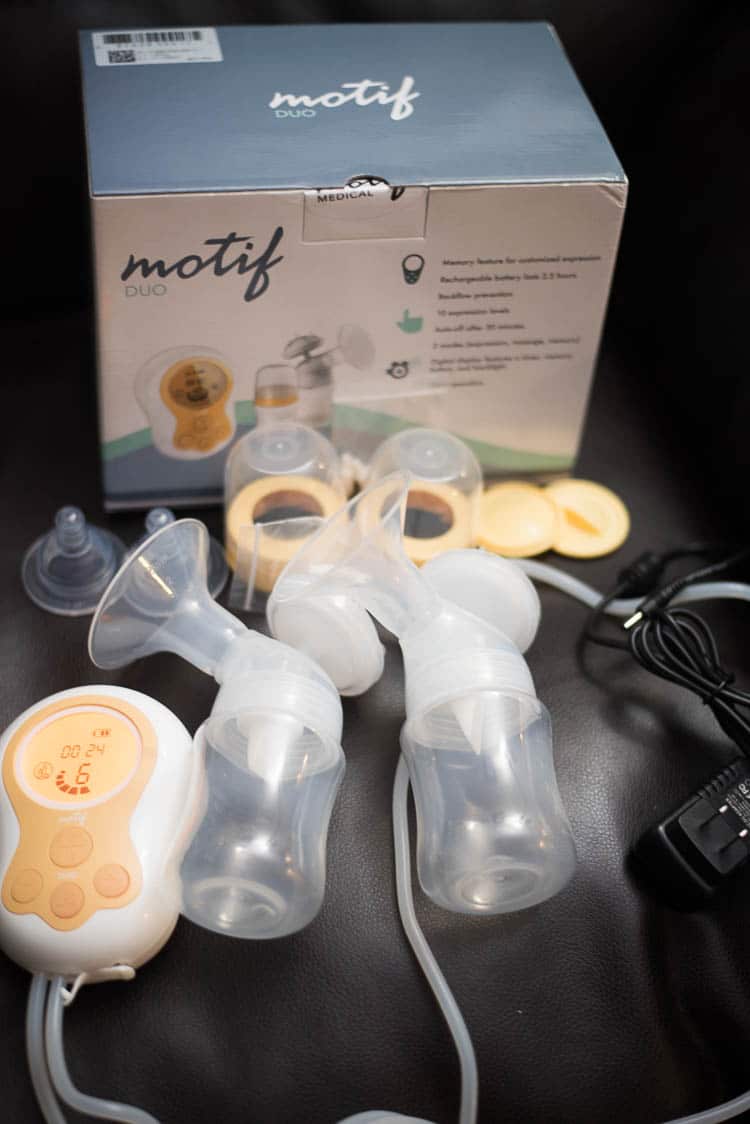 The Best Portable Pump
There are so many breast pumps out there.
I recently went to the ABC Kids Expo, and it seemed like there was a different pump around every corner.
No wonder mamas feel confused! I get SO many questions about breast pumps – and to be honest, there is just no one-size-fits-all answer.
For some moms, a heavy duty, hospital grade double pump is the best way to go. But for others, a manual hand pump is the best idea.
So I'm really excited to start sharing some reviews of different kinds of pumps so you can decide which one is best for your situation.
The first pump I am reviewing is the Motif Duo, which was sent to me from Aeroflow, which is a company where you can get breast pumps through your insurance. While this pump was sent to me free of charge, all opinions are absolutely my own – I want you to know exactly what you are getting if you go with this pump.
Motif Duo Review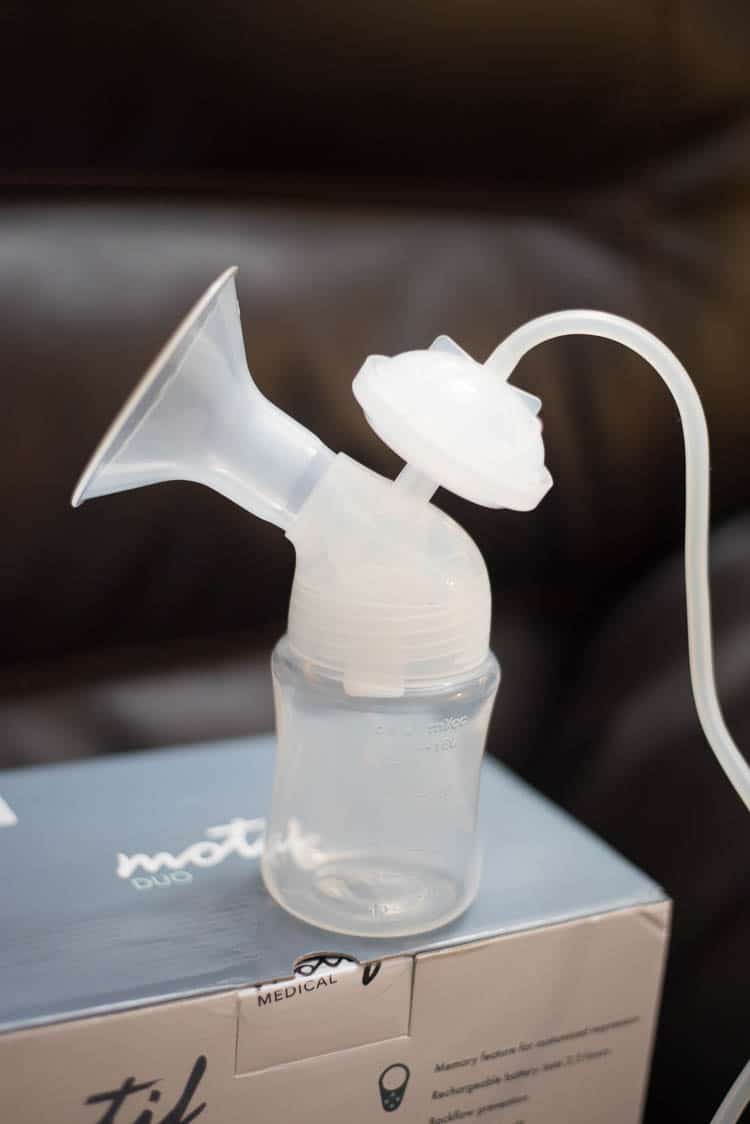 I had never heard of the Motif Duo before, but I loved the sounds of it – a double pump that was portable, rechargeable, and covered by (most) insurances.
This pump doesn't have all the frills that some other pumps have, but it has all the essential components of a double pump, such as:
A closed system (the milk won't touch the tubing or the machine; this makes the pumping process more hygienic and you can also sell your share the pump)
Multiple levels of suction – there are 10 expression levels, which makes it so easy to make sure you are getting the right suction for your body.
Rechargeable – not many double pumps can be charged and used without an outlet. I LOVE this feature!
What I like most about this pump is how small it is – you can literally hold it in your hand. If you are a mom who is constantly on the go and don't want to be lugging around a 10 pound pump with you.
Bottles and Nipples
It comes with two bottles as well as nipples. I haven't had any experience with these nipples, nor do I know anyone who have used them, but if they work for your child – great! They do seem to be shaped like a woman's nipple. However, it doesn't have multiple holes, which is something I personally like with a bottle.
Other posts on breastfeeding and bottle feeding:
Flanges/Shields
I hear people refer to the plastic piece you put on your breast as a flange and shield…so I'll just put both terms here 🙂
The Motif Duo comes with only one size – 24 mm. However, they do have the 21 and 27 mm size available, which you can purchase through Aeroflow for $11. Having the correct size is essential, and I recommend meeting with a lactation consultant to help you get the fit right.
Pumpin' Pals flanges might work with this pump. They seem similar to Medela's flanges, which is compatible with Pumpin' Pals.
Ease of Use
This pump is very easy to use. There are just a few buttons – the power button, the memory button, a letdown button, and then other buttons that will help you to adjust the suction pressure.
What I really love is the memory mode! It remembers your previous settings, so if you can go right back to what worked best for you previously.
The Motif Duo I was sent had the following in the package:
Pump
Bottles and nipples
Connectors, tubing, and valves
Instruction booklet
Power adapter
Comfort
I did try this pump out. I haven't used a pump in probably over a year, so I only used it for a few minutes. However, it was very comfortable. I was a little skeptical when I saw the breast flanges/shields, but they actually felt comfortable on. The suction from the pump wasn't too intense, and it was very easy to adjust.
You also can use it as a single pump if you'd like by putting a little plug into one of the wholes for the tubing on the back of the pump.
Where to Buy:
The Motif Duo is sometimes covered by insurance. Under the ACA, insurance plans are required to cover some kind of breast pump for lactating mothers. You can go to this link to see if this pump is covered under your insurance. Aeroflow is a great place to get your pump from – they also have all the breastfeeding and pumping supplies you need for a good start.
If you aren't looking for a pump covered by insurance, you can also buy it from the Motif Medical official website or on Amazon, however, it is a little more expensive on Amazon.
If you are looking for a portable, easy to use pump with a rechargeable battery and closed system, the Motif Duo is worth looking into. Here is a comparison chart comparing this to the Spectra 1 and 2 and the Medela Freestyle, both of which are popular choices among breast pumps. All of these pumps are available through the Aeroflow website (when you are eligible through insurance)
Pump Comparison Chart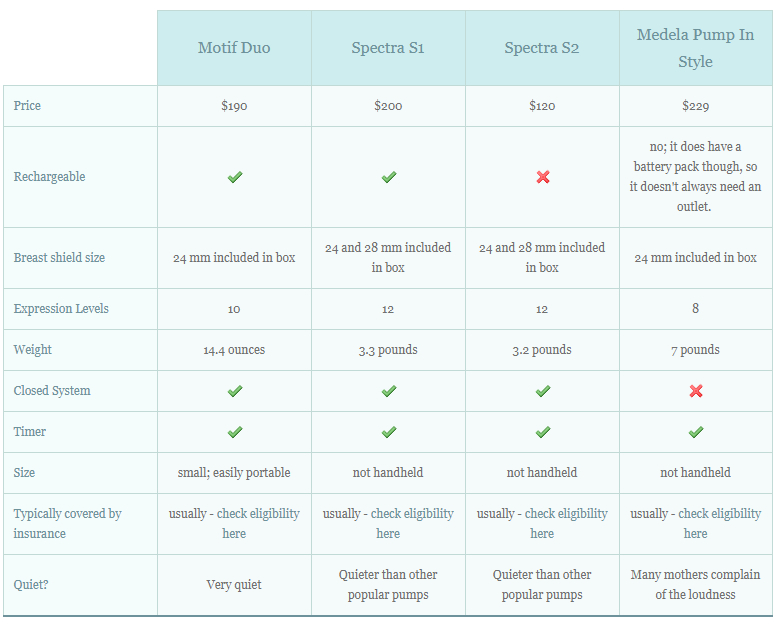 Katie Clark is an International Board Certified Lactation Consultant (IBCLC). She has helped thousands of mothers and families around the globe navigate breastfeeding challenges and questions since 2015. She has a passion for creating research-based, helpful breastfeeding education and helping parents find a way to make breastfeeding work for them. Katie is a mom of three little boys and lives in the great state of Colorado. She also has a degree in Communications with an emphasis in print journalism.