Well, there's a big trend blowing up the Internet right now:
Breastfeeding Tree of Life Pictures.
I first started seeing these a few days ago in a few of the breastfeeding groups I'm in, and I thought it was pretty neat.
Now it feels like every other picture in my news feed is one of these unique creations. Since we focus a lot on breastfeeding here, I thought I'd share a brief tutorial on how to make one of these pictures.
I am using a picture where I'm just holding Oliver (just because I don't feel like sharing my bare chest with everyone) but I feel that the effect is the same.
First of all, you will need to download the app Picsart – it's available on Android and iOS devices.
Then, you'll need a photo of your child breastfeeding, as well as a free clip art of a tree with roots. If you go to Google image search, you can select this option when searching for clip art. The PicsArt app also had stickers you can use as well. Make sure both of these are saved to your phone.
Next, upload the breastfeeding photo to your app:

Next, you will either select add photo or the sticker button in the bar at the bottom of the page.
If you are using your own photo, you will add it to the page and select blend, then multiply from the top menu. Then you can drag the image to where you want it on the page.

If you use sticker, they should be ready to go. Just select the tree that you want and line it up!

Once you have it where you want, you will select "magic" at the bottom of your app. You can choose any of the effects you want.
I ended up choosing midnight for mine but you can play around.

Enjoy! Feel free to come join my breastfeeding support group on FB to share!
Here are some photos from others. If you'd like me to add yours feel free to send me an email.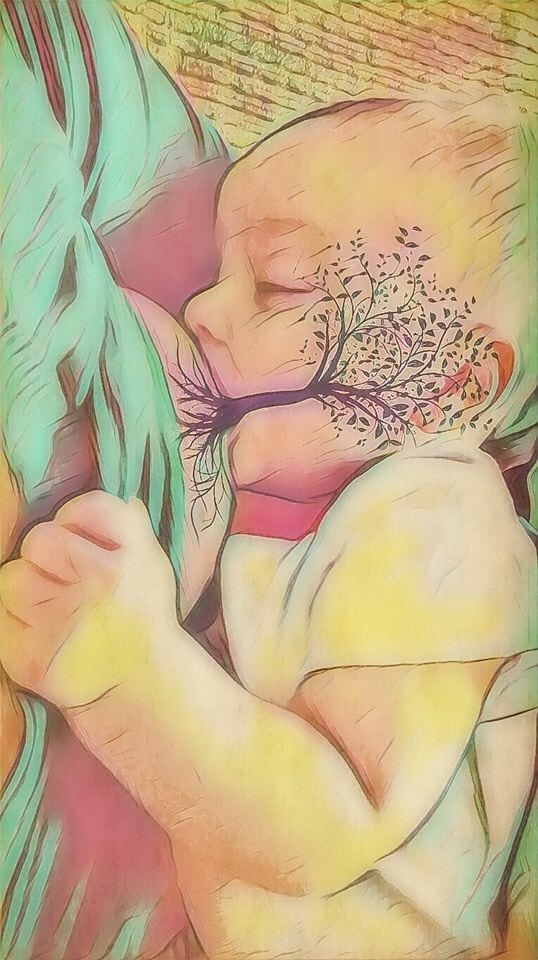 Katie Clark is a Certified Lactation Educator, Certified Breastfeeding Specialist, and IBCLC student. She has helped thousands of mothers and families around the globe navigate breastfeeding challenges and questions since 2015. She has a passion for creating research-based, helpful breastfeeding education and helping parents find a way to make breastfeeding work for them. Katie is a mom of three little boys and lives in the great state of Colorado. She also has a degree in Communications with an emphasis in print journalism.