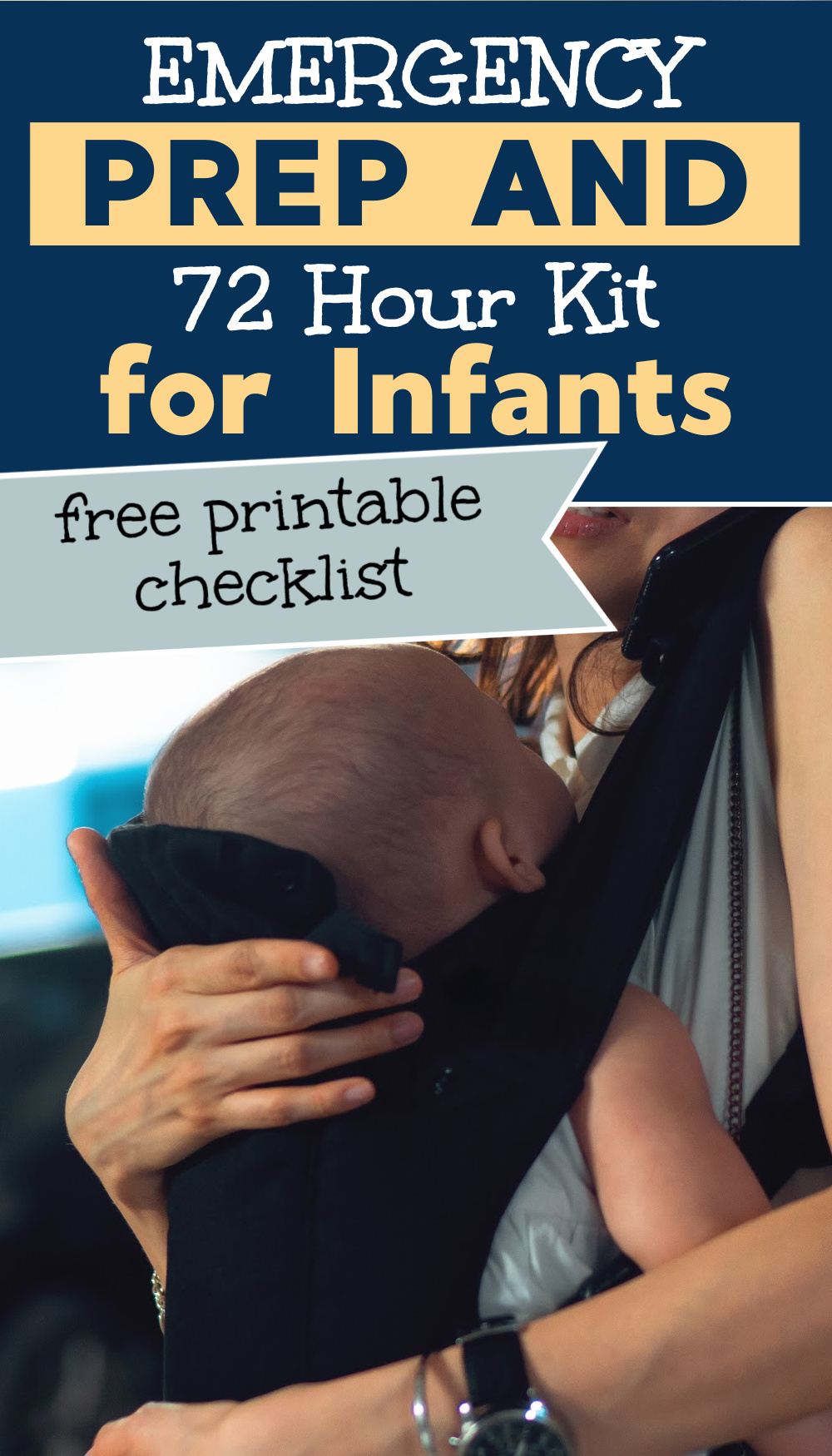 It's important to be prepared for an emergency – and when you have a baby, you need to have a plan as well. Here are some tips for what to include in an emergency prep 72 hour kit for an infant – including a free printable checklist!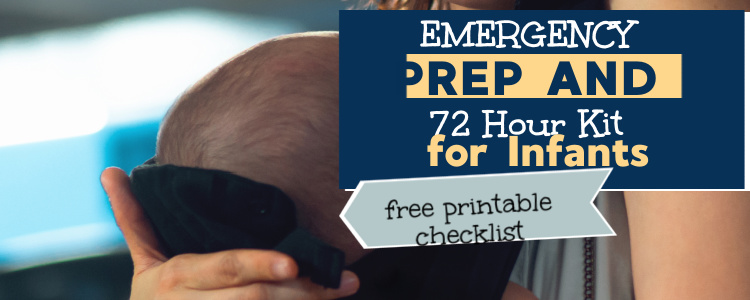 Dealing with any kind of disaster is scary – but when you bring children into the world, it can bring it to a whole new level of terrifying.
Personal and emergency preparedness is something I've grown up being taught the importance of. You just never know when something will happen where you won't be able to run to the store, use clean water, or have electricity – among other things.
Because I feel it's so important, I thought I'd put together this list of things you want to consider putting in an emergency or 72 hour kit for your baby. This is something that you will *hopefully* not have to use, but if you do – you'll be grateful you have.
This doesn't specifically have to do with breastfeeding, but there are a few things you'll want to make you have on hand if you are breastfeeding/pumping.
With a 72 hour kit, you want to make sure it's easy to grab in case you only have a few minutes – and it should all be in a bag of some sort. There are a few items below that won't fit in a backpack or diaper bag, but if you can keep them nearby the bag, it will make it easier.
Basically, this is just a really souped up diaper bag – but in an emergency, you will need these items!
Some of these items may vary depending on your situation and your baby's age. Some of these items you may put in your own personal emergency kit or can be used for the whole family or you might not be able to add to your kit at this time due to the price. You should try to update and rotate this kit every six months.
FREE PRINTABLE
You can get a free printable version of this list below – just add to cart and checkout!
FOOD AND WATER
Bottled Water

You will want this to mix formula if you formula feed, help clean anything the baby is eating from, and to help keep you hydrated. If baby is old enough for water, it can be for them as well.

Formula

Obviously, if your baby is formula fed this is a necessity. Some moms who exclusively pump or supplement with formula may want to have some on hand as well

Jarred Baby Food
Other wrapped baby appropriate food
ESSENTIALS
3 day supply of diapers
3 day supply of wipes
3 Sets of clothing
Medications

Infant Tylenol
Infant Advil
Children's Bendaryl
Dosing charts for the above medications

Pacifier
Bottles and Nipples
Therapearls (for mom in case she gets mastitis or clogged ducts)
Extra batteries

Charged battery for breast pump
AAA and AA

Charger for breast pump
EQUIPMENT
Power Bank and Charging Cords
Portable Bed for Baby
Baby Carrier
Long Lasting Cooler

These can be kind of pricey, but there are coolers that will keep things cold (and even frozen, especially if you have ice or dry ice) for a multiple days. This would be an option for frozen or freshly pumped breast milk. Yeti is a popular option, but we have this one from Rtic that works well!

Fire Source
DOCUMENTS
Copy of birth certificate
Passport (if you have one for your baby)
Emergency Contact Numbers

Doctor's Number
Extended Family
Trusted Friend Numbers

Copy of Insurance Card
Condensed Health History

Information on any health issues, allergies, etc.

Cash
More Posts You May Enjoy: