The Top 9 Best Cooler Bags For Breastmilk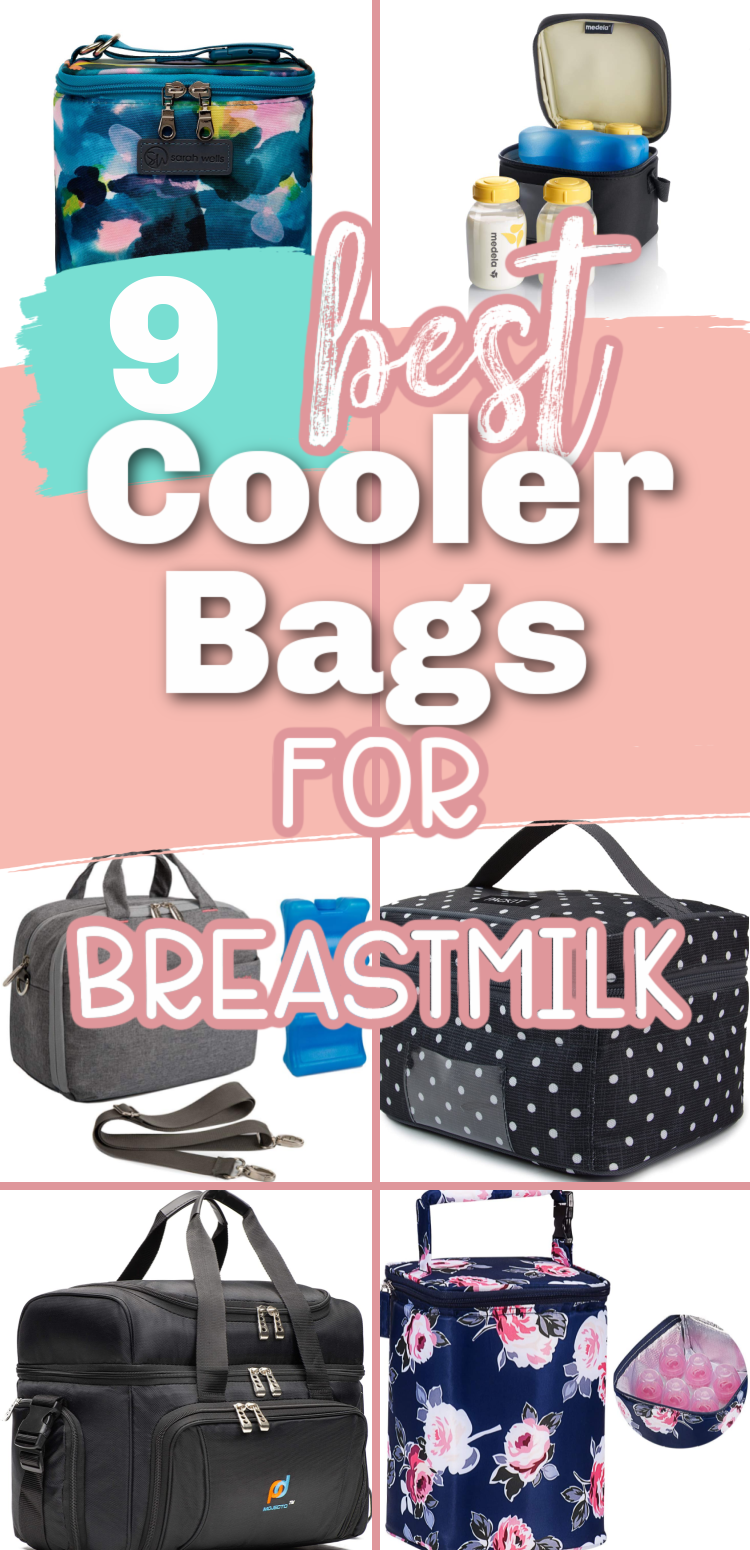 If you pump at all, chances are you will need to transport your bottled or bagged milk at some point. Whether you are pumping at home or the office you will need to safely move your milk from place to place. Insulated bags are the best way to do this. This post share some of the best cooler bags for breastmilk and where to find them.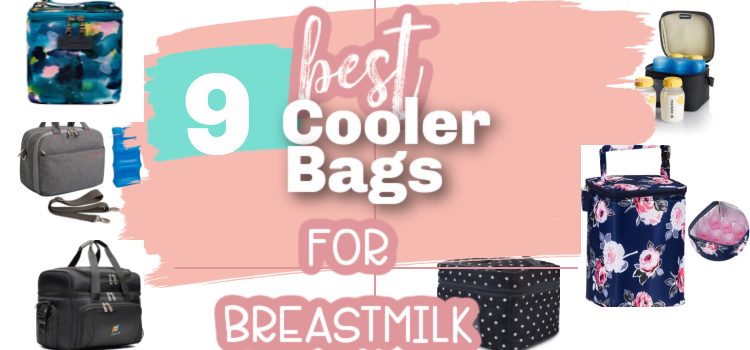 Whether you are pumping exclusively or pumping along side nursing you will want to invest in cooler bag for your breastmilk. You may use it daily- or just every once in a while but when you do need it you will want to make sure it checks off all the boxes and is safely carrying your milk from point A to point B.
We have researched the best cooler bags that are popular among other moms so you know they are going to be good!
Are you waiting for your baby to arrive? Need a refresher on breastfeeding for a second baby? Feeling overwhelmed about milk supply and pumping? Make sure you signup for The Complete Online Breastfeeding Class. This class is designed for the busy mom who wants to meet her breastfeeding goals – all from the comfort of your home!
How long does breastmilk stay good for before freezing?
Freshly expressed milk is safe to stay at room temperature for up to four hours. But if you keep it in an insulated cooler bag it stays safe for up to 24 hours. After those times you can either feed it to your baby or put it in the fridge (usually up to five days) or freezer for later.
Frozen breastmilk can stay good in the freezer for up to one year.
How much breastmilk should you stockpile?
If you are breastfeeding then chances are you are also storing breastmilk in some sort of breast milk storage bag or breast milk bottle. Knowing how much frozen breastmilk to have stored depends on your own specific need
s. But a good rule of thumb is to have a stockpile of about 3-5 days worth of frozen breast milk. While it does bring a source of comfort to see bags of breast milk in your freezer try to focus on what you need for your baby and your situation. A working mom or someone who is exclusively pumping may need a larger supply than some nursing moms.
What are the best freezer packs for storing breastmilk?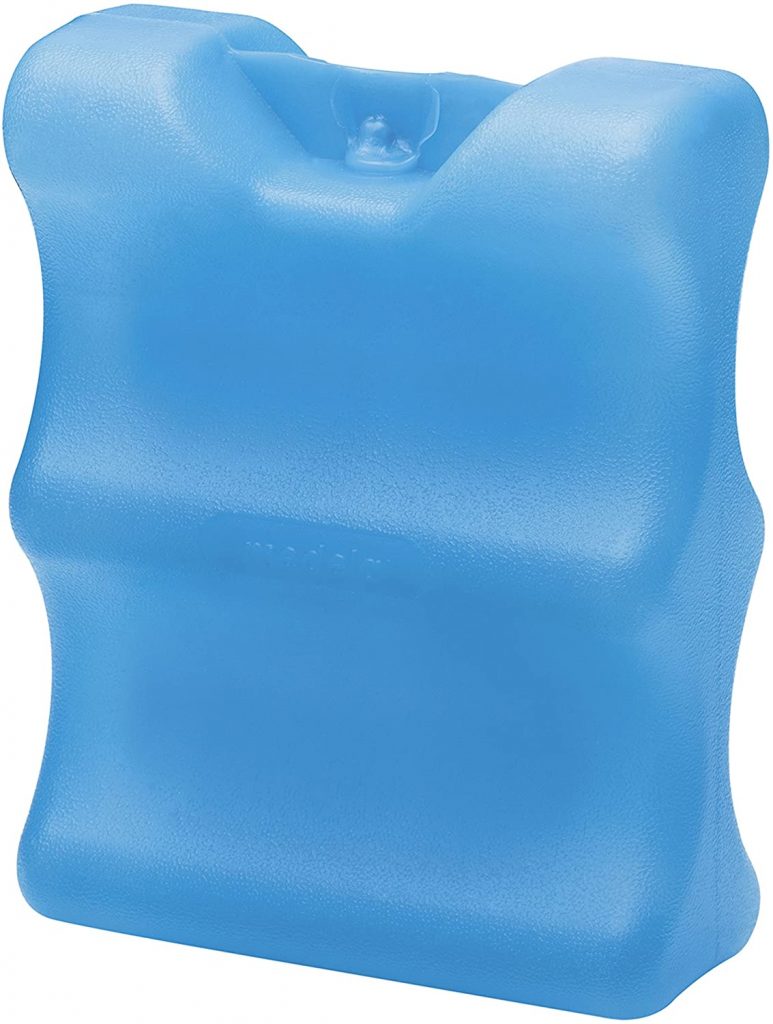 If you are going to use an insulated cooler bag to store your baby's milk it is a good idea to make sure you are using an ice pack that will keep the milk at the right temperature. Whether you are going on longer trips or just to and from work you will want an ice pack that gets the job done.
A lot of breastfeeding cooler bags come with a freezer bag at no additional cost. But not all come with a frozen ice pack which could make it harder to know which one to buy. You will want to first decide if you are going to be using tall bottles or smaller ones. A contoured ice pack is a great option to store your fresh milk. Medela sells a really great ice pack that stay cool for a long time.
Can you take a cooler bag on an airplane?
Yes, breastmilk is allowed in reasonable quantities in your carry-on bag. Transportation Security Administration or TSA guidelines for those traveling with breast milk include: Parents who are flying (with or without their child) can bring breast milk in quantities greater than 3.4 ounces or 100 milliliters onto the plane in their carry-on, as long as they declare it for inspection at the security checkpoints.
The TSA Security Officers will probably examine your containers whether they are in large bottles or smaller ones. They also have the right to test all liquids for explosives. But, even though security will inspect baby's milk they will not ask you or your child to taste it.
If you are planning to travel with your liquid gold you will want to make sure you research the best breastmilk cooler bags for traveling with. If you are planning on flying with your milk supply you will want to make sure it is a good cooler bag with everything you need. A small cooler that can fit in a separate bag is also a good option.
When choosing a baby for flying with you'll want to pick one that has easy access to your baby bottles, and other accessories. A bag with a top compartment would be really nice to have.
Traveling with a cooler bag doesn't have to be intimidating. You can always let your flight attendant know you are travelling with breast milk and ask them for any assistance you may need. Having a good insulated bag will keep you milk fresh for however long your flight may be.
How to pick a cooler bag for breast milk
Chances are if you are going to pump breast milk while being away from your baby, you will need a cooler bag. And lucky for you there are a ton of options to choose from. But how do you know which one is right for you?
There are several things to take into consideration when choosing your cooler bag. Insulation is what will keep your baby's milk fresh. You will want to make sure that they are leak proof and heat-sealed. Insulation can vary. Some cooler bags are lined with foil while some are lined with fabric.
Take into consideration the size of the bag you will need. You will want to make sure your baby's bottles will fit in the bag. Some cooler bags are large and bulky so make sure you choose a bag that you will be okay carrying around.
Choosing a bag with an ice pack is something to take into consideration. Most cooler bags come with ice packs so make sure it's the type you want to use. It would be nice to have more than one ice pack so you can always have one chilled in the freezer.
Sarah Wells Gold Cold Breastmilk Cooler with Ice Pack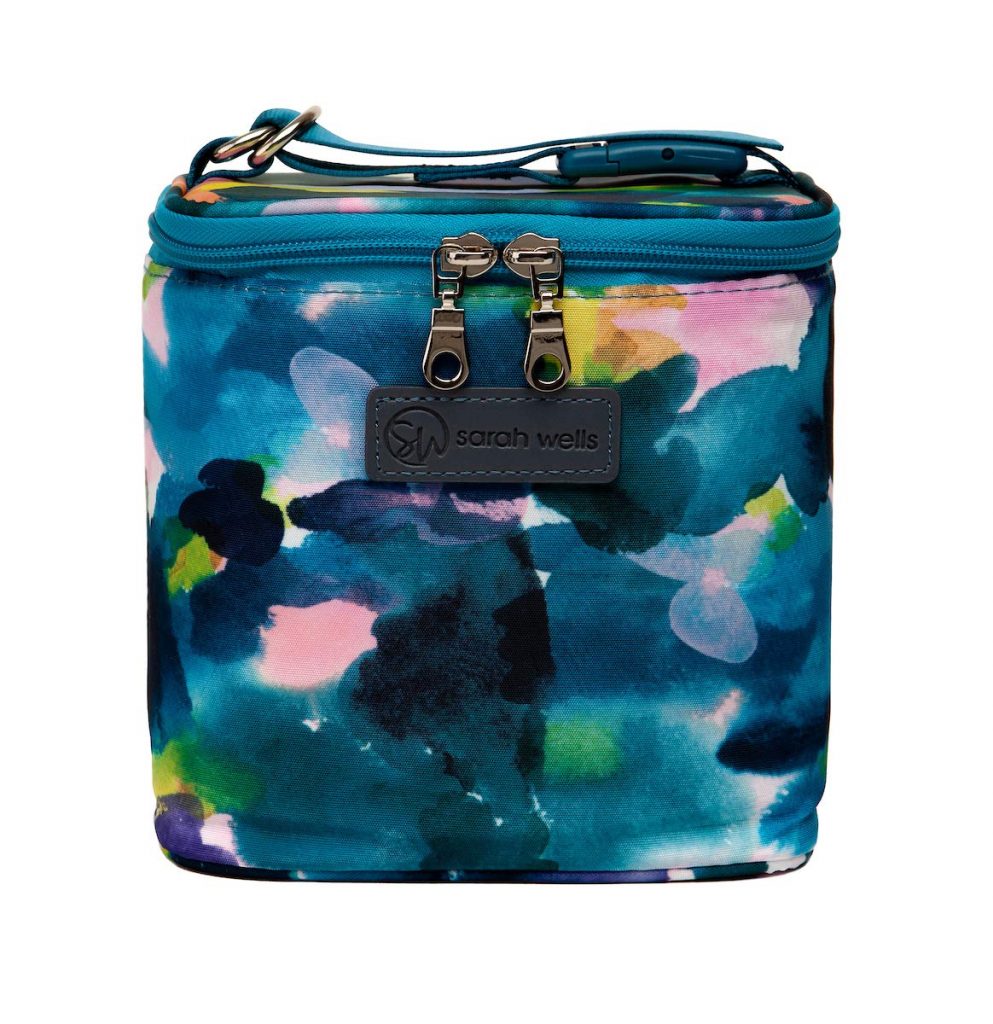 Sarah Wells Gold Cold Cooler bag is a trendy and fashionable option. They have super cute designs and are so pretty. But that's not all- they are functionable and have a lot of neat features.
Pros
Several gorgeous patterns to choose from
Stays cold for up to 8 hours
Can fit bottles up to 8 ounces
Easy to clean and made with premium material
Free of PVC, BPA, lead, and phthalates
Comes with an adjustable and detachable handle that can easily attach to a stroller or diaper bag
Has a mesh pocket in the inner flap
Comes with a lifetime warranty
Cons
The dimensions are 6.5 x 6.5 x 6.5 inches making it slightly bulky (but keep in mind it does hold larger bottles)
The ice pack might be less durable than others
Price
Find it on Amazon for $29
Skip Hop Grab and Go Double Bottle Bag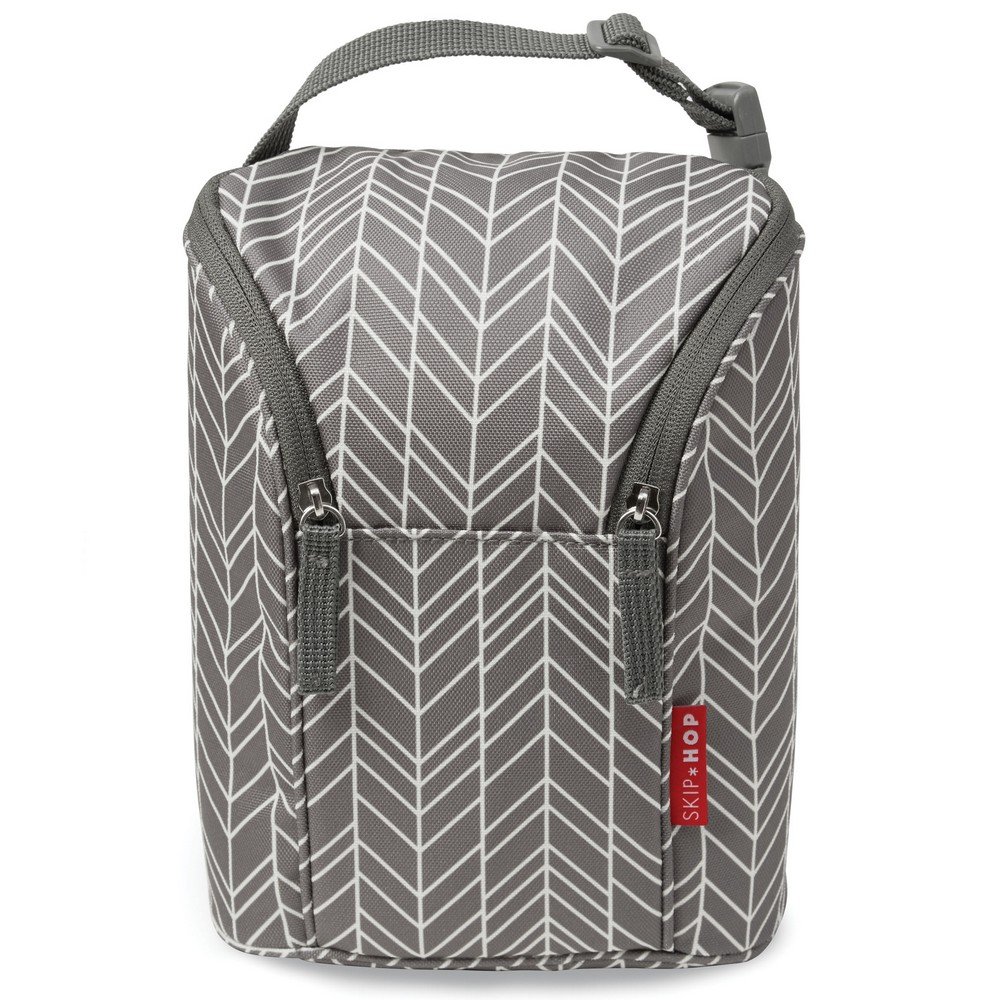 This bag is perfect for holding more than bottle and is a great inexpensive option for carrying your breastmilk.
Pros
Keeps bottles either warm or cool (with cooling pack)
Includes freezer pack
Can hold two large bottles or sippy cups
Phthalate-free
Matches the Skip Hop Diaper bags
Inexpensive
Comes with two-way zippers allow single or double bottle access
The strap can attach easily to a stroller
Cons
Stays cold for 4 hours (other coolers stay cool for up to 8)
The ice pack it comes with is on the smaller side
Patterns are not as cute as others
Price
Find it on Amazon for $13.99
Medela Breastmilk Cooler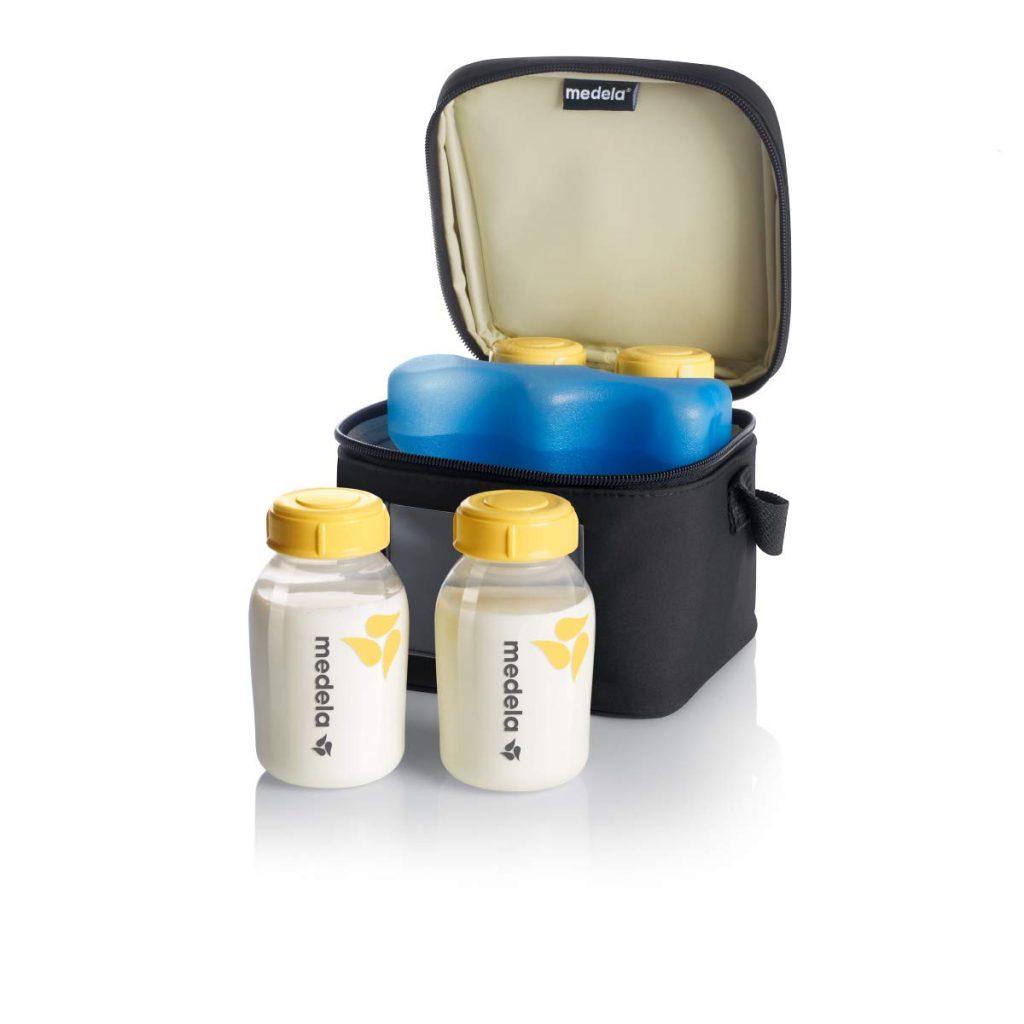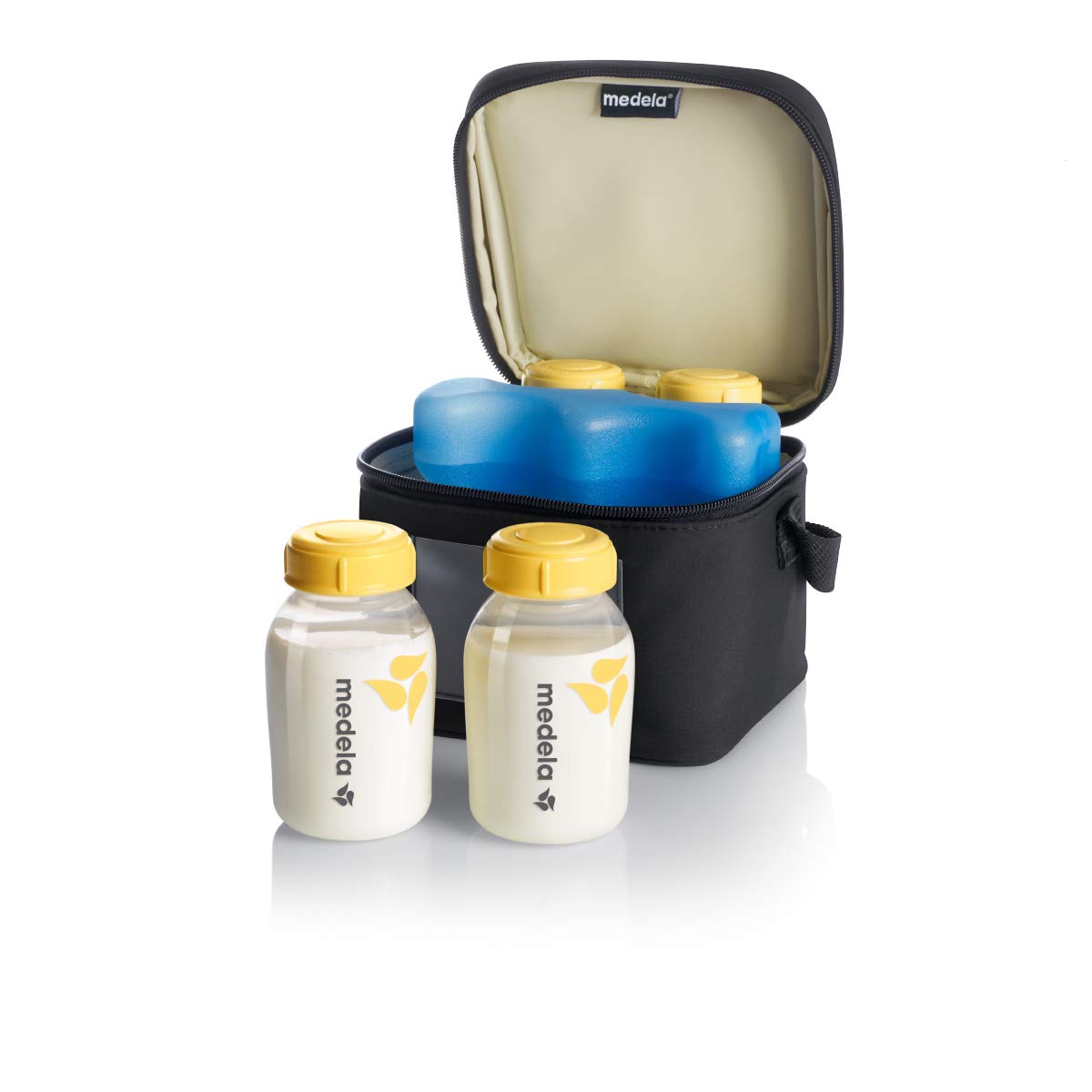 This cooler is known for being great to travel with- take it in your car or on an airplane and you can feel secure knowing your breastmilk is staying at the right temperature. It is prefect for road trips or long trips or short trips, too.
Pros
Comes stocked with one contoured ice pack and 4 five-oz bottles with lids.
Fits Spectra bottles
Great for traveling
Baby bottles are dishwasher friendly
Compatible with most breast pump bags
Ice packs keep the breast milk fresh for up to 12 hours
Cooler bag made with PVC-free microfiber material
Cons
Doesn't hold 8 ounce bottles
Comes in plain black only (sorry, no cute patterns!)
Pump parts can't fit in it unless 2 bottles or use breast milk bags to store the milk
Price
Find it on Amazon for $14.49
Ju Ju Be Fuel Cell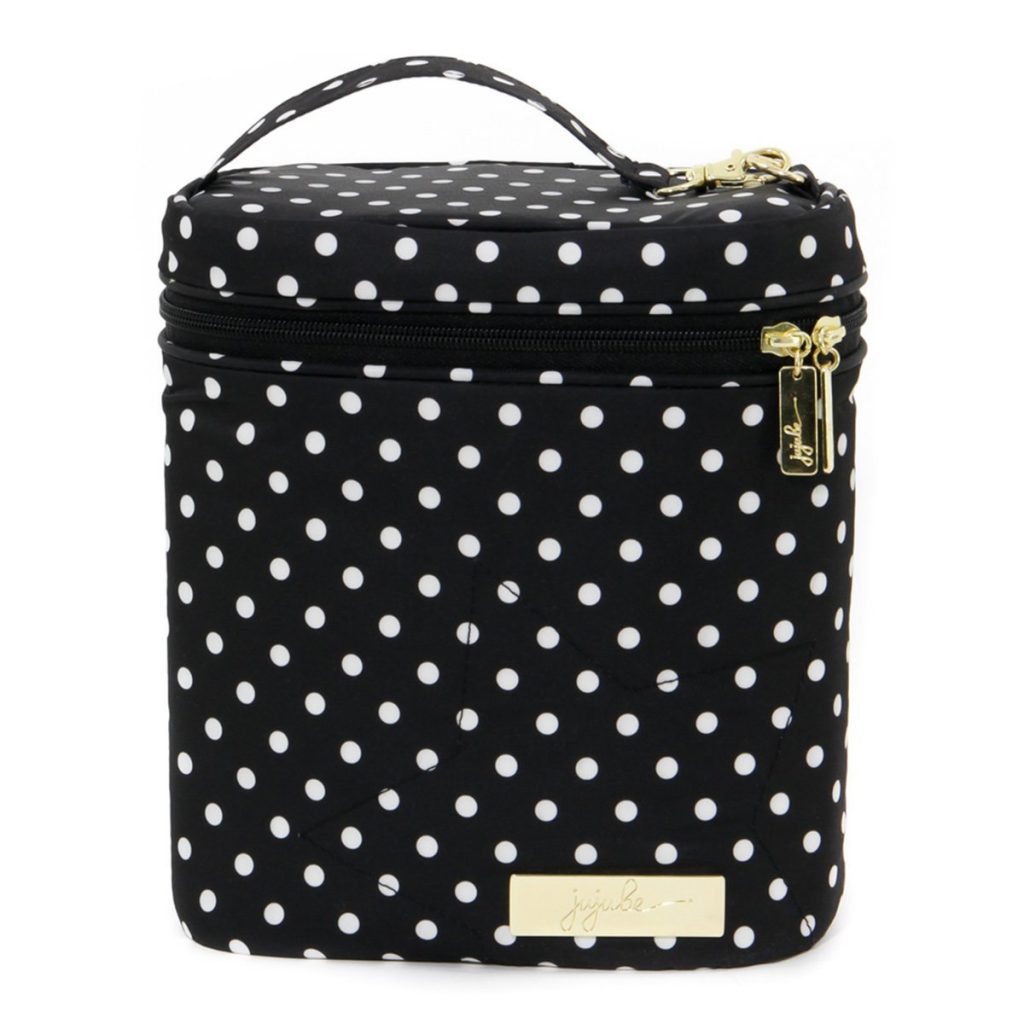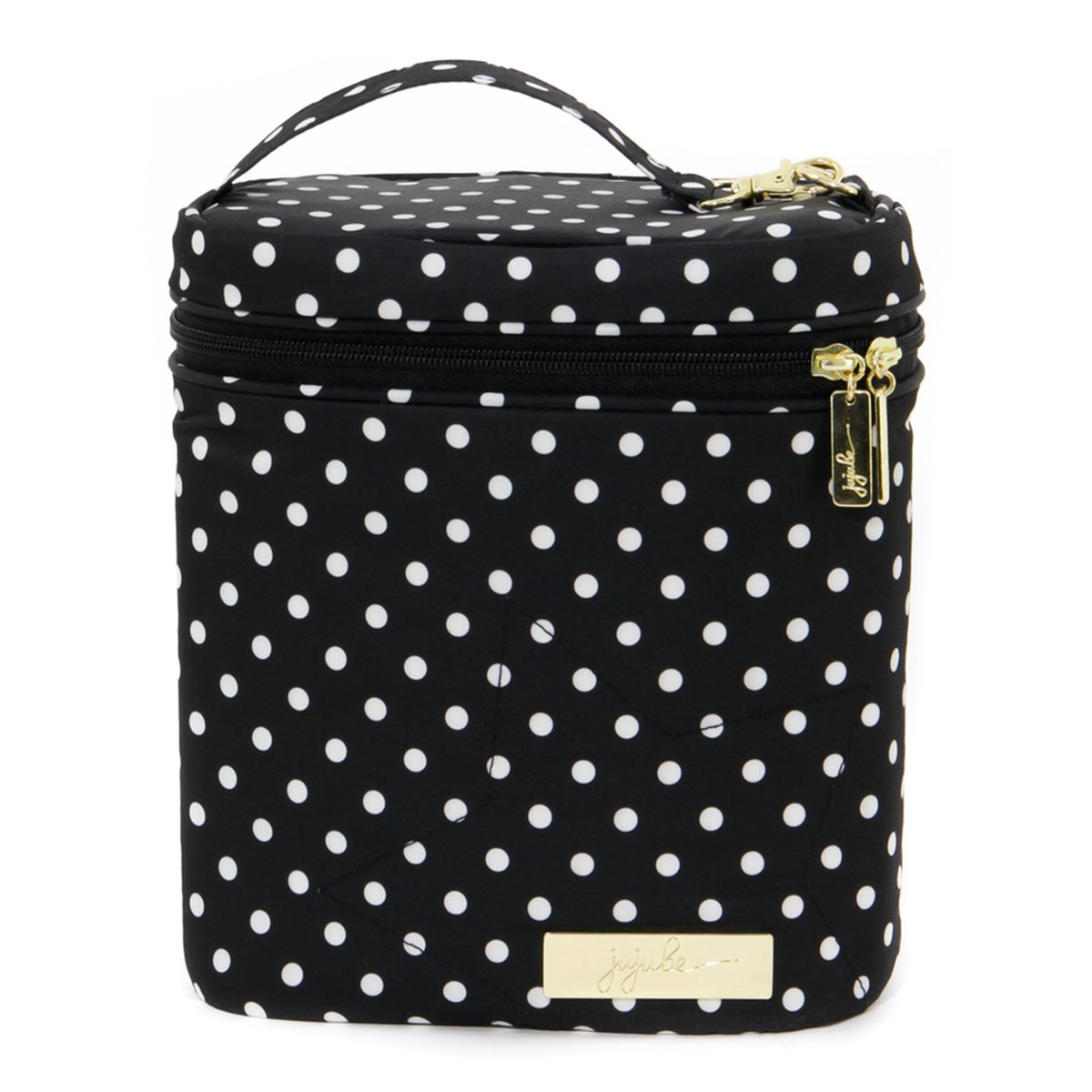 This cooler bag is shaped like a lunch box- but it does so much more. It comes in several patterns to choose from and comes from the trusted Ju Ju Be brand.
Pros
Can be used as a breast pump bag
Comes in tons of cute patterns
Has a lot of room fitting 4x 5-oz Medela bottles plus a portable pump (medela, Spectra 9, m1) and breast shields.
Comes with tons of pockets
Comes with a strap to clip onto a stroller
Easy to clean fabric
Cons
Must buy ice pack separately
Keeps bottles cold for only 3 hours
Price
Find it on Amazon for $30
Leke Baby Breastmilk Cooler Bag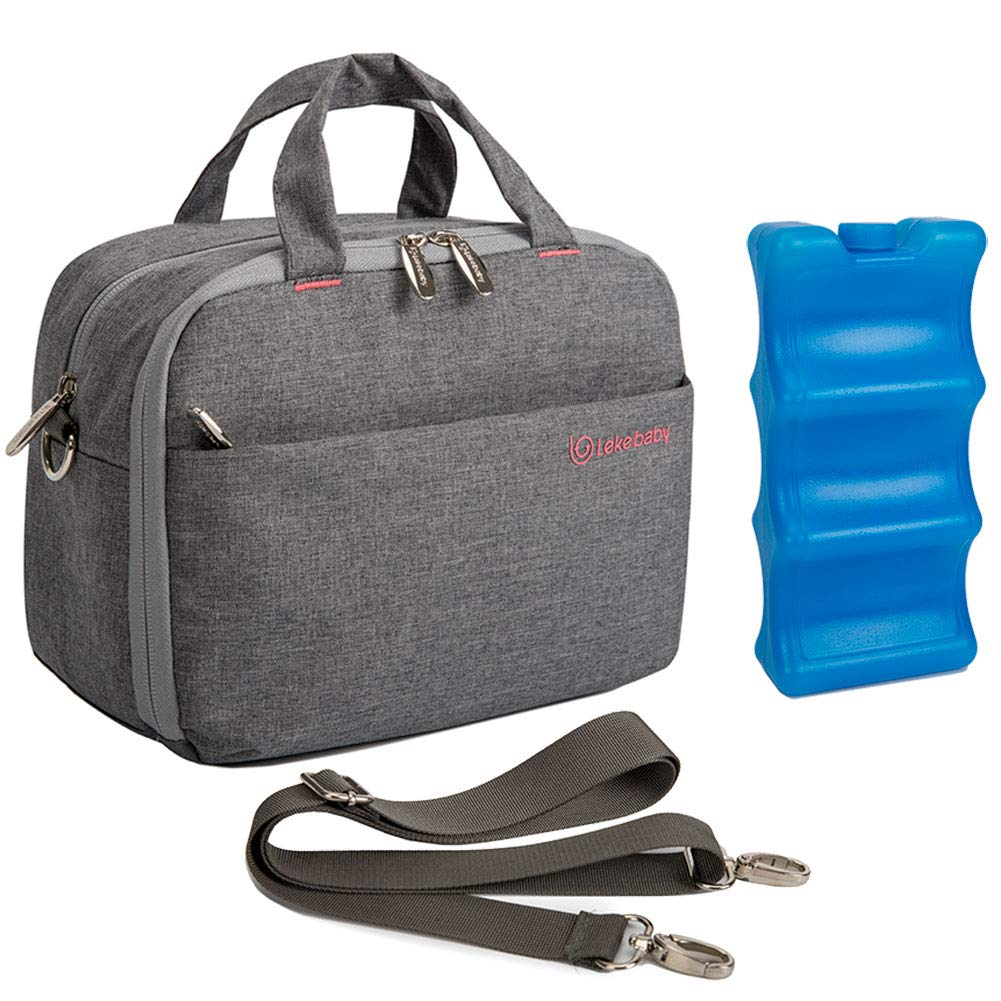 This easy take on the go water resistant and durable cooler bag holds up to six bottles and is perfect to transport milk to and from work and home.
Pros
Its insulated bag lining keeps bottles warm or cool
Keeps breastmilk cold for up to 8 hours
Comes with an adjustable should strap
Zippers make it convenient for taking bottles in and out as well as a side pocket for other items
Comes with a 180 day warranty
Cons
Needs to be refrigerated 8-10 before using
Ice pack comes empty so you'll need to fill it with water beforehand
Price
Find it on Amazon for $24.99
Momcozy Insulated Breastmilk and Bottle Cooler Bag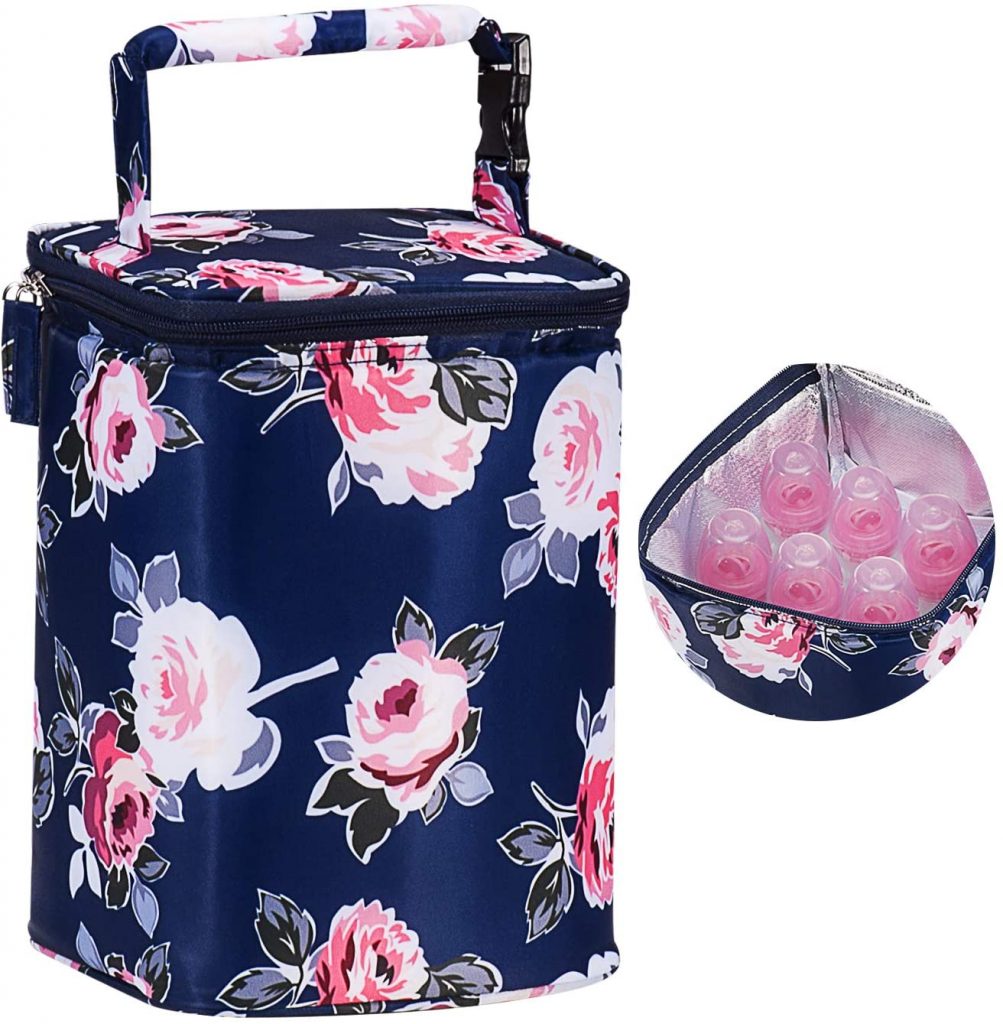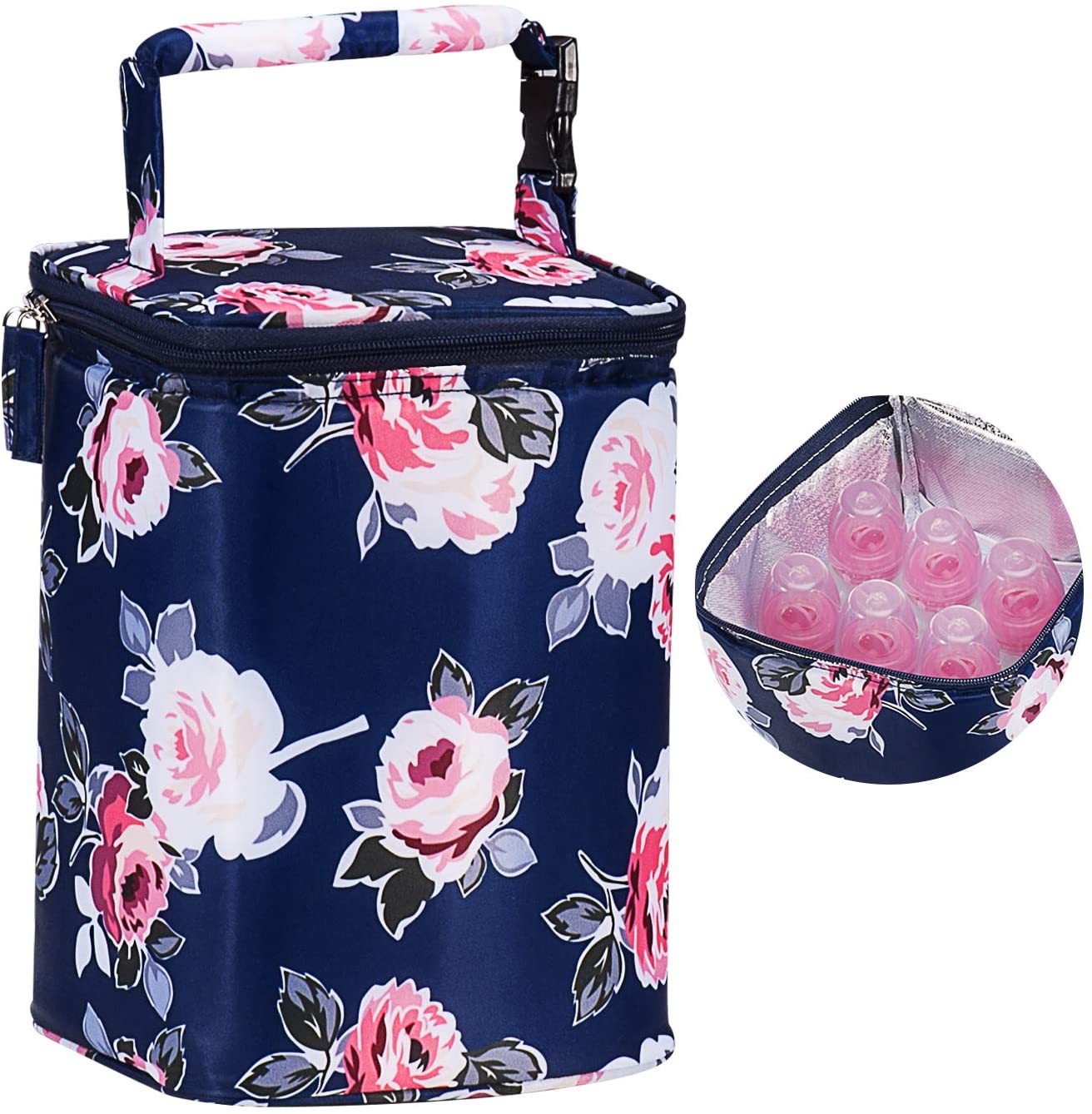 This adorable cooler bag can hold up to four 8 ounce bottles (or up to six of the Dr. Brown bottles) plus extra room for ice packs.
Pros
Waterproof, non-toxic and can effectively protect baby's food
Keeps bottles cool for up to 12 hours
Can keep bottles cold or warm
Lightweight
Comes with a detachable buckle designed to hang on most strollers
Insulation effect can be doubled when used in conjunction with hot or cold ice packs
Has a small insulated pocket on the outside
Cons
Doesn't come with a shoulder strap
Price
You can find it on Amazon for $13.99
Luxja Breastmilk Cooler Bag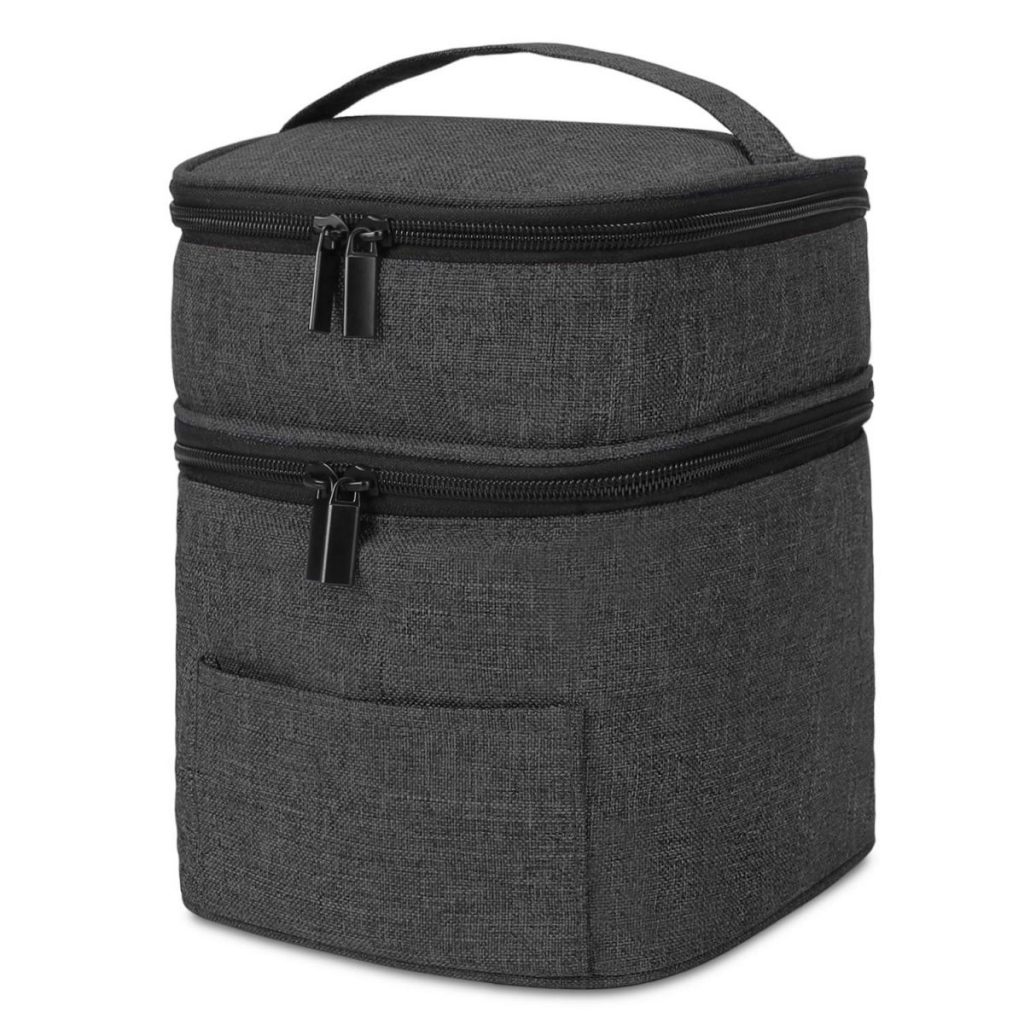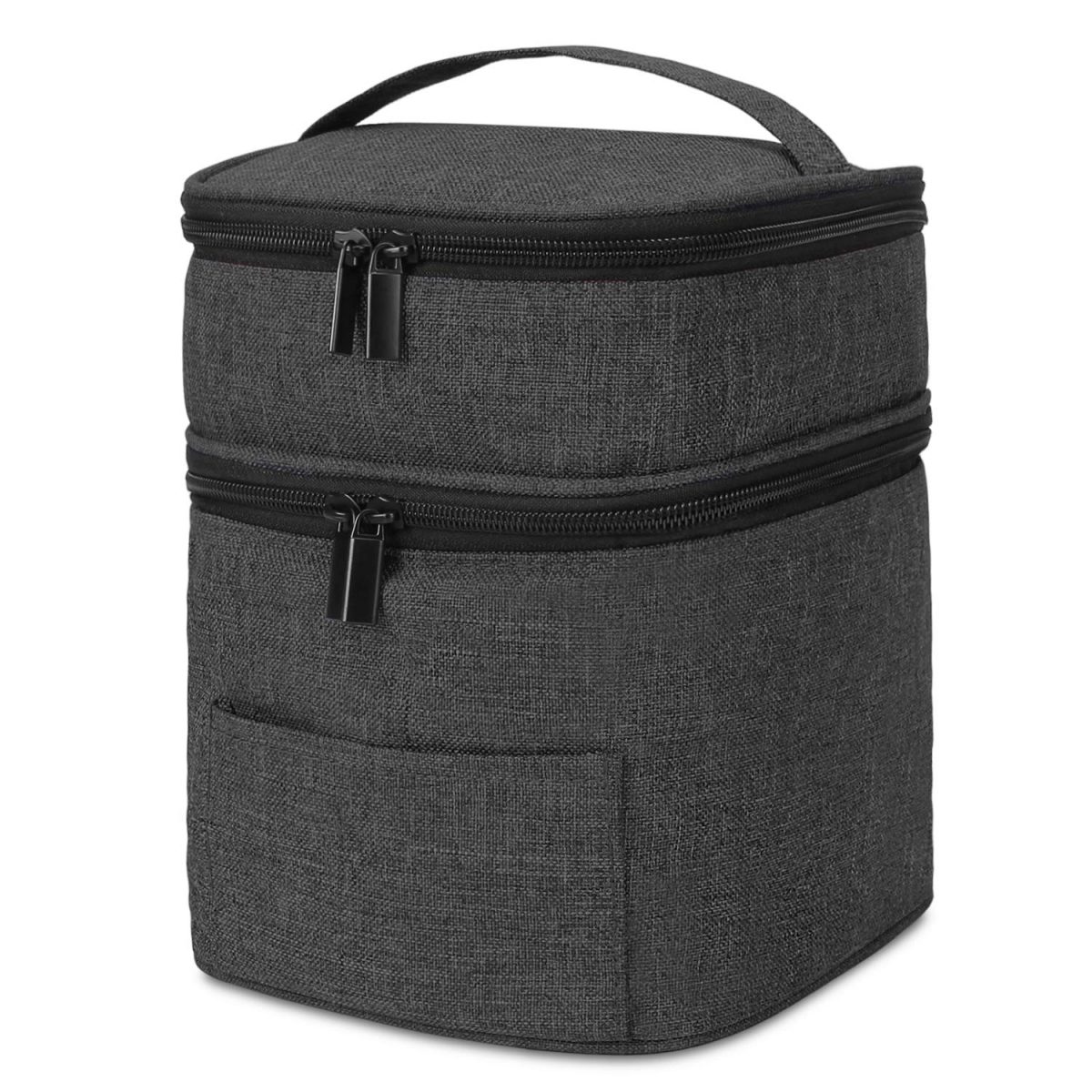 This compact cooler bag comes in three different colors and is leak proof that comes with an additional small top compartment to store your baby's accessories.
Pros
Made of high quality material and is water proof
Comes with a top handle and front flat pocket for holding cards
Top compartment to store small accessories such as bottle brushes and nipple
Holds four 5 ounce bottles
Cons
Price
You can find it on Amazon for $14.99
Packit Freezable Lunch Bag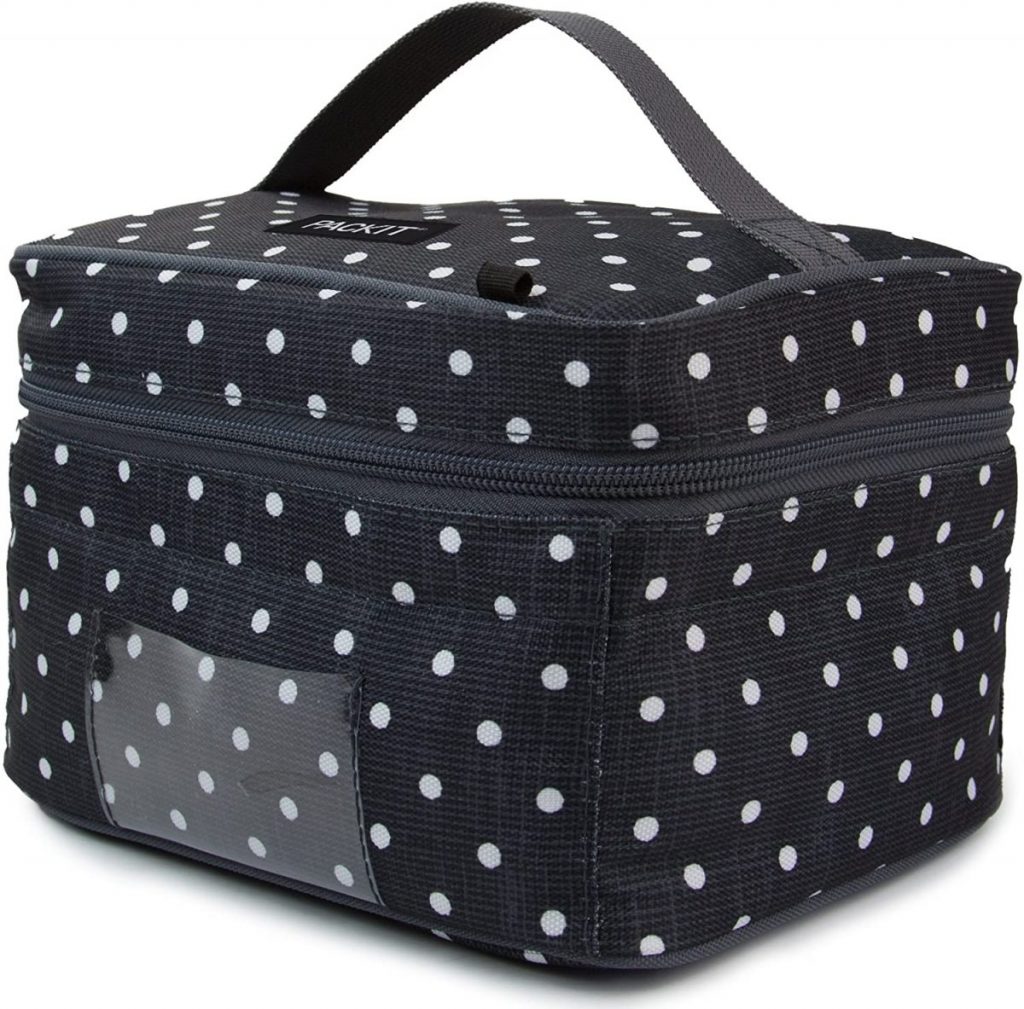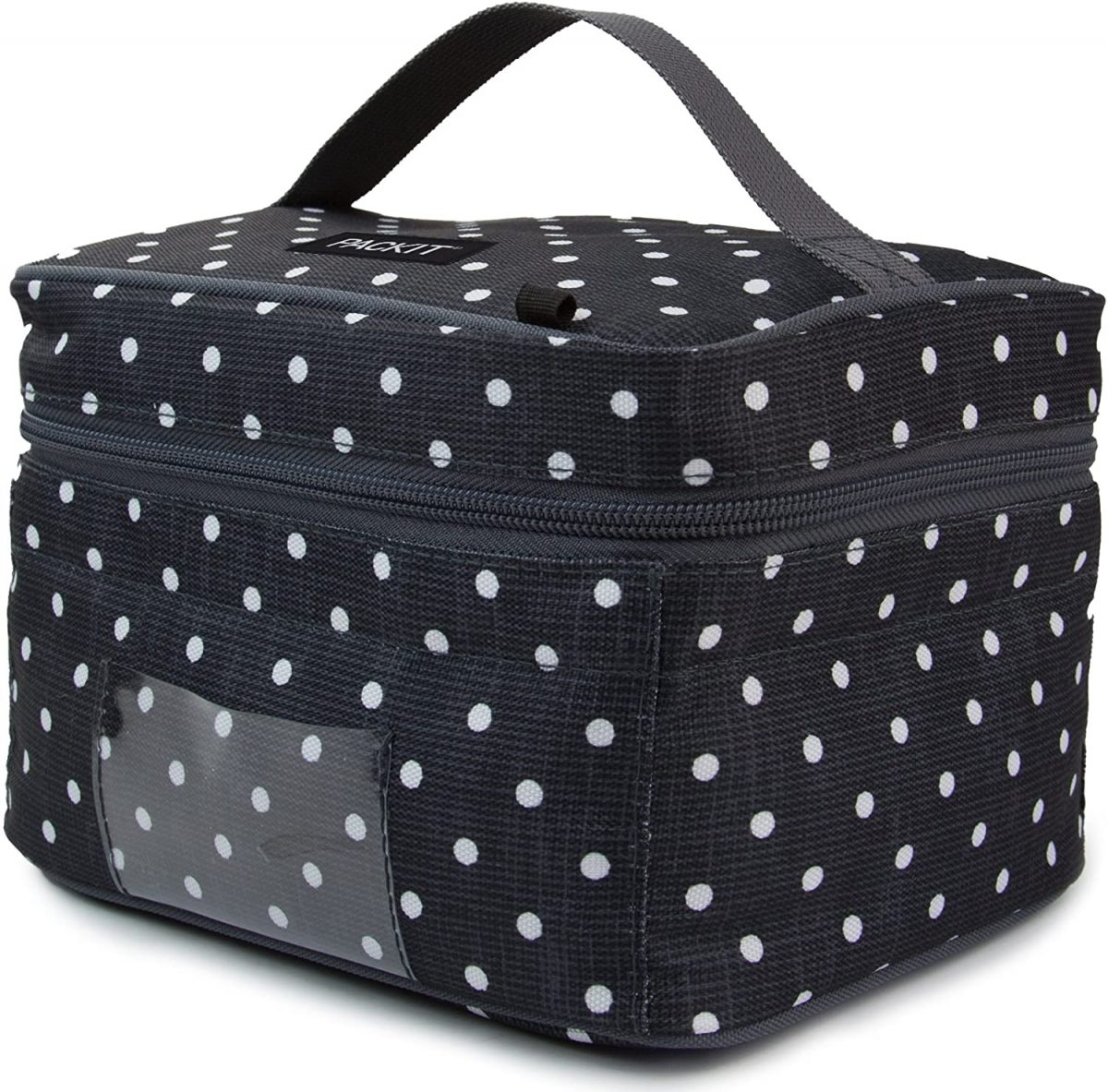 Packit's baby bags are perfect for any mom on the go. With the built in freezable gel it keeps your baby's milk cold for longer periods of time. The best part is it's a good choice with a compact design that comes in a variety of colors and patterns.
Pros
Designed to hold four (4) 5oz breastmilk bottles. It also fits Medela breastmilk bottles.
The zip top closure locks in cool, dry air
PVC-, BPA-, phthalate- and lead-free
Comes in a variety of colors and patterns
Center divider of optimal cooling
No ice pack needed
Cons
Not dishwasher safe
You need to remember to keep it in the freezer until you use it
Price
You can find it on Amazon for around $21
Mojecto Large Cooler Bag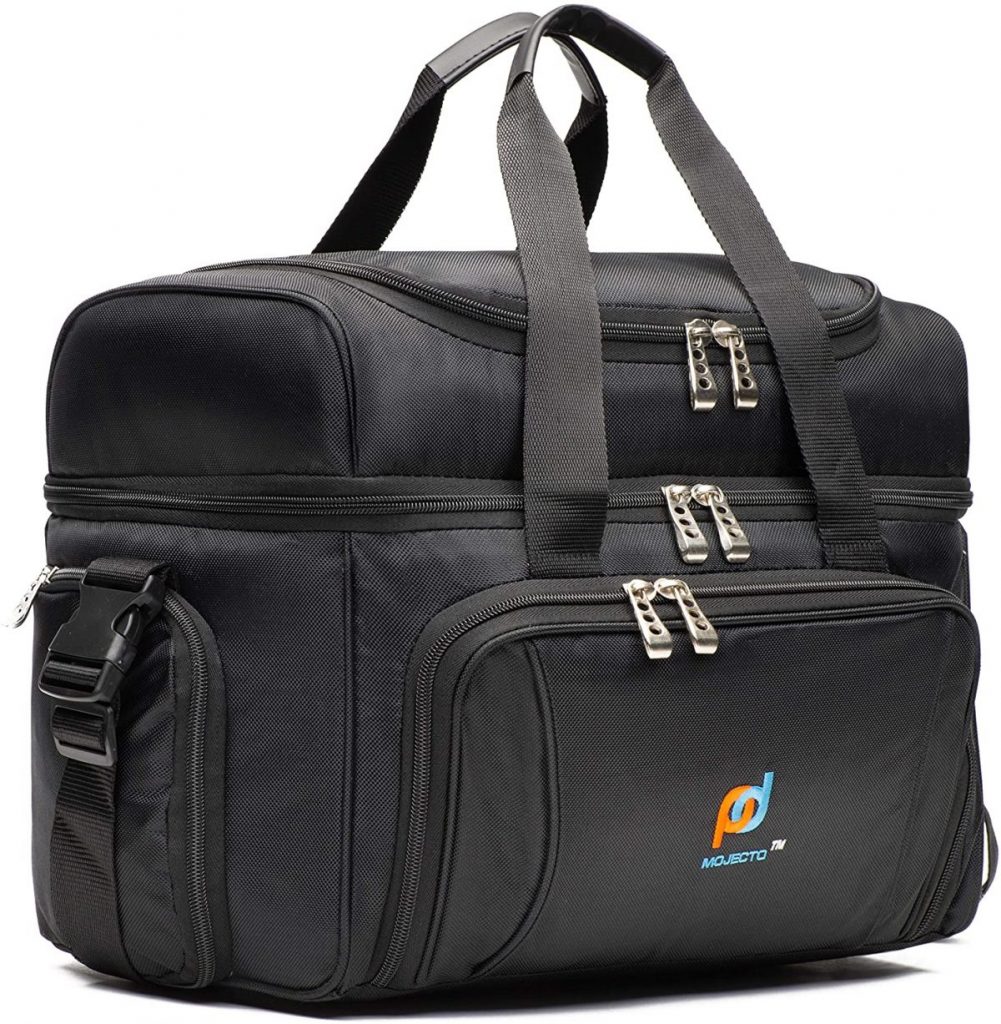 Using larger bags to store pump parts, sippy cups and all your breastmilk can be really helpful. The Mojecto Large Cooler Bag is a larger bag and although a bit more spendy it is high quality and has the extra space you may need.
Pros
Comes with an extra liner for your peace of mind
Made of high quality, heavy duty fade proof material
Two insulated compartments
Large zippered mesh pocket
Bottom large compartment insulated on all sides with enough room for food, drinks, accessories.
Cons
More expensive
Bulky and larger than other coolers
Other Posts You May Enjoy: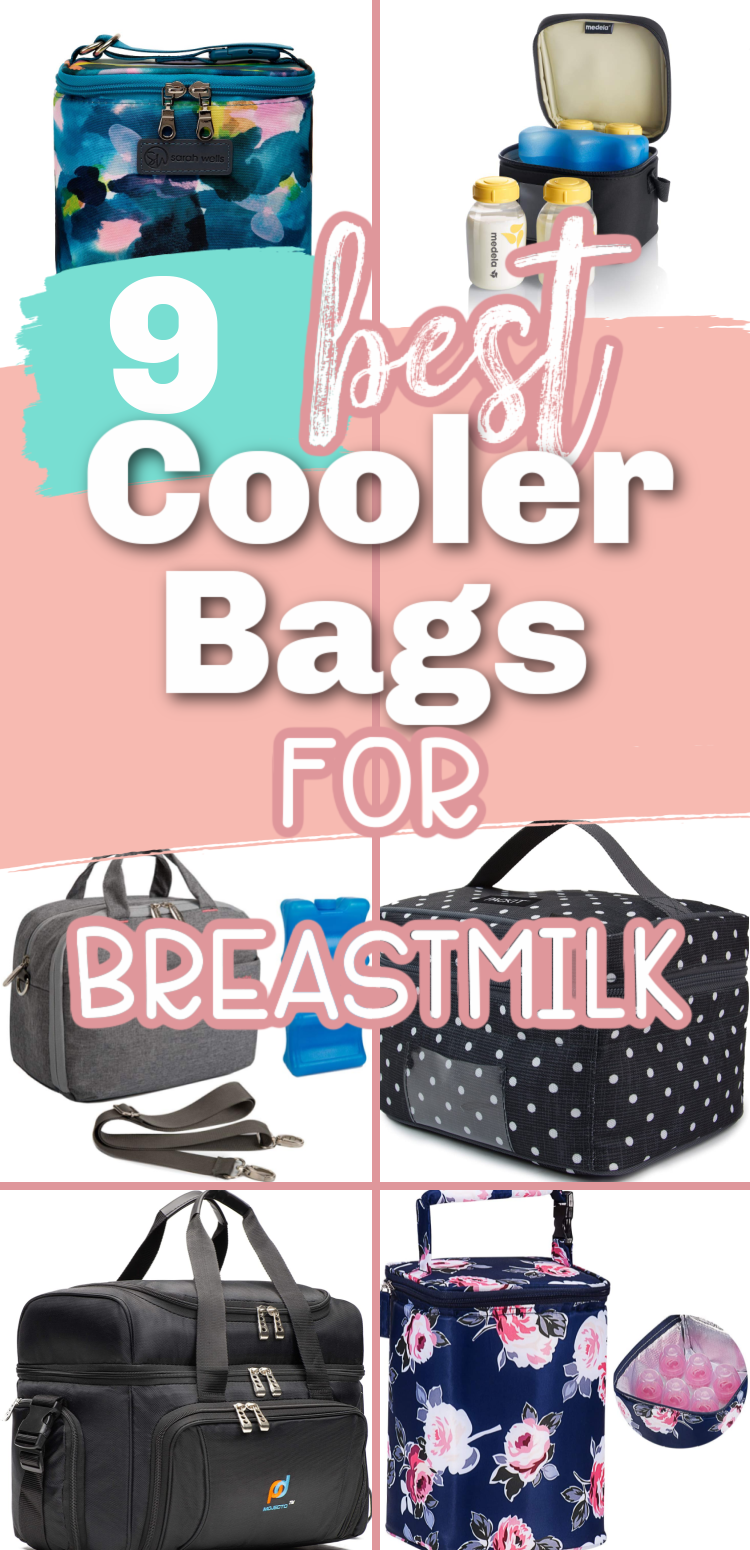 Cindy Maudsley lives in Utah with her husband and five children. Aside from writing, her passions include her family, faith, and spreading infertility awareness. She also loves a good book or podcast, true crime documentaries, a good Netflix binge, diet Coke and the weekly (sometimes daily) Target run.