28+ Breastfeeding Instagram Accounts New Moms Should Follow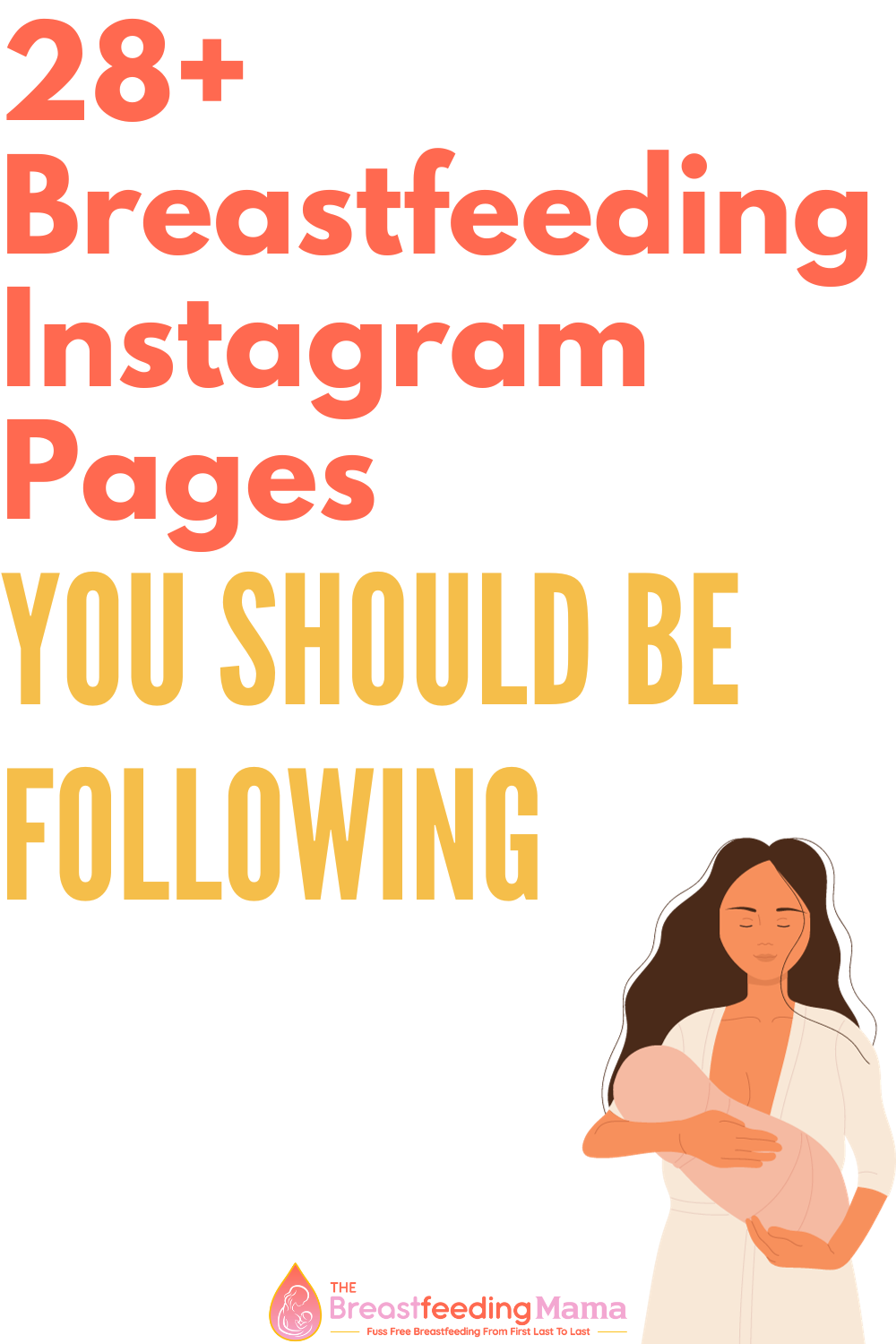 For better and for worse, social media plays a huge part in modern parenting – including breastfeeding.
After wading knee-deep through the world of breastfeeding and social media for the past ten years, I've seen it all – and it all includes a lot of inaccurate information, paid product placements, and less than genuine breastfeeding support.
At the same time, I've come to know some of the most brilliant breastfeeding advocates around, and I've interacted with thousands of new moms and families around the world. This has allowed me to gain great knowledge and empathy as I went on my own journey to become an International Board Certified Lactation Consultant.
It can be hard to know who to trust on social media – and while it really shouldn't replace the individualized care of working with a lactation consultant – there are a lot of reputable sources and people who are very dedicated to sharing the best information to help you make informed decisions.
In this article, I am sharing my favorite breastfeeding-friendly Instagram accounts. These pages are run by smart, compassionate, and wonderful individuals who I think everyone should check out. Many of them have shared some insight to be included in this article, and I hope you can learn as much from them as I have!
Do you have a breastfeeding-focused page you'd like to be included? Send me an email for possible inclusion!
The Breastfeeding Mama
Spoiler alert – This is my account 🙂 I share tons of content on a variety of breastfeeding topics, but I really try and focus on troubleshooting various problems. I love to keep things light, fun, and to the point! I do Q&As on Sunday and share content every day. Whether you're pregnant with your baby or on the verge of weaning, I'm there to support you every step of the way!
Best Advice: "Trust your mama gut – it rarely leads you astray!"
Credentials: IBCLC, CLE, CBS
Pump_Momma_Pump
Melissa is fantastic! Her account is great for those who are exclusive pumpers or just pump occasionally. Her content is easily digestible, relatable, and very down-to-earth. She's super knowledgeable and shares great articles on her website, Pump Momma Pump. I have found her advice on flange fitting to be some of the best out there (and trust me, there's a lot!)
Best advice: "It's not all or nothing! Find what works for you and your baby!"
Credentials: CLC
TwinMomGuide
Shelly is a twin mom, and a Registered Nurse & IBCLC. She offers an Online Twin Breastfeeding Course and her main goal is to be a support for other twin moms- especially during their breastfeeding journey. She often shares fun twin facts and loves to interact with her followers in the comment section. She's also an amazing person, and I can personally vouch for her knowledge and commitment to evidence-based practice.
Best Advice: Support is crucial to your breastfeeding journey! I encourage anyone who wants to breastfeed to invest in a prenatal consult with an IBCLC and learn as much about breastfeeding as you can from professional, reliable sources. If you encounter
Credentials: RN, IBCLC
Milk.Masters
Kelly is a fellow Colorado IBCLC like me, and she's very knowledgeable, especially if you are looking for a more holistic approach to breastfeeding. She focuses on "Oral function, gut health, flange fitting and all things breastfeeding". She is also a registered dietician, which can be really great when navigating various breastfeeding issues. She's not afraid to ruffle feathers and talk about controversial topics (like how often your baby should be pooping). I learn so much from her!
Best Advice: Trust your instincts!
Credentials: RD, IBCLC
TheMilkNest
Camille shares tons of relatable content, and I love how authentic she is. She shares content on all aspects of breastfeeding. Her primary focus is on pumping and nursing education. She's very encouraging and uplifting, and I always find myself smiling when I see her reels.
Best Advice: Don't give up on a bad day. I know it can sound blunt. But this helped me realize that making decisions when calm and collected helped me decide how to tailor my breastfeeding journey.
Credentials: CBS
katiewiygullactation
Katie is a Lactation Consultant and a Pediatric Nurse Practitioner. She strives to gently guide women on their breastfeeding journies. I love how positive her content is and how informative her reels and posts are. You can always count on her account to cover all the bases of breastfeeding, weaning, pumping, and more!
Best Advice: Use your resources
Credentials: IBCLC and Pediatric Nurse Practitioner
Madetomotherlactation
Sara is a Lactation Counselor and focuses on Women's Health including nursing and pumping and pregnancy postpartum. She has a fantastic FREE workbook guide called Master Your Milk Supply. She shares relatable reels that make you feel like you're getting advice from your BFF.
Best Advice: Baby feeding often and overnight for weeks – months is normal!
Credentials: CLC + Women's Health PA-C
breezy_babies
Brianne is here to help you crush your lactation goals in the best way possible! She offers consults to help you on this journey and she is just a pleasure to follow. She is a mom of 4, a post-partum nurse, and the CEO of Breezy Babies, an IBCLC and is trained in infant massage. So with all those credentials you know she has to be good at what she does. She answers burning questions that are relevant and often shares her favorite babyhood products. She is also
Best Advice: You are the best advocate for yourself and your baby. And breastfeeding should never be painful!
lactationhub
The Lactation Hub is reputable and popular. They have an online store which was created by an IBCLC for Parents, Lactation Professionals, Hospitals, Clinics & Birth and postpartum! I love this account because it is a mix of educational, fun and entertaining content that all centers around breastfeeding and everything in between.
Best Advice: Flange Size Matters!
Credentials: IBCLC
motherhooduntamedlactation
Angela considers herself your Lactation + Prenatal Education Breastie. She is Certified Lactation Counselor + New Parent Educator and the ultimate "Bewb Hypegirl" so you know she is going to be full of fun and energy in how she presents information for you! She is also super knowledgeable and compassionate and completely real and relatable. She's a good friend of mine, and I feel blessed to know her!
Best Advice: Self-confidence is one of the leading indicators of breastfeeding success "Breastfeeding self-efficacy is defined as a mother's confidence in her ability to breastfeed her new infant
Credentials: CLC
Bemybreastfriend
Kristen is going to be your new "breast-friend"! She specializes in pump review and helping you with exclusively pumping. She also hosts a podcast! You will love her reels because they are entertaining and helpful and you will definitely learn so much by following her!
Best Advice: You don't need to have it all figured out before baby arrives.
Credentials: CLC
Milk Matters
This is one of my all-time favorite Instagram accounts, as I've learned so much from Dr. Gigi. She is a Pediatric PT& Oral Motor Specialist who is a leading voice in the tongue and lip tie world. She is all about education and provides so many amazing resources for professionals and parents alike.
Credentials: Pediatric PT& Oral Motor Specialist
Boobs and Birth
Dana is training to be an IBCLC and is also a doula and mother of four children. She has a passion for helping new moms feel a little less alone in their journey and shares straightforward and actionable tips. She is also one of my mentees, and I think she does a great job at breastfeeding education.
Credentials: Doula, IBCLC in training
TongueTieExperts
Lisa is a CNM IBCLC and she shares 30+ years of experience on her page. She debunks rumors and half-truths when it comes to tongue ties and is super knowledgeable when it comes to your baby and tongue ties. She also hosts a podcast where she interviews others who have vital information for parents. She shares snippets on her Instagram so you can always count on a quick bit of info at any time. Lisa also has a Tongue Tie for Professionals course that is a great way to gain more knowledge about the complex world of tongue ties.
Best Advice: Trust your instincts.
Credentials: CNM, IBCLC
MilkDiva
The owner of this account is an Expert Lactation & Chiropractic. She loves to promtote specialized care from "womb to walking" and frequently shares information that will help with milk supply and over all wellnes in the form of Chiropractic care.
Best Advice: If things don't go as planned in the hospital don't fret. Most things can be addressed by a few lactation consultations when you get home….so schedule a consultation while you are still pregnant. I promise you won't regret having an appointment pre-scheduled. 2) pacifiers, formula and bottles are not the devil when used appropriately.'
AZ Breastfed Babies
Amey cultivates an amazing Boob Group of women on her account. She is available for in Person & Virtual Consults and has a running "Ask Me Anything" every Sunday- which is great for when you have a question about breastfeeding. She shares everything from to fun to educational in her stories and feed and she is super genuine and fun to follow.
Best Advice: You are not meant to do this alone. Women deserve support and encouragement.
Aloha.Nutrition
Allegra Gast runs this account and is an RDN, IBCLC. She helps moms up their enegry and meet their feeding goals. She also offers a free "mineral guide" to help you continue to up your energy! She answers the hard, and sometimes embarassing questions you may have and really focuses on energy and healing your innerself. She also gives great advice, recipes and more to help you through your pregnancy and beyond journey.
Best Advice: When it comes to buying packaged/canned foods, always look at what's IN the can and try to avoid/limit high fructose corn syrup, hydrogenated oils, and refined oils, but just because it's *canned*, doesn't automatically make it unhealthy.
Karrie Locher
Karrie is a former mom/baby nurse who has a passion for sharing her breastfeeding experiences and helping others. She answers many common questions on her page, and many new moms are captivated by her approach!
Credentials: RN, IBCLC
TheBetterBoob
Courtney from The Better Boob is an RN,BSN, and IBCLC. She offers in-home, office, & virtual breastfeeding help. I love how she shares real-life moments that everyone can relate to while also answering all the questions you may have about breastfeeding. She is blunt and does not shy away from controversial myths. You will love her!
Best Advice: Everyone has a good boob & a better boob
Credentials: RN, IBCLC
Onewiththepump
Tamari is here to empower you on your breastfeeding journey. She offers a pumping course and 1:1 consults. She is knowledgeable on all things pumping, milk supply, pumps, and more. She has a great sense of humor and keeps things fresh and current. She's very open about her Orthodox Jewish faith, which I find refreshing and enlightening.
Best Advice: When it comes to which pump to get- check your insurance, previous pumps, and your needs!
Credentials: CLC
Sonshineandrainbowslactation
Nichelle focuses on feeding and sleep education and is an IBCLC. She knows a lot about insurance and the best tips to help you and baby get the best sleep possible while not giving up your breastfeeding hopes and dreams. She is an expert in Exclusive Pumping and maintaining milk supply long term, as well as relaxation, bringing back milk supply after it drops.
Best Advice: Babies have small stomachs and need to feed frequently to meet their nutritional needs. Night feedings ensure they receive essential nutrients and calories for healthy growth and development.
Credentials: IBCLC
TheBalancedBoob
Kelly is an IBCLC and former labor and delivery nurse, and she specializes in prenatal education. She loves to talk about hand expression and its power. Kelly shares straightforward and informative content.
Best Advice: Invest in your education during pregnancy, getting prepared is the best gift you can give yourself. Don't be afraid to change course if you need to. Breastfeeding is always evolving and changing and shifting is part of the journey.
Credentials: RN, IBCLC
Marissathemilkmom
Marissa is a CLC who specializes in holistic breastfeeding, sleep and overall wellbeing of mom and baby. She focuses on support, empowerment and education and that is the hallmark and essence of what you'll find in her content.
Best Advice: Breastmilk never expires. Never loses its nutritional value. Yes, even if your baby is over *any* age.
Credentials: CLC
baremotherhood_
Dr. Casey Mercado runs this account and is a Doctor of Nursing Practice. She shares about pumping and nursing support and education all while keeping her sense of humor. She is also the creator of the Bareshiled flange. She offers 1:1 consults as well. When it comes to flanges and pumping she knows her stuff! She shares relatable advice and content for nursing mothers at any stage.
Best Advice: Recognizing early hunger cues and responding promptly can help ensure a more comfortable and less frustrating feeding experience for you and your baby
Credentials: Doctor of Nursing Practice, CLC
thelittlemilkbar
Lindsay is here to empower breastfeeding mothers. She is the genius behind the Milk Maker and Mind Your Own Tits Tees and is a proud Latina owner. She has the best merch you will simply have to check out, too! She is witty and funny and shares it like it is. You will love her!
Best Advice: Remember, that for every hateful comment about you breastfeeding your baby in public, or posting breastfeeding pics/videos online, or feeding your baby who's "too old"… there are thousands of supportive comments.
Credentials: None that I can find
thebreastfeedingmentor
Danielle is your brestfeeding mentor and is here to be your breastfeeding wellness support and weaning specialist. She offers a FREE booklet on how to feel your best during breastfeeding. She is all about gentle support and setting gentle boundaries and if that's for you- be sure to give her a follow.
Best Advice: If you are breastfeeding beyond 12 months old, you can introduce healthy, loving boundaries without damaging your relationship with your little one or jeopardizing your milk supply
Credentials: qualified yoga & meditation teacher with an MSc in Psychology.
exclusivepumping
Exclusive Pumping offers the best tips and support for exclusive pumpers. She is a certified lactation counselor and offers sample EP schedules that are super helpful. She shares a lot about breast milk, milk supply and pumping.
Best Advice: If you are struggling with supply and not feeling great about it, remember that YOU are exactly what your baby needs.
Credentials: CLC
thebreastfeedingpediatrician
She is a breastfeeding medicine specialist AND a pediatrician. She's a mom of two and supporter of moms everywhere! She answers questions you may have through the lense of a doctor and is gentle and kind.
Best Advice: Watch the baby, not the clock.
Credentials: Breastfeeding Medicine Specialist and Pediatrician
PumpwithPurpose
Dr. Dianna Dixon is a breastfeeding expert! She helps you learn how to make more milk by using the right pump, flange, pump and schedule. She offers pumping guides and is the ultimate pumping cheerleader- she knows all the ins and outs to help make you succesful! She gets on her reels to answer your quetions face to face which makes her personable and like you're chatting with your BFF!
Best Advice: Pumping for 15 minutes is not long enough.
Credentials: DPA, CLC, CBS
More Articles You May Enjoy:
Katie Clark is an International Board Certified Lactation Consultant (IBCLC). She has helped thousands of mothers and families around the globe navigate breastfeeding challenges and questions since 2015. She has a passion for creating research-based, helpful breastfeeding education and helping parents find a way to make breastfeeding work for them. Katie is a mom of three little boys and lives in the great state of Colorado. She also has a degree in Communications with an emphasis in print journalism.