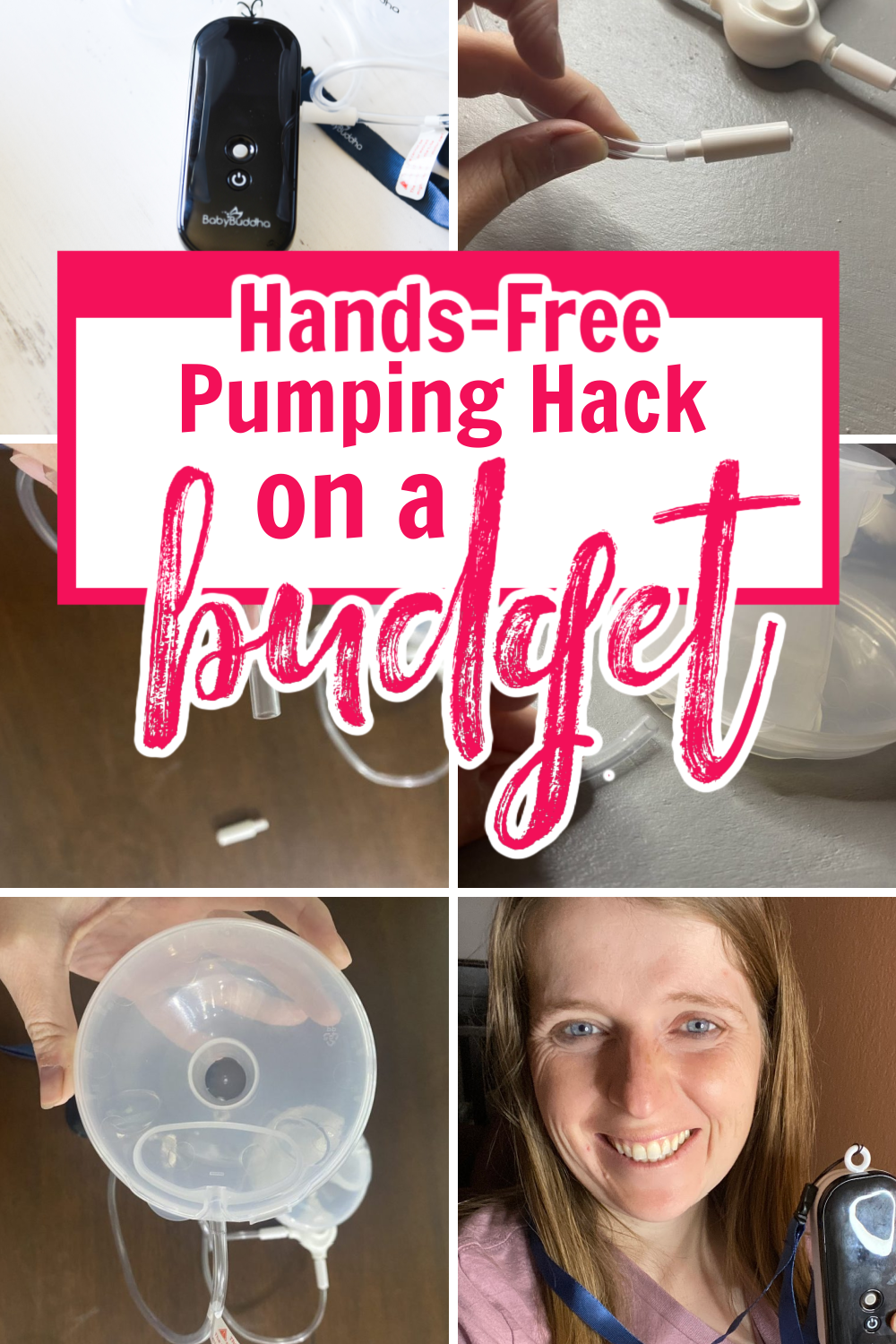 Hands-free pumping sounds great, doesn't it?! Most of the popular hands-free pumps on the market are pretty expensive – however, you can do hands-free pumping on a budget with The BabyBuddha Breast Pump and Freemies – here's how!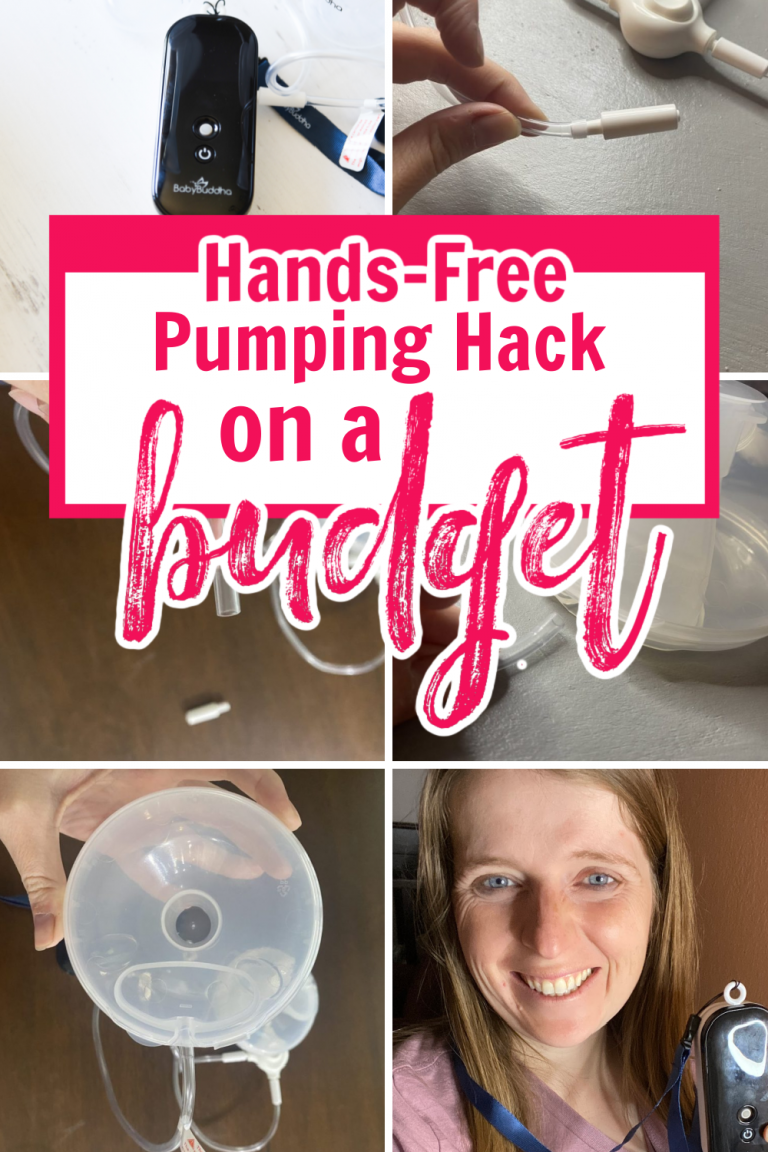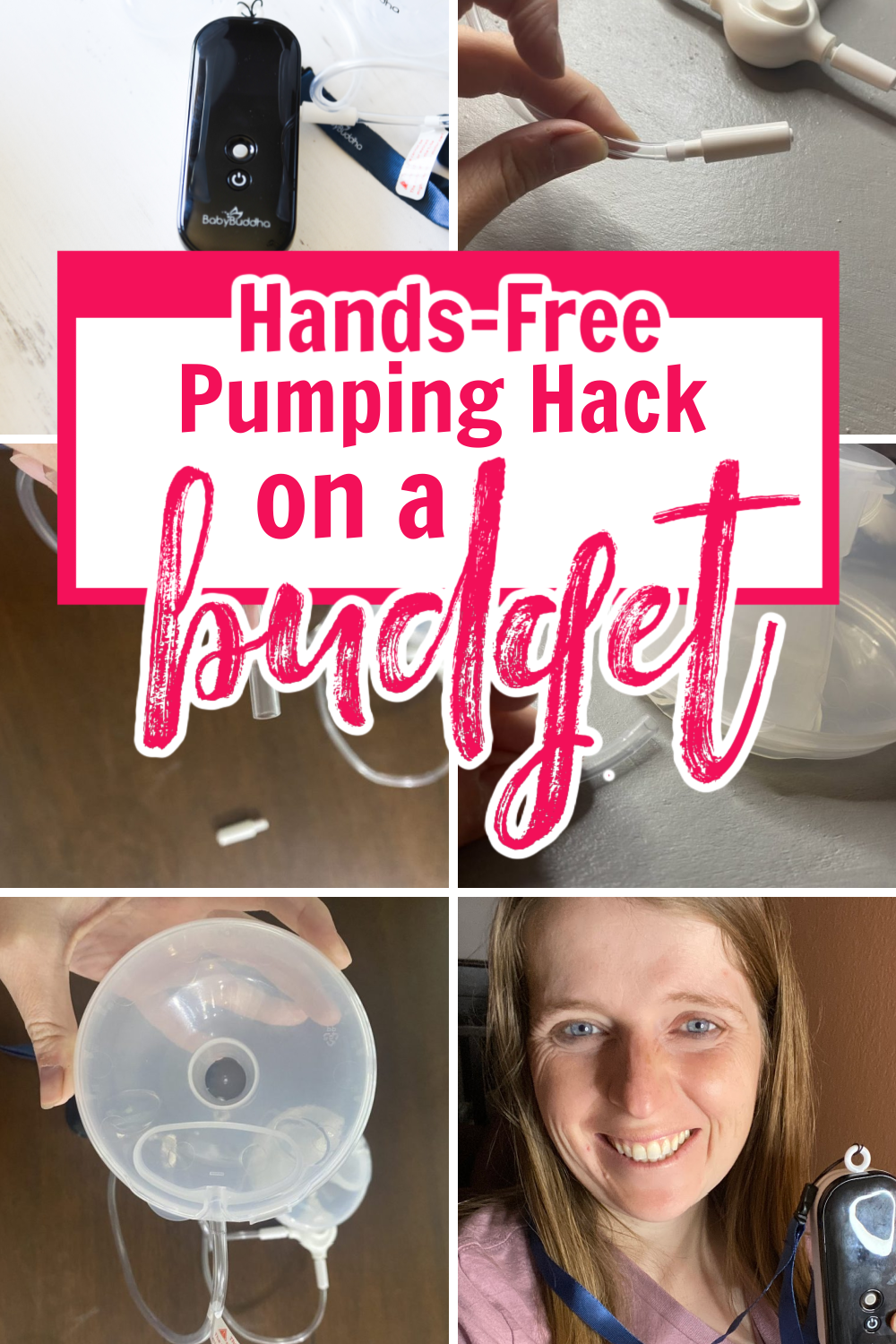 One of the biggest challenges for new moms is breastfeeding. Breastfeeding can be especially difficult if you have a hands-on job and are pumping throughout the day. It can also be tough when your baby won't latch after being born, or has trouble latching at all.
The good news is there are hands-free breast pumps that will help make this process much easier! This guide walks through how to make a hands-free DIY breast pump with the BabyBuddha and Freemie cups.
What is the BabyBuddha?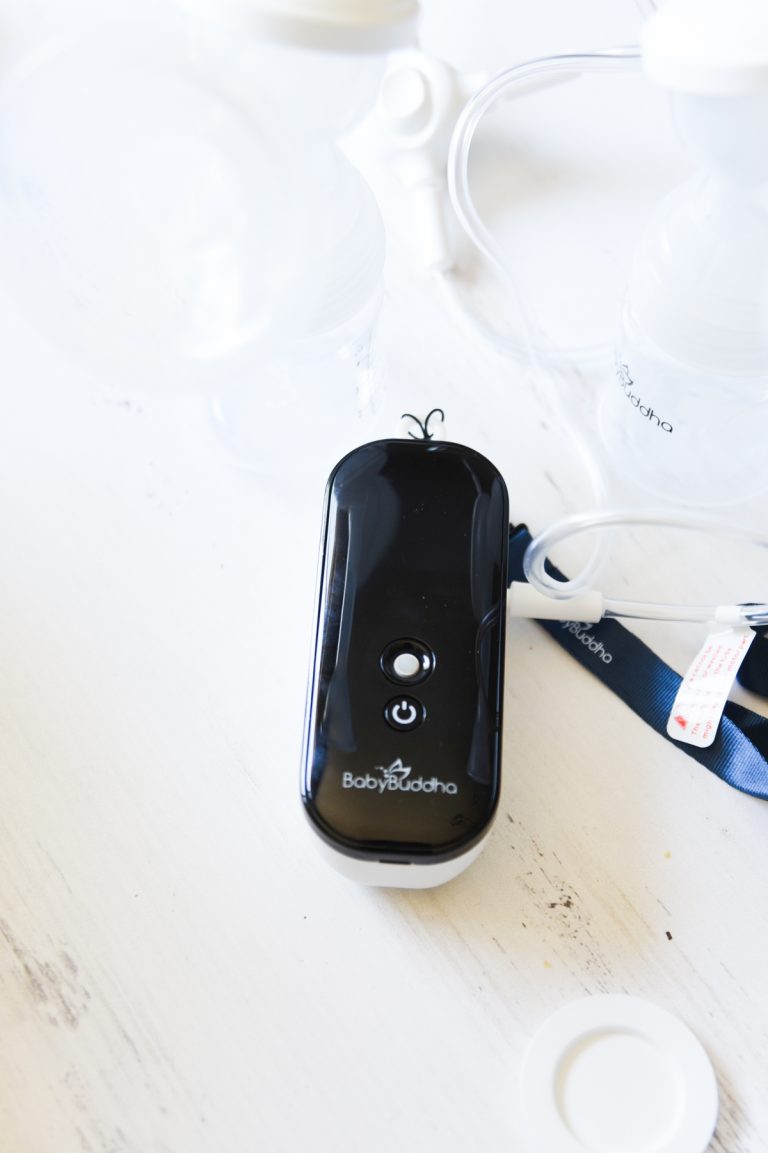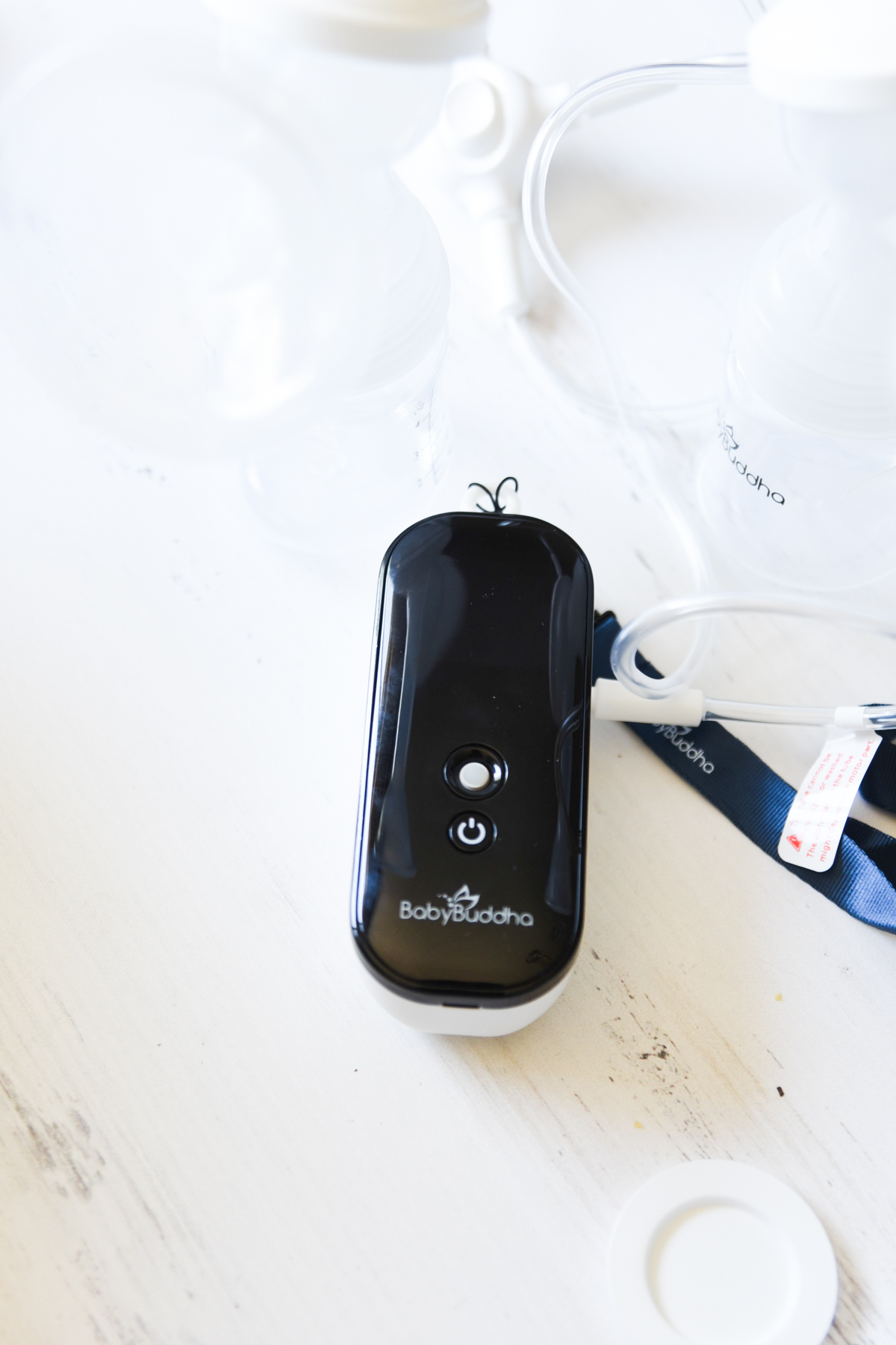 The BabyBuddha is a very popular breast pump that moms LOVE. It's quiet, portable, and easy to use – it also is very efficient and good at extracting breast milk.
It's super small – and it has the capability to work with lots of different pump parts – including the Freemies, which is what this post is about.
You can read my full overview of the BabyBuddha breast pump here.
If you want to get a BabyBuddha breast pump, use the code TBM10 for 10% off.
SOme insurances may cover the BabyBuddha – you can find out here through Aeroflow!
What You Need
How to Do The Hack
If you prefer a video, here you go!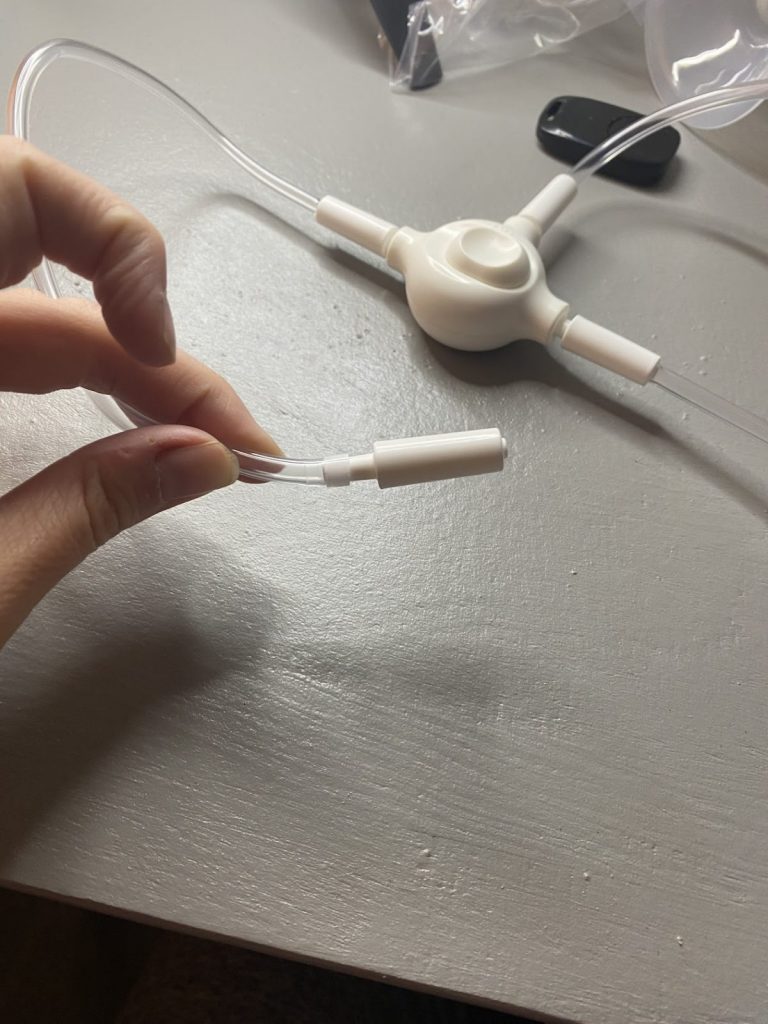 First, grab your BabyBuddha tubing.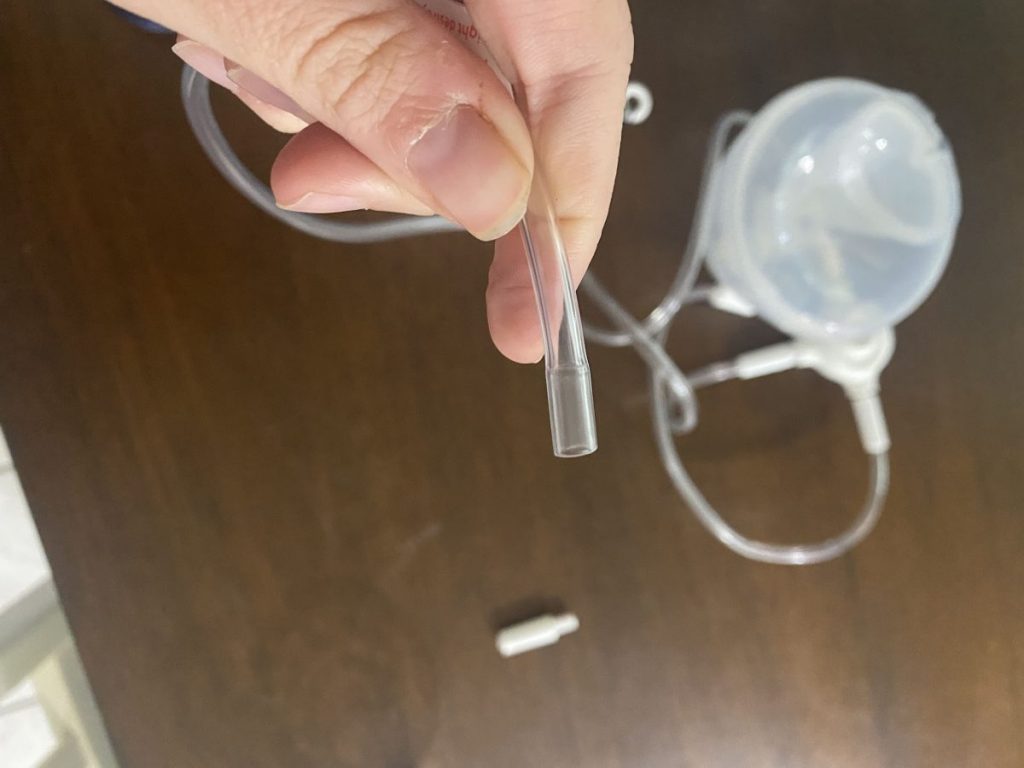 Remove the white connectors from the tubing.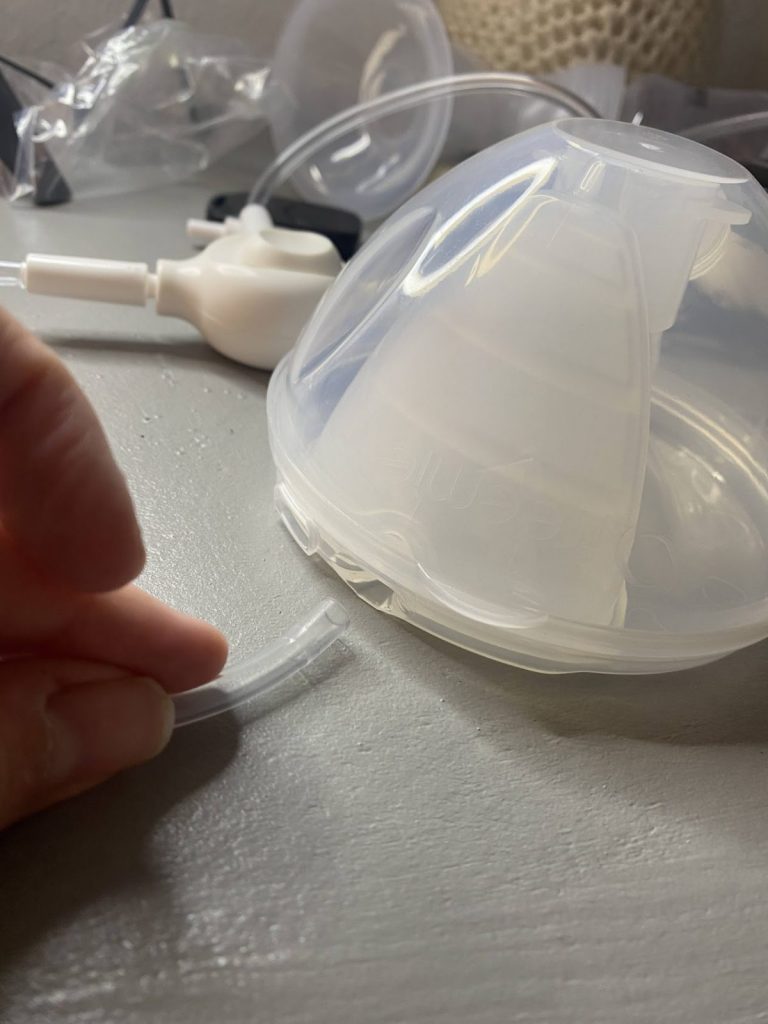 Now, grab your Freemie Cups and place the end of the BabyBuddha tubing into the open holes in the Freemie Cups.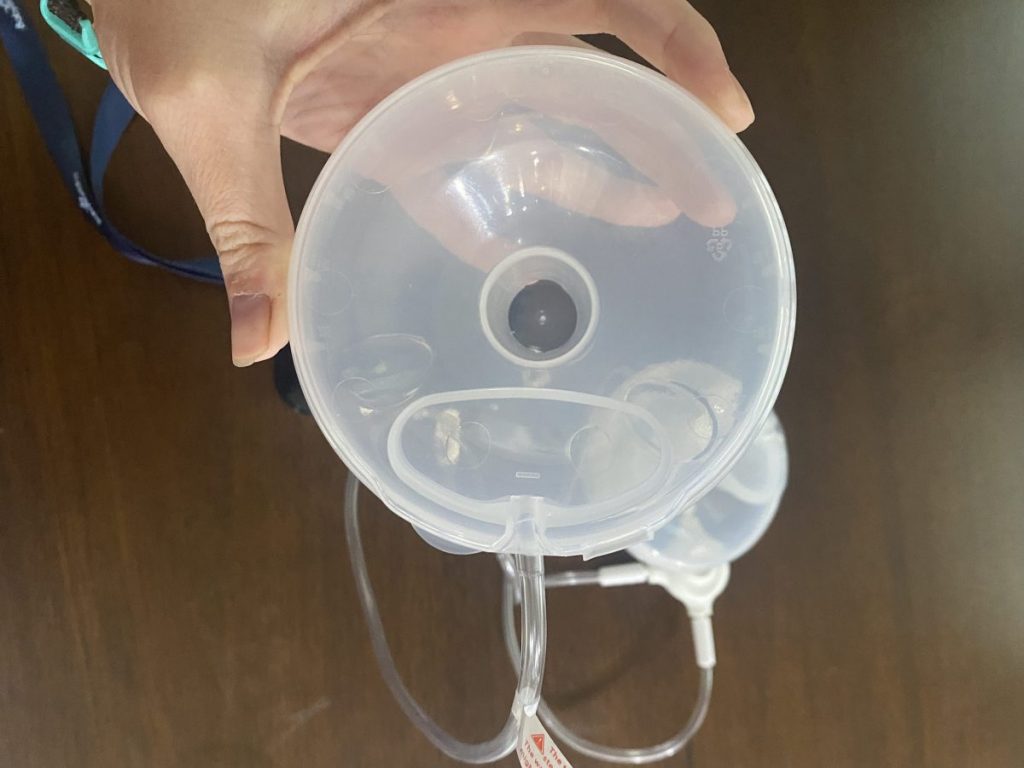 Place the Freemie Cups into your bra and put the BabyBuddha around your neck or clip it to your pants.
Pump as you normally would!
For even more hands-free support, you can put the Lavie Lactation Massagers in your bra or use the Lilu Pumping Massage Bra.
Comparison to Elvie, Willow, Freemie Pumps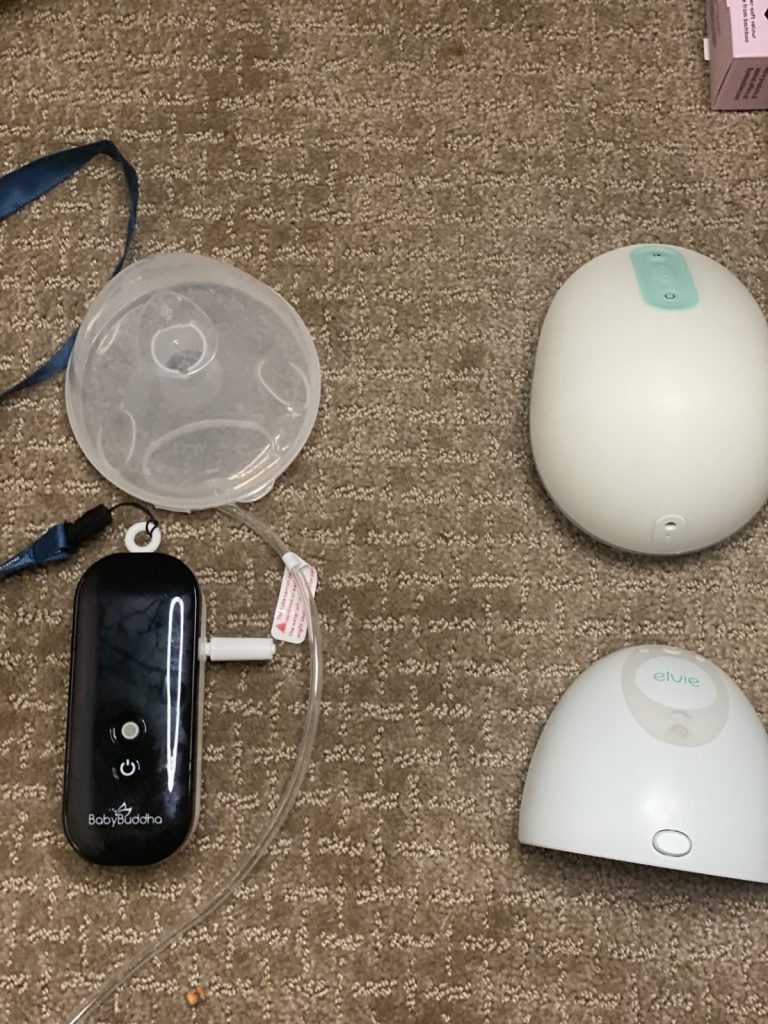 Whenever I talk about this method, people wonder how they compare to other hands-free options, such as Elvie and Willow – or just using the Freemie Pump.
Let's talk about Elvie and Willow first.
These are very popular pumps – albeit, very expensive. Some moms find them to be SUPER helpful, but many find them to be cumbersome, expensive, and not as effective as a traditional pump.
You can check out some of the posts we've already written about them here:
I have honestly not used either of these for an extended period of time, though I do have them. The Willow is quite loud – I think that the Elvie and BabyBuddha are similar in terms of being pretty quiet.
I think there are pros and cons to all the options. Obviously, with Willow and Elvie, they are a lot more expensive. However, they are completely cord-free and tube-free.
With the BabyBuddha + Freemie hack, even though it is cord-free, you still have the tubing, which has more room for getting tangled up and more room for it to kink. Plus, some people have issues with the tubing falling out of the Freemie cups, which might be annoying.
Hands-free pumping can be less efficient than using a pump in a traditional sense as well. So it's nice that with the BabyBuddha, you can use it as a hands-free pump, as well as a more traditional pump.
The biggest selling point is the price:
BabyBuddha – $189 (plus 10% off with code TBM10) and Freemie Cups are usually on sale for $59. But even if you don't use my code and you buy the Freemies at full price, you are looking at $288 for an amazing pump with a hands-free option.
FAQs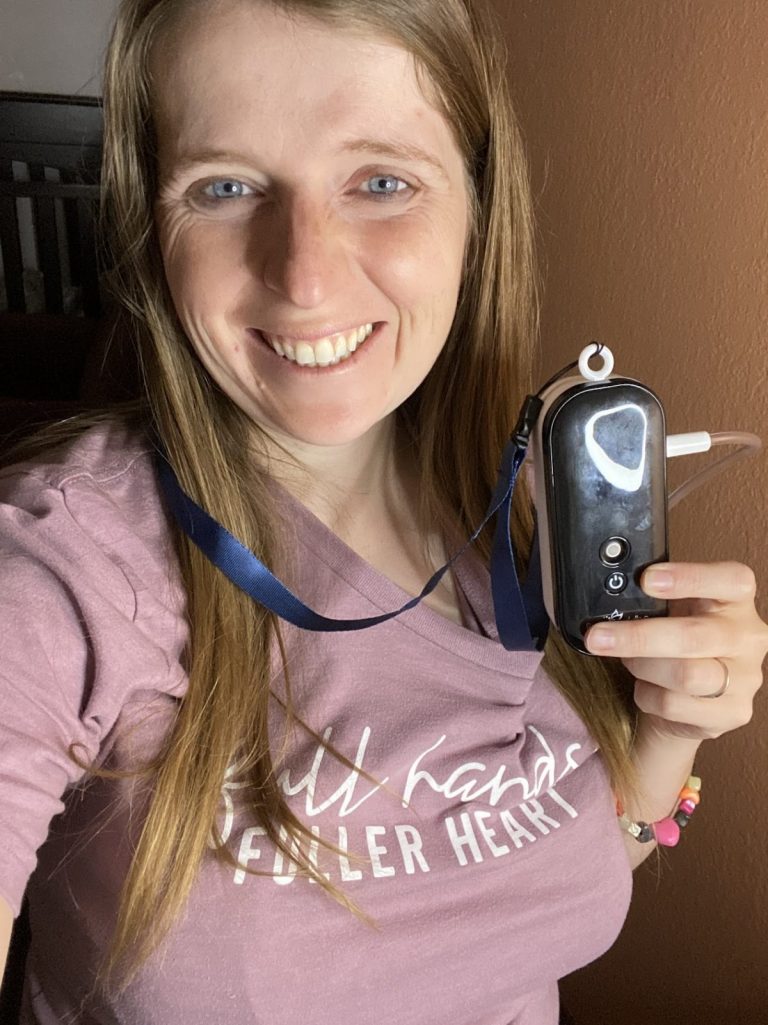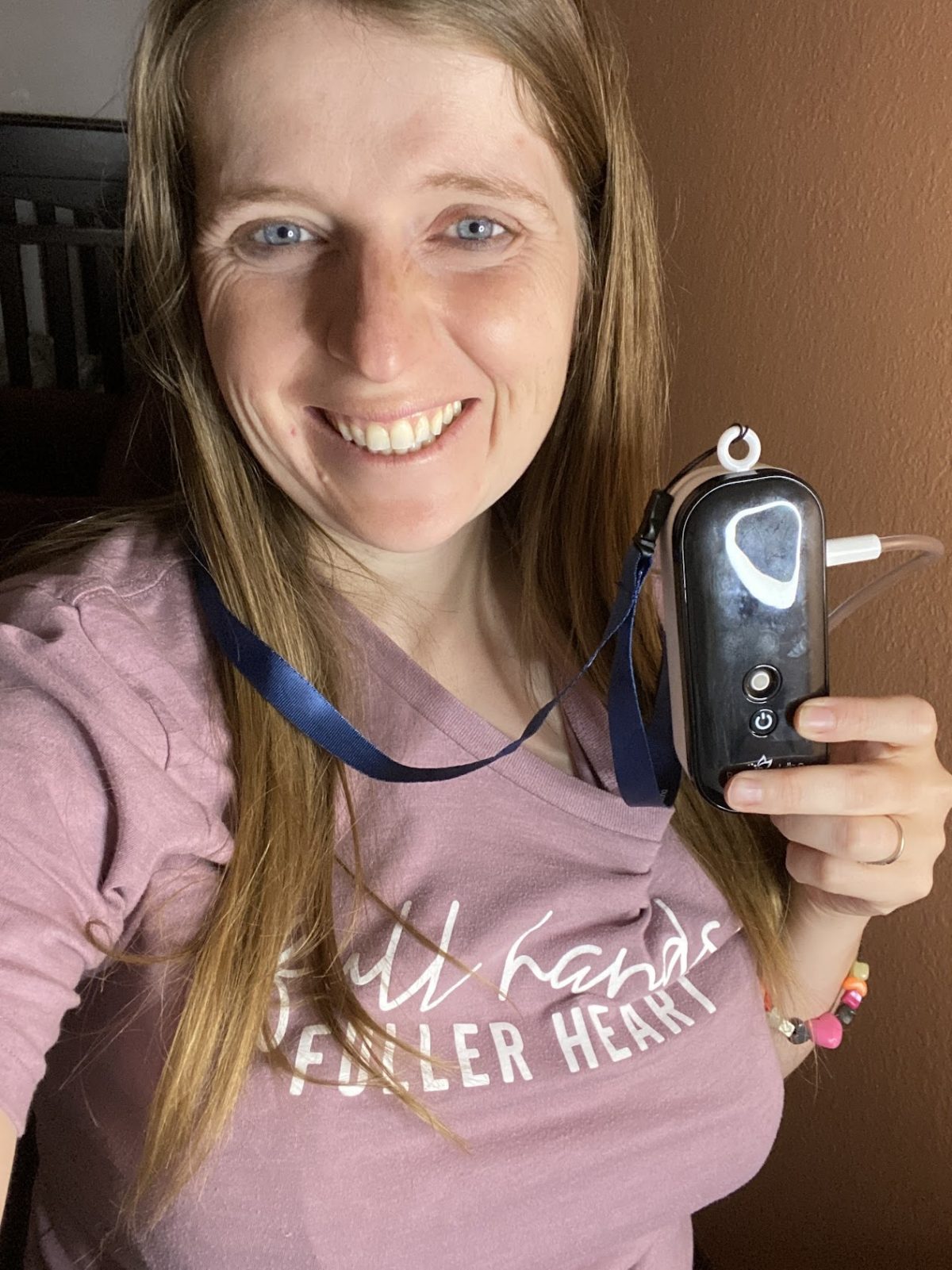 What freemie cups should I get?
I recommend getting the Closed System Cups to use with your BabyBuddha pump.
What about the Legendairy Milk Collection Cups?
While I haven't tried these out yet, I have heard other people having good success with these collection cups. I'm hoping to get my hands on some soon to try and compare them to the Freemie Cups.
What if the freemie flanges don't fit?
The Freemie flanges are 25mm and 28mm. There are a lot of women who need different sizes beyond those!
Thankfully, there are a few different options for inserts that you can use to help make the flanges fit so you can do this hack!
Fitme Inserts – These are created by Freemies, and the inserts go from 15mm all the way up to 26mm.
Maymom Flange Inserts are another popular brand that might you might consider
Beaugen Pump Inserts – these primarily are designed to help with comfort while pumping and elastic nipples, however, they can sometimes add a little extra cushoining and help when you are between sizes. Use the code TBM10 for 10% off.
Can I do this for every pump session?
You definitely can! If you find that your output isn't as great as when you pump directly, you might want to switch it up with just directly pumping from the BabyBuddha. However, many mothers use this pump!
Will this void my warranty?
I would contact BabyBuddha regarding any violations of warranty in using another pump's parts.
Can use this with a hands-free pumping bra?
I think you could use these with a hands-free pumping bra – but it might be a little bit bulky. You can definitely check out some of our recommendations for the best hands-free pumping bras to see if there is one that might work!
More Posts You Might Enjoy:
Katie Clark is a Certified Lactation Educator, Certified Breastfeeding Specialist, and IBCLC student. She has helped thousands of mothers and families around the globe navigate breastfeeding challenges and questions since 2015. She has a passion for creating research-based, helpful breastfeeding education and helping parents find a way to make breastfeeding work for them. Katie is a mom of three little boys and lives in the great state of Colorado. She also has a degree in Communications with an emphasis in print journalism.