The Ultimate Baby Buddha Pump Review + Coupon Code
The BabyBuddha Breast Pump has taken the breastfeeding world by storm – many moms claim it to be a game-changer when it comes to pumping! But is it worth the hype? Our BabyBuddha Breast Pump review has EVERYTHING you need to know about this portable breast pump – including the coupon code TBM for 10% off!
When it comes to pumping, finding a powerful pump that is also portable, easy to use, and affordable can be hard. One pump that hits all those requirements is the BabyBuddha Pump!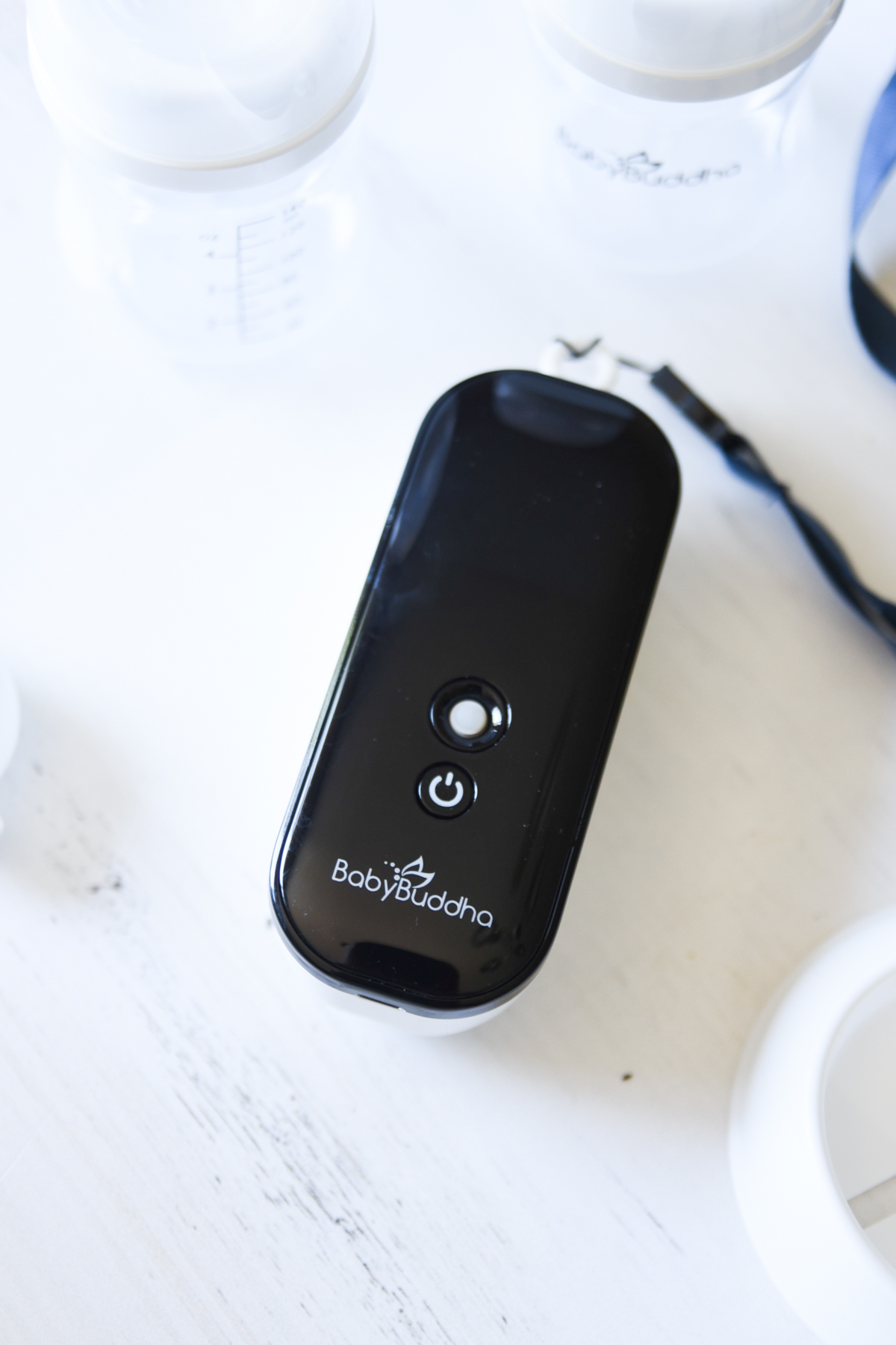 In a hurry? Here is our at a glance review:
OVERALL: ⭐️⭐️⭐️⭐️/⭐️⭐️⭐️⭐️⭐️
PORTABILITY: ⭐️⭐️⭐️⭐️⭐️/⭐️⭐️⭐️⭐️⭐️
QUIETNESS: ⭐️⭐️⭐️⭐️/⭐️⭐️⭐️⭐️⭐️
POWER: ⭐️⭐️⭐️⭐️⭐️/⭐️⭐️⭐️⭐️⭐️
COMFORT: ⭐️⭐️⭐️/⭐️⭐️⭐️⭐️⭐️
PRICE: ⭐️⭐️⭐️/⭐️⭐️⭐️⭐️⭐️
Overall Thoughts: This is a powerful pump – the biggest complaint we see are moms that find the suction to be too strong. It is a mid-range price at $189, but it's as powerful as pumps that are quite a bit more expensive. We love that it can be hacked with the Freemie or Legendairy Milk Cups! You can save 10% with our code TBM10.
A few years ago, I went to the ABC Baby Expo in Las Vegas. I couldn't believe how many breast pumps were there.
No wonder new moms feel overwhelmed with all the options! While I usually stick to more common brands – such as Spectra and Medela – over the past year or so, I heard a new pump come up that moms and lactation consultants were raving about.
The BabyBuddha Pump.
It seemed like a pretty big deal, so I started doing some research, saw so many great reviews, and ended up ordering one myself so I could really give a first-hand, personal experience with it.
This tiny pump has a lot of power! It has the higher levels that you'll find with a more expensive – or even hospital-grade pump – but it's so small. Tons of women that I've talked to have felt they expressed more milk in a shorter period of time, and they love the results. It is a rechargeable pump, which makes it easy to take on the go, and it's very easy to use. It is truly a fantastic electric breastfeeding pump.
One thing I love about the BabyBuddha Breast pump is the company. I had a long conversation with them, and they are a truly mom-first company. They developed this breast pump with moms in mind, and they are making changes for the next one due to that.
They encourage you to contact them right away if you have ANY issues, and they have a dedicated team of lactation professionals who can help you. They've kept it as affordable as they can, and it's truly a pump, unlike any others.
Enough chitter-chatter from me – let's dive in! I hope that this post will help give you all the information you need to decide if you want a BabyBuddha infant to make your future pumping sessions a little bit easier.
I am a part of the BabyBuddha affiliate program, and I purchased the pump at a discount. However, this post is not sponsored by them, and my research, thoughts, and opinions are 100000% my own.
What is the Baby Buddha Breast Pump
This is a breast pump that has been around for a few years. It is extremely portable and smaller than many smartphones – mine included!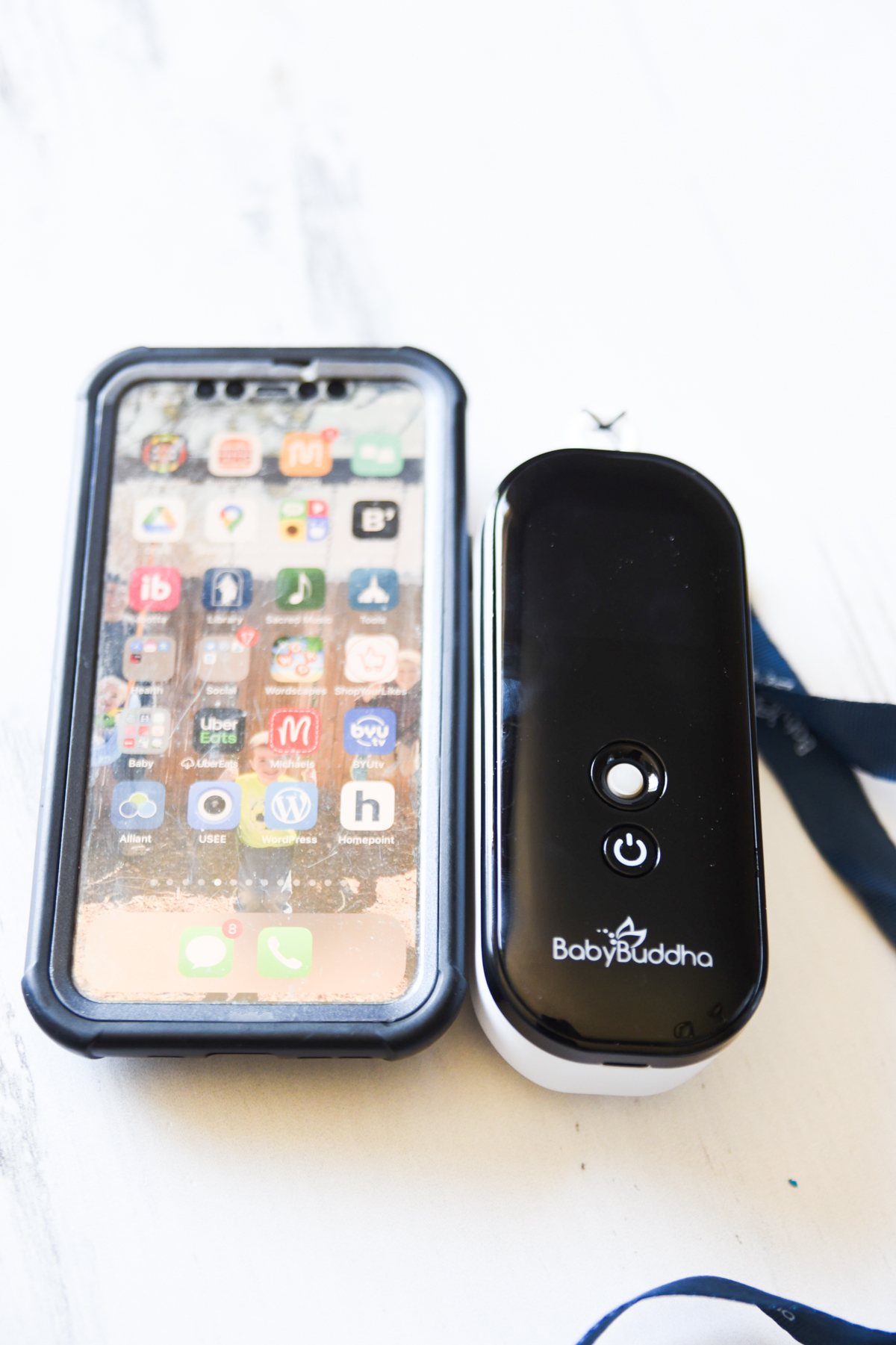 This pump is small but mighty – it's extremely popular amongst moms who talk about it on social media – many say they are able to pump more efficiently using it due to its unique design. It is designed to have the power of a more expensive pump at a lower cost.
The company designed this pump with a lot of input from moms. Their goal was to make a pump that moms actually wanted and at an affordable cost. It is quiet, discrete, and due to it's size, you can even wear it around your neck to make it easier to pump hands-free with a pumping bra (check out our favorite hands-free pumping bras here).
It's very versatile, as it can be used with other pump parts you might already have – you can even make it portable. It is simple to use with just a couple of buttons!
BabyBuddha Pump Cost
This pump is listed at $249.99, however, it's almost always marked down to $189.99, making it in line with pumps like the Spectra S2.
BabyBuddha Coupon Code
You can get an additional $10 off the BabyBuddha Breast pump with the code TBM. Just use this code at checkout to ensure you get the discount. This will make the pump $171 before taxes.
This pump is available at Target and other retailers, however, you can only take advantage of this coupon code when you shop directly through their website.
What does the BabyBuddha Pump come with?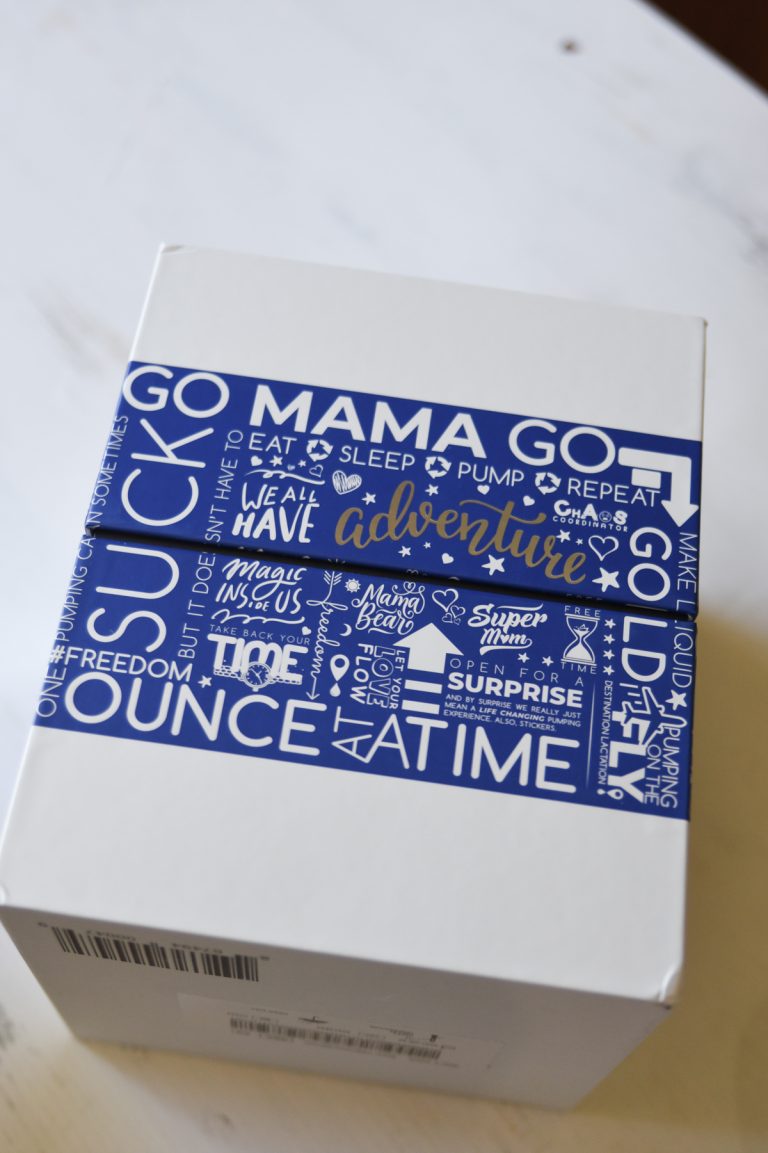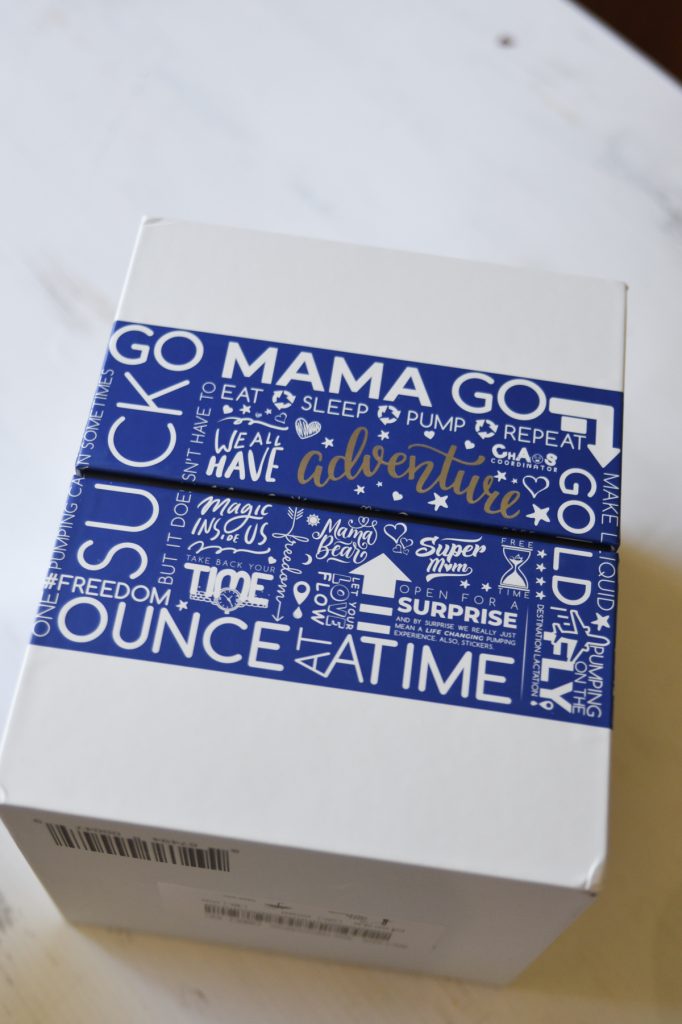 When you purchase this pump, you will receive the following in your complete kit:
Rechargeable Breast Pump Unit
24mm flanges (2)
Duckbill valves (2 sets)
Silicon Diaphragms (1)
Bottles, bottle bases, and storage caps (2)

You will want to use the bottles as your collection bottles when pumping!

Bottle hygiene covers (2)
Pump covers (2)
Detachable tubes (3)
T-connector (1)
USB Charging Cable
Detachable Lanyard
Carrying tote
BabyBuddha Smart & Rechargeable Breast Pump Unit (Black)
Two (2) 24mm Flanges
Two (2) Sets of Duckbill Valves
One (1) Pair of Silicon Diaphragms
Two (2) Bottles
Two (2) Bottle Bases
Two (2) Bottle Storage Caps
Two (2) Bottle Hygiene Covers
Two (2) Pump Covers
Three detachable tubes (for easy cleaning) & T-connector.
USB Charging Cable (charge to full in 4 hours)
Detachable Lanyard
Carrying Tot
Mine also came with a little handout that instructs you when to change your pump parts. That is essential information!
How do you use the BabyBuddha Pump?
So, you've got your BabyBuddha Pump and you are wondering how to use it. You're in the right place!
This pump is very easy to set up and start using – the whole process takes a short time. What initially impressed me about this pump was how simple it was – there are a lot of complicated pumps out there, and this is not one of them.
Before you even get started, I strongly recommend checking your flange size to make sure you have the right one. If you have other flanges that you've had success with, you may be able to "hack" them to work with BabyBuddha – however, the BabyBuddha only comes with 24mm, so it's a good idea to measure before it arrives to make sure you have the parts you need.
The first time you get it out of the box, you want to make sure you charge it completely for the best results.
You will also want to clean the pump parts as well before you use them for the first time.
After you've cleaned the parts, attach the flanges to the flange connector, and then that whole piece to the bottle.
Then you need to attach the tubing to the white connector. Two of the tubes will go into the flange connector and one will go into the pump itself. Connect the tubes into the flange connector
Once you've connected the tubes, you are ready to go! You can put the flanges in line with your nipples, though I strongly recommend getting a hands-free pumping bra.
If you are pumping with just one bottle, use the toggle button in the center of the white tube connector to switch from two sides to one.
Once you have your flanges/bottles situated, just press the power button. The pump will turn on and the little button in the middle allows you to toggle back and forth between the stimulation mode and expression mode by clicking on it.
You can change the different levels for stimulation mode (sometimes referred to as the letdown phase) and expression mode by clicking the button that changes between the two modes up or down. I had trouble the first time I used the pump figuring this out, but it's really quite simple.
Typically, you want to start with stimulation mode until you get a letdown, and then you'll switch to expression mode while you have milk coming out. You can change the levels, but I do recommend starting with the lowest level that is effective. This pump is powerful, and it can be a little intense – especially if you aren't used to pumping/nursing.
If milk stops flowing, you can switch back to stimulation mode until milk starts to flow again.
Once you've finished a pumping session, carefully remove the bottles and flanges from your pumping bra or hands, remove the flange from the bottles, and cover with the included bottle caps.
Baby Buddha Settings
As mentioned, there is a stimulation mode and expression mode that you can use with the BabyBuddha.
Stimulation mode is typically faster and shorter pulls at the breast, much like a baby suckling for a letdown. The expression mode is slower and has a nice, long pull. I do find the sensation of the BabyBuddha to be different than most other pumps I have used.
Each mode has nine different levels. Even as a mom who is breastfeeding a 21-month-old, I found the highest level to be really intense. Afterward, I was pretty sore, so in most situations, you probably don't need that. Remember – more intense doesn't equal more milk.
Baby Buddha Features
So, you are probably wondering what are some of the unique features of the BabyBuddha breast pump. What makes it stand out from the rest of the hundreds of pumps available on the market?
Here are a few things that BabyBuddha has. Not all of these are unique just to the BabyBuddha but all of them together add up to be a fantastic pump.
Quiet mechanism
It is a very quiet pump! Is it silent? Nope. But it is much quieter than most pumps. If you are planning to hack it to work as a hands-free pump, I would say it's on par with the sound level of the Elvie and MUCH quieter than the Willow.
Rechargeable Battery
The BabyBuddha comes with a rechargeable battery so you can easily take it on the go. You can use a USB port to plugin in the USB charging cable to charge your pump.
I do recommend having an extra battery for emergencies!
Compact Pump that Works Well
A lot of smaller pumps just don't have the power of larger pumps, so they aren't as worth getting. Not true with the BabyBuddha! It does not have any lack of power for being the size it is.
Closed System
The BabyBuddha pump has a closed system, which helps prevent milk contamination. It has an anti-backflow design, which is fantastic.
Being a closed system means you can sell, donate, or lend your pump to someone else. Just make sure they get their own parts!
Single or Double Pump
You can easily single or double pump with the switch of a button!
Unique Suction Pattern
Many feel that the BabyBuddha breast pump has a different feel to it, and it has been designed to mimic the suction pattern of a baby.
Different modes
There are quite a few different modes for both the stimulation and the letdown phases, which makes it so you can easily adjust it to your needs.
Why moms love the BabyBuddha
I asked on Instagram why people loved the BabyBuddha, and I only got one person who responded and said they didn't love it (and that was due to feeling it was too intense).
The vast majority sang its praises and said it was the best pump ever. Several commented on it taking time to get used to, just because it has a very different rhythm from the pump they usually used – but once you get used to that, it's pretty amazing.
Here are the most popular reasons I have heard about why moms love the BabyBuddha:
Takes less time to pump more milk
Super small and convenient to take with you on the go
Very simple to use – you really just have to do a simple swivel of the thumb to navigate and use the machine. It doesn't have complex controls and you can easily use it one-handed
Portable
It has a rechargeable battery
Compatible with Freemie Cups to make it hands-free
You can hack it to work with other breast pump parts
Their customer service is fantastic – they have lactation professionals on staff to help troubleshoot issues, and they are always looking for feedback on how to make your experience better
Baby Buddha Pump Pros and Cons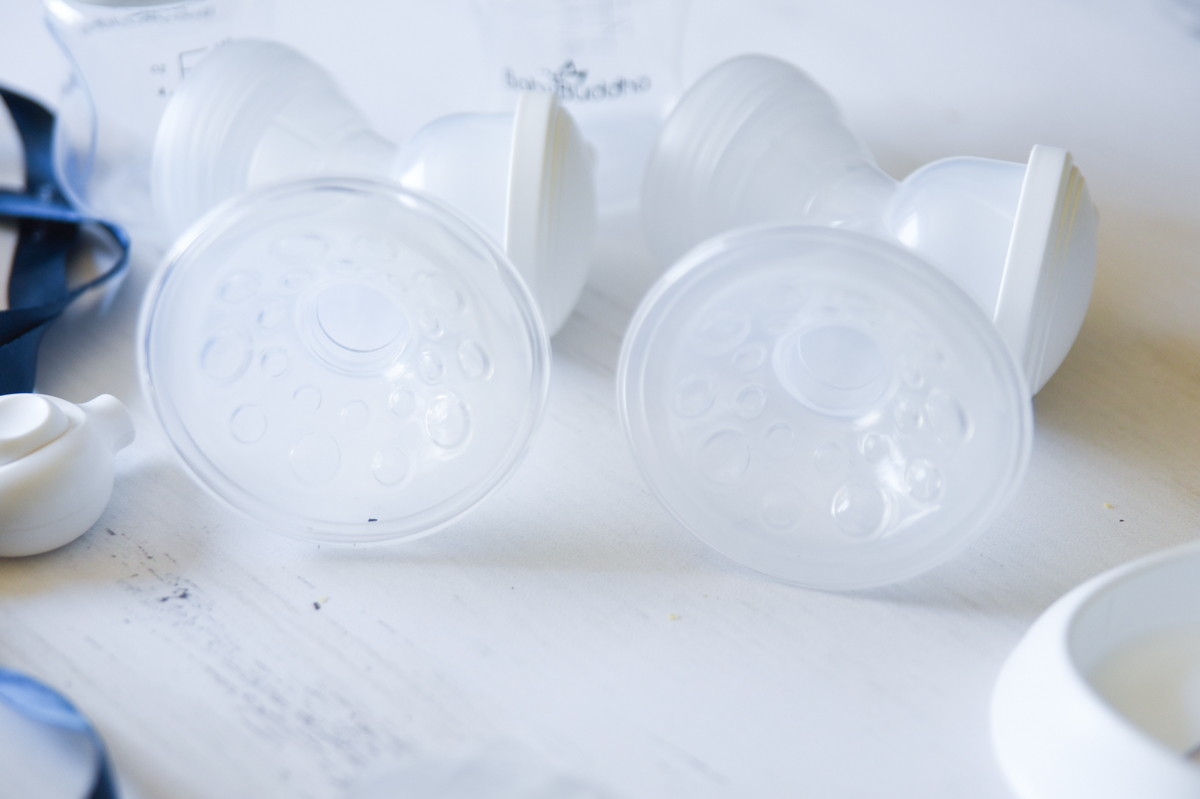 Pros
Flanges are comfortable – soft removable cushion adds extra comfort
It is very small – just about the size of a smartphone
Very "hackable" – can be used with many other pump parts that you might already have/feel comfortable with, and it can also be hacked to be used with the Freemie Cups to make it hands-free
Although it is not classified as a hospital-grade pump, many moms report having just as much as success – if not more – with this pump.
Rechargeable
You can double or single pump
BPA-free construction
It has a quiet motor
It generally is very easy to clean
Cons
Flange size – only one size is included (24mm). They do have the 28mm and 32mm that you can order, but I wish they had the 21mm at least. If you need a smaller-sized flange, you could consider using Beaugen Breast Pump cushions or you could just another flange and hack it to work with your pump.
Some moms feel that the pump is TOO powerful and they had to stop using it due to sore nipples and pain. Some people feel it's best to use this pump once your nipples have gotten a little more used to breastfeeding.
There is a learning curve to using this pump. You will find this with most pumps, but if you're coming from another pump, it might take a little bit of time to adjust to it
The battery life is only around four hours before you need to recharge it, which many see as a con
It may or may not be covered by insurance. You can check your insurance covered through their website – so it's nice that they are able to help you through that process to see if it will be covered!
My experience
To be 100% transparent, my son is 21 months old. I haven't pumped since he was probably just a couple of months old!
Baby Buddha Comparison
Here is a brief table comparison to other popular pumps on the market. I have tried to include a variety of pumps that I know people try and decide between, including portable pumps. If you can't see the entire chart, you may need to scroll or flip your phone!
| | | | | | | | | |
| --- | --- | --- | --- | --- | --- | --- | --- | --- |
| | | Baby Buddha | Medela Pump InStyle | Spectra S2 | Willow | Lansinoh Smart Pump 2.0 | Medela Symphony | Avent Advanced |
| | Cost | $189 | $249 | $159 | $499 | $160 | 2224.99 | $149 |
| | Insurance | Sometimes | Usually | Usually | No | Usually | No | Usually |
| | Size | Small | Medium | Large | Small | | XL (hospital Grade | Medium |
| | Portable | Yes | No | No | Yes | No | No | No |
Using Baby Buddha with others Pump Parts
I have mentioned several times that you can use the BabyBuddha with other pump parts for many of the most popular pumps out there. People most commonly want to know if they can use their spectra parts, freebie collection cups, or Medela parts – and the answer is, YES!
You might wonder why you would want to do this – and it's simply because many people find they like the parts they are more comfortable with but they want to pair them with the power of the BabyBuddha.
The Freemie Collection Cups are especially popular because they make your breast pump become hands-free, as you can see in the video below.
While BabyBuddha doesn't guarantee any results and say that it can void warranties, they do provide this helpful page about component hacks. This is not all-inclusive, but you should be able to"hack" the following parts for use with the BabyBuddha:
Hygeia
Medela (several of their pumps)
Closed System Freemie
Medela to Pumpin' Pals
Ameda
Spectra
Open System Freemie
Kiinde
Ardo
Evenflo
FAQs
Can I use this as a primary pump?
Absolutely! This is definitely a powerful pump that can easily be used for frequent pumping.
Does insurance cover this pump?
Some insurances do, others don't. It is a newer pump, so not all insurances include it for coverage. You can submit your information through their website, and they will check for you.
Can I use this for power pumping?
Yep, no issues with that!
How do I know I am pumping enough milk?
Typical output is .25-2 ounces total when you are pumping in addition to nursing. When you are pumping in place of a nursing session, it's usually around one ounce per hour since the last time you pumped or nursed.
Can this pump increase my milk supply?
This depends on the situation and why your supply is low. Some moms have claimed that The BabyBuddha does increase their milk supply. If you are having low milk supply issues, I strongly recommend you book a lactation consult!
Tips for Using the BabyBuddha
Here are a few tips and tricks for using your BabyBuddha Pump more successfully:
If the suction is too hard, use expression mode first until you get to a letdown and then switch to stimulation. This is the opposite of what you normally would do, but it seems a lot of moms have success with doing this.
There is a white toggle in the center of the tubing that you can switch from one side to the other to make it so you can single pump.
One mom told me, "I recommend adding a swivel clip to the back of the pump so it can attach to your pants (better than the lanyard)."
If you have gotten the freemie cups, I saw an amazing hack for pumping while driving. You hook it up to the Freemie Cups, then put Lavie lactation massagers in your pumping bra to mimic hands-on pumping, and then you can pump hands-free and easily!
The bottom line, I give the BabyBuddha breast pump two thumbs up and the official seal of approval from The Breastfeeding Mama (okay, that doesn't exist, but if I had a seal of approval, they would get it!)
Related Products that Make Pumping Easier
Looking to make your pumping life a little easier? Here are some additional tools and resources that might be helpful to you!
Online Pumping Class
I think that anyone who is hoping to pump – whether on occasion or exclusively – should learn everything they can about being successful with pumping. The truth is, there is a lot of bad information out there, and it can be hard to navigate it.
We offer an on-demand, online pumping class that has everything you need to know to be successful with your pumping goals! You can learn more about it here.
Lavie lactation massager
The Lavie Lactation Massager can be really helpful when you are breastfeeding and pumping to help increase milk flow – and work out any clogged ducts that you might have.
I know some people like to combine this with the BabyBuddha and Freemie to replicate hands-on pumping! You can buy these on Amazon, but if you want to get 10% off, you. can purchase it straight from their website with the code TBM10.
Combine this with one of our favorite hands-free pumping bra recommendations.
WearLilu Massaging Pumping Bra
There are a lot of helpful gizmos and gadgets out there, but I love the WearLilu pumping bra. Not only is it an amazing pumping bra, but it is a massaging bra, too. Totally hands-free and easy to use! Use the code KATIECLARK20 for $20 off. It is an investment, but it is designed to mimic compression massage, which can easily help to increase your supply.
More Posts You MIght Enjoy: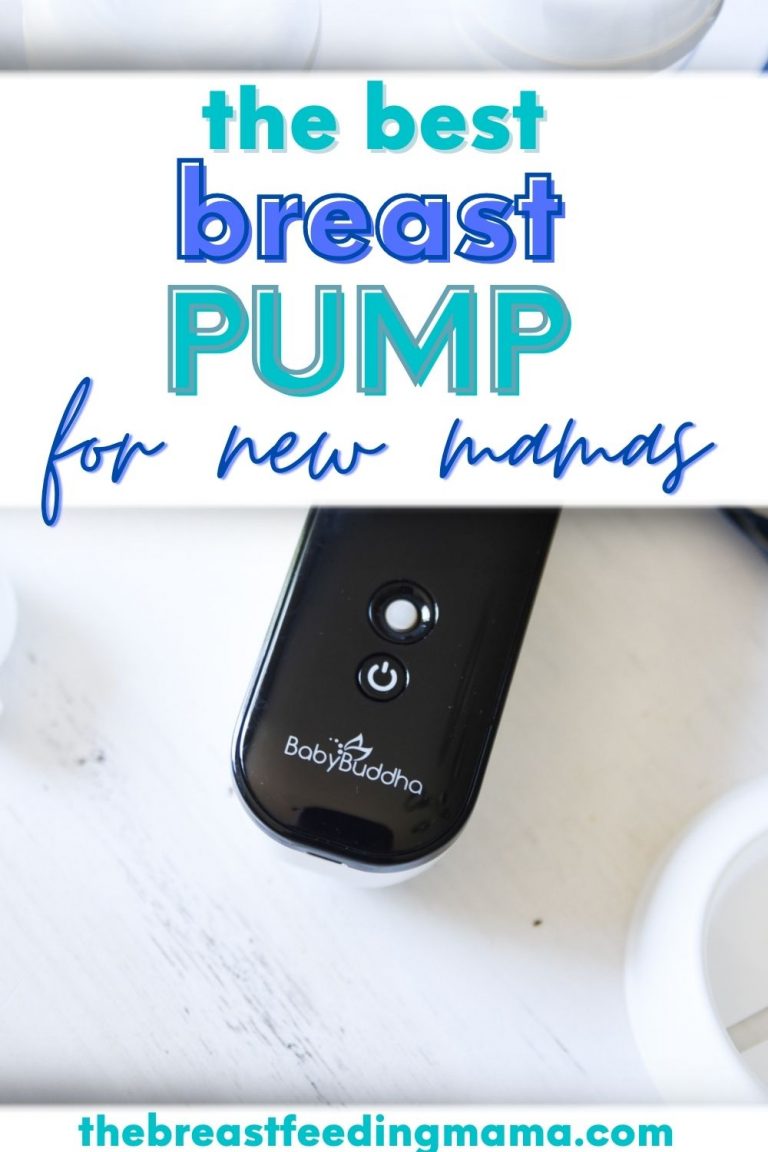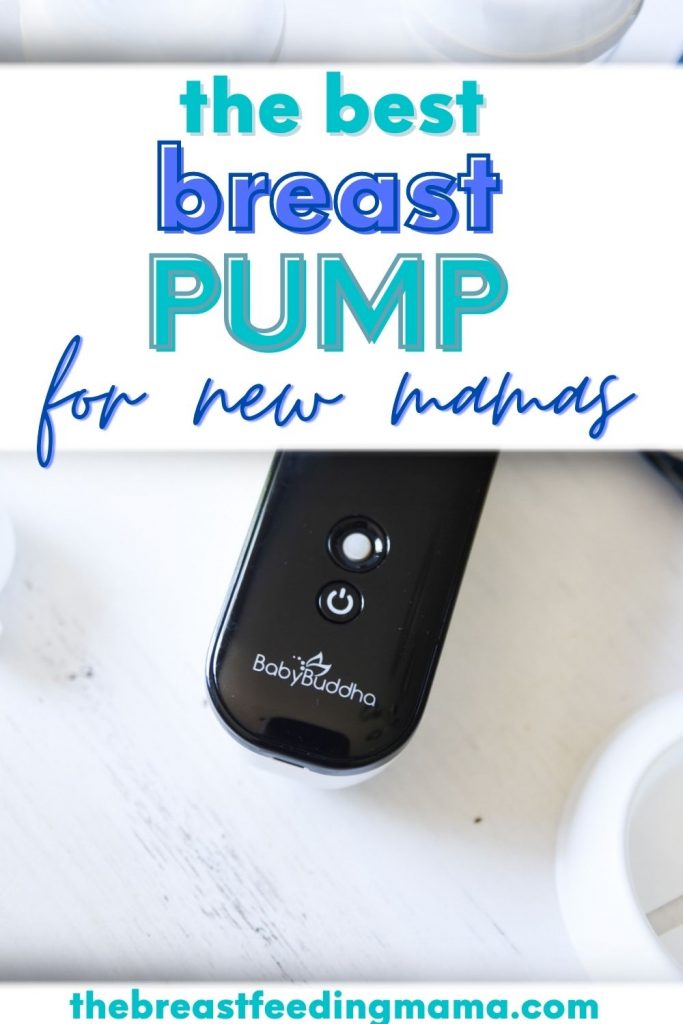 Katie Clark is an International Board Certified Lactation Consultant (IBCLC). She has helped thousands of mothers and families around the globe navigate breastfeeding challenges and questions since 2015. She has a passion for creating research-based, helpful breastfeeding education and helping parents find a way to make breastfeeding work for them. Katie is a mom of three little boys and lives in the great state of Colorado. She also has a degree in Communications with an emphasis in print journalism.