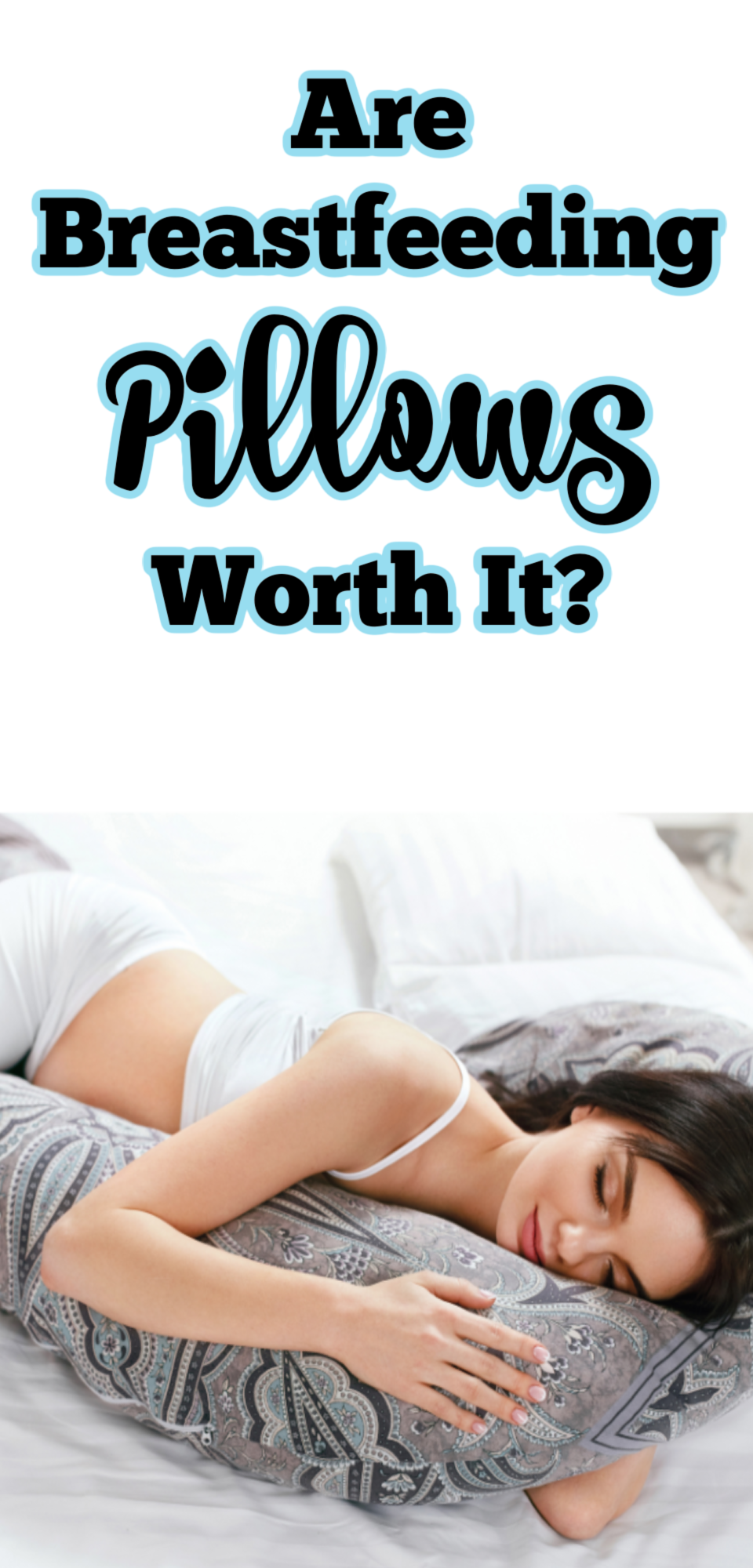 Are pregnancy pillows worth it? This is a question that many pregnant women ask themselves. Pregnancy pillows have become increasingly popular in recent years, and there are a variety of different kinds available on the market. Some women swear by them, while others find that they are not really necessary. In this blog post, we will take a closer look at pregnancy pillows and discuss the pros and cons of using them during pregnancy.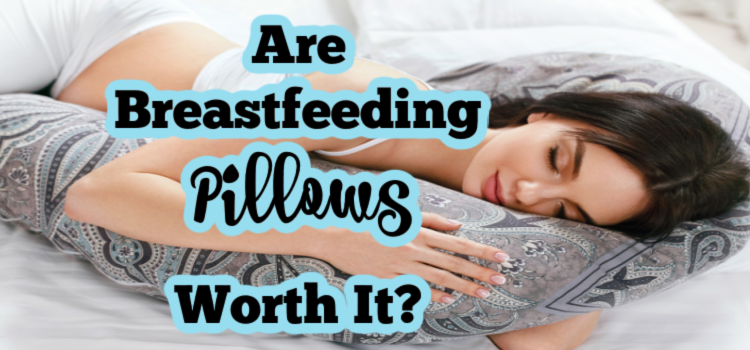 What is a pregnancy pillow?
A pregnancy pillow is designed to support the growing belly of a pregnant mother.
They are typically long, U-shaped pillows that can bend and twist and contour as needed.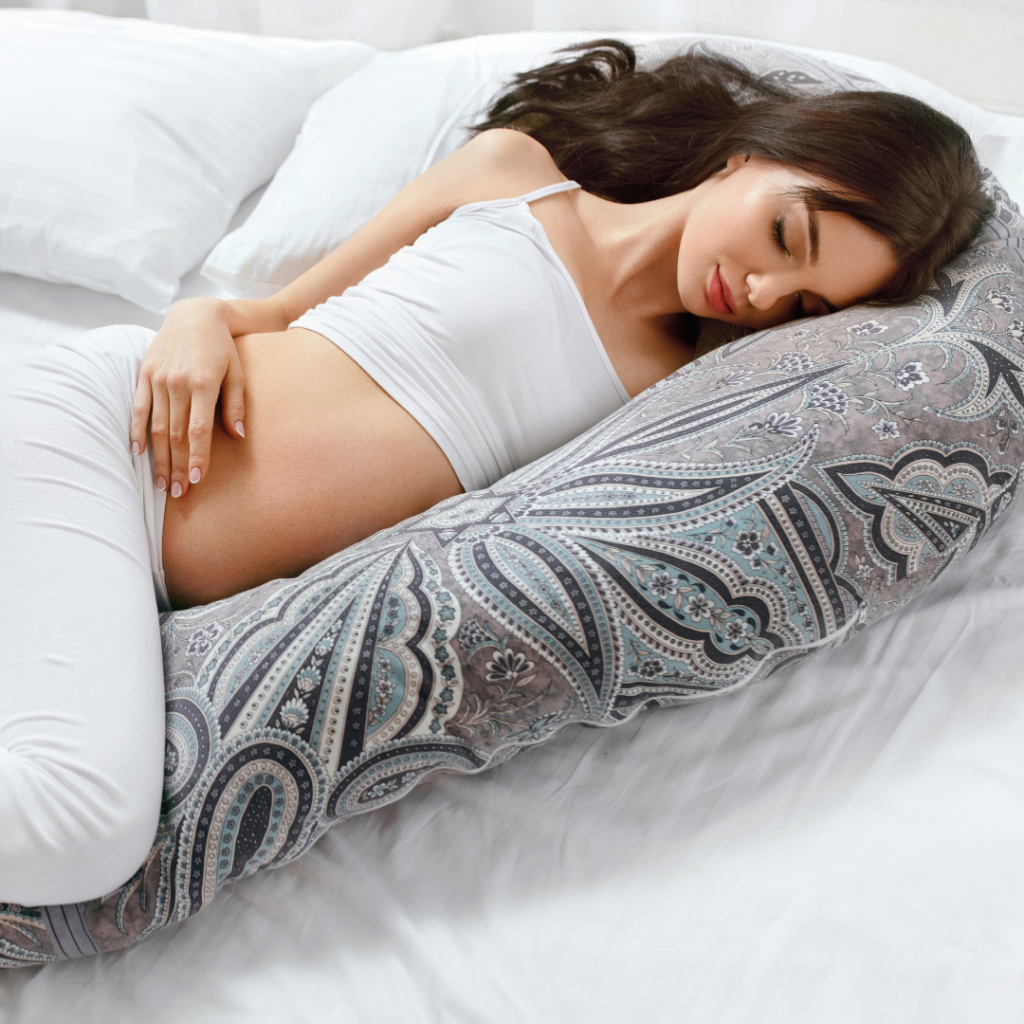 Why would you want a pregnancy pillow?
Support
One of the main reasons why pregnant women use pregnancy pillows is for support.
These pillows can help to support your back, belly, and legs, which can be helpful if you are suffering from back pain or another discomfort during pregnancy.
Prevent Back Sleeping
They can also help to keep you from rolling over onto your stomach during the night. If you are concerned about your sleeping position during pregnancy, a pregnancy pillow may be a good option for you.
Comfort
Another pro of pregnancy pillows is that they can provide some much-needed comfort during pregnancy.
Many women find that their regular pillows are not comfortable to use during pregnancy, as their bodies are constantly changing and growing.
Pregnancy pillows are specifically designed to provide comfort and support during pregnancy, and they can be a great option for women who are struggling to get comfortable at night.
Cons of a pregnancy pillow
There are also some cons of pregnancy pillows that you should be aware of.
Space
One of the biggest issues is that they can take up a lot of space in your bed. If you have a small bed, you may find that a pregnancy pillow takes up too much room and makes it difficult to move around.
Cost
Additionally, pregnancy pillows can be expensive, so if you are on a budget, you may want to consider other options.
Learning Curve
While many women find pregnancy pillows comfortable – some might find them uncomfortable and tricky to get used to. There can be a learning curve to figuring out the best way to use it and it may take time to utilize it to the fullest.
Best Pregnancy Pillows
There are A LOT of pregnancy pillows out there – and trust us, not all of them are created equally!
Here are some of the best ones money can buy that have rave reviews from other mothers on Amazon.
Sale
Pharmedoc Pregnancy Pillows, U-Shape Full Body Pillow – Cooling Cover Dark Grey – Pregnancy Pillows for Sleeping – Body Pillows for Adults, Maternity Pillow and Pregnancy Must Haves
Our new U-Shape Pillow now comes with a special Cooling cover that is cool to the touch and helps disperse heat. Perfect for the summer or during pregnancy to help you feel cooler through the night.
The pregnancy pillow features a detachable extension that can be used as its own full body pillow, or attached the main body pillow for additional back or belly support, making this an excellent pillow for pregnant women and just about anyone else!
This maternity pillow measures 53" inches long, 31" inches wide, and 7" inches high, making this the ideal contoured support pillow for your back, belly, legs, and neck... all in one!
MORE THAN JUST A PILLOW FOR PREGNANT WOMEN - This full body pillow is perfect for ANYONE needing more support, recovering from surgery, or tired of having to use separate pillows to support their head, neck, legs, and back
Try the PharMeDoc U-Shaped maternity pillow today, RISK-FREE. You're covered by our lifetime manufacturer warranty and 100% satisfaction guarantee.
Sale
Pharmedoc Pregnancy Pillows, C Shaped Full Body Pillow for Adults– Pregnancy Pillows for Sleeping – Maternity Pillow with Support for Back, Legs, Belly and Hips – Grey Jersey Cotton Removable Cover
🏆 [The Ultimate Body Pillow] - C-shaped body pillows design replaces need for multiple bed pillows, helping support your back, hips, knees, neck and head.
✔️[Multi Purpose Pregnancy Pillows] - Adjustable polyfill material adapts to your belly and back when you want to sleep, read, nurse, or watch TV
🔰[3rd Trimester Pains?] Our full body pregnancy pillow can help ease you into a better sleep, reducing interruptions throughout the night and helping relieve back pain associated with pregnancy
💎[More Than Just a Pillow For Pregnancy] - This full body pillow is perfect for ANYONE needing more support, recovering from surgery, or tired of having to use separate pillows to support their head, neck, legs, and back
Lifetime Manufacturer Warranty Designed in California 100% Satisfaction Guaranteed*
INSEN Pregnancy Pillows, Cooling Pregnancy Pillow for Sleeping,Maternity Body Pillow for Pregnancy, C Shaped Pregnancy Pillow with Jersey Body Pillow Cover
Pregnancy Pillow for Sleeping. INSEN 58'' Pregnancy C shaped pillow comfort and follow the contour and shape of your body and helps you relieve back pain, neck stiff, lower back pain. C shaped is perfect for pregnant women with a full body surrounding support such as back, lower back, hip, leg and feet support. This pregnancy C shaped maternity support can relieve your pregnancy pain and pressure and improve sleeping.
Premium fiber Filling. High density soft fiber is not like other filling. We use long silk fiber that it will stay smooth and stable inside the pillow provides comfort for side sleeping. Soft and full support pregnancy body pillow is based on a premium fiber filling. Breathable and hypoallergenic material cover is easy clean and machine washable.
Multifunctional Maternity Pillow. Flexible shape is adjustable when you are reading, watching TV/Movie, playing games. You can fold it into a wedge pillow that helps you relax and elevate your leg to improve blood circulation. Relieving pregnancy swelling is so important for pregnant women.
Full Body Support Pillow for Your Family. This C shaped pillow is not just for pregnancy mom or women. It can be widely used. Man or children who has experienced a whole day work or who cannot sleep stably. They need a fully relax and body support. Surrounding support is great for their sleeping to relax their work or study pressure.
Customer focus. All our pillows are vacuum sealed for easy shipping and keep the pillow clean. Please wait more than 72 hours for the body pillow to become fluffy and firm before use. If you have any questions, we are always here to help you.
Sale
QUEEN ROSE Pregnancy Pillows, U Shaped Full Body Pillow for Sleeping Support, 55 Inch Maternity Pillow for Pregnant Women with Removable Velvet Cover, Grey
Cuddle Body Pillow: QUEEN ROSE U shaped body pillow is specially enhanced the belly and back support, adapting to your needs when sleeping on your side. Brings hug to growing belly and makes pregnancy journal enjoyable.
Farewell to Body Pains: Our pregnancy pillow adapts exceptionally well to your body fits your body curves, provides comfort and support to all the right places-shoulders, lower back, belly, pelvis, knees and ankles. Reduce pressure pains and legs swelling during the 2nd and 3rd trimesters.
Ideal for Side Sleepers & Expected Moms: Maternity pillows provide spinal alignment and correct posture with wrapped back and legs support. Experts encourage side sleeping for back pain relief. Replaces up to 5 other pillows, no more tossing and turning at nights.
Anytime, Anywhere: Use the body pillow anywhere you want to get cozy. Position to your bed, sofa even the floor when sitting, nursing, reading or watching TV to get support. The pillow is loved by people recovered from injured, sciatica and reflux because of its extraordinary supportive function.
Smooth soft velvet cover makes you feel like sleeping in marshmallow. Pressure relief filling is chemical free and adjustable for different needs. Certified standard 100 by OEKO-TEX, good for you, good for your baby.
Chilling Home Pregnancy Pillows, U Shaped Full Body Pillow for Pregnancy 55 Inch Maternity Pillow for Pregnant Women, Pregnancy Must Haves Pregnancy Pillows for Sleeping with Removable Cover
Chilling Home Pregnancy Pillows, U Shaped Full Body Pillow for Pregnancy 55 Inch Maternity Pillow for Pregnant Women, Pregnancy Must Haves Pregnancy Pillows for Sleeping with Removable Cover
【PREGNANCY SUPPORT PILLOW】Pregnancy must haves body pillow for pregnancy of maternity body pillow for adults offers body support and relax as a pregnancy U body pillow which is identical with other pregnant body pillow like maternity clothes. U body pillow that pregnancy must haves can lead to a state while using pregnancy body pillows for sleeping as well as maternity clothes. Especially as a body pillow for pregnant women when goes into a body pillow u shape.
【MULTIPURPOSE PREGNANCY PILLOWS】Compared to other pregnancy pillow u shaped as pregnancy pillow, the body maternity pregnancy pillow is not only a pregnancy pillow cooling for sleeping designed for pregnant women or breastfeeding mothers, but also a full body pregnancy pillow that pregnancy must haves and the people wanna better sleep who needs pregnancy pillows. Especially could be a pregnancy gifts for first time moms.
【PREMIUM FILLING in PREGNANT PILLOW】The pregnant pillow with cover u shape filled with filling which provides extra soft and of high density as well as pregnant pillows for sleeping cooling, u shaped body pillows for adults,maternity pillows for sleeping,maternity pillow for sleeping,maternity pillow cooling. It could also be a pregnancy gifts for first time moms, could be arranged when after wedding registry items set. This long pillow can be used as room decor as well.
【REMOVABLE & WASHABLE MATERNITY PILLOW COVER】 This maternity pillow for adults that pregnancy must haves as maternity pillows for sleeping full body and body pillows for pregnant women with zippers at both sides body pillow cover will never clump, even after repeated washing, so you can look forward to long lasting clean comfort body pillows and simply throw the maternity pillow for pregnant women into a normal washing machine and dryer for cleaning. Hassle-free maternity pillow u shape!
PregnancyPillow.com
PregnancyPillow.com has high-quality and soft pregnancy pillows. They are part of the company that offers free nursing pillows, covers, and much more. The pillows are listed for $89.95, however, you can use the code TBMAMA1 for $30 off!
Are pregnancy pillows essential?
Overall, pregnancy pillows can be a great addition to your bedding during pregnancy, but they are not essential.
If you are struggling to get comfortable at night, or if you are looking for extra support, a pregnancy pillow may be a good option for you.
However, if you have a small bed or are on a budget it might not be worth it. At the end of the day it is a preference thing and something you will have to determine on your own.
Alternatives to pregnancy pillows
If you are looking for an alternative to pregnancy pillows, there are a few options available.
One option is to use a body pillow, which can be helpful in supporting your back, belly, and legs.
Another option is to use a regular pillow with a pillowcase that is designed for pregnant women.
You can also try using a heating pad or hot water bottle to help you relax and get comfortable at night. Talk to your doctor or midwife about what option would be best for you.
More Posts You Might Enjoy: