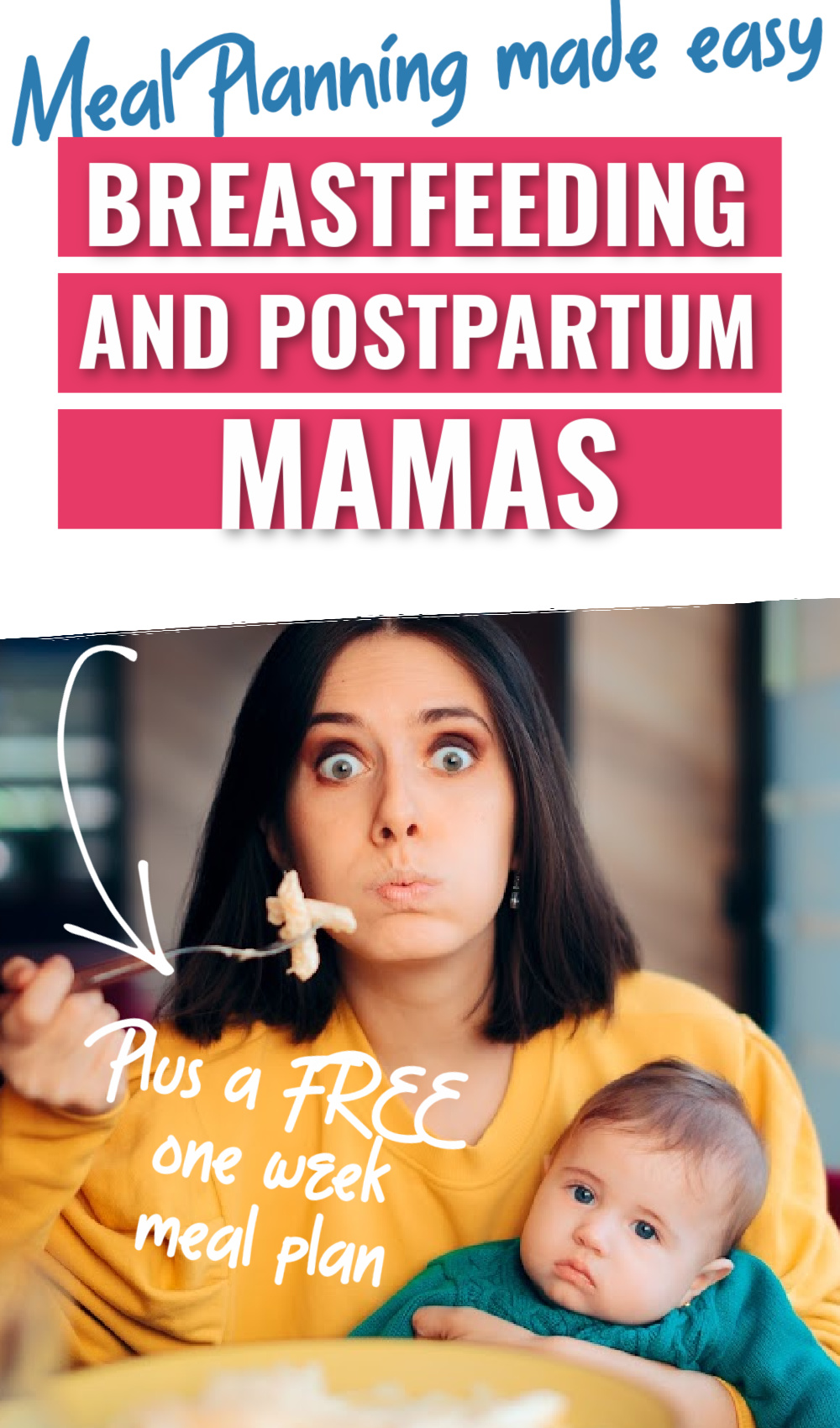 Need some ideas for meals to eat while breastfeeding or during the postpartum stage? This 28 day breastfeeding meal plan has everything you need to lose weight or get healthier while breastfeeding without compromising your supply. The first week is free!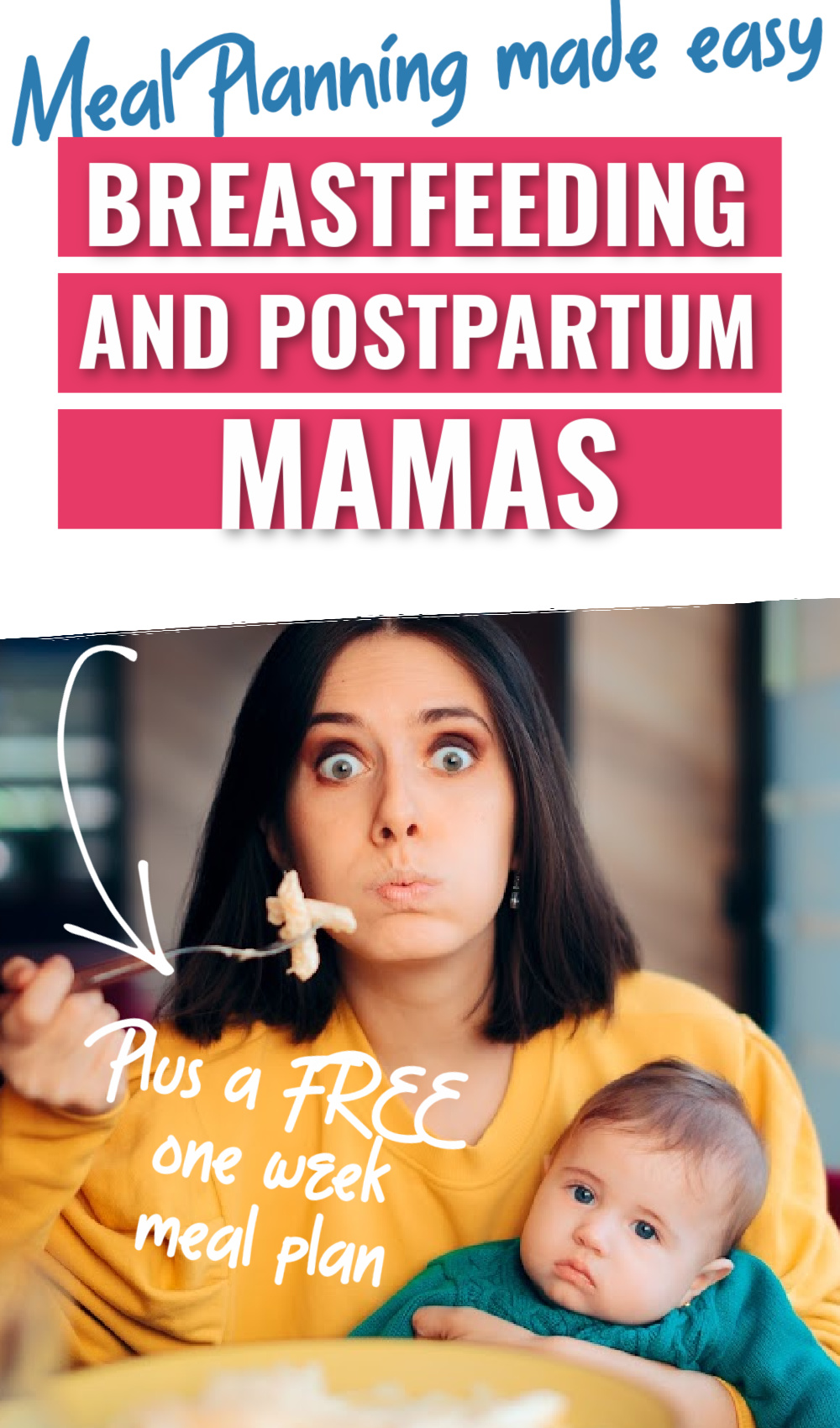 Breastfeeding Cookbook
Growing a baby takes a lot of work – and it definitely takes a toll on your body.
Throw in breastfeeding, and it can often feel like your body will never be the same again. While these sacrifices are so worth it – you still need to take care of YOU.
When you have a new baby, your time is so precious. It can be difficult to find time to make meals, or even to eat at times.
However, without properly fueling yourself – you can't take care of your child!
A lot of new mothers are at a loss of the best way to recover from pregnancy, maybe lose a little weight, but still maintain their breast milk supply.
I have heard so many moms say they just want someone to tell them what to eat. If you fall into that boat – you're in luck. I am going to do just that.
Below you'll find some different recommendations for developing the perfect breastfeeding meal plan for yourself. I also share the details of the 28-day meal plan/breastfeeding cookbook I have developed for YOU. If you want to skip all the in between, you can click here to learn more about what it includes. It's just $19.99!
I am not a dietician or nutritionist. If you are concerned about your diet or weight, please contact a professional to comment on your specific situation.
How Many Calories Should I Eat While Breastfeeding?
It is recommended to eat between 300-500 extra calories while breastfeeding. Your base amount of calories depends on your weight, height, and various other factors. If your supply is well-established and you'd like to lose weight, you should not go down below 1500 calories, though 1800 calories is recommended.
Foods to Include While Breastfeeding
Honestly, a well-rounded diet is the best diet while breastfeeding. I encourage moms to include lots of fruits and vegetables, protein, and fiber – and not to eliminate any major source of nutrients, like carbs or fats.
Does your diet have to be perfect? Absolutely not. Breast milk is pretty resilient. If you want that Chick-fil-A Sandwich and diet coke – go for it. Enjoy a nice slice of cheesecake very now and then. Heck, if you are the drinking type, drinking alcohol in moderation is even okay.
While research doesn't support the idea that you can increase the fat or caloric content of your milk, it does show that you can affect the quality of fat. So making sure you include good quality fats in your diet is important (avocado toast, any one?)
You should also try and incorporate lots of flavors. The taste of your breast milk can be impacted by what you eat, and this can help encourage a more adventurous palate down the road for your child.
Here are some other foods that are thought to support healthy lactation:
Oats
Flax Seed
Nuts
Alfalfa
Garlic
Fennel Seeds
Carrots
Salmond
Spinach
Chick Peas
And good news – many of these are foods are incorporated throughout our breastfeeding meal plan.
Are there any vitamins and nutrients I should focus on after giving birth?
It's generally advisable to continue to take your prenatal vitamin after you give birth – you can also get a postnatal vitamin. I personally use vitamins from Ritual and have been very happy with them.
Many women are deficient in iron after giving birth, as well, so that might be something to discuss with your doctor as well. It can be helpful to get blood work done, as well, to see if you are deficient in anything.
If you had Gestational Diabetes, you generally can return to your pre-pregnancy diet. However, I think it can be wise to try and make sure you have a healthy diet (our meal plan is great for that!)
Here are some nutrients to make sure you aren't skimping on while breastfeeding:
Calcium
Carbohydrates
Fiber
Folate
Healthy Fats
Iodine
Iron
Omega 3s
Protein
Vitamin A
Vitamin B6
Vitamin B12
Vitamin C
Vitamin D
Do I need to avoid certain foods while breastfeeding?
There are simply no foods you HAVE to avoid simply because you are breastfeeding (though there are some foods to be careful about, just because, when consumed in large amounts, they can affect your milk).
Most babies are able to tolerate most of what their mother eats (even spicy or gassy foods). However, if there are foods that you've seen a definitely coorelation with, it may be wise to eliminate those.
Because dairy is a common food that causes problems with babies, this meal plan has very little dairy (and you can use a dairy free substitute if you encounter that recipe!).
Here are a few foods that *may* affect milk supply in some way or another:
Parsley
Peppermint
Sage
Oregano
Cabbage Leaves
Alcohol (it can inhibit your letdown when too much is consumed)
Can I follow a Keto, Low Fat, Low…whatever Diet While Breastfeeidng?
You'll find all sorts of answers for this – but in my opinion, it's wise to avoid any diet that strictly limits or eliminates entire food groups. Carbohydrates are important, as are healthy fats, so I would recommend eating these in moderation.
I think that counting macros can be a good way to keep track of your food and ensure you are getting enough to eat. Here is a great resource for calculating your calories and macros while breastfeeding.
I personally had success with Intermittent Fasting while breastfeeding, but this is one to be very cautious with. Definitely don't start this if you don't have an established milk supply.
Is it Normal to be Extra Hungry While Breastfeeding?
Yes! This is super common, especially in the beginning when your baby is eating around the clock and pretty much taking whatever energy you have left 🙂 Listen to your body and fuel it properly – but try to focus on snacks that will sustain you (higher protein is good – Built Bars are my favorite snack during pregnancy and breastfeeding. Get 10% off with code CLARKS).
Can I Lose Weight While Breastfeeding?
Women often hear about how breastfeeding just makes the pounds fall off…and for some women, this is the case, and others, it is not. I took a very unscientific survey awhile back, and I actually found more women struggled to lose weight while breastfeeding than those who lost it.
It can vary depending on so many factors – how often you are nursing, how old your baby is, if you were underweight before, how many calories you are consuming now, hormones, etc. I have found some women just hold onto the extra weight until they are done breastfeeding simply because their body needs it.
It IS certainly possible to lose weight while breastfeeding – and if you are struggling, it can be frustrating. Slow and steady wins the race and focusing on what you are eating can make a big difference. Our meal plan is designed to help you lose weight while maintaining your supply.
How Much Weight Can I Lose While Breastfeeding?
It is generally recommended to aim to lose about 1 pound per week if you are trying to lose weight while breastfeeding.
We offer a month-long meal plan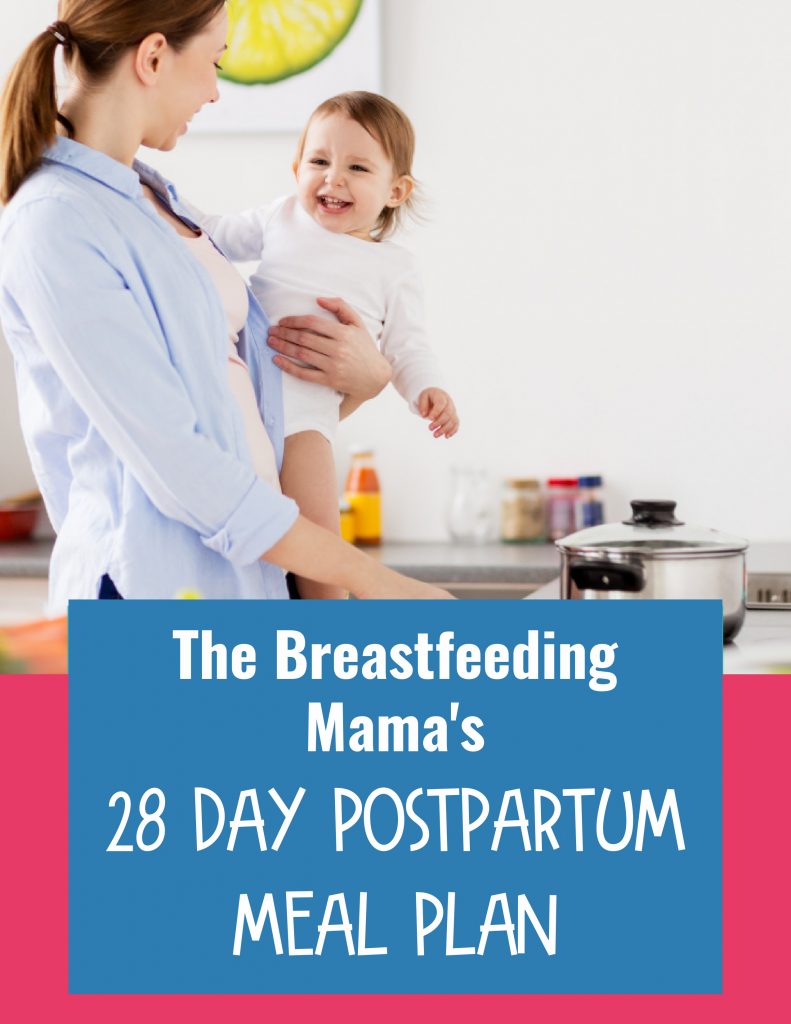 Because I know how hard it can be to know what to eat while breastfeeding, I worked with a nutrition and diet coach to develop this meal plan specifically designed for the unique needs of a postpartum mother.
This breastfeeding meal plan leaves nothing out – you can follow it exactly or you can adjust it to your own needs.
It has been designed to meet the unique needs of a postpartum mother while providing delicious and easy recipes made with whole ingredients.
Each day is around 1900 calories. This was designed for mothers wanting to maintain milk supply and slowly lose weight.
However, caloric goals can vary (and you might not want to lose weight). So listen to your body, and if you are finding you are needing to eat more, there are a bunch of snacks and desserts that you can choose from to add more calories to your day – or you can choose another of your favorite snacks.
So whether or not you are hoping to lose a little weight or just maintain, if you just had a baby, this cookbook is right for you
Inside you'll find:
Recipes designed to nourish you and help sustain milk supply
Full nutritional breakdown for the day and each recipe
At-a-glance meal plan for the week
Ideas for breakfast, lunch, dinner and snacks/desserts
Detailed shopping list
Beautiful pictures
Recipes in this Meal Plan
There are so many fast and yummy recipes in this meal plan – I couldn't possibly name them all!
Strawberry and Cream Oats
One Pan Maple Mustard Chicken Thighs
One Pan breakfast hash
Turkey taco skillet
Caramelized almond and banana oatmeal
Get the First Week Free
I know it can be hard to buy something. if you don't know if you'll like. the recieps – which. is why I am offering you the first week for FREE – no strings attached. Just enter your email below, and it will be sent straight to your email.