Are you trying to decide if you are going to breastfeed your baby? Taking a look at the benefits of breastfeeding for mom and baby can help you decide if breastfeeding is for you!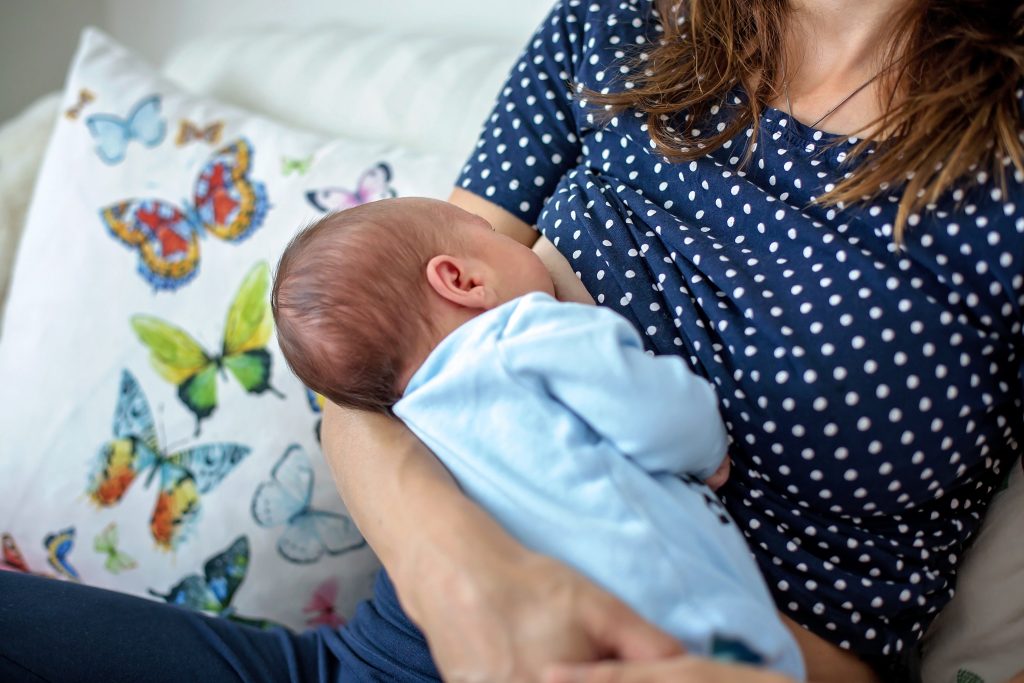 The decision to breastfeed is a big one – and for some, it's a hard one to make.
Some people want to try to breastfeed no matter what, but others want to weigh the pros and cons.
I am obviously a huge proponent of breastfeeding, and I'm grateful for the experiences I've had with it. A big part of my passion for breastfeeding has come from understanding the benefits for both my children and me.
In today's post, I wanted to focus on the different benefits of breastfeeding. I hope that this will be helpful to anyone who is looking for information!
Keep in mind this is not written to make any feel guilty for not breastfeeding. We all do what's best for our children and circumstances – and being the best mom you can is the best thing you can do!
Benefits of Breastfeeding for Baby
There are many benefits for your baby that come from breastfeeding – not all are as obvious of others, but breastfeeding can give your baby the best start to life.
It's made just for them!
This is one of the things I love the most about breastfeeding – what other food in the world adapts to be exactly what the person needs? I can't think of anything.
It changes as your baby changes – even when they are sick, it adapts and starts to make antibodies for them based on what they are sick with. You are making something that is created just. for. them. People can argue all they want about other benefits, but this one is so valuable to remember.
Nutrition
One of the biggest benefits of breastfeeding for your baby is the nutrition which they get from breastmilk.
Breastmilk is made up of the perfect mix of vitamins, proteins, and fats that your baby needs.
As your baby changes, so does your milk so that it best meets the needs of your baby. Because of this, breastfed babies are better at fighting off infections and viruses because your milk gives them exactly what they need.
Less Infections
Since your breastfed baby is getting the best nutrition possible, they are less likely to get a virus or an infection.
Babies that are breastfed for the first 6 months usually have fewer ear infections, fewer respiratory issues, and fewer allergies.

Better Dental Health
One of the benefits of breastfeeding for babies is better dental health. Breastfeeding actually helps fight tooth decay because the lactoferrin which is found in breast milk which actually kills the bacteria helping prevent tooth decay. This also helps prevent cavities.
There are some that will tell you that breastfeeding at night causes cavities, however, the evidence shows that it is not simply breast milk causing this – but more an overall diet. This is a great article that discusses breastfeeding and cavities.
Better for Premature Babies
Breast milk is highly recommended for premature babies. It is recommended because of its perfect formulation of nutrients and proteins to help your baby get everything they need!
If your baby is born early, your breast milk actually contains some of the colostrum longer to help give your baby higher fat milk to help them grow and help their underdeveloped immune system develop.
Helps Fight Malnutrition / Obesity and Type 2 Diabetes
Breastfeeding your baby can help fight malnutrition and obesity.
Breastfed babies learn how to regulate their food intake much earlier in life. They learn very early to eat until they are satisfied and then stop. Because of how breastfeeding works, they can control the flow a little easier than when fed with a bottle.
Bottlefed babies are at an increased risk of obesity because it is much easier to overfeed a bottle-fed baby. However, please don't take this as saying that because you are giving a bottle means your baby will be obese. You can teach healthy habits to your child regardless of how they were fed as an infant.
If you do bottle feed, make sure you remember to pace fed the bottle. This will mimic breastfeeding more. Here is a great video on this topic.
These benefits are actually really important to me. My second child was IUGR, and I had Gestational Diabetes with my third. Both of these factors put my children at an increased risk of obesity and Type 2 Diabetes, so breastfeeding them has been very important to me in order to help give them the best chance possible to avoid those problems.
Strong Mom / Baby Bond
While this might be a little more controversial breastfeeding benefit, breastfeeding does help to develop a strong bond between mother and baby.
While you are breastfeeding there is more skin to skin contact with mom and baby. Not only that, but while you are breastfeeding you are actually holding your baby closer creating a stronger physical bond.
When you are breastfeeding you have to hold your baby much closer to your face, which is the perfect distance so that your baby can see you, creating a special bond while they are breastfeeding.
With that said – you can still have a beautiful bond with your baby regardless of how you feed them.
Benefits of Breastfeeding for Mom
While there are several benefits of breastfeeding for the baby, there are also many benefits of breastfeeding for mom as well!
Reduces Bleeding
Thanks to breastfeeding, you will see less bleeding after delivery. This is due to an increase in Oxytocin, which helps contract your uterus and in turn can reduce bleeding.
Helps Uterus
Along with reducing the amount of bleeding, breastfeeding helps your uterus return to a normal size quicker because of the contractions that are caused because of the increase in Oxytocin.

Reduced Stress
Sure, you might feel a bit stressed and overwhelmed after you just had a baby, but thanks to the Oxytocin and a hormone called Prolactin that increases while breastfeeding, mothers often feel much calmer reducing your stress level and making you happier.
Now you know why you go, "ahhhhhhh," when you sit down to breastfeed your baby!
No Periods
Say goodbye to those annoying periods, because typically moms that exclusively breastfeed don't get a period for at least the first six months. This is caused by the high level of the prolactin hormone.

Once you do begin getting your period again, some mothers notice them to be lighter or shorter than you were used to be before. You can expect to see these lighter periods until your baby is fully weaned.
I have Endometriosis, and I see relief from it while breastfeeding until my period returns…which is definitely a good reason!
Be careful about using breastfeeding as a form of birth control, though. This can be done but only under very specific circumstances. Here are some details on the LAM method of birth control.
Reduce the Risk of Cancer
Thanks to breastfeeding, moms who breastfeed tend to have fewer periods, which means you have less exposure to the hormone oestrogen which reduces your chance of ovarian and uterine cancer.
While breastfeeding your breasts are less susceptible to mutation which is the leading cause of breast cancer. So, you will see the greatest benefit of this if you breastfeed for more than a year.

Can Help Aid Weight Loss
After having a baby, we all would love a little help losing that extra weight we gained. Producing breast milk burns some major calories, even while you sleep!
Not every woman experience this, though, and many experience the opposite. Here are a couple of posts that may be helpful on the topic:
Bigger Boobs
This might not be your favorite benefit of breastfeeding for moms, but typically you will see an increase in breast size. Sometimes this can be an increase to 1-2 cups even! So, be sure to wear a supportive bra to help support your breasts to not cause you pain or discomfort.
Other Breastfeeding Benefits
Free!
Breastfeeding saves a lot of money! When you breastfeed, you do not have to buy formula or bottles. It literally costs zero money to feed your baby. Imagine what you can do with all that extra money!
If you do need to pump breast milk and give bottles, you will have that added expense. But it is still significantly less than formula.
Convenient
One of my favorite benefits of breastfeeding is how convenient it is! I never had to wash bottles, make sure I had enough formula, or anything! I would wake up in the middle of the night to feed my baby and go back to sleep. I had these same conveniences while I was out and about running errands. When my baby was hungry, I would stop and feed them really quick! I never had to worry about anything!

Help Others in Need
Many mothers choose to pump and donate milk to other mothers in need. I think this is an amazing service opportunity. Here is an article I have written on donor milk.
I hope you found these breastfeeding benefits helpful! Please leave other helpful breastfeeding benefits in the comments!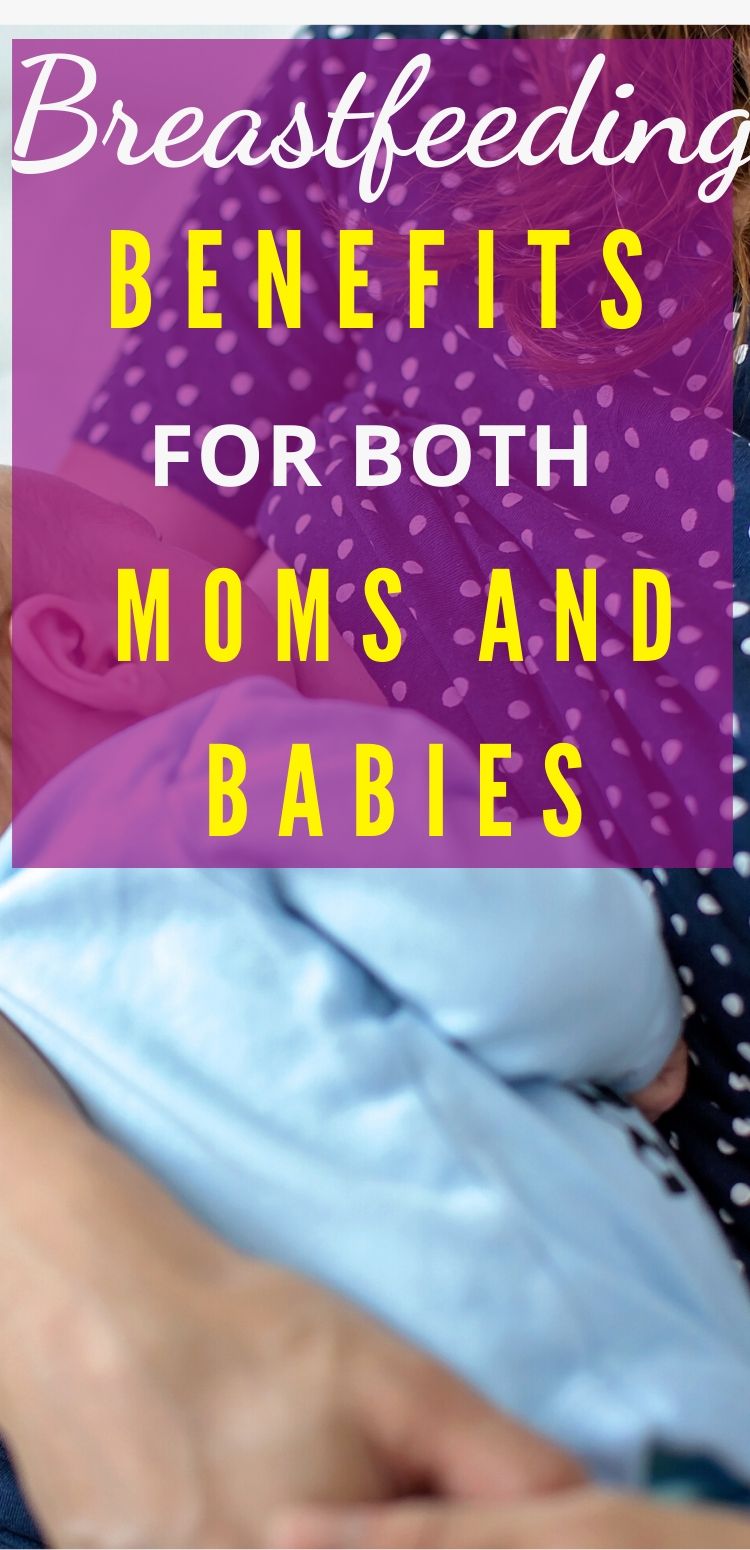 Katie Clark is a Certified Lactation Educator, Certified Breastfeeding Specialist, and IBCLC student. She has helped thousands of mothers and families around the globe navigate breastfeeding challenges and questions since 2015. She has a passion for creating research-based, helpful breastfeeding education and helping parents find a way to make breastfeeding work for them. Katie is a mom of three little boys and lives in the great state of Colorado. She also has a degree in Communications with an emphasis in print journalism.